What's With All The Dicks On TV Lately?
According to the Chinese zodiac, 2022 is the year of the tiger, but, based on the current trend of penises on TV, it's looking more like the year of the one-eyed snake. Seriously. If you want to see an on-screen peen, you don't have to look too hard. Pardon my French, but what's with all the dicks?
First, there's Euphoria, everybody's favorite high school dramedy, which seems to relish its ability to let the dongs out. Season 1 brought us that locker room scene, complete with plenty of dicks flopping about in the background. This year, season 2 (finally) came out, and for anyone hoping for a barrage of male genitalia, you won't be disappointed. There are plenty of penises—including one seen dangling over an open toilet during a mid-house party dump and another that's been bloodied and mangled. If you ask me, that's the most unrealistic part of Euphoria. I went to high school for four years, but I didn't see nearly as many wieners.
In the recent Sex and the City reboot, And Just Like That, two penises were shown in a single episode. That might not seem too shocking for a show about sex, but when you consider that not a single dick made an appearance over the course of Sex and the City's original six-season run, it kind of is.   
Not to be outdone, Hulu's 2022 series Pam and Tommy featured a talking penis. (You read that right, the cock in question spoke.) And in HBO Max's new comedy, Minx, the pilot episode alone had a whopping 20 dicks (yes, I counted. For, uh, research.)
Other recent shows with full-frontal men include White Lotus, Sex Education, Scenes from a Marriage, and Sex/Life. While the continued rise of streaming services (which don't have to cater to FCC regulations) is partially responsible for this sudden influx of dick, it's not just TV serving up steamy penis scenes. Movies like Don't Look Up, Nightmare Alley, The Worst Person in the World, and The Power of the Dog had fully nude men on screen. Although both Don't Look Up and The Power of the Dog had limited theatrical runs before being released on Netflix, the willies weren't censored for the cinema. 
Seeing a dick on the big screen isn't exactly new; back in 2014, Ben Affleck showed (part) of his peen in Gone Girl, and the internet promptly lost its goddamn mind. It's worth noting that the film also featured a topless Emily Ratajkowski, but that split-second side shot of Matt Damon's other half (and his other half) was far more titillating for moviegoers.
Affleck wasn't the first actor to let his pecker loose for a role (see both Forgetting Sarah Marshall and The Hangover), nor was he the first major movie star to whip it out (see Richard Gere in 1980's American Gigolo.) But it was still a rare enough occurrence that it garnered a mass amount of attention.
Over the last five years, the on-screen peen has steadily increased in popularity. Which begs the real question: why? Are they simply there for shock value? Or are they intended as a way to even the playing field? Is showing a dick on TV a feminist statement of sorts in this post-#MeToo world? What exactly are these penises (talking or otherwise) saying?
Whether or not this advent of mainstream male nudity signals gender equality in Hollywood is beside the point. Because what actually matters is whether or not tit-for-tat is equal. Sadly, the answer is typically no.
For one thing, when men flash their dicks on screen, more often than not, it's a prosthetic. With the exception of Lily James in Pam and Tommy, this is rarely the case for women. When an actress goes topless in a movie, the audience probably sees her real breasts.
People tend to give one of two arguments as justification for this disparity—that boobs aren't the equivalent to male genitalia, or that penis size is more personal to men than breast size is to women. Neither is particularly compelling.
Sure, in terms of reproduction and biology, boobs aren't the same as penises. But considering that the vagina is internal, I'd say breasts are a fair comparison. Not to mention that the list of female actresses who've gone full-frontal in a film far outweighs the list of male actors.
As for the argument that it's more embarrassing for a man to have a small willy than for a woman to have itty bittys, I'm not buying it. Personally, I know plenty of men who are quite proud of their packages, but I have yet to meet a single woman who is genuinely happy with how she looks naked. And besides, why are we so willing to accommodate the possible embarrassment of male actors while dismissing the comfort level of actresses?
Women are expected to bare their real breasts if a script calls for it, whereas if a man goes fully nude on screen, sans prosthesis, he's lauded for his bravery. Countless articles have already been written about Bradley Cooper's decision to bare all for his latest endeavor, Nightmare Alley. Oscar Issac and his lack of a prosthetic penis went viral on social media even though his Scenes from a Marriage co-star, Jessica Chastain, appeared nude alongside him. Even the discussion of her nakedness centered more on him, as she'd only agreed to do it if he was also expected to go full-frontal. 
Another big difference is how nudity is used. When women are naked on TV, it's almost always sexualized, intended to arouse (either another character, the audience, or both). A naked penis, on the other hand, isn't there to turn you on. It's there to make you laugh or prove a point (like, that the show is progressive and boundary-pushing).
So, while the uptick in on-screen dick is progress, we still have a long way to go before tat is genuinely equal to tit. 
Images: Erin Simkin/Hulu; Eddy Chen/HBO; AMANDA MATLOVICH/NETFLIX
You're Not A 'Euphoria' Character, And That's Ok
Euphoria is probably one of the best shows on television right now. It's like Degrassi, if Degrassi had a budget and cast super hot people. It's high school, make it fashion—more specifically, high fashion and an incredible amount of angst. However, it's nothing like what high school actually was. The fact that these "high schoolers" are wearing Mugler and Chanel is absolutely iconic, but far from relatable. That's not to say that there aren't relatable aspects of the show—I think the show does a good job of exploring heavy material with dialogue that is way more accurate than a lot of high school TV shows like Degrassi or Riverdale. But its glitz, glamour, and angst is nothing like my high school experience, and judging from Twitter's responses, it's not like a lot of people's high school experiences.
I love that it's a show that we all seem to love and enjoy, but I feel like a lot of y'all (including myself) seem to think that you need to have experienced Euphoria yourself in high school, and I'm here to tell you that just simply isn't the case. I'm sure a lot of you weren't snorting coke before a party, or getting f*cked by someone in a pool, and that's okay! Instead, you went to Shakey's after school and enjoyed a slice of pizza while awkwardly picking food out of your braces. You can embrace the fact that you couldn't dress for sh*t in high school and that you didn't understand the concept of putting an outfit together—I know I couldn't. A lot of y'all dressed like you were going to a business meeting when you actually did go out: untucked dress shirts, business skirts, bowties and huge hipster glasses that were reminiscent of Ryan from The Office. And guess what, it's perfectly all right! Embrace the cringiness that comes with nostalgia.
You loved to thrift after school, you found the best pair of bell bottoms and you wore the HELL out of those pants. People complimented you for it, and you even won the Best Fashion superlative during senior year. However, my love, that does not make you Maddie. She's wearing Mugler, Chanel, and so many designers that our checks from our part-time jobs after school couldn't even think of covering. Honestly, I think the closet I saw was a bunch of the try-hard jocks wearing very tight and ill-fitting Abercrombie & Fitch shirts and a few of the popular girlies wearing American Apparel when it was a special occasion. And that's absolutely fine, we rocked our bell bottoms, all-black outfits (even when it was 100 degrees outside), and dirty white Vans with confidence. I remember wearing the same H&M sweatshirt almost every day thinking I was serving Tumblr girl teas, and I promise you, I wasn't… like, at all. 
Let's talk about some of these characters. Rue is a mess, but I love her, and her defiance is what's relatable, even when it gets her in trouble. As for the drug stuff, the closest I ever got to that was taking an edible during my part-time job at Trader Joe's and having the worst anxiety attack of my life and needing two days to recover. Cassie is incredibly relatable because most of the time, she's a complete mess. Even still, I simply don't remember ever looking that good when I cried over guys that were absolutely assholes, nor do I remember guys flocking to me when I went through heartbreak. And Fez is somewhat recognizable in that every high school has at least one dusty white dude that may or may not be a drug lord—or at least a part-time weed dealer.
But here's the thing. It's okay to not relate to everything. You don't have to equate your experiences with an overdramatized high school show. I remember watching the show and thinking to myself, "Was my high school experience wack? Did I actually live life to the fullest during that time?" I even wondered if my current college experience was lackluster because I wasn't going as hard as the characters on the show. Then I remembered this is a TV show and it's supposed to serve as escapism.
I mean, would I love a character who was average at absolutely everything and had no idea what they were doing after high school? Yes, mainly because that was my life story. But I think what Euphoria has taught me is that even with representation, I don't necessarily have to relate to the stories being told. I can just enjoy the show for what it is: a TV show. We all know that most of our high school experiences were nothing like this, and low-key can thank goodness for that, because our schools would probably be shut down. 
Images: Eddy Chen/HBO
And Just Like That, Society No Longer Needed Carries
Before we had the phrase "main character moment," we had Carrie Bradshaw, the woman known for her credit card debt, kitten heel collection, and love for a man we pray was not based on D*nald Tr*mp.
With a weekly column in the New York Star, a few best-selling books, and a stint at Vogue, Bradshaw was the original influencer—a quality it seems she's holding onto. In a recently leaked script for And Just Like That, the upcoming reboot of the HBO hit that ran from 1998-2004, we learned that Carrie Bradshaw will be ushering her vintage narcissism into the new era in exactly the way we would expect: from behind a podcast mic. Where will Carrie's Sex and the City pod land among modern competitors like U Up? While her insights may have been revolutionary in '99, her tired tips don't hold a candle to today's sex positivity, and her narcissism doesn't translate either. 
Carrie Bradshaw was supposed to be the ultimate It Girl: career focused but not too busy, sexually free but hopelessly romantic, an enigmatic quirky Manhattan elite. She was written as the dream girl of every type of man, from finance guys in suits to artists to comic book enthusiasts. She sat front row at every fashion show, despite having worn a literal bird in her hair on her wedding day. She represented an impossible standard of perfection, one that every 2000s girl aspired to before ascending to adulthood and coming to the realization that Carrie Bradshaw is actually humanity's shared nightmare. 
Between leaked scripts and the mysterious set photos of Natasha, we can't stop thinking about the HBO hit that taught a generation of women to choose between four basic archetypes of femininity. We've spent decades taking Cosmo quizzes seeking the answer to an age-old question: which Sex and the City woman are you? We've refreshed the page so many times that we've missed the point: be anyone except Carrie.
Be a Samantha, a Charlotte, and a Miranda—a blend of our three supporting characters would make a classy, optimistic, sexually liberated woman who values her career, independence, friendships, and style. Imagine a world where a woman can wear Jimmy Choos without talking about it all goddamn day. 
If your vision board is still anchored by photos of Carrie Bradshaw's hundred-pound body in 10 pounds of tulle, we have the solution for you. The best way to combat Bradshaw levels of narcissism is to perform a self-check. Let's evolve the "which character are you" quiz into something actually helpful. Instead of asking, "am I a Carrie?," ask yourself, "am I the problem?" Here are some useful tips:
If your friend invites you to the opera, but you spot your ex mid-show,

do not

leave her stranded at the Met. 

If you're someone's maid of honor,

do not

choose their wedding day to confess you cheated on your boyfriend. 

If your friend gets you on the cover of

New York

magazine,

do not

black out the night before.

If your friend throws her neck out and is stuck on the floor naked,

do not

send your boyfriend to help in your place. 

If your friend buys you real cashmere for your birthday,

do not

ask if you can return it for cash. 

If you're a sex columnist who doesn't believe in bisexuality, get a new column. 

If you cheat on your boyfriend with your ex-boyfriend,

do not

write about it in the newspaper. 

If your boyfriend takes you to the country, take off the f*cking kitten heels. 

If you have a friend like Samantha Jones,

do not

take her for granted.
Maybe I'm bitter because Carrie Bradshaw is the person who convinced me I needed a collection of dresses for the classic last-minute gala. The summer before moving to the city, I spent my days rewatching all six seasons of Sex and the City and ordering countless pairs of heels that would never see the inside of a subway car. The first few weeks in New York make anyone feel like a Carrie, like the main character; but a few morning commutes, a failed Hinge date, and a phone call with ConEd are there to bring you back down to Earth all too quickly. Remember this, city girls: there is nothing chic about credit card debt.
In its time, Sex and the City turned the tides for single women. At dinner tables and crowded bars, four women created space to talk openly about subjects that were once taboo, even introducing the world to the Rabbit. The show laid a foundation, albeit a thin one, for 20 years of sex positivity and female empowerment, even if aspects of it failed to hold up to modernity. With the evolution of modern feminism and the introduction of the Bechdel Test, Sex and the City's mortal nemesis, longtime fans began looking to the show for nostalgia more than wisdom. Headlines once dedicated to "Carrie Bradshaw's Best Fashion Moments" were replaced by roundups of "Carrie's Worst Decisions on Sex and the City," "10 Times Carrie Bradshaw Was A Jerk," and "9 Times Carrie Bradshaw Was The Actual Worst."
When it comes to nostalgia, HBO is a bloodhound, and they caught the scent and ran with it. So now here we are, counting down the days to the reboot that we never asked for and the main character we never liked. That said, when And Just Like That does finally drop, don't reach out for at least three days, I'm busy. 
Be the main character without being a Carrie. Romanticize your life, but don't forget that the people who will meet you in a diner at midnight to have another conversation about your Mr. Big are not your supporting characters. Look at your life the way Sex and the City should have always been seen, as an ensemble.
Oh and—justice for Samantha Jones. 
Image: Courtesy of HBO Max
9 Spring TV Shows That Will Give You A Reason To Keep Canceling Plans
Presented by SkinnyPop
As we move into the spring, and life starts to get closer and closer to pre-pandemic normalcy, it seems like we're all realizing something very important: having free time with no plans and no place to be is really nice! Over the last year (and then some), I've come to cherish my lazy weekends on the couch, with nothing to do except decide what to eat (easy, the answer is SkinnyPop) and what to watch (less easy). 
Sure, it's nice to be able to hug your loved ones again, and I'm all for making plans, but luckily there are plenty of new shows coming down the pipeline for those days you just can't be bothered to put on real pants and leave the house. Here are nine shows to look out for this spring.
'The Nevers' – 4/11 (HBO)
If you love a show with a historical setting, but don't want to vibe out to the History Channel, The Nevers is right up your alley. In Victorian England, a mysterious supernatural happening leaves a bunch of women with various special powers and abilities, and the main characters set out to protect these people from those who seek to destroy them. It's kind of like X-Men, but with fun costumes and accents.
'Dad Stop Embarrassing Me!' – 4/14 (Netflix)
Is there anyone in the world who doesn't like Jamie Foxx? I doubt it! Foxx stars in this comedy based on his relationship with his daughter Corinne, who is also a producer on the show. Based on the trailer, this is going to be one of those family shows that sort of makes you cringe in the best way possible, and it's definitely going to be a binge-in-one-sitting type of thing. Grab the SkinnyPop, and get comfy. 
'Big Shot' – 4/16 (Disney+)
John Stamos has a new show coming out, so there's finally something you and your mom can both be excited about. In Big Shot, Stamos plays a disgraced college basketball coach who ends up coaching the team at an all-girls high school. Despite some initial speed bumps, Coach Korn and the girls on the team work together to achieve something bigger than anyone expected. Think Ted Lasso meets High School Musical.
'Rutherford Falls' – 4/22 (Peacock)
Ed Helms stars in this new comedy about people from a historic small town and the neighboring Native American reservation who are brought together in a fight to preserve the legacies of their ancestors. The trailer definitely gives off charming Parks and Recreation vibes, and the show has an indigenous showrunner and cast members, as well as the largest indigenous writing staff on any American show. We love to see this representation.
'The Handmaid's Tale' – 4/28 (Hulu)
If you're still going strong into the fourth season of The Handmaid's Tale, congratulations, you're better at handling stress than I am. As June's journey to be reunited with her child (and casually topple an oppressive government), things are as bleak as ever. Season 3 ended up with our main character being shot by a soldier, but something tells me she won't stay down for long.
'The Mosquito Coast' – 4/30 (Apple TV+)
Anyone in your life who loved The Leftovers is about to be very excited, because Justin Theroux is finally coming back to TV. The Mosquito Coast is a tense AF adaptation of the novel of the same name, which was actually written by Justin Theroux's uncle. The plot centers on a man who uproots his family and moves to the Mosquito Coast of Honduras to avoid the corruption of society—but you already know there's some darker sh*t going on under the surface here. 
'Pose' – 5/2 (FX/Hulu)
After taking a lengthy hiatus, Ryan Murphy's best show (and no, that's not up for debate) is back for one last season. So far, details about season 3 are being kept under wraps, but the second season brought us into the '90s and the height of the AIDS epidemic in New York's queer community. Pose has always brought the heartbreaking moments right alongside the showstopping ballroom looks and performances, and the finale is sure to be more extravagant than ever.
'The Real Housewives of New York City' – 5/4 (Bravo)
RHONY is back for a 13th season, and let's be honest, these ladies never disappoint. This season, the returning cast will be joined by attorney and TV host Eboni K. Williams, who is coming in hot as the franchise's first Black housewife. She'll be entering the friend group alongside Bershan Shaw, who joins the cast as a friend of. It's about time that the New York housewives start looking a little more like the actual New York.
'Girls5eva' – 5/9 (Peacock)
You can never have too much '90s nostalgia content, and Peacock's new comedy from Tina Fey and Co. is exactly what we need right now. Sara Bareilles, Renée Elise Goldsberry, Busy Philipps, and Paula Pell star as the members of a long-dormant girl group who decides to attempt a comeback after 20 years. They've changed a lot, and so has the music industry, but whether they pull it off or not, it looks like it's going to be hilarious.
Images: Jasper Savage / Hulu; HBO, Netflix, Disney+, Peacock, Hulu, Apple TV+, FX Networks, Bravo / YouTube
What's 'Sex And The City' Without The Woman Who Brought All The Sex?
And just like that, another TV show reboot that we probably don't need is announced. On Sunday, Sarah Jessica Parker, Cynthia Nixon, and Kristin Davis graced our Instagram feeds with a short trailer alluding to the fact that the iconic 1998 show, Sex and the City, was coming back to life. I was fully prepared to leave this franchise behind me after their failed attempt at a third movie, but this revival has left me quite intrigued. As I watched the And Just Like That teaser three different times on each of the stars' accounts, I (say it with me now) couldn't help but wonder, where was Kim Cattrall? Surely, we couldn't have Sex and the City without the woman who brought all the sex?!
As bummed as I am, it shouldn't be a surprise that Samantha Jones would not return in a SATC reboot. Kim Cattrall mentioned in several interviews that she would not partake in another iteration of the iconic show. I mean, who can blame her? The off-screen drama with SJP and other members of the cast was even more dramatic than the scripted fights they got into. (In 2018, following the passing of Cattrall's brother, she dragged SJP on Instagram, writing, "You are not my family. You are not my friend. So I'm writing to tell you one last time to stop exploiting our tragedy in order to restore your 'nice girl' persona.") Kim perfectly put it when she said, I don't want to be in a situation for even an hour where I'm not enjoying myself."
Since we won't get an appearance from Samantha Jones, I'm having trouble figuring out who is going to bring all the entertainment, iconic one-liners, and even an ounce of flavor that this show lacked from its cis, hetero, all-white cast. (Though perhaps HBO will take this moment to shake up said cis, hetero, all-white cast.) Who will be the voice of reason when Carrie is full of sh*t? Who's going to remind Charlotte that she shouldn't be so uptight and stuck in her ways? Is there going to be a fourth character who is equally as successful and ambitious as Miranda, but not an absolute buzzkill? 
If the show "must go on", then I suppose all we have left is to reminisce on the hilarious and completely out-of-pocket moments that Samantha Jones brought to our televisions for six seasons and two feature films. Join me as I pour one out for the unapologetic, pleasure-chasing publicist, and look back at some of her best moments.
Season 1, Episode 1 "Sex and the City"

From the very first episode, Samantha was serving realness to her delusional dater friends. I actually love that the pilot is basically about Carrie deciding to live the way Samantha has always been living and turning this into a revelation all about herself. Kind of telling, if you ask me…
Season 1, Episode 10 "The Baby Shower"

Another moment where Samantha was anything but subtle! While there is absolutely no shame in those who choose to be mothers, it was hilarious (and empowering) to see her not fall to the pressures of society and live exactly the way she wanted. Tbh, I might throw an "I don't have a baby" shower for the gifts — and the Instagrams.
Season 2, Episode 6 "The Cheating Curve"

Okay so this was definitely one of the more problematic episodes. When Charlotte decides to hang out with lesbians because she got cheated on, Carrie gets back with Big, and the whole gang debates the definition of cheating. Even with her dumb views about what constitutes infidelity, Samantha manages to give this nugget of, dare I say, good advice, that is eerily reminiscent of what my therapist has been trying to tell me for years. Who knew I could have just watched Sex and the City and saved myself the copay.
Season 2, Episode 7 "Chicken Dance"

In this episode, Samantha realizes the guy she just slept with, she'd actually already slept with 15 years prior, and it feels like a bleak look into my future. Also, they all attend a wedding where Carrie is reading a poem, which is where Samantha delivers this one-liner that my mid-20s self can relate to all too well. Ok, who am I kidding, this quote is timeless regardless of my age.
Season 4, Episode 10 "Belles of the Balls"


I'm sorry, but does she or does she not spit the absolute truth? One thing about Samantha was that she played like a man living in a man's world (again, as discussed vis-à-vis the pilot episode and overall premise of the show), and did it well.
Season 5, Episode 4 "Cover Girl"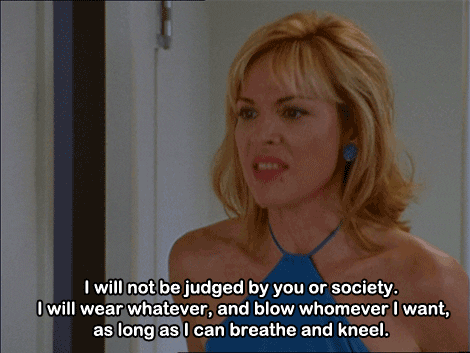 And just like that, we go from profound commentary on sexist double standards to a sexually explicit quote. Gotta love the woman's range. Even from her own best friends, Samantha had to defend herself from being slut-shamed, much like in this episode when Carrie judged her hooking up with a delivery guy. First of all, I would love to see that high-and-mighty attitude amidst the pandemic, when the delivery guy is the only person of the opposite sex with whom I regularly interact. Tbh if any of my friends did this, I'd be applauding them for (hopefully) getting a friends and family discount on Seamless.
Season 5, Episode 6 "Critical Condition"

Kind of conceited to think that any given person in New York City knows who you are, but I'll give her this one. I'll surely miss how unapologetic Samantha is, and how she does and says whatever she wants without worrying about how others will react.
Season 6, Episode 2 "Great Sexpectations"


Where would we be without that one friend who gives top-tier sex advice? Definitely not having as much sex as Samantha was, that's for sure. Thank God Carrie, Miranda and Charlotte had Samantha to remind them to not just have more sex, but good sex. Not sure they ever truly took her advice, anyway.
Images: HBO; Giphy
Recap Of The 'Sex And The City' Pilot From Someone Who's Never Seen It
Yes, what you just read is true. I, a living, breathing woman between the ages of 25-35, have never seen Sex and the City before. Why, you may ask? The answer is simple, honestly: my parents would have rather chopped off their own feet and cooked it up for dinner than let me watch a show that had "sex" in the title as a kid. (When girls in my grade made their bat mitzvah themes things like "Lex and the City", my mother was positively scandalized.) And yet in my house, we grew up watching Law & Order: Criminal Intent as a family, so what does that say about me? 
Anyway! Once I got older I really had no interest in watching Sex and the City, an opinion that has been reaffirmed by the countless articles pointing out just how cringeworthy and problematic it was. I thought that, coming upon my third decade of life, my complete ignorance of this cultural phenomenon would become irrelevant, much like the show's fashions. But now that a reunion has been confirmed, I feel the need to finally try to understand what everyone was talking about 20 years ago. I think I know the gist: Carrie is the annoying one, Samantha is the slutty one, Charlotte is the prude one, and Miranda is just kind of there. At least, that's what the memes tell me. We all are sooo one of these characters. We all want to be the Carrie (for reasons that elude me) and yet are probably all the Miranda. 
So, in an effort to finally be able to relate to people and not have to pretend-laugh at Sex and the City references, I decided to fire up my friend's HBO Max account and see what the fuss was all about. Here's my honest recap of the Sex and the City pilot.
The eponymous pilot opens with our narrator Carrie typing, "Once upon a time, an English journalist came to New York. Elizabeth was attractive and bright, and right away she hooked up with one of the city's typical eligible bachelors." I'm not going to retype this whole monologue, but the gist is, Elizabeth made the classic New York mistake of hooking up with a finance bro. And just in case you aren't from the city, Carrie makes sure to hit you over the head with how "quintessentially" New York the whole encounter is, by saying "in typical New York fashion" at least six times throughout this whole love story. If you don't live in New York, let me just say, that yes, it is in typical New York fashion to have a guy blow smoke up your ass and then completely stop speaking to you after he stands you up for plans that he proposed in the first place!! Sorry, I'm fine. It's fine.
Elizabeth's love story is much like my own, in that Elizabeth and our finance bro "dated" for two weeks until he ghosted her. The only difference is that at least Elizabeth got dinner out of it, when all I get are drinks and a vague promise to order a pizza if I were to come over to "watch Netflix". Or, at my lowest point, one 99-cent can of Arizona iced tea. So, I know this show premiered in 1998, but to me, the fact that this is a story worthy of an investigative-type piece in a literal newspaper is alarming. I wonder if I could get a job at the NY Post using my diary entries as writing samples at this rate?
Further underscoring my point that Carrie should not be a professional writer is this little gem of hers: "Cupid has flown the co-op," she says, with a self-satisfied smile. I hate it with every fiber of my being, and it's kind of sad to me that straight women in the late 90s apparently were getting treated like sh*t by men in the same way that we are now, but apparently nobody was talking about it? The only thing worse than getting ghosted left and right is thinking you're the only one who is getting ghosted left and right. I suppose if we can't get better treatment, at least we have the memes.
Cut to a montage that feels reminiscent of Hitch (don't come for me, I'm very aware of who must have inspired whom in this scenario) of random dudebros giving their takes on why so many amazing women are single. Oh boy, I feel a rage blackout coming on. One guy, in between chest presses at the gym, says that it's because in their 20s, guys are controlled in relationships by women. By their 30s, they're "devoured by women". He says that like it's a bad thing, but I feel like any straight man would be thrilled to be devoured by women. What do you all want!

Another dudebro doing bicep curls says, "you don't want to do it with someone over 35, because you have to have kids right away." He advises women over 35, "forget about marriage and just focus on having a good time". I almost shut the show off at this point, but decided to persevere at the expense of my blood pressure and general well-being.
Cue more sexist and ageist nonsense: older women don't want to settle, what women really want is Alec Baldwin (no thanks, if I wanted to get screamed at for no reason, I'd do more SoulCycle classes); women are too picky and turn down guys left and right for being too short, fat, or poor. Enter: Miranda with some sanity, to say that even the short, fat, and "poor" guys are still assholes. (It's almost as if you can't tell if someone's a good person by their height, weight, or bank account.) Gotta be honest — I did not come here to affirm how timeless this show is, but the degree to which I feel attacked is proving otherwise. 
At Miranda's 30-something birthday dinner — that was not me being lazy, they only specify it's a birthday in her 30s because, you know, women aren't allowed to age — Samantha comes prepared with some wisdom. She says, you can either bang your head against the wall and try and find a relationship or you can say "screw it" and just go out and have sex like a man. 
Charlotte: You mean, with dildos?
I mean, she's not wrong.
Miranda says that guys in New York don't want to be in a relationship with you, but they also don't like it when you only want them for sex. "All of a sudden, they can't perform the way they're supposed to," she says. I know this is not ~the point~ but Miranda saying that a man's only purpose is to provide sexual pleasure is kind of iconic. Am I too jaded to properly critique this show?
Carrie: Oh come on ladies, are we really that cynical?
Speaking for every single woman in New York:

I've decided that I'm definitely a Miranda because of this part where she's like, "this guy took me to dinner and read me a poem. What a serial killer, can you imagine?" *Scrolls up to earlier musing about how I don't even get taken to dinner* Interesting.
Carrie's like, "So you really think it's possible for women to pull off the whole 'having sex like men' thing?"
I will say that I do kind of resent that the premise of the entire show is built on this toxic double-standard where only men can have unattached sex. Do the women really have to be having sex "like men" or could they simply be having casual sex? The whole thesis is basically, "Women be catchin' feelings, am I right?" And look, I know this was 1998 and maybe that's the only lexicon they had at the time, but now it feels incredibly lame to have a writer's room that's like, "what if we have women… who date… now hear me out…. like men! Enjoying sex and everything! Genius, isn't it!!"
And just when I thought SATC might be somewhat timeless in its accurate portrayal of dating in New York, while at lunch with Carrie, Stanford hits us with this dumbass quote: it's straight love that has become closeted. Right, because I'm afraid to walk down the streets of New York holding the hand of my boyfriend for fear of vitriol or attacks. I bet the writer who came up with that one was real proud of themselves.
But they're back to realistic portrayals by giving Carrie a "loathe of my life" named Kurt Harrington (tracks) with whom Carrie kept hooking up throughout her 20s despite Kurt being a walking piece of trash (tracks again). I feel… reluctantly seen. However, Kurt was good in bed, and Carrie decides he'll be her guinea pig in the experiment of "can women indeed have sex without getting attached?" 
Carrie's big pickup line? "So, how's life?" Genius. I can see why they gave her a writing column. These two are practically gyrating against each other in what appears to be a crowded restaurant in the middle of the day. 
Me watching this: 

They make a booty call for 3 O'CLOCK IN THE MIDDLE OF THE AFTERNOON. Ok whatever, spoken as if I haven't done that exact thing after brunch. Ok, you're right, during brunch. 
So they bang at 3pm as indicated — or, actually, context clues lead me to believe Kurt just went down on Carrie, which is hilarious because you know Kurt is the type of guy whose face has never gone near a set of labia because he "doesn't like the smell" (you can tell by his teeth). When Kurt asks Carrie to return the favor, she says, "oh sorry I have to go back to work." Ma'am? I understand that you write a sex column, but I am pretty sure the newspaper would not count this as "necessary research" that needs to be conducted on company time.
After bouncing, Carrie is like, "I did it. I had sex like a man. I felt powerful, potent, and incredibly alive." And look, I'm all for being sex positive, but Carrie, the reason you feel powerful isn't because you had sex without immediately catching feelings (which take a minute to develop anyway—they're like Polaroids in that way). It's because you left a guy hanging. And truly, there is no feeling more powerful than that, and I support you, but let's not get ahead of ourselves. 
And it is while she's riding this high when Carrie literally bumps into the character who will be known as Mr. Big (it's amazing how much info you can glean from memes these days — maybe this is why people are so stupid). 
And there it is, the insensitivity I've been hearing so much about: When Skipper is complaining about how he hasn't gotten laid in a year because he… pause for collective gasp… respects women… Carrie says, "are you sure you're not gay?" I don't have the time or energy to explain all the ways in which this is wrong, and not a thing one person should ever say to another person. So let's just flag that and add it to the tab.
All the girls are spending the night at a club called Chaos (minus Charlotte, who's on a date with some rich guy and determined not to put out). I stopped going to clubs pretty much the second I stepped foot in Marquee, but I'm supposed to believe these 30-something-year-olds are willingly clubbing on a work night? No. 
Carrie is trying to set Miranda up with Skipper, but the problem is that Miranda will think Skipper is mocking her when he's actually just being sweet and direct. Me again. 
And I can see why Miranda is single, because she just used the phrase "ipso facto" in actual conversation. None of my lawyer friends have ever spoken this way, and neither has any real human. 
Who else happens to be at the club? None other than Mr. Big. Samantha spots him, and here comes the unintentional best line in the entire episode.
Samantha: You see that guy? He's like the next Donald Trump, only younger and much better looking. 
That line, and I sh*t you not, is followed by Carrie saying of Samantha: Samantha had the kind of deluded self-confidence that caused men like Ross Perot to run for President.
Or men like… Donald Trump. Wow, maybe we do need a reboot of this show.
Meanwhile, after Charlotte's date that apparently was at the f*cking Met Gala because she and Capote (who tf is named Capote) emerge wearing a tux and a ballgown, Char falls for the classic ruse of "want to come back to my place to check out my painting?" Except in my case, it's usually more like, "want to come up and see my roof?" when his roof is just his window and his window looks out over an air shaft.
Oh, Charlotte. Charlotte, Charlotte, Charlotte. You have fallen for the oldest trick in the book and still think you have the upper hand. The way this bitch is sighing and smiling to herself, she thinks she's some master pickup artist when she's clearly about to get ghosted.
I lied, it's even worse: Capote gets in the cab with her to go to the club! Lmaoooo is this how men acted before dating apps? Maybe millennials didn't kill dating after all. 
Speaking of the club, Samantha is over in the corner trying to fellate a cigar, and I am so uncomfortable I want to jump out of my skin. She shoots her shot, which I completely respect, although her methods are a little aggressive for my taste: inviting Mr. Big to the room downstairs. He doesn't take the bait, because we are supposed to believe he is ~evolved~ and ~sensitive~ when in reality he probably just likes being the pursuer and is turned off by a woman with confidence. Yeah, I'll say it!
In the end, Miranda and Skipper hook up and Capote takes Samantha home. And this is what we in the biz call a pretty successful night, we've got half the girls getting it in. Not bad for a club called Chaos, because if this stayed true to the name, there would have been a lot more vomit at the end of the night.
Carrie starts to walk home and then sees Mr. Big and just… gets in his car?? Is this the 1990s or the 1970s? This could easily be the intro to a Criminal Minds episode.
Carrie's bullsh*tting ability is somewhat respectable, though. When Mr. Big asks what she does for work, she calls herself a "sexual anthropologist" and says, "right now I'm researching this article on women who have sex like men." Like, you have a freelance writing assignment and you are talking to your friends about their dating lives. I do that all the time, should I be updating my resume?
Big: But you're not like that.
Carrie: Well, aren't you?
Big: Not a drop. Not even half a drop.
You can all but see the puddle that's forming in Carrie's underwear at this admission BLATANT LIE. Yeah, I'm beginning to see why people hate Carrie (aside from the terrible "cupid flew the co-op" puns). From what I've gathered (again, from the memes and a few headlines), Carrie will spend the next six seasons of this show on and off — and possibly a movie or two — doing Olympic-level mental gymnastics to justify this one statement made by Big in the back of a cab when almost everything else he does proves the exact opposite. And this is why you don't let the resident delusional dater give dating advice to the masses of New York City! Who knows how many generations of women she's led astray with her misguided musings? Okay, none, because this is a fictional show, BUT STILL. 
Carrie asks Big if he's ever been in love and he says "abso-f*cking-lutely". And that's supposed to be some groundbreaking admission? Lol, even the most twisted f*ckboys I know would admit they've been in love, but that's usually the problem: "one girl mildly hurt my feelings 16 years ago and that's why I will only lead people on from here on out." The 90s were whack. I think I've said all I needed to say on this pilot. They got the cynicism and general sense of uselessness with dating right; the rest was a lot of cringe. Samantha and Miranda are the only redeeming characters thus far. We didn't really need this reboot, and we definitely don't need it without Samantha or some sort of Samantha stand-in. 
Images: HBO; Giphy (3)
5 Plot Points From 'The Flight Attendant' That Still Don't Make Sense
HBO, the unspoken hero of late 2020, knew that in order to survive the remainder of the year, we needed the most binge-worthy content, which they delivered in the form of a number series (The Undoing, anyone?). Aside from that and Murder on Middle Beach, one of their heavy hitters that got me through the year was The Flight Attendant starring Kaley Cuoco. It's about a flight attendant (Cuoco) who wakes up after a layover in Bangkok to find a dead man next to her… and no idea of wtf happened the night before.
Contrary to popular opinion (aka that of my close friends) I wasn't a huge fan of The Flight Attendant right off the bat. The flashbacks, though obviously the main plot of the show, irked me, and 99% of the time I wanted to shake Cassie for her irrationally bad decision making. I later realized that is literally the entire point of the show, but until I got there, I was not a fan.
Disclaimer: Spoilers ahead, so here is your chance to exit this piece while you can.
It wasn't until Max got hit by a car that I started REALLY getting into The Flight Attendant. I was on the edge of my couch waiting to see how it all ended, and while the episodes leading into the finale were fun and exciting, the finale not only fell a bit flat for me, but also left me confused. Here are 5 things I'm still questioning days later.
1. All Things Megan

Megan's character is a tricky one. Presuming you've watched the show if you've made it here, you know that Megan is Cassie's coworker, self-proclaimed best friend, and… a spy stealing corporate secrets and intel from her husband and his job for the North Korean government. This plotline seemed juicy and fun, and I was excited to see how it tied into Cassie's disastrous situation, because I ASSUMED it would. But you know what they say about assuming things…
Turns out Megan's subplot was just that: a mostly unrelated subplot. There was no exciting twist that she was secretly working for (or stealing from) the Sokolov family. No finding out that this project is all a figment of her imagination and she's actually losing it. No nothing. Just a train ride to nowhere, kind of like this plot point.
While the writers did throw in the ~twist~ of Shane working undercover for the CIA to keep tabs on Megan it didn't really matter? Because he drunkenly reveals his true identity to Cassie (???) after saving her life (???) and doesn't catch Megan. Shane tops it off by letting Cassie know the CIA wants to hire her (which is normal for someone who wakes up next to a dead body, lies to the government about it, is on the verge of liver failure, and only makes it out alive by continuing to fail upwards). I really needed more from this mess.
2. The Injuries
Now I don't know about you, but my understanding when it comes to being shot or brutally stabbed is that one doesn't typically walk away and carry on with their day. Apparently this rule does not apply to most of the characters in The Flight Attendant, and while I understand that TV magic is a thing, I can only suspend my disbelief so far.
For starters, Miranda. We first see Miranda get shot in the leg in a parking garage. Ouch. Luckily, Miranda has superpowers and is able to ignore her injury, kill Victor, and drive off to the airport. I literally can't function when I stub my toe, but ok. Miranda's superpowers continue after arriving in Rome (after figuring out a way to get on the plane despite the airport staff fully noticing she was shot and trying to stop her). After Cassie arrives in her hotel room, she faces a not-so-fun surprise when she finds Felix and Miranda hiding in her shower. Miranda looks dead in the tub, but, she's not. In fact, she finds a way to escape yet again! Miranda has an almost-happy ending, escaping with the Sokolov money and even sending Cassie a departure gift of Alex's book. Nobody is looking for her and she's not wanted for murder (until season two, that is). All around, super realistic!
Next up in the injury department, we have Joe Goldberg from You Felix/Buckley. This man survives quite the takedown in the Rome hotel room. Cassie first slashes his leg with a knife and then follows up by shooting him in what appears to be the upper leg/hip area. To finish the job (or so we think), Shane busts down the double-locked door and shoots Felix right in the chest. He's somehow not dead, though. Buckley gives them a wave on his stretcher ride out and Shane remarks "son of a b*tch is lucky you only hit him in the leg," which is confusing, because Shane just shot him in the chest (stomach?) five minutes ago.
Finally, Enrico. I'll keep this one short and sweet. He takes a nasty stab wound to the stomach, gets KOed via Felix's knee, and then survives. I'm not saying you can't survive the above injuries, but, what? Max's car accident was slightly unrealistic (really, he's on a morphine drip after getting hit by a car and has no visible bruises or scratches?) but at least they put him in a hospital bed.
3. The Realization that Cassie is in Love with Alex

Now, I'm not here to tell you that you can't fall in love with someone after a one night stand. People on The Bachelor fall in love after a lot less. That being said, I needed more of a reason for Cassie to feel so attached to Alex after one drunken night that she doesn't even remember. In the book (yes, of course it's based on a book), Cassie is pregnant with Alex's child, which makes things a bit more complicated, but also a lot more understandable. When I was watching the show, I needed more of an explanation, because her coming to terms that she was in love with a figment of her imagination never quite added up. You can blame it on her past trauma, her drinking, her desire to break the habit of reckless behavior, but there was never a clear-cut explanation here and that is what I need from a finale—answers.
4. The Uneventful Ending of Hammond and White
First of all, if you're reading this wondering who Hammond and White are, you're not alone. While I was super familiar with the two FBI agents on the case, I genuinely had NO idea their names were Kim Hammond and Van White. But hey, the more you know. Anyway, aside from the obvious lesson learned (douchebag male agent thinks he's right because of white male privilege and belittles Black female agent, only to be proven wrong in the long run), these two don't serve a huge purpose in the end. After being cleared of Alex's murder, Cassie arrives back in the states and goes to lunch with Annie like nothing ever happened. The show glazes over the aftermath of Cassie's wild night (like the fact that she still woke up next to a dead body and lied to the FBI, the fact that she was a murder suspect and needed to be formally cleared, the fact that she witnessed like… five stabbings and shootings in an hour) and we never get to see her final interaction with Hammond and White. Given that their entire purpose was to find her and prove whether or not she was innocent, it felt like a missing piece to the puzzle skipping over the final details.
5. Stalker Felix

There's a lot to unpack when it comes to the Felix/Buckley saga, but there were still some things that simply did not add up to me. In the finale we find out Felix was stalking Cassie, following her around the world using her license as a way of tracking her (?) He half professes his love to her, half wants to kill her to complete the job Victor assigned him, and it's a bit of a confusing mess. Despite having like 100 chances to kill Cassie, he did not follow through—but he still stalked her like prey during their non-intimate moments.
My confusion stems from Cassie's first time meeting Alex. Felix is on the flight (because he's hired by Victor to kill Alex and get the money) but then tells Cassie that he was stalking her. So which one is it. Both? That is too messy. And then Cassie and Alex, his two prey, just happened to end up having a one night stand? That's convenient. Maybe I'm not picking up what the writers were putting down, but I'm deeming this plot point a miss.
All that being said, I did enjoy the show. It was fun, different, and I thought Kaley Cuoco was perfect for the role. I just have two final questions. One, how did Cassie not even flinch when taking shots of that cheap-ass airplane vodka? Two, how did Cassie escape the scene of her father's deadly drunk driving accident with no one questioning the fact that a drunk little girl, covered in cuts and blood, who was related to the drunk driver, was at the scene of the accident? Hopefully these questions get answered in season 2, which let's be real, I'll still be watching—confused or not.
Images: Colin Hutton (2), Karolina Wojtasik, Phil Caruso
The 6 Biggest Questions 'The Undoing' Didn't Answer
After six long weeks, The Undoing, the latest installment in HBO's Rich White People Doing Crimes Cinematic Universe, has come to a close. For the first few weeks of the show, it didn't feel like many people were watching, but by the time the finale rolled around, memes about Nicole Kidman's luxurious coats and Donald Sutherland's weird "cocksucker" monologue were basically all I was seeing on social media. I'm not sure if we actually liked this show, or if we all just desperately needed something to look forward to, but either way, last night's finale felt like one of the most anticipated events of the year. Major spoilers ahead, so if you haven't watched the finale yet, turn back now.
So did the finale deliver? Honestly, I liked it! While most of us were focusing our energy on puzzling out which seemingly innocent side character could have conceivably killed Elena, the show went a different direction. Ultimately, Jonathan was the most obvious choice, but with that nail-biting chase sequence (and those chic AF helicopters), the writers found a way to raise the stakes without adding a forced plot twist. But just because I was mostly okay with the ending doesn't mean I don't have a million questions that went unanswered.

The Undoing was billed as a limited series, and given the way it ended, the chances of a surprise second season seem slim, which is probably a good thing (though I do have some great ideas for Part 2: The Redoing if HBO wants to cut me a check). But since we won't be seeing any more of Nicole in that wig (one of her best wigs, tbh), here are some issues that I would've liked to see resolved in the finale.
The Hammer
At the end of the penultimate episode, Grace found the hammer (aka the murder weapon) in Henry's violin case, and it was a truly shocking moment that threw a wrench into everyone's final predictions about who killed Elena. In the finale, we got more clarity about the hammer—mainly that Henry found it after the fact, and wasn't the killer—but I'm left with one specific question that I can't figure out. When discussing the discovery with his family and his attorney, Jonathan seemed excited at the prospect of DNA testing the hammer, as if it would magically exonerate him. Likewise, he seemed as annoyed as everyone else when Henry told them he'd run the hammer through the dishwasher twice.
But like… now that we know Jonathan did it, why the f*ck would he want the hammer to be DNA tested? Wouldn't that be the last thing he wanted? And wouldn't he be relieved to find out his son had flushed away any possibility of the murder weapon holding up in court? Obviously Jonathan made a lot of questionable decisions, but his whole reaction to the discovery of the murder weapon was confusing.
Sylvia
I love Lily Rabe, but throughout the show, it seemed a little odd how much time we were spending with Grace's best friend Sylvia, who also happened to be an attorney. For the most part, the show stayed laser-focused on the murder and the surrounding fallout, so Sylvia's scenes always felt a little random. For this reason, I noticed a decent amount of speculation that she could have been somehow involved in the murder. This always seemed a little far-fetched to me, and clearly it didn't end up happening, so why did we spend so much time with Sylvia?

In the finale, she played a key role in Grace's masterful takedown of Jonathan by slipping some key info to the prosecutor, but I still thought her scenes were building up to a bigger final moment. If there's any kind of spinoff I'd like to see from this show, it would be centered on Sylvia, because I have a feeling she also has some secrets up her sleeve.
The Family Sister
One of the more shocking revelations earlier in the series was that when he was a teenager, Jonathan's little sister died while he was supposed to be watching her. Jonathan's admission that he "killed the family sister" felt off-putting from the start, and I still don't feel like I got enough closure in terms of his mental state. Of course, Grace's creepy phone call with her mother-in-law ended up being key to her testimony, but the idea that Jonathan was a sociopath, or had narcissistic personality disorder, seemed to come up only when it was helpful in advancing the plot. By all accounts, Jonathan actually loved Elena, and it seems like his relationships with Grace and Henry were pretty solid before all of this mess started. If Grace, a clinical psychologist, was married to this man for 15 years, wouldn't some alarm bells have gone off before he was on trial for murder?
The Helicopter
Okay, so this is more of a petty thing that just felt off to me. In the climactic final scene, Grace and her father join the chase for Jonathan and Henry via helicopter, just in case you forgot how rich they are. Ultimately, they land the chopper in the middle of the bridge, which I just can't imagine is actually allowed. I'm not an expert on helicopter regulations, but I feel like one of the many police officers in the vicinity would have at least written them a ticket. And then, after Grace rescues Henry, they just immediately hop back in the 'copter and fly away. I'm sorry, but the police 100% would've made Henry stay there and at least answer some questions. I don't know how being rich works, but there's no way you could get kidnapped by your fugitive father, and then almost get killed by a truck, and then almost fall off a bridge, and the cops don't even detain you for a quick chat. But on a less nitpicky note, I absolutely want to rent a Blade so I can reenact this scene.
Elena's Locker Room Scene

After watching the first episode of The Undoing, I was really unsure of whether I liked it, mostly because I found Elena's energy kind of unpleasant. As we know, she didn't last long, and honestly I started enjoying the show more once she was gone. But I still want more answers about her behavior in those last couple days before she died. In the finale, we saw a flashback of her telling Jonathan about how she was getting closer to Grace, which he clearly didn't like. But while attending committee meetings together and talking at parties is one thing, I really need to know what the f*ck was up with that scene at the locker room, where Elena was fully naked while talking to Grace for like, five minutes. Grace was clearly uncomfortable (same), and for a while, I thought the show was going to be more focused on Elena being a creepy stalker. That never materialized (probably because Jonathan smashed her face with a hammer), but looking back, that first episode feels weirdly disconnected from the rest of the show.
Grace's Walk
Amid all the plot twists later in the season, I almost forgot about one of The Undoing's biggest red herrings: Grace's late-night walk right past Elena's studio. The security camera footage of her right by the crime scene cast doubt on Jonathan's guilt, and was really the only reason it ever seemed like Grace could've been the killer. But this line of thinking never went anywhere, and Grace's "I just went for a walk" explanation feels like a weak resolution for a plot twist that was so clearly contrived to make us think she was involved.
Overall, I enjoyed The Undoing, but I think they maybe tried to do a little too much in six episodes, and we were left with a lot of loose threads that never got tied up. But if anyone at HBO is reading this, that doesn't mean we need a second season—some things are better off being left alone.
Don't miss out on any pop culture or entertainment news. Subscribe to our weekly newsletter here. 
Images: HBO; Giphy