12 Fall TV Shows You Won't Want To Miss
We're now in the final months of 2020, and let's face it, this year still sucks. In the spring, we were all focused on finding new hobbies to cure our boredom while we were stuck inside (RIP my needlepoint kit), but now, most of us have settled into our couches and just need something new to watch. Luckily, the stars have aligned to bring us a lot of exciting TV this fall, even after lengthy shutdowns for much of this year. Some of your favorite shows are finally coming back for new seasons, but we're also getting a whole bunch of exciting new shows and miniseries. Basically, there's a lot to look forward to, even if the real world is still a f*cking disaster.
'Unsolved Mysteries Vol. 2' – 10/19
Our latest true crime obsession, The Vow, is drawing to a close this week, but Netflix has conveniently scheduled a new season of Unsolved Mysteries to make sure that we don't go hungry. Volume 2 of the hit show unpacks six new mysteries that remain—you guessed it—unsolved. The trailer for the new season is creepy AF, which, in the world of true crime, is all we could possibly ask for. Can't wait.
'The Queen's Gambit' – 10/23
Rising star Anya Taylor-Joy stars in this six-part adaptation of the hit novel. She plays an orphaned chess prodigy who has to deal with addiction and other demons in her quest to be the best chess player in the world. The trailer is full of brooding drama and 1960s vibes, so I have a feeling I'll be watching this in one sitting.
'The Undoing' – 10/25
As a bona fide Nicole Kidman stan, I was thrilled when I found out that she's coming back to HBO after making me cry for two full seasons of Big Little Lies. This miniseries, adapted from the thriller novel You Should Have Known, stars Kidman and Hugh Grant as a couple who have to deal with the fallout from a "violent death." It's also produced by David E. Kelley, the mastermind behind Big Little Lies. Yup, this sounds like exactly what we all need right now.
'This Is Us' Season 5 – 10/27
Who's in the mood to cry??? Due to COVID, the new season of This Is Us was originally pushed to November, but NBC saw how much y'all were struggling and moved it up to late October. It's the little things. Season 5 kicks off with a two-hour premiere episode, which means you'll probably need two full boxes of tissues at the ready—you've been warned. It'll be interesting to see how they handle all the flashbacks and future scenes this season, considering that none of us even know what year it is anymore. 2015? Sure, sounds close enough to me.
'The Mandalorian' Season 2 – 10/30
The reason your boyfriend won't let you cancel the Disney+ subscription is back! But actually, our favorite power couple the Mandalorian and Baby Yoda are back for a second season, and with that, hopefully there will be another round of fire Baby Yoda memes. He has some cute moments in the trailer, so it seems promising. But overall, the season looks intense, so maybe I'll make an effort to watch it this year.
'Industry' – 11/9
I don't know how HBO still has new shows ready to go eight months into a pandemic that brought production to a halt around the world, but I'm certainly not complaining. This new British series follows a group of young associates competing for permanent positions at a high-stakes investment bank in London, and it basically looks like Euphoria, but set in the world of finance. This might not be the one to watch if you have trouble with your anxiety, but personally, I'm very excited. Also, Lena Dunham is an executive producer, so make of that what you will.
'A Teacher' – 11/10
FX's new partnership with Hulu this year is already producing good results, and their latest collab is this miniseries about a teacher who has an illegal affair with one of her students. It's a story we've all heard before, but this looks like it's going to be a thrilling take on it. With stars Kate Mara (House of Cards) and Nick Robinson (Love, Simon), I have a good feeling about this one.
'The Real Housewives of Salt Lake City' – 11/11
Last fall, when Bravo announced that the next destination in the Real Housewives franchise would be Salt Lake City, the main reaction was "huh?" Turns out, this wintry spot in the mountains has everything you need for an A+ reality show. The women are rich, glamorous, and most importantly, ridiculous. I got a chance to check out the premiere episode early, and it does not disappoint. And even better, RHOSLC is one of the most diverse Housewives casts ever. You love to see it.
'Grey's Anatomy' Season 17 – 11/12
After season 16 was cut short in the spring due to the you-know-what, Meredith Grey & Co. are finally returning for their 17th season. Yes, it's a lot of seasons, but if you're still on the Grey's Anatomy train, there's no getting off now. Lucky for you, the season premiere will be a crossover episode with Station 19, which means it's a two-hour episode. It's really what we deserve after waiting so long.
'The Crown' Season 4 – 11/15
One of Netflix's top prestige dramas returns for its fourth season, and to quote Chris Harrison, this really might be the most dramatic season ever. As the timeline moves into the 1980s, we'll see the introduction of Lady Diana Spencer, and in the trailer we see glimpses of her wedding, as well as her tumultuous relationship with Prince Charles. This season's other top new player is Prime Minister Margaret Thatcher, played by The X-Files' Gillian Anderson. And of course, we still have Olivia Colman and Helena Bonham Carter killing it as Elizabeth and Margaret, respectively. This season looks like it's going to be wild, in the most refined way.
'Big Sky' – 11/17
Big Little Lies creator David E. Kelley has two new shows this fall, and the second is Big Sky, a drama coming to ABC. This one looks worth it for the gorgeous scenery alone, but there's also a gripping thriller plot to seal the deal. Two private detectives (one played by Ryan Phillippe, swoon) team up with an ex-cop to investigate the disappearance of two teenage girls. They soon find out that other girls have gone missing in the area, and it becomes a hunt to stop more kidnappings from happening. Looks creepy, I'm in.
'Saved by the Bell' – 11/25
The reboot trend is officially not over—sorry if you're sick of them. This might be the thing that finally forces you to get a Peacock account, because the nostalgia is out of control. In this latest reboot, Zack Morris is the Governor of California, while A.C. Slater is teaching P.E. at Bayside. The old cast is obviously here, but much of the series focuses on a new group of kids at Bayside, who are a mix of wealthy and low-income students. Should be interesting, but let's be honest, it can't be worse than last year's dreadful 90210 reboot.
Images: Liam Daniel / Netflix; Netflix, HBO, TV Promos, Star Wars, FX Networks, Bravo, Netflix UK & Ireland, ABC / YouTube
'Grey's Anatomy's Giacomo Gianniotti Is More Than Just A Pretty Face
If Giacomo Gianniotti seems like a familiar face, he is. Gianniotti plays heartthrob doctor, Andrew Deluca, on the ever-popular ABC award-winning drama, Grey's Anatomy. 
It's easy to get caught up in a character's persona, feeling like you know the person behind the camera, but the truth is, nine times out of 10 we do not. I had the pleasure of speaking to Gianniotti (and yes, he's as dreamy as you'd imagine) about the man behind the TV scrubs, and the things that shaped him into the person he is today. A philanthropist, an activist, and a passionate humanitarian, Gianniotti is more than just a pretty (beautiful, stunning, hot) face. 

I asked Gianniotti off the bat, what is something everyone should know about him. His answer pleasantly surprised me, because it was nothing short of relatable. "When I speak to people, they're often surprised to find out that I still have friends from high school, because they often don't talk to anyone from their high school anymore," says Gianniotti. "I have a really strong group of friends from high school, and we've managed to stay in touch. The more I speak to people, the more I realize how incredibly rare that is. I feel fortunate because they have kept me grounded and kept me who I am."
A strong point—I've never stopped and taken the time to think about whether most celebrities are friends with their high school peers—but one would assume not, considering a lot of us non-celebrities barely talk to people from high school. A humble reminder to remember where you came from, Gianniotti remains down to earth and kind despite his extreme rise to fame. 
The conversation turned to Gianniotti's truest passion, helping others. 
"Doing good, giving back, and doing acts of kindness was always a part of my agenda. My mother did a lot of work when I was growing up feeding the homeless and working in community living centers where there were residents with mental health issues, so I was always kind of around and exposed to that," Gianniotti says. "When I started to grow in my career and started gaining a following on social media," which took a while since he says he resisted social media for a long time, "I started seeing the power of it as a tool for change and for good. We can distract people with positive content or things that help raise money for charities, getting people involved to do good. Once I made that realization, the sky was the limit in terms of what I could accomplish, and I am very proud of what I have been able to accomplish in the past 5-6 years since moving to LA."
While the list goes on (and on) of the amazing things Gianniotti has accomplished, a few stick out specifically. Gianniotti helps out a lot with My Friend's Place in Los Angeles. My Friend's Place assists and inspires homeless youth to build self-sufficient lives, offering comprehensive services to nearly 1,400 youth experiencing homelessness between the ages of 12 and 25, and their children, each year.
"I've really championed because I like to impact change in my personal community, and that's where I live," explains Gianniotti. "I'm not from here, but I live here, and I like to contribute to the place I live in the most possible way. I guess to answer your original question"—what people should know about him—"and round it back, growing and closing in on whatever the 'top' is, is not really fun unless everyone else can come along. And I don't just mean my friends that I grew up with and my family, but I also mean my community. People who are homeless and people who are struggling. People who don't have the same opportunity as I was afforded. It is my duty to do something to help everybody get a leg up." 
This is typically where I'd insert a line about how dreamy he truly is (and don't get me wrong, he is), but I feel like there is little room for sarcasm when talking about someone who is so passionately making a difference during a time where the world needs help. 
Gianniotti also gushed about his most recent partnership with outerwear brand, Nobis. While we've seen a-million-and-one celebrities collaborate with brands, we've not seen a-million-and-one brands donate 100% of sales to Red Cross COVID-19 Global Appeal and local hospitals. 
"When I went in a partnership with Nobis, I told people that it's very easy to see Nobis is a strong brand. The quality of the jackets and the way they ethically source, it's beautiful," Gianniotti says. "Nobis has already been doing a lot of work, a lot of giving back in the shadows that they haven't been public about. I couldn't be more proud to be partnered with them, because truthfully a lot of big companies are donating less and cushioning their profits, meaning they won't experience real loss. Nobis is donating 100% of sales, profit, everything, and that means they will be losing, but they're happy to do it for a good cause."
We switched to a more personal gear, as I wanted to know more about Gianniotti and his story. After all, it's not every day that you become Grey's Anatomy's biggest *living* stud. RIP McDreamy and McSteamy, we still think about you. 
"These are issues that we need to talk about, issues that aren't seen on television. Police bias, homophobia, gender inequality, pay equality, politics, gun violence against children, the trans community, . Getting people to be visible and see themselves on screen in a powerful way, and combating negative stereotypes that have long been seen by these different franchise folks. That is something that makes me very proud to be on the show," he says. "I had the immense pleasure and responsibility this season of telling a story with my character of mental illness. Bipolar, to be specific. There is a lot of mental illness in my family, and I struggle with anxiety myself, so I was very proud to represent that community and I hope I did a good job. I hope I made people proud, and feel represented. It is something we worked very closely on with the writers, and again it's really about people being seen." 
Gianniotti, who was open about his personal struggle with anxiety, has recently found a way to bring peace into not only his own home, but the home of his followers too. He recently began a segment on his Instagram page, which he calls "Poetry in the P.M." 
Of course, I had to tune in for my own personal curiosity research purposes, but I left his first session feeling calm and happy. It was nice to click on a celebrity's page and see their platform used for good. Now don't get me wrong, I'm not here to bash the ~other~ celebrities who continue to post photos of how their lives have not changed because their property is the size of a small city, but I DO appreciate the celebrities who care about us little people. 
"As a lot of people in this situation have been, I've been forced into time alone with my thoughts," Gianniotti admits. "I started thinking about the things in my life that I've been neglecting, the things that I haven't made time for, but bring me joy. I've always loved poetry, but I haven't given time for it in the past couple of years, so I started reading it again and thought it would be a cool thing to share with my followers. We read a poem, we talk about it, and maybe for 15 minutes you can forget where you were. I've had guests and people from different parts of the world, different languages, come on and read to show our similarities instead of our differences. Wherever you are in the world, you are special, you are valued." 
If you're reading this and gasping at how one human can be so perfect, same. In all seriousness, I will probably rate people's quality of being on a scale from zero to Giacomo Gianniotti, because he's set the bar so high for how to be a good person 101. 
I ended our conversation by asking Gianniotti about his biggest inspiration in life. Like, who made you this perfect, sir?
"Something I never mind talking about is my why, and my why is Robin Williams," Gianniotti explains. "He has been a big hero of mine my entire life, and when I was younger it was because he was a comedic genius and a force to be reckoned with as an entertainer. As I got older, I recognized all the work he did behind the scenes and how much he gave back. At the height of his career he was forcing his production to hire homeless people to work on films, doing all these things and using his power for greatness. I just really look up to him a lot, and I try to be an example like he was, having that immense power and using it for good. I always want to honor Robin Williams."
At this point in our talk I was borderline (and by borderline I mean extremely) emotional. HOW CAN SOMEONE BE SO PURE. Beauty, brains, kindness—I guess you really can have it all.
Images: Giacomo Gianniotti; giacomo_gianniotti / Instagram (2)
Ranking The Dead 'Grey's Anatomy' Characters From 'Girl Bye' To 'Come Back'
This Sunday marks the 14th anniversary of the premiere of Grey's Anatomy. That's fourteen years of death. Fourteen years of devastation. Fourteen years of doctors who have no right being as hot as they are having sex with other doctors who also have no right being as hot as they are.
For most of us, Grey's was our intro to Shondaland—our gateway drug into a world where outrageously attractive people live outrageously dramatic and high-stakes lives. It's the formula for perfect television, and no one does it better than our girl Shonda Rhimes. How does one woman have the capacity to dream up such heartbreak? Such horror? Such gut-wrenching twists that leave people (read: me) literally screaming at their televisions, clutching their official Olivia Pope-approved wine glass? The world may never know, but we respect the hell out of her for it.
To mark this momentous occasion, we've ranked the saddest death's in the last fourteen years of Grey's Anatomy. While not inclusive of every death in the show (because truly none of us have time for that), it covers the ones that left us sobbing, ruing the day we ever decided to step foot in Seattle Grace – Mercy West – Grey Sloan Memorial hospital.
Reed Adamson

Reed sucked. Her death was the only redeeming moment in the otherwise horror-filled 80 minutes that was the hospital shooting.
Heather Brooks

This one was so wild that I'm still offended on behalf of Brooks. In a show full of outrageous and reality-defying deaths, our girl dies by… Electrocution? Seriously? It was as underwhelming as her entire presence on the show.
Craig Thomas

TBH if Cristina's Midwest mentor hadn't been played by Mr. Feeney, he probably wouldn't have even made this list. NEXT.
Charles Percy

Watching this comically large man bleed out in Dr. Bailey's tiny arms was so much sadder than I anticipated. I couldn't feel much after this episode, but I felt that.
Henry Burton

As a lifelong Scott Foley fan, this was especially offensive. As someone who has come to expect the absolute worst from this show, it was entirely expected. Teddy and Henry were never going to get to be happy, and we all knew that from the start. But we have Henry's death to thank for Scott Foley's role on Scandal, so not all was lost.
Ellis Grey

Ellis was a truly horrible woman, and the fact that she finally admitted that she kind of liked her daughter moments before her death does not redeem that. Like, really? That's it? That's your bar for motherhood? You're all sad.
Denny Duquette

This scene, Izzy's cupcake of a dress, and the Snow Patrol soundtrack that accompanied it, will be forever burned in my memory. It truly had everything. Hospital prom? Check. Illicit hospital sex? Check. The launch of "Chasing Cars"? Check. My understanding of why Izzy was so wildly in love with a guy she had known for a few weeks? Still nowhere to be found, even twelve years later.
Adele Webber

Adele dying during Bailey's wedding is the single most Adele move of all time. While I was sad for Richard, I was also secretly relieved, because I could not have withstood one more episode worth of her Alzheimer's storyline.
Derek Shepherd

It's been a few years since this went down, so I think it's time that we all take a step back and acknowledge what we all know to be true: Derek was an asshole. Straight-up. He cheated on his wife, but somehow it was Meredith's fault. In fact, it seems like almost everything was Meredith's fault, even Derek's actual death. The man survives a shooting, a plane crash, and a car accident, only to die at a lesser surgeon's hands? Dramatic irony at its finest. The fact that Meredith is vilified for unplugging him, meaning that even in death, Derek has condemned his wife to a lifetime of guilt and trauma? Poetic cinema.
George O'Malley

This will be an unpopular opinion, but George kind of sucked? The man was a walking bundle of unrequited love and adequacy issues that I, for one, got sick of real fast. However, that didn't make his death any less tragic. The fact that he laid there, dying, surrounded by his friends who didn't even know who he was, is probably the most George O'Malley move of all time. The reveal was truly a twist, and while I wasn't his biggest fan, I wish he hadn't died solely so we didn't have to watch the extended Izzie mourning cycle that followed.
Samuel Norbert Avery

I started watching Grey's Anatomy because I wanted to witness hot doctors perform incredible feats in between bouts of inappropriate hospital sex. I did not sign up to watch an infant die in their parents' arms, especially when one of those parents is Jackson Avery. Hard pass.
Lexie Grey

Shonda Rhimes has personally victimized me many times, across multiple TV shows, but nothing compares the her making me sit and watch Lexie bleed out as Mark tearfully talks about spending the rest of their lives together. I just re-watched the scene, foolishly thinking I'd been hardened by time or something, and cried at my desk at work.
Mark Sloan

Mark Sloan was the best character on Grey's Anatomy, full stop. His redemption arc from sleazy plastic surgeon who would put his d*ck in anything to doting father with a heart of gold has given me unrealistic expectations for men for probably the rest of my life. The fact that his death was caused by what I consider to be one of the worst subplots of the entire show only adds insult to injury. You're telling me he had to watch the love of his life slowly die out while being crushed by a plane engine and then, just when we all thought he was out of the woods (see what I did there), Mark is taken from us by a coma. A COMA? It's unjust. It's unfair. I could have watched ten more seasons of Mark Sloan smirking beneath his surgical mask. It's what we deserve.
Images: Disney ABC Press; Giphy (13)
Lena Dunham Is Making A Show About Fake Socialite Anna Delvey
This week, The Cut published a profile on Lena Dunham. The piece is being hailed as a refreshing look at female pain, and an illuminating profile on someone from whom we all assumed we'd heard more than enough. While the piece was indeed less insufferable than I feared it would be, one piece of information included was enough to ruin my day. Lena Dunham has a deal with HBO to create a series on fake German heiress (and real Russian scammer) Anna Delvey. You may have missed that tidbit in the extremely long profile, but yes, a Lena Dunham show about Anna Delvey is supposedly in the works.
In case you don't remember Delvey's story, here's a quick refresher. Delvey broke into the NYC socialite scene after a Parisian fashion internship. With vague claims about wire transfers and generational wealth, she scammed her way into almost $300,000 in unpaid bills for her luxurious lifestyle. She even made up a fake financial adviser, whom she then killed off when people grew suspicious. Last we heard from her, she was somehow Instagramming from Riker's Island. In other words, a baller through and through.
Me to Anna Delvey: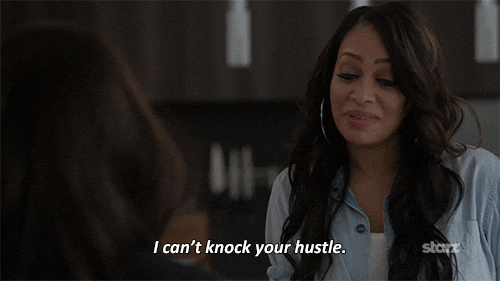 Lena Dunham, last we heard from her, was making a show called Camping, of which no one I know has been able to stomach more than one episode. And yes, we all watched all of Girls, but very few of us felt ultimately good about it. As far as careers go, Lena Dunham's has aged about as well as the box of Chinese takeout I ordered on Saturday night that's still sitting in my fridge. Seeing as Anna Delvey's story of scamming has been a bright spot of joy in an otherwise bleak news cycle, I'm not thrilled about the prospects of a Lena Dunham show about Anna Delvey. Like, ruin Williamsburg all you want, but when you come for my scammers? That's where I draw the line.
The good news is that Lena isn't the only person who's been given the opportunity to translate Delvey's scamming stories to the screen—we've known for a while now that Shonda Rhimes was also tapped to create a series for Netflix about her. Now, when I heard Shonda Rhimes was making her own Delvey show, I was thrilled. Rhimes' handle on sexy, fast-paced drama is exactly what Delvey's story needs. We need secret love affairs, high-fashion montages, and constant overlapping power plays. What we do not need is mournful shots of Delvey on the toilet while a Belle & Sebastian song plays.
The silver lining here? Whatever it looks like, the Lena Dunham show about Anna Delvey can't possibly be as bad and/or offensive as her adaptation of a Syrian refugee's story will be. Cheers to that.
If you love scams, cults, conspiracies, and true crime, listen to Not Another True Crime Podcast! New episodes out now.
Images: Getty Images; Giphy (1)
The 10 Most Annoying 'Grey's Anatomy' Characters, Ranked
I'm really fucking annoyed right now. For multiple reasons. First off, I haven't had an open Thursday night since like, the 90s, all thanks to Shonda fucking Rhimes and her life-ruining, ugly-crying, unrealistically stupid medical drama show that I've been sucked into watching for like, 87 years straight. I'm obviously talking about Grey's Anatomy.
And while we're on the topic of this being my favorite show that I unapologetically refuse to stop watching, I was so excited to write a #TBT post about Grey's Anatomy. But the fact that Shonda somehow managed to not kill off every character and continues to make me loathe 90% of them for 13 seasons (AND COUNTING) officially cancels out the whole "#TBT" aspect. So essentially, this is now just like, another dumb present-day recap. Kinda like that annoying chick that posts a #TBT pic about her vacation she got back from three hours ago. But whatever, no one's twisting your arm and forcing you to read about the actual worst characters on this show, just like no one's twisting my arm and forcing me to invest more time into a fictional wasteland than I ever have in anything that actually matters in life, but here we are.
10. Ava/Rebecca/Whoever The Fuck
Ok, the bitch had issues. It's no fucking mystery. But to change your name, pretend you "don't remember" shit about your life in order for the biggest fuckboy to roam the halls of Seattle Grace to take one glance at you, and then try to kill yourself in the comfort of his own home? That is some fucked up Stage-5, 13 Reasons Why baby-back bullshit. Doesn't she know that most people in L.A. would KILL to have facial reconstructive surgery? Like, be grateful for what you have and quit the pity party. TBH, the only reason she's the least annoying is because she's obvi mental patient status and I have to at least act like I have a heart.
Annoyance level: Girl who shares a social media account with her boyfriend.
9. Miranda Bailey
Congrats to Bailey for not entirely making me want to rip my weave out, but the more seasons in this goddamn series, the more she's beginning to piss me off. I thrived off Bailey's sass and take-no-BS attitude with a secret soft side in the beginning of the series. But apparently now she just can't handle super unfortunate things in her life, like her uncontrollable sexual desires or her intolerance for like, every human ever, which are things I only strive to achieve. Build me a fucking bridge, Bailey.
Annoyance level: Friend who bitches about being broke when she just booked a three-week Euro trip.

8. April Kepner
April made me contemplate taking a pencil to my eyeball when she first came on, and later KEPT coming on, and then she got a little better I guess. She blames everyone else for her garbage decisions (same), like the time she blamed failing her board exam on Jackson. I take full responsibility for my C average in college due attending toga frat parties on the reg. It's called acceptance. And who the fuck leaves a guy like Jesse Williams (who's capable dicking down any specimen with a vagina of his choosing) to go overseas and refuses to return? On second thought, stay there, Kep. You're cancelled.
Annoyance level: Girl who reminds the teacher you have homework due two minutes before class ends.
7. Maggie Pierce
Maggie comes in as Lexi's replacement, which is like, what's the lesser of two annoyings? Truthfully, IDK. Her incessant need to babble on about IDK what lands her at the No. 7 spot because she's like that girl you reply "that's crazy" to, which is the universal term for, "I literally tuned you out 12 minutes ago," but she evidently doesn't get the hint and still rambles on. Bitch needs to sit down and maybe roll a fatty to chill the fuck out, but she does throw a mean right hook, so four for you, Mags.
Annoyance level: Uber driver who shares his life story.

6. Erica Hahn
Someone get this bitch a hug stat. Or a dick. Wait, I think she was a lesbian? Regardless, Erica had a stick up her ass throughout her entire existence, but the only thing she had going for her was her rivalry with that fucktard Burke. She was good at what she did, but clearly being a good doctor is like the 12th most important thing on the checklist when it comes to Seattle Grace employees, considering they all pretty much could have avoided killing their patients. Bottom line is she was just annoying as fuck, and served no purpose other than to give me chronic forehead wrinkles from scrunching my face in disgust for like, three entire seasons.
Annoyance level: Girl who irks you by simply existing and you can't pinpoint why.
5. Reed Adamson
Reed and her dumb Keebler Elf haircut need to get that shit out of George's cubby like, yesterday. Has this bitch any respect? First off, she's like that exchange student from the rival high school who thinks she's hot shit because she hailed from the east side, but really nobody gives a fuck. She also went full Regina George and snaked her way into relationships by playing Alex and hooking up with Mark while he was with someone. Close your goddamn legs and get a new hairstylist, Reed.
Annoyance level: Villain on The Bachelor who says she's not here to make friends.

4. Izzie Stevens
Never forget that Izzie literally killed someone in the name of love. It's like the modern-day Romeo and Juliet, except that it's not because instead of sacrificing herself, she literally committed a crime that should've landed her life in prison. Is it weird that I feel like this is something the actual Katherine Heigl would do? IDK, she just gives off that vibe. Like, ok, the Denny Duquette love story literally left my soul in a puddle of mush, but lest we also not forget that not only did Izzie jack someone's heart, she also stole someone else's husband and left her own. The only reason why Izzie isn't further down this list is because I don't have enough Xanax to tolerate another bitchy Kath Heigl rom-com character who miraculously cons the hot guy into falling for her.
Annoyance level: Friend who falls off the face of the Earth after getting a boyfriend.
3. Preston Burke
Don't even get me started on Preston fucking Burke. I curse the day this fuckboy was born. He literally pulled the biggest jackass rule in the book à la Mr. Big and left Christina Yang on her wedding day at the altar. He really couldn't do this 12 hours prior? Pretty sure he also pushed her into everything else in their fucked-up relationship, too. But probably the worst part about all of this is that Burke's mom stripped Christina of the one thing on a woman you never dare to fuck with: her eyebrows. If it isn't apparent by now, there's a special place in hell for the Burke clan.
Annoyance level: Mr. Big leaving Carrie Bradshaw on their wedding day.

2. Arizona Robbins
Is it some sort of rule that once you become crippled, disabled, and/or over the age of 65, you're just allowed to be a dick for no apparent reason? Because sign me the fuck up. But seriously, Arizona Robbins used to be a Shonda fave until she blamed Callie for chopping off her leg (which fucking SAVED HER LIFE, but nbd) and went AWOL on everyone by cheating on Callie with P-Sawyer to like, get back at her or some shit. Way to fucking go, AZ. On that note, who the fuck names their kid Arizona? No wonder this bitch is batshit.
Annoyance level: Regina George telling Cady she'd "talk" to Aaron Samuels for her.
1. Meredith Grey
Fucking duh, Meredith earns the top spot on this list—not even her therapist can tolerate her. And I swear to god, if she refers to herself as dark and twisty one more time, I'm quitting #SHIT night. That's actually fake news, but it's the thought. Like sure, she's been through hell and back, but that was like, a few seasons in. Mer had no excuse for being a whiny, semi-selfish bad friend the first couple years at Seattle Grace. Also, who sleeps with their best guy friend knowing she'll regret it in the morning? I mean, me, but that's beside the point. And then she didn't even tell Derek's sisters she took him off life support and just peaced the fuck out for a year. She's like that friend you only call when you're feeling like shit, because you know she'll already have something to bitch about, too. TBH, I would've given Meredith a break had she not taken Derek's tumor drawing out of her room. Sorry, Mer, you're in the prime annoyance spot for life.
Annoyance level: Every year ABC announces Grey's Anatomy is renewed for another season.