The Sketchy Reason Why Taylor Swift Skipped The Grammys
The Grammys were like, four days ago, so normally we wouldn't even be thinking about them anymore. We've got the Super Bowl this weekend, and then the Oscars after that, so yeah, it feels like the Grammys were six months ago. But you never know when messy drama is going to strike, and today there's some Taylor Swift/Grammys messiness that we absolutely must talk about.
As you'll know if you watched the Grammys on Sunday, Taylor Swift was not in attendance. There were reports that she was going to make a surprise appearance to perform her song "The Man," but it apparently wasn't meant to be. Because Taylor Swift was never actually announced as a performer, there was no announcement made about the cancelation, but people still speculated about why she chose not to show up. Initially, many thought the reason was likely tied to former Recording Academy CEO Deborah Dugan, who recently filed a legal complaint against the Academy, alleging gender discrimination and sexual harassment (more on Deborah Dugan in a minute).
But a new Page Six report suggests a much slimier reason for Taylor Swift's conspicuous Grammy absence. According to multiple "music insiders," Taylor didn't go because they wouldn't promise her that she'd win. This year, Taylor was nominated for three Grammys, but the one she supposedly really wanted was Song of the Year. A Page Six source says that her team "called and wanted to be assured that she would win the Grammy. And while it wasn't an explicit demand, they certainly were fishing to find out if Taylor was a winner." What's more, the source claims, "It was understood in the conversation that if she's not winning, she's not coming to the Grammys."
Another source backed this up, saying "It's widely known in the industry that called to find out if she was getting a Grammy, they wouldn't tell her, so she didn't go. It's not uncommon to want to know. And everyone knows Taylor loves to win, win, win."
When I first read these quotes about Taylor's DL phone call, I felt like it was pretty shady behavior. I mean, just go to the Grammys, what else are you doing that day? But thinking about it more, I kind of understand why she would do it. Let's be real, Taylor Swift is a busy woman, and she doesn't really need the Grammys at this point in her career. She's already won Album of the Year twice, and I'm sure the novelty of walking a red carpet has fully worn off. It's understandable that she wouldn't really feel like going if there wasn't something ~in it for her~.
Okay, yeah, so we all know Taylor Swift loves to win, but who doesn't? To me, the most telling part of these quotes is the bit about how "it's not uncommon for an artist to want to know." Of course everyone wants to know if they're going to win an award before they sit through a four-hour music industry circle-jerk, but what kind of bullsh*t awards voting process is this, if all the artists feel like they can expect to find out (or even influence) the results before the show happens? I thought the only people who were supposed to know ahead of time were like, two accountants with briefcases handcuffed to them?
This report about Taylor Swift comes at a time when the processes surrounding the Grammys are already under intense scrutiny. Last week, ousted Recording Academy CEO Deborah Dugan filed a huge complaint against her former employer with the EEOC. Along with shocking and disturbing sexual misconduct allegations, she also detailed the corruption within the Grammy systems. According to the complaint, board members have "secret committees" which decide nominations, often favoring artists with whom they have personal relationships. She also accused these committees of prioritizing artists who they want to perform at the Grammys, even if they didn't get the most votes.
If all of this is true, it doesn't seem that crazy that a major artist like Taylor Swift would be able to pick up the phone and get some advance info. For what it's worth, a rep for Taylor fully denied the report, saying that "These statements by anonymous, unidentified 'sources' are absolutely 100 percent false and laughable. She just didn't go to the Grammys. You guys need to calm down." LOL, leave it to Taylor Swift's publicist to troll us with a TS lyric in a statement like this. Bravo, I'm impressed.
Personally, I believe the phone call rumor, because I just love a good scandal involving Taylor Swift and a supposed phone call. In all seriousness, given everything we've heard about the Grammys behind the scenes, it doesn't even seem that crazy that artists might do this. If I was going to put myself through the torture that is sitting through the entire Grammys in person, and not being able to switch to Netflix, I'd want to make sure it was going to be worth my while too. Don't hate the player, hate the absurdly long award show!
Images: Shutterstock
The 62nd GRAMMY Awards Recap: Music's Saddest Night
Everyone's hearts were heavy going into the GRAMMYs this year, after a helicopter accident that left nine people dead, including Kobe Bryant and his 13-year-old daughter Gigi, as well as Gigi's teammate Alyssa Altobelli and her parents. As host Alicia Keys astutely pointed out in her opening monologue, everyone at the Staples Center was sitting in the house Kobe built, mere hours after his tragic passing. Many of the performers paid tribute to Bryant; also in everyone's hearts was Nipsey Hussle, who passed away in March of 2019. The 62nd GRAMMY Awards were more somber than most, but there were still many moments worth acknowledging.
The Kobe Tributes
Still reeling from the news of the fatal helicopter crash, many artists used their stage time to pay tribute to Bryant in some way.
Lizzo opened the show with "Cuz I Love You", announcing, "Tonight is for you Kobe" before diving into her ballad. As per usual, she crushed her performance, bringing everyone some much-needed good vibes to kick things off.
Boyz II Men joined Alicia Keys onstage for a moving tribute to the deceased basketball star, when they sang "It's So Hard To Say Goodbye". Usher sang the same song at the 2001 Super Bowl to honor Aaliyah, making the choice especially powerful.

Before beginning her planned monologue, Keys sang a medley that recounted moments of the year in music (and also took shots at Trump), saying before she sang, "I know how much Kobe loved music. He would want us to keep the vibrations high." For the most part, the performances, presenters, and winners managed to do just that.
Run DMC held up a #24 Bryant jersey during their performance of "Walk This Way" with Aerosmith. Lil Nas X also had a Kobe jersey on the set during his performance of "Old Town Road"—his presence was really everywhere during the show.
We were all wondering how the Grammys would handle this sudden tragedy, and they paid tribute in a classy way without taking away from the reason we were all here: to celebrate music.
The Performances
If the GRAMMYs give us one thing besides Sunday night insomnia, it's plenty of performances to talk about. Some were fun, some were moving, some were unexpected, so let's go through the more memorable ones (because there are always about 10 performances too many).
The Jonas Brothers were great but should have just given the people what they wanted and played "Burnin' Up". The highlight of their performance was the rogue piece of spinach stuck in Nick's teeth and his tongue-in-cheek response to it, tbh.
And at least you all know I eat my greens. 🤪

— Nick Jonas (@nickjonas) January 27, 2020
Usher performed a medley of Prince's hits in tribute to the late icon, and it was awesome. I definitely forget about Usher sometimes, but he reminded all of us why he's such a star. Also, I definitely need to listen to more Prince, because all of these songs are incredible.
Lil Nas X had one of the best performances, and definitely the most fun out of anyone, when he performed a medley of his hits (yes, haters, he has more than one). He brought out the Walmart yodeling kid to join on "Old Town Road" (and Billy Ray Cyrus, but like, that was to be expected). But probably the most iconic moment was when Nas joined Lil Nas X onstage, effectively answering a question I've had for the past year, which is if Nas feels any type of way about Lil Nas X's stage name. Glad to see there is nothing but love there.
After getting emotional and having to restart, Demi Lovato gave a powerful performance of "Anyone", the heart-wrenching song she wrote four days before suffering her overdose in 2018. This was her first live performance in nearly two years, and her voice is just as stunning as ever. If you weren't crying before, you were definitely crying watching her triumphant comeback. She's also performing the National Anthem at the Super Bowl this weekend (casual), so I have a feeling it's going to be a big year for Demi. 

The tribute to Nipsey Hussle featuring Meek Mill, DJ Khaled, John Legend, YG, and Roddy Ricch was more than worth staying up past 10pm for, even though it should have occurred wayyyy earlier in the show. DJ Khaled and John Legend really gave Sunday Service a run for their money. I'd join their cult.
The Awards
Ah yes, the GRAMMYs also has awards. This is really the only award show where the prizes feel like an afterthought, but we should still talk about them. This year, they decided to move one of the more highly-anticipated awards, Best New Artist, to the end of the show, probably because they knew everybody would take a nap if they followed what they did in years past and put it toward the beginning. I would say I'm not mad about the choice, but I am most definitely mad.
Speaking of the beginning, Lizzo won Best Pop Solo Performance, and thank god, because if Lizzo didn't win something, and early on, the GRAMMYs wouldn't be around for next year. She gave a touching speech about making music that liberates people and makes people feel good. She talked about the importance of reaching out to people who might be struggling, and also to reaching out to those close to you if you might be struggling. She said, "Let's continue to hold each other down and lift each other up." As my dad would say when trying to sound hip, I'm down for that.
Dan + Shay won a Grammy for Best Country Duo Performance and if you don't know them, they're the people that are on your friend's pregame playlist that you beg to skip. The song they won for, "Speechless," is like, the official song of engagement and wedding videos in the last year, so you probably either love it or hate it.
DJ Khaled, John Legend and Nipsey Hussle won for Best Rap/Sung Performance, which no one can argue was deserved. John Legend gave a nice tribute to Nipsey in his acceptance speech: "We've seen so much tragedy today and last year and so much has gone on, but let's love each other and love our families and hold each other tight." Overall, this was a weird night, but moments like this made it worthwhile.

And speaking of Best New Artist, Billie Eilish won that. And Song of the Year. And Record of the Year. AND Album of the Year. That's right, it was a clean sweep. She's only 18 years old, and none of us will ever be this accomplished in our lives. Ya hate to see it! Billie is only the second artist in history to win the big four awards in the same year, and I feel like she more or less deserves it (even if Billie herself said she wanted Ariana to win Album of the Year). If nothing else, it's notable that the Recording Academy is willing to celebrate someone from the younger generation who's doing something fresh and different. In the past, the GRAMMYs have been accused of only caring about old people, and that definitely wasn't true this year.
Images: David Crotty / Getty Images; Giphy (3); nickjonas / Twitter
The Best & Worst-Dressed From The 2020 Grammys
Sunday night was the 62nd Grammy Awards, and of course, there were some interesting looks on the red carpet. Sandwiched in the middle of the Golden Globes and the Oscars, the Grammys red carpet basically has no rules, and runs the gamut from the most gorgeous gowns you've ever seen, to Lewis Capaldi looking like he desperately needs a shower. So of course, we're breaking down the best and worst looks from the night, and my god, were there some worst looks. Feel free to disagree in the comments, unless you didn't like Lizzo's dress, in which case you're just wrong.
Best: Lizzo

We all know at this point that Lizzo can basically do no wrong, but I don't know if she's ever looked quite this right. She ditched her tiny purse in favor of the most stunning white Versace gown I've ever seen. She had a huge 2019, and yeah, she's not going anywhere.
Worst: Dua Lipa

Her bangs were like the two scene girls from your high school having a get together on her forehead. She honestly looks good, but this entire outfit/glam combo is giving me flashbacks to every girl that was a bully in the 90s.
Best: Ariana Grande

Ariana literally floated to the red carpet on the cloud that is her dress. This is really the perfect outfit, because when you want to pass out at the end of the night, your dress can be your comforter and bed all in one. Also, I should really be sick of that ponytail by now, but it just looks so good. 
Worst: Alessandra Ambrosio

Listen, I have totally been there when I can't decide between wearing shorts or a dress, black or white, but what most of us would do is just try everything on in our closet and leave our room as a nuclear war zone before choosing the first outfit we tried on, NOT somehow try to mix all possible clothing options.
Best: The Jonas Brothers

Okay, I'll say it. The Jonas Brothers are hot. Even Kevin. They all looked great, and did a good job of looking like they go together without being matchy-matchy. Personally, I never really had a Jonas Brothers phase in 2008, but 2020 might finally be the time. It was bound to happen sooner or later.
Worst: Lana Del Rey

Lana Del Rey said in an interview that she bought her dress at the mall last week, and this tracks! I hate to say it, but she looks like the chaperone at a high school prom. You know, when the teachers have to dress up, but you know they don't really want to be there. Girl, I know you sing about snorting cocaine off dicks! Liven it up!
Best: Lil Nas X

Somehow I'm not sick of the glam cowboy aesthetic yet, and Lil Nax X turned it up to 11 with this neon pink, bondage-inspired take on the "Old Town Road" vibe. This whole look is extra as f*ck, but I wouldn't have it any other way.
Worst: Chrissy Teigen

Do we love Chrissy? Of course. Do we love this orange dress that looks like a cheap version of something Beyoncé probably wore in 2015? Not so much. Chrissy tweeted that she found her Grammys dress just 24 hours before the ceremony, and like… yeah. You can tell.
Best: Tyler, the Creator

Drag me in the comments all you want, I don't care!! Tyler, the Creator had a huge night, winning Best Rap Album, and he brought his signature style to the red carpet. This look probably wouldn't work on anyone else in the world, but Tyler looks so fun. And the best part is that, in the suitcase, he actually has the outfit that he wore later in the night to accept his award. We love an icon who packs light.
Worst: YG

YG showed up to the Grammys in my cardigan from Wet Seal in 2008 and nothing else. Did I do that in middle school when I wanted to dress sexy but not have my mom yell at me? Sure. Would I do it on a red carpet? …Maybe, but that's not the point.
Best: H.E.R.

Okay, how did she show up wearing the actual tapestry off my wall and still end up looking this good? For real though, the print of this kimono is absolutely stunning, and the hair and accessories complete the look perfectly. God, she looks so f*cking cool.
Worst: Joy Villa

Good god, get this bitch outta here. Every single year Joy Villa (still don't know who she is, really, and I'm not gonna look it up) shows up in some clickbaity Trump dress. And every year we play right into the narrative she wants by talking about it. Bye bitch.
IDK: Billie Eilish

Look, I can't decide if I love or I hate this. I feel like if it was anyone else, I would hate it. But this is kind of her aesthetic? If nothing else, I can say that her head-to-toe Gucci look made me feel incredibly poor. With Billie sweeping the big four awards, we saw a lot of this look throughout the night, and whether it's good or bad, it's certainly memorable.
Again, let me know what you thought in the comments, but if I see any Lizzo slander, I'm burning this f*cking website down. See you in two weeks for the Oscars!
Images: Axelle/Bauer-Griffin, Steve Granitz, Amy Sussman / Getty Images
Michelle Obama Got Roasted By Her Own Mom
Moms – they refill your debit card comfort you in times of need, feed you in times of hunger, and roast you when it's time to stay humble. This goes for teachers, coal miners, billionaires, and apparently even first ladies. We all remember Michelle Obama's iconic Grammys appearance this week, but one person who was less than impressed was Michelle's own mother, Marian Robinson. Like the true GOAT, Michelle shared a screenshot of her and Mrs. Robinson's post-Grammys text exchange, and her mom definitely seemed less than impressed.
Damn. The savagery. First of all, if Michelle Obama isn't a "real star" then who the f*ck is? Second of all, I'm legitimately impressed at Michelle and anyone over the age of fifty for knowing how to post a screenshot, and I'm doubly impressed at Michelle's mom for knowing how to text at all. These people really are exceptional. (For context I once sent my dad a screenshot of my flight information and he thought it was a website and got pissed off when the links didn't work.)
Michelle has talked a lot about her mother in her memoir Becoming (aka the #1 Christmas gifts for moms this year), who initially passed on living at the White House, but eventually agreed "for the sake of her granddaughters." Yep, that's right, Marian Robinson couldn't be bothered to move to the White House unless her duties as grandmother were called upon. Once she moved into the 1600 Pennsylvania ave, Mrs. Robinson "insisted on doing her own chores" and "declined invitations to swanky parties." Umm…has Marian Robinson been the low-key best member of the Obama fam this whole time?
In the end, this text exchange has the perfect mom energy, with a thin layer of roasting covering a deep well of obvious pride. And as an added bonus, now we know how Michelle stays humble even while wearing $4,000 Balenciaga boots.
Heads up, you need to keep up with the news. It's not cute anymore. That's why we've created a 5x weekly newsletter called The 'Sup that will explain all the news of the week in a hilarious af way. Because if we weren't laughing, we'd be crying. Sign up for The 'Sup now!
Cardi B Deleted Her Instagram Because People Are The Worst
After suffering sitting through five hours of Grammys coverage on Sunday night, I swore I wouldn't devote any more mental energy to them, but here we are. The fallout surrounding the Grammys and the hip-hop community is continuing in a really unfortunate way. Cardi B's win for Best Rap Album was historic, as she's the first solo woman ever to win that category. But wherever you can find a woman making history, you can always find a bunch of butt-hurt dudes trying to tear her down. Cardi B deleted her Instagram last night because clearly the haters got to her.
In the past couple of years, celebrities have gotten quicker and quicker to deactivate their social media accounts at the drop of a hat, whether it's to generate buzz or to get away from things for a bit. On Monday, Cardi B became the latest celeb to leave Instagram, but not before posting a video that made it pretty clear why she was unhappy. Luckily, someone recorded it before it got taken down. Thank god for that iOS update that made screen records, it has truly saved lives.
Cardi B reveals that she does not support BET's aim at Nicki Minaj and defends herself from haters discrediting her #GRAMMYs win. pic.twitter.com/ZA1nKoiuUO

— Music News Facts (@musicnewsfact) February 11, 2019
In the beginning of the video, Cardi says, "It's not my style for people to put other people down to uplift somebody else." She doesn't say so explicitly, but she's most likely referencing the BET/Nicki Minaj drama that happened on Monday. In case you missed it, BET posted an article about fans coming for Cardi, with a completely unnecessary caption about Nicki Minaj being dragged by her wig. It was rude, it was uncalled for, and it didn't even make any sense. In response, Nicki canceled her performance at the upcoming BET Experience Festival, and I really can't blame her. And even though Nicki and Cardi B have had their issues in the past, I'm glad Cardi called out BET for what they did.

In the second part of the video, Cardi B talks about the hate she's gotten since winning the Grammy on Sunday night. She points out that last year, when she didn't win a Grammy, people said she was robbed, but now they're complaining that she won. Much like the decision of whether to respond to a "u up?" text, damned if you do, damned if you don't. It was pretty inevitable that Cardi B would get hate from internet trolls no matter what, but it's unfortunate nonetheless. It's almost like women are constantly being fed mixed messages and double standards and being set up to fail?!? Larger implications about society's misogyny aside, Cardi B had one of the biggest years of anyone in music, so it's dumb to act like her win wasn't well-deserved.
Cardi B: IN EVERY CHART THERE WAS, MY ALBUM WAS ALWAYS TOP TEN.
Me: 
She also calls out haters who thought her career would be over after she got pregnant, and she says that sometimes she didn't get to sleep in her own bed for days because she was working so hard on the album. She also says that some songs couldn't even be completed for the album because she was sick while pregnant. Basically, Cardi worked hard as f*ck, and she's done with people saying it's not enough. And, I know nobody asked, but so am I. Criticize Cardi B's music all you want, like it or don't, I don't care, but you literally cannot say with any credibility that she doesn't have a strong work ethic.
I'm really hoping Cardi B is just taking a short break from Instagram, because her content is one of the few good things in this world right now. From her rants about Nicki Minaj to her rants about the government shutdown, it's all pure gold. Who else is going to distract me from all the fitness influencers that I hate follow? The prospects are bleak. It's important to note that Cardi B has done this before, so chances are she'll be back before long. Until then, I'll be listening to "Money" for the 10 millionth time.
Images: Getty Images; @musicnewsfact / Twitter; @BET / Twitter
Here's Why Your Favorite Artists Boycotted the 2019 Grammys
Last night, the 61st Annual Grammy Awards took place, hosted by Alicia Keys. What was supposed to be the biggest night in music history actually turned out to be more like that one girl's Bat Mitzvah that no one went to besides the people her parents paid to go to it. That's because much like the NFL, the Recording Academy has gotten more and more controversial, facing accusations of sexism and racism, so some people decided to sit out. Don't we just love the drama?
Me texting 2 guys at the same time #grammys pic.twitter.com/Gvh5QOAjiJ

— Betches (@betchesluvthis) February 11, 2019
So Why Do People Boycott?
The most notable people to boycott are the artists who feel most affected to it, rightfully so. Hip-hop artists are frequently used as promotional bait for the award ceremony, mainly as a way to get a younger and passionate demographic to tune into the award ceremony live so the Recording Academy can charge cat food companies even more money to run their ads during the commercial breaks.This is America. Which is why it's no surprise that artists like Jay-Z, Beyonce, and Kendrick Lamar usually nab multiple nominations yet receive no love when it comes to the actual decision making. I'm sorry, but who in their right mind actually believes that 24K Magic is better album than Damn. or 4:44 besides wedding DJs?
Who Sat Out This Year?
This year, Childish Gambino, who won both Song of the Year and Record of the Year (the first rap win in either categories) chose not to show up at all. Kendrick Lamar and Drake also declined a performance slot and were expected not to show up until Drake I guess decided to Uber to the ceremony to pick up his trophy. He then basically give a Cady Heron-level speech about how fans are a better reflection of your success than a Grammy. It's just plastic, after all. They quickly cut him off, but that's fine, he probably had to go to In-N-Out with Millie Bobby Brown. (Are they still friends? What's happening there?)
What the Recording Academy lacks in respect of people of color, they make up for in… also lacking respect for their female performers. Last year, Lorde's Melodrama (an album whose lyrics I still drunk text exes with) was nominated for Album of The Year—the only female in the category. Not only was she the only female up for the nights biggest prize, but she was the only nominee not asked to perform during the ceremony; instead asked to just contribute in a tribute medley. For those unfamiliar with the award ceremony, that's basically like being in the group chat about brunch and only being asked to meet at the McDonald's you go to after getting so drunk at brunch you need another meal. A nice gesture, but not fair at all.
The Grammys also came under major fire when Recording Academy president Neil Portnow said that female artists need to "step up" if they want to be considered for awards. So…Beyoncé, Cardi, Nicki, Taylor, and Ari…need to step up? Got it. Portnow's words were clearly not forgotten considering Dua Lipa subtly referenced the line, saying, "I guess we really stepped up this year" during her acceptance speech for best new artist. Why do I feel like it's the Grammys that stepped up, and not the other way around?
But Where Was Ariana Grande?
While the Grammys did nominate fifteen women for the big four categories this year as opposed to last year's six, it seems the Academy still hasn't learned all their lessons. Ariana Grande—who was expected to (and ultimately did) win her first Grammy last night—was in talks to perform but backed out. Ken Ehrlich, long-time producer for the Grammys, wanted to tell her what songs to sing, because there's nothing old rich guys love more to do than telling talented women how to do their jobs. I guess we didn't get the theme of Ariana's new album because uh, thank u, next to that gesture. This f*ck up cost them truly the biggest star in the world right now from performing on their stage, which they basically promised since the nominees were announced. This is basically like promising to bring Grey Goose to the pregame and you show up with Everclear, if that Everclear was named Bebe Rexha.
mhmmm here it is ! "too late for her to pull something together……" pic.twitter.com/YwuBOUkZjr

— Ariana Grande (@ArianaGrande) February 7, 2019
Did They Do Better This Year?
Oh, and if you think the Grammy's didn't want to try and find another way to piss people off, you're wrong, because they had J.Lo as the performer to honor Motown…during Black History Month…with Janelle Monáe sitting right there. I'm not sure why we still let old white men choose anything other than what flavor of tapioca pudding they want for lunch at this point. This decision clearly left fans of Motown angry, because as Gaga would say, there are about a hundred people in that room…who are talented singers of color that could have performed that medley. Actually, maybe not one-hundred, because most of them boycotted the show to pinpoint its racism anyway.
We'll see what the Grammys decide to bring next year: will they learn from their mistakes, or will they ask Carrie Underwood to honor Ray Charles? Only time and more tweets from Ariana Grande will tell.
Heads up, you need to keep up with the news. It's not cute anymore. That's why we've created a 5x weekly newsletter called The 'Sup that will explain all the news of the week in a hilarious af way. Because if we weren't laughing, we'd be crying. Sign up for The 'Sup now!
5 Celebs Who Will Be Noticeably Absent From The Grammys This Year
This Sunday is the 61st annual Grammys, otherwise known as white privilege in action "Music's biggest night." That's a nice tagline, but this year especially, I'm not sure it's true. That's because some of the biggest stars in music won't even be there. Umm, come again? While confirmed performers for the 61st annual Grammys include Cardi B, Travis Scott, and Shawn Mendes, the roster falls short of what you might expect. First of all, many of our favorite artists aren't performing (and we'll get to who in a minute). What's worse, some of the most popular artists of the year got snubbed in the major categories, so they're not even wasting their time to show up at all. Honestly, relatable. Others have different excuses, but either way, the Grammys will be a little lacking in star power this year. Here's who you won't be seeing on the Grammys red carpet this year.
Ariana Grande
Earlier this week, Ariana Grande made big news when she pulled out of the performance roster for the 61st annual Grammys. She wanted to perform "7 rings," but the producers said she could only do it in a medley with another song of their choosing. Ari wasn't happy about this, so she decided to not do the show. This is really not great for the Grammys, especially considering they've been using Ariana's face on billboards to advertise the show. Awkwardddd. Honestly, Ariana Grande is the biggest star in the world right now, so they should have just let her do literally whatever she wants. You really can't discuss music in 2018 without spending at least 5 minutes on "thank u, next".
Bradley Cooper
Despite "Shallow" being nominated for four Grammy awards, Bradley Cooper won't be in attendance. Instead, he'll be in London at the British Academy Film Awards, or BAFTAs, which are basically the British version of the Oscars. This makes sense, because A Star Is Born is nominated for seven awards, and Bradley is up for both Best Actor and Best Director. It seems like a pretty big scheduling f*ckup that both of these award shows are on the same night, but I guess there's usually not much overlap in the nominees. Shockingly, Lady Gaga is separating herself from Bradley Cooper for a night, as she will be performing at the Grammys. There can be 100 people in a room, but what happens when the one person who believes in you isn't one of them?
Taylor Swift
Apparently the BAFTAs are this year's hottest excuse for missing the Grammys this year, because Taylor Swift is going to be across the pond too. After missing out on nominations in the major Grammy categories this year, even though it feels like Reputation came out three years ago, Taylor decided to go to the BAFTAs with her man Joe Alwyn instead. This is actually kind of a big deal, considering how hard the Grammys have kissed Taylor's ass in the past. Also, she and Joe have rarely appeared in public before, so she's sending a message that things are serious between them. I won't pretend I'm sad about her absence, but I am sad that I won't get another chance to roast Reputation. Alexa, play "Look What You Made Me Do".

Nicki Minaj
Cardi B is nominated for five awards at this year's Grammys, but her biggest rival, Nicki Minaj, didn't manage to get a single one. That's gotta hurt. Nicki might not be at the top of her game right now, but she did release a new album in August, so this snub had to feel like a slap in the face. Or, more accurately, a shoe to the head. Nicki and Cardi seem to have cooled their feud in the last couple months, but if Cardi walks away a big winner on Sunday night, I have a feeling that Nicki Minaj will have a hard time resisting the urge to tweet. Hold onto your Louboutins, because this could get interesting.
Drake
So far this year, we haven't heard anything about whether Drake is going to the Grammys. Based on his seven nominations, you'd think he'd be first on the list, but he actually hasn't attended the Grammys since 2013. He's skipped out on four years when he was nominated for multiple awards, including two years ago, when "Hotline Bling" won two awards. In the past, he's been openly critical about the Grammys' treatment of rap artists, including not showing the hip-hop categories on the TV broadcast, so his absence makes sense. Drake could decide at the last minute to show up this weekend, but I wouldn't put money on it. I feel like 2019 is not the year anybody is giving up on the issues they care about.
With no nominations in major categories this year, other stars likely to skip this year's Grammys include Beyoncé and Jay-Z and Kanye West. Honestly, why would Kanye even want to go if he wouldn't get the chance to mess with Taylor Swift? And Beyoncé's joint album with Jay-Z only got nominated in two minor categories, so it's probably not even worth them getting a babysitter. Hopefully the Grammys will still be an exciting show, but it's not looking great. Cardi B and Lady Gaga, please don't let us down. If nothing else, at least Kylie Jenner might be there to cheer on Travis Scott? Wow, this is bleak.
Images: Giphy (2)
The Best & Worst Looks At The 60th Annual Grammy Awards
Last night was the 60th Annual Grammy Awards, and the celebrity red carpet looks did not disappoint. Actually, JK. If you were reading a regular fashion roundup, these looks would be considered "non-disappointing." But here, where we live for the opportunity to shit on any and all things fugly, I am disappointed to announce that for the most part, everyone looked pretty good at this year's Grammys. The only person who looked totally awful was that chick who wore the Make America Great Again gown last year. Her name is not even worth Googling, so I'll save you the time and let you know that someone wore a pro-life dress with a fetus design on it. I don't know who keeps inviting this bitch, but it's time they tighten up security at the Grammys. It's just embarrassing at this point. Anyway, here are the celebrities who killed the red carpet… and a few who missed the mark for good measure. Let's be honest, a best dressed list gets boring faster than a Bachelor group date without alcohol.
THE BEST
Cardi B

Cardi B could have rolled up in a Fashion Nova bodycon and Steve Madden heels and we'd all still say she was the best dressed because America is a cult and Belcalis Almanzar is our fearless leader. Obviously, she looked absolutely amazing in an Ashi gown with—you guessed it— Christian Louboutin bloody shoes. She literally looks like an angel with actual wings. *insert Cardi okurrrr chirp here*
Chrissy Teigen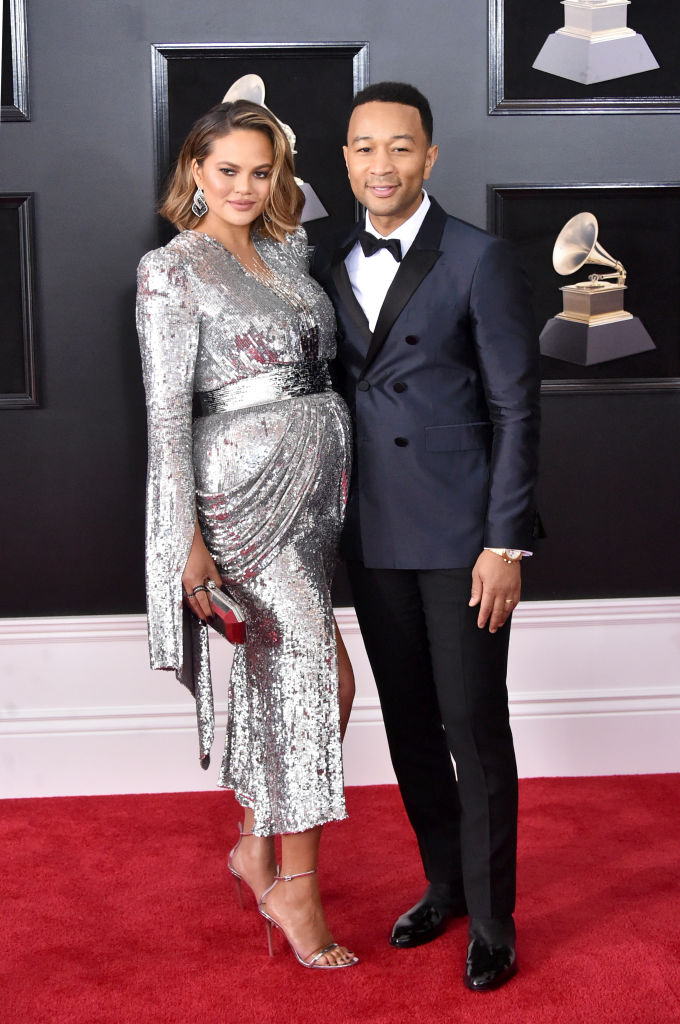 Chrissy Teigen always looks perfect, so seeing her on a best dressed list is as likely as finding an empty bottle of Jergens and a crushed Big Mac box in Trump's bathroom trash can. Her Yanina Couture gown would make anyone else look like a disco ball, but she worked it.
Lady Gaga

Gaga's red carpet style has relatively calmed down (…kind of) recently, but this look is a pretty good happy medium of classic shocking Gaga and some of her more subtle looks. This Armani gown is obv stunning, but she kept it on brand with a Daenerys Targaryen looking braid. She also took off the ball gown skirt, revealing a lace bodysuit for the actual ceremony. Sitting next to Lady Gaga at an award show is apparently no longer a risk for injury.
SZA

First-time Grammy attendee and person-who-definitely-should-have-won-Best-New-Artist, SZA may have just created one of my favorite red carpet looks ever. This Atelier Versace gown is like, the definition of looking effortlessly perfect. She makes the Disney Princesses look like total scrubs.
Eve

I think we're finally past the point where when a female celebrity wears a pantsuit on a red carpet, everyone's like "OMG this is so new and cutting edge!" Like, this isn't 1850. I'm glad we're not shocked by pants anymore. Anyway, Eve's striped sparkled pantsuit is a little Beetlejuice, but overall dope AF.
Maren Morris

Maren Morris's silver cutout dress is like, two cutouts away from looking like a glitter glue snowflake made by a kindergartener, and it kind of reminds me of that dress Ariel Winter wore to the Modern Family premiere, but it still definitely works. It's amazing. She also spoke out about gun control while on the red carpet, which is something country stars with a conservative fan base generally try to avoid. Basically, Maren is a bad betch who DGAF about following rules and I'm kind of obsessed with her now.
Miley Cyrus

*Billy Ray Cyrus voice* My lil' Miley Ray done growed up! Okay, but actually, Miley is giving us serious old Hollywood vibes with this red gown. Her performance was also incred and didn't even involve any uncomfortable licking… even if it did involve a number of uncomfortable flirty looks at Elton John. Baby steps, I guess.
THE WORST
James Corden

You'd think that the host of the fucking Grammys would take the time to make sure his suit was properly fitted, but you'd be wrong. The front was like, not ironed and the proportions of it made him look like this bird:

James changed halfway through the show, probably because somebody fired his stylist on the spot.
Sarah Silverman

Not sure how Sarah Silverman got ahold of Cady Heron's Halloween dress, but it wasn't the best choice for the red carpet.
Lil Uzi Vert

I know being an emo rapper is like, low-key his thing (think about it…), but I feel like with the amount of money Lil Uzi Vert has, he probably could have bought his outfit somewhere a little more upscale than Hot Topic. Maybe I'm just salty because if this look had happened when I was in middle school, I would have been the most trendy girl in 8th grade. And yet, that chain probably cost more than my apartment *Clutches my black pencil eyeliner, whispering "all my friends are dead" and weeping to myself*
Julia Michaels

From far away, Julia's gown is totally fine. However, when you look closer, you'll find that it's bedazzled with butterflies. Fucking butterflies. The skirt of this dress looks like it was made out of curtains from the set of an American Girl Doll catalogue photo shoot. In other words, it's a full-on Monet.
P!nk

P!nk is pretty open about the fact that she literally does not give a shit about what she wears, but like, come the fuck on. There's a difference between showing up in something boring because you can't be bothered to care, and putting on… whatever the fuck this is. It's like, half muppet, half fuzzy flip flops you wore to cheer camp in middle school. How many Truffula Trees had to die for this dress, P!nk?
Jenny McCarthy

Genuinely thought this photo of Jenny McCarthy was of a mannequin of a store called like, "Mystique" or some shit that you can't tell if it's supposed to be trashy club wear or literal S&M stuff. When you add in the outdated Katy Perry hair and the inexplicable sunglasses indoors, I feel like I'm looking at a female police officer character in a video game. I wasn't sure what Jenny McCarthy was doing at the Grammys before, and now I'm even less sure.