Last-Minute Father's Day Gifts Because We Know You Forgot Too
Betches may receive a portion of revenue if you click a link and purchase a product or service. The links are independently placed and do not influence editorial content.
Let's be honest, we all waited until the last minute to find a Father's Day gift. We're all just trying to stay in the present, ok? Speaking of presents… All I have to say is thank goodness for expedited shipping or my ass would be in trouble right about now. It looks like we're on the same page since you're reading this article, so we've taken the liberty of rounding up all the best Father's Day gifts on Amazon Prime for you. (You can thank us later.)
I don't know why, but I feel like if there's something smoked on a cocktail menu, the dad at the table is bound to order it. Bring the buzz home with this cocktail smoker kit. Did I mention there are 4 different kinds of wood to burn?

Bedside Docking Station

TESLYAR
Because we know he'd be a mess without you, help your partner (or dad) get organized with this bedside docking station. It has a perfect little nook or hook for everything he uses on a day-to-day basis. Bonus points: he'll never have to ask you, "Hey, where's my wallet?" again.

Breakfast Sandwich Maker

Hamilton Beach
You know what they say, "If you teach a man to fish…" Well, if you get him a breakfast sandwich maker he'll have fresh breakfast for life. Plus, what Dad doesn't love a good BEC?
Okay, so maybe he's not up for a trip to the spa, but that doesn't mean you can't bring the spa to him. This foot and leg massager is quiet and super effective. It's the perfect gift to show you care without actually having to touch his feet.   
Nothing quite says "Dad" like grilling. This 19-piece grill set is all he'll ever need when mastering the BBQ. It's made from quality material and has a portable carrying case so he can show it off to all his friends.
For the active Dad who's always on-the-go, the Amazon Halo tracker is the perfect addition to his ensemble. It'll track his steps, sleep, and heart rate without being intrusive or distracting.

Waterproof Portable Bluetooth Speaker

JBL
Not only is this speaker portable, but it's also wireless and waterproof—making it a perfect addition to your next family beach day. What more could he ask for?

Wireless Premium Noise Canceling Overhead Headphones

Sony
The father of your children might need some peace and quiet every once in a while, and these noise canceling headphones will do the trick. If he starts telling too many Dad jokes, you can always borrow them to tune him out.

Steel Smokeless Indoor Grill

Gotham Steel
I know we talked about grilling already, but what if it's raining on his BBQ parade? Or, you don't have outdoor space for a grill? Not to fret—this indoor grill has you covered. It's non-stick and dishwasher safe, which means no extra dishes for you to deal with.

Indoor Garden with LED Grow Light

AeroGarden
Give him the gift of a green thumb all year long. Dads that love being on garden duty during the warmer months will love having an indoor version of it for every season.

Double Cotton Hammock with Space Saving Steel Stand

Vivere
Let him relax a little—setting up this hammock in your backyard will make him feel like he's on an island somewhere without you having to fork over the funds for flights. 
Cure his caffeine fix during the hot summer mornings with a cold brew coffee maker. He'll stop complaining about his hot coffee being too watery when he adds too many ice cubes to it. 
Let's get to the point, pickleball is having a moment. It's a great game to play with the entire family. Just make sure he doesn't get too competitive.

Industrial Strength Hand Healer

Jack Black
OK, anything with the phrase "industrial strength" in the name has to be made specifically for fathers, right? We all know that he's probably never going to buy this for himself, but he desperately needs it. 

Insulated Cooler Backpack

SEEHONOR
Let him be the "cool" Dad he thinks he is with a leakproof, soft cooler backpack. Perfect for all the summer picnics, beach days, and boys' nights ahead. 
Image: Cottonbro / Pexels
Father's Day Gifts Dads Will Actually Use
Betches may receive a portion of revenue if you click a link and purchase a product or service. The links are independently placed and do not influence editorial content.
Let's get right to it: Father's Day is coming up, and we know you need ideas for gifts. Sure, we don't know that for fact, since we don't know know you and all, but we can guess you aren't necessarily living and breathing the same shit your dad is living and breathing. That's right, your 65-year-old dad isn't going to have the same batshit crazy reaction you might have to that Milk Bar cake you see all over your basic friends' Instagrams. So, it's on you to do some research and get something he might actually get excited about. But not to fret—we've got those young and hip dads covered in this list, too. We know they're mourning their youth, so the least you can do is get those new dads something cool for Father's Day.

Scentbird Subscription

Scentbird
Scentbird is a subscription that sends new designer/niche fragrances directly to your doorstep each month. We know men love their Old Spice, etc., but this is a great way to force get them to step it up a notch.

Apollo™ Stress Relief Device

Apollo
Dads love gadgets. And being stressed. Enter: the Apollo Neuro Device. Developed by neuroscientists and physicians, the Apollo device offers silent, soothing vibrations that speak to your dad's nervous system, telling him he's safe and in control, meaning it can help him fall asleep, relieve anxiety, etc.

Reparative Moisturizer

Eighth Day
The reparative moisturizer with Peptide-Rich Plasma® is an all-in-one, highly active moisturizing treatment that hydrates and repairs damaged, aging (sorry!) skin. We love a luxurious moisturizing moment, and so will your dad or husband… once you convince him to use it. And if he doesn't, more for you.
This is a minimalist, RFID-blocking wallet. The main cardholder uses elastic to expand to hold up to 12 IDs and credit cards. It literally screams "Hi, I was made for dads".

Tempur-Cloud® Breeze Dual Cooling™ Pillow

Tempur-Pedic
Men—especially dads—always seem to be uncomfortable and hot (and complaining about it). The Tempur-Pedic Cooling Pillow is iconic because it can solve both of those problems (and you can still keep the thermostat where it's at). You're welcome.
This is the nice guy of gifts, because you kind of can't go wrong with monogrammed packing cubes. They're even made sustainably from 16 recycled plastic water bottles. It's a win-win, and if your dad or husband is always the one who's trying to wake everybody up at 6am on vacation, he'll appreciate the organization of this gift.
I mean, let the tee speak for itself. Show off that your dad or hubs is the coolest dad around town in the Cool Dad 2022 Tee. If you're a baby mama reading this, get yourself the Cool Mom 2022 Tee to match.

Cashmere Crewneck Sweater

Nadaam
You can't go wrong with a staple sweater, especially one that's this soft. This specific Cashmere Crewneck is reversible and features a hand-sewn fashion tag, with a contrast seamless stitch. 

Basketball Trucker Hat

Homme Femme
This is for the like, really cool dads (they exist too these days). This is a premium vintage trucker hat with Homme Femme Basketball embroidered on the front. If the dad in your life doesn't appreciate fashion, this probs isn't for him. But the guys that get it, get it…you know the rest.
The movement to make dad sneakers cool again starts here! These Pangaia sneakers are made by repurposing discarded grape skins, stalks and seeds into lightweight grape leather. The sole is made from 86% natural rubber created from industrial waste including unused prototypes and products. They come in a bunch of different colors to choose from, too.

Gold Stainless Steel Watch

Allurez
You knew there'd be a watch on this list, and here is our pick. It's a gold stainless steel mesh bracelet watch that's a great option if you want to go all out this Father's Day, but not ridiculously all-out. You know?
We love a kit, because it requires minimum thinking on our end. This shave kit from Walker & Co. includes the Bevel Safety Razor, Shave Brush, Pre-Shave Oil, Shave Cream, Post-Shave Balm, and 40 Blades. Fancy shit! 
Images: biova-nakou / pexels
This Father's Day, Give Your Stepdad The Gift That Says 'You're Not My Real Dad'
Father's Day is just around the corner, and while you might have picked out a gift for your real dad already, you're probably struggling to find the right thing to get for that one guy who's married to your mom. It's not always easy to toe the line between a gift that is technically nice and won't get you in trouble with your mom, and a gift that lets your stepdad know that he'll never be your real dad, NEVER! As a child of divorce with a super hot mom, I've naturally had many stepdads (3) so I pretty much consider myself an expert on the step subject, and believe me when I say, not all stepdads are created equal. In my experience, some are great and some are terrible; some are dead and some are dead to me! So whether you're shopping for the stepdad you love, the stepdad you hate, or the stepdad you tolerate, follow my guide and give the gift that says "I'm not calling you Dad" this Father's Day. 
The Corporate Step: Funky Tie

The funky tie is a Father's Day favorite and depending on the dad this could either be a really nice gift or a total power move. Maybe he loves ties! Or maybe you know damn well he doesn't need to wear a suit and tie now that he's working from home. In fact, maybe he even confided in you over Christmas about how liberated he has felt not having the corporate noose around his neck day in and day out. How the pandemic has totally changed his life and he loves his new hobby of beekeeping so much that he's even considering retiring and devoting his life full-time to the bees! Let him know that you don't give a sh*t about his dreams with one small, seemingly nice gesture. 
The Every Step: Socks
Is your stepdad just like, a normal guy? An average Joe type with a bland personality? Do you not have a strong opinion about him one way or the other? Let him know that you really don't know him at all, with a nice pair of socks! 
The Rad Dad: #2 Dad Mug

Does your stepdad wear mirrored sunglasses that wrap around his head? Does your stepdad only communicate in fist bumps? Does he not really care what's happening as long as he can watch ESPN and man the grill? Does he pretty much stay out of your way, but in a loving and supportive way? If so, you might have what us professional stepdaughters refer to as "a Rad Dad!" Congrats! This is one of the highest-quality stepdad prototypes on the market today. They don't require much in terms of emotional maintenance, and you can always count on them to say "pound it" when they're proud of you. If you're lucky, they'll have a nice whiskey collection and buy you a car for your 16th birthday. 9 out of 10 stepdaughters recommend! Get this guy a #2 DAD trophy, mug, or T-shirt, because he deserves it! He'll say, "thanks, Sport" or your money back is guaranteed! 
The Sh*tty Step: Unsigned Card & Expired Gift Card
Is your mom making you attend a Father's Day brunch for your Sh*tty Stepdad™? Did she say you had to bring him a present otherwise it's no bottomless mimosas for you? Don't worry, I've got you covered. Here's what you're going to do: buy an off-brand Hallmark card at your local drug store. If they don't have any for stepfathers, buy one for fathers and then scribble STEP on it in giant letters. Next, turn the passive aggression up a notch and include a used gift card, signing your name "FROM, ." Believe me when I say nothing screams "You'll never be my real dad" like an expired Chili's gift card! Plus, if you're strategic about it your mom won't ever have to find out, but your sh*tty stepdad will, and that's the point. Remember, healthy relationships rely on having power over people! 
The Natural Nurturer: Nalgene

Maybe your stepdad loves hiking, or maybe you want him to take a hike, either way—the Nalgene is the go-to gift for your woodsy step! This water bottle has HUGE stepdad energy: technically nice, but ultimately disappointing, because while the Nalgene does hold a sufficient amount of water, its wide brim lip is notoriously difficult to drink out of, often resulting in unwanted and unattractive dribble action. Your mom will be so turned off by your step's slobbering that she'll have no choice but to leave him at whatever national park they're visiting, and voilà! You'll finally be free to watch Gilmore Girls in peace! 
The Spiritual Step: Power Strip
As someone who has had Jewish, Catholic, and Baptist stepfathers, none of which are religions I practice, I know what it's like to have religious differences with a stepparent. Mixed faith families aren't without their perks, though. Growing up with multiple blended families offered me a unique opportunity to observe and understand different cultures and religions from a new perspective. Not to mention, I got to celebrate two Christmases AND Hanukkah. I mean, c'mon. But truthfully, it isn't always easy living under the rules of somebody else's religion. Especially when it involves your third stepdad making you watch The Passion of the Christ every Easter, despite it going directly against your own personal religion: hating Mel Gibson. But if there's one thing I've learned from all three of my spiritual stepdads, it's that no matter our religious differences, there's one thing we can all agree on: there's nothing more practical than a power strip! Because with all of us addicted to our devices, who doesn't need more space for chargers these days, amiright?! Plus, It's almost impossible to make extension cords about God, so this gift will keep you in extremely neutral territory conversationally. You might die of boredom at brunch, but at least you won't have to listen to your stepdad rant about the Bible all night like he did that one year you gave him wine. 
The Southern Step: Weird Pet

For some reason or another, the Southern Second Husband is a staple in every divorcee's journey for love. They're always rich and they're ALWAYS problematic lawyers who played football at LSU in 1968. No, this isn't hyper-specific to me, how dare you! Anyone who's anyone has had a Cajun stepdad whose first language was French, okay? Anyway, the best bet for these guys is gonna be an exotic pet. The weirder and more high-maintenance, the better. Iguana, parakeet, monkey, snake, you catch my drift… The type of pet is dependent on whatever point you're trying to make/how mad you are at your mom, so I'll leave that up to you. Happy shopping! 
If you read through this guide and still have no clue what to get your step for Father's Day, then screw it! He's not your real dad anyway! And screw you! I gave some really solid advice here, the least you could do is take it. 
Images: Guille Faingold / Stocksy.com; Giphy (4)
The Hottest TV Dads Of The 2000s Who Low-Key Gave Us Daddy Issues
At this point you're probs well aware that Father's Day is this weekend. And if you weren't, you're fucking welcome because I just saved you a really awkward convo with dad where you have to pretend you forgot his gift at home, and didn't actually forget about him entirely. But if you think I'm about to tell you what to get him too, think again. You're on your own there, hoss. Idk your dad. Figure that shit out yourself. Instead, I'm saluting the hottest TV dads of our fave shows from the 2000s because, ya know, Father's Day. I'm sure Freud would have a fucking heyday.
1. Coach Eric Taylor
Back in our teenage betch days, Coach Taylor was the guy we all dreamed of locking down and making our baby daddy. He was probs the quarterback and prom king in high school, but instead of getting a beer gut when he went off to college, he stayed hot af and became the football coach at the local high school. Go Dillon Panthers!

2. Sandy Cohen
Sandy Cohen is the classic personality guy, who's around a 6 at first, but his personality makes him a solid 8. He had an insane eyebrow situation but with his shaggy black hair and killer smile, he knew how to make it work. He also thought it was sexy that his wife was a boss-ass betch who made more money than him, so bonus points for not being an archaic caveman who gives a shit about being the head of the household or whatever.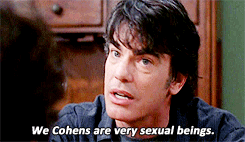 3. Rufus Humphrey
Rufus' starving-artist-in-Brooklyn-sad-puppy thing got a little old, but you can't deny that he was pretty cute, especially for a dad. He always tried to do the right thing, but bless his heart, with a social-climbing son, a daughter with too much eyeliner and Lily's indecisive ass, he could never catch a break. We still loved him though.

4. Dr. Sam Bennett
Tbh, I never watched Private Practice because it was just a low-rent version of Grey's so I have no intel on what Dr. Sam Bennett was actually like. But like, he was played by Taye Diggs and had a kid so he gets a spot on the list. Fucking duh.

5. Jim Halpert
A lot like Sandy Cohen, Jim is on the list for his personality more than anything. He's cute and all, but overall his looks are just meh. But his ability to be sarcastic, judgmental and hilarious all with one look at the camera takes his hot dad status off the charts.

6. Dr. McSteamy And Dr. McDreamy
I could have done these separately but, honestly, they're both the same. First they both hooked up with Dr. Addison, but then ended up falling in love with sisters Meredith and Lexi. Plus, they're both doctors and gray foxes. Boom. They're the same. Dreamy had more of the attractive sensitive guy thing going for him, while Steamy was more of the sexy bad boy, but they were both superhot dads.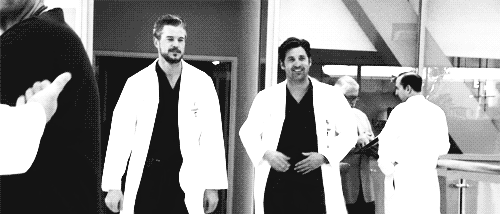 7. Jax Teller
Sure, he was a murderer, but if you even try to say that Sons of Anarchy's main dude wasn't sexy af, you're a fucking liar. So don't @ me.

8. Mike Delfino
I kinda forgot about Desperate Housewives, but before Andy Cohen dropped the reality TV version in my lap, it used to be my shit. And Mike Delfino was the hottest dad on the block. He was a single dad at first, and always had that brooding guy in the suburbs doing yardwork thing going for him. Anyone? No? Bueller?t

6 Celebs Who Have Bigger Daddy Issues Than You
Father's Day is just around the corner aka the holiday you only remembered because your mom sent you a text saying "IT'S FATHER'S DAY, CALL YOUR DAD." Thanks, mom, you da real MVP. We all love our dads because who else would pay our cell phone bills and help us move heavy furniture and patiently listen to us lose our shit because the Wifi is spotty in our apartments and, no, they can't do anything to fix that. But sometimes fathers fuck up and their children turn into Ariel Winter public cries for help. And why celebrate the success stories when we can delight in other people's failures? So here are 6 people who have way bigger daddy issues than you (because taking away the "emergency" credit card is not a real issue).
1. Ariel Winter
Speaking of public cries for help, let's start with my favorite one, shall we? Idk what it is but there's just something about Ariel that makes me think she might have issues with the man that clearly did a terrible job raising her. She was emancipated from her parents in her teen years, so you know her childhood had to have been a shit show if she actually went through with the legal process and didn't just threaten to every time her dad refused to extend her data package for the month. But it's so weird because she just doesn't seem like a girl with daddy issues. Normally those types of girls are such attention whores always seeking validation through semi-nude selfies…

And her relationship with that replacement father figure C-list actor guy who lets her live in his house Levi Meaden is just, like, the healthiest and not at all a cry for attention…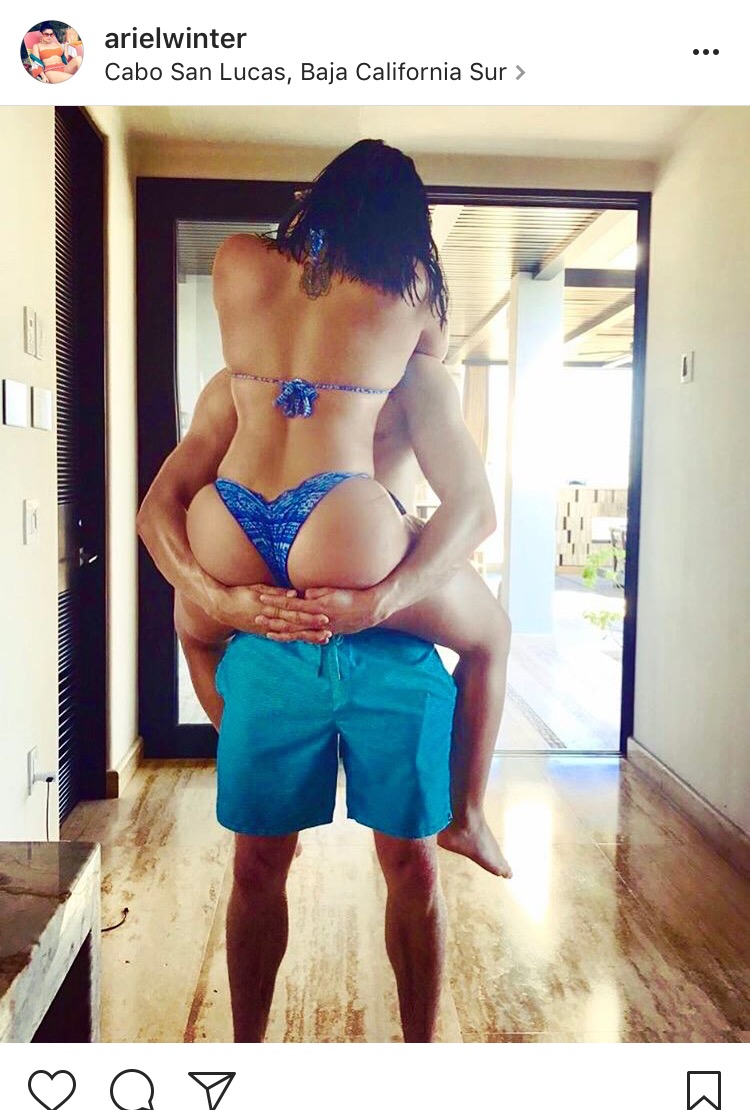 And she's just so normal and real on Instagram…

Lol kidding! It's blatantly obvious that this girl is screaming for parental guidance. Seriously, the other day she got a block of cheese tattooed on her wrist to match her boyfriend's (of less than a year) jar of peanut butter. YOU'RE NOT EVEN MAKING SENSE, ARIEL. Honestly, if that doesn't scream "daddy why don't you love me" then idk what does. Seriously, you're not fooling anyone, Ariel.
2. Ivanka Trump
Has anyone else noticed that when Ivanka is in her father's presence she constantly looks like she's internally screaming? Or is that just me the look of complacency? Idk. Either way I really don't have to say much here. I mean, I can only imagine the trauma of having a human Cheeto for a parent who is constantly trying to take away your birth control and is insistent on deporting your friend's very hot foreign boyfriend. Ugh, like, dad STOP IT. You're embarrassing me!

3. Ireland Baldwin
Ireland Baldwin, model and daughter of Alec Baldwin, has perhaps the best daddy issues story of all time. We know and love Alec Baldwin for how he accurately portrays roasts Donald J. Cheeto on SNL every week, but aside from being a comedic genius Alec is also a terrible parent. I guess we can't have it all. But he has blessed us with one of the greatest, most quotable voicemails of all time. When Ireland was in fifth grade her dad left her this voicemail: "You are a rude, thoughtless little pig. You don't have the brains or the decency as a human being." A. Rude. Thoughtless. Little. Pig. *slow claps* Honestly, he gets all the points for creative language because that was savage AF. Seriously, I'm writing this one down for the next time I babysit. But I guess if you're going to verbally abuse your child, you might as well make it something your kid—and America—will never forget, right Alec?

Just for the record, Ireland says this is "normal" behavior for her dad when he's "frustrated." In other news, Ireland just returned from a stint in rehab. I'm sure that's unrelated though.
4. Jessica Simpson
Though she's better at hiding her daddy issues than others *cough* Ariel Winter *cough* Jessica Simpson certainly has some. Does anyone else remember the one time her dad told GQ, "Jessica never tries to be sexy. She just is sexy. If you put her in a T-shirt or you put her in a bustier, she's sexy in both. She's got DOUBLE Ds! You can't cover those suckers up"? *shudders* Jessica tried to play it off like this was fake news, but I'm not buying it. I mean, the guy has chunky blond highlights IN 2017, which is evidence enough that he's a giant creep and 100% has inappropriate thoughts about his daughter.
Jessica Simpson:

Her Dad:

Me:

5. Penelope Disick
I'm not one to shit on kids—I do have some morals—but like, P is bound to have some daddy issues when she grows up. Kourtney can only do so much in terms of distracting her daughter with lavish family vacations and birthday parties that feature live fucking mermaids as the entertainment before she's going to realize that daddy is suspiciously missing from all of these events. Sorry P, Scott's not "away on business"; he's just getting shit-faced in Cannes with girls that could be your older sisters.

Yeah, being fucking adorable isn't going to save your childhood from this, P. And in that same vein…
6. Every Single One Of The Kardashians
I've seen every episode of this show because I really need to get better hobbies Keep Up, and while some would argue that Kris Jenner is clearly to blame for fucking these girls up I would argue that their dads DEFINITELY had a helping hand in this as well. One scroll through their Instagram feeds is really all the proof I need. Look, I'm not saying that semi-nude selfies are a definite cry for help, but I'm also not not saying that. For further proof, I'm just going to leave this here:

Yeah, they totally got enough love and attention as children. Totally.
A Guide To Buying Booze As A Gift So You Don't Look Cheap
Shopping for Father's Day is stupidly difficult. If you're wanting to skip the "fun" mugs, ties, and yard tools, wtf else is it that a dad wants?! Like us, most dads love booze. Whether they like to get weird with tequila or are happy cracking open a craft beer, most dads just want to be left the fuck alone to drink and grill with some goddamn peace and quiet. I can respect that.
So, this Father's Day, don't fuck up by getting a chocolate hammer and "No. 1 Dad" mug for the fourth year in a row. We've rounded up top contenders in all the booze categories to make this a bitchin' (and drunk) Father's Day.
1. Red Wine

If dear old dad is into a nice glass of red wine for sippin' at dinner, look for something that goes with literally everything. We like 2014 Cultivate Pinot Noir—a blend of grapes from several California regions that goes really well with red meat AND chocolate. It has tasting notes of everything from ripe red fruits to a touch of black tea. Sounds manly. Plus, it's about $27, so it counts as a legit gift.
2. White Wine

If for some reason dad is into white wine (maybe red wine gives him heartburn or makes him angry), reach for something that blends well with shit like grilled chicken, spice, and seafood. Grab a Sauvignon Blanc since it isn't especially sweet AND it keeps dad away from basic bitch territory like Chardonnay (shudder). We like 2015 Hawkes Bay Sauvignon Blanc cause it's got a bitchin' blend of acid and sweet with hints of citrus. Make sure dad knows to chill his wine and serve it with something Asian-inspired—like food from that Japanese place he loves so fucking much.
3. Bourbon

If dad is into bourbon, there are a few decent ones you need to be looking to buy. One is Bulleit Bourbon which, at 90 proof, is likely to give dad a hangover Father's Day he'll never forget. The good thing about this shit is that it's smoother than most bourbons since it's 2/3 corn and 1/3 rye. It has mild spice and a littttle sweetness, perfect for drinking straight or mixing into whatever dad needs.
4. Scotch

.


If daddy has an American Express Black Card and you get your pretentious betchiness from him, chances are he drinks Scotch. Bonus points if he does the flicky water thing and sips it in a Hannibal Lecter sort of way. Anyway, if you're looking for a good but affordable Scotch for dear dad, try Chivas Regal 12 Year Old (Blended) or Bowmore Small Batch (Single Malt). Both are under $40 so you won't break the bank, but they're also recognized and awarded as super smooth with interesting flavor profiles. If you're dad's into Irish whiskey (I know it's not the same as Scotch, fight me), get him a bottle of Bushmills Red Bush. It's distilled in bourbon casks for a well-rounded yet versatile flavor profile.
5. Vodka

So if you're Russian or something, dad probably likes his vodka. Is that profiling? Whatever. Anyway, if you're ready to drop about $40 on good, organic vodka, try Purity Vodka. It's made in Sweden or something and has a really clean taste with notes of vanilla and pepper not usually in vodka. Definitely a step up from Dubra and Smirnoff.
6. Gin


Is dad a psychopath who enjoys gin? Is this where you got your psycho tendencies from? Great! Picking a good gin is NOT as simple as grabbing a bottle of Bombay (stop). Look for something decent like The Botanist. It doesn't taste quite as much like a cleaning solution and focuses on a niiiiice peppery kick. Plus it's only like $40 so you can't afford NOT to get it. Or if you want to trick Dad into thinking you spent a lot of money on his gift as penance for maxing out his credit card again or something (speaking for a friend), pick up some Sipsmith London Dry Gin. It's made in London (and therefore automatically classy) and it has a dry finish with spicy notes of juniper and a hint of lemon tart. Dry, spicy, then tart—kind of like dad. Too corny? Sry.
7. Tequila

Are you looking to splurge? Tequila makes us crazy, so if you want to blow dad away for Father's Day and try to make him forget that time you totaled his car, opt for the Avion Reserva 44, which clocks in about $150. It's super rich, aged, and has a really unique taste. If all you've been drinking is Jose, you won't know what planet this shit is from.
8. Craft Beer
If dad is a simple man who just wants to be left alone with a beer, give him the gift his heart desires (and then leave him tf alone). There are literally millions of craft beers out there, so head to Trader Joe's, grab an empty six pack, and start putting together a tasting you think dad would like. Like, any asshole can grab a case of Sam Adams—it'll just mean SO MUCH that you took the time to put that shit together. You're such a great daughter.