Forget Hot Girl Summer, I'm Having A Villain Origin Story Summer
When Disney first dropped the trailer for Cruella, the live action origin story of everyone's favorite dog-loathing fashion icon from 101 Dalmatians, I cracked my knuckles and prepared to commit to a life of hating on the film for years to come. However, after sitting through two hours and 14 minutes of Emma Stone faking a British accent through a frowny red lip, I regret to inform you that I'm obsessed with Cruella, CGI dogs and all. Instead of simply admitting that I misjudged a book by its cover, I'm going all in (can I say that? Does Teddi Mellencamp still have that trademark?) and dedicating my precious post-vaccine summer to channeling my inner Cruella De Vil on a daily basis. Truly, I'm just looking to do the most all season long, and few individuals are stronger advocates for maximalism and messiness than Cruella herself. *Insert contrived villainous laugh here* Anyway, here's what I've got planned. 
My Dog Is Coming Literally Everywhere With Me
(In my last move of non-Cruella behavior, I'll warn you that there are some light spoilers ahead.) Spoiler number one: Cruella doesn't kill any dogs. Thank god. She's actually your typical millennial dog mom and regularly forces her two roommates to help take care of her rescue dog, Buddy. (This really isn't that surprising of a spoiler. If Disney wouldn't even allow Emma Stone to take a quick little drag of a cig as a tribute to the original De Vil, we shouldn't have feared they'd go full Bambi on us in 2021) But just because Cruella sometimes relies on her roomies to walk Buddy when she is out on a bender and forgets she has responsibilities doesn't mean she's not fully obsessed with him. When she's coherent enough, she takes Buddy everywhere she goes. What's perhaps even more inspiring about this is that it's not even like he's a little toy breed she can just pop under her arm; Buddy is like, a whole DOG. 
This is basically just a long-winded way to explain that I will be smuggling my quarantine puppy into every happy hour, brunch, and rescheduled engagement party I attend this summer. No rooftop yoga session or stuffy bridal boutique with a gang of reluctant bridesmaids is too inappropriate! After a year of spending every waking moment together, we've both developed a mean case of separation anxiety, and I simply will not be leaving him just because I'm paying $15 for a White Claw instead of drinking it from a coffee mug on my couch. 
Outfits Will Be Chosen Based On Personal Vibes, Not Dress Codes

Perhaps the strongest pillar of Cruella's personality is that she is a fashion bitch, which was made known to the audience in the same exact way it is in any movie in which the main character is trendy: she put a bunch of pins on her school uniform and wore a lot of embellished Converse Chuck Taylors as a child. 
But Cruella isn't a fashion bitch the way someone like Emily from The Devil Wears Prada is a fashion bitch, and especially not the way your friend who essentially has her employer direct deposit her paycheck to Revolve is a fashion bitch. She's really more of a Lola Cep from Confessions of a Teenage Drama Queen in that she's obsessed with constantly peacocking and reminding everyone that she literally sewed the cocktail dress she's wearing to an event that required only jeans and a going out top. 
With that being said, I'm actually quite inspired by Cruella's refusal to adhere to a dress code, and I plan to experiment with both ends of the "I'm not wearing that" spectrum this summer. Maybe when someone in the group chat drops that dreaded "Are we looking…cute?" text, I'll throw 'em a curveball and reply "lol kinda," but then show up in the neon green, blunt bob wig that's been collecting dust in my closet since I was overly optimistic about what my plans for Halloween 2020 could have been. On the other hand, if you tell me you're dressing casual, I'll reach for the ridiculous asymmetrical dress I was influenced to declare bankruptcy and buy from Shopbop at yet another retail therapy low point of the last year. 
Once Photos Have Been Taken, It's Cool To Leave
In the height of her mission to overshadow Baroness Von Hellman during every red carpet appearance, Cruella put me on to a new way to attend events that I'm very into. Basically, she just shows up, makes the most ridiculous, Insta-worthy impression possible, and then dips out very dramatically. For instance, at one point Cruella legit peels out while hanging off of the back of a garbage truck. It's the complete opposite of the Irish Exit, a beloved pre-pandemic favorite. Instead of quietly slinking away from the group at 1am to order a pizza, lest anyone think I cannot hang, I will be turning the act of ditching into a full-on art form, rappelling myself out the door via the ceiling like some high-fashion Spider-Man.
Bad Behavior Will Be Blamed On My Alter Ego

Cruella being born as Estella and then rebranding as Cruella whenever she did something heinous is exactly the kind of energy we all need to be channeling this summer. Except in lieu of avenging the dramatic death of my mother at the hand of a few maliciously trained Dalmatians, you can catch me avenging the loss of the concept of a free weekend after I agreed to approximately one million different sets of plans with all of the people I haven't seen since 2019 and am quickly realizing I never actually missed in the first place. If you catch me doing something shockingly socially unacceptable, like flashing a body part at what was intended to be a nice wine tasting at a vineyard, just know that that wasn't actually me. It was my alter ego. (Or maybe it was the fact that none of us have socialized normally in about a year, and if I blank in the middle of a conversation, it's because I'm thinking about how f*cked it is that I actually kind of miss having access to a mute button on Zoom.) 
I Will Be Doing Weird Sh*t With My Hair And Makeup
If there's one thing I still don't totally buy from Cruella, it's that Disney expected us to accept that that black and icy-platinum blonde hair is her natural color. Cruella, if you're high maintenance, just say that. It won't destroy your Doc Martens and ripped tights aesthetic too much. Even the moodiest E-Girls of TikTok have to maintain those bleached money piece highlights, somehow. 
Besides the fact that I'm still convinced that Cruella is hiding her natural color, watching her transform her appearance with dramatic hairstyles, outrageous eyeshadow looks and even a few wigs made me feel like I might actually…try this summer? I don't know, I can't make any promises, but I do think I will at least try my hand at some experiential glam, heeding each and every one of Meghan McCain's tragic ponytails from her hosting gig on The View as warning. 
Images: Courtesy of DMED Media; Giphy (2)
We Turned This Year's Oscar Contenders Into Hallmark Christmas Movies
December is here, which means two things: Every movie you're watching is either Oscar bait or pure holiday trash. You have the Timothees and the Saiorses of the world dusting off their mantle for a trophy, and the Haylie Duffs of the world just dusting. Shockingly, there's no award ceremony for being in your 25th TV movie—although I'd argue Haylie's contributions to Hallmark movies warrant at least a Venice (Beach) Film Festival Award. Since I love to ruin things and act like I know what a movie is about before seeing it, I figured let's throw all of these movies into a blender and see what would happen if these Oscar films existed in the Hallmark Cinematic Universe (HCU). Will our movie smoothie be disgusting? Maybe, but worst case, we can just add vodka.
'The Favourite'
I personally (and emotionally) black out when it comes to British history, despite thriving during my time abroad in London—and by thriving, I mean drinking gallons of Pimms cups and asking everyone if my terrible British accent was any good. So, I kind of don't totally know what is going on here. But what I do know is that Emma Stone and Mr. Taylor Swift are in it, so there's that. What I also know is that it's about royalty and two cousins trying to be the favourite (with a 'u,' mind u). So when it's Christmas time, they're two cousins fighting over their neighbors love. One is engaged to her and has everything you'd want in a man: a steady income, a great hairline, and a job that requires him to talk about briefs. However, they don't have LOVE. Which is why, when she meets with the other cousin to prepare for their Christmas dinner and she realizes she doesn't need a retirement plan or a joint-bank account, she needs the Christmas spirit and… love, duh.
'Vox Lux'
Vox Lux is Natalie Portman as a pop star (girl, what?), but in the world of Hallmark, the pop star is actually the Christmas spirit, and the lux (or light, nbd but I did take Latin in middle school) is the north star that everyone follows to an amazing party on Christmas Eve. At the party, they do karaoke to holiday songs (my personal heaven) and… what's this? The quiet girl from high school has a gorgeous voice? This shocks everyone, but most of all the guy she had a crush on in high school. Who knows who the hell is having this party, but that doesn't matter—because of course, when the clock strikes midnight, they kiss! Does the girl with the amazing voice end up being a pop star? Of course not, because that would entail her going to the city at some point. In the HCU, cities are the root of all evil.

'Ben Is Back'
Ben Is Back is already set during Christmas, which is perfect. But it's mainly about drug addiction, which isn't super Hallmark. So, we sub that out for something worse in the HCU: NOT BELIEVING IN CHRISTMAS. Could you even imagine? The mom (not Julia Roberts, unless she REALLY wants to buy another house somewhere and needs the Hallmark cash, which I'm assuming is just Panera gift cards), spends all of Christmas Eve showing her son the magic of Christmas—aka, having a group of carolers sing to him and finding an old ornament. Suddenly, Christmas is saved! Sidenote, should we all go out this year as famous Carols and go around singing as Carol Carolers? Dibs on Radziwill.
'Mary Queen of Scots'
Okay, AP European History is truly trolling me this Oscar season. I somehow passed that exam, but it's almost definitely because I was next to the really smart junior that i'd give life advice to in exchange for him letting me see his Scantron. Whatever, my degree's in Communications anyway. ANYWAY, I do love that two Oscar queens from last year are in this together (Saiorse Ronan and Margot Robbie) and looking more gorgeous, talented, and wealthy than I will ever be. What I do know about this plot, though, is that it has had some historical inaccuracies so I'm going to say is that this is basically Hallmark's version of Miracle On 34th Street, but the saying is "every time an iPhone XR rings, an angel gets its wings."
'A Star Is Born'
A Star Is Born would basically be A Star Is Born, but set in the community theater world and their production of the night Jesus was born. Ally Maine here was the understudy for playing Mother Mary, and the eight grader playing Joseph would pick her out of the costume department and bring her up to sing. Weirdly, they sing "Shallow," but it works—because they're far from the shallows now. And by shallows, I mean the point in history where we switched from "BC" to "AD."
'Green Book'
Green Book tells the story of a famed NYC bouncer becoming a driver for beyond-talented pianist Don Shirley. In the world of Hallmark, though, who needs a car? The driver is obviously operating a SLEIGH. Because let's be real, Rudolph is drunk and no one knows where the hell the other reindeer are. He's not driving because it's his passion, but because he's been on Santa's Naughty List for decades and this is the only way to turn his fate around. Will he, or will he just give up somewhere over a fly-over state? TUNE IN TO FIND OUT.
'Vice'
Santa's in the (Snow) White House and we don't know WTF is happening. It doesn't matter, though, because an elf is his Vice President, and this elf ends up calling all the shots. He goes crazy shoving Christmas cookies into his mouth while trying to become the actual leader of Christmas and we see him going fully batsh*t while Santa is… just sort of standing there. Who knew we'd end up (almost) missing gentler-seeming (but equally ghoulish) Santa later on. Womp.
Images: JESHOOTS.COM/Unslpash, Giphy (7)
The Most Bingeworthy TV Shows This Fall
As I sit in my flannel, jeans, and black ankle boots, I can happily confirm that the fall season is upon us. True, it's still mid-70s and I'm only dressed this way because there was a tick advisory for my workplace today (working in TV is all glamour, don't let anyone tell you otherwise). But I'm sure we can all agree that it feels like fall. In other words, it's time to curl up in front of your TV and forget the words "crop top" for another nine months. While you probably spent all summer bingeing Office reruns (same), fall is the time for new, highly anticipated TV. In order of when they come out, here are the new and returning TV shows that will dominate your life for the next few months. Please set your DVR accordingly.
'You' – September 9, Lifetime
I should qualify at the start of this list that not every show will be what's traditionally considered "good." For example, most of the dialogue in this particular show makes me want to throw myself through a window. But like, in the BEST way. This show is about Penn Badgley playing a stalker freak who becomes obsessed with a slightly vapid blond and immediately starts doing psycho sh*t like writing about her on an anonymous website breaking into her apartment and messing with her life. So basically, a dark yet accurate glimpse into Dan's future. (Extremely self-aware of Penn Badgley to take this role.) This is my new favorite guilty pleasure show, and if you're a fan of Lifetime at all, I can't recommend it enough.
The first of many red flags he displays in this show: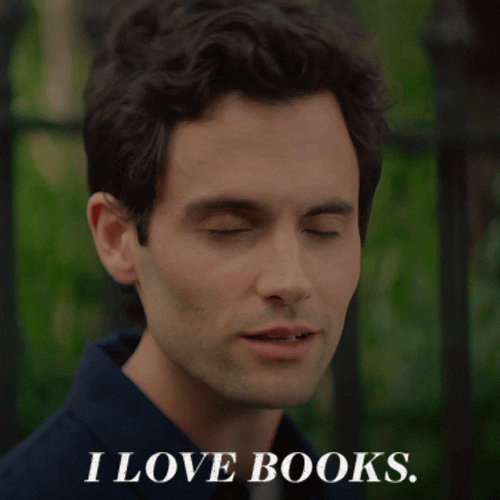 'Maniac' – September 21, Netflix
Okay so polar opposite of the last show, but also about mental health. Can't imagine why that's trendy right now when we have such a stable genius in the White House! Anyway. This whole season dropped on 9/21, and it stars Jonah Hill and Emma Stone. Even in this ~Golden Age~ of television, that's a pretty high-end cast. I won't tell you much about the plot beyond the fact that they both have a sh*t-ton of baggage and sign up for a pharmaceutical trial. The plot is less important than the vibe, which so far is like every episode of Black Mirror smushed into one world. This show is good for an all-day binge when you're up for actually thinking about what you're watching. Invite over your artiest friend so they force you to pay attention through the first 3 episodes, it's kind of slow to start up.
'Dancing With The Stars' – September 24, ABC
Have I ever watched this show before? No, and I probably won't again. But who could resist seeing Grocery Store Joe flit across the stage! I give you permission to stop watching as soon as he's cut.
'This Is Us' – September 25, NBC
You all know what this one is for. This is the show you come to when you need a really good cry, or when you want to ignore all your problems and pretend Mandy Moore is your mom for a while. Also, to get your weekly Sterling K. Brown fix, which is right up there in terms of importance with drinking water and getting enough sleep. It's just a fact of life. This season, we're going back to Jack and Rebecca's first date—and Randall's daughter, Tess, all grown up. Few things are as pure as my love for this show.
Anyone else need to watch this on repeat to cleanse from this week's news cycle?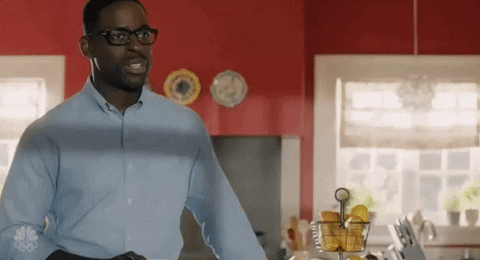 'Modern Family' – September 26, ABC
Did we all kind of get over Modern Family five years ago when it won every award? Yeah, maybe. But this is likely the final season, and they've been teasing a "significant death," so I'm planning on riding out the show until the end. It's the least you can do for something that gave you a few good years, like when you loyally wear your favorite black leggings until they're completely sheer in the crotch. Watch out of loyalty, watch because Phil is still funny AF, or watch because you're hungover and it comes on next on Hulu. Up to you.
'The Good Place' – September 27, NBC
Very few shows like The Good Place have come around in the past few years, and I'm deeply grateful when they do. It's from the creator of Parks & Rec, and has the same soothing effect of all your fave 25-minute comedies. Kristen Bell has spent the first two seasons figuring out that she's in (SPOILERS) Hell, aka the Bad Place. Season 3 opens up with her and her 3 companions having been redeposited on Earth to give things another try. Will they f*ck it up in a largely similar way to the first time? Probably, their memories were erased so IDK why they wouldn't. But it'll be fun to watch them try to fight their baser instincts for a while.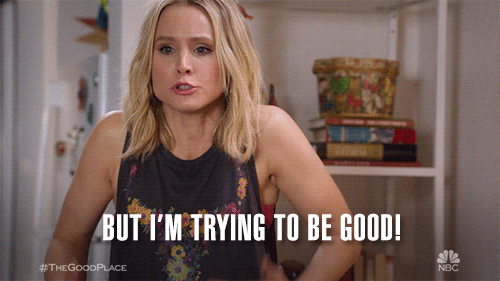 'How To Get Away With Murder' – September 27, ABC
This is another show that's sadly nowhere near as good as it used to be. But at its best it was so iconic that I still can't look away. No matter how ridiculous the rest of it gets, Annalise is still the epitome of boss b*tch goals, and Laurel still has an annoyingly good lingerie collection for someone with such a terrible personality.
'Riverdale' – October 10, CW
Of course the show I'm most excited for doesn't come back until October 10th. OF COURSE. Season 3 of Riverdale is about to be f*cking lit. We're dealing with the aftermath of Archie's arrest, an all-out war with Hiram, more screen time for Cheryl and Toni, and some weird cult stuff with Betty's sister. The promo shows Archie shirtless, more milkshakes at Pop's, and what appears to be a ritual sacrifice of two babies. Exactly what you'd expect and get more than you dared hope, in classic Riverdale fashion. And obviously we'll be recapping it.
Me all season:

The best part of these fall shows? Since they're all newly released, you're basically engaging in a cultural activity with every binge. Some people go to museums; you binge artful new storytelling techniques. Or at least that's what you'll tell yourself as you order Seamless the sixth time that week. Happy watching!
Images: The CW; Giphy (4)
Essential Travel Beauty Tips So You Don't Look Gross After Flying
Travel is without a doubt one of the greatest parts of summer. First of all, there's the crack-like (I assume) rush of turning on an "out of office" email reply. Chase that with a daily routine of margaritas for breakfast, followed by triple-digit likes on a "look at my ass this beautiful view" 'gram, and I'm decidedly living my best life. Unfortunately, even the highest of vacation highs tend to come crashing down within 24 hours of returning home. Not only did your "out of office" reply deter exactly zero people from emailing you multiple times, but you now have to deal with the ravaging effects of whatever public transit hell you were subjected to on your return home. (I'm primarily discussing air travel here, but let's not pretend that buses/trains don't leave you feeling pretty icky as well.) Here are some travel beauty tips for avoiding and even reversing the damaging effects of air travel.
Start With A Clean Face
If you're one of those people who can't leave the house without a full face of makeup, I have bad news. No one believes you woke up like that, and you should absolutely never fly in makeup. If you absolutely have to roll up to the airport made-up, at least take it off ASAP once you're in the air. Makeup wipes like these Philosophy facial cleansing cloths are a must, given the state of airport bathrooms and the fact that your bougie-ass cleanser definitely won't make it through TSA. Alternately, you can go with a (travel size) no-rinse micellar water—just please God use cotton pads, not airplane toilet paper. Ew.

Purity Made Simple One-Step Facial Cleansing Cloths
Embrace In-Flight Skincare
Ok, so now your face is clean. Sadly, your work is just beginning. One of the biggest damaging factors on airplanes is that they dry you out like crazy. This means you're looking at red patches, flaky skin, and the overall pallor of a three-day-old corpse (just me?). Luckily, there are ways to avoid this—though they do involve giving exactly zero fucks what the people in your row think. For starters, it seems like every celeb on earth applies a hydrating mask while flying. Luckily, there are "invisible masks" like the Origins Drink Up Intensive,  or Kiehl's Ultra Facial Overnight Hydrating Masque, both of which you can leave on for hours to absorb maximum moisture, without getting dirty looks from flight attendants. For those a little less shameless, the Summer Fridays Jet Lag Mask goes on like a regular mask (that you'll have to rinse off with a warm towel, somehow), but it provides hydration and anti-inflammation without any harmful ingredients or artificial fragrances (it's also vegan). If you're brave enough for a sheet mask, Chrissy Teigen and J Lo swear by the SK-II Facial Treatment Mask.

Kiehl's Ultra Facial Overnight Hydrating Masque
Once you've removed the mask, it's recommended you follow up with your preferred serum/moisturizer/eye cream. (Or if you're prone to puffy under-eyes (hi), consider some cooling pads like these skyn ICELAND firming eye gels.  Emma Stone swears by argan oil for long flights, but your heaviest daily moisturizer should work fine.

As a final, extra-luxe step, invest in a face mist. Celeb stylists love rose-water infused options (try Khloé Kardashian's preferred Jurlique version), but regular old Evian is fine too. If you're reallyyyy trying to get extra about this, the Caudalie Beauty Elixir is another celeb fave. (It's a toning spray, but don't ask me what toner does). Or,  you can follow up your SK-II celeb-approved face mask with their Facial Treatment Essence. (Seriously, do not ask me what essence does.)
Stock A Full Mom-Purse
You know that one friend whose purse is always fully stocked with Kleenex, lip balm, gum, etc? Yeah, you'll want to emulate that to an extent. In addition to all the face wipes and hydrating essentials mentioned above, you should never board a flight without hydrating lip balm, hand lotion, and more water than you usually drink in a week. This final point is especially key, because in addition to making your outsides dry AF, your insides are also dying from dryness when you're on a flight. So drink, drink, DRINK. Even though it's annoying to get up every half hour and use the bathroom, you'll thank me when you don't arrive bloated and constipated (ew), not to mention the fact that the simple act of getting up and moving frequently is proven to help beat in-air bloat, and can help prevent blood clots. Woo!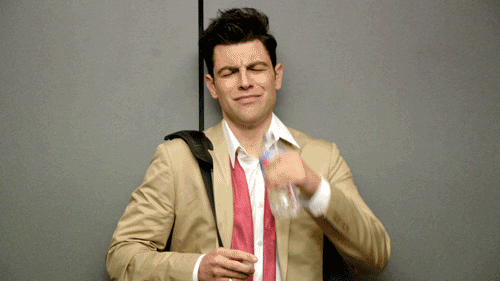 Be Careful What You Eat & Drink
Oh, and speaking of drinking—I have another bubble to burst here. As you know from waking up at 3am with desert mouth after a night of drinking, alcohol dries you out—which means drinking on flights is a big no-no (same is true for caffeine). Yes, air travel is definitely one of those memories I'd prefer be a little hazy, but the pounding headache and exaggerated dehydrating effects all around are not worth the 25-30 minute buzz. Save the drinking for your final destination.
When it comes to eating, you're better off the less you ingest while actually on the flight. Sugar-free foods and gum escalate an already gassy situation (sorry—I don't make the rules), and chewing gum makes you literally swallow air, which, you guessed it, escalates both the gas and the bloat. The same goes for high-sodium foods and any carbonated drinks. So yeah, even your beloved La Croix is a no go. Some experts suggest to avoid eating anything on a flight, since flying may cause your digestive system to slow down, and the restarting process will be all the more unpleasant if there's new food to digest rolling around in there. Whether or not that's 100% scientifically proven, many people who avoid eating on planes say they feel more rested and hydrated after, so it's worth a shot. Were you really that hyped about airplane food anyway?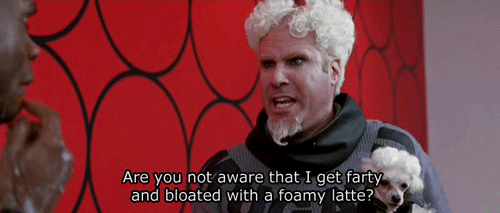 That's all from me (though TBH, it's plenty). I purchased maybe six more products over the course of writing this article, as I'm currently in the throes of post-flight bloat and ogre skin myself. Learn from my mistakes and help slightly soften the blow of going back to work by not having to deal with a pimple the size of a third eyeball taking over your forehead. Really takes away from the glamour of an overseas vacay.
Images: Giphy (2); Sephora (2)
Betches may receive a portion of revenue if you click a link in this article and buy a product or service. The links are independently placed and do not influence editorial content.
Our 10 Favorite Redheads Ranked In Honor Of St. Patrick's Day
There's nothing I love more than a holiday that encourages you to get shitfaced off green beer as an excuse to celebrate a part of your heritage that represents 2% of your genetic makeup. Seriously. I'm sure my great-great grandfather's step-sister's,cousin's child who actually fucking lived in Ireland would be v proud of me for making out with that ginger in a dingy LES bar.
And the only way I feel I can properly show that love is to rank people who are 100% redheaded and most definitely not 100% Irish  for my own amusement. Side note: in the midst of chugging Guinness researching this piece I googled "popular redheads" and a number of porn sites came up. If that is not an indicator of how this article turned out then I don't know what is. Anyway, here's a list of our favorite redheads ranked in honor of St. Pat:
10. Ron Weasley
First of all, you're poor. And not in the cute hipster/starving artist way that makes me want to pay all of your bills and fund your recreational cocaine problem, but rather in the I'm-going-to-complain-about-this-for-seven-fucking-books way while wearing an ugly fucking sweater. Secondly, not only did it take you seven years to grow some balls and actually help fight Lord Voldemort instead of gulping at spiders or whatever other spineless shit you were doing while your best friend was actually fighting wars, but it also took you that long to ask the DIME PIECE that is Hermione Granger out on a date. DO YOU HAVE EYES, RON?? This girl, for reasons that escape me, actually wants your dick and you're like nah, could be more beautiful, smart, fantastic feminist fish in the sea. *Whispers "you fucking idiot"*

Also you had an ex-girlfriend named Lavender and that really just speaks volumes about you. Minus 1,000 points for Gryffindor.
9. Donna Pinciotti
Donna is one of those girls that's always saying shit like "I'm just more of a guy's girl" and "girls don't really like me." Yeah, like your man hands and deep voice didn't have anything to do with that. To make matters worse, you had a Kelso in your clutches and yet you still chose scrawny-ass Eric Foreman. But you did manage to snag Jackie Burkhart as a bestie so that saves you from last place. Barely.

8.  Ed Sheeran
I know, I know. I'm probably going to catch shit for this one since people seem to be fucking obsessed with this guy, but how can you expect me to take someone who looks like this seriously? HOW.

Does he not look like the emo kid you sat next to in your 8th grade social studies class who was always writing poems in a dirty notebook about how popular girls didn't like him? Seriously, every time I look at this guy it's like a fucking time warp back to middle school. You're a GROWN man wearing a cloth necklace and the same zip-up sweatshirt every fucking day. If it weren't for the fact that "Kiss Me" will be the song I play when hell freezes over on my wedding day then you'd be right up there with Ron Weasley, buddy. 
7. Lindsay Lohan
Sorry LiLo, you would be higher on the list but you've pulled so many batshit stunts over the years (re: that time she got an accent or that time she chopped off her thumb to stay relevant) that I barely remember you're a redhead. Seventh place for you.

6. Miranda Hobbes
Aka the member of Carrie Bradshaw's posse that's having the least amount of sex in the city. Don't you feel like she's the kind of person who sets fires to feel joy? That spikey/lesbian/mom haircut that plagued you through the entire series is keeping you from moving up the list, but you did have some fire one-liners so at least you have that going for you.
 

5. Emma Stone
So I know she won an Oscar and, like, fucks Ryan Gosling in every movie she's ever been in so that counts for something. I guess. But she's also about as exciting as that basic AF dress she wore to the Oscars. You may be an Oscar winner to the world but your only mid-list here, Stone.

4. Sansa Stark
Way to turn getting fucked over my your boyfriend/king/betrothed into one hell of a second act. Sansa went from the most annoying character on GoT to one of the most badass all while having fantastic AF skin. #Goals. 

3. The Entire Cast of Riverdale
When I first started watching this show I thought maybe the wine I was drinking that had been sitting on my bar cart for six months had finally expired or something because every fucking character on the show was a ginger. And HOT gingers. It's like the laws of physics ceased to exist on my screen. First of all, Archie is just the gift that keeps on giving. He's an athlete, singer/song writer, and he's constantly flashing his six pack abs. Seriously, this boy is hot AF and I would def risk jail time in order to hit that à la Ms. Grundy. 

Then there's Cheryl Blossom aka the person I want to be when I grow up. She's like a redheaded Regina George and her one-liners are the reason I get up in the mornings. I'll even overlook the low-key incest vibes happening between her and her brother because she is that hot. 

2. Ginger Spice
Ginger makes it on the list because A) she's a Spice Girl so fucking duh she's making the list and B) she's BFFs with my favorite Spice Girl, Baby, and that counts for something. "Surround yourself with people who are a stepping stone to the people you actually want to be friends with"—a direct quote from my mother. Aside from being the Token Ginger, her signature look was anything that showed her cleavage. And like, same girl. Thank you for teaching me the important lesson of using a deep V shirt to get ahead. It served me well during my college years… and all my other years on this earth.

1. Prince Harry
ALL HAIL THE KING. Prince Harry is hands down the best redhead to ever grace this planet and I will fight you if you disagree. Not only is he a prince and like v rich and gorgeous but he's also the prince who isn't losing his hair rn and can coincidentally fuck marry a commoner like me. Cheers.

UPDATE: We Were 100% Correct About The Best Picture Fiasco
Head Pro will entertain your conspiracy theories via email at [email protected]
Let's take a walk back through history, friends. The time is… uh, Monday, roughly around the same time. As the world was still reeling from a major Oscars fuckup wherein Warren Beatty and Faye Dunaway mistakenly announced La La Land as the Best Picture winner. While I was aware of the stated explanation (a simple mixup involving duplicate winner's envelopes), my finely-tuned bullshit detector knew something was up.
I offered a couple (extremely) plausible alternative explanations, including this one:


Then, late last night, Page Six published this gem:
Brian Cullinan, a partner at PricewaterhouseCoopers, which handles the Oscars voting, giddily posted a photo of La La Land star Emma Stone just three minutes before giving Beatty what was supposed to be the envelope containing the name of the Best Picture.
"Best Actress Emma Stone Backstage!" Cullinan tweeted at 9:05 p.m. PST, according to the Wall Street Journal. The newspaper obtained a copy of the post before it was yanked, allegedly along with the slew of other tweets the on-duty accountant sent out during the show.
PwC went on to acknowledge and apologize for the "breaches of existing protocol," leaving out the part where the breaches happened in the first place because one of their partners (a meaningless distinction at places like PwC) wanted to fuck Emma Stone.
Do you hear that sound? It's the sound of me being right, ruling super hard, speaking truth to power and swooping Emma Stone (citation needed). I should be president.
How Do Celebs Prepare For Award Shows? Their Secrets To Looking Really Pretty
If you were watching the Oscars last night and were trying to figure out how these people show up looking fucking flawless, join the club. Celebs obviously have to be abnormally skinny and good-looking by default, but like, at what cost? I mean, don't get me wrong—Emma Stone looked pretty decent in Lala Land, but professionals are paid to edit that shit. 
What in the Steve Harvey happened last night? Read our Oscars recap!
We wanted to know what kind of prep goes on before the red carpet, so we did some research into the glamorous lives (and weird diets) of Hollywood's elite. If you thought stars were actually just like us, think again. Here's what the celebs do to get ready for the red carpet:   
1. They Get Their Faces Shaved

This is not a joke, and it's not a mistake that some 6th grade girl made because she was too scared to ask her mom for a wax. Celebs literally get their faces shaved before the red carpet and the treatment is technically called Dermaflash. Apparently, by getting rid of some excess peach fuzz and exfoliating your skin, you get that extra fresh glow that "flashing" provides. J.Lo and Jennifer Garner were both spotted getting their "flashing" done at the Beverly Hills Hot Springs and their skin is unreal, so like, we're trying not to judge. 
2. They Get Their Cheekbones Accentuated

We've been getting facials before events ever since our middle school graduations, but when it comes to award shows, celebs go to specific professionals who know how to literally manipulate your face to look better on camera. There are specific pros in LA that will only take nominees' appointments on the day of the Oscars. For example, celeb fave Joanna Vargas is known for her Oxygen Purifying Facial, which uses medical-grade oxygen to erase dull skin and create finer lines to get your cheekbones to look like they're popping out of your face. Goals, right?
3. They Get Blood Injected Into Their Faces

Botox appointments are just as regular as teeth cleanings in the celeb world, but when it comes to the Oscars, the regular injection doesn't make the cut. Celebs like Kim Kardashian swear by the "Vampire Facial Lift," which literally injects blood back into your face by using platelet rich plasma. Apparently it helps make your eyes look wider and your skin look super rejuvenated, and results are immediate. BRB, throwing up.
4. They Wrap Ice Cubes Onto Their Faces

A few days before the show, celebs are having this funky ice concoction wrapped onto their faces. Dr. Nigma Talib, an LA-based naturopathic doctor, works with stars before the Oscars through "icing" their faces. Icing is a process meant to de-puff your face, make your pores more refined, and take away any redness in your skin. She mixes together cucumber water, aloe vera juice, turmeric root, and water into a blender, and then freezes the liquid in an ice tray. Once they're frozen, she wraps the ice cubes in a washcloth onto their skin until it's all melted. Sounds pretty unpleasant and it's probably freezing AF. Aren't they cold enough from dieting all year-round?
5. They Put Jellyfish On Their Faces

This is another treatment that is super trendy right now in Hollywood, and it sounds like a high school bio experiment we decided to ditch. The jellyfish mask is made from jellyfish collagen, which is supposed to hydrate and firm your face to give you a youthful glow on camera. I don't even wanna know how much this absurd treatment costs, but you couldn't pay me to stick a jellyfish on my face. I know it makes you look good, but there are Instagram filters that do that too. We will be doing a follow-up analysis on if anybody ever has to have their face peed on if this treatment goes wrong.
6. They Cut Out Sugar, Gluten, Dairy, & Booze

Try telling a waiter that you're sugar-free, dairy-free, gluten-free, and you don't need a cocktail menu either. Celebs like Kate Bosworth, Penelope Cruz, and Sienna Miller follow this no-fun diet for weeks leading up to the Oscars, and it sounds pretty brutal. The worst part is, they probably can't even complain about it because all their famous friends are on the same fucking diet. I just hope they at least get shitfaced at the afterparty. 
The Best & Worst Beauty Looks From The Oscars
How The Oscars Best Picture Mistake Happened: Some Theories
The Oscars were last night, but because I have good taste and value my time I instead elected to go see John Wick Chapter 2 before drinking beer and watching a shitload of HGTV.  So imagine my non-surprise to wake up and find out that the auspicious event was marred by SCANDAL. Specifically, Warren Beatty and Faye Dunaway read the wrong card, mistakenly announcing La La Land as Best Picture, before quickly correcting course and announcing Moonlight as the actual winner.
What In The Steve Harvey Just Happened? Read our Oscars 2017 recap here!
(They also used the wrong picture for a lady who passed away in 2016, which, goddamn guys.)
Of course, along with the expected terrible memes and jokes circulating in response to the gaffe, there's also an explanation. An explanation we all know to be BULLSHIT, friends. No, Bullworth wasn't simply handed the wrong card. There's a conspiracy afoot, and it's time we got to the bottom of it. Here are some potential explanations for how such a (stupid, inconsequential) monumental fuckup came to pass.
Ryan Gosling Wanted The Spotlight

Ryan Gosling knows better than anyone that no one gives a shit about him if he's not sporting that annoying, smug, fake "aw shucks" shit-eating grin of his. But guess what's been making the rounds all day? That's right, headline after headline about how Gosling's reaction to the mixup was "perfect" and "A+." Fuck you, Mouseketeer. Your attempt to supplant the cast and crew of Moonlight's moment of glory is both racist AND homophobic. Because I say so.
Steve Harvey Is A Vindictive Motherfucker

Steve Harvey is an inexplicably powerful force in media, despite his main contributions consisting of contrived eye-rolls and dating advice that amounts to "ladies be nice to your men." The internet was very pleased, then, when he announced the wrong winner of the Miss Universe pageant in 2015. It's not much of a stretch to assume he used his vast influence to make another presenter feel his pain. Plus he's a fame whore, and people started putting him in memes again. It's a barely-kept secret in Hollywood that Steve Harvey is a voracious consumer of memes.
Someone At PricewaterhouseCooper Wants To Fuck Emma Stone

As we all know by now, the whole fuckup ensued when Warren Beatty was handed a copy of Emma Stone's envelope announcing her victory for Best Actress. If you were some nerd working at PwC and you wanted to passive-aggressively convey your interest in Emma Stone, what better way to do so than to use HER card to stage a coup and get her on stage again? I would have done the same thing, TBH. She's such a fox!
Steve Bannon

Look, while we know that Steve Bannon has no room in his heart for the Jewish Hollywood Elites, it's hard to imagine he has any more of a soft spot for The Blacks or The Gays (or The Black Gays, which is kind of a dope band name). Since La La Land is a navel-gazing Hollywood movie ABOUT Hollywood, it would have shocked no one if it won. Is it really that hard to believe that he would use his considerable influence to try to derail the proceedings? I definitely don't think so.
I think we can all agree that Beyoncé should have won Best Picture anyway, so the whole thing was a sham, if you think about it.
The Best & Worst Dressed At The Oscars, AKA Who Needs To Try Sears