These $16 Earrings Look Just Like Bottega Veneta's Viral Style
Betches may receive a portion of revenue if you click a link and purchase a product or service. The links are independently placed and do not influence editorial content.
Picture this: you're sipping a Cosmopolitan at a trendy rooftop bar, your earrings catching the glimmer of the city lights. As the night unfolds, you'll catch glances from those who recognize your impeccable taste. Are you ready to upgrade your jewelry collection and have everyone ask you where you got your new earrings? Look no further than these chunky earrings that are approved by fashion's elite. Inspired by the likes of Kendall Jenner, Bella Hadid, and Dua Lipa, these earrings resemble Bottega Veneta's viral teardrop hoops and are the must-have accessory to elevate your style. With their eye-catching design, these earrings make it more appealing to try something on the bolder side of the jewelry game.
Crafted with meticulous attention to detail, these earrings exude an elegance that will captivate onlookers. The rich golden hue complements the rest of your jewelry, while the dramatic geometric shape demands attention wherever you go. These earrings aren't just accessories; they're works of art that dangle gracefully from your lobes—no matter how dramatic that sounds.
But, let's talk versatility. Whether you're headed to a summer wedding or simply hitting the town with your besties, these earrings will top off any look. Pair them with a sleek evening gown for a glamorous touch, or let them be the focal point of your casual-chic ensemble with a pair of jeans and a T-shirt. They elevate any outfit—point, blank, period.
We know what you're thinking: "Do I have to empty my bank account to snag these beauties?" Absolutely not. These earrings are available on Amazon, bringing celeb style right to your doorstep (in two days with Prime shipping, yay!). The OG pair will cost you well over $1,000 and are gold-plated (finer pieces are usually gold-filled), so you're definitely getting a bang for your buck.
So, whether you're a fan of Kendall, Bella, or Dua's style or simply a fashion lover with an eye for iconic accessories, these chunky earrings will become your new go-tos. Embrace your inner street style star these stunners do the talking.
Remember, fashion is all about self-expression and embracing the extraordinary. With these earrings, you'll be at the forefront of a major trend that's easy to turn into your own. Get yours for just $16 on Amazon, ASAP.

I Found an Alternative to the Sold-Out Viral Platform Uggs, And They're Under $100
Betches may receive a portion of revenue if you click a link and purchase a product or service. The links are independently placed and do not influence editorial content.
Name a brand that's had a stronger comeback than UGG—we'll wait. What once seemed like a uniform staple for basic girlies everywhere, has quickly morphed into one of fashion's must-have staples, especially the Ugg Classic Ultra Mini Platform Boots. First, fashion's lovechild Bella Hadid was spotted wearing the boots with crew socks and very cheeky shorts in the dead of summer, and then other "It girls" like Gigi Hadid, Elsa Hosk, and Keke Palmer quickly followed suit. But, with so much hype tied to these platform stompers, it's no surprise that they've been sold out for months, and re-stocks are easy to miss. So, naturally, I had to find a lookalike for you, because who has the patience to stay on the waitlist for a '2000s shoe?
One quick scroll through Amazon's endless amount of shopping pages led us to the Cushionaire Hippy Pull-On Platform Boots. These look nearly identical to the viral mini shoes and are nearly half the price. At just $79.99 you can have these iconic shoes at your doorstep in just two days (shoutout to Amazon Prime shipping).

When it comes to appearance, these check off every box you might be looking for in platform Uggs. They're thick, warm, have a sky-high bottom to add a few inches to your height, and are super comfy thanks to memory foam. And, unlike actual Uggs, however, these have a faux-fur lining on the inside, if sheepskin isn't your thing. You can wear these for a hungover morning run to the bagel shop (bacon, egg, and cheese PLS!) or to go spend money on things you don't need at Target—you know, the important things. Just pair them with your favorite leggings and you're good to go, unless you're channeling your inner Hadid sis and want to wear them with cheeky shorts—which is totally fine too.
And avid Amazon shoppers give these their stamp of approval too. These not-Uggs have a 4.6 rating on the site. Unsurprisingly, these are also a hit among TikTok fashion creators too.
So, the bottom line is that not only are these cheaper than a pair of Uggs that are nearly impossible to get your hands on, but they're just as comfortable and high-quality as the real deal. There are good reasons as to why these have an average 4.6-star rating on Amazon, and the positive reviews speak for themselves. Sure, winter might almost be over, but if Bella Hadid can wear these in all-year-round, so can you. What are you waiting for? Snag these Ugg lookalikes for $79.99 and channel your most basic vibes today.
Cushionaire Hippy Pull-On Platform Boots, $79.99, Amazon
Where To Buy Kylie Jenner's Most Iconic Outfits
Even if I don't envy Kylie Jenner's current situation right now, I certainly envy her look. I mean, if nobody aspired to look like Kylie, would she still have her makeup empire? Would lip fillers still exist? It's seriously doubtful on both accounts. So I'm not ashamed to admit that I want to look as good as Kylie, because her outfits and makeup are always on point. (And she's worth almost a billion dollars, but that's totally not at all why I aspire to be her.) But let's be honest here—since Kylie Jenner is worth 900 bazillion dollars, she can buy whatever clothes she wants, even if she's only going to wear them once. I, however, have a total of $9 in my bank account currently, so I'll go out on a limb here and say spending thousands of dollars on an outfit is just not in my budget.
Because I still love her ~lewks~ (even though one of her outfits could prob feed me for three months), I have recreated some of Kylie Jenner's most loved outfits, all on a budget. You're welcome. I'm not gonna say I'm doing the Lord's work here, but like, these outfits are really cute AND super affordable. Thank god. Now you can dress just like the youngest and richest Kardashian-Jenner sister, and with the added bonus that you don't even have to deal with the drama of your best friend hooking up with your sister's baby daddy!
Kylie's 21st Birthday Outfit
My first look is Kylie's iconic 21st birthday outfit. Her hot pink ensemble had the internet going crazy. I found this look on Pretty Little Thing for a total of $56. Please don't faint. This look is a matching skirt and top, so you can pair the top with jeans and dress it up, or pair the skirt with a bodysuit and you have three looks in one purchase. Now you may faint.

From top: Pretty Little Thing Hot Pink Satin Extreme Shoulder Twist Front Top; Asymmetric Tie Detail Skirt
Kylie's Beaded Sheer Dress
Look #2 is this insane beaded nude dress that's taken me months to find. The recreated look is from Fashion Nova, and it will run you a whopping $39.99. That's less than a brunch! This look is perfect for a dressy evening event that you know your ex might be attending. Don't worry, it's not as sheer as the one Kylie wore, but it will certainly make a statement. Your ex is gonna hate it, but in the best way.

Fashion Nova Glo Up Rhinestone Dress Nude
Kylie's Post-VMAs Lewk
My last look is a thigh-high boot with a sweatshirt dress, which is one of my favorite looks, especially when I really don't want to wear pants. Kylie did a photoshoot in this outfit in her New York hotel after the VMAs, which like, same. I found a dupe of the off-the-shoulder sweatshirt dress for under $20, so it's an obvious win. This look is perfect for a night out, or even a boozy brunch when you want to look a little extra—which, let's be real, is every boozy brunch. I found these thigh-high boots, which are very similar to Kylie's, for under $100 as well, so I'm pretty proud of myself. Smalls wins in life are what matter.

Boohoo Off Shoulder Ruched Side Sweatshirt Dress

EGOShoes Kelsie Embroidered Western Thigh High Long Boot
Pick up some of these pieces so you can live your best off-brand Kylie Jenner life. We can't all be billionaires, but we can still look hot AF.
Images: @kyliejenner/Instagram (3); PrettyLittleThing; Fashion Nova; Calzedonia; Boohoo; EGOShoes
Betches may receive a portion of revenue if you click a link and purchase a product or service. The links are independently placed and do not influence editorial content.
7 Brands Celebrities Love That You Can Afford
Celebrities, they're just like us! Except… they're not. They have seemingly endless bank accounts, meanwhile I'm over here checking my PNC app before ordering a drink at Starbucks. Unlike us mere mortals, celebs can afford to spend thousands of dollars on one bottle of champagne, or even on a pair of Gucci shoes for their six-month-old baby. Basically, most celebs have the luxury of a high-rolling income, and therefore dress accordingly. However, in today's society where the 1% are considered to be the spawn of Satan, it's no longer likable for celebs to constantly be only dressed in designer threads. Thus, high-low dressing was born.
High-low dressing is mixing expensive designer pieces with pieces from more affordable fashion brands. This has become the signature means of styling among Hollywood's elite; it's not only more relatable, but it also proves that the celeb has legit style. Like, anyone can look fashionable when they're dressed in head-to-toe Chanel. But, what's more impressive is someone who can put together a look combining pieces from both Zara and Zimmerman and STILL look like a million bucks (without actually spending it). Here are the fashion brands that celebrities love, and that you too can afford.
1. AGoldE
AGoldE is a premium denim brand that was born back in 1989 but recently relaunched in 2014. They're based in LA, and are a sub-brand of Citizens of Humanity, but at a slightly lower price point. They tend to create trendier styles than their parent brand and are known for comfort and fit. This denim brand is a go-to for celebs such as Gigi Hadid, Kendall Jenner, and Sofia Richie. The price range for their jeans is roughly $128-$208, which definitely isn't as good a price point as, say, Topshop jeans, but still beats its premium denim competitors.

AGoldE Quinn Hi Rise Mini Skirt In Vega ($128)

AGoldE 90's Mid Rise Loose Fit In Fall Out ($188)

AGoldE Sophie Hi Rise Skinny Crop In Spell ($148)
2. Luv AJ
Luv AJ is the latest jewelry brand that I'm obsessing over, and apparently, all the celebs are too. Gawd, I'm like such a trendsetter!  Jk. In reality, Hailey Baldwin bought Luv AJ hoops, so I bought Luv AJ hoops. Hailey isn't the only stylish celeb who's loving this brand right now. It's also a go-to fav for Bella Hadid, Emily Ratajkowski, and even Queen Bey! The jewelry brand's prices range roughly anywhere from $35-$165.

Luv AJ Skinny Amalfi Hoops ($75)

Luv AJ x SABO LUXE The Isidore Cross Charm Necklace ($95)

Luv AJ The Evil Eye Coin Signet Pinky Ring ($35)
3. I.AM.GIA
If you know who Kaia Gerber is, then you probably know the brand I.AM.GIA. This brand recently made its name on the fashion scene and quickly gained a cult-like celebrity following. Their clothes are edgy and cool. With prices ranging from $60-$250, it seems to have become a wardrobe staple of Hollywood's "it" girls. Those currently loving I.AM.GIA include Bella Hadid, Emily Ratajkowski, and Jordyn Woods.

I. AM. GIA Jupiter Bodysuit ($72)


4. LEVI'S
Call it a comeback. In the past few years, Levi's once again made a name for themselves in the closets of Hollywood's elite. And, fortunately for us peasants, Levi's prices have still remained totally affordable. Of course, if you try to get a pair of Levi's from their brand collaboration with RE/DONE, then you might as well just sell your left kidney. But, if you get yourself some classic Levi's, it will be a lot easier on your wallet and you'll still look trendy AF. Levi's have quickly become a wardrobe staple of A-listers like Rihanna, Kourtney Kardashian, and Romee Strijd.


LEVI'S Baggy Trucker Jacket ($98)

LEVI'S Deconstructed Skirt ($98)
5. Quay
Quay sunglasses are the epitome of everything you want and need in a pair of shades. These shades are trendy, high-quality, and right around a $50-$65 price range. They're also an essential in Gigi Hadid's closet, who seems to legit own every pair ever made by this brand. For someone so rich and famous, you'd think her sunnies would be a lot more expensive, right? Maybe she's just responsibly irresponsible, just like us, and has a bad habit of losing all her sunnies at day-longs and tailgates? Eh, unlikely. Realistically, she's probs leaving them in the backs of limos that she takes to her runway shows. Besides Gigi, Quay sunglasses are also a fav of Kylie Jenner, JLo, and Jessica Alba. (Oh, and they're way cuter than the DIFF Eyewear sunglasses celebs pretend to love.)

Quay X Desi Perkins High Key Mini Aviator ($65)


6. Brandy Melville
Sure, your 12-year-old cousin may be wearing Brandy Melville, but so are your favorite celebs. Maybe it's because most celebrities have the thin frame of a 12-year-old girl… regardless, Brandy Melville has some amazing pieces, all of which pretty much remain under $50. Their whole "one size fits all" BS is annoying and even though I def can't even fit my big toe into their pants, I love to wear their trendy graphic tees and adorable dresses. Celebs that love Brandy Melville include Kaia Gerber, Kendall Jenner, Lucy Hale, and Chantel Jeffries. 

Brandy Melville Anne Bodysuit ($24)

Brandy Melville Samantha Metallica Top ($28)

Brandy Melville Athelia Knit Top ($32)
7. Reformation
Reformation is, as Paris Hilton would say, a v "hot" brand right now. The brand itself is very #woke in their approach to sustainable fashion, and celebs can't seem to get enough. Their pieces are feminine and minimalistic, with a vast price range. Pieces are anywhere from $28-$248. Reformation is beloved by celebs like Hailey Baldwin, Karlie Kloss, and Emily Ratajkowski, just to name a few.


Reformation Crimini Dress ($128)

Reformation Marlon Pant ($158)
Images: AGoldE (3); Luv AJ; Revolve (5); I. AM. GIA (3); Quay (3); Brandy Melville (3); Reformation (3);
Betches may receive a portion of revenue if you click a link and purchase a product or service. The links are independently placed and do not influence editorial content.
The Trends Celebs Wore During NYFW & Where You Can Get Them For Less
Between Cardi and Nicki's brawl, Kendall and Anwar Hadid's potential romance, and the drool-worthy outfits on the streets of NYC, New York Fashion Week is clearly in full swing. Equally as important to the designer threads coming down the runway are the outfits worn by the celebrity fashion icons sitting front row at all of the shows. Whereas the runway shows give us insight on the upcoming trends for spring, it's the celebrity street style that clues us in on what the trends are as we head into the current fall season. These are the trends we've seen on celebs so far this fashion week, and where you can purchase pieces from these trends for a lot less.
1. '70s Chic
Supes groovy, the '70s trend has ruled celeb street style this NYFW. Kendall Jenner stunned at Longchamp in a gorgeous lace-up purple suede dress, giving us straight Daphne from Scooby Doo vibes. (And no "ruh-roh", I was all about it.) KJ sat next to fellow supermodel Kate Moss, who also embraced the '70s trend with an effortlessly cool fringe jacket. Of course, Paris Jackson got a little too costume-y with the trend, wearing '70s flare jeans and a tied-up crop top. But I mean, she is the daughter of Michael Jackson…so like, if anyone's going to do it, it's her. Touché, Paris. You can wear this trend for fall without looking like an extra on That '70s Show by working in suede pieces, high-waisted bell bottoms, and A-line silhouettes into your current fall wardrobe.



2. Suit Dresses
Ever since Kylie wore that fire all-white suit dress to the VMAs, suit dresses have been on everyone's radar. Kendall Jenner wore a satin blazer dress to Russel James' Angel book launch party this past week, while Rosie Huntington-Whiteley wore a maxi version to the Ralph Lauren show. Suit dresses are an easy fall outfit that automatically looks stylish and chic. This fall, try a suit dress with heels for a dressed-up look, or wear it with sneakers for a more casual and edgy fashion blogger look.


3. Sheer
Probably the biggest trend we've seen so far amongst celebs this fashion week is feminine sheer fabrics. Celebs have been wearing them in subtle ways and, well, not so subtle ways. Bella Hadid and Kendall Jenner both went the not-so-subtle route, wearing head-to-toe sheer bodysuits to NYFW parties. Other celebs, like Olivia Palermo at Ralph Lauren, wore sheer fabrics in a less obvious, more girly, and classy way. Whether you love attention and want to go sheer bodysuit, or want to look more effortless with just a touch of sheer, you're guaranteed to be on trend for fall by mixing sheer into this season's wardrobe.

Free People Hard To Forget Top – $48

by the way. Naomi Mesh Cut Out Midi Dress – $66

4. Tonal Ensembles
The monochromatic look has been vvv in this summer, but fall puts a small twist on the trend, going in a more tonal direction rather than full-blown monochromatic. This means, you want to create a fall outfit that mixes shades of the same color, rather than just completely wearing the same shade head-to-toe. Barbara Palvin, the model famous right now for dating "Cody" of the beloved Disney series The Suite Life of Zack and Cody, wore the perfect tonal outfit to the Boss show. Tons of other celebs also embraced the trend, like Adriana Lima at Tom Ford and Kelly Rowland at Opening Ceremony. For those not brave enough to take on the full monochromatic trend, the tonal trend is def your less risky alternative (plus more currently stylish).


5. Midi-Maxi Dresses
Besides the sheer trend, the other huge trend we've seen a lot of so far this NYFW is the popularity of the midi-maxi dress. This dress length, which is longer than the traditional midi but not floor grazing like a maxi, has been worn by almost every A-lister at fashion week so far. They've been a go-to for Priyanka Chopra, so obviously you should be doing it too. Anyways, the midi-maxi dress is the perfect dress for fall, and works great paired with all of your fall boots and jackets!

Those are just a few of the trends we've seen from the celebs so far at NYFW and, with still a few days left, fingers crossed we'll get some more celebrity feuds (line through) trends before it ends!
Images: Shutterstock; South Moon Under (2); Free People (5); Revolve (3); Urban Outfitters (2);  Asos; Reformation
Betches may receive a portion of revenue if you click a link and purchase a product or service. The links are independently placed and do not influence editorial content.

The Most Heinous VMAs Looks That Made Us Wish We'd Watched 'Game Of Thrones' Instead
The MTV Video Music Awards are traditionally an event where celebrities compete with each other to wear the ugliest, most outrageous shit they can find. Except this year was a snooze fest and even the ugliest outfits weren't that offensive. There weren't any swan dresses or major wardrobe malfunctions, which is seriously disappointing. I don't even think any real celebrities went this year unless they knew they had to perform or accept an award; the red carpet was pretty much just social media stars. I guess everyone figured the world would be too busy watching the Game of Thrones finale to tune into the VMAs, so they decided not to even make an effort to be extra. What a shame. Anyway, these outfits still managed to suck, so let's talk shit about them.
Alessia Cara
Alessia Cara has a zero fucks attitude, which I really appreciate. I mean, she literally wore sweats and sneakers to the VMAs, which is a level of laziness I aspire to achieve someday. Usually, I'd give this type of behavior a free pass, but Alessia wore a plain black choker with Adidas Superstars, which are two trends that the Tumblr teens have totally killed. She also wore some sweatpants that kind of look like gauchos. *Googles what year it is* Like, girl, you won an award. Have a little self-respect.

Lorde
I. Wow. I'm gonna go book a doctor's appointment, because I think this outfit gave me an aneurysm. On top you've got some party tinfoil ensemble and then on bottom you've got sweatpants? It's like Lorde started making this outfit for the Project Runway unconventional materials challenge and then just ran out of time. If those sweatpants weren't bad enough, she paired them with Adidas superstars. It's crazy meets lazy meets basic, and it's all around bad.

Demi Lovato
I don't even know where to go with this one. Do I make a joke about the upcoming live action Aladdin movie, or do I take the ninja route? I'm a huge fan of jumpsuits, but this one is brutal. I'm actually v here for the top part because I have daddy issues slutty is my aesthetic, but then they had to go and ruin it with some sequined MC Hammer pants. And then Demi paired this all with some librarian heels. What makes this outfit especially tragic is that Demi's hair and makeup are fire, and "No Promises" is my current jam. I really wanted to see her succeed. I was rooting for you, Demi. We were all rooting for you!

Gabbie Hanna
I don't think that someone we vaguely remember from when Vine was a thing counts as a "poorly dressed celebrity," but this dress sucks, so I'm going to add it to the list anyway. All it's missing are pin stripes and then this would be a Sexy Lady Gangster costume from Spirit Halloween.

Katy Perry
If you can look past the creepy fake baby Katy has strapped to her chest, you can appreciate the full horror of this dress. This isn't The Hangover, put Carlos to bed. Anyway, Katy looks like a member of Mugatu's squad, or like Princess Anastasia gone wrong (Google it, you'll know what I'm talking about). Honestly, I'm pretty shocked that her outfits for the night weren't worse than they were. I had low expectations.

Mel B
Anyone know why Scary Spice showed up with a "I need to talk to your manager" haircut and a giant eyeball over her ass? I feel like she got high and watched The Secret right before getting dressed and all she could do was mumble shit about her "third eye" to her stylist and this is what they came up with.

The Best & Worst Dressed At The Golden Globes

Natalie Portman is pregnant AF, so she chose a sensible yellow Prada dress that was probably a leftover from the Jackie set. Literally how is she so pretty?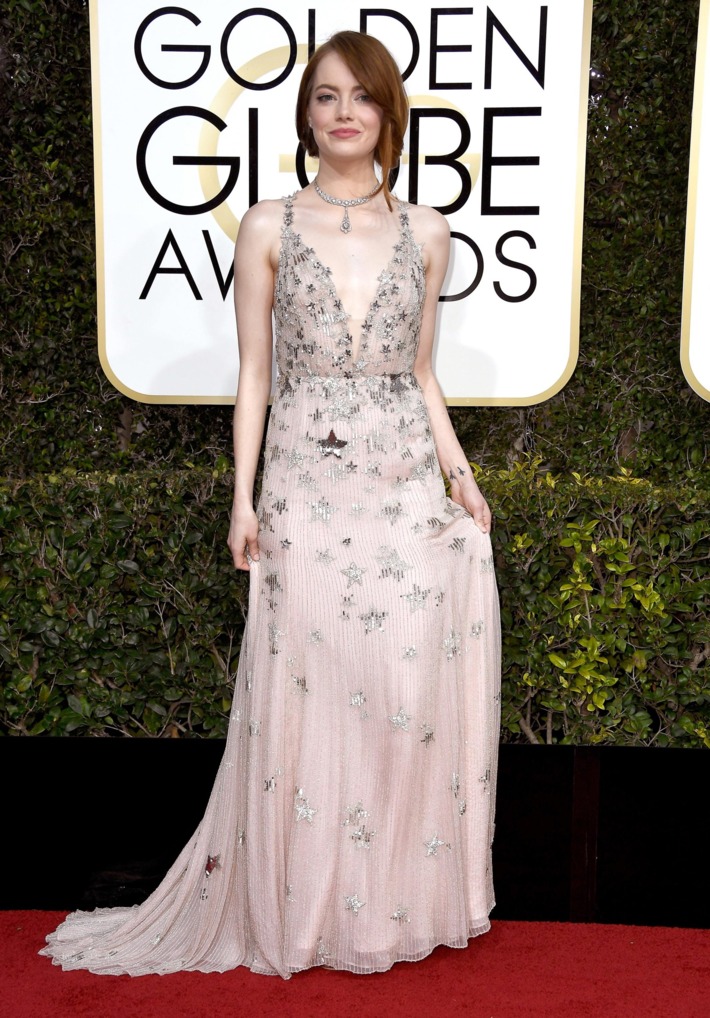 Emma Stone played it safe in a nude Valentino dress with a plunging neckline. She's super pale so it kind of blended in with her skin, but she made sure to remind us that she's the biggest fucking star in Hollywood with the silver stars all over the dress. Honestly, the whole thing was a little bat mitzvah.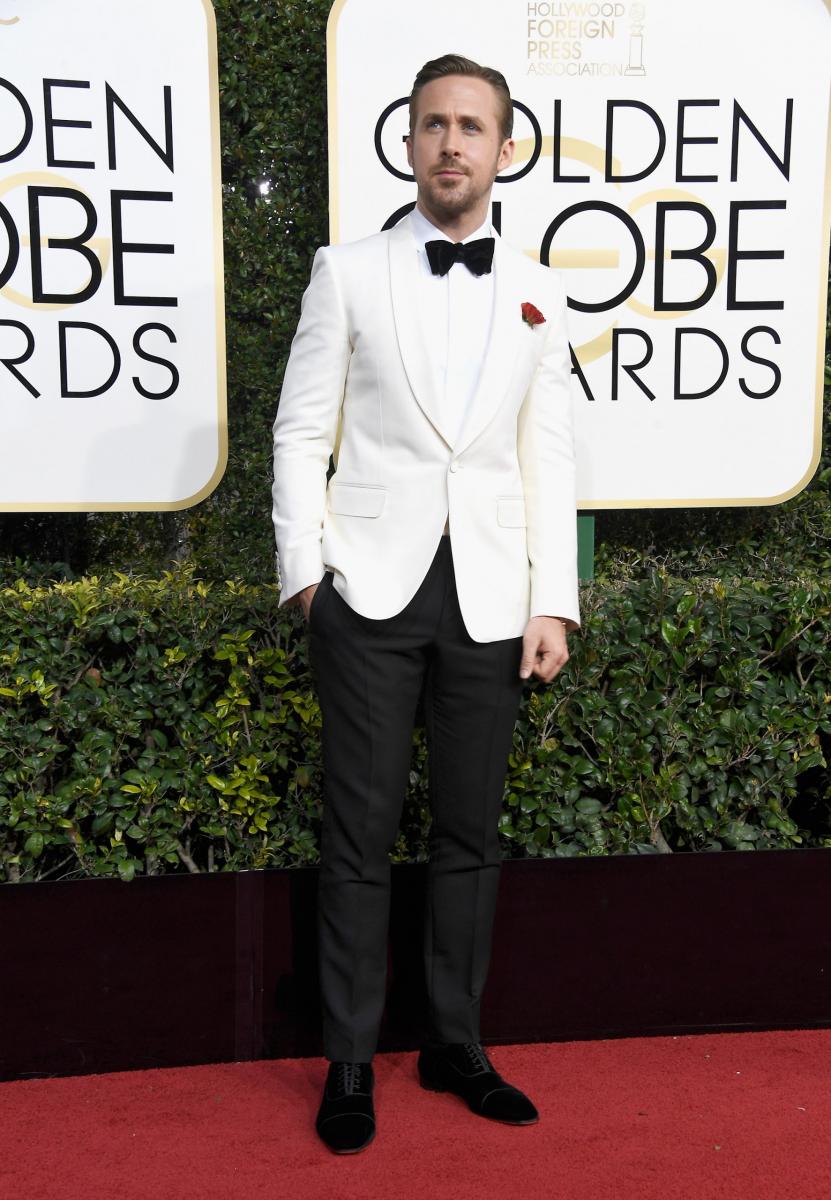 Ryan Gosling chose to wear a white tux, which is usually just what nerdy guys wear to their high school prom, but he's Ryan Gosling so he pulled it off.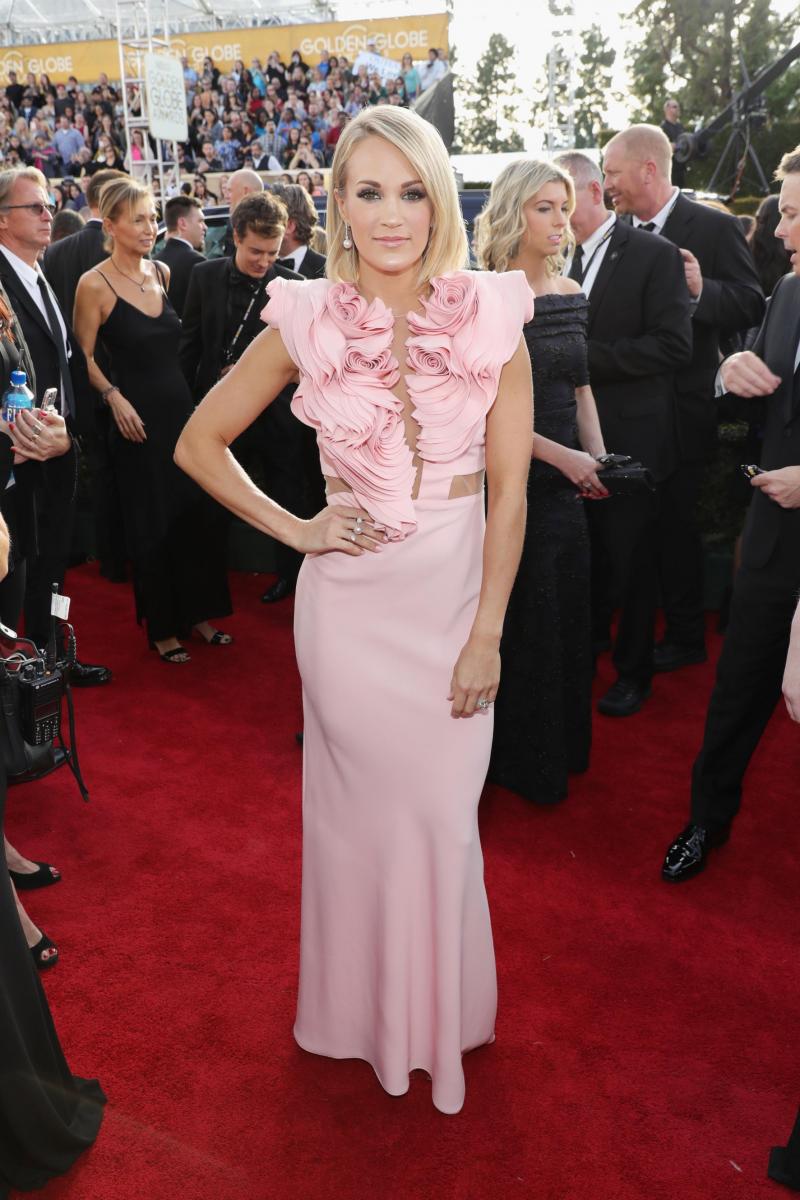 It's unclear why Carrie Underwood was invited, but someone put approximately a million pink ruffles on her chest so you really couldn't miss her.

Blake Lively looked stunning as per usual, while somewhere in Paris, Leighton Meester was probably sitting at a cafe alone. And none for Blair Waldorf, bye.

Kerry Washington's makeup was flawless, but her calf-length yellow lace dress would look better on an 80-year-old woman. Olivia Pope couldn't fix this situation.

Viola Davis finally won something, and she looked incredible doing it in her yellow Michael Kors gown. Slay.

Nicole Kidman's Alexander McQueen dress could have been stunning, but she got caught somewhere between dance recital and artistic sparkly picture of a wave. She has a rocking body, but the life-preserver sleeves really killed this look.

We're not sure who approved Sarah Paulson's hair or dress, but she looks like a soap opera businesswoman from the 1980s. Get it together, Sarah.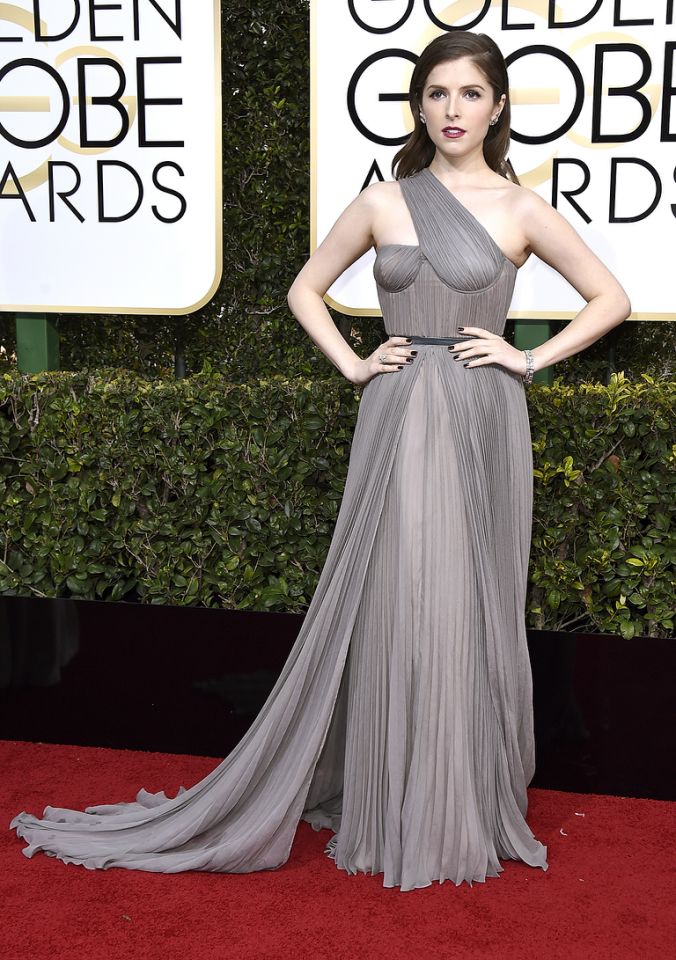 We could literally swear that Anna Kendrick has worn this boring AF dress before, but whatever. Pretty-ish but boring, just like her.

Amy Adams went for reliable sequins, which worked, but the neckline basically looks like a shelf across her chest. Tom Ford, how could you do this to her?

Reese Witherspoon took us straight back to a 2006 red carpet with her basic bitch yellow strapless dress. She looked great, but it's time to step it up.

Chrissy Teigen and John Legend are basically the best thing happening in the world right now, and Chrissy usually kills it on every red carpet. Unfortunately, her gold Marchesa gown really just looked like an outfit from the opening ceremony of the Hunger Games.

Sofia Vergara's New Year's resolution is apparently to not wear fabric anymore, because her dress was basically some foil gum wrappers artfully arranged on sheer mesh. Tasteful!

Connie Britton basically wore an old person's version of a prom dress, but her hair looked perfect like always so she still wins.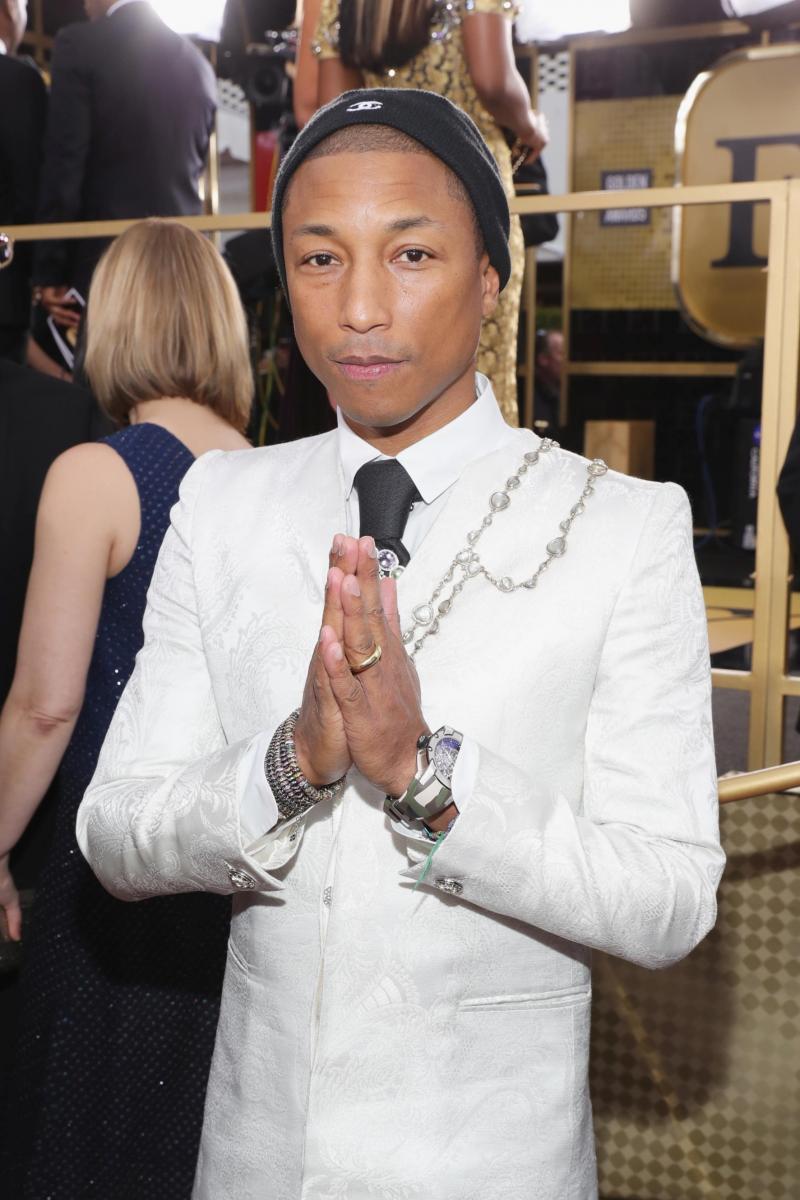 Pharrell wore a dumb white Chanel suit with a crossbody necklace, which is not a thing, but he's still on our shortlist for that giant hat.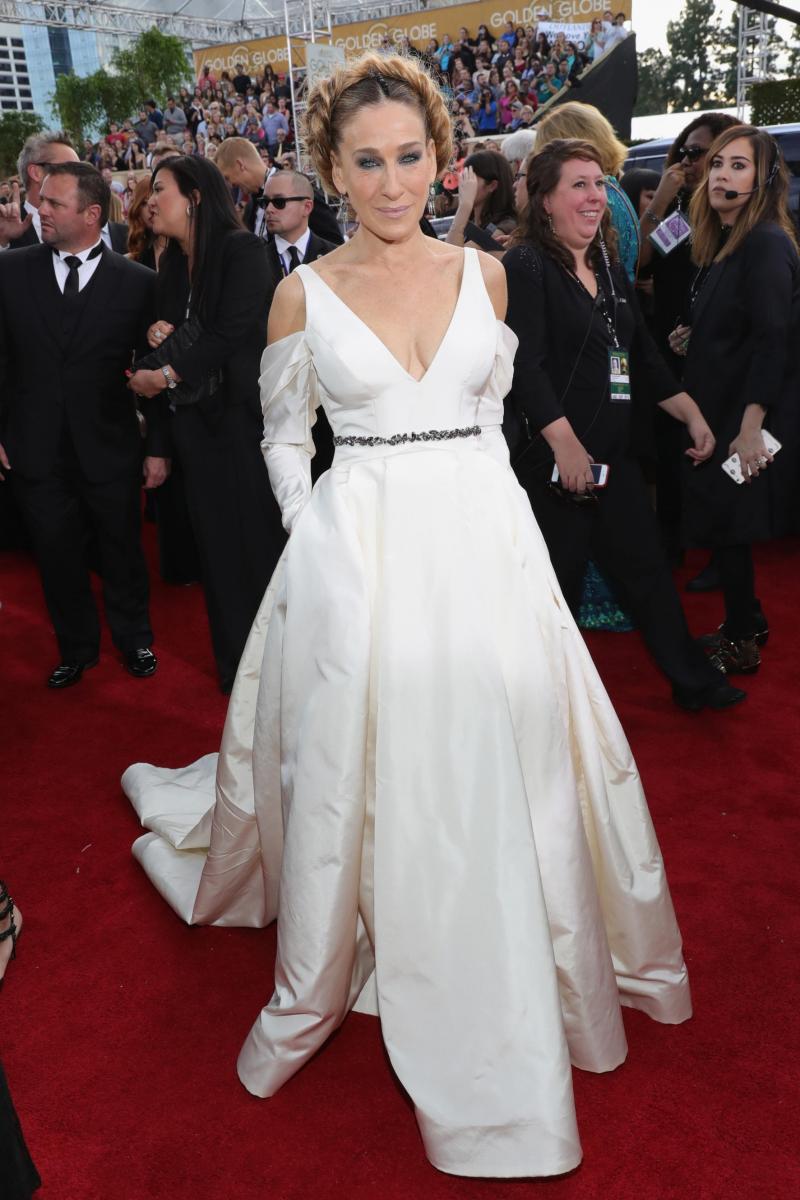 Sarah Jessica Parker literally still thinks it's 1999, which explains why she wore a taffeta ballgown and a curly updo, ugh.

We'd normally hate Michelle Williams' lace Louis Vuitton dress, but she's so fucking chic it hurts. Bonus points for wearing a relatable choker.