The 2021 Celeb Couples Who Won't Make It To Q3
2021 will go down in history for the celeb couples that came from it. There were rekindled relationships, rumored romances finally confirmed, and pairings that no one ever saw coming. But as we ring in the new year, we are here to tell you the couples that won't last to see next year's ball drop. 
Jennifer Lopez & Ben Affleck

What a ride. Bennifer V2 has been fun to watch. Who knew a PR stunt relationship could bring our nation together again? Coming off the heels of her public breakup with A-Rod, J.Lo needed something big to change the narrative. But no one expected what came next.
By reuniting Bennifer, J.Lo yanked A-Rod from the pop culture zeitgeist, cementing herself as the clear winner of the breakup. Ben got to clean up his image, getting back on track as a movie star and hopefully, giving up his role as source material for some of the internet's favorite memes. 
Sometime this year, well timed around a launch for J.Lo, they will amicably go their separate ways having taken what they needed from this rekindled showmance. We all owe them a big thank you, though. They were a bright spot in a tough year. 
Kim Kardashian & Pete Davidson
Whether a PR stunt that went on too long or a meet-cute on the set of SNL, Kimmy is half a lawyer now and Pete's partying ways will drive them apart before the end of Q1. Don't get us wrong, we love sugar mama Kim. She deserves a little fun. And whether it's Pete's BDE or his great personality that kept Kim's attention, this one lasted far longer than the contract Kris Jenner wrote. But it's time for Kim to say thank u, next.
Zoë Kravitz & Channing Tatum

When these two started popping up all over New York City, we were surprised, and then delighted by the onslaught of streetwear inspo. We all enjoyed this unexpected duo serving us looks as they were photographed drinking iced coffee about town, but, just like a cute Zara top, this couple won't last forever.
Zoë's star continues to rise, while Channing is working on another Magic Mike sequel that no one asked for. Breakups can be hard, but at least we'll always have those Met Gala photos.
John Mulaney & Olivia Munn
John Mulaney's love life setting TikTok detectives ablaze this year sounds like a Mulaney bit, but that's the world we lived in in 2021. Murky timelines and a very unexpected pregnancy later, John Mulaney and Olivia Munn emerged as a full-on couple ready to bring a new baby into this world. 
They were on. They were off. They were confusing. Their relationship started in 2021 (we think), brought a baby into this world in 2021, and will be staying in 2021. But a baby is for life, so hopefully they go their separate ways amicably. 
Michael B. Jordan & Lori Harvey

When Michael's not busy being the zaddy of the Marvel Cinematic Universe, he is beefing up his already sizable acting portfolio. And within the last year, Lori's built a career as more than just Steve Harvey's daughter. We do love to see it. But let's be real. Two people this pretty cannot mate for life—look at Brad and Angie. We predict they'll end up blaming their breakup on busy schedules and "being at different stages in life" (which is code for "there's a 10-year age gap"). 
Olivia Wilde & Harry Styles
No pairing has ever shocked the internet more. Who remembers when Ashton and Demi blew our minds with their age gap? Well, Olivia is further proof that if men can do it, women can do it too. 
Olivia and Harry didn't give us much, but we analyzed every grainy video of her dancing at his concerts. Now that Olivia's ex, Jason Sudeikis, is back on the dating scene post-divorce, we can finally feel good that all's well that ends well. But watermelons are a seasonal fruit, and this watermelon sugar high will have to have a comedown eventually.  
Zendaya and Tom Holland

We know. We know. We don't want to be the ones to say it. We don't even want to put this energy into the universe, but someone has to tell the hard truths. Their chemistry is electric. She is the high fashion queen to his short king. And after years of rumors, we finally got some confirmation that this is more than just a friendship. Or is it?
Not to sound like a conspiracy theorist, but look at the facts: The rumors of them dating started dropping at the exact time buzz for their new Spider-Man movie began. The movie that was positioned to save the box office and bring Americans back to the theater. Wouldn't these two professionals do anything to be the heroes of the film industry? And how easy would it be for two great friends to share a few chaste kisses and flirt a little bit during press interviews?
Like we said, we hope we're wrong and this one is for real and forever. But once Spider-Man numbers are in and these two start work on their next A-list project, our spidey senses are telling us this relationship will slowly fade away. 
Images: RB/Bauer-Griffin/GC Images; Emma McIntyre/Getty Images; James Devaney/GC Image; JOCE/Bauer-Griffin/GC Images
BenAna Died As They Lived: Thirsty AF
After nearly a year of dating and countless walks around the block, not-so-subtly toting various Dunkin' Donuts menu items, news broke that the unimaginatively named BenAna was no more: Ben Affleck and Ana de Armas have split.
Their breakup is playing out much like their relationship did, with their drama being thrown into my face every time I open up IG. Am I surprised they broke up? No. Am I surprised at how their very public breakup is playing out? A little. Tbh, I'd expect something like this from like, Shawn Mendes and Camila Cabello. (Maybe it's just because they, too, were fond of staged quarantine walks.)
Then again, should I be taken aback by this high school-esque post-breakup behavior (ill-advised haircuts and all)? Let's take a look back. When they first started dating, Ana told her friends Ben is "the best boyfriend ever". The couple even got matching necklaces. (At least they had the common sense not to get tattoos.) I wouldn't be surprised if Ana made a shirt that said "I <3 Ben" and wore it under all her clothes. 
A source told PEOPLE that their split was "mutual" and "completely amicable", but if this is considered a friendly breakup, then all of my exes and I are best friends. For one, sources report that Ana was the one who initiated the breakup, and she did so via phone call. Is this 2008, and are we Joe Jonas? Ben and Ana have been together for a year, and Ana lives with the man! You're telling me that she couldn't have given him a heads up in person on her way out the door? She has to grab her sh*t anyway.
While the source insisted, "there is deep love and respect there", Ben's trash bin says otherwise. Yesterday, Ben's cardboard cut-out of Ana was spotted being thrown out outside his home. The guy didn't even bother to mask the fact that it's Ana; he just tossed her nonchalantly for the garbage men, and paparazzi, to see. You're telling me he couldn't just burn the cut-out in his backyard? No, this was deliberate.
Ana, for her part, was a little more subtle in communicating her feelings, though we all get the message: she went ahead and surprised the world with some fresh micro bangs. I mean, who among us has not made a tragic and rash hair decision in the throes of a breakup?
So, to quote Cardi B, what was the reason for the split? Did quarantining together finally break the couple? Did they run out of Dunkin' Donuts menu items to try? Did they simply get tired of taking unmasked walks and pretending to laugh at each other's jokes? Did the paparazzi stop taking their calls??
For now, the prevailing narrative is that there are no hard feelings. A source told InTouch that the reason for the breakup was because Ana is "gallivanting" around the world without Ben, and it's left him feeling lost and needy. According to PEOPLE, "Ana doesn't want to be Los Angeles based and Ben obviously has to since his kids live in Los Angeles." Another source reported that it's because Ben doesn't want any more kids, but Ana does. 
The couple met in New Orleans in 2019 while filming the upcoming so-called "erotic thriller" Deep Water, and quickly went on a celebrity relationship press tour: first visiting de Armas's home country of Cuba in March 2020 (mid-pandemic), and later going to Costa Rica. They were even photographed with Affleck's children and ex-wife, Jennifer Garner, suggesting everything in the relationship was rosy. But alas, everyone runs out of photo opps eventually, and the relationship was not meant to be.
What's next for Ben and Ana? Maybe Ben will toss her things on his lawn, or wear a T-shirt emblazoned with a shady message. Perhaps Ana will get together with a new man within the week, one who's significantly younger than Ben. One thing we can bet on is a seriously uncomfortable press tour for Deep Water (and probably just as bad ticket sales).
Whatever the reason, I'll miss this couple. Not because I thought they were necessarily a good match, but because their obviously staged paparazzi shoots and vague donut sponcon were a consistent tabloid fixture in these inconsistent times. I'll stay refreshing Instagram, because I'm sure we haven't heard the last from this couple, who was just as attention-seeking in their relationship as they are in their breakup. Even though something went wrong for the pair, at least they know how to do one thing right together: keep us entertained.
Images: BG004/Bauer-Griffin/GC Images
Were Cole Sprouse And Lili Reinhart Broken Up This Whole Time? An Analysis
This just in, y'all: 2020 might actually be my year after all! Am I saying this because we finally found a vaccine for COVID-19 and can now shed our mole-people skin and live our lives doing truly wild things like breathing indoors amongst other people without covering our mouths and noses? Lol no. Am I saying this because my clip-on bang extensions finally came in the mail and I am about to look fire AF for my next zoom happy hour? Still no (but only because as my mother, hairdresser, the checkout girl at Walgreens, and Sweetest Betch You'll Ever Meet tried to tell me, I look like a prepubescent boy with bangs). I'm saying this because Cole Sprouse is back on the dating market! That's right: #Bughead is dead. In the irreverent words of Dylan O'Brien: 2020 is f*cking relentless. 
2020 is fucking relentless https://t.co/MsUyqHdGfU

— Dylan O'Brien (@dylanobrien) August 19, 2020
After months of speculation, will they/won't they articles, and a thorough breadcrumbing of the general public on their relationship status, we finally have confirmation that Cole Sprouse and Lili Reinhart have broken up. Yesterday Cole took to Instagram to post a picture of what was either a nature candid of Lili or stock image from Taylor Swift's "Cardigan" music video with a caption detailing the circumstances of his breakup. In the post he wrote:
"Lili and I initially separated in January of this year, deciding to more permanently split in March. What an incredible experience I had, I'll always feel lucky and cherish that I had the chance to fall in love. I wish her nothing but the utmost love and happiness moving forward. All I'll say about it, anything else you hear doesn't matter.
Also her movie comes out soon! I'm sure she's just as incredible in it as everything else she does. Thanks guys ❤️" 
Let's take a minute to unpack this. First of all, I love that he took the time to clarify the exact date range of their romantic demise. It's like he knew I was going to research the astrological significance of this time frame so I could use this as a reason to justify why I was ghosted in the spring. Also, the phrasing of a "more permanent split" feels very much like they both felt the weight of COVID and the CDC's wild guidelines for safe sex during a pandemic and decided their relationship wasn't worth salvaging—at least not if it meant f*cking through a sheet. Sad!
I will say, as far as breakup posts go, this is very mature and very sweet. He even took the time to plug her new movie! I can't even get my ex to complete my Venmo request for his last bar tab, let alone get him to do something like encourage people to support my life's work. For shame. 
Cole's post comes after a rocky year for the couple—like, rockier than the G&G plotline during season three of Riverdale. First there was the now infamous W Magazine cover shoot from the summer of 2019 where the two dressed in Twilight cosplay and looked absolutely miserable together, sparking rumors that the two of them were donezo, only for them to take to Instagram posting THE SAME PHOTOS with the captions "you don't know sh*t" and successfully trolling us all. We were then treated to a year of musings about the couple's relationship status, religiously stalking their Instagram feeds looking for any shred of evidence that the two were more than just amicable coworkers.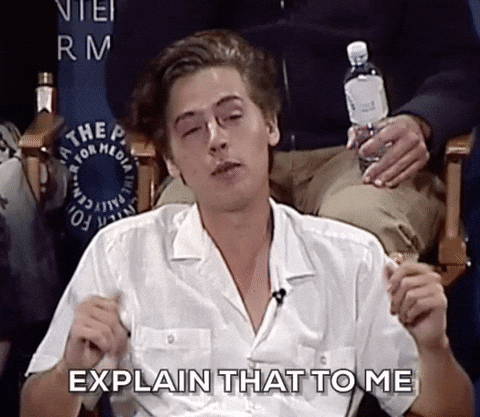 Then, earlier this summer, Cole was accused of sexual assault by an anonymous Twitter account and, despite speculation of a breakup, Lili rushed to his defense on Twitter. It was later discovered that this account had made multiple false claims and there were no charges filed against Cole. 
Which brings us to August 2020. In an interview with Refinery29, Lili talked about upcoming projects and her mental health. She spoke about how the coronavirus has affected her mentally, specifically saying, "The last couple of months have probably the most emotional few months of my entire life and my therapist me, 'Your body's going through withdrawal from love." She went on to say: "You're used to having this exchange of happy chemicals between you and the person that you're with… In moments of my life, I have dropped every ounce of pride that I had just to be like, 'Love me. Please take the pain away for a day, a second, an hour,' just so I can feel that fix again."
The internet, along with every tween Riverdale fan (and myself), took this to mean that the two had finally called it quits. Lili was quick to clarify on Twitter that her comments were taken out of context and she would like us all to kindly back tf out of her business, thx. She clarified that in the interview she was not talking about being depressed over her breakup, but rather the depression she's struggled with over the last few months. 
Quotes taken from my most recent interview are not about a "breakup." They are about the depression I've felt over these last few months. Tired of people taking my words out of context and piecing together their own story for clickbait.

— Lili Reinhart (@lilireinhart) August 18, 2020
A day later, Cole officially confirmed their breakup on Instagram. So, there you have it folks! Cole and Lili are no more. While I'm sad for them, I'm THRILLED for the added angst that's about to go into their characters' Riverdale sex scenes. Now, if you need me, I'll be here googling photography and meadery conversation starters, and other ways in which to slide into Cole's DMs. 
Don't miss out on any pop culture or entertainment news. Subscribe to our weekly newsletter here. 
Images: @colesprouse /Instagram (1); @lilireinhart /Twitter (1); @dylanobrien /Twitter (1); giphy (1)
3 Crazy But Believable Theories About Why Pete And Ariana Broke Up
I'm still processing the news of Pete Davidson and Ariana Grande's breakup, and there are still so many questions, namely, why Pete and Ariana broke up. While we keep waiting for some more official answers, or even just a brief statement, why not speculate on some things? Enter Enty Lawyer, a self-described "300-pound entertainment lawyer who has been married six times, lives in his parent's basement and has an obsession with digging up celebrity dirt." If you don't know Enty (we are on a first-name basis, get on my level), you should. He's known for his scary accurate blind gossip items, which are basically unnamed celebrity gossip rumors that have not been confirmed, but more often than not end up being correct. He doesn't name names, but he will leave clues as to who his blind items are about, and it's the readers' jobs to try to figure it out, basically like a riddle. Enty also has a podcast, which is literally amazing. In a recent episode, he did a deep dive into some theories behind why Pete and Ariana broke up, and I decided to cover a few of the more believable ones. You should def listen to his entire episode for all his theories. Obviously, none of these have been confirmed, so all of these should be taken with a grain of salt, but there's a lot to consider.
Cheating
Okay, so in the past, we've discussed the truly insane timeline of Pete and Ariana's relationship. Without any inside knowledge of the situation, it basically seems impossible that there wasn't some kind of cheating/dishonesty going on at the beginning of this relationship, even if things didn't get physical until both Pete and Ariana were single. I have my doubts, but that's neither here nor there. More interestingly, Enty says that Ariana has recently been texting (and maybe even sexting) with her ex, Big Sean. Okay, so I liked Ari and Big Sean when they were originally together, but I think she really needs to stop dating the same three men over and over again. Maybe it's just me, but I feel like Ari should probably just spend some time alone working on herself, given the year she's had.
Missed Appearances
Ariana's entire career, she's always been pretty reliable. You never hear about her being tough to work with or erratic, other than some famous donut licking. But lately, Ariana hasn't been great at showing up to things. She was apparently supposed to be featured at last month's Emmy Awards, but just didn't show up at the last minute. She also skipped the American Music Awards, where she was a nominee. She dropped out of Saturday Night Live with short notice, leading them to replace her with Kanye—and we all know how well that went. But most importantly, just in the past week, she skipped a charity event hosted by Scooter Braun, her own manager, where she was allegedly going to perform. That's not a good look at all, and it leads to the suspicion that her team may have had a talk with her about how Pete was affecting her reputation.
Mac
As if Pete and Ariana's relationship wasn't crazy enough already, the sudden death of Mac Miller really cast a tragic shadow on things. His passing obviously deeply affected Ariana, and that's not something most people easily bounce back from. Mac was in her life for years, and she loved him no matter what. A source told PEOPLE that his death "made her rethink many things in her life", like getting married. It makes sense that suffering a devastating loss would make you reevaluate your life.
These are just some of the theories thrown out in Enty's podcast. You really should listen to the whole thing, because he throws out a lot of wild stuff. You do have to pay for it, but it's worth it.
These Cryptic Tweets May Explain Why Halsey & G-Eazy Broke Up
Well, that didn't take long. Yesterday I wrote about Halsey's statement on her breakup with G-Eazy and her shady Instagram caption. She definitely seemed unhappy about the whole situation, but there were no actual details about why Halsey and G-Eazy broke up, just the normal shit about taking some time apart and respecting their privacy. Blah blah blah. Well, we've uncovered some important new details that could explain why Halsey and G-Eazy broke up. We still don't have anything officially confirmed or anything, but if you're paying any attention to Halsey's Twitter (guilty), it reaaaaaally looks like Gerald went and cheated. God, I wish I could say I'm surprised.
There are two tweets from Halsey in question today, and one of them has been deleted. Ah yes, the deleted tweet, one of my favorite art forms. Deleting passive-aggressive tweets is weak, but it's also something I might have experience with. Either way, a deleted tweet honestly just gives all my theories even more credibility. Without further ado, let's dive in.
TWEET #1:
pumpkin eater.

— h (@halsey) July 4, 2018
I mean, do I even have to explain this? Think about it, what rhymes with pumpkin eater? Yeah, she might as well have posted pictures of G-Eazy in bed with another woman. I do respect her commitment to at least acting like she's being cryptic, even if a literal third grader could tell you what this means. While this tweet is very informational, the next one is far more interesting.
TWEET #2 (now deleted):

This one might not be as obvious to most of us, but just fucking wait. Remember that song "Him & I" where G-Eazy and Halsey basically sing about each other like they would literally perish if they spent a day apart? It's like Romeo & Juliet, but with leather jackets and a lot more cocaine. Well, G-Eazy has a line in the song where he says "ever catch me cheating she would try to cut my dick off". Excuse me, SIR??? I'm a little worried for G-Eazy's dick right now, and I wouldn't touch that thing with a 10-foot pole.
So it really seems like the scissor emoji tweet is a reference to this lyric, which is why a bunch of fans think that Gerald went and fucked around, and that's the reason why Halsey and G-Eazy broke up. It also makes sense that this tweet got deleted, because it's an actual threat (disclaimer: I am not a lawyer). Like, I'm not saying Halsey is waiting in G-Eazy's bushes with a rusty pair of scissors right now, but stranger things have happened. Pretty sure I said it in the last article, but G-Eazy should sleep with one eye open.
If the cheating rumors turn out to be true, I'm really curious what will happen with this situation. Will we ever find out who the alleged other woman is? Will they both be in new relationships by the end of the month and act like it never even happened? Or will we get like, 14 angry breakup singles from both of them? I probably won't listen to the music either way, because I value my time and have some level of taste, but I still love a good scandal. Yeah, I said it, now you can go back to listening to "Bad At Love" on repeat.
Images: @halsey / Twitter (2); Shutterstock
Halsey And G-Eazy Broke Up & She's Already Shading Him On IG
Well guys, I guess it's time to ask ourselves again, "is love dead??" Jk, I think we're all going to be fine. This week, it was announced on Instagram that Halsey and G-Eazy broke up, and it's really okay. They'd been together for close to a year, and had quickly built a reputation for acting like some weird apocalyptic couple that were determined to go down together. Like, I think these two took "ride or die" a little too literally. I was never that into it, but their fans got like, scary attached.
Too bad! Now that Halsey and G-Eazy broke up, the couple are taking some time apart, and Halsey shared the news with my favorite method of communication, a Notes app screenshot posted to Instagram Stories. What a time to be alive. Now, because I really have nothing better to do, I shall unpack this statement, because there are some really, really strange things about it.
*puts reading glasses on*
I normally keep this kind of thing private but provided our public nature I feel the need to inform my fans.
Okay, so she's missing some commas, but what did I really expect from an iPhone note that Halsey typed? Also, lmao that she's going to act like this relationship was soooo private. I know the exact date of when you were probably doing coke with your boyfriend in Sweden, so try harder next time.
G-Eazy and I are taking some time apart.
Okay, so she's really not going to give any actual info. I don't blame her, but I'm always inclined to think that "taking some time apart" is just a less harsh version of "I blocked his number and we aren't speaking anymore." We'll see.
I'm eager to continue the upcoming passage of time dedicating myself to my art and my career, and the duration of my tour.
STOP. OMG. This bitch is really talking about "continuing the upcoming passage of time" as if any of us on this Earth have a choice in the matter?? This sentence reads like she has to hit a minimum word count and is completely out of ideas. Literally no one has talked like this for a hundred fucking years. I'm really glad she's excited about her career and her tour, but the first half of this sentence has really thrown me for a loop. Halsey girl, what are you doing?
I wish him the best.
Yikes. Gerald, I would sleep with one eye open if I were you.
Thanks for respecting our privacy at this time.
Basically she doesn't want people commenting on every photo asking about her and G-Eazy. That makes sense. Honestly, I'm just glad she kept that statement pretty brief. I didn't have the energy to sift through paragraphs like Channing Tatum and Jenna Dewan made me do.
So with the statement out of the way, all that's left to discuss is Halsey's shady AF post on her Instagram.
The photo in question:
Please direct your attention to the caption, which is obviously definitely about G-Eazy. Without having any personal knowledge of exactly why Halsey and G-Eazy broke up, this caption makes it sound like he fucked up. Either way, Halsey seems like she'll be okay, if only because she looks absolutely incredible in that bikini. Seriously, I need to know her workout routine so I can pretend that someday I'll do it too. You go girl, enjoy this upcoming passage of time and kiss his ass goodbye.
Images: @iamhalsey / Instagram
Taylor Nolan And Derek Peth Broke Off Their Engagement
Breaking news hit Bachelor Nation today, as Taylor Nolan and Derek Peth announced that they've ended their engagement and are going their separate ways. Guys, help. I'm trying so hard not to make a "trouble in paradise" joke right now, but how can I not? After meeting last season on Bachelor In Paradise, Taylor and Derek were basically inseparable, and he proposed to her at the end of the season. Unsurprisingly, getting engaged mere weeks after meeting on a reality show is not the formula for a lasting relationship. I am shocked?
They announced the split in a joint statement to E! News:
"It is with much sadness that we have decided to end our engagement. We put everything we could into our relationship and are heartbroken to go forward separately, but we know this is the best decision for the both of us. We will still be present in each other's lives with support, admiration and respect for each other."
This statement really tells us nothing, which is disappointing but I also respect that they're keeping the drama private. @Ronnie from Jersey Shore, take some notes. No matter how you felt about Taylor and Derek together, the split really isn't all that surprising. As previously mentioned, they got engaged weeks after meeting on a reality show, and also neither of them had posted about the other in almost a month. This relationship probably just ran its course, and they got engaged way too soon.
And with that Instagram, I relive the hazy memories of Taylor Nolan and Derek Peth at the Betches Meme Gala. Good times, good times. Going through a breakup is always hard, but I have a feeling that both of them will be okay. Taylor is still only 24, so she has plenty of time to get back out there and live her life. Derek is 30, so like, it's far from over for him too. Actually, maybe it's not too late to get one or both of them on the upcoming season of Bachelor in Paradise? I'm sure Chris Harrison is making some phone calls as we speak.
Best of luck to Taylor and Derek in whatever they do next, but I just have one question. Who gets the $50,000 Neil Lane ring? Can I have it?
Images: Getty Images; taymocha / Instagram
Sofia Richie Dumped Scott Disick For Reasons That Should Shock No One
Well, that took longer than I expected. After nearly a year of dating, Scott Disick and Sofia Richie broke up. Aw. Normally I'd pretend to be at least 10% sad for them, but I have a strong feeling everyone here is going to be fine. While this relationship burned bright, it flamed out exactly the way you probably expected: Scott Disick couldn't keep his dick in his pants (allegedly). Sources say that Sofia finally broke up with Scott after numerous cheating allegations, including that he was engaging in PDA with another woman at Kanye's album listening party last week. Oh Scott, you really never change.
The Kanye party thing might have been the last straw, but there was trouble in Calabasas long before Kanye invited the world's most random assortment of people to Wyoming for an orgy listening party. Scott reportedly also cheated on Sofia in Miami, which is when she first found out about the infidelity. Homegirl was obviously not thrilled, but naturally her dad was the one who got really pissed. Lionel Richie has never been Scott's biggest fan, and he was not fucking having it this time. A source said he threatened to cut Sofia off and write her out of his will if she didn't dump him. Okay, so I have now decided that Lionel Richie is my idol.
Sofia did the smart thing here and took the money. She could definitely support herself with her modeling work if she needed to, but honestly, would you want to? Lionel Richie's net worth is estimated at $200 million, and Sofia would be an absolute idiot to give up her chunk of that. I really hope her big sister Nicole Richie left her an angry voicemail about this, but in the absence of any confirmation, I'll just have to fantasize about it.
The split comes just a week after Sofia wished Scott a happy birthday on Instagram, but life moves fast when you're in a Kardashian-adjacent relationship. In case you were wondering how Scott is doing, another anonymous source cleared that up for us: "Scott seems fine. He even thinks she might change her mind. He isn't really taking it seriously." Wow, good to know that Scott is still 150% that asshole we've always known he is. Honestly though, why does any girl in LA agree to go on more than three dates with him? Attention, ladies of Calabasas and the world: IT WON'T END WELL.
I have a feeling Sofia is probably a little more upset about the breakup than our resident fuckboy Scott, but I have faith that she'll be okay too. She's still only 19 years old, and hot, and rich. Yeah, she'll be fine by next week. If she really needs someone to talk to, maybe she and Bella Thorne can start a book club for underage Scott Disick exes. I would watch the fuck out of that reality show, @andycohen.
Images: Getty Images; Giphy; sofiarichie / Instagram