The Biggest Celebrity Glowups Of The Decade
As the decade draws to a close, it's interesting to stop and take a look at which celebrities we've spent the last 10 years talking sh*t about. While some stars have maintained their A-list status since 2010, and others have faded into the background (Leona Lewis, if you're reading this, I still want the world for you), a whole new crop of celebs have risen to the top, and it's time that we take a minute to give them some recognition. Considering all I've done this decade has been move out of my parents' house and stopped thinking side bangs looked good, these celebs' rise to fame is truly impressive. Whether their status has changed because of music, marriage, or a lot of fillers lip kits, not everyone makes it like these people, so here are the biggest celebrity glowups of the decade. You're doing amazing, sweeties.
Meghan Markle
Every time I see a photo of Meghan Markle as a briefcase model on Deal Or No Deal, it leaves me just a little bit speechless. Without a doubt, she pulled off one of the most impressive glowups in human history, going from nameless hot girl on a game show, to leading actress on a basic cable show that only your mom watched, to bagging one of the world's most eligible bachelors. In 2019, Meghan, Duchess of Sussex is without a doubt one of the most famous people in the world, a fate that no one could have predicted at the beginning of the decade. She's also brought her fair share of drama to the royal family, from her clown of a father, to endless tabloid rumors that she and Kate hate each other. But amidst all the chaos, she's somehow managed to be more open than ever about the struggles that come with her public position. I know she's not like, a literal queen, but she's pretty much a queen. Honestly, the only thing keeping me going these days is the knowledge that Meghan got engaged to Prince Harry at 36 years old.
Kylie Jenner

To be honest, I could have included any of the Kardashian-Jenners on this list, because they've all had massive decades. But really, Kylie has had the most remarkable transformation, both physically and fame-wise. When the decade began, she was just 12 years old, and her main claim to fame was annoying her older sisters on KUWTK. Since then, she's launched a cosmetics empire, become a literal billionaire, had a baby, and low-key gotten an entirely new face and body. Her accomplishments never fail to make me feel like I'm doing nothing with my life. Also, she gave us the Rise and Shine meme, and for that I'm forever grateful.
Lizzo
There have been a lot of impressive glowups in the last decade, but there's no arguing that Lizzo has had THE glowup of the decade, and that's because she was not super well known until like, 2018. After spending most of the decade hustling to get her music heard, Lizzo blew the f*ck up this year, and now she's basically impossible to escape. She shuts down every award show, dating app bios are littered with references to her songs, and even your mom loves her. Just ask her! Funny enough, her two biggest songs this year—"Truth Hurts" and "Good As Hell"—were actually released in 2017 and 2016, respectively, but people finally found them, and the rest is history.
Chrissy Teigen

Chrissy Teigen wasn't always the relatable social media icon she is now. Back in 2010, she made her first appearance in the Sports Illustrated Swimsuit Issue, and was named Rookie of the Year. The Swimsuit Issue was her biggest claim to fame for a long time, and she eventually made it on the cover in 2014. But more importantly, she married John Legend in 2013, and since then, they've become one of the most perfect celebrity couples. She's also built an impressive career as a TV host, author, and social media personality. I'm mostly just mad because she's living proof that you actually can be hot, funny, and nice, which honestly isn't fair and is a major issue I'm tackling with my therapist. But whatever.
Ed Sheeran

Back in 2013, my friend and I went to Taylor Swift's Red Tour, just barely making it to our seats before the opener started. That opener was none other than Ed Sheeran, who serenaded the half-empty arena with his early songs like "The A Team" and "Lego House." Suffice it to say, Ed Sheeran no longer plays to half-empty arenas before someone else's show. Whether you love him or not, he's become one of the biggest stars in music, racking up an impressive list of hits and collaborators. His career achievements now include number-one songs, albums, and the highest-grossing concert tour in history. Though he's currently on an 18-month hiatus from music, he's got millions of fans who will be waiting when he gets back, which is more than any of us can say of our dramatic social media breaks.
Hailey Bieber
Justin Bieber and Hailey Baldwin meeting for the first time in 2009 😍 pic.twitter.com/NwwEcndDSY

— 234Star.com (@234star_) July 8, 2018
I get bored easily, but I will never, ever get tired of watching this video of Hailey Baldwin's dad introducing her to Justin Bieber in 2009. It just does not get old. Of course, Hailey grew up in the years that followed, becoming a successful model in her own right. But her whole world (and career) got turned upside down when she and Justin Bieber got married last year after a whirlwind romance, which has given me the motivation I need to continue making burner Instagram accounts in order to slide into Noah Centineo's DMs. This year, Hailey and Justin celebrated with a true A-list wedding, which I'm still angry that I wasn't invited to. Safe to say that Hailey Bieber has finally broken out of being known as Alec Baldwin's brother's daughter, and honestly, good for her.
Cardi B

Until like, two years ago, you probably didn't know about Cardi B at all, and if you did, she was that girl from Love & Hip Hop: New York who was funny on Twitter.With the success of her song "Bodak Yellow" in 2017, her profile skyrocketed, and she quickly became one of the most successful female rappers ever. She followed up her breakout hit with a massively successful album, a marriage to fellow hip-hop royalty Offset, and a baby. With her unfiltered personality and her steady stream of bangers, it's no shock that Cardi has become one of the biggest stars in the world. Sure, she can be messy sometimes, but there's no denying she's an icon.
Who was the biggest glowup of the decade for you? And have you got any early predictions on who's going to be huge in 2020? Let me know in the comments!
Images: Giphy (4); 234star_ / Twitter; thirdwheeldpodcast, lizzobeeating / Instagram
Photoshop Fail Of The Week: Check Your Backgrounds
We love Cardi B for many reasons: she's badass, empowering, and no-bullsh*t. She is unapologetically herself and challenges the music industry's male vs. female standards. I also really appreciate how honest and real she is about her life, whether it's her past career as a stripper, or the amount of work she's had done. I'm not a fan of plastic surgery, but if you get it, especially as a role model in the industry, at least cop to it (*cough cough* Kardashians). However, you'd think a woman that has everything in the world—money, fame, power, youth, beauty—wouldn't be insecure. Right? You would think. But the truth is we all have insecurities, and Cardi is no exception. That said, it really annoys me when someone acts like they're so body positive and pro all body types and then does sh*t like this:
Hey girl. Nice hourglass figure. Cute outfit. Love the hair. Quick question, though. What's going on with those curtains?

It's just so weird, guys. Cardi found curtains that are in the exact same pattern as her body! She posed in front of them so perfectly. What a genius, curative move! And what a coincidence!
You know, it's either that, or Cardi very poorly Facetuned her body. She pushed in her waist and thighs to make them look smaller. The lines of the curtains match up perfectly with her new, fake curves. If you guys are going to do this kind of editing, please check your backgrounds. It's just sloppy.
Even better, maybe just get over yourself, be proud of your body, and don't Facetune? Cardi has an insane body, regardless if it was purchased, so I honestly do not understand why she Facetunes herself. What is good enough for you people? I doubt she even changed that much; I'm sure the original photo was amazing. And in her haphazard editing, she also blurred and accidentally cut chunks off of parts of her body. Her waist is also blurred. I mean, what's going on with that pointy side knee?

Cardi, we love you, but it really hurts to see you give in to societal pressure and make your body look thinner. There are so many people who look up to you, and Facetuning to be "perfect" tells all of us that our bodies aren't good enough, either. I'm so over seeing this, guys. I can't wait for Facetune to stop being trendy and for people to own their bodies.
This gives me trust issues. It's also weird to me that a public figure who is constantly performing does this, because girl? We know what your body looks like. You don't need to pretend to be super thin and look like an actual hourglass for your fans.
I don't know about you guys, but it really makes me like a celebrity (or real person) a lot less if I know they're doing this kind of stuff to their pictures. Especially such a strong female icon. It's way cooler to put your real body, with curves, cellulite, acne, whatever, and own it. Do you agree? Does anyone like these edited pics? Do you edit your body in your posts? LMK!
Images: Instagram (@iamcardib); Giphy (1)
Does 'Hustlers' Deserve An Oscar?
Now, before you all come for me… Is Hustlers an amazing film? Yes. I mean, I'm a gay man who's obsessed with Cardi B, Lizzo, and J.Lo, so Hustlers could literally be a piece of sh*t spread on toast and I would still convince everyone I know to see it. Fortunately, it's not sh*t spread on toast, but delicious avocado toast topped with perfectly ripened heirloom tomatoes, a gloriously poached egg, and a beautiful sriracha drizzle—but does avocado toast deserve an Oscar? I mean, does Hustlers deserve an Oscar? The reviews have been excellent, with rogerebert.com saying it's J.Lo's best work since 1997's Selena. The Hollywood Reporter called it J.Lo's best film to date, and Hollywood superwoman Shonda Rhimes tweeted that she only leaves her house for a movie every five years, and Hustlers is the one. For all intents and purposes, this movie is screaming "give me an Oscar," so what's the f*cking issue? Well, as it turns out, the woman who lived the real-life story has a major issue with it, and fittingly, like the bad bitch she's portrayed as in the film, she's not going down without a fight.
The film, directed by actor/writer/director Lorene Scafaria, has grossed $62 Million, tripling its budget in only 10 days, which is like…a really good ROI. (That means Return On Investment, which means that one class I actually showed up to in college did teach me something.) The premiere at the Toronto Film Festival was apparently iconic, with a 2,500-person standing ovation and guests immediately whispering that J.Lo deserved an Oscar for her performance as Ramona, the queen-pin of the strip club turned queen-pin of drugging and robbing men.
The movie tells the multi-year story of J.Lo's character, Ramona, and Constance Wu's character, Destiny going from making hundreds of thousands of dollars a year stripping in Manhattan before the 2008 financial crisis to drugging men and maxing out their credit cards in 2013. Cardi B essentially plays herself, with only a few brief scenes, including one of her grabbing Destiny's hair and calling her a bitch for accidentally trying to take one of her clients on her first day, which was amazing, and something I've done to coworkers while serving tables before. Lizzo appears even less than Cardi, but somehow manages to sneak her famous flute playing into her scene, and Keke Palmer and Lili Reinhart both are great in their roles as underling members of Ramona's crew. One scene in particular, with a half-naked and six-inch-heeled Keke Palmer running through a parking garage screaming, had me laughing out loud, and Lili's character's nervous puking adds a welcome lightness to some otherwise dark scenes.

All in all, it's a very good movie. J.Lo looks absolutely incredible, and one scene where men are tossing singles on her while she does a sultry pole dance to Fiona Apple's "Criminal" had me questioning if my sexuality actually was a choice. Constance Wu is… fine, and Julia Stiles could be played by literally anyone (I'm sorry, but it's true). I could have played Julia Stiles' character, and the fact that I wasn't even discussed during casting is a catastrophic overlook, but I didn't let that influence my thinking while watching the film.
The thing about it is, at no time while watching did I think this movie was going to garner Oscar buzz, and I don't really know how to feel about the fact that it has. Let me be very clear about something, I f*cking love J.Lo, and if she won an Oscar I would be crying before she got to the stage, but then again my favorite movies of all time are Sister Act and Sister Act 2: Back in the Habit, so like…who am I to be judging? After all, Bridesmaids scored nominations for Kristen Wiig and Melissa McCarthy, Anthony Hopkins won the Oscar for only 16 minutes of screen time in Silence of the Lambs, and Anne Hathaway got her Oscar for a mere 15-minute choppy AF haircut in Les Miserables. So with the rules of what qualifies as Oscar-worthy clearly not set in stone, why not consider Hustlers? I suppose that pesky little fact that the person behind the story didn't get paid for it to be told.
The movie is based on the 2015 New York Magazine article, "The Hustlers at Scores," written by real-life New York Magazine journalist Jessica Pressler (played by the lackluster Julia Stiles). The movie is told through the narration of the article's main character, Roselyn Keo, renamed Destiny and portrayed by Wu for the movie. J.Lo's character, Ramona, is based on Samantha Barbash, aka Samantha Foxx, who is currently threatening a lawsuit against STX Entertainment, the studio behind Hustlers. Samantha says she was lowballed to sign away the rights to her story, and according to her lawyer, she "unequivocally rejected all offers to be included in the film." She claims that J.Lo never spoke to her before or during filming the movie, and she is now writing her own book about her story.
Pressler's article and the film actually seem to stick pretty close together, with some direct lines from the article used in the film, such as, "You can't feel bad! If we don't do it, somebody else will do it."
My hesitation with fully believing the movie's story comes from the troubling fact that we don't quite know what about the article is true. Pressler wasn't able to fact check a lot of what Roselyn, known as Rosie, told her when she was writing it. After beginning the article by saying "according to Rosie" several times, Pressler clarifies, "I say 'according to Rosie' because her family did not respond to interview requests, and because Rosie is an admitted liar with multiple pending felony charges. Still, she is occasionally prone to offering up indisputable truths." While some of the story may be fabricated, some aspects must be true, because the fact remains that men really were drugged and robbed, with one Queens strip club bartender pleading guilty last year to being in cahoots in overcharging the credit cards of two men who were drugged by strippers.

Hustlers is told in a similar fashion to 2017's Oscar-nominated I, Tonya, with the main character narrating her own rags-to-riches-back-to-rags story while establishing an emotional connection with the audience that goes beyond whatever shady sh*t they may have done. (By the way, Nancy Kerrigan still competed in the 1994 Olympics, so like…get the f*ck over it.) The difference, however, is that Samantha Barbash more than likely won't be sitting in the audience as J.Lo's guest at the Golden Globes as Tonya Harding did with Margot Robbie and Allison Janney. Allison ended up winning the Oscar for her portrayal of Tonya's mother; Margot was nominated for best actress for her portrayal of Tonya, but lost to Frances McDormand.

So aside from the question of whether or not Hustlers deserves an Oscar for the remarkable story, the way it's been told, and/or J.Lo and Constance Wu's performances, the fact that the real-life subject of the story is unhappy remains, and this should not be brushed over. I suppose we'll find out whether or not the Academy will take that into consideration come February. With that being said, I would let J.Lo use me as her own personal red carpet if she wanted to.
Images: Getty Images; Giphy (3)
As A Stripper, Here Is What I Hope You Learn From 'Hustlers'
From the moment I saw the 
Hustlers 
trailer, I was overcome with a mix of emotions. First of all, I was beyond excited to see JLo, Constance Wu, Cardi B, Lizzo, and the rest of the cast shake their asses and work their magic on the big screen. But with all this excitement came a bit of fear. As a stripper myself, I was delighted to see strong women representing us in the mainstream media, but I was also worried that Hollywood may do what they do best and 
mis
represent us. And seeing as the premise of the film was that a group of strippers came up with an elaborate scheme to fleece rich men for thousands of dollars, I was also concerned that the film would leave people believing that all strippers are
scam artists
.
I attended a 12:15pm matinee of the movie with my friend, who is also a stripper, and I can say from start to finish, 
Hustlers 
dazzled the f*ck out of us. We clapped, snapped, laughed, and whispered, "SAME" to each other throughout the entire thing. It was a GD delight. And I can honestly say that I think, for the most part, they did a good job representing strippers and conveying the nuances behind the story in a way that showed the audience that the situation wasn't black and white and that strippers are, you know,
human beings.
The film hired
actual strippers
to
consult
 and act as extras in the film, and I think this really shows. It feels authentic and far from the usual portrayal of strippers or sex workers, which is that we are sad, broken people with no agency over our bodies and ourselves. However, I can still see how some people could take things from the movie and either not understand or misconstrue them. So, I'd like to go ahead and say what I hope you took away from the film, besides the obvious, which is that JLo is the hottest person in the world and can run me over with her car (if she wants).
Stripping is a legitimate job that requires lots of different skills.
A standout moment in the movie is when Destiny (played by Constance Wu) is giving a dance and a man asks her, "What happened to you that made you do this?" This is a typical kind of question from a male customer. It's condescending, rude, and ignorant. These dudes come into the club looking to buy what we have to offer, and they say sh*t like this, implying that what we do isn't valuable or worthy, and that we must only be doing it because we are damaged goods. Sex work is work, and I think Hustlers does a good job of showing how it's very much a job that requires a set of skills. You have to learn how to read and work people, how to charm people, how to be confident, plus how to walk and dance in six-inch heels. It's fun and empowering, and it's also exhausting. It's a job. I hope when you saw Destiny exiting the club as the sun was coming up, you thought, "Damn, girl," because that moment is very real.
While stripping can and should be empowering, the system it works within is broken.
The first act of Hustlers essentially shows us the working conditions for a stripper. Granted, the film takes place about a decade ago, but a lot of the industry standards remain the same. We see Destiny go through a long night of working, only to have to hand over a chunk of her earnings to her boss. Most clubs work in a way that cushions the pockets of the men in charge, and takes advantage of the women doing all of the heavy lifting. In most clubs, strippers are not paid any sort of wage. Instead, they have to pay the club for the "privilege" of working there.
I've noticed in the way management speaks to us, it is often implied that we are disposable and lucky to be given the opportunity to make money at their club. We have to pay a house fee every shift. In my experience, this ranges form $40-$100 per shift, depending on when you arrive (the house fee goes up as the night goes on). On top of this, you have to tip out other people on the staff, because they also make their money on tips.
And, while the first act of the movie shows how hard it can be, it eventually transforms to these women making insane amounts of money, because a plot of a movie must progress. But something I find myself often explaining to people is that stripping is very inconsistent work. Some nights I feel like JLo in the scene where she bathes in money and I take home two months' rent in one night. Other nights I owe the club money after working the floor for six hours because I didn't even make enough to pay my house fee.
Hustlers shows that strippers endure tough working conditions that require them to hustle hard, so instead of shaming them for what they choose to do, we should support and stand by them.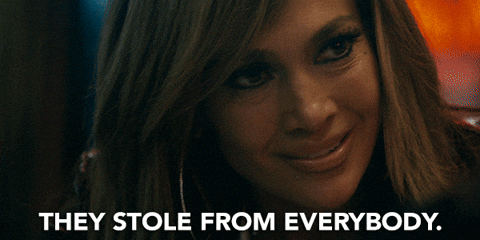 Not all strippers are trying to rob you.
Sure, this film is based on a true story about a group of strippers who came up with a master plan on how to rob some super rich Wall Street guys. But I think Hustlers makes a point to show the situation these women were in that led them to do doing what they did: a financial crash that took away their business and a need to survive and support themselves and their families. It also includes a line from Destiny reiterating that this is not what all strippers do, which I really appreciated and hope you noted. As someone who has worked at the club that Hustlers is based off of, I can say firsthand that I've never witnessed anything like this scandal there. This was a unique situation, and it made major headlines because of what a big, and uncommon, story it was. It is an exception.
Strippers are hustlers and we are smart people who persuade people (often rich men) to spend their money, but that doesn't mean all strippers are going to drug and rob you. It's an interesting story, but it is not the norm. So, please don't watch and support this movie and then use it as an excuse to stay away from strip clubs and not support actual strippers. Hollywood shouldn't be the only one making money off the dazzling world of strip clubs.
Sisterhood exists at the strip club.
In the past, I've noticed that when strippers are portrayed in film and TV they are often pitted against one another. People who have never worked in a strip club assume it's every stripper for themselves and highly competitive. Hustlers showed audiences an authentic strip club, where yes, you should not cut in on another stripper's client, but you also work best when working together. The only time they show the competitive aspect is when Destiny tries to talk to a man who is watching Diamond on stage. That's not a good move, and Destiny figures that out when Diamond grabs her hair and tells her to f*ck off. But she also learns that becoming friends with her coworkers and combining their powers is not only lucrative, but essential to staying happy at work.
A line from the original article written about the scandal, entitled "The Hustlers of Scores,"  says, "While evolutionary theory and The Bachelor would suggest that a room full of women hoping to attract the attention of a few men would be cutthroat-competitive, it's actually better for strippers to work together, because while most men might be able keep their wits, and their wallets, around one scantily clad, sweet-smelling sylph, they tend to lose their grip around three or four." This is absolutely true. Plus, working with a bunch of women who have seen your pussy is honestly a blast, and I love my sisters at the club. They keep me sane.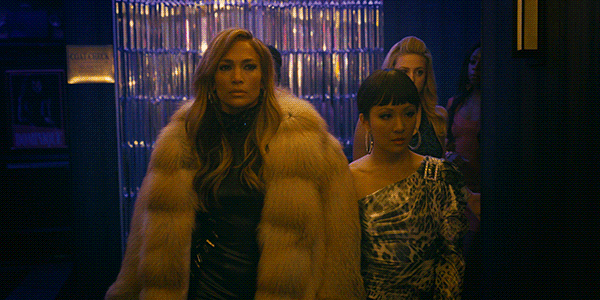 Strippers put up with a lot of stigmatizing bullsh*t.
While I'm proud of the work I do, I also know the world, for the most part, is not. My hope is that Hustlers will help people clock their unfair judgements about strippers. Being represented in mainstream media means a lot, and having a cast of strippers that the audience is meant to sympathize with is helpful. But I hope people don't leave their enthusiasm and "yaassss queen" energy at the theater door. I have seen people gushing over this movie and over the cast, but I hope they realize that while, yes, JLo is a goddess, so are the strippers she and the rest of the cast are portraying here. Something I hear way too often from my clients is, "You are too smart to be working here." They think it's a compliment, but really it's a belittling dismissal of the hard work that I and my fellow strippers do. You'll notice that I wrote this article anonymously, because unfortunately, I still feel as though there are people in my life or in the professional world who would view me differently and less positively if they discovered that I do this work. That sucks. I hope Hustlers helps you see that strippers are amazing, smart, funny, clever, badass b*tches who deserve your respect. And TBH, your money.
Stripping is a form of sex work, and all sex work is work.
Nothing bums me out more than people rationing their compassion, especially when it comes to sex work. If you saw Hustlers and discovered that you respect the work that strippers do, don't stop there. Make sure to respect and support all sex workers. Different people provide different services, and the details of those services shouldn't dictate what respect you have for them. Different strokes for different folks, babe. No need to judge.
And please, for the love of God, remember that sex work is completely separate from sex trafficking. I'm not asking you to support the latter. I'm asking you to realize that consenting adults choose to make a living from the former, and they are often shamed and penalized for it. Let's change that, shall we?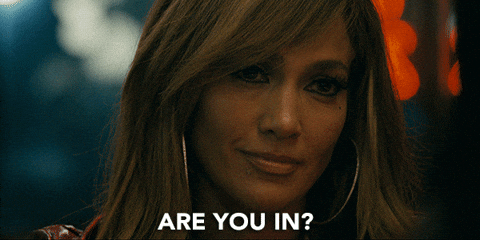 Images: Getty Images, Giphy (2)
8 Celebrities Who Are Way Younger Than You Think
This week, everyone is busy making their favorite celebrities look older with the FaceApp old filter, and it's really gotten me thinking about celebrities' ages. We've talked before about some celebs who basically don't age, but not everyone is older than they look. There are certain stars who are surprisingly young, whether they just look mature for their age, or it feels like they've been around forever.
While everyone knows you can stay young-looking by drinking lots of water, sticking to your skin care regimen, and getting lots of sleep (and minding your own business), looking older is a little more tricky. As someone who constantly gets told I have a baby face, I'd love to know how all these famous teenagers look so sophisticated. Here are some celebrities who are definitely younger than you think.
1. Shawn Mendes
Look at that fine-ass man and tell me you would have guessed that he is only TWENTY YEARS OLD. I am fully uncomfortable knowing how young Shawn Mendes is, because I am actively turned on by everything he does. He got famous on Vine, which should have been my first clue about his age, but it feels like his songs have already been on the radio for such a long time. Whatever, I'm still into it.
2. Zoë Kravitz
Despite the fact that she's super gorgeous, I was surprised to find out recently that Zoë Kravitz is only 30 years old. I think because her parents are so famous, it just feels like she's been around forever. She's also much younger than most of her Big Little Lies costars, so it's easy to forget that she was born in the late 80s.
3. Cardi B
Cardi B is one of those people who just kind of feels ageless. Like, I don't actually think that she's old, but she's been through a lot in her life, and the fact that she and I were in high school at the same time just feels wrong. Okay, I can't really picture her in high school at all, but you get what I mean. She's only 26, and it will never not be strange that she and Ariana Grande are the exact same age. I've known this for months, but it still gets me every time.
4. Millie Bobby Brown
When Stranger Things first premiered, it made sense that all the kids on the show were actual kids. But now, Millie Bobby Brown has fully broken out as a major star, and she's already turning into a mini fashion icon. She looks so sophisticated that I'm struggling to wrap my mind around the fact that she just turned 15 a few months ago. Did your skin look like that when you were 15? Because mine most certainly did not.
5. Sophie Turner
Sophie Turner was an actual kid when she was first cast on Game of Thrones, so it makes sense that she's only 23. Still, she's grown up fast, and she doesn't really seem young at all. Her whole thing now is chugging wine on Instagram, which she couldn't even legally do in the United States until a couple years ago! She's cool af, so I'm not even mad that she's younger than me.
6. Billie Eilish
Billie Eilish has quickly become one of the biggest stars in music, but I still get a lot of questions about who she is. That probably has something to do with the fact that she's only 17, so a lot of adults are just now hearing about her. Billie is very talented, and her attitude is definitely something different, so I would expect she'll be a major star for years to come. If you haven't listened yet, catch tf up.
7. Noah Cyrus
Noah Cyrus actually looks a little like Billie Eilish, but like, with lip fillers and lash extensions. She's slightly older than Billie, at 19, but she's been on our radar for years thanks to her famous older siblings. Her music is cool, but her relationship drama (remember Lil Xan?) definitely feels like high school bullsh*t. She'll grow out of it…maybe.
8. Bella Hadid
It's truly insane that Bella Hadid is only 22. Depending on the photo, she can either look like she's in her 20s or her 50s, and it really messes with my mind. She never looks old in a bad way, she just has such a mature looking face, mostly thanks to her cosmetic procedures, lol. 22-year-olds just aren't supposed to look like this!
And before you come for me in the comments for saying people look old, everyone on this list looks great! When you're 17, looking old isn't really a bad thing. There are definitely other celebrities who are deceivingly young, but these are the ones who really made me do a double take. I mean…Shawn Mendes. That's all.
Images: shawnmendes, zoeisabellakravitz, iamcardib, milliebobbybrown, sophiet, billieeilish, noahcyrus
6 Celebrity First Date Stories From Your Favorite Couples
It's an issue as old as the concept of dating itself: wtf are you supposed to do on the first time you go out with someone? Every part of meeting someone new can be stressful, but this particular question is especially tricky. After your friends go through all the trouble of finding you a promising match on Ship, you don't want to blow it by choosing the wrong vibe for a first date. If you're in desperate need of some relationship inspo this summer, here's what some of your favorite celebs did for their first dates.
Ellen Degeneres & Portia de Rossi
Ellen and Portia have come a long way in their relationship. Back when they first started seeing each other, Portia hadn't yet come out, so they didn't go out in public. Instead, they just drove around getting to know each other. Luckily, these days they can be out and proud together, and they're one of our favorite Hollywood couples.
Gisele Bündchen & Tom Brady
Gisele and Tom actually met on a blind date back in 2006. At the time, Gisele's friends all thought she needed a boyfriend, so they set her up on three blind dates in a row. Who are Gisele's friends, and how can I get them in my Ship crew? Tom was the third one, but luckily the first two didn't work out. Now they've been married over a decade, and are still going strong.
Emily Blunt & John Krasinski
John Krasinski never thought he had a chance with Emily Blunt. When he finally asked her out, he took her to a shooting range, because he thought she would be so weirded out that he could blame the rejection on the date spot, and not himself. I guess his plan backfired in the best way, because they're still together.
Offset & Cardi B
Offset and Cardi B don't really have a normal life, and their first date was definitely no exception. After watching Cardi's meteoric rise in the music industry, Offset invited her to go the Super Bowl in 2017 with him. Casual. It's usually a struggle getting a guy to pay for a couple drinks, but we can all dream.
Kylie Jenner & Travis Scott
Kylie and Travis didn't have a traditional first date, but clearly things worked out okay regardless. They hung out for the first time at Coachella in 2017, where Travis was performing. Things went so well that Kylie packed her bags and left on Travis' tour bus. Their daughter Stormi was born less than a year later.
Jennifer Lopez & Alex Rodriguez
J.Lo and A-Rod are now happily engaged, but A-Rod didn't realize their first date was even happening. They reconnected in 2017 at the Hotel Bel-Air, after initially meeting more than a decade before. J.Lo says he talked that first night about his desire to get remarried, and she obviously was listening.
Okay, so maybe some of these first dates are more practical than others, but there are some good ideas to work with here. When in doubt, just meet your Ship match for coffee or drinks, and see where the night takes you. Who knows? Maybe you'll be the next Gisele and Tom.
Images: Shutterstock; portiaderossi, gisele, johnkrasinski, iamcardib, kyliejenner, jlo / Instagram
The True Story Behind Cardi B & J.Lo's New Movie Is Peak 2019 Female Empowerment
Good news: Cardi B has spent the last tw0 years taking over music, and now she's turning her attention to movies. On Tuesday, STX Films announced their new project Hustlers, and I'm already positive it's going to be my favorite movie of all time. In addition to Cardi B making her film debut, the movie is packed with badass women like Jennifer Lopez, Constance Wu, Keke Palmer, Lili Reinhart, and Julia Stiles. I could write an essay about how much I love each of these women, but for now I will try to keep it to a minimum. The movie also stars Mercedes Ruehl, who you might not know, but she's an Oscar winner and I saw her in a play last year and she is fierce as f*ck. Moving on.
First of all, the movie is being written, directed, and produced by a woman named Lorene Scafaria, who also directed Nick and Norah's Infinite Playlist. Good to know that we've got boss women on both sides of the camera for this one. The movie is based on a New York Magazine article from 2015, and it centers on a true story. Get ready, because the plot is a wild ride. The main characters are a bunch of strippers who band together to get revenge on a bunch of gross Wall Street dudes. This sounds like all my revenge porn fantasies! Here's the subheading of the article: "Here's a modern Robin Hood story for you: a few strippers who stole from (mostly) rich, (usually) disgusting, (in their minds) pathetic men and gave to, well, themselves." This is the 2019 mood, and I am 100% here for it.
If you think the story sounds amazing, that's because it totally is. It centers around Rosie, an enterprising stripper who came up with a complex operation to scam rich men. Basically, they would drug the guys, steal their credit cards, spend a sh*tload of money, then convince the dudes nothing was wrong when they woke up. Okay, like yes, these are clearly CRIMES, but also, I respect it? If this writing thing doesn't work out for me, that's probably gonna be my next move. The real Rosie is Asian American, so I would guess that she'll be played by Constance Wu, and J.Lo is probably playing an older stripper/mentor named Samantha. I'm not sure who Cardi B will play, but I'm excited nonetheless.
There are many reasons to be excited for this movie, but I have to say that Cardi B's involvement is the most intriguing thing for me. She's obviously one of the most entertaining people on the planet, but I'm already imagining her trying to memorize lines, and it's hilarious. Hopefully they'll give her a few cues and just kinda let her improvise on set, because you can't even write the sh*t that comes out of her mouth. At least she has the real-life experience of being a stripper, so maybe she can show Constance Wu and Lili Reinhart a thing or two on the pole in exchange for some acting lessons. Dark Betty will thank her. (I doubt J.Lo needs any pointers, based on her insane workout routine.)

Sadly, it's going to be a while before we can see Cardi B and her A-list crew ruining men's lives on the big screen. The movie is scheduled to start shooting at the end of this week, so if I had to guess, it'll probably come out next summer. This is a long time to wait, but I have full confidence that it'll be worth it.
Images: Shutterstock; @jlo / Instagram; Giphy
Cardi B Deleted Her Instagram Because People Are The Worst
After suffering sitting through five hours of Grammys coverage on Sunday night, I swore I wouldn't devote any more mental energy to them, but here we are. The fallout surrounding the Grammys and the hip-hop community is continuing in a really unfortunate way. Cardi B's win for Best Rap Album was historic, as she's the first solo woman ever to win that category. But wherever you can find a woman making history, you can always find a bunch of butt-hurt dudes trying to tear her down. Cardi B deleted her Instagram last night because clearly the haters got to her.
In the past couple of years, celebrities have gotten quicker and quicker to deactivate their social media accounts at the drop of a hat, whether it's to generate buzz or to get away from things for a bit. On Monday, Cardi B became the latest celeb to leave Instagram, but not before posting a video that made it pretty clear why she was unhappy. Luckily, someone recorded it before it got taken down. Thank god for that iOS update that made screen records, it has truly saved lives.
Cardi B reveals that she does not support BET's aim at Nicki Minaj and defends herself from haters discrediting her #GRAMMYs win. pic.twitter.com/ZA1nKoiuUO

— Music News Facts (@musicnewsfact) February 11, 2019
In the beginning of the video, Cardi says, "It's not my style for people to put other people down to uplift somebody else." She doesn't say so explicitly, but she's most likely referencing the BET/Nicki Minaj drama that happened on Monday. In case you missed it, BET posted an article about fans coming for Cardi, with a completely unnecessary caption about Nicki Minaj being dragged by her wig. It was rude, it was uncalled for, and it didn't even make any sense. In response, Nicki canceled her performance at the upcoming BET Experience Festival, and I really can't blame her. And even though Nicki and Cardi B have had their issues in the past, I'm glad Cardi called out BET for what they did.

In the second part of the video, Cardi B talks about the hate she's gotten since winning the Grammy on Sunday night. She points out that last year, when she didn't win a Grammy, people said she was robbed, but now they're complaining that she won. Much like the decision of whether to respond to a "u up?" text, damned if you do, damned if you don't. It was pretty inevitable that Cardi B would get hate from internet trolls no matter what, but it's unfortunate nonetheless. It's almost like women are constantly being fed mixed messages and double standards and being set up to fail?!? Larger implications about society's misogyny aside, Cardi B had one of the biggest years of anyone in music, so it's dumb to act like her win wasn't well-deserved.
Cardi B: IN EVERY CHART THERE WAS, MY ALBUM WAS ALWAYS TOP TEN.
Me: 
She also calls out haters who thought her career would be over after she got pregnant, and she says that sometimes she didn't get to sleep in her own bed for days because she was working so hard on the album. She also says that some songs couldn't even be completed for the album because she was sick while pregnant. Basically, Cardi worked hard as f*ck, and she's done with people saying it's not enough. And, I know nobody asked, but so am I. Criticize Cardi B's music all you want, like it or don't, I don't care, but you literally cannot say with any credibility that she doesn't have a strong work ethic.
I'm really hoping Cardi B is just taking a short break from Instagram, because her content is one of the few good things in this world right now. From her rants about Nicki Minaj to her rants about the government shutdown, it's all pure gold. Who else is going to distract me from all the fitness influencers that I hate follow? The prospects are bleak. It's important to note that Cardi B has done this before, so chances are she'll be back before long. Until then, I'll be listening to "Money" for the 10 millionth time.
Images: Getty Images; @musicnewsfact / Twitter; @BET / Twitter