Does Everyone Secretly Hate You Or Do You Have Anxiety?
So you think your friend said "hi" a little weird today. The barista at your local coffee shop didn't seem quite as chipper as normal. And did that dog on the street give you kind of an off vibe? You're about one errant stranger's sigh away from a full-on spiral into the depths of your neuroses. But before you go clearing your schedule for your next anxiety attack, let's take a little quiz. Does everyone really secretly hate you, or do you just have anxiety? Select all that are true.
Did you say something slightly embarrassing, like telling your server "you too" when they said, "enjoy your meal? (Y/N)
If you answered yes… Everyone secretly hates you, but not for this—it's for something else weird you said, years ago, that you don't even remember.
If you answered no… You're a liar, and that's the real reason everyone secretly hates you.
When was the last time someone replied to you in a group chat? Was it more than a day? (Y/N)
If you answered yes… I regret to inform you that your friends have started another group chat without you. Why, I can't say for sure. Maybe it was your overenthusiastic use of emojis. Or the fact that you
Text
Every single
One of your ideas
Like this
Or maybe you just have bad taste in memes. Maybe your sense of humor in general just sucks, actually. Whatever the precise reason, make no mistake, it's definitely something you did.
If you answered no… Barring any poorly timed autocorrects, you're probably in the clear.
Did you suddenly remember something extremely cringey you did in middle school? Wearing bright-green eyeshadow and two Polo shirts layered over a long sleeve, for instance? (Y/N)
If you answered yes… Don't stress. It's not like all the evidence of our awkward preteen years has been memorialized online for eternity because we failed to heed the advice of all the adults who tried to tell us the internet is forever, or anything!!
If you answered no… Well, I bet you just did now.
When you asked your boss if you could take April 15, 2022 off, did he say "sure, that's cool" but like, with a slight edge, like it wasn't really cool? (Y/N)
If you answered yes… Oh no, it's worse than I thought. He hates you and you're about to get fired for this.
If you answered no… No as in you haven't requested off recently? Or no as in, it was actually cool? If the former, you're good. Keep on being a replaceable cog in the soul-crushing machine of capitalism. If you think it was the latter, this must be your first job. Hope you have WiFi wherever you're going on your day off, you're going to need it to fix a non-urgent emergency!
Did your friend just casually mention in conversation that she hated the show you personally recommended to her even though you assured her, "you're gonna be obsessed with it?" (Y/N)
If you answered yes… Well, at least you know why everyone hates you: it's because of your bad taste in streaming. There's some comfort in that.
If you answered no… You're right, you don't ever recommend shows to anyone. That's probably why you have no friends—you're stingy with the Netflix password.
Did you just hear your own laugh on a video or audio recording? (Y/N)
If yes… My sincerest apologies, because there is just no way you have any friends or loved ones with a chortle like that.
If no… Consider yourself truly blessed. Might I recommend tamping down your expressions of joy to a polite giggle?
How long did it take you to put away the change in your wallet before the cashier at the grocery store called "next!" And then started scanning the following customer's items?
Was it… before their items slid down to the bagging area, necessitating they move over to the credit card reader? Do you even have anxiety with hand-eye coordination and speed like that?
Or was it… after? Not only do they hate you, they probably cursed you under their breath and wished a number of petty inconveniences would befall you. Sorry in advance about that tongue paper cut!
What's that? Your worst fears have been confirmed? Take a deep breath. Then count up to 10. Now back down. At least now you know. While they say ignorance is bliss, they also say knowledge is power. Whoever "they" are, they seem divided on the conventional wisdom, but one thing is for sure: they definitely would be happier if you didn't make it to brunch.
Image: David Prado / Stocksy
Michelle Obama Opens Up About Struggling With 'Low-Grade Depression'
As we all know, Michelle Obama literally could do no wrong – she is strong as hell, brilliant, and basically America's mom. On top of all of that (and in spite of it), she's relatable as f*ck. From her giving Trump side-eye at his inauguration to starting a podcast in quarantine, America's favorite first lady is truly one of us.
In the latest episode of The Michelle Obama Podcast, Obama opened up about something that many of us are feeling (at least I am) these days. During a conversation with journalist Michele Norris, Obama talks about how she has found herself "dealing with some form of low-grade depression" over the last few months. "Not just because of the quarantine, but because of the racial strife, and just seeing this administration, watching the hypocrisy of it, day in and day out, is dispiriting." 
Michelle specifically cited the heightened racial tensions as a factor of her depression, "I have to say, that waking up to the news, waking up to how this administration has or has not responded, waking up to, yet another, story of a Black man or a Black person somehow being dehumanized, or hurt or killed, or, falsely accused of something, it is exhausting. And it, it has led to a weight that I haven't felt in my life, in, in a while." 
In describing her symptoms, the first lady talked about having difficulty sleeping or waking up in the middle of the night. She said, "you know, I've gone through those emotional highs and lows that I think everybody feels, where you just don't feel yourself." She said, "there's been, uh, a week or so where I had to surrender to that, and not be so hard on myself. And say, you know what, you're just not feeling that treadmill right now." 
All of this is not only normal but increasingly widespread. A recent CDC pulse survey reported that one out of three Americans is experiencing some level of depression or anxiety, up from one out of ten last year. Feeling dread and concern about the state of America and our government is not a new thing either. Last year Michelle Goldberg wrote an op-ed for the New York Times about democracy grief. In it, she discussed how watching the institutions that we trust to protect us fail to do so can impact psychological health. 
In difficult times, I like to ask myself: WWMOD (obviously that stands for what would Michelle Obama do). Because she always comes through, Michelle gave us some insight into how she deals with her low-grade depression during the quarantine.
"For Barack and I, we've lived outside of the norm of regular life for quite some time," Michelle said, "what we've learned early on in the White House is that in order to stay sane and to feel like the human you once were is that you have to have a schedule and a routine." 
In addition to establishing a routine, the Obama family has been working on puzzles together and having card game tournaments. They're also spending some time outside and trying to eat dinner together as a family. Stars: they're just like us. 
While I highly recommend listening to the whole podcast episode yourself, finding a sense of positivity boils down to self-awareness and focusing on what brings you to a good place. As Michelle said, "make sure that you all are listening to your spirits and to your bodies through this period. And when you need a moment to recharge, take it and do not feel guilty about needing to take that break." 
How To Run Safely Outside Without Being A Jerk About It
Apparently, I had no idea what being "stir-crazy" actually meant until we entered this indefinite solitary confinement they call quarantine. Even as a proud introvert, it feels like the universe is shoving all the plans I've ever canceled in my face and screaming, "IS THIS WHAT YOU WANTED?" This is absolutely not what any of us wanted—as any introvert will tell you, part of the thrill is canceling plans. With no plans to cancel, this endless abyss of plans that could have been (canceled) feels like a discount version of Groundhog Day. Not only are we mourning the closures of our favorite restaurants, stores, and bars, but many of the activities that kept us sane are no longer an option. One of the most difficult aspects of my quarantine has been the closure of my gym, and not only because of the sense of community it provided. Physical activity has been one of the only things I've found in over a decade of pretty severe anxiety that actually helped keep it in check. According to the CDC, reduced anxiety isn't the only noticeable benefit of regular physical activity. Just 150 minutes of moderate-intensity exercise each week (that's like 7 episodes of Schitt's Creek which, realistically, you've done in one day) can improve both your blood pressure and cholesterol levels. Regular exercise can also reduce your risk of certain cancers and cardiovascular disease. So yeah, TL;DR, exercise is good for you and I'm sorry for all the times I pretended I had cramps to get out of gym in high school. 
During this time of incredible stress and uncertainty, the anxiety-reducing aspects of physical activity are more important than ever. Being trapped inside a small space with no end in sight is stressful, to say the least. Exercise is definitely helpful, and nothing makes me feel quite as calm as the aftermath of a heart-pounding sweat session. There are plenty of workouts that can be done from the comfort of your own home, but when running is your go-to, working out while quarantined can be a little more complicated (unless you have your own treadmill, you lucky b*tch).
At the beginning of quarantine I was running four miles a day ….. Now I'm proud because I did a single squat

— Donese (@donese22) July 9, 2020
It's SO tempting—outside is literally right there. You can see it and hear it screaming at you to lace up and get out there. So what's stopping you? If your neighborhood is anything like mine, you've seen countless people jog by, headphones in, totally oblivious to the fact that we're in the middle of a freaking pandemic. If they can do it, why not the rest of us? Well, because we both know we're smarter than that. Yes, it's tempting to squeeze in a quick 3-miler and be back inside before the coronavirus even has a chance to notice we left our bubble. Unfortunately, this isn't some high-risk game of tag and we really can't afford to take any chances. Here's the great news, though—experts say that it is fairly safe to run outside, as long as we take the proper precautions. Family Medicine Physician Doctor Mike Varshavski—or as he's known on Instagram, Dr. Mike—tells Betches that running "is considered a low to moderate-low risk activity based on the new chart put out by the Texas Medical Association" and notes that "throughout this pandemic, almost all shelter at home orders have continued to allow and encourage solo exercise like hiking, walking, and running."
So that's the good news! And as long as you follow these pretty easy guidelines, you can rest easy knowing that you put your safety and the safety of others first.
1. Jog Alone Or In Small Groups, But Make Sure You Maintain A Safe Distance
I get it, running with your best friend or your running group like you've done for years is a blast. However, just because you have been extremely cautious about protecting yourself from the coronavirus doesn't necessarily mean your running partners have done the same. Make sure whoever you're running with is also taking the proper precautions, and continue to practice social distancing even when running outside.  Dr. Mike tells Betches, "any time you are exposing yourself to other individuals, it raises the risk of catching the virus," reminding us, "those who look healthy can still be spreading COVID-19. If you have to go with a group (for safety reasons, perhaps), try and be with the smallest group possible."
Brian Labus, Ph.D., MPH, assistant professor in the School of Public Health at the University of Nevada Las Vegas told Runners World, "If you deem running with a small group is something you're comfortable with, you'll want to ensure that these few people have been properly careful over the past few months, same as if you're running with one other person. Additionally, your small group should run somewhere you know you won't come in close contact with others." 
Labus also emphasizes that if you live with someone in the at-risk age group (over 65) or someone who is immunocompromised, extra precautions are necessary, and running with a partner may not be the best idea. He explains, "There have been over 182,000 cases (as of June 10) and over 77,000 COVID-19 deaths (as of June 6) in those age 65 and over since February 1, according to provisional data from the CDC. It is safer to run solo until disease transmission is low in your community."
2. Bring A Mask With You When You Run
It's probably not necessary to wear a mask while you run outdoors (and realistically, it would be really tough to wear a mask during any exercise that leaves you gasping for air) as long as you maintain the proper distance between you and anyone you encounter outside. Indeed, Dr. Mike tells Betches that "a mask should not be worn while running as sweat will make the mask wet and create other problems." He advises, "The best protection is to wear the mask until you're ready to exercise, take it off, and stay at least six feet away from others as best as possible."
View this post on Instagram
That said, it's probably not a bad idea to bring a mask with you when you run just in case. You may end up lost and needing to grab an Uber back, you could desperately need to run into Walgreens for a drink of water, or you might end up running into your ex and needing a disguise. Point is, there are a lot of reasons you may need a mask when leaving your house, so make sure you have one with you at all times. 
Donald Milton, a professor of environmental health at the University of Maryland School of Public Health explained to the New York Times, "Outdoors is relatively safe, and masks would only be important if you are exercising in crowded areas or indoors in space shared with other people." According to Milton, as long as you're keeping your distance, you should be pretty fine running outside with your mask at the ready in case of an emergency.
3. Scope Out Your Street During Different Times Throughout The Day, Or Find A Different Street Altogether
Please withhold all "duh"s, because from what I've seen firsthand it apparently needs to be said—the easiest way to keep your distance when running outside is to run in a less crowded area. Now, this doesn't mean driving 38 miles to the middle of the forest to knock out your run. This honestly may be as simple as spending a few days looking out your window every hour or two to see how many people are out and about. Peak hours in your neighborhood may also vary between weekdays and weekends, so also take that into account when planning your run. Ideally, you want to find both a time when not too many people are out, and a place where you have plenty of "escape routes." This means not running next to a busy street that you can't cross if you see a group of people on the sidewalk. If you're running on a forest path, it means being able to step way off to the side if someone else is approaching (and, see #2, don't forget your mask in case this isn't an option). 
Dr. Benjamin D. Levine, a professor of internal medicine at UT Southwestern Medical Center and Texas Health Presbyterian Dallas, explained to NPR the importance of keeping an even greater distance when exercising outside. He advises, "The greater volume and rate of breathing that occurs during exercise has the risk of spreading droplets farther. I think it's reasonable based on the known changes in breathing during exercise."
I don't know how many times I've been out walking and out of absolutely nowhere, a jogger runs by me so close that I feel a small gust of potential plague-wind as they pass. This isn't okay, guys. First and foremost, if we can't be considerate to other people who have just as much of a right to use the sidewalk as we do, we shouldn't be out running in the first place.
That said, if you've been keeping an eye on your street and it really doesn't seem like there's much of a break in the constant stream of people passing by, check out some other side streets nearby. Chances are, within a mile or so of where you live, there are some quieter residential streets that will be far less congested. 
4. Make Sure That It's Actually Okay To Run Outside In Your Area
As we've discussed, it is more than tempting to grab your shoes and just GTFO. But even if you've thoroughly read through these important tips and feel confident in your ability to run outside safely, please hit pause for just a hot second. Because of the constantly evolving nature of how we're handling this pandemic, running outside without a mask may not even be allowed in your area. Make sure you're constantly checking mandates from your state health departments to ensure you're adhering to your area's current requirements. These mandates are changing fairly regularly in some areas, so it's a good idea to check them daily before your planned run. Your state will most likely have a dedicated coronavirus page with all of the latest information, from things like the number of confirmed cases to reopening guidelines.
Dr. Mike emphasizes, "Know that there is no such thing as absolute safety when outdoors. The guidelines of wearing a mask, physical distancing, and washing hands will certainly reduce risk but not eliminate it. Know what is an acceptable risk for you."
If you're still hyped up to go for an outdoor run, more power to you. Just remember the four M's, and you should be good to go. Maintain your distance, Mask (in your pocket/bra/around your neck/whatever), find tiMes of the day that are less crowded (ok that was a stretch, who cares), and Mandates (check your local mandates to see what rules are in place in your area). Happy running!
Images: Andrea Piacquadio / Pexels; donese22 / Twitter; notskinnybutnotfat, dietstartstomorrow / Instagram
This Is Why Your Dreams Are So F*cked Up In Quarantine
Just this morning, I jolted wide awake wayyy before my alarm clock went off. I'd had the craziest dream: I had a boyfriend who was not only really cute, but smart in a hot way, rich, and super attentive but not clingy. After an initial moment of joy (the coronavirus thirst is real), I quickly realized that this dream guy was, in fact, a dream. Let's be honest, none of us have ever met a man that checks all these boxes. Turns out, I'm not the only one having f*cking bizarre dreams during the COVID-19 pandemic. The other day on the Diet Starts Tomorrow podcast, Betches co-founders Aleen and Sami sat down with Dr. Deirdre Barrett, professor of psychiatry at Harvard Medical School, to discuss why our dream lives have gotten all screwed up from being stuck at home.
Why Our Sleep Is Being Affected
One huge reason we're all experiencing weird dream lives is because we're literally just sleeping more, according to Dr. Barrett. With state-wide lockdowns and shelter-in-place orders in effect, people are spending way more time at home than usual, allowing for random naps, late wake-ups, and passing out on the couch at 8pm from your fourth glass of wine (not judging—it's always Wine Wednesday in quarantine). While we tend to have ramped-up anxiety dreams during any crisis, the extra sleep we're getting is pretty unique to this pandemic. According to Dr. Barrett, "In most crises, people end up getting less sleep, but in this one, the average person is getting more because of the lockdown orders and the furloughs from work and school. I think we go around a little bit chronically sleep-deprived and we're catching up on sleep right now, and so we have a big rebound in our dream life."
What Types of Dreams People Are Having

If you're having crazy anxiety dreams rn, you're not alone. Turns out, if you're freaked out about the virus IRL, it's likely that you'll be angsty in your sleeping state, too. For a lot of people, these panicky dreams don't mention the virus outright, but manifest their anxiety in metaphorical—and freaky—ways. In a recent survey, Dr. Barrett found that bug-themed nightmares are the most common metaphor for corona (so yeah, murder hornets are def coming for you during your next REM cycle). She thinks part of this is due to our use of the word "bug" as slang for a virus, "but in a deeper sense, just lots of little things that cumulatively could kill you make them a good metaphor." Great, time to go lock all of my windows.
If you're on the more ~practical~ side (I'm talking about you, fellow quarantined Virgos), you might have dreamt that you actually had the virus. Waking up thinking you're spiking a fever or having trouble breathing is really common, Dr. Barrett says. Virus dreams can also be super absurd (the dream sequence in The Big Lebowski, anyone?). One woman in Dr. Barrett's survey reported dreaming that she looked down at her stomach and saw blue stripes on it, which dreamt-up medical authorities had told her was the first sign of COVID-19.
While the average person's dreams are all wack because of general pandemic anxiety, many healthcare workers are having the ultra-realistic trauma dreams often experienced by combat veterans. "They're dreaming literally about a patient who's dying of the disease," says Dr. Barrett. "They're trying to put a tube down them, or the respirator is malfunctioning, and they're trying to save their life and failing. That's the nightmare, based on something that happens to them by day." Because real life isn't stressful enough for those on the front lines—they get to relive their daily pressures in their dreams too.
What These Dreams Mean

Apparently, these same types of dream patterns happened post-9/11. Like our present-day healthcare heroes, Dr. Barrett recalls, "the first responders and the people who'd barely gotten out of the lower floors, and the people working in Manhattan…were the ones that had nightmares as bad as wartime." At the same time, average people were anxiously dreaming about the attacks, like most of us are dream-panicking about the virus today.
And as if they weren't already suffering enough, lots of patients with COVID-19 are experiencing fever dreams. One patient in her survey dreamt that doctors were replacing his lungs with robot parts (can you imagine??). "In the dream, he was ascribing his trouble breathing to the fact that he didn't know how to use the robot lungs," says Dr. Barrett. She says this type of fever dream likely signifies the patient's "fear of having to be on a ventilator, but maybe just more broadly, a fear of what was happening in his lungs."  
Fever dreams can also make normal things totally terrifying. While I wouldn't mind a dream transporting me from my couch to a tropical island, for patients who are stuck in hospital rooms, changes in location can be completely jarring. According to Dr. Barrett, fever dreams "are probably not from a normal state of sleep. We think they're sort of a hybrid of sleeping brain states, waking brain states, and just completely abnormal brain states all superimposed on each other." Fever dreams can throw you for a loop and completely blur the lines between hallucination and reality.
How To Get Better Sleep

If you've been experiencing especially weird dreams since quarantine started, Dr. Barrett recommends keeping a dream journal in your spare time (which you now have plenty of). After all, Twilight was based off of a dream Stephenie Meyer had, so who knows? You could soon be sitting on the next hit YA series. And if you're not sleeping well, crazy dreams might not be the only culprit, so be sure to practice good sleep hygiene. We all love a good late-night Netflix binge, but the blue light from our precious phones screws with our bodies' ability to produce melatonin, a sleep-inducing hormone. Dr. Philip Westbrook, former president of the American Academy of Sleep Medicine, recommends that we put down electronics an hour before bedtime so our brains can relax. Establishing a pre-bedtime routine also helps our bodies destress and prepare for a good night's sleep. This might include taking an Epsom salt bath, flowing through a few yoga poses, or doing your daily skin care routine. Do whatever helps you destress, but avoid getting too emotional. Texting your ex is NOT an appropriate activity when turning in for the night (or ever, tbh), because it makes your body produce stress hormones. 
The pandemic won't last forever (right, Dr. Fauci?? Please confirm), but know that you're probably not the only one in your group chat having crazy dreams. For now, focus on making changes that will help you get better sleep, and you'll hopefully avoid further dreams about wasp attacks or unrealistic boyfriends.
For more insight from Dr. Barrett, listen to the Diet Starts Tomorrow episode below.
Images: Andrea Piacquadio / Pexels; Gregory Pappas / Unsplash; Giphy (2)
Quarantining With Your S.O. Is Bad For Your Relationship, Study Finds
Quarantine has done a lot in the way of ruining lives. In addition to death and illness and loss of work and the production of new seasons of our favorite shows being put on hold and canceled weddings, it turns out, coronavirus is taking yet another perk of being human hostage: our sex lives. But don't just take my word for it: The Knot teamed up with Lasting (a marital app owned by The Knot Worldwide) to pull together a State of Relationships Report. This covers everything from marriage and engagement fulfillment, what people are fighting about, what people are doing to grow their relationships, and so on. There's a lot to take in from the April 2020 report, but what really stood out to me (and my vagina) were the sex stats. Basically? It seems a global pandemic is one hell of a turn-off.
So, Lasting is like a therapy app for couples. It's used as a tool for mental health pros and everyday couples to build and sustain healthy relationships. In light of everything going on, they took a look at their onboarding findings as well as the results of an email questionnaire sent out by The Knot. Over a thousand couples' data was crunched, and it turns out, this is a very weird time for relationships. Who would have guessed? According to the research, only 18% of couples are satisfied with their relationship communication and couples are 35% less likely to discuss conflicting issues in healthy ways than they were before. But wait! It gets worse!

As you can imagine, more and more couples are staying home and seeing each other more often. This means being exposed to things like their partner's weird work and snacking quirks, as well as just having to see their face ALL THE TIME. Close to half of the population is now spending 20+ more hours with their SO due to social distancing. Turns out, additional time together doesn't make for happier marriages. In fact, slight conflicts are getting a lot more attention. 29% of married couples have seen their relationships weaken since the start of COVID-19, and 4 out of 10 couples say they're fighting with their partners now more than ever. Uh-oh.
The most common thing they're fighting about? You betcha—it's sex! More specifically: how often they're having sex.
With additional financial stress, the lack of outside stimulus and excitement, plus a general sense of uncertainty and distress, it makes sense that people might be feeling less horny. Everyday stress causes low libido, so with a literal global pandemic, not feeling up to getting naked and banging checks out. Basically what happens when you're stressed is your body goes into fight or flight mode. Your heart rate, blood pressure, and breathing rate increases, and non-essential functions, like sex drive, are diminished. According to Verywell Mind (and like, Biology 1o1), "This response also triggers the release of hormones, such as cortisol and epinephrine, which in high levels can cause decreased sex drive … your interest in sex."

Back in 2018, roughly 18% of the population had an anxiety disorder, according to the Anxiety and Depression Association of America. That was before people weren't able to leave their homes, visit loved ones, and were in constant fear of spreading or catching a deadly virus. I may not be a scientist, but me thinks these rates have gone up (and according to Harvard, I'm like, so smart. Turns out, mental illness is on a rise).
For folks who already had depression or an anxiety disorder, this time is full of triggers you might not even realize. The odds of not wanting sex, being distracted during sex, and having a lower libido (which is a common trait of anxiety and depression) is frustrating yet painfully understandable.
How To Fix This
Time and time again, it's been reported that having sex once a week is the key to relationship bliss. In addition to it connecting a couple, orgasming literally has tons of health benefits like relieving stress, boosting your brain, and helping you sleep. Plus, it feels fan-f*cking-tastic. With people literally dying, however, getting naked and rolling around might feel weird, if not completely undesirable.
If your sex life sucks because of coronavirus, don't beat yourself up. In addition to reaching out to a mental health professional (lots of whom are virtual now and can help in regards to anxiety and depression), here are a few things to consider if you feel the need to spice up your coronavirus sex life.
Utilize apps: In response to all the hellish ish going on in the world, Lasting is giving five free sessions away to couples. You're already on your phone, so you might as well use it to strengthen your relationship. In addition to Lasting, Love Nudge, Kindu, Pillow, and UnderCovers are all high-rated and easy-to-use apps for working on your sex life and your general bond.
Date nights: Making sure you're keeping the fun in your connection alive is vital to both not wanting to kill each other and to also having a sex life. Plan a date that doesn't involve Netflix—whether it's a themed dinner and drinks, a college throwback with body shots and Ke$ha jams, or just some beers and a puzzle—to help you feel connected. No, it's not sex, but if you're not having fun with your clothes on, it makes sense why you're not with your clothes off.
Masturbate more: According to sex and relationship therapist Megan Fleming, PhD, "Masturbation can actually help keep your sexual pilot light on." In addition to just making you feel good, it can actually increase your sex drive, This could, in turn, help you get into the mood more often, especially during times of stress. You know, like, when the world feels like it's ending or something.

Prioritize sex: While it might seem unsexy to schedule sex, according to Psychology Today, it's actually great for getting out of droughts. It gives each partner time to prepare, removes additional "spontaneous" stress, and allows space for communication and negotiation.
Compromise and communicate: Maybe the thought of getting it in just sounds like a lot right now. Whatever your feelings around the subject, they're valid. But unless you clue your partner into what's going on, the frustration (and potentially, the fights) could grow. Tell them what you are and aren't up to doing during these stressful times and find a compromise that makes you both feel respected, supported, and satisfied. Whether it's scheduling sex, settling for mutual masturbation, or finding a different solution, the only wrong answer is not talking about it.
Cut yourself some slack: Ultimately, this is an unprecedented time, and there's no "right" way to feel or react. Instead of shaming yourself for not wanting sex, cut yourself some slack. The more pressure you put on the situation, the less likely you'll want to actually start bumping uglies. Instead, concentrate on taking care of yourself, connecting with your partner, and just feeling good about getting through the day.
While "Sex in the Time of Coronavirus" might seem like the title to a steamy, forbidden romance novel, in reality, it's actually a lot less hot than that. Go with the flow, take care of you, and remind your clitoris (and your partner) you love it, no matter how much time has passed.
Images: Shutterstock; Giphy (3)
It's Okay To Be Worried About Your Weight During Quarantine
Content Warning: This content may be triggering to those struggling with eating disorders
Like any anxiety-riddled modern bitch, I experienced a nauseating thought-spiral upon hearing that I would be required to stay in my home for the foreseeable future. One of the first thoughts I had was, "Oh no, does this mean I'm going to gain weight?" quickly followed by, "Omg wtf is wrong with me? People are dying and I'm worried about getting stretch marks." Then the spiral stopped right there, and I decided to be happy, carefree, and at peace.
Lmao, obviously joking. I swan dove into a whirlpool of panic about my morals, self worth, thigh gap, and death. But once I was able to take a step back, take my meds, and talk to my therapist, I was able to see that worrying about my body image during this crisis doesn't make me a bad, superficial person who doesn't care that people are dying. In fact, as someone who has struggled with eating disorders since the age of 12, my reaction makes a lot of sense.
I first stumbled upon anorexia when I gave up sweets for Lent in the sixth grade and every teacher, classmate, and their WASP mother at my small town Catholic school commented about how much weight I had lost. The attention felt good, like I had accomplished something. But with that high came what never leaves you after struggling with an ED: the fear that you will lose the control you currently have over your weight. What would people say—or worse, think—then? Being thin was *my thing* now, and being in control of that was my number one priority.
Fast forward to now. What to do you know, it's Lent season again and I'm obsessing over my body. Life comes full circle.

Since 6th grade, I've always had anorexia in my back pocket, at the ready for when I'm in a bad place and need something to fixate on to distract myself from other emotional trauma (lol). I've made people worry about me, obsessed over making sure certain bones stay jutting out, and at most times become unable to recognize what my body actually looks like because all I see is "too big" or "gross." Body dysmorphia is a real bitch. I've dabbled in bulimia but have never stuck with that one for long because I'm not very good at throwing up (brag), and at one point was doing this thing where I'd chew food for the taste and then spit it out, but I'm not really sure what to even call that. But no matter what tactic I'm using, and even at times when I can recognize that my weight is healthy or I even feel good about my body, one thing remains the same: I'm absolutely stressed the f*ck out over the idea of gaining weight.
Years of therapy has taught me that everything I do—even the destructive, irrational sh*t—I do for a reason. And while eating disorders ultimately make me miserable, they also bring me temporary solace. They make me feel like I'm in control. I mean, ironically, they are in control of me and my happiness, but they make me feel like there is a small portion of my daily life where I am calling the shots. I am in charge of the amount of calories that I take in, the amount that I burn through exercise, the amount I release by vomiting. And so, it's no coincidence that my eating disorders are at their worst when I feel out of control in other aspects of my life.
Being confined to your home with no real end in sight is overwhelming. Knowing you can't go about your daily routine is stressful and anxiety-inducing. Not having access to your usual workouts and being stuck inside where you're likely to eat and drink out of boredom is scary, especially if you struggle with an eating disorder, or any type of body image issues. These reactions are normal. Unusual circumstances are going to trigger the ways in which stress manifests for you, and that's okay.
Also, hear me out, it is possible to be upset and worried about two things at once. You can be anxious about your weight and disturbed by death at the same time. I would argue that many of us worry about both of those things at once on the regular. So, during a pandemic, it's reasonable for both of those concerns to intensify.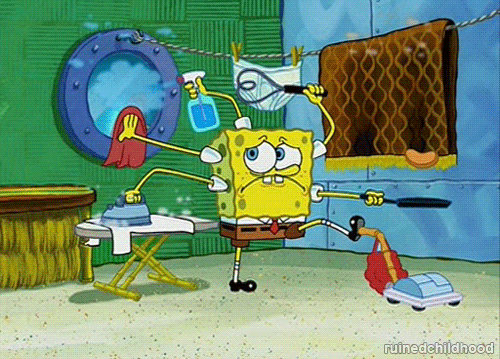 Live footage of me finding multiple things to be anxious about at once.
It's also important to note that the obsession with body image isn't something *you* came up with. A little bitch I like to call society can be blamed for this one. I don't think I need to launch into an entire TED Talk about how society has brainwashed us into valuing our looks and a certain standard of beauty, as we're all pretty familiar with that concept and Jameela Jamil has me covered there. So, being concerned about your looks during a pandemic is also just a reaction that you have learned to prioritize.
Being triggered by stress doesn't make you shallow. Wanting to have control over something while the world as you know it collapses around you doesn't make you a self-centered bimbo. And having an eating disorder certainly doesn't make you weak or materialistic. It all makes you a human living in this dumb world, reacting to things like anyone else.
If you're struggling with an eating disorder, call the National Eating Disorder Association hotline at 1-800-931-2237.
Images: Giphy (2); i yunmai / Unsplash
6 Natural Ways To Decrease Anxiety
Anxiety is like the girl who consistently shows up to your parties uninvited. No one ever asks her to come, but you know she'll always turn up. For me, that uninvited anxiety is a daily party crasher in my life. Joy. And if you're anything like me, every living person who learns you have anxiety offers some kind of tip to help reduce anxiety. "I've heard weighted blankets really help" or "have you tried drinking more water?" While these all (usually) tend to be genuine tips, the overload of information to help reduce anxiety is, well, anxiety-inducing. So from one anxious person to another, here are some tips that I have found help me, that aren't just the deep breathing and counting to 10.

I know. This one can be super difficult to achieve because your mind probably races at night with the million and one things you need to do (or said three years ago that you're still embarrassed by). While I try to fall asleep, I make checklists of what I need to do, plan my outfits for the week, and/or revisit the status of my dreams and accomplishments. But I've found a miracle worker. I've been obsessed with the "Sleep with Me" podcast. It's essentially a dude telling you a bedtime story in a super monotone voice, but he just rambles and goes off into tangents so you don't actually need to pay attention. I couldn't even tell you what the stories are about, because I am never awake long enough to know. It sounds dumb, but every time I put it on, I'm asleep within five minutes.
2. Try Some Essential Oils

Saje Unwind Smoothing Face & Body Mist
While I don't swear by essential oils, I do feel like they can help. Smelling essential oils initiates an almost immediate response in your brain of neurotransmitters like serotonin and dopamine (aka the feel-good chemicals). This one from Saje is my personal favorite because it doesn't need a diffuser so it can be used pretty much anywhere. This mist combines hints of lavender for relaxation, orange to brighten your mood, and bergamot to relieve stress. I love spraying this on my pillow before going to bed for an extra boost of anxiety-reducing power.
You know the jitters you get from having too much caffeine? Since coffee is a stimulant, it can trigger your "fight-or-flight" response which can be bad news for anyone with anxiety. Additionally, too much coffee can make you moody, hyper-aware, and nervous, and it can make it difficult for you to fall asleep. Aka all things that someone with anxiety does not need help with.

I hate myself for including this one on the list, but it really is one of the best ways to reduce anxiety. I can't tell you how many times I've walked into a workout class feeling anxious af and leaving feeling so much better. It increases endorphins (aka nature's Xanax) which boosts your mood and helps you sleep better. Go to a workout class or the gym, take the stairs, or just walk more. Whatever you do, the more you move, the better you feel.
5. Blame It On Limit The Alcohol
Having a nice bottle glass of wine after work or a cold beer to unwind is sometimes a necessity. I get it. We've all been there. But in reality, alcohol can wreak havoc on your anxiety. Alcohol is a depressant, which lowers your mood and can temporarily make you forget about your stress. While this may be effective in the short term, once the alcohol wears off, you'll be worse off. Headaches, nausea, dizziness, and low blood sugar are just some symptoms you may experience, which we have all probably experienced at one point, but did you know there's such thing as an emotional hangover too? Yeah, turns out alcohol can make you anxious once it wears off. Great.

If you are an emotional eater like I am, this one might be the hardest tip to help reduce anxiety, but I swear it helps. Although the copious amounts of ice cream may feel like just what you need in the moment, it'll make you feel a hell of a lot worse in about 15 minutes (not unlike our good friend alcohol). The crash you experience after eating a ton of sugar is worse than Brit's breakdown when she shaved her head. The drastic swing in your blood sugar increases cortisol and adrenal levels—aka you feel tired, lightheaded, and sick. Sound like similar symptoms to a panic attack?
Remember, what helps me might not help you. Sometimes, all you need is a good cry or an episode of Keeping Up to remind you that things could be a lot worse for you.
Images: Kinga Cichewicz / Unsplash; Giphy (3); Saje
3 Ways Weed Has Improved My Sex Life
Here's a very millennial humble-brag you probably haven't heard before. While the idea of having sex without alcohol was once unthinkable, I now don't like drunk sex much at all—but think high sex is completely incredible. In college (and I know I'm not alone in this), sober sex just never really happened. Being drunk nearly constantly didn't help, but sex seemed like something you could only unlock after getting drunk and brave enough to meet up with someone. It was a way to pull back from the experience and be less aware of what was going on. I know this all sounds a little tragic, but hey—not all of us had fairytale romance in college. I had fun, I'm fine, and I currently have a very different approach to sex.
Weed, for me, works in the exact opposite way from alcohol. It makes me more present, and more aware of my body and my partner (such a hippie, I know). You don't necessarily want to get super baked, but a decent THC buzz could take your next sexual experience from meh to lying in bed for hours thinking about how good it was (while furiously ordering Postmates, le duh). Note that I'm only speaking from experience here. If you want a more scientific rundown of how THC and CBD can affect your body, try this one from Allure. Here are some ways I've (personally) found that weed can improve sex.
Me telling my boyfriend I want sex: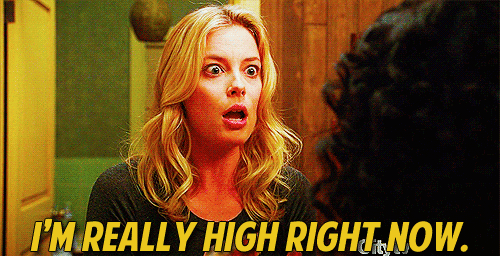 Disclaimer: If you know you don't like weed, this article is not a suggestion that you try it anyway. In fact, if you don't like weed, then I actively recommend that you avoid it—especially in a sexual situation. This should be a mandatory inclusion with every piece of internet advice, but it's way too rarely said: Just because something works for me doesn't mean it will work for you.
Weed Tames Anxiety
Once again for the people in the back: if you know that weed, in fact, heightens your anxiety, get out of this article. Just go. Now, allow me to paint a picture for my remaining stoner friends. You know the feeling that sets in when you take a couple hits after a stressful day? How all the sh*t stressing you out a minute ago now seems way more manageable? Yeah, whatever strain of weed gives you that blissful, chilled-out head high, that's what you'll want to smoke before sex. And that's doubly true if you struggle with anxiety.
Now that I'm in my 20s, I feel stressed out for 95% of every day. The possibilities for anxiety are endless: if it's not a work problem, then something at my apartment is falling apart or I haven't done laundry in three weeks or my diet is a disaster—you get it. It can be really hard to get that running list out of my head when I'm trying to relax and enjoy some much-needed stress relief (my euphemism for sex). I've literally called off sex mid-session because I couldn't stop thinking about whether I'd paid my credit card bill. When I get a little high before sex, I don't have that problem.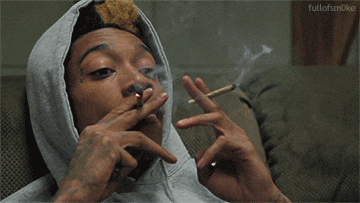 So carefree.
Weed Heightens Your Senses
This goes back to what I was saying about weed making me more aware of my body. The only time I get a comparable bodily feeling is when I'm doing yoga—and like, actually focusing on the breath and my body the way I'm meant to, not just zoning out and copying the people around me. Weed makes me realize how little I typically focus on the moment, and reminds me to appreciate how f*cking fun touching each other can and should be.
I also find that the heightened sensation makes me clearer on what exactly I'm in the mood for, and how I want to be touched in that moment. It's always a great sign when the person you're having sex with checks in to make sure they're getting you off, but sometimes I totally choke up when faced with a "is this ok?" or "do you like this?" I've squeaked out "yeah, fine" a few times before I'd even really thought about it. When I'm high, I know exactly how much I like the way I'm being touched, and find myself asking for it if I want something different.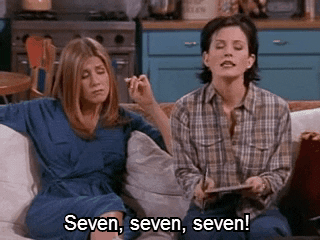 Look at Monica. She knows exactly what she wants.
Weed Makes You More Confident
Again, I speak only for myself. I know many people who enjoy the physical effects of weed, but become decidedly more timid after smoking. For me, (some) weed works a tiny bit in the way I used to use alcohol. It's a way of lowering inhibitions, and making me feel more free to speak my mind. This is definitely linked to the reduced anxiety, but it's more than that—I like the way my brain works when I'm high, and feel less insecure that something I want to say is stupid or boring. I'm less judgmental, and I don't expect the worst from other people. All of this makes it way easier to interact, open up, and enjoy the moment.
How does this translate to sex, you might ask? Well, it makes me feel hotter, for one (doesn't confidence always?), and it makes me feel more adventurous. Both are solid qualities to have during sex. And while being more aware of my body isn't always a good thing for me (like when I'm obsessing over what I look like from certain angles), it is a good thing if I'm also Lizzo-level confident in my mind while experiencing that awareness. Lowered anxiety + heightened sensation + extreme confidence = ideal sex combo. Thank you, weed!
Me, high and ready to go: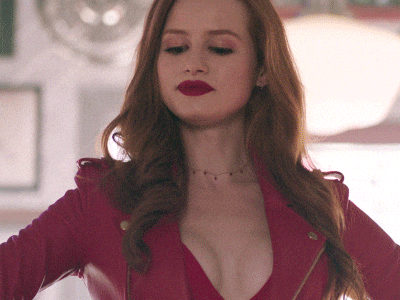 Now, go forth and toke up, my good readers. Now that it's summer, I suggest taking bong rips in an ice cold air-conditioned bedroom, or (for the adventurous, and non-city dwellers) bringing a blanket and a joint to a secluded patch of nature. And if you need something to carry your weed in, we got you.
Images: Giphy(4)