Abortion Was On the Ballot in Two States. There's Good News And Bad News.
It's pretty lowkey, but last week, America made some pretty big decisions! Some of these were fun: Joe Biden became the President and ballot measures legalized weed in multiple states. Others were less fun: like the two states that voted on whether or not people with uteruses would get to retain their rights to bodily autonomy.
Colorado and Louisiana both had ballot measures referencing abortion rights and access, and I'm pretty sure you can guess how it ended up. Here's a breakdown of where there's good news and where there's decidedly not. 
Good News: Colorado
Honestly, Colorado's been like the fun cousin during this entire election season. Not only did they flip a senate seat, replacing Republican Cory Gardner with Democrat John Hickenlooper, but voters in Colorado overwhelmingly rejected Proposition 115. If passed, the proposition would have introduced a ban on abortions after 22 weeks of pregnancy (about five and a half months) with exceptions for risks to the parent's life. 
Proposition 115 is the fourth failed ballot measure in the last 12 years that would have either restricted or banned abortion in Colorado, which is not entirely surprising given the state's pro-choice history. According to The Denver Post, Colorado was the first state to decriminalize abortion. In 1967 a law was passed to allow abortion "in cases of rape, incest, if the woman's health was threatened, or if the unborn child might have birth defects." 
TBH: I'm just hoping that Colorado clings on to their legacy as a pro-choice, pro-bodily autonomy icon and keeps setting an excellent example for their neighboring states. 
Bad News: Louisiana
Now for the bad news. If you have Republican family members or acquaintances, you might be used to them asking you precisely what rights or liberties you have lost over the last few years. Well, at least now you have some clear-as-f*cking-day evidence to point to. 
Louisiana voted to add an amendment to the state's Declaration of Rights that could further restrict abortion access in the state. Because anti-abortion advocates love hiding behind the lie of being 'pro-life,' the text of the amendment is as follows:
"Nothing in this constitution shall be construed to secure or protect a right to abortion or require the funding of abortion."
This amendment does not totally ban abortions in the state. Instead, it strengthened Louisiana's trigger laws, which would immediately criminalize all abortions if Roe v. Wade was overturned. It also makes it so pro-choice advocates and organizations wouldn't have much ground to sue on if abortion is prohibited since citizens no longer have any state right to access abortion according to the amendment. Their right to an abortion remains protected by Roe v. Wade, which holds that the federal constitution protects this right. 
Again, as of right now, this is not an all-out ban on abortion access. There definitely should be more of them, but Louisiana still has three clinics that provide abortions.
Sidenote: Listen, this f*cking sucks and is so disheartening. But, before you go and make generalizations about the south and specifically the state of Louisiana, remember all of the young/progressive people doing really hard work down here. As a college student who has lived in New Orleans for four years, I have seen so many of my friends and residents of the city fighting for progressive change. We phone banked for Democratic Senate candidates and to educate voters on Amendment One. Change is too slow, but we're working on it! 
These two polar opposite states give us a glimpse into what the country may look like if (G-d forbid) Roe v. Wade was overturned. States will likely continue passing trigger laws to ban abortions or laws and amendments that reaffirm the right to choose on local and state levels.
In the meantime, if you're wondering how you can help individuals in areas where abortion rights are at risk: check out NARAL's website and local abortion funds like the New Orleans Abortion Fund. 
Turns Out 'Jane Roe' Was Paid To Pretend She Opposed Abortion
I'm not sure whether or not this story can be categorized as good news or bad news. The limited nature of binaries fails us once again.
An…interesting new development in the history of Roe v. Wade has come to light this week, as a new FX documentary AKA Jane Roe about the woman known as Jane Roe was released. "Jane Roe" was the then-unnamed plaintiff in the landmark 1973 Supreme Court case that legalized abortion. Jane Roe was Norma McCorvey. McCorvey herself never actually got an abortion, but for years after, she was a part of the pro-choice movement. Then, in the '90s, McCorvey suddenly flipped her stance and began speaking out against abortion. She claimed to be "born again" as an evangelical Christian, even despite her identity as a queer woman. A real bummer that we ultimately did hate to see.
Turns out that change of heart — like many elements of the anti-abortion rights movement — was all based on a lie.
In the film, McCorvey reveals that her shift to pro-life ideals in the 1990s was all a farce, and that she only claimed to be anti-abortion because she was paid. Yay?.
In AKA Jane Roe, a documentary about McCorvey's complex life, she reveals why flipped and started doing live speeches for anti-abortion groups. "I think it was a mutual thing. I took their money, and they'd put me out in front of the cameras and tell me what to say. That's what I'd say. It was all an act. I did it well too. I am a good actress." A tit for tat, as they say.
In the documentary, McCorvey wants to set the record straight while she has the chance — she passed away in 2017, before the movie was released. She says, "If a young woman wants to have an abortion, that's no skin off my ass. That's why they call it choice," she said in her colorful "deathbed confession."
Aside from the fact that it's not just "young" women who need to end pregnancies, I can only hope my last words include the phrase "no skin off my ass."
McCorvey's shift to the opposing side of the abortion movement was disappointing, but it wasn't random. In one of the interviews in AKA Jane Roe, McCorvey explains the resentment she felt towards the left-wing feminists who often looked down on her. They felt she was too uneducated to give public speeches, and instead wanted to use her as a silent symbol for the movement, without ever really treating her as wholly human. Naturally, McCorvey was turned off by that.
McCorvey was, in fact, uneducated. She came from poverty, and had endured abuse throughout her life. She represented the kind of woman who is often left behind in America, especially when it comes to reproductive rights. And yet, the leftwing feminists who fought for her still didn't treat her with respect. In a sense, they used her too, just as the evangelicals did. So, I guess McCorvey went to the people who were going to pay her.
There's a lesson here, that I *hope* we can remember. On the left, we often claim to be for the working class, but too often, that's just symbolic. And that is how we lose their support.
People don't want to be part of a movement that looks down on them. Why would they? Food for thought!
Image: mark reinstein / Shutterstock.com
Want more news like this? Sign up for Sup's daily newsletter to laugh (instead of cry) about the news.
Of Course States Are Using COVID-19 To Ban Abortion
If you think politicians would put trying to take reproductive rights away from people on hold during a global health crisis…think again, bitch! Several states are trying to ban abortions, deeming them as "non-essential" during the COVID-19 pandemic, and one has done so successfully. Because a time-sensitive procedure that will affect the rest of a person's life and is not essential. Sure, Jan.
On Tuesday, the 5th U.S. Circuit Court of Appeals  threw out a lower court ruling that would block the temporary abortion ban in Texas, following a long legal battle between the state and reproductive rights groups. The judges noted that the state has the power to restrict resident's rights, such as peaceful assembly, during an emergency, and that "abortion is no exception." As a result, nearly all abortions are banned in Texas. 
This fight did not begin on Tuesday for Texas. This all began on March 22, when Texas Governor. Greg Abbott issued an executive order banning abortions during the coronavirus outbreak, deeming them medically unnecessary and claiming they use up valuable medical supplies. After reproductive rights group sued the state and secured a temporary pause on the ban, the circuit court this week ruled against them to allow it.
Republican-appointed judges in Texas wrote that the state is allowed to "to restrict, for example, one's right to assemble peacefully, to publicly worship, to travel, and even to leave one's home" in a public health emergency and that therefore: "The right to abortion is no exception."
So they agree it is abortion is a right, and one they are choosing to allow the governor to curtail. Excellent. We'll remember that.
Planned Parenthood and the Center for Reproductive rights said they're reviewing their legal options and may attempt to take the case up to the United States Supreme Court. The ban is set to expire on April 21, and states that a medical professional who provided an abortion before then could be fined $1,000 or face jail time of up to 180 days. For sure what we should be focusing our energy on rn, great job everyone.
To anyone seeking abortion care right now, we see you, we trust you, and we support you.

Abortion is 𝙚𝙨𝙨𝙚𝙣𝙩𝙞𝙖𝙡. It is not something that can be delayed or forgone without serious impacts on the pregnant person's health and life. #MyRightMyDecision #SustainingCommunity pic.twitter.com/V181IhRGke

— Center for Reproductive Rights (@ReproRights) April 8, 2020
The problem here is that abortion is incredibly time-sensitive, so, uh, maybe it should be an exception? Just a thought. It's also worth noting that this decision claims to be based on the fact that abortion is "medically unnecessary" and would use up supplies needed to treat COVID-19 patients, but the reality is that the most common method early in pregnancy is administering medication abortion. This requires no medical gear. In fact, the ban on abortion would simply delay this process, which would then force people to seek a surgical abortion or give birth. And what do you know,  both of those procedures require more medical resources
Other states that are trying to impose similar bans are Alabama, Iowa, Ohio, Kentucky, Indiana and Oklahoma. Did you really think Alabama would miss a chance to fuck shit up for womxn's right? Abortion rights groups have acted immediately to get some of these bans lifted, and so far judges have  sided with them in Alabama, Oklahoma and Ohio.
Banning abortion is taking away fundamental human rights, period. But to use a pandemic as an excuse to do it is especially heinous. This is a time when people are losing their jobs, and consequently, their health insurance. Denying them access to abortions at a time like this is asking them to completely throw away their livelihoods.
Plus, we all know banning abortions does not stop abortions. It simply creates more harm.
First of all, people who can't get their abortions in the states banning them will likely travel to other states to get what they need. Crossing state lines is not ideal during a time when we are asking people to stay at home, and could lead to further spreading of COVID-19.
People seeking abortion care in West Virginia would need to drive much further to reach a clinic due to the state's #COVID19 abortion ban. This is shameful & puts the health & well-being of patients at risk in the middle of a pandemic. #AbortionIsEssential pic.twitter.com/qpfO3FYveL

— Guttmacher Institute (@Guttmacher) April 8, 2020
Or, people will be forced to try to conduct abortions illegally and unsafely. Research shows that after Roe V. Wade was passed in 1973, the number of deaths associated with illegal abortion decreased dramatically. Banning abortion doesn't stop abortions from happening, it simply makes them more dangerous and leads to more deaths. So, if you're pro-life, lives might be something you want to consider.
It's scary how quickly lawmakers jumped at the chance of using a pandemic as an excuse to take our rights away. It reminds us that we can't stop paying attention to this shit, even in a time like this, when everything feels overwhelming. Of course, give yourself breaks and practice self-care, but stay vigilant.
Anyway, I'm sure Republicans will agree to give all the womxn who can't get abortions because of these bans a $500 check as part of the coronavirus stimulus because their fetus is actually a child.
To stay informed on the impact of the COVID-19 pandemic on reproductive rights, subscribe to The Betches Sup newsletter. 
South Carolina Is Trying To Pass An Abortion Bill That Removes Exceptions For Rape And Incest
It is with great displeasure that I must tell you that a proposed bill to outlaw abortions after a heartbeat is detected in South Carolina has gone through its first round of approval after Republican Senators stripped away exceptions for women who have become pregnant from rape or incest. We. Hate. To. See. It.
In case you're not mad enough already, let me give you a lil' push: the bill was approved by the Senate Medical Affairs subcommittee which consists of six men and one woman. One — count her — one woman. Glad to see women's bodies, lives, and fates are constantly in the hands of men who couldn't point out the clitoris on a labeled map.
The proposal must be passed by the full Medical Affairs committee next, and then can make its way to the Senate floor, where it will *hopefully* will face a lot of backlash, preferably too much backlash.

Unfortunately, Republican Gov. Henry McMaster has said that he will sign the bill into law if it is passed by the Senate.
Even before the recent removal of exceptions for rape and incest, this bill was already scary AF. It would make it illegal for doctors to perform abortions after a heartbeat is detected, which is typically around 6 weeks, aka before most women know they are pregnant. This would outlaw about 55 percent of abortions performed in South Carolina.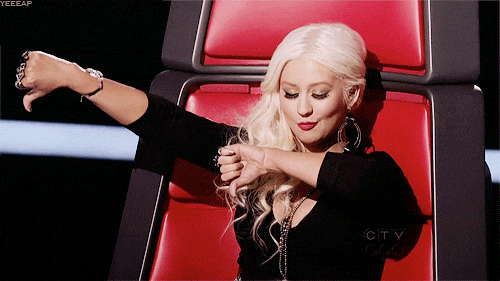 The bill is, of course, part of a larger plan for pro-lifers to get an abortion case to the newly conservative-leaning Supreme Court (thanks to frat boy Brett K), where they are hoping Roe V. Wade can be overturned. So far most laws similar to this have been blocked by Federal Judges, but it's still horrifying to see lawmakers come together and try to find ways to strip women of the right to control what happens in our own f*cking bodies. Like, can these old dudes get another hobby besides trying to desperately control women? That would be great, thanks.
Images: Giphy (2)
This Is What Happens To Women When America Outlaws Abortion
As a woman, I can't recall a time (before childhood) when I didn't feel as if my body and my rights were up for debate — if not under attack. But now, with a president who has been accused of sexual assault and rape by upwards of 25 women, an accused sexual predator in the Supreme Court, and access to abortion being chipped away in states like Alabama, Texas, Georgia, and Missouri, I am experiencing the legitimate fear that my body and my choice might actually be taken away from me by federal law.
As women, we have been fighting for our rights for a long time, but since Roe v. Wade determined that we had the right to abortion in 1973, we at least have been able to say we have the legal right to decide what happens when we get pregnant. This is not to say it's a right we haven't had to continuously and rigorously defend, but it has at least stood in place. As a woman of privilege, I have always felt that if I needed to get an abortion, I could. But now, with the newly conservative-leaning Supreme Court, I have found myself asking, "What would happen if abortion became illegal? What would I do if I got pregnant? What would this mean for American women?"
A powerful new film called  Ask For Jane explored and answered these questions for me, as well as made me ugly cry on my couch while reflecting on the resilience of women. It's a film we should all watch like, yesterday, and I'd like to tell you why.

Ask For Jane follows a group of women who took matters into their own hands when abortion was illegal in most states throughout the 1960s. The film is based on a true story and is set in Chicago, where a group of college women created an underground network that helped women with unwanted pregnancies get abortions. The women were known as "The Jane Collective" because they referred to themselves as Jane and instructed women to call them on their secret landline and to "ask for Jane." This was the code that was used to perform an estimated 11,000 safe abortions for women who couldn't afford to travel to the few places where abortion was legal. We god damn f*cking love to see it.
A film that shows women banding together and building an incredibly organized and highly effective system that helps keep women safe and in control of their bodies is obviously very inspiring, but it also serves as a warning, or as producer Caroline Hirsch told Betches: "This is a reminder of what could happen."
The opening scene of the movie shows a desperate pregnant woman punching herself in the stomach and eventually jumping off of a building in order to terminate her pregnancy. It also shows us young middle school girls who discuss drinking rat poison; one ends up dying as a result. Additionally, we see a character with slit wrists because she is pregnant and doesn't feel she can go through with it. As we know, when women aren't given access to safe, legal abortions, many of them turn to unsafe alternatives, which can tragically lead to death.
Abortion saves lives, and this film reminds us of the dire situation that led these women to doing what they did. While what they did is amazing, we hope we never have to do it again, because too many lives are at stake.
The specific story told in Ask For Jane is inspiring because it shows a particular group of women in a particular place who were able to overcome the law's attempt to strip them of their freedoms, but the film as a whole shows us a dark world where this freedom wasn't available to most women — a world we ourselves are heading towards today. Hirsch told me, "This couldn't be any timelier. We had a screening in New York this past May and when we were finished, everyone's phones lit up because what had happened in Alabama, where it would be made a criminal offense if a woman was seeking an abortion or had an abortion."

The film is made by women, which is apparent by its authenticity and clear understanding of the nuances of feminism and autonomy. Hirsch told us, "Of course this movie would be made by women. If it was up to men, this movie would never have been made. And of course the cast is made of women because it's a true story of women. There were women behind and in front of the camera."
The film is written and directed by Rachel Carey, and the original concept came from the film's lead actress Cait Cortelyou. And while the premise's main focus is abortion, it also gives us a close look at how other issues of feminism played a major role in how women were denied agency over their own bodies during this time.
For example, the main character, Rose (played by Cortelyou), attempts to obtain birth control from her doctor so she can practice safe sex with her fiancé. However, her doctor refuses to give it to her before she gets married, and when she tries to protest, he says he would need to speak to her male fiancé about it. Another character, Joyce (played by Sophie von Haselberg) sits idly by in her hospital bed while a group of male doctors discuss with her husband whether or not they should do a procedure on her that would save her life but endanger the baby growing inside of her. Another main character, Janice (played by Cody Horn) sums the significance of all of this up by saying, "Women will never truly be liberated unless they can control whether or not they are pregnant."
You can stream Ask For Jane on a variety of platforms including Amazon Prime, Apple TV, iTunes, DirecTV and more, and I highly recommend that you do. It reminds us of the strength women have and the length we will go to and the risks we will take for no other reason than to protect to each other. It also sends an urgent and important message: the fight is here and now, and it's time to get started.
As Hirsch told me: "The reason why we originally did this film was to tell the stories of very courageous women. More than ever, this film needs to be seen by every young girl today because they do not realize what could happen again and what is in the process of really happening right now in…Alabama, Georgia and Missouri. I think it's a very important reminder that people need to use their writing privileges, voting privileges and get out to the polls to make sure that this doesn't happen again."
You know what to do.
5 Shady Ways States Ban Abortion
Last week, Alabama passed the most restrictive abortion ban in the United States. With no exceptions for rape or incest, it's designed to trigger a challenge to Roe v. Wade in the courts and rip the constitutional right to an abortion from every American woman. And because news in Trump's America is a nightmare that will only end by voting in 2020, Alabama is just the latest (and most dramatic) example of a red state attempting to roll back abortion rights. Because there's nothing like going back to a time when desperate women died from back-alley abortions to make America truly great again.
While Alabama's abortion ban is pretty easy to understand (no abortions for anyone unless you're likely to die without one), other states have found trickier ways to force women to give birth when they don't want to. These incremental rollbacks are much more likely to make it to the Supreme Court than Alabama's categorical ban, and are designed to chip away at abortion access one insurmountable hurdle after the other. Here are 5 examples of how states are restricting access to women's constitutional right to access abortion:
1. The Full Ban
As of right now, Alabama is the only state rocking the full ban, which does not include exceptions in cases of rape or incest, but only when the mother's life is in danger. That means if an 11-year-old girl were impregnated by her own father (it's happened before), she would have to carry that baby to term. But tell me again how Handmaid's Tale is just a show.

2. Time-Based Bans
These bans dramatically compress the time during which women can end a pregnancy — the type we've seen passed recently both in Georgia and Ohio (6 weeks) and Missouri (8 weeks). Often referred to as "fetal heartbeat bills" these bills seek to ban abortion as soon as a fetal heartbeat can be detected, which can be as early as six weeks. The tricky part about these bans is that most women don't even realize that they've missed a period by six weeks and therefore could be pregnant. Women with irregular periods or cycles are at an even higher risk of realizing they're pregnant too late to get an abortion. Also at risk are women who are on the types of birth control that might eliminate a regular period altogether. These women may not realize in time that their birth control has failed. Considering my period seems to come based solely on when it would be the most inconvenient, the idea of having a two-week window to realize something's wrong is f*cking terrifying.
Current legal precedent, as determined by 1992's Supreme Court ruling in Planned Parenthood v. Casey, basically protects women's right to access abortion up to around 24 weeks of pregnancy, the time of fetal "viability" or when the fetus could survive outside the womb. States are allowed to apply regulations before that period, as long as they don't create an "undue burden" for women trying to access the procedure. The problem is, almost all of them do. Some federal courts are currently considering whether bans at 6 weeks create this "undue burden." Um, duh?

3. Bans Targeting Clinics
These laws aim to make accessing abortion as onerous and expensive as possible in lieu of straight up banning the procedure. They're a group of laws commonly referred to as TRAP laws, or targeted regulation of abortion providers, and 24 states currently have laws or policies that regulate abortion providers beyond what is medically necessary to ensure patient safety. Some examples include requiring doctors who perform abortions to have to admitting privileges at nearby hospitals, which creates a host of problems and inconveniences. (In some states the majority of hospitals are affiliated with the Catholic Church and will not admit doctors who perform abortions.) Some states have required that abortion clinics meet "ambulatory surgical center regulations," which often would require cost-prohibitive renovations for a clinic to be compliant. Medical practitioners and public health groups have deemed these restrictions medically unnecessary.
The Supreme Court has already blocked a number of these restrictions, concluding that they create an "undue burden" for women trying to access abortion services. In February, SCOTUS blocked Louisiana's admitting privileges law that would have left just one clinic in the state from going into effect. But the block is temporary, and the Supreme Court is currently considering whether to add the case to its 2019 docket and decide whether it's constitutional. Meanwhile, abortion providers in Kentucky are currently challenging a law related to ambulatory requirements.

4. Laws Targeting Women
There are lots of laws that seek to dissuade, inconvenience, or shame women into not getting an abortion. Currently, 11 states have laws mandating transvaginal ultrasounds (aka putting a giant rod up your cooter) so that women can "see the fetus" before going through with an abortion. Long waiting periods are also common, which can have a profound impact on low-income women because it requires patients to 1) travel to far away clinics since these laws are found most heavily in states with very few clinics 2) take off work for the duration and waiting period and 3) put themselves up in a nearby hotel for that time. Some laws also make it legal to straight-up lie to women about their abortions by forcing doctors to read a "prepared script" full of misinformation, including that an abortion can cause breast cancer (it cannot).
In South Dakota, women seeking abortions are required by law to get anti-abortion counseling at crisis pregnancy centers, which are essentially fake abortion clinics that have been found to give people misleading or false information about their pregnancy to trick them into not having an abortion. In some cases, crisis pregnancy centers have promised women financial support for their baby, then ghosted the woman once she got past the legal limit to have her abortion. How Christian of them.

5. Laws Targeting Types of Abortions
As you may know, there are two main types of abortion: dilation and curettage, which may include vacuum aspiration (surgical abortion) or medical abortion, which uses two pills. Oklahoma lawmakers have tried to ban and restrict use of the abortion bill, and its Supreme Court blocked both attempts. States often use the FDA to justify these restrictions, which mandates very specific protocol and bans prescribing the pills via telemedicine, which would enhance access for millions of women in rural America.
Wow. I'm shook from even writing about all of that. If this has you terrified and wanting to help, check out our article How to Help Women in States with Extreme Abortion Bans for state and regionally-specific info, or check in with your local Planned Parenthood.
Heads up, you need to keep up with the news. It's not cute anymore. That's why we've created a 5x weekly newsletter called The 'Sup that will explain all the news of the week in a hilarious af way. Because if we weren't laughing, we'd be crying. Sign up for The 'Sup now!
Here's How You Can Help Women In States With Extreme Abortion Bans
Well, if "The Handmaid's Tale" writers room was short for plot points to continue the series, might I suggest just turning on the news? Because Alabama is currently putting the Aunts to shame.
Actual footage of the Alabama senate going for drinks after the vote. pic.twitter.com/5I3BTvHMA2

— Stay??Ready?? (@jtaysma) May 15, 2019
This week, 25 (white, male) state senators passed a measure that all but eliminates abortion access in the state and a white lady signed it into law today. The bill allows exceptions when the mother's life is in jeopardy, but none for cases of rape or incest. Yes, this means a woman or child who was violently raped by a relative will be forced to continue a pregnancy that results in a baby. Doctors who perform abortions will face up to 99 years in prison.
Alabama's law adds to a long list of state-wide bans designed to trigger a Supreme Court battle over a woman's constitutional right to an abortion as protected by Roe v. Wade. The state's chilling move comes mere weeks after Georgia became the fourth state to pass a "heartbeat bill," which I'd like to rename "Heartless Bill" — where abortions are banned after six weeks, AKA before most women know they're pregnant. Ohio, Kentucky, and Mississippi have all enacted similar bills.
The law is expected to take effect in six months. But legal groups like the ACLU have already announced their intention to challenge it long before that. However, it's important to note that you can still access abortion legally in these states. 
When news like this strikes, most people (or should I say, people with souls) feel enraged and heartbroken and a little bit directionless. How can I help? What can I do? Unfortunately, people with human decency don't run the country yet, but there are a number of things you can do to help individuals directly impacted by recent threats to abortion access — from donating your time and money to raising awareness and voting out the bastards responsible in the first place.
Alabama
This is the fund you'll be seeing a lot of in the coming weeks. The Yellowhammer Fund provides funding for anyone seeking care at one of the three abortion clinics in Alabama — along with helping women with travel and other expenses they may incur while trying to access their right to abortion. They're also apart of the larger National Network of Abortion Funds organization.
I just donated to the @YellowFund, which is a grassroots organization funding safe abortion access in Alabama. Their work quite literally saves lives.

Can I get my friends on here to toss $5 their way?https://t.co/XDGGh8RCpQ

— marisa kabas (@MarisaKabas) May 15, 2019
Alabama Reproductive Rights Advocates
The ARRA is a great place to learn more about how to help out in the state of Alabama in terms of protests, organizing and also information about laws and their effects on Alabama residents.
Georgia
The National Abortion Rights Action League works across the country to oppose these regulations and unfair rulings, but after the "heartbeat bill" Georgia's will need a lot of help to fight back.
A Georgia-specific organization that fights for reproductive issues. Read up about them and their open letter after the signing of HB481 here — and stay there to learn how to donate and get involved.
The Southeast U.S.
Planned Parenthood Southeast Advocates
This is the organization of Planned Parenthood specifically for the Southeast, so they'll need all the help they can get for Alabama.
Access Reproductive Care Southeast
This organization focuses on the area Alabama and Georgia are in and provides financial and logistical guidance for families or individuals looking for proper healthcare.
Other Actions:
Share the If/When/How hotline
This hotline is a great resource for women who need to end a pregnancy but don't have access to an abortion clinic nearby, are considering abortion pills as a way of termination, or just have questions in general. Share this number with someone who may need it, or click the link above to get involved in their cause yourself: 844-868-2812
Become a clinic escort
Clinic escorts accompany women entering health clinics to obtain an abortion or other reproductive-health related services. They're necessary because scums of the Earth with literally nothing better to do oftentimes protest, insult and berate these women while they attempt to access health care. Learn how to get involved at your local Planned Parenthood charter here.
Find local charities and get involved
Either from word or mouth or research, they're out there! And more and more every day they need your help.
Organize
Get a group of people together to plan your action to help. Whether it's raising money or awareness, the more people that can speak out about this and help educate, the better.
Vote!
The men who passed this bill were elected into their positions of power, and the best way to ensure they aren't able to make laws and rules like this again? By voting them out. Stay educated, keep your eyes open. I know there definitely gets to a point in keeping up political news when you're exhausted and just want to zone out to some reality TV (which is fair! And take care of yourself) — but make sure you keep up the fight to move our country forward, not backward.
Images: Shutterstock
This New Mail Service Could Totally Change Abortion Access In The U.S.
There are a lot of things you can do by mail. You can pay your bills, you can vote, and now you can even get an abortion. That's right mail-order-brides, step aside because there's a new in demand, and possibly illegal (depending on your state and/or where Brett Kavanaugh is at in his hangover) service coming to the U.S. We're talking about mail order abortions and yes, this is legit a thing.
But before you ask, "Are Americans seriously so lazy that they can't even go out to get abortions now?" take a pause. In reality, getting an abortion in the U.S.  can be very difficult, despite it being legal. Many states make it virtually impossible for a woman to terminate her pregnancy, and with Justice Fratbro joining the Supreme Court who knows how long Roe v. Wade will hold up. That's part of the reason that Rebecca Gomperts, a Dutch physician and women's rights activist, launched a mail based abortion service six months ago in the U.S. The service is known as "Aid Access" in the U.S and "Women on Web" internationally, where Gomperts has been offering the ability to get at home abortion drugs to women in countries that are two seconds from Handmaid's Tale oppressed healthcare systems.
WTF Is An At Home Abortion?
So first of all, you don't have to figure out how to perform surgery on yourself to do this. Think of it as Plan C, a pill that can be used up to 10 weeks into the pregnancy. You receive the pills (mifepristone and misoprostol) in the mail, which you can take at home and will result in the termination of your pregnancy. These are the same drugs that doctors use and are approved by the FDA, however in most states they are not approved for personal use. Those are typically the same states that make you jump through hoops to get an abortion in the first place, so definitely double check your state's specific rules before hitting "pay now" at checkout.
Is This Safe?
Great q. Based on one study where women self reported the results of taking the pills at home, it seems to have very few negative side effects. Gomperts also does an online consultation with the women beforehand to assess if they fit very specific criteria that ensure it is safe. Then she fills the prescription through a trusted pharmacist in India. The biggest risk that many women face for using this service is being arrested for self-managed abortion, which, like I said before kind of a big no no in many states. In many cases the women who have been arrested for at home abortions have been turned in by someone else (it be ya own besties), so if you are considering this make sure you only tell your tight lipped friends or ones that will bail you out of jail. Also maybe take a quick vacay to a state where this is legal just to be safe?
This service will most definitely face opposition from the lovely men (and some women – Susan Collins what's good?) in Congress who love to dictate what women can and cannot do with their bodies. (Though, of course, no one can ever tell a man what he can or cannot do with his gun.) The FDA is also currently investigating Aid Access "to assess potential violations of U.S. law," so there's a chance the service could be shut down by having its FDA approval revoked. For now, it's one very good option for women who are in need and cannot get an abortion from a doctor because of the barriers put in place in their state. The pills cost $95 total and Aid Access says it will help women who can not afford the price still get the care they need.
In the end, it is up to the individual if they would like to go through with this, but if America's healthcare system is messed up enough that women are actually ordering abortion pills by mail from India, it's safe to say there are larger problems at work here.
Heads up, you need to keep up with the news. It's not cute anymore. That's why we've created a 5x weekly newsletter called The 'Sup that will explain all the news of the week in a hilarious af way. Because if we weren't laughing, we'd be crying. Sign up for The 'Sup now!