Fake '90s Nostalgia Has Officially Gone Too Far
Every single day I wake up, open Instagram before my eyelids are even operating at full functionality, and am cursed to find yet another Reel of a millennial in tie-dye sweatpants comparing the TikTok famous dance moves for "Savage" to the routine from N*Sync's "Bye Bye Bye" to demonstrate just how different teens are now than they were back in the early 2000s. It's not much, but it's honest work. 
While I understand that those who were forced to face their middle school years armed with nothing more than a chunky layer of Maybelline's Dream Matte Mousse foundation feel they are entitled to compensation, I am begging you to stop taking your millennial anger out on choreography. I'm pleased to share that there's a new place to direct that rage, and no, it's not at Olivia Rodrigo for committing the unforgivable crime of *checks notes* writing a complete banger of an album too many years after you graduated high school. Let me introduce you to a show called Cruel Summer. 
Cruel Summer is Freeform's latest teen thriller. Produced by Jessica Biel, it's centered on the mystery a fictional small town in Texas faces when Kate Wallis (Olivia Holt), the most popular girl in school goes missing, and Jeanette Turner (Chiara Aurelia), your stereotypical "just got her braces off" baddie, seemingly takes her place. Despite the fact that this show is oddly addictive, you need to pay attention to it because Cruel Summer is coming for the sanctity of the decade you can't stop reviving. 
Set across the years 1993, 1994, and 1995, Cruel Summer is about as authentically '90s as the faux-vintage Friends merchandise that has been licensed to every major retailer as of late. And the fact that this '90s drama is extremely un-'90s is even glaringly obvious to me, a person who had not yet lost a single baby tooth by the turn of the millennium. Sure, each episode begins with a note explicitly telling you that the episode takes place on a specific date in the years 1993, 1994, and 1995… but that's about as much effort as went into it. Whereas recent throwback shows like Stranger Things, Pen15, and Derry Girls clearly went to painstaking lengths to ensure not a single gel pen or rollerblade would expose the fact that the series was actually created after the dawn of the iPhone, Cruel Summer basically just crimped a few strands of hair and called it a day. With a soundtrack full of covers of songs that are widely accepted as '90s classics, but weren't necessarily released in the years in which the scenes takes place (shout-out to "Wonderwall," which came out in 1995 but appeared in a scene set in 1993), it's seems like Cruel Summer's research budget pales in comparison to what the average individual shelled out for unused streaming subscriptions to boutique fitness cults companies throughout the pandemic. 
The music could maybe be overlooked (how many of us know the exact year a song came out without having to Google it), but there are even more glaring issues. As Reddit users have pointed out, the use of technology is inconsistent with what high schoolers would have experienced during the decade. Unlike what we see on the show, teens didn't really have their own computers in their bedrooms (the computer room erasure…) and weren't yet fully obsessed with checking email or instant messaging. FYI, AIM didn't roll out until 1997, and even though there were earlier instant messaging platforms, the dramatic away messages are really what encapsulated the era of  virtual chat.
It's just pretty bizarre that a show whose entire personality rests on taking place in the early '90s does such a bad job of… taking place in the early '90s. The home interiors are suspiciously neutral; I simply refuse to believe that any kid who had their own bathroom in 1993 didn't also have a fish-themed shower curtain. How am I supposed to be transported back to the past if the bathroom doesn't look like something an independently wealthy young couple on Fixer Upper would immediately gut? I simply cannot. I'd believe you if you told me that the wardrobe department solely sourced everything from Charlotte Russe's 2017 collection—you know, that year in which we all wore clothes covered in checkered prints and embroidered roses. A few black velvet chokers and oversized flannels does not a genuine vintage outfit make! 

Besides the dodgy attempt at creating a period drama, there are also plenty of other things that simply make no sense in Cruel Summer. Admittedly, my knowledge of Texas stops at The Real Housewives of Dallas and Sandy Cheeks from Spongebob Squarepants, but it does seem peculiar that only like, one character (Kate's mother) bothers to speak with a Southern twang. I won't throw any major spoilers at you, but there are also some pretty huge red flags in regards to the way the media covers a court case that are used to drive plot but are just straight-up illegal and would never happen IRL… outside of maybe Fox News, that is.  
With that said, Cruel Summer is still definitely worth a watch if you're into dramatic thrillers full of plot twists—just don't expect it to accurately reflect your childhood or adolescence. If you're looking for epic Levis and iconic Calvin Klein dresses, just rewatch Friends or Full House. But if you're down for a cheesy mess that's inexplicably binge-worthy, Cruel Summer is where it's at.
Image: Freeform/Bill Matlock (2)
'Clueless' Is Being Made Into A TV Series That Sounds Like A 'Euphoria' Rip-Off
I really am not one to fangirl over reboots of my favorite 90s TV shows and movies simply because of the nostalgia factor. Time and time again, the reboot proves to not even come close to the original (and that's why I don't talk to my exes). BH90210 was a meta-clusterf*ck. Baywatch was a total disaster that even The Rock and Zac Efron couldn't save. We don't even talk about Mean Girls 2. And yet history does nothing to stop Hollywood from insisting on making reboot after reboot, demanding us millennials to get excited and watch it, even though we can still watch the original on repeat on Netflix. And what do we do? We play right into the narrative, with our "OMG A 'GREASE' REBOOT IS COMING" articles and our Twitter hype, never stopping to question if we should do something just because we technically can. And so today's reboot that probably some people asked for, but I was definitely not one of them is Clueless. And, while we don't know a whole lot about the Clueless reboot, what we do know is… concerning.
Entertainment Weekly reports that Clueless is in talks to be remade into a TV series by CBS Television Studios, and it apparently already has multiple bidders. Deadline reports that multiple streaming services as well as the CW are interested. (My personal vote would be the CW since, as you'll see in the description, this new Clueless would fit right in with the likes of Riverdale.) Again, we do not know much about what this Clueless reboot will entail, but we do know that it's going to be executive produced by Corinne Brinkerhoff, who created American Gothic and No Tomorrow, and it's going to be written by Jordan Reddout and Gus Hickey, who wrote Will and Grace. These are some interesting choices, but not nearly as interesting as the description of the TV show Entertainment Weekly provided.
This Clueless reboot TV show is actually going to be centered around Dionne, and I sincerely hope that they are not even considering bringing Stacey Dash into this—not even as the new Dionne's mom—because her problematic behavior does not need to be brought back into the public consciousness. In any case, Dionne is the main character, as Cher Horowitz disappears, and Dionne is forced to step into her role as Queen Bee. Or, as the unofficial description puts it, "a baby pink and bisexual blue-tinted, tiny sunglasses-wearing, oat milk latté, and Adderall-fueled look at what happens when the high school Queen Bee (Cher) disappears and her life-long No. 2 (Dionne) steps into Cher's vacant Air Jordans. How does Dionne deal with the pressures of being the new most popular girl in school, while also unraveling the mystery of what happened to her best friend, all in a setting that is uniquely 2020 L.A.?"
First, in what world does Cher Horowitz wear Air Jordans? I don't know about you guys, but I just took an Adderall, and that description still gave me a headache. (Just kidding mom, it was only a Sudafed!) This kind of reminds me of Euphoria, and I'm bregrudgingly into the idea that the creators are making their Clueless reboot grittier and darker. However, this whole description reads like these writers Googled "millennial buzzwords" and threw them all together in a word salad. Or, if you're looking for a visual description:

If this all sounds familiar, that's because Clueless was already adapted into a TV show. It aired from 1996-1999 and starred Amy Heckerling as Cher (since Alicia Silverstone wasn't available) and Stacey Dash as Dionne. However, while the '90s TV show was not much of a departure from the original movie, this 2020 adaptation is going to be markedly different. For all my complaining, I actually think that if you're going to revive a 90s classic, you need to go in a totally different direction with it. So that I support. The thing is, though, this could have been a totally new TV show and it would have still been compelling. There was no real reason to bring Cher and Dionne into this. That said, I did watch and enjoy Riverdale season one, so if the Clueless TV series is in the same vein, it might actually be good… until it jumps the shark in season 2.
Images: Giphy (2)
The Most Ridiculous Plotlines From Each Season Of 'Sex And The City'
As a 90s kid, I was too busy binging Dragon Tales to tune into Sex and the City when it was actually on TV, but thanks to both my parents' iTunes and my ex boyfriend's HBO Go, I've since made up time lost by watching and re-watching the show so many times that I can literally just say all of the lines with the characters at this point. Am I proud? Honestly, kind of. So in honor of this ridiculous show's 21st anniversary, I am graciously taking on the responsibility of pointing out the most absurd plotlines of each season of Sex and the City. It's a hard job, but someone's gotta do it.
If one of the reasons you love Sex and the City so much is because of its sheer ridiculousness, I'm with you. With that in mind, I'd just like to point out that I am well aware of the many more stupid plotlines than the ones I mention below. I don't have the energy or word count to list them all, so help a betch out and lmk the ones I missed in the comments. Let's get into it, shall we?
Season 1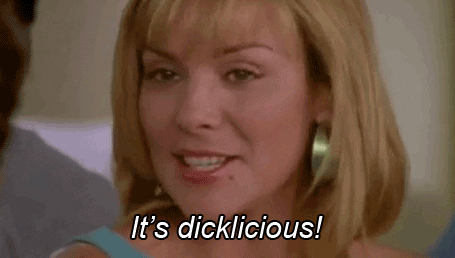 The most ridiculous plotline of this season is pretty easy. The threesome episode is so f*cking stupid it pains me to even talk about it. Why are all four women absolutely shaken to their cores when they learn that young men enjoy threesomes? Isn't this supposed to be a show that's like, pretty progressive when it comes to sex? Don't they live in New York where people are ~freeing the nipple~ left and right? Why are they all so shocked that their non-eunuch male counterparts are d for group sex? I'm pretty sure I learned that significantly earlier in my life than they did, and even I just kind of shrugged and carried on with my life. 
Anyway, I was pleasantly surprised that the most sexually vanilla character had the best reaction to the proposition of a threesome! Charlotte, you go girl! I'm sure it comes as a shock to no one that Miranda obv had the absolute worst reaction. She felt so #lame that all of her friends were having threesome drama, so she literally did the 90s equivalent of posting an ad on Craiglist to get in on the threesome game. Harvard-educated ginger seeking open-minded couples for a ménage à trois, anyone? Like, I'm sorry, but be a little more desperate, Miranda. Just because three of your friends are f*cking ignorant about men and their completely unrealistic threesome fantasies doesn't mean you have to be! The dumbest part of this whole plot line is that Miranda didn't even go through with it. Like, she somehow got this couple's hopes up and then "left to make a phone call" on her giant 90s cell phone and just left them high and, quite literally, dry. SMH, Miranda. This couple prob has some weird ginger revenge fantasy to play out now. Gross.
Season 2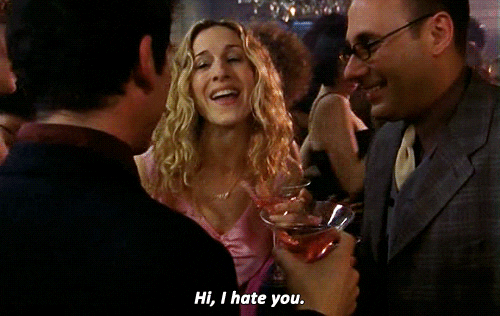 Anyone remember that episode where Carrie lost her sh*t because she ended up on the cover of The New Yorker looking like Frank Gallagher on a bender? I mean, you're a writer and you're on the cover of the f*cking New Yorker, so please explain why you're complaining. Be grateful, bitch! I can't even watch that episode anymore because it makes me so mad. To put things in realistic perspective, one time I ended up on the jumbotron at a Knicks game shoveling curly fries into the detachable jaw that I call a mouth, and I made my date (who I never saw again after that night) take a picture so that I could make it my cover photo for a whole two years. Carrie, live a little. She also let this amazing opportunity for self-promotion unflattering photo keep her from hooking up with one Bradley Cooper! I mean, he has a Porsche, girl. Let him give you a ride. As a struggling writer with an affinity for designer things and no man to pay for said affinity, I would do literally anything to get in/on The New Yorker. Writers are desperate for any notable editors to see their work or know their name in any capacity, so if you somehow land the goddamn cover of a reputable magazine looking like Shrek, you're f*cking thrilled about it. That's it.
Season 3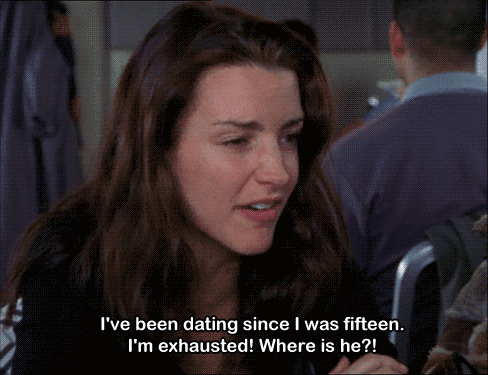 Charlotte and Trey. Like, is there an opposite hashtag for #couplegoals? I'd rather be single literally forever than end up on one single date with someone like Trey. First of all, he will always be Orson Hodge to me, so there's that. But, more importantly, he and Charlotte make absolutely no sense as a couple whatsoever. We already know that she has great taste in men because she ends up with my favorite Jew, Harry Goldenblatt, and his role in this show is a true mitzvah if I've ever seen one. Someone who could marry Harry would never be interested in the wet mop that is Trey MacDougal. The man says "alrighty!" for f*ck's sake!
The main reason this is just a ridiculous plotline is because Charlotte admits that she refuses to settle for anyone who isn't Prince Charming (how progressive of her…), so her engagement to an impotent Muppet is just so stupid, and I refuse to admit this season even happened because of it. Also, how does a Chanel suit-donning queen named Bunny produce such a waste of space? Like, if you look up the definition of "mommy issues" you will find a photo of Trey MacDougal, and there's no way Charlotte f*cks with a dude who lets his mother chill on the ledge of the tub while he's bathing in it naked. More importantly, Charlotte and Orson didn't even date! He paid for dinner a few times then said "alrighty" when she suggested getting married. Yep, sounds like a healthy relationship to me! I can't even get a guy I've been seeing for a month and a f*cking half to hang out with me more than once a week and she's over here proposing to herself and getting a big-ass Tiffany rock in return. This is not how things happen, y'all. Next!
Season 4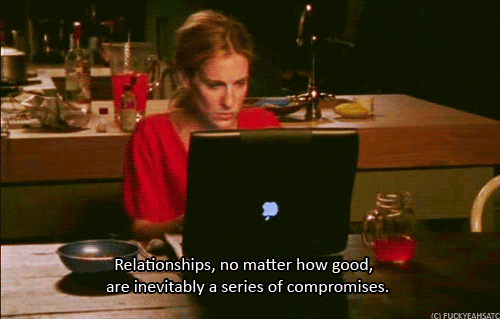 Ok this is a hard one for me to write because it involves throwing shade at my favorite SATC man, Aidan Shaw. As we know, Carrie and Aidan broke up because he didn't take her affair with Big very well. Is Mr. Big really that good in bed, or does he just like, live up to his name? I wouldn't cheat on Aidan for anyone other than Bradley Cooper, but Carrie lets this giant oaf screw up her relationship? I mean, at least she was honest about it, but that's beside the point. So after he and C called it quits, Aidan gets a serious revenge body/glow-up and Carrie is eating that sh*t up. I mean, same. Blah, blah, blah then they get back together. Like, I'm sorry, but he once threatened to break up with her because she had a f*cking cigarette during dessert. Remember that? Let me get this straight: he can forgive her full-fledged affair with an old flame who she ends up marrying (and then cheating on with Aidan, no less), but he draws the line at Marlboro Lights? Someone please explain this. Anyone? Bueller? Honestly, I am pro-second chances, so I would definitely give her another shot, too. But for someone who wouldn't bang her after a week and a half of dating because he didn't want to rush things with someone he really liked, he proposed to her pretty damn quickly after getting back together! Look, I love Aidan. Aidan is goals. I want to marry Aidan and have little woodworking babies with him, but he's giving us really mixed signals and I am not about it. Make up your mind, bruh. 
Season 5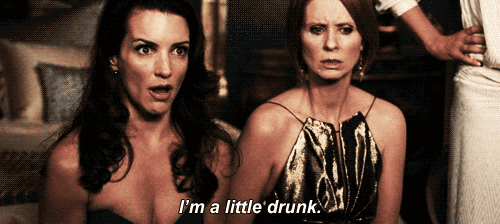 Charlotte's 36th-birthday-induced downward spiral was really confusing. She is like, hardcore trying to find The One, which isn't surprising since she's been playing the game since she was 15. But for some unexplained reason, the day she turns 36 is when she puts half of her thoughts and prayers toward finding her husband, and the other half into completely giving up. By that, I mean she attends inspirational love seminars right before she seriously takes up knitting. You can't claim you want to get married and be an avid knitter. You just can't. Sorry to all the knitters out there, but knitting is literally the most boring activity I've ever done, so I'm def not trying to fill the sexless void with handmade scarves.
Anyway, Charlotte is quietly having an emotional breakdown about not having a boyfriend, which is confusing because she's meeting a LOT of men in this season! The only time she looks pretty pathetic because she's literally flying solo is en route to Atlantic City, when she's third-wheeling Samantha and Richard f*cking on a private plane. Charlotte admits that she's pretty, smart, and cultured, so her breakdown seems kind of random, especially because there is only one episode during this season where she isn't dating someone. If I had that many men in my life, I would def not be complaining about being lonesome, honey. Also like, why 36?
Season 6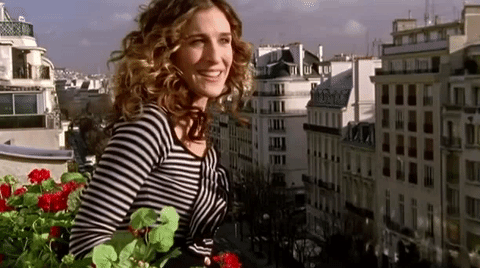 Carrie moving to Paris. Look, I get it. By the last season, Sex and the City was making so much money that they could have set up camp and starting filming on Mars. But, like, this whole plotline was so, so ridiculous that I just couldn't wrap my head around it. The only thing that made sense was when Big showed up and was basically just like, "wtf are you doing here? Can we leave?" And then they left. I wouldn't move to Paris with my f*cking husband, but Carrie is out here dating a former Studio 54 regular who she's been with for approximately two months. Quoi??? The fact that absolutely all of her friends, who she relies on for literally everything, were against this incredibly bold/stupid move should have been enough for her to not relocate her life in her late 30s for a man and a city she barely knows. But no, Carrie decides that now is the time to flee her very #blessed life in New York to walk the streets of Paris with a stranger. Don't get me wrong, I lived for the two Paris episodes, but I will never get behind the writers' choice to bring the ultimate New Yorker to a city where her disgusting attempt at a French accent would def not be taken lightly by the Parisians. Watching her eat sh*t in Dior, though, def made up for it!
If you're a tried and true Sex and the City fan, you prob noticed Samantha barely appeared in this article. Samantha's character was pretty on point throughout the entire show. She knew who she was and she did what/whom she wanted. The only thing she ever did that made me f*cking mad was in the series finale, when Smith flew all the way back to New York to surprise her with a succulent and she wouldn't even say she loves him in response to him saying he loves her. What a heartless wench! Like, it's the last episode of the most epic show, Sam. Tell the boy you love him.
Images: HBO; Giphy (6)
Kristen Doute And Josh Peck Are BFFs, And I'm Not Okay
Just this week, I was thinking how sad I am that Vanderpump Rules is in its off season. (Yes, I have a rich and full life, don't @ me.) Then, as if answering my prayers, Kristen Doute 'Grammed something last night that required—nay, DEMANDED—my attention. Please see Kristen's post announcing the pregnancy of Josh Peck's wife below. Yes, Kristen Doute and Josh Peck not only know who the other is, but they know each other well enough to post about major life events.
Yep, you read that right. Kristen Doute, T-shirt designer and resident Crazy Ex-Girlfriend, will soon be "Auntie Kristen" to the child of Josh Peck. AKA Josh from Drake & Josh. Josh, the Oprah-loving nerd who has no business being old enough to have children!!! If you listen carefully, you can hear the sound of my childhood exploding. And the sound of me scouring the internet for old episodes of Drake & Josh. And of my weekend being lost to a '90's nostalgia binge watch. Anyway.
Beyond the dubious wisdom of allowing Kristen Doute near your baby, there's an obvious question here. WHAT is the connection between Kristen Doute and Josh Peck? This isn't just Kristen weirdly stanning—Josh Peck commented "Love youuuuuu" on her IG, and his wife commented "We love you so much!" So, something's up. Luckily, these two are both avid enough users of social media that I was able to find the answers. After a little digging, here's what I found.
They've Been Friends For Years
According to this tweet, Josh was one of Kristen's first friends when she moved to LA. Try as I might, I can't find exactly what year that was. But her first IMDB credit is 2010, and season 1 of Vanderpump Rules filmed in 2012, so let's say somewhere in that range. Either way, it's been a 5+ year friendship, and she's a big fan of his wife.
@ItsJoshPeck was one of my first friends in LA, now he's MARRIED to his bff Paige ????????one of the most beautiful chicks I've ever met-love you! pic.twitter.com/cplvpcJBEf

— kristen doute ???? (@kristendoute) June 20, 2017
Their Tweet Relationship Is A Little One-Sided
I pointed out earlier that Josh and Paige commented on Kristen's Instagram for a reason. If you looked at their Twitter interactions alone, it would be kind of hard to tell whether he and Kristen were real friends, or she was just a fan. I'm not exactly rock solid on decoding Twitter relationships, but the fact that she's retweeting him and replying—and he's not so much as liking those retweets—seemed a little off to me. I'm not calling Kristen a liar, but I'm not calling her a truther either.
"@PortableShua: Trapped https://t.co/TRAbJ8afbD" Ohh kid, I just started vining. It's on. ????

— kristen doute ???? (@kristendoute) April 28, 2013
"@PortableShua: Life isn't all Nachos and Nicki Minaj" …but it should be. #housewivestagline

— kristen doute ???? (@kristendoute) January 25, 2015
Josh Peck May Have Auditioned For 'VPR'
In a since-deleted post (SOB) from March 2017, Josh wrote the following caption. "@paigeobrienn and I auditioning for #pumprules season 6. @twschwa @kristendoute." Was this probably a joke? Yeah, though there's NO WAY OF KNOWING without the picture. Now that the option has been opened to me, I feel like I can't move on without knowing what a picture of Josh Peck pretending to be auditioning for VPR looks like. But anyway, this caption brings us one other piece of important information: Josh is ALSO friends with Schwartz. Maybe the three of them kicked it back in the day before Kristen introduced Katie and Tom? Maybe Katie secretly hates Josh, and she's the reason they don't hang out anymore. Maybe there's a whole spin-off/crossover Drake & Josh in the works about it…okay, okay. A girl can dream.
Ultimately, Josh and Schwartz's friendship is shrouded in even more mystery than Kristen Doute and Josh Peck's. In fact, Schwartz didn't even like Kristen's IG post congratulating them—but Katie did. Then again, Katie probably has an alert on her phone for when Kristen posts. She seems like that kind of friend. Let's hope now that Kristen has declared her Josh love to the world, the rest of the VPR cast will have no choice but to follow suit. I'll leave you with @katelyn_lately's comment on Kristen's Instagram, where she says what we're all thinking. Enjoy your weekends—I know my Nickelodeon-bingeing ass will.

Did Britney Spears Get A Completely New Face? We're Concerned
On Tuesday, our favorite childhood icon and the patron saint of belly button piercings, one Miss Britney Spears, announced that she will be the new spokesmodel for Kenzo. If you're unfamiliar with the Kenzo fashion label, that's totally fair, because they appear to be  about as well known as my college Thought Catalog account. I'm glad she's doing so well! Britney Spears will be the new face of Kenzo's La Collection Memento N°2 line—and by "new face" I mean she quite literally has an entirely new face. I know, I know. I'm just as outraged as you are by the accusation. Britney Lynn Spears, the girl who once walked barefoot into a truck stop bathroom, would never EVER be anything less than her ratchet self. I mean, if pop super-stardom couldn't get her to stop shopping at a Louisiana Walmart for awards season, then nothing could. I thought all of this until fans took to Twitter to announce their support for Brit's new business venture and I actually saw the face Kenzo was claiming to be Britney's. In fact, here's a literal reenactment of my reaction upon seeing the Kenzo ad for the first time:
WORLD: OMFG Britney has a new clothing line!!!
ME: *takes hard look at ad*
ALSO ME: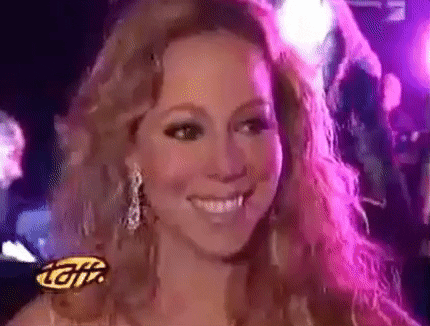 So here's a new conspiracy theory to start your weekend off right: did Britney Spears get an entirely new face? Or did some 17-year-old Instagram thot-turned-Kenzo-marketing-intern just not recognize the 90s icon for who she really was and decided to Photoshop the shit out of her? As someone who takes any and all Britney Spears news v v seriously (they don't call me It's Britney, Betch for nothing), I'd say the evidence is very circumstantial quite damning. So let's take a closer look at that evidence, shall we?
Exhibit A
Seriously. She's, like, fucking unrecognizable. This looks less like Britney Spears and more like a long-lost Wirkus triplet. Am I really to believe that this is the same person who inspired millions of girls all over America to defile their navels and dress up as naughty school girls for every Halloween, mixer, and frat party of their adolescent lives?? And for those of you who are clinging to the belief that Britney Spears—the girl for whom autotune was literally created—would never be anything other than her real, authentic self, let's just look at the side-by-side for a moment:
Exhibit B

The image on the right is taken from Britney's campaign with Kenzo, while the image on the left is from Britney's own Instagram, taken last December. I'm not going to say which is which, but one side looks like Britney Spears, and one side looks like a girl who answered a casting call for Go Go Dancer #2 in next week's episode of Law & Order: SVU. And if you're thinking to yourself, "well maybe it's not really Britney. Maybe she was too busy performing in Vegas for European men who wear bedazzled jeans and like to vacation in Sin City  her fans." To which I would just like to say, please turn your attention to exhibit C.
Exhibit C
For those of you who don't recognize that symbol just above Britney's ass, that's what we children of the 90s refer to as a "tramp stamp" which used to be the ways girls expressed their abandonment issues before they added cameras to cell phones. The more you know.  And no one was more revered for her tramp stamp then Little Miss "Oops I Did It Again" Britney Spears. This is definitive proof that the woman in the photo is, in fact, Britney—even if her face more closely resembles the woman ahead of me in line at Starbucks this morning than her own. 
So there you have it. Whether the people at Kenzo are better Photoshoppers than the girl who runs Kylie Jenner's Instagram account or she just got an entirely new face for the campaign is unclear. Betches is still waiting to hear from Brit's PR person for commentary. And by "still waiting to hear from" I mean I just wrote this article and am hoping I don't get sued by her legal team. Obviously.
Images: Giphy (1); @kenzo / Instagram (2); @britneyspears /Instagram (2)
5 Of Rachel Green's Most Iconic Outfits From 'Friends' You Can Buy Today
If there's any television character whose wardrobe can totally stand the rest of time, it's Rachel Green from Friends. I mean, that's probably because she's played by Jennifer Aniston, who is totally the most perfect human in the history of mankind (aside from Beyoncé, don't kill me, Amen). Betches all over the world have been trying to emulate Jen's style since 1994, and that's probably never going to change. Here are five of Rachel's iconic outfits you can totally steal in 2018.
1. Not-So Slutty School Girl

This Rach look is the perfect inspo for when you desperately need to switch up your winter wardrobe. Pair a simple, thin turtleneck with a plaid skirt, which should be really easy because plaid skirts are totally having a moment right now. ASOS has like, a million variations of plaid skirts, so it's up to you how 90s-inspired you want to get with this look. If you want to stick with something classic, try something pleated. If you'd rather wear something that screams 2018, try a wrap skirt. And of course, if you're looking for something risqué but not too obviously thirst-trappy for your next Tinder pic, go for a skirt that screams "I'm def not wearing underwear with this."
Items to buy: ASOS Tailored Pleated Pink and Black Check Mini Skirt; Missguided Check Frayed Hem Wrap Mini Skirt; PrettyLittleThing Check Skirt with Lace Up Detail; Madewell Inland Turtleneck Sweater
2. 90s Flamenca Girl Emoji

If you're trying to pull off a red mini dress with a straight neckline and spaghetti straps, make sure to look for one that's definitely fitted, but not like, a skin tight bodycon dress. We're going for Rachel Green here, not a pre-sex tape Kim Kardashian. Oh, and here's a gold choker that's as close to Rachel's as you're going to get without a time machine and her dad's credit card.
Items to buy: Urban Outfitters Val Straight-Neck Satin Mini Dress; Gorjana Newport Link Choker
3. Mom-In-Training

Vintage Levi's are one of the most foolproof ways to channel your inner Rachel Green. However, vintage Levi's are usually at least twice the price of regular Levi's, and three times as likely to have been worn by someone who did some questionable shit in the 90s. Plus, these new Levi's are made with stretchy material, so you can actually sit down and eat Chipotle in them. I know, I know. I'm solving all of the world's most pressing issues here. You're so welcome. Pair with a plain top and a matching scrunchie if you want to look cute enough to pull Joey Tribbiani.
Items to buy: Levi's Mile High Super Skinny; Urban Outfitters Velvet Hair Scrunchie
4. 90s Farmer Chic

Overalls are so 90s. In the same way that high school kids are going to wear neon off-the-shoulder tops to 80s day during spirit week for the rest of eternity, people are going to be rocking overalls to 90s themed events. From personal experience, I can tell you that a pair of slightly loose (not baggy or skin tight) overall shorts probably do not exist. I've tried on like, a million pairs, and after looking ridiculous in every single one, I've come to the conclusion that buying a pair of traditional overalls and cutting them yourself is the best move. That's probably what Rachel (aka the Friends wardrobe intern) did, anyway. For this look, Rachel chose to throw on some sort of button down shirt-jacket hybrid that could only be pulled off by a TV character played by Jennifer Aniston. I wouldn't advise buying one of these because it's actually pretty fugly. Just like, raid your dad's closet next time you go home, or something.
Item to buy: Cheap Monday 90s Style Overall
5. Central Perk Barista

When Friends hit Netflix a few years ago and people started bingeing it from start to finish instead of having to wait for weekly episodes like fucking cavemen, someone noticed that Rachel is actually wearing a uniform in the early seasons of the show when she's working at Central Perk. The uniform is a denim top with black bottoms, which is super easy to recreate. Just pair an oversized denim shirt with a white lace bralette and a classic black skirt.
Items to buy: Vintage Oversized Denim Button-Down Shirt; Out From Under Lace Halter Bra; ASOS Denim Original High Waisted Skirt in Washed Black
When in doubt, just remember that Rachel's style is classic and pretty basic. Stick to brands that were big in the 90s, like Calvin Klein, Tommy Hilfiger, and Ralph Lauren, or brands that basically live to rip off those styles, like Brandy Melville and Urban Outfitters.
I'll Say It: Rachel And Ross Should Not Have Ended Up Together
So I know this response piece is about 13 years too late (God, we are old), but the internet wasn't really big then and I've just finished watching Friends the second time through and I just have a lot of feelings. I know I'm about to lose a significant number of friendships and Betches may lose half its followers, but I'll be damned if I let my better judgment stop me. I know Rachel and Ross is like, one of the most iconic TV romances of the 90s—possibly of all time—and it probably inspired your future wedding Pinterest board, but I don't care. Rachel should not have gotten off that plane on the finale of Friends, and I'm not afraid to say it.
Rachel was offered her dream job working for Louis Vuitton in Paris, an opportunity that probably comes once in a lifetime. Now, maybe this is just because I'm dead inside, but there is no man on this Earth—except possibly Future—that I would give up my dream job for. And actually, Future definitely makes enough money to fly back and forth from Paris regularly, so I will amend my previous statement to say that NO man is worth giving up my dream job. As bae himself would say, chase a check, never chase a bitch. And we all know that Ross is Rachel's bitch, so no, the statement applies as written.

And the same should apply for Rachel. Rachel, despite being spoiled and a daddy's girl, admittedly hustled her way from shitty coffee shop employee to assistant at Fortunata Fashions to personal shopper at Bloomingdale's to buyer and personal shopper at Bloomingdale's to executive at Ralph Lauren. She went through a lot of shit, from serving coffee to her old-ass boss to dealing with Joanna's crazy, insecure ass (may she rest in peace). She may have been kind of whiny and annoying, and was a bougie-ass ho, but she definitely earned that killer job at LV. And she should not have given up everything she worked so hard for to go back to a job she hated, a job where she'd advanced as far as she could, a job that ALREADY FIRED HER ONCE and didn't even want to take her back. And all that for some nerdy paleontologist who thinks sushi gives you mind control powers (I wish).

Like, Ross is cool and all, but he's not "fuck up your life" cool. Plus, what does that say about how much he supposedly loves Rachel if he's not even willing to meet her in Paris? I mean, he's been working his dream job for all 10 seasons, how about some compromise?
What really should have happened is Ross should have gotten his shit together, applied for some jobs, and joined Rachel in Paris when he had an offer lined up and ready to go. "But what about Ben?" you say. "He couldn't just leave his son behind in the U.S." you say. Okay, so, two things: One, where the hell was Ben all last season of Friends? No, seriously. Was that kid still alive? He is only mentioned in the first part of the last episode and his last physical appearance is in season 8 ("The One Where Joey Dates Rachel", in case you're interested—and yeah, I looked it up so try me). Ross never even sees this kid. For all we know, he doesn't even have visitation rights anymore. Dark, I know, but someone's got to say it.

Two, what about Emma? She's Ross's kid too. Why is it okay for him to leave Emma behind but not Ben? Ben has two moms to take care of him—and he's like, what, 8 or 9 at this point? He's good. Rachel, meanwhile, is about to be raising a baby all by herself in a foreign country. If anyone could use Ross's presence and support, isn't it Emma?
"But what about true love?" you say. "Doesn't love conquer all?" you say. "Rachel and Ross are ~meant to be~," you say, somehow inserting tildes into speech. Yes, let's talk about ~true love~. Rachel and Ross have dated and have this huge history—they were even fucking married, FFS—but how does the moment Rachel realizes she's still in love with Ross go down? LET'S ROLL THE TAPE.
"I still have feelings for Ross but feelings don't mean love. I have feelings for Ross. I have continuing feelings of love, but that doesn't mean that I'm still in love with him. I have sexual feelings but I do love him… *gasp* Oh my god! Why didn't you tell me?!"

Like, come on you guys. We all know this is bullshit. You can lie to your friends about your feelings, but you can't lie to yourself. You can be in denial, you can not want to admit it to yourself, but you yourself not even knowing you're in love with someone is not a thing. It just isn't. So how ~real~ is this love really? I'll leave that to you to decide while I go into the Witness Protection Program.
At the end of the day, there are plenty of fish in the sea—Rachel of all people should know this. Rachel is hot. She would have done fine for herself in Paris. But okay, even if she and Ross are "soul mates" (gag), she should NOT have fucked herself over, ghosted on her dream job in a super unprofessional way and totally burned all her bridges with Louis Vuitton (a very dumb move for someone who wants to work in fashion and now has a baby to support), and gotten off that plane for him. She should have flown to Paris, called Ross from some café, face-first in a croissant, and told him to get his ass on the next flight to Charles de Gaulle. Does that make for good TV? Absolutely not. But I'd be lying if I said I wasn't low-key disappointed when she got off that plane. Phalanges be damned.
This is How Much The 'Friends' Apartments Would Cost Today
Everything I've learned in life, I learned from Friends. No, not my core group of Comm-majoring-drunk on-a-Wednesday-afternoon-losers—I'm talking about the six greatest people you will ever meet on the single greatest sitcom you will ever see (except for Ross and don't @ me on that). Like, I'd never survive my 20s had I not learned that counting Mississippily when spray tanning results in borderline blackface, "meat sweats" are a legit medical condition, and being "on a break" apparently doesn't mean I have a free pass at drunk-dialing my ex.
But out of everything, this is hands down the most valuable piece of info I've learned:

JK, that one I actually did learn from my own friends' mistakes. But something I was forced to learn the hard way was that spending weekday afternoons in a coffeehouse bitching to my friends about being ghosted doesn't result in me coming home to my comfy downtown loft with takeout (the '90s term for Seamless) every night. Not that shacking it in a studio apartment with three other people plotting ways to divvy up the remaining $12.35 balance on my debit card isn't my definition of fun, but it'd be cool if someone gave me a heads up that life was gonna be this way, ya know? Anyway, I know your job's a joke, you're probably broke, and your love life… wellppp… but the Friends friends would've been much worse off had their apartments been IRL-priced, so grab a bottle and chill the fuck out.
Joey & Chandler's (& Rachel's) Apartment
Address: 90 Bedford St., #19 New York NY
Rent: $4,200/month
I won't discredit the size of Joey and Chandler's apartment located across the hall from Monica's, but I will discredit Joey's acting career, which was comparable to gas station sushi. After being killed off Days of Our Lives early on, he went flat broke (as do most acting wannabes). Luckily, Joey had Chandler to save him from being a full-time dumpster diver, but Chandler was forced to provide for Joey and two farm animals on a transponster whatever-the-fuck-he-does's salary for at least five seasons, which makes no sense.
A 2-bed/1-bath apartment in West Village that's big enough to fit a foosball table and two Barcaloungers isn't as shocking as the $4,200/month rent Chandler put down, which is like $2,850/month 18 years ago (yes, you're old af), and that's on the lower end of the spectrum, assuming the place hadn't yet been tampered with during a game of "Hammer Darts" or "Extreme Fireball." That rent also doesn't include the utility bills and other shit Chandler had to pay for, like Joey's health insurance and will to live, but honestly thank god for Joey, or Chan would prob still be half a virgin by now.

Ross' (& Rachel's) Apartment
Address: Somewhere across the street from Monica's place
Rent: $4,500/month
If it wasn't for Ross pulling the No. 1 fuckboy move and mixing up his hoes in different area codes almost marrying that British bitch with a scone up her ass, he'd still be living in a typical NYC shithole. Instead, he found an apartment with a bird's-eye view of his sister's and best friend's sexcapades every night (EW). But out of every Friends character's living situation, the only believable one just so happens to be Ross's, thanks to his career as a doctor paleontologist/college professor who sometimes fucks his students.
A 2-bed/1-bath, 700-square-foot apartment in the same West Village neighborhood as Monica averages to about $4,500/month, which would've been about $3,054/month back in '99. And considering Ross threw a bitch fit (when tf did he not?) about his fucking apothecary table that one time, I'd assume his bougie dino cave was equipped with an updated interior and (prob) fossilized foliage preserved in the wood flooring or some shit. Therefore, it'd likely be at the more expensive end of this rent spectrum.

Monica's (& Rachel's & Chandler's & Phoebe's) Apartment
Address: 90 Bedford St., #20 New York NY
Rent: $8,500+/month
Monica illegally subletting her grandma's old apartment for 10+ years is the kind of savagery I strive to reach one day. But you seriously have to be a verified idiot to think that a '50s diner cook with flame-retardant boobs and a barista with waitressing skills as abominable as Blake Lively's acting career would live comfortably in a 1,500-square-foot apartment, and not to mention while also feeding four other mooch-y parasite friends who apparently enter and eat and leave as they please.
She and Rachel were only paying $300/month living in their 2-bed/1-bath open floor plan apartment with a balcony that's been rent controlled since apparently 600 B.C. Yeah, I said $300, like one pair of Khloé's stupidly priced denim line, or a weekend bar tab. I already mentioned that 700(ish)-square-foot apartments in West Village average $4,200/month, so just double the rent for double the floor plan and maybe pop a Xanny immediately after.

Phoebe's (& Rachel's) Apartment
Address: 5 Morton St. # 14, New York, NY
Actual Rent: $3,400/month
First off, I'm calling bullshit on Phoebe and this whole freelance masseuse thing which, looking back, was def a fancy term for the upscale West Village prostitute, Regina Phalange. You heard it here first. This brings me to my next issue. Phoebe might've also inherited her 1-bed/1-bath apartment from her grandma, but I'd rather believe the blatant lie that is Trump's latest tweet than believe that a freelance masseuse, who literally cancelled on and fucked over 90% of her clients every episode, made a comfortable living in Manhattan.
Her decent-sized 1-bed/1-bath pad, which was later turned into a 2-bed when Denise lived with her (K WHO TF WAS DENISE?!), was located four blocks from the rest of the friends' apartments with an average monthly rent of $3,400 ($2,300 in the '90s), but there's still no fucking way she'd be able to make rent while also doing this thing called LIVING. And do NOT even think about bringing the loose pocket change and occasional condom tips from Phoebe's open mic days into this equation. #ItsNotSmellyCatsFault

Phoebe's Rundown Buick LeSabre
Address: Probably some alleyway in Hunts Point
Rent: Stolen
Ok, so we never really saw Phoebe's life pre-friends (or we did if you count watching Shameless), but we do know that she lived a fucking badass/hard-knock life by living in a rundown Buick LeSabre on the streets of New York growing up. I mean, she mugged prepubescent goober Ross who collected rocks instead of Hot Wheels, and that in and of itself is iconic.

Based on the cost of gas to keep her car warm in the winter, the medical costs from getting Hepatitis after a pimp spit in her mouth, the shared funeral costs for her mom who killed herself, and the priceless cost of living to tell it all, Phoebe is a fucking legend and a probable alien, but mostly a complete mystery that I will dedicate the rest of my life to cracking the case on.