Why 50 Cent Is Going After Lala Kent & Randall Emmett Again
I have aged approximately 56 years since the original #FoftyGate, when 50 Cent posted on Instagram one Friday in April about how Lala Kent's fiancé, Randall Emmett, owed him a million dollars. 50 (Fifty? Fitty? Fif?) demanded Randall pay him back the money he was owed by Monday, which spawned the phrase "Money by Monday", which was silk screened onto T-shirts and used as hashtags across the nation. Vanderpump Rules fans and 50 Cent followers alike spent the entire weekend waiting to see if Randall would pay back the money by Monday (spoiler alert: he did, or at least, 50 claimed he did). It was a glorious weekend, and I'm pleased to report that it's one that is repeating itself, as 50 Cent has once again taken aim at Lala and Randall—although, this time, it doesn't have anything to do with money, or Randall, and everything to do with Lala.
Foftygate 2.0 started on Friday, when Lala Kent appeared on Watch What Happens Live! and a caller asked about Lala's relationship with Fifty after Randall paid him back. Lala started by saying she listened to "In da Club" on her birthday, and then she revealed, "I think I really dinged Fofty's ego. In fact, I know that because I have the receipt to prove that, that I would never post because I ain't that girl." She followed that up by saying, "I ain't beefing unless I'm getting paid on Vanderpump, yo."
If you'll recall, Lala, who is from Utah, has previously said that the spirit of Tupac Shakur inhabits her body (because he doesn't have anything better to do in the afterlife), and she is apparently still clinging to this narrative. On WWHL, she also went on to jokingly compare her beef with Fifty to the infamous Tupac and Biggie feud of the 90s.
Fofty found out pretty much right away and was not happy about this. He first shared a screenshot of a Hollywood Life writeup of Lala's interview, writing in the caption, "What's wrong with this hoe… now don't say she didn't ask for it when I started tripping."
Then he immediately followed that up with a screenshot from an UsWeekly article in which Lala revealed that she hit rock bottom on a trip to Disney World with Randall and his daughters, confessing that she was drunk for four days straight. I feel like I remember Lala talking about this on Vanderpump Rules (or maybe all her rock bottom stories just bleed together, I don't know), but yikes. She was drunk for four days in front of his daughters? At Disney World, presumably on rides? That's a big ol' yikes.
Still, though, as much as I live for pettiness, it's f*cked up for Fofty to make fun of Lala's drinking issues when she has publicly been pretty open about the fact that she has a problem.
Then, he posted another picture, of Lala and Randall in bed together, with the caption, "Randell: I'm sorry Fofty this bitch is drunk and high. I told her put that damn phone down she don't listen.?50:Shut the fuck up Randell.?"
So 50 has graduated from posting text screenshots to just recapping them in the captions? That's what I'm guessing he means by this. Is he claiming that Lala is drinking and on drugs again? This is all a lot, and I am frankly upset that Fofty hasn't given us the full picture here. Also, it's hilarious to me that these guys are supposedly friends, and yet Fifty still can't be bothered to spell Randall's name right.
He followed that up with a photo of Lala and Randall in which Lala looks like she just came back from a fresh fillers appointment, and Randall looks like his typical mix of confused and serious.
I mean, yeah whatever Randall has some loose neck skin, but cut the guy a break. He's like, 50 years old.
THENNN things started to get really good. Fofty posted a couple videos of Lala discussing, on camera, how she and Randall met. In case you didn't have to watch the clip 32 times throughout last season of Vanderpump Rules, the gist is basically a #MeToo nightmare: Randall saw Lala working, sent his assistant to ask if she was an actress, got her an audition, had sex with her that night, and gave her the part and a Range Rover the next day.
View this post on Instagram
At this point, I really don't know what Fofty is getting at with this. It seems like he's trying to shame Lala for something that she has been very open and shameless about in the first place, so I feel like it's not going to work. Also, should Lala really be shamed for this, or should we be shaming Randall, who kind of used his power as a producer to sleep with an aspiring actress and reward her with a part in a movie? Just because they're getting married doesn't make it any less sketch.
It's also not clear what 50 wants out of this situation—unlike last time, we don't have a clean-cut #MoneyByMonday deadline. Maybe he wants an apology? For Lala to take back what she said? I have a feeling Lala is going to walk these statements back real quick, because for all her talk about "popping" people who challenge her, at the end of the day, she talks a big game but can't back it up.
Images: 50cent / Instagram; Shutterstock
Celebrities You Didn't Know Are Friends
We all have that crew of friends that we would do anything for, whether it's driving them to the airport at 6am or finding matches for them on Ship. It's just what friends do. Famous people are no different, except that the people in their group chat might also be A-listers. Casual. I don't know about you, but my Ship crew definitely doesn't have any Oscar winners in it. Here are some surprising celebrity friendships you might not have known about.
Serena Williams & Kim Kardashian

Serena Williams and Kim Kardashian are two of the most famous women in the world, and they've actually known each other for more than 15 years. A few years ago, Kim told Vogue, "Serena's the girl you can call and say anything to. She'll never judge you, and she's never too busy for you." Obviously Kim has a lot of respect for Serena, and she attended the tennis champion's New Orleans wedding with other stars like Colton Haynes and Eva Longoria.
Russell Brand & Helen Mirren

Russell Brand and Helen Mirren are 30 years apart, but they both have a great sense of humor, and they love working together. They've done a couple of movies together, and Brand even called their relationship"an unconsummated love affair…between a Dame and a vagabond." I'm not sure I know what he's talking about, but I'm glad it works for them.
Jennifer Aniston & Robert Downey Jr.

Jen and Robert have been friends since the '90s, and she even visited him when he was in prison. Famously, he introduced her to her (now ex) husband Justin Theroux, and made a speech at their wedding. Seriously, how can I get Robert Downey Jr. to be in my Ship crew? I need Iron Man to find me some matches.
50 Cent & Bette Midler

When 50 Cent isn't busy feuding with the stars of Vanderpump Rules, he spends time with unexpected friends like Meryl Streep and Bette Midler. He and Bette have attended each other's charity events in the past, and Bette even joked that 50 Cent was going to produce a rap albumfor her. Still waiting to hear Bette Midler rap, but I'm glad these two get along so well.
Gwyneth Paltrow & Jay-Z

Gwyneth and Jay met way back in 2006, and they've maintained a close relationship since then. They've both spoken publicly about their admiration for one another, and Gwyneth even revealedthat her kids call Jay-Z "Uncle Jay." Honestly, I'm obsessed.
Kris Jenner & Jennifer Lawrence

Jennifer Lawrence has been public about her obsession with reality shows like The Real Housewives of New York City and Keeping Up With The Kardashians, so she was thrilled to get to know Kris Jenner in real life. A few years ago, Jennifer's friends threw her a surprise birthday party and invited Kris. When JLaw first met her, she said"it was the closest ever come to losing consciousness. Honestly, I would be the same way.
So there you have it. Just like you and your best friend that you used to hate in middle school, friends can come from unexpected places. Now you're her bridesmaid, and she's finding matches for you on Ship, so anything is possible. Now seriously, who do I talk to about Robert Downey Jr. being my matchmaker?
Images: Shutterstock; Giphy (6)
Presented by

Did Lala Kent & Randall Emmett Break Up Because Of Foftygate?
It's been less than 48 hours since Foftygate came to its dramatic conclusion, with Randall Emmett getting 50 Cent his money by Monday, and all of the menacing Instagram posts being taken down. It was an intense weekend, and honestly, I miss the drama. I'm glad Randall didn't have a heart attack, but I was seriously enjoying 50 Cent just massively trolling Lala and Randall on Instagram. Without Foftygate in my life, things lack meaning, and every time I refresh Instagram, I'm just greeted by obnoxious photos of Bachelor contestants hawking Flat Tummy Tea. Sad times.
But maybe the fallout from Foftygate isn't completely over. Now, 50 Cent only wishes the best to Randall and his family, and Rand seems to be on the same page. Late last night, Rand took to the 'gram and addressed the drama of this weekend in a hilariously casual way.
Randall: Yo Fif, man, that was so crazy how you basically threatened me on Instagram for three days, and then I paid you a million dollars, and now you"re not threatening me anymore. Wow! I mean man, just crazy stuff. Best of luck bro!
Me:


So aside from the fact that Randall seems content to ignore the fact that this man put him in the ER just a few days ago, it seems like things are going well! Or maybe not. On Tuesday, Lala Kent threw everything we know into question, when she removed nearly all of the photos of Randall from her Instagram feed. Bum bum BUM. Obviously, this can't be a good sign for any relationship, but Lala and Rand have always been weird about their public relationship together. Of course, when they first got together, he was still technically married, leading Lala to make up all sorts of wild excuses for why no one had met her Man™️. And as I noted before, they don't follow each other on Instagram, because they say it's toxic for their relationship. Weird, but whatever.
As of right now, this is the only picture of Randall that's still on Lala's feed:
This is from their engagement party, and I can't decide if Lala left it up on purpose, or if she just didn't realize what it was because it's so dark. Another important thing to note is that Lala changed her Insta profile picture to just a black circle. Assuming that this isn't Lala trying to rebrand before dropping an album (please no), what is this dark phase that Lala's Instagram is going through? I was honestly starting to get worried, but then I watched Lala's story. And Tom Schwartz's story. And looked at Randall's feed. And guess what?
LALA AND RANDALL WERE HANGING OUT LAST NIGHT.
That's right. Just hours after the mysterious deletion of all of the Instagram posts, Lala and Randall were casually hanging out with the Pump Rules crew at Katie and Tom Schwartz's new house. The girls are apparently getting ready to go on a trip to France, and they were all hanging out before hand. Stassi and Beau were also there, and it looks like everyone was having a great time.
First, let me say that the house looks gorgeous. I wouldn't normally expect Katie and Schwartz to be bastions of good taste, so I'm proud of them. But more importantly, Lala and Randall are definitely together!! Not only are they hanging out and looking happy, but Randall directly refers to Lala as his "fiancé" in the caption! Sure, he used the male form of fiancé, but it's the thought that counts. None of these people are geniuses.
So, no thanks to Lala, it seems like reports of their split have been greatly exaggerated. Looks like Lala won't have to give new BJs for new PJs after all. I'm glad Lala and Randall's relationship seems to be intact, at least for now, but Lala might want to keep the shopping in Paris to a minimum, considering that Randall is a million dollars poorer than he was last week. The new Chanel bags will just have to wait.
Images: Shutterstock; @randallemmettfilms (2), @lalakent / Instagram; Giphy
UPDATED: WTF Is Going On With Lala Kent And 50 Cent?
This weekend, the internet has been abuzz, talking about one of the biggest, most important crossover events in entertainment history. Unexpected relationships have emerged, there have been mind-bending plot twists, and someone might not make it out alive. Overall, the stakes have never felt higher. No, I'm not talking about Avengers: Endgame, I'm talking about the epic social media feud of 50 Cent vs. Lala Kent and Randall Emmett.
The feud first emerged out of nowhere on Friday, when 50 Cent posted a Vanderpump Rules clip on Instagram. In the video, Lala explains to Stassi how she met Randall and "let him hit it the first night," and that after that he would buy her lots of expensive gifts. If you're an avid VPR viewer, then this story isn't new or shocking to you, but what does it have to do with 50 Cent? For a moment, I was excited to have another celeb on board with watching the greatest television show of our generation, but things turned dark very quickly.
50 Cent's post and caption about sucking a dick for a Range Rover seemed random, but then Lala clapped back in the comments, in a way that made it clear there was something deeper going on here. To be honest, Lala rubs me the wrong way sometimes, but this is my favorite side of her. Can you imagine anyone else from this show going off on 50 Cent like this? Nope. Still, her clap back isn't the best re: toxic masculinity, and she also quickly deleted her comment. I already have so many questions here, and we're not even close to done.
Meanwhile, James and Stassi both sounded off in the comments of this post, but with very different messages. James basically indicated that he's grabbing the popcorn to watch all of this go down, which seems like a really bitchy thing to do. He and Lala aren't close like they used to be, but she's really done nothing to deserve this treatment from him. On the other hand, Stassi stood by her girl Lala, which I respect.
After Lala's clap back, I was wondering if we would hear any more about this, but then things just got more personal. 50 posted a screenshot of his texts with "Randell," in which he is pleading with 50 to stop texting him and leave him alone. He says that his ex is f*cking with him, and that he's going to the ER to make sure he's not having a heart attack. Hi, yes, please stop the ride, I'd like to get off.
In the middle of Randall's panicked text thread, we take a pause for one of this stories greatest comedic moments:
"I SAID I'M SORRY FOFTY."
If you claim you didn't snort with laughter when you first read that, I don't believe you. To commemorate this moment, we even put it on a f*cking t-shirt. Cheers, betch.
In response, 50 Cent sent a paragraph in which he clarifies that Randall owes him a million dollars, and threatens to crack Randall's head if he keeps playing with him. I said this was going to get dark, right? We have no way of knowing if Randall really does owe 50 all this money, but if he does, he should probably stop shelling out for Lala and the girls to take PJs to Solvang. Just a thought.
Another crucial plot point in the feud is buried in the caption of this photo, where 50 Cent tells Randall that he wants the rest of his money by Monday. Honestly, I'm nervous just reading about this sh*t, so I have to imagine that Randall has fled the country by now.
It doesn't end there. Next, 50 Cent posted another screenshot in which he responds to Randall asking him to be in his wedding, and this part is honestly just a little pathetic. 50 is obviously not interesting in being in Randall's wedding (can't imagine why not), and he responds with one of my favorite lines ever: "Like I ain't got sh*t else to do. Get the f*ck outta here." To be fair, I'm not really sure what 50 Cent is up to these days, but clearly being a groomsman for Randall "My Man" Emmett is low on his list of priorities.
Aaaand another dollar in the Fofty Jar for Randall. Well done.
With his next post, 50 Cent deepened my concern that this could actually be headed to a very bad place. It's sort of like a meme, except one that makes me genuinely concerned that 50 Cent is about to do something bad to Randall. 50 is always watching.
In his most recent couple of posts, 50 Cent has openly mocked Randall for saying he's going to the ER, and he actually posted this photo of Rand with approximately 700 electrode things attached to his body.
I don't know a lot about medicine or heart tests or anything like that, but is Randall okay?? I'm all for the drama and the memes that this whole situation has created, but I really don't want Randall to have a heart attack. Fofty, please.

For now, we're eagerly awaiting the next development in this already legendary feud, and we're just mere hours away from the clock striking Monday. If you're on the edge of your seat like me, now is the perfect time to cop a Money By Monday tee, because this sh*t is going down in history. This is possibly the first time I've ever been excited for a Monday, so literally anything is possible. Prayers for Randall, because Fofty doesn't mess around.
UPDATE: Well, there's more. We're still waiting anxiously to see if Fofty will actually show up at Randall's house to collect his pound of flesh, but things have not cooled down. As of now, it looks like the money Randall owes 50 Cent is debt from gambling. Basically, Randall likes playing poker, but isn't very good at it. 50 Cent knows this, and lent Randall a lot of money to gamble with. This might seem like a poor choice, but it can be smart to lend money to a bad poker player, because they'll keep losing, and they'll just owe you more in the end. A few bad games, and all of a sudden Randall Emmett owes Fofty Cent a million dollars. Yikes.
Yesterday, while waiting for the infamous Monday to roll around, 50 Cent basically turned his Instagram into a meme page dedicated to this feud, and I could not be more here for it. He kicked things off with this screenshot of Randall's freshly-edited Wikipedia page:
Sadly, Rand's page has been fixed and is now protected from vandalism, but god damn this is funny. Then, because it's 2019 on the internet, Chrissy Teigen got involved. She tweeted about how she never wants. 50 Cent to be mad at her, which like, same. But then, things got even better, because FOFTY RESPONDED.
While I'm still incredibly stressed about the situation with 50 Cent and Randall, it's good to know that Chrissy and John are safe from the wrath of Fofty. I would say this is like something out of a fever dream I had, but honestly none of my dreams have ever been this weird.
50 Cent kept the memes coming, first with this t-shirt that's not as cute as ours, but it did remind me about G-Unit. This whole story is wild, but the fact that I'm talking about G-Unit in 2019 is probably the most shocking thing thus far. After that, Fofty reposted a Game of Thrones meme, because even he knows the importance of the battle of Winterfell.
This caption might be the most menacing one he's posted, which is saying a lot. Moving right along from Game of Thrones, 50 pivoted back to his original source material for this feud: Vanderpump Rules (a better show than GoT, there I said it). He posted the clip from earlier this season, when Lala and Rand were briefly broken up, and Lala is saying how there's a lot of dick she could suck to get PJ flights from other men.
I just asked if we could make a shirt that says "BJ's For New PJ's," but sadly I was turned down. Can't imagine why. Fofty is implying that Randall is going to be broke after paying him a million dollars, which honestly might be true. It's now officially Monday, and I'm on the edge of my seat to see what's going to happen.
PS: Before I go, I need to dispel one piece of fake news that's been going around. People have noticed that Lala and Randall aren't following each other on Instagram, but this isn't new. They've shared in the past that they both blocked each other on Insta at one point, so they haven't followed each other in a long time. This is obviously weird, but their not following each other isn't any indication of trouble at the moment.
Images: Shutterstock; @cbcbravo (2), @50cent (4) / Instagram; Shop Betches
Who Is Lala Kent's Man And How Much Money Is He Spending On Her?
As a newbie to the reunion episode game, the past two weeks of Vanderpump Rules have been thrilling for me. Andy Cohen is out here asking questions that therapists usually wait six months to get into, and the cast, as usual, is holding very little back. This past week, for example, we finally heard Lala open up a bit about her "man." Specifically, she listed the many, many things he buys her, a list I then aggressively relayed to my less-than-thrilled boyfriend. I know, I'm almost as petty as Scheana. (She also mentioned that her man watches VPR with superfan Martin Scorsese, but meh. At most, Randall was once like "look at this show that my girlfriend's on" and Scorsese was like "that's nice.") Anyway, somewhere between the footage of Lala getting out of her BMW i8 and all her recent Instagrams decked out in designer gear at Cannes, I suddenly got a lot more curious about who exactly Lala's man is. These aren't just established middle-aged man gifts—this is serious money. So, who TF is this guy, and what exactly is he buying Lala? Let's dive in.
Who Is Lala's Man?
Lala's man is named Randall Emmett, and he's a producer of some pretty legit films. His most recent big movie was Scorsese's Silence, which lends some credence to the whole Scorsese watching VPR lie theory. He's also currently debuting a film at Cannes called Gotti, which I was convinced until about three minutes ago starred 50 Cent. (It doesn't, and the score is composed by Pitbull, which is…disappointing.) Nonetheless, Randall is at Cannes, works with big actors and directors alike, and is undisputedly legit. (If you don't believe me, scan through Randall's Instagram. It's basically the picture version of his IMDb.) In other words, he absolutely has the Hollywood power and money to take Lala's life to another level.
On a personal level, he was previously married to Ambyr Childers, who is 17 years younger than him. (For reference, Lala is 19 years younger. I'm not loving the pattern.) I'm not going to discuss the state of his marriage when he met Lala, but you're welcome to read about it here. Lala stated on Monday that he was legally separated when they met, FWIW, which our independently conducted research seems to support. He has two children, also heavily featured on his Instagram. He also regularly posts motivational "Torpedo Tuesday" videos, in which he screams at his followers to GET UP GET OUT THERE AND MAKE THAT MONEY. All of which really make me wonder who would win in a screaming match between James and Randall.
What Is Lala's Man Buying Her?
Let's start with the list Lala rattled off on Monday night. She mentioned purses, jewelry, cars, rent, and rides on his private jet. For the cars: he pays for the lease, she pays for insurance. For rent, he pays up to an agreed-upon cap, which Lala said she is "well over." I can't imagine how big and nice of a place she has if it's well over what I'm sure is a generous cap, but it definitely made a sad contrast with the footage they showed of James sleeping on the floor of a slightly too-interested middle-aged dude. Bleak. And for the record, a BMW i8 starts at $147,500, so excuse me while I cry into my coffee for a minute.
Now let's talk about the other stuff. Since beginning her relationship with Randall, Lala has landed a starring role in a movie (produced by Randall), produced the hit song "Boy," and launched the makeup line #Give Them Lala Beauty. While she insists that her music and beauty pursuits are exclusively funded with her own money, the movie is literally her boyfriend's movie, so we can add that onto Randall's tab with a small degree of confidence. BRB, gonna go ask my boyfriend why he hasn't given me a lucrative job yet. "Give a man a fish… teach a man to fish…" and all that, ya know?
So, how are we supposed to feel about all this? Well, if you're like me, lightly devastated. For one, Lala is three years older than me but looks like she's three years younger. And the amount of money I've described in this article alone seems like more than I'll earn in my lifetime. On the other hand, Lala reportedly was already getting her breasts done when she was 20, so she's been hustling and betting on her appearance to get her places for a long-ass time. And I have to show some admiration for Lauryn Kent from Salt Lake City getting to where she is now. You can find their relationship cute or disgusting, I don't really care, but you can't deny that you'd enjoy certain aspects of her life.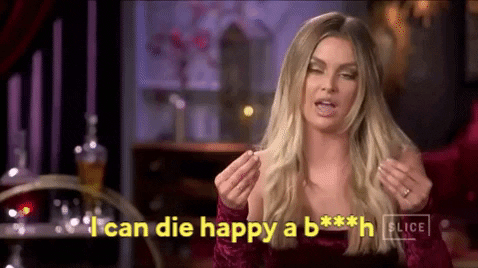 As a final note, I do wish that Lala would stop personally victimizing me saying the only reason other girls can't ride on private jets, etc. is because they're not hot enough. Lala herself admits she's gotten injections and plastic surgery to enhance her appearance, so what are the rest of us supposed to do if we get paid hostess' salaries and we don't have rich boyfriends covering our rent? It feels like when you have to have 5 years' job experience to get an entry-level position. Lala took a very specific route to get what she wanted, and she has a right to feel pride in it. But I imagine she put in a lot of effort for many years to get to this place, and that's something I'd really like to hear more about in step-by-step detail. You know, for a friend.
Images: Instagram (2); Giphy (1)
50 Cent Is Literally The Luckiest Man Alive
Ya boi 50 Cent is back on top in the most miraculous way possible. In what has to be the most inspiring rags-to-riches-to-rags-to-riches story since Cinderella lost everything in the divorce (only to win everything back in Appeals), 50 Cent has been pulled out of bankruptcy after he realized he actually low-key had a stash of 700 Bitcoin just chilling in the Bitbank (or wherever Bitcoins are kept). And for those of you who have not hopped on the cryptocurrency train, 700 Bitcoin is equal to anywhere between $7 and $8.5 million today.
So how tf did this happen? The story is kind of amazing. Basically, in 2014 50 released his album Animal Ambition and became the first artist to accept Bitcoin as payment. He received more than 700 Bitcoins at that time, which were worth about $662 dollars then, but have skyrocketed in prince since the whole Bitcoin craze hit.

Casual reminder that in 2016, 50 Cent literally declared bankruptcy due to "reckless spending" aka "too many bottles full of bub." Second casual reminder that 50 Cent was shot 9 times and survived. Does 50 Cent have a guardian angel of some kind? He's some sort of supernatural good luck machine? Did he drink that good luck potion from Harry Potter or some shit? These are questions I have.
50 has been appropriately hilarious about all of this (as only someone who declared bankruptcy and then accidentally made $8 million can). He told reporters on his decision to accept Bitcoin, "I'ma keep it real. I forgot I did that shit."

Amazing. Now, if you'll all join me in singing:
Go 50
It's ya birthday
We gonna party like it's ya birthday
We gonna sip Bacardi like it's ya birthday
Because you just accidentally made $8 million in Bitcoin!

Heads up, you need to keep up with the news. It's not cute anymore. That's why we've created a 5x weekly newsletter called The 'Sup that will explain all the news of the week in a hilarious af way. Because if we weren't laughing, we'd be crying. Sign up for The 'Sup now!