For those of you who haven't seen Euphoria because the trailer gave you absolutely zero insight as to what this show is actually about, you are not alone. I, too, had no idea what the f*ck this show had in store for people who miss Skins and are finally old enough to have an HBOGo account. But because I am a huge Zendaya fan and had no plans on the Sunday that Euphoria premiered, I gave it a watch. And may I just say, I am blown the f*ck away?
Because recaps aren't really my thing and this show deserves more than that, I'm going to let you just watch it to find out what it's about, but I will sum it up in one sentence for the purpose of this explanation. Euphoria is about 17-year-old Rue (Zendaya) who spent her summer in rehab for a nearly fatal drug overdose. I spent my junior summer working at Le Pain Quotidien, but to each her own, right? Anyway, you know how in Orange Is the New Black, Piper Chapman is obv the star of the show, but each episode is, like, about a different character? Euphoria is like that, but instead of a privileged white girl running the game, it's Zendaya. *drops to knees* * bows down*
The main themes of this show are sex, drugs, etc. but not in a Gossip Girl kind of way that will make you physically ill from rolling your eyes so hard. Euphoria is actually at least somewhat relatable and 100% better in every way. Because this show has more layers than an ogre, I'm going to break each of these themes down to explain wtf this show is and why everyone with eyes is talking about it. Before diving in, though, I just want to say that, yes, this show is about a group of high school kids, which isn't a novel idea for a television show, but Euphoria delves so much deeper into issues that we either have or are currently experiencing, and to me, that is why everyone is so obsessed with it.
Sex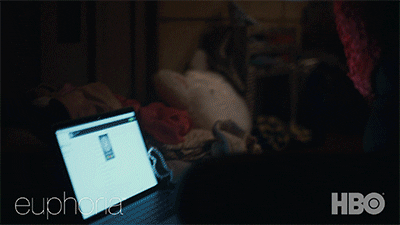 Ok, this needs to be said: I've seen more d*cks on Euphoria than I have IRL. Honestly, it's too much at times. I'd be totally happy with no d*cks at all, but I'd def cap it at two per episode. Ok so, the sex in this show isn't the kind of sex I'm used to seeing on TV, which is always missionary for exactly two seconds and then both parties finish at the exact same millisecond and are also perfectly satisfied with what just happened. Nopers, not in Euphoria! The sex in this show is mostly, like, concerningly violent and almost always involves some sort of v specific fetish. Like, Nate's dad whose version of foreplay is sticking his entire hand down his victims' partners' throat. Also, if you're wondering what his type is, it's underage twinks at sketchy motels. He also films them and stores the tapes in a color-coded file cabinet. Okay, so maybe this is less of a fetish and more of a pathology? He isn't the only one who works out his issues in the bedroom, nearly all of the characters do this and HBO literally shows it all. Another thing most shows don't do!
Drugs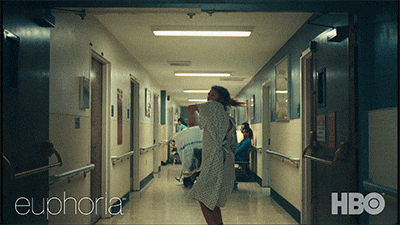 We all went through a drug phase (except me, mom…) when we thought narcotics were really cool. Right? Rue even says that drugs are pretty awesome. In fact, the only real drug-related regret she has is that horrific scene when her adorable little sister found her unconscious and covered in her own vomit (been there) after an overdose (have not been there). This is another reason why people love Euphoria. Because it shows the not-so-pretty sh*t that other shows won't! While TV dramas love drugs, most never actually give us any of the sh*t drugs do to people. It's all just, like, quietly whispered under everyone's breath because they don't want to get into the horrible, terrifying, and sickening sh*t that drugs actually inflict in the people who take them. Seriously, drugs are not pretty, y'all. Euphoria is all about realness and that's evident in, like, every scene.
Ok, that's it from my D.A.R.E. campaign.
Young Love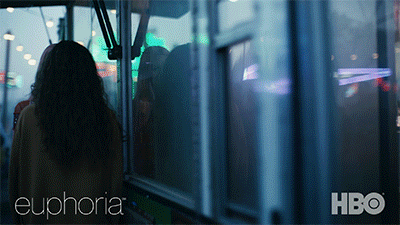 I don't entirely know how to address this because the ~love~ on this show is def not the Friday Night Lights sh*t we grew up with. It's like, very volatile and pretty toxic a lot of the time. But even though it's riddled with so much violence and just generally awful sh*t, I don't doubt that Nate really does love Maddy or that Cassie loves McKay. Like, did Nate verbally/physically attack Maddy? Yes. Are these relationships complicated af? 100%, but that's the reason why the women feel like they can't just walk away. I appreciate that this show proves adults can't and shouldn't chalk young love up to nothing serious because, at the end of the day, love is love. It doesn't matter how old you are, and it feels real when you're in it. Euphoria proves that in a really nuanced way that I def appreciate after two hours of listening to Jed's bullsh*t on The Bachelorette.
All in all, this show is incredible because it's doing what no other show on television is doing. It's an actual reflection of the ups and downs of life when you're young. Except it actually shows the ups and downs.
Images: Giphy (3); HBO