It's becoming pretty apparent that this season of The Bachelor feels kind of different from past seasons. Right? There are a million reasons it feels like mirror-land on this season, probably because Mr. Always-A-Bridesmaid is the Bachelor. Also, is it just me, or are the girls this season breaking all of the normal fashion and beauty rules?
Here is a quick list of looks we can generally count on the contestants to sport but haven't really seen:
1. Floor-Length Gowns—The More Beaded, The Better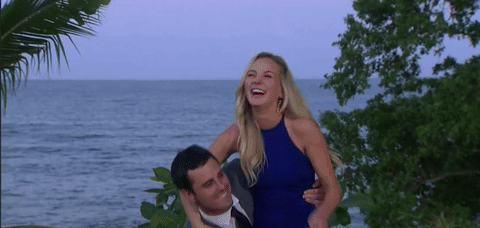 2. Barrel Curls Or Nearly Perfect Waves

3. White Low-Top Chuck Taylors
4. Off-The-Shoulder Tops

5. A Perfect Smoky Eye

6. Waterproof Mascara
7. Nude, Yet Glossy Lips

On night one, nothing really seemed amiss. I mean, Shark Girl was a wildcard, but other than that things seemed OK. We had Bachelor classics including skin-tight ball gowns and nicely curled hair. In fact, like half the lot showed up in a fucking red dress, obviously a plan to stand out that really fucking backfired. Poor judgement, but not unexpected choices.

By rose ceremony number two, we were losing speed on the classic Bachelor style game, and there wasn't enough canned whipped cream in the world to make it better.

Hailey decided to show up to the rose ceremony wearing a bra and a robe… I think. Like, girl, I understand Nick likes girls who put it all out there (I'm looking at you, Corinne), but leave something to the imagination. In this case, you should have left the size of your boobs to your imagination.

We all know Nick is a boob guy by now. But the only thing more embarrassing than getting eliminated from The Bachelor is getting eliminated from The Bachelor while missing your shirt. Which sounds like one of the recurring nightmares I have.
Also, WTF is up with these girls wearing Forever 21 club dresses every week? I mean, c'mon. Rent The Runway exists for a reason, and that reason is so you don't look all Pretty Woman pre-makeover on your short-lived stint on a reality TV show.

I'm begging you, someone please introduce these ladies to a curling wand. I never thought we'd see the end of the barrel curl on this show, but these women have killed it and replaced it with some hot mess attempt at beachy waves. Is that what they're going for?

My lord, a half-pony/messy bun! This isn't an eighth grade volleyball sleepover, this is The motherfuckin Bachelor and these rose ceremonies are not being dressed for in a way that shows them proper reverence. This is an atrocity greater than sleeping through the ceremony itself and, quite frankly, you deserved to go home.

Did the local clown college give the cosmetology class before this show? I mean, seriously. Figure out how to wear a lip color without it smudging or at least touch it up by using your champagne glass as a mirror.

Can we get JoJo or Kaitlyn in here with some makeup and hair tips? I'm serious. I knew Nick's season would go to hell in a hand basket, but I didn't know it'd be because of sloppy styling choices.
Ladies, if you're planning to go on this show, hire a stylist, have someone show you how to do your hair and nails for TV. MBGA. Make The Bachelor Great Again.