Rep. Katie Hill of California has announced that she will resign amid an ethics investigation into her alleged relationship with a staffer. The allegation claims that Hill had a sexual relationship with her legislative director, Graham Kelly, which she denies. Such a relationship would violate a new House ethics rule that was implemented at the height of the #Metoo movement and forbids House members from having sexual relationships with their subordinates.
While Hill denies the alleged relationship with her legislative director, she has admitted to previously being in a throuple with a former campaign staffer and her soon to be ex-husband. Hill has conceded that this consensual relationship was inappropriate given that she was the individual's boss, but there are no official laws that bar someone from engaging in a consensual relationship with their campaign staff members.
"During the final tumultuous year of my abusive marriage, I became involved in a relationship with someone on my campaign," she said in an earlier statement. "I know that even a consensual relationship with a subordinate is inappropriate, but I still allowed it to happen despite my better judgment."
But the real story here is that all of these allegations became public after Hill's estranged ex-husband leaked nude photos of her without her consent, making Hill a victim of revenge porn.
The supposed-to-be private photos were published by a right-wing, conservative website called Red State and later published by the British site the Daily Mail. The photos have since been taken down after Hill threatened legal action, as she should.
Nudes are the best, but they are never, ever meant to be leaked to the public without someone's consent, and doing so is abhorrent.
Plus, the fact that Katie Hill is the first openly bisexual House member is not an irrelevant factor here. Her sexuality is a problem for people, so naturally, it is going to be the first thing her opponents use against her. Exposing nude photos and private information about her sexual relationships is a clear attempt to paint her as a sexually "promiscuous" or "immoral" person. And the fact that she is a woman makes it even easier to weaponize her sexuality, seeing as women are constantly shamed for daring to be sexual beings.
It is with a broken heart that today I announce my resignation from Congress. This is the hardest thing I have ever had to do, but I believe it is the best thing for my constituents, my community, and our country.

See my official statement below. https://t.co/RO8B0znc6C

— Katie Hill (@KatieHill4CA) October 27, 2019
Still, Hill says she made the choice to resign "so that the good people who supported me will no longer be subjected to the pain inflicted by my abusive husband and the brutality of hateful political operatives who seem to happily provide a platform to a monster who is driving a smear campaign built on cyber exploitation."
In regards to the allegations, if Hill is being honest about never having had a relationship with her legislative director, then technically she has done nothing wrong here. She has labeled her relationship with her former campaign staffer as improper, but it didn't violate any official rules. She herself has decided to admit fault for not recognizing that such a relationship with a subordinate could be irresponsible, which I think is more than a lot of other politicians would do.
Katie Hill is resigning amid allegations of inappropriate relationships with staffers *and* after a campaign of harassment, including revenge porn, allegedly from an ex-husband who she calls "abusive." Reporters should mention both those things!

— Molly Hensley-Clancy (@mollyhc) October 27, 2019
As a bisexual woman, Hill is being held under greater scrutiny, and apparently she is holding herself to a higher standard as well. While men before her have been caught having affairs with their subordinates and remained in office *cough Bill Clinton cough* she has taken it upon herself to resign. I imagine this is because she feels the moral obligation to set a precedent and because she is feeling defeated and fearful from a stunning violation of privacy and repeated attacks against her.
I imagine Hill knows from experience that these kind of shaming tactics will not end for someone like her.

I think those of us who have been forced to navigate the world as people who are not welcome at the table are more prone to holding ourselves to a higher standard than those who were raised to believe that they absolutely deserve to be in power (white men). With this, I think it's noble of Katie Hill to admit her shortcomings, but I also think it's unfortunate that it means we lose someone with integrity like her, while literal sexual assaulters remain in the Supreme Court and the Oval Office.
Also, fuck her ex for leaking those photos, as that is the real crime here.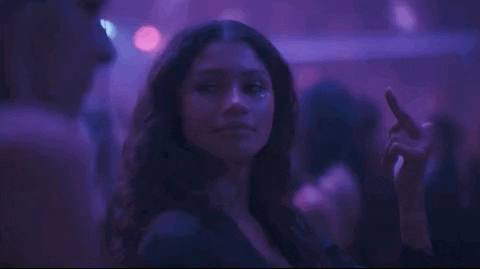 Images: Twitter (1), Giphy (2)