Maybe it's our love for daydrinking in 90-degree weather or maybe it's just that we'd give anything to relive our college rallying days. Whatever it is, it's no surprise that summer coincides with wedding season. Even if one night stands are as close to love as you'll ever get, you will never say no to an event with open bar and attractive single men looking for love in a hopeless place—except, that place is not the bar you black out at every Friday for happy hour. IDC if you believe in Prince Charming or even if eternal love is a foreign concept to you, everyone fucking loves weddings. They're like, the perfect excuse to not only get out of plans you were bailing on anyway, but to buy another expensive dress you'll probs never wear more than once. Like, a photo op to make your ex and his new thot GF jealous? Uh, sounds like an average weekend a great fucking time to me. Whether you're somebody's plus one or prepping for your best friend's wedding, here's the dress you should wear based on your wedding guest #mood.
Floral Maxi Dress

Wearing a maxi dress to a wedding is the most basic bitch of them all. You're respectful in keeping it long and classy—two things your last relationship was not. However, you still aren't giving up on marriage because you really don't want to be a part of the 50% divorce rate statistic, so you're ringing in the newlyweds with a flirty, feminine, floral-printed maxi dress. You're single and ready to mingle, or find your husband altogether, so you'll go with a style that's kinda slutty and shows some cleavage, thanks to your next push-up bra. Your best best is the Lulus Wondrous Water Lilies Black Floral Print Maxi Dress.

Bodycon Cocktail Dress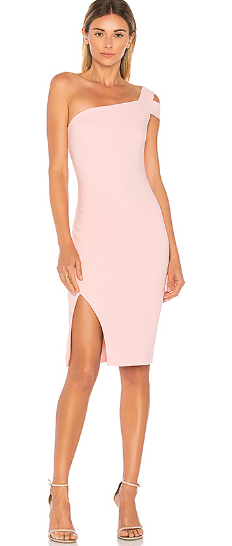 Once you heard there was an excuse to dress like an A-list celeb and walk the aisle like one, you were the first to RSVP because I mean, I guess you just like the attention. You're confident because you know your summer bod looks good this year so obviously, you're going to show off your curves in a v sensual bodycon. You were the bodycon queen all of college so, it only makes sense you bring it back if you plan on being sorority-girl-wasted anyway—just for old times' sake. Enough shots will def have you twerking on the dance floor but, you don't mind the spotlight so, it's fine. Millennial pink is def your color since it makes your spray tan look literally so much better, so go with the LIKELY Packard Dress.
Two-Piece Dress

You're like, really chill and probably into finding your inner happiness or, something along those lines. A modern two-piece is basically a maxi Vanessa Hudgens would wear Coachella but, not so hippie-esque. You hate talking shit and getting involved in drama but, you'll still sip your tea and watch that shit go down. Your wedding will probably be outdoors where there are white Christmas lights everywhere. Cute. Since this is probably sounds like you, you'll want the Laundry by Shell Segal Two-Piece Gown.

Black Dress

Surprisingly, a lot of idiots people don't know that you can wear black to a wedding because they say it's dark and moody, or whatever. However, you know that the timeless color looks elegant, classy, and slimming on everyone so you'll stick with what you know best. You don't really like to go with crazy prints or bright colors because you think they're annoying and too in-your-face. You might come off as standoffish because everyone else acts their shoe size and you just literally can't even. You prefer to stay away from looking thirsty AF with a revealing dress so you should go with a basic fit and flare style like this Halston Heritage Cold-Shoulder Fit-and-Flare Dress.