Alright everyone, I'm going to need you to take a seat and shut the fuck up because it's the best/worst night of the year. It's the one time of year where I both celebrate the hot women of the world and harshly degrade myself. 'Bout to be lit.
I've got my box of wine ready because if you're going to begin on a downward spiral of self-loathing, go big. Alright, let's get this show on the road *pours bottle sized glass*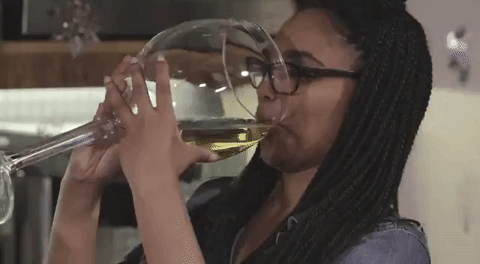 Ah, Paris. The home of macarons and Kim Kardashian's stolen jewelry, somewhere.
The Angels are like WE'RE SO LUCKY!!! And it's like YEAH, THANKS FOR REMINDING US.
The whole thing is looking very sorority bid day-ish rn. I imagine Adriana Lima, who is obviously VP Recruitment, being like "everyone wear bid day jackets and white pants or I will write you up to standards, so help me god."
And the show is about to begin. All the models are backstage saying a prayer before they walk down a stretch of linoleum, like "please sweet baby Jesus do not let me fuck up putting one foot in front of the other. Amen."
The show starts with a rock song that also features Spanish words. But the models are all wearing clothes they stole from a Chinese New Years Parade. I'm getting lots of different vibes rn. Are we French? Are we Asian? Are we Spanish? Are we Human? Or are we Dancer?
The first kiss blow of the night everyone! Tremendous.
Kendall Jenner, the most useful of the family, is there. In the words of Donald Trump: Kendall Jenner is very pretty and very rich. Very unfair! She can't read though. Sad!
The music morphs into a mashup of Kesha songs and suddenly we are all transported back to eighth grade.
Also, one girl is legit wearing a paper dragon around her body. Like, imagine wearing a fucking parade dragon to bed.
ME: Ah, yes baby come into bed and pet my dragon.
HIM: Ma'am, I'm just here to deliver the Chick Fil-A you ordered from PostMates.
Also, worth noting that before these were boots that the models wear, they were Urban Outfitters tapestries that hung in a room at the local sorority. The more you know!
Now the models are talking again. Goodie.
They're like "Paris has everything—food, buildings, air!!!" So crazy how metropolitan areas are.
They all talk about their past times visiting Paris and being in Paris Fashion week and I'm like, oh yeah same AF. #tbt to my time at fashion week!!!
According to the models, Paris is the home of everything. "Paris is the home of lingerie", "Paris is the home of fashion", "Paris is the home of discriminatory laws where women can't wear hijabs on beaches". Like, who the fuck made you guys French historians?
Lady Gaga, self-proclaimed "Rebel Angel" comes on singing a sad song. How in the world is Kendall Jenner supposed to wink and blow kisses during this shit?
Of course, Lady Gaga is killing it. Well, I don't have to watch the SuperBowl halftime show anymore. Thanks Gaga! #sports
I just saw a girl wear a sexy lederhosen. What a time to be alive, I tell you. *drinks*
What's the theme for this segment? Sexy "Sound Of Music"? I'm expecting an EDM remix of "My Favorite Things" to come up next.
Some of the models try to sing and it's all bad. Stick to walking and causing girls to cry themselves to sleep, plz.
Next are the Victoria's Secret commercials—which sounds like the intro for a horror movie but end up having a bunch of naked girls at the opera. Could have sworn this was the beginning of the trailer for the next Purge movie….
Well, now it's Bruno Mars singing. Our soulful little munchkin. He's doing the PINK lineup—that's what happens when you don't put out an album for 3 years.
Everyone knows the PINK lineup is the second string of Angels. I mean, they are wearing socks with heels and crotchless sweats for god's sake. No one loves them.
The PINK section is where you can scroll through Instagram, because some of this shit you actually own, so it's like, not as cool anymore.
One girl has a bunch of stuffed dogs on her. Aw, poor thing.
They introduce Josephine, the newest Angel. Thrilling.
Josephine is like IMAGINE GOING TO BED A REGULAR MODEL AND THEN WAKING UP AND STILL BEING A MODEL. Well, I can pretty much say most people have imagined that before, actually.
She shows when she put in her wings and cried. She starts talking about her whole awesome life and how she now finally has sisters and it's like cool story, Hansel.
Gigi and Bella Hadid go up and start crying too about how they are sisters. Like, the fuck are all these tears for? The only person allowed to cry tonight is ME, DAMMIT.
My sister and I are in the same sorority, so like we're basically Gigi and Bella.
The Weeknd is up next and so far this whole thing is like attending a concert I can't afford otherwise. He kicks off the sexy portion of the show, because duh, he's daddy AF.
Bella has officially perfected the art of looking hot next time you see your ex, I mean damn girl. *bows and drinks*
The angels keep singing but you know the only words they know are "I'm a mother fuckin' starboy." Some of them try to dance and it brings me a sick pleasure to see that even the Angels are bad dancers. Small victories.
I think we all can agree it's the Hadid sisters' world and we're just living in it. Or can we get a fucking clap to for Taylor Hill. *drinks* God bless.
The next section the models talk about how it's Adriana Lima's final runway walk. They all practice the very obnoxious runway walk that she does in honor of her. Couldn't y'all just like, get her a gift card?
Oh god, the models are talking about their gym routine. Fucking spare me.
ME: NOT THIS SHIT. *drinks wine, shoves pringles in mouth*
ALSO ME: This year will be the year for me *shoves chocolates in my mouth*
They all look so fucking good while sweating. They're like "look at us do backflips!" like that's something you can just start doing at your local 24 hour fitness.
MODELS: I love to box and do gymnastics and sometimes I work out 20 times a day!
ME:

Lady Gaga comes out again with a full set of dancers to do a medley of songs and I'm here for it. Also, Taylor Hill and Gigi are out first, and it's like, just fuck me up, fam.
Kendall Jenner in a sexy French maid outfit, so original.
ANGELS: Paris is the home of maids!
Half of these girls have longer legs than my whole body. Buying pants must be a bitch.
Lady Gaga decides, fuck this it's my show, walks the runway, gets wing and wears 50 inch heels. Well alright. You do you, boo boo.
Also, Nick Cannon is there. I guess Wild 'N Out wasn't taping this week?
We cut to a break and commercials be like "Victoria's Secret Fashion Show brought to you by Victoria's Secret." Really, because I thought it was put on by Allstate car insurance.
Now we're back to the show where a bunch of people are talking about how the angels are *~famous~*. Well fucking duh they are. They are the hottest women on earth and they walk around in underwear all day. Name one person who doesn't love the angels, besides the Westboro Baptist Church. Name a more iconic group, I'll wait.
The angels are like 2016 was so great for us! While the rest of the world is like "2016 was the year my whole world fell apart."
Bruno Mars is up last to perform in the segment where they all dress up like sexy chandeliers. Jasmine Tookes wore the fantasy bra this year but it was like, not even a big deal it seemed like. Womp womp.
Lily is the last one to close out the show and then they all walk out for the finale, so excited that now that can return to their fabulous life in Paris, the home of *names first thing that comes to mind*.
Wow. This year. What a treat. Not the best show, not the worst. V pleased there was no Taylor Swift sighting—Paris may be the home to a lot of things, but none for Taylor Swift, bye!!!
Also, does anyone remember what any of the actual bras looked like? Honestly same. I'm blacked out, on the floor, singing "A Million Reasons" by Lady Gaga, while eating cheese dip. My diet starts tomorrow though, I swear. Every time I get hungry, I'm just going to take a deep breath of air and fill myself with oxygen. Going to be great.
Until next year, everyone.