In a time when it feels like New York may truly freeze over, taking care of our prizeworthy skin is crucial. Frigid temperatures literally destroy everything we care about by punishing us with dry af skin, ashy hands, and pasty-looking faces. With this comes the real struggle of figuring out wtf to buy, and deciding whether or not the expensive shit really works—because if it doesn't, well, FML and fuck my bank account. Fortunately for us, Ulta is a godsend and is rewarding us with their Love Your Skin sale. I know, it sounds fucking amazing already. From now until the 27th, must-have skincare products from some of our favorite brands will be up to 50% off. Each day brings something different to the table, so start setting alarms on your phone now. Here's all of the worthy shit to buy for this week.
Monday, January 8th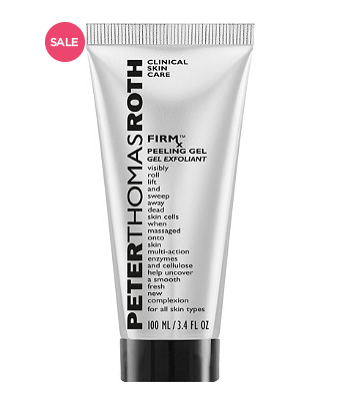 Please raise your hand if your skin was personally victimized by this weekend's insane Bomb Cyclone. *Raises both hands* To help get rid of flaky dull skin, this gel literally rolls off dead skin (ew) to reveal brighter, hydrated, smoother-looking skin. It's full of a bunch of fruity goodness so def it's non-drying and non-irritating.
Tuesday, January 9th

This makeup remover is honestly so good, it wipes away even the most stubborn waterproof mascaras. The bi-phase formula (see: lipid and water) not only removes all makeup, but conditions and refreshes the eye area as well—all without leaving your face feeling greasy and gross.
Wednesday, January 10th

In case you don't know, there isn't much coconut oil *can't* do. Honestly, I'm upset I waited so long to try it, but it has seriously like, improved my quality of life. It helps heal hair, skin, and anything else worth stressing over. This moisturizing coconut oil is just one of many from Organic to Green that you can find at 50% off this week. The refreshing formula is non-greasy, v gentle, and non-comedogenic, so it will help dry winter skin without making you break out. Bless.
Thursday, January 11th

Uh, when aren't we stressing over corpse-looking eye bags, rude wrinkles, and any visible signs of aging? Never. This super intensive hydrating cream is designed to infuse your skin with a shit ton of necessary moisture while getting rid of any lines or wrinkles while you sleep. You'll wake up to soft, glowing, wrinkle-free skin first thing in the morning. Better than coffee? No, but it comes close.
Friday, January 12th

Let's just say there's a reason why everyone and their mother owns one of these. This small compact cleansing system can be used both at home, or on-to-go if your face really just can't wait. The electronic facial cleanser does a hell of a lot better job than your hands do at washing your face. It removes all makeup, exfoliates dry patches, absorbs oiliness, and reduces breakouts. You'll honestly wonder what the hell you were doing with your life after buying one of these. You're so welcome.
---
Betches may receive a portion of revenue if you click a link in this article and buy a product or service. The links are independently placed and do not influence editorial content.