Bros, this article is for you because I know at least 75% of you are currently huddled over your iPhones with 3 of your bros like, "Dude! Just write 'when you're ready come and get it' [or some other now-irrelevant song lyric like 'GIRL! I KNOW YOU WANT DIS DIHH!'] and hit send! Works 60% of the time, every time." No, it doesn't. If it did, you wouldn't need Tinder. But since you do need Tinder or some other dating app that relies upon societal conventions aka you sending the first message, you also need our advice. I've spent a lot of time on dating apps and I hate a lot of things most guys try to say to me, so I'm the perfect person to tell you how not to approach me.
Don't: Start your message with "hey beautiful," "hey sexy," or even worse, "hey girl."
I think most girls would agree with me that having someone I don't know call me beautiful makes me gag more than…well, my own finger. Or the word "moist." Don't be that guy. The way to a betch's heart is not through her gag reflex. (Yes, I know how that sounded but I stand by my previous statement.)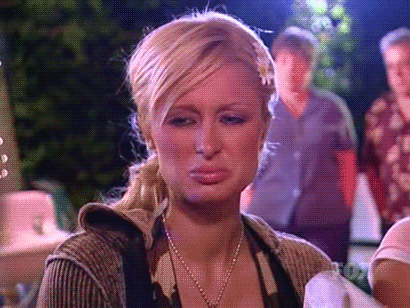 What's your end game? I say thank you and you're all, "So you agree? You think you're really pretty?" Yeah no thanks, if I wanted to have some guy compliment me only to be like "Oh okay, actin' all cocky and shit… fuck you bitch you're not even cute anyway," I'd literally walk down the fucking street. It's a no from me.
Also don't get me started on "hey girl…" Yes I am a girl, thanks for noticing, Stevie Wonder. Am I supposed to be flattered? Unless you're an actual rapper or Ryan Gosling, you cannot pull this off. Until that happens, quit using memes as your pickup inspiration, or at least check out some new memes—like, ones that have been created after 2009.
Do: Compliment something specific about my appearance.
"Love your hair," or "gorgeous smile," or "break me off a piece of dat ass!" See, now we can debate the merits of Tresemmé vs. Herbal Essences, and bond over getting our braces done in fifth grade by Dr. Silverstein. Btw I was just kidding about that last one, making sure you're paying attention.

**Sidenote: This bro will tell you that starting a conversation with "hey cutie ;)" is a surefire way to get into a girl's pants. I say, tread carefully. Some girls like being called cute. Some (hi) will want to bash you over the head because you basically just equated her to a small child.
Don't: Use a stupid pickup line.
"If I flipped a coin, what are the chances of me getting head?" "If you were a booger, I'd pick you first." "Are you from Jamaica? Cause Jamaican me crazy, girl."…Basically anything involving a pun qualifies as "stupid" and should be left to my dad when he's drunk and trying to entertain people.
Basically, don't ever use one of these corny pickup lines unless you're prepared for me to answer with, "Did it hurt? When you fell down from heaven and landed on your head?"
Do: Try to come up with something witty based off my profile, or point out shit we have in common.
The ability to read is a trait that is highly coveted among females in search of a mate. It's called evolution, look it up.
Don't: Read too much into it.
Yes, I'm wearing a Superman shirt in my fifth picture. No, I do not want to discuss my favorite Superman story arc with you. I haven't even seen Man of Steel. It was just a Halloween costume.

Don't: Not say anything
If I wanted to be the one to make the first move, we'd be on Bumble rn and this article would be moot.
Do: Ask me what I'm up to tonight/this weekend.
Odds are my plans are more fun than yours, and what betch doesn't like talking about herself? I mean, that's basically the tag line of this site. Plus if you tell me what you're doing I can automatically rule out one place I will not be going. Unless you're going to buy a round for me and all my friends. Then maybe we can talk.
Good luck guys, and may the odds be ever in your favor!