With all the Kardashian news this week, you may have missed the fact that Scott Disick, fuckboy extraordinaire, is (once again) dating Sofia Richie, a 19-year-old (she was 18 when they met—classy move, Scott) model/sister to Nicole Richie. Obviously, this is not the first child young woman Scott has dated. In fact, his dating history is a who's who of low-level twentysomething (and teenaged) models who, for some reason, think that dating Scott Disick is going to end in anything other than a positive HPV test. Honestly, it is kind of hard to keep all of the various thots young female entrepreneurs that Scott has been connected to. I mean, of course we know who is the Thot-iest *cough* Bella Thorne*cough*, but where do all Scott's other lawsuits waiting to happen girlfriends rank on a scale from Blac Chyna to the Virgin Mary? Hint: none of them are The Virgin Mary.
Chloe Bartoli
Date Hooked Up With Scott: 2015, then again in 2017
Occupation: Fashion Designer
Current Age: A respectable 27
Most Thot-Like Behavior: Home-wrecking a nine-year marriage with three young children.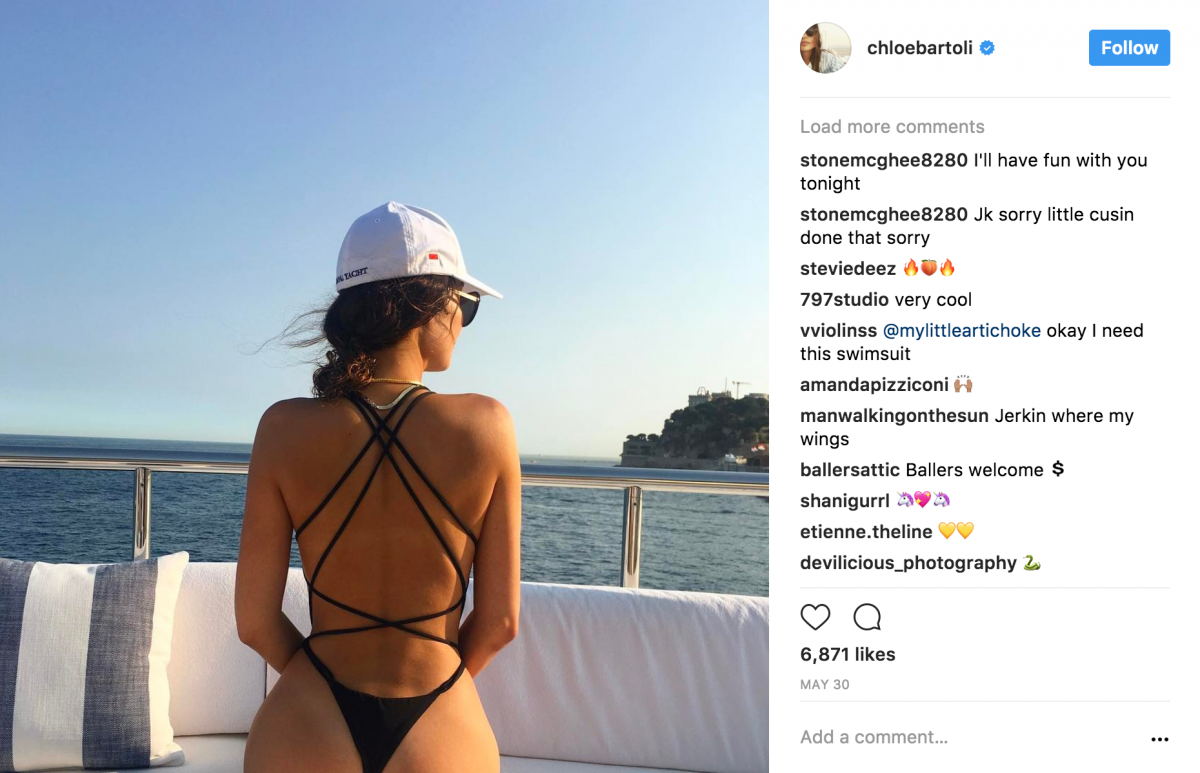 Chloe Bartoli has the distinction of being Scott's side hustle not once, but twice. First, she was the straw that broke the camel's back in Disick's relationship with Kourtney Kardashian, causing Kourt to dump Scott after he and Chloe were seen together in Monte Carlo. Then she was seen with Scott a second time literally days after he was first photographed with Bella Thorne. The main reason she is on the bottom of the thot list is because, while Chloe's hobby is home-wrecking, her actual career is in fashion design. So she has like, a marketable skill, making her unsuited to the thot lifestyle. Congrats to Chloe, I guess!
Kourtney Kardashian
Date Hooked Up With Scott: 1492-2017
Occupation: Kardashian
Current Age: 38 (150 in Disick years)
Most Thot-Like Behavior: Naming her son "Reign"
It takes a special man to have a Kardashian as the second least thot-like person you've dated, but they don't call Scott "Lord" for nothing. Kourtney is both a mother of three and over the age of 30—two things dedicated thots would never be (unless there was money in it)—making her one of the least thotty of the bunch. Once again, my deepest congrats. Scott and Kourtney started dating back in 2006, when they were introduced by the founder of Girls Gone Wild (LOL), and stuck it out through three kids, a sex tape, a high profile transition, a Kendall, and a Kylie until their break up in 2015, when Scott decided to take their relationship from "ride or die" to "ride or fuck a random 19-year-old model." Classy. Since then, they've broken up and gotten back together multiple times and are generally depressing to think about.
Lina Sandberg
Occupation: Swedish Model
Date Hooked Up With Scott: 2015-2016
Age: Literally can't find anywhere on the internet. Seriously. Look it up.
Most Thot-Like Behavior: Not having her real age anywhere on the internet.
Scott and Lina were first seen "kissing" outside the Polo Lounge in Beverly Hills, at which point everyone assumed she was his girlfriend, including Lina herself. Then TMZ reported that Scott was "furious" with Lina for "making it appear" they've hooked up. Scott then claimed that the two were only spotted outside a Beverly Hills Hotel because he was lunching with friends and she "came up to the table to talk, and she actually creeped him out." Damn. That's a pretty harsh way to get yourself played in the media. But hey, that's what you get for being seen in public with Scott Disick. Lina, what were you thinking?
Christine Burke
Occupation: Doctor…jk lol she's a model
Date Hooked Up With Scott: 2016
Age: 20
Most Thot-like behavior: Honestly? Dating Scott Disick.
Scott Disick and Christine Burke were declared a "couple" after being spotted making out on a yacht in the South of France. Okay. Sounds reasonable. You know what's not reasonable?? The fact that she looks exactly fucking like Kendall Jenner. Like, a lot. And it's not like she doesn't know it. She probably walks into every model casting ever and they're like "Omg it's off-brand Kendall Jenner" and she's like "Yep!" and then they hire her because Kendall is busy/too expensive. Wouldn't it bother you to know that the guy you're hooking up with was like, half-brothers-in-law with your professional doppelgänger? Who needs that in their life? It's like meeting a new guy and finding out you have the same name as his mom. Why does he want this? What does this mean? The fact that this does not concern Christine at all concerns me greatly.
Bella Banos
Occupation: American Model
Date Hooked Up With Scott: 2017
Age: 20
Most Thot-Like Behavior: Posting Inspirational Quote Memes On Instagram
If you thought Scott Disick has only hooked up with one high-profile 20-year-old named "Bella," then you don't know shit about Scott Disick. Bella Banos is mystery woman from Scott's Costa Rican vacation, and she wasted no time after that being delusional af. She told In Touch, "Scott calls me his girl and we have said I love you," which is probably true in that Scott definitely said it, but is false in that there is no way he actually felt that way. Bella also wins the dumbass award for causing drama by showing up at a hotel where KUWTK was being filmed, causing Kim and Kris to go fully ape shit. Still, Bella went to the press talking about how she "trusts" Scott with Kourtney, and saying things like "He tells me they're just good friends," which honestly kind of makes me feel bad for her. "Scott's definitely not a sex addict," she said. "Hew wouldn't have sex with just anyone. Scott is just drinking and having fun." Oh, honey. You just go on believing that, you poor, precious thing.
Sofia Richie
Occupation: American Model
Date Hooked Up With Scott: Like, yesterday.
Age: Nine-fucking-teen.
Most Thot-Like Behavior: At age 16 she broke her hip in a Segway accident.
Sofia Richie has the distinction of being the one person on this list who is currently dating Scott Disick. Don't know if that's a win or a loss, but it is true. She's the youngest daughter of Lionel Richie and the sister of Nicole Richie, who would actually be an age-appropriate person for Scott to date but whatever. Some more stats about Sofia include the fact that Micheal Jackson is her godfather, and that she used to take voice lessons from Beyoncé's vocal coach until she decided being a model is like, wayyy easier than being Beyoncé. Honestly, she's right.
Lindsay Vrckovnik
Occupation: Canadian model (exotic!)
Date Hooked Up With Scott: 2015
Age (in 2015): 18—Jesus Fucking Christ, Scott.
Most thot-like behavior: Posting this thirst trap photo on Instagram.
There's really not a ton to know about Lindsay Vrckovnik, other than that she was once spotted leaving a Hollywood night club with Scott Disick. She also once posted and then deleted a photo of her and Scott wearing matching fur coats (and nothing else), so there's that. Honestly, the most notable thing about Lindsay is her dedication Instagram thirst-trappery, which is truly unmatched even on this list. Ironically, Lindsay appears to be a devotee of the Kim K school of "artful nudes," which makes sense because she's like, a model and shit. My only complaint, really, is that her caption game is just not strong enough. "But I'm always wearing the pants?" Wtf does that mean? Download CapGenius or just stick to emojis, k?
Bella Thorne
Occupation: Actress/Singer/Professional Trash Bag
Date Hooked Up With Scott: May 2017
Age: 19
Most Thot-Like Behavior: Anything she posts on Instagram
I'm sure you've all heard of Bella Thorne—not because you've actually seen anything she's in, but because she's very good (or bad, depending on how you look at it) at staying relevant through try-hard Instagram posts where she does things all teenagers do and acts like she's starting a revolution. Like, a teenager who uses glitter as dry shampoo, has a septum piercing, and goes to music festivals half-naked? Groundbreaking. Case in point, aside from her entire Instagram feed/existence: this tweet she posted of her licking another girl's face, asking "Who's shook". I have provided the same image above, but on Instagram. But to answer your question, Bella, LITERALLY NO ONE. No one is shook because it's 2017 and "I Kissed A Girl" came out nine years ago and we are all very aware of and okay with the concept of bisexuality, thankyouveryfuckingmuch. Oh and also she's a poor man's Ariel Winter, who is a poor man's Kylie Jenner. Like, if these three were Pokémon, Bella would be Charmander to Ariel's Charizard to Kylie's Charmeleon. In other words, she's very unevolved in many senses.