Welcome back to your regularly scheduled Bachelorette recap! Well, "regularly scheduled" in that it's a Monday and ABC is airing an episode, regardless of little things like national holidays or my raging hangover. When I think about it, it actually makes perfect sense that ABC would air the first of two two-hour-long Fantasy Suite episodes on a day that celebrates labor. Is there a union that advocates for 30-year-old dog moms with a taste for mediocre wine just trying to scrape by? Asking for a friend.
This week, the gang is off to Mexico for Fantasy Suites. Let me tell you, the vibes are immaculate. If ever there was a hotel to ignite sexual fantasy, it would be this White Lotus wannabe. If one of their dates doesn't end with Jennifer Coolidge sobbing through her lip fillers, then it's a missed opportunity. MISSED. OPPORTUNITY.
Normally during Fantasy Suites, we get to see 2-3 of the season's strongest contenders wooing our leads with powerful statements of love on camera and even more powerful statements of their index finger off camera. But, of course, this season does not care for tradition or rules of any kind. With double the Bachelorettes, we're getting double the Fantasy Suites. That's right: six men, two women. It's not so much a "Fantasy Suite" as a luxurious harem.
And let's not forget the seventh man haunting this Mexican hellscape: Clayton. Thought you'd heard the last of him? Well, surprise bitch! You know what they say—you never forget your first (man to humiliate you on national television). Rachel and Gabby open the episode by casually shitting on Clayton, every woman's favorite foreplay. There's nothing like dissecting a past relationship in excruciating detail to get you in the mood to fuck other people. Better than a vibrator, amiright ladies?
Let's get into it!
Fantasy Suite #1: Erich & Gabby
I've said it once and I'll say it again, but Erich and his silent "h" are growing on me. I am a little surprised immigration let Erich into the country with that mullet, though. Feels illegal somehow.
I'm not the only one happy to see Erich. From the moment he steps onto the scene, Gabby is giddy and giggly and butchering common Spanish slang. Though she puts on a good show of pretending to be into her other men, it's pretty clear that Erich is her guy. Last week, they bonded over Gabby meeting Erich's terminally ill father. It was somber, it was sweet, it certainly did not deserve to be cheapened by ABC censoring Gabby's bikini-clad bottom half as they discussed how special and meaningful the moment was to their relationship.
The two go to "Lover's Leap," a lagoon with a rickety structure from which they are supposed to leap, supposedly for trust and romantic purposes. It becomes increasingly evident that the point of this date is not to show any sort of romantic connection between Gabby and Erich. The point of this date is to show that the ABC production head who planned it took one screenwriting class in college and now thinks he's the Steven Spielberg of creating cinematic metaphors.
GABBY: My heart wants me to leap… off the bridge!! But physically I'm scared to take that leap… off the bridge!!
ERICH: I only jump… off the bridge!! If you jump… off the bridge!!
THE METAPHOR WEIGHING IN:

I hate how they always over-explain these metaphors. Like, you don't have to tell me that a physical leap is just as scary as an emotional leap. I get it. A baby who has yet to develop their sense of object permanence would get it.
Gabby says that before she can take things to the next level with Erich, she needs to know if he can love her unconditionally, and by that, she means if he'll be okay if she does some hand stuff with the other guys? I'm picking up what you're putting down, girly pop.
It does seem like prior to this moment, Erich hadn't realized that Fantasy Suite dates were a plural thing. Look, this is a guy who saw 30 fast approaching, and his immediate reaction to feeling old was to get a faux-hawk. Something tells me his ego was not built for Fantasy Suites!
Cut to the next morning, and that crinkled silk jammies set tells me that Gabby was able to, ahem, calm his fears. Nothing says "I faked an orgasm but still had a nice time" quite like wrinkled silk.

But Erich is still unsure if he can handle the rest of the week knowing Gabby will be with the other guys. Gabby asks him to have patience with her. She knows it's Erich in the end, but she wants to at least do some over-the-pants fondling with Johnny before she sends him home. You get it, Erich!
Fantasy Suite #2: Aven & Rachel
Has there ever been a hotter sight than Aven's bronzed body gallivanting all over the Mexican coast? That man was born to be topless on a yacht. Finally, ABC is giving the people what they want.
Aven and Rachel spend the day boating and basking in each other's hotness. I have nothing to say about this date. They look good together, but in the way that catalog models look good together promoting the Belk End of Season Sale. I'm also not sure how into any of this Aven actually is. Case in point: during the evening portion of the date, he tells Rachel that he's "100% ready to be engaged to her next week", but while his mouth is saying he's ready, his body language is saying he wants to drown himself in the Gulf. Which is it, buddy?
That does not stop the two of them from spending the night together in the Fantasy Suite. I'm not sure what went on in that suite, but when Rachel emerges the next morning she looks like she survived a goddamn natural disaster. Ya know, if that natural disaster originated in Aven's pants.
RACHEL: Aven is definitely the full package. The full package.
ALSO RACHEL: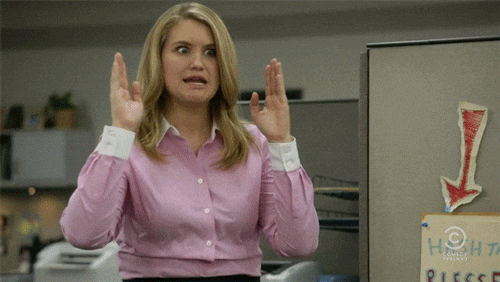 Say less, Rachel! You have my blessing!
Fantasy Suite #3: Tino & Rachel
While Rachel was busy getting a contact high from Aven's abs, Tino spent his first few days in Mexico lamenting his relationship status with Rachel. He thought his hometown went great. Sure, his dad fed on Rachel's spirit like a dementor in Harry Potter, but that's just how you know he likes you! My favorite is that he brings his whining to Jesse Palmer. Jesse Palmer does not care about your problems. Jesse Palmer is just trying to drink enough piña coladas to feel something again, and Tino won't stop trying to stir shit up.

But before Tino can hash things out with Rachel, they've got to go on their date. I see the production head who conceptualized the Lover's Leap date is back for round two. He's not a one-trick pony, even if the instrument for his next metaphor is, in fact, a pony. The two saddle up for a horseback ride through the jungle. Despite the fact that Rachel is doing just fine, Tino can't seem to get a hold of his steed. He's like "I haven't ridden a horse in a while!" and then fails to tame the wild beast between his legs. What, oh what, could ABC be trying to imply here?
Later, Rachel brings up the hometown date from hell. She hasn't forgotten about when his family tied her to a stake and tried to sacrifice her to wild animals for blessings and a plentiful harvest next season. Rachel is genuinely concerned that Tino's parents hate her. Meanwhile, Tino deals with the entire situation the same way that I deal with anything that causes me mild anxiety: by blacking out and dissociating entirely.
TINO: I'm not sure why Rachel is so upset? I mean, they did ask her some really penetrating questions, but so what?
ME TO MY TV:

Tino holds firm throughout Rachel's spiraling. He says that he isn't worried about their future, and repeats over and over again how much he loves her. I'll give the guy points for consistency. He's like "you're my future, that's it, they'll get on board." Ah, the confidence of a mediocre white man.
Good luck, kids, you're going to need it!
Fantasy Suite #4: Johnny & Gabby
It's always fun to watch Johnny and Gabby, because they seem like the kind of couple who meets at a hostel and burns bright for as long as it takes them to get to US Customs. There are no hard feelings after the breakup. They'll think of each other fondly whenever they look at a stamp in their passport or remember the one time they jumped a turnstile abroad.
To his credit, Johnny seems to be aware of their relationship's expiration date. When Gabby asks him if he's ready for an engagement, he seems shocked that she would ask him. Of course he's not ready for an engagement! He's here for the free vacations… isn't she? Does that hair say "commitment" to you, Gabby? Do those capris??
Gabby breaks up with him before they can escalate things to the Fantasy Suite. She's like "this is my worst fear come to fruition" and, yes, I agree. My worst fear is also getting dumped by a man who looks like he manages bands in Florida. What humiliates us only makes us stronger, hunnie!
Fantasy Suite Date #5: Erich & His Anxiety
Remember when I said a grown man with a mid-life crisis haircut was perhaps not ready for the emotional gymnastics it takes to survive Fantasy Suites? Well, don't say I didn't try to warn you, Gabby.
After her date with Johnny, she's feeling mostly fine about the breakup. So what if she lost out on a guy whose most romantic declaration was calling her "dope"? She's still got Erich and Jason… right? Right?!
Erich writes Gabby an ominous note telling her to meet him under a bridge. Erich, I'm not trying to critique your methods, but that delivery is the kind of thing a serial killer would do. Girls do not follow unsigned, foreboding notes alone to abandoned locales unless they live in Rosewood, PA, and are being stalked by an entity known only as "A." They just don't!
Erich tells Gabby that he doesn't want her having "what they have" with anyone else. I'm pretty sure what you have is an orgasm and a half between each other, but do carry on. Gabby seems surprised he's bringing this up again when, apparently, they hashed all of these issues out off-camera. She's giving him the same look I give my dog when I take her to happy hour and she shits in the grass outside the restaurant. Don't embarrass us like this, Erich!!
We'll have to wait until part two to see the conclusion of this fight, as well as Jason and Zach's dates. Don't say ABC never gave us anything (even when we explicitly begged them not to). Until then!
Images: ABC (3); Giphy (3); @RyanneProbst (1)