Today is Taylor Swift's birthday, and we didn't want to let it pass without doing anything. We might not always love Taylor, but there's no denying she's had a big year and she's given us a lot of shit to talk. So let's reminisce on some times when she was her true snake queen self this year, shall we?
1. She Released A Kimye Diss Track
The whole snake thing goes back to the Great Snapchat Incident of 2016, and Taylor finally clapped back after more than a year of gathering her shit. Say what you want about "Look What You Made Me Do" (and we have made our thoughts clear), but it's peak 2017 Snake Queen Taylor.
2. She Actually Sat On A Throne Surrounded By Snakes
In the video for the aforementioned Kimye diss track, Taylor took the throne from Beyoncé's "Sorry" video and added in some CGI cobras to make her point very clear. Taylor loves a good literal interpretation of something that could be much more subtle.

3. She Went For A Very Aggressive Rebrand
When most people want to change their image, they just like, change their profile picture and maybe delete some old shit that's embarrassing now. Taylor decided to take it one step further and let us know that the old Taylor is dead, and we're honestly still trying to figure out wtf that means. Like, when she performs her old songs now, are they considered covers?
4. She Shaded Kanye West's Late Mother
Taylor sent waves across the internet when she decided to release her new album on the 10th anniversary of Kanye's mom passing away. She and Kanye have some, um, history, so this seems a little sketchy. We know that this was just an unfortunate coincidence because her people came out and said as much, but still, she didn't change her release even after learning of the controversy, which in my expert opinion is a little suspect.

5. She Fucking Called Us Out
Taylor wrote an essay that was included with her new album, and she seriously tried to act like the songs aren't about the millions of men she's dated: "When this album comes out, gossip blogs will scour the lyrics for the men they can attribute to each song, as if the inspiration for music is as simple and basic as a paternity test." SAYS THE GIRL WHO WROTE ACROSTIC POEMS IN HER CD LINERS ATTRIBUTING EACH SONG TO ONE PERSON. *Deep breaths* Sorry. Okay, so maybe she didn't call us out by name, but still. Sorry Taylor, we have you figured out.
6. She Dated Someone Like, Barely Famous
Taylor is known for her loooooong history of dating other A-list stars, but this year she went for someone a little more low-key. Joe Alwyn is an actor but has only been in like, two movies, so he's a little less established than basically anyone else she's dated. Good for her, and not exactly snake-like, but honestly it's a lot less exciting to talk about.

7. She Shaded Katy Perry Via Spotify
And now we enter the Katy Perry portion of the program. In what was widely seen as a big fucking middle finger, Taylor finally made her entire catalog available on Spotify the exact same week that Katy's new album dropped. Ugh Katy, look what you made her do.
8. She Skipped The VMAs (Hosted by Katy Perry)
Katy had her big hosting gig at the VMAs this year, and there were rumors that Taylor and Katy would publicly end their years-long feud on the show. Nope! Taylor skipped the show despite her single coming out three days earlier, and she and Katy are still feuding as far as we know. We heard from someone *cough* Taylor *cough* that women should always support other women, but I guess Katy doesn't count!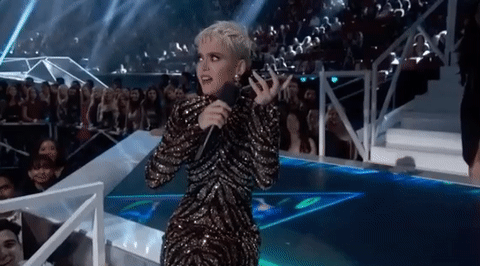 9. She Made The TIME Person of the Year Cover
Taylor was included as one of the "Silence Breakers" because of the case she won against the DJ who groped her, but people were understandably a little confused at her being on the cover instead of people who have led the #MeToo movement. It's great that Taylor won her own case, but it's not like she risked her career to bring to light a system of men abusing their power over other women in their industry.
10. She Never Said A Word About Donald Trump
People have often criticized Taylor for not sharing her political views, but in 2017 that's a bigger red flag than ever. Like, it's one thing if you voted for George Bush or something, but in this day and age you have to do something to prove you're not a literal Nazi. (@Taylor Fans: Not saying Taylor is a Nazi, direct your hate mail elsewhere.) She could literally tweet one thing and we would stop complaining!