Welcome home fam, you've arrived. At long last, Taylor Swift's new album, Reputation, is here, and we have all the details so you can let your group chat know which songs require the most attention. Fasten your seatbelt, we have a lot of shit to talk.
Before I even started listening to the album, I was already annoyed. In a classic move, Taylor decided not to put her album on Spotify and other streaming services for the first week of its release (she clearly needs the money), so I spent $13.99 on iTunes just to get you this review on time. Don't ever say that the Betches have easy lives.
"…Ready For It?"
We've talked about this before. Even if this was the best song ever, I still can't get the image of that naked Taylor mannequin body shit from the music video out of my mind. This song is a little bit of a banger, but only in the most annoying possible way. It at least makes sense as the first song on the album?

"End Game" (feat. Ed Sheeran & Future)
First of all, "Taylor Swift feat. Ed Sheeran & Future" is one of the most confusing things we've ever read. Future looks like he would eat Ed Sheeran for breakfast, but whatever. Taylor shouts (tries to rap?) something about big reputations at the beginning, but tbh she's very overshadowed here by both Ed and Future. She is clearly the third best rapper on this song. Also shout-out to the MVP worst lyric: "I swear I don't love the drama, it loves me." Girl, next.
"I Did Something Bad"
Okay, the title of this song is literally me texting my roommates after every single night out. Taylor thinks narcissists are obsessed with her, but narcissism means…being…obsessed with…yourself? Yeah, she doesn't know what that word means. The chorus of this one is kind of cool, but we could do without the gunshot noises. Taylor probably doesn't even support gun control, ugh.
"Don't Blame Me"
This one has more of a sensitive, mellow vibe, which lets Taylor open up about all the hearts she's broken, and it really doesn't seem like she has any regrets. She says that love makes her crazy, which we can honestly relate to, considering that we make psycho decisions about boys who literally don't know we exist. We have our shit together, don't worry.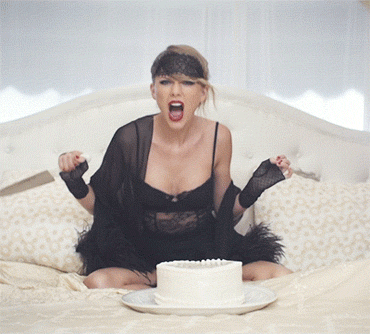 "Delicate"
Taylor says her reputation has never been worse, and she's not wrong. Glad we're on the same page, girly! This sounds like it could have been on one of her old albums, except if she was singing through a robot voice machine. Sad!
"Look What You Made Me Do"
Still hate it. No other comments at this time.
"So It Goes…"
I'm pretty sure four of these songs so far have had the exact same chorus? She's not a bad girl, but she'll do bad things with you. Oooh, sick burn. Is Taylor one of those adults who still think "doing bad things" is, like, letting a guy feel you up?

"Gorgeous"
If you've ever heard of the band CHVRCHES, this is exactly like their music, but worse. These lyrics are very cookie cutter Taylor Swift and we could fall asleep at any minute. The old Taylor is certainly not dead.
"Getaway Car"
"It was the best of times, the worse of crimes." Sometimes her lyrics make me want to throw my computer out the window. This song sounds exactly the same as the rest of the album so far. Have I said that I'm bored, because I'm fucking bored. Also, why is she singing about being at a motel bar? I refuse to believe Taylor Swift has been to a motel in the last decade.
"King of My Heart"
This sounded exactly the same as the rest of the album, but then Taylor started rapping, so it got worse. But then the chorus sounds the same again? There are some cool drums happening for a minute, but seriously she is out of ideas and it's a little sad. And no, Taylor, you're not my American queen, whatever that means.

"Dancing With Our Hands Tied"
I really don't hate this one, mainly because it actually sounds different from the rest of the album. It's pretty catchy and there's no rapping, thank God. There's a reference to an invisible locket that's a little middle school for my taste, but really I'll take what I can get from Ms. Swift.
"Dress"
Sweater! Scarf! Sock! See, I can do it too. OMG, there are lyrics about being drunk and taking a dress off and is Taylor…a badass?!?!? Nah, just a 27-year-old white woman doing normal shit and expecting a medal. *pours another glass of wine*
"This Is Why We Can't Have Nice Things"
Okay for real, this bitch is so extra with her song titles. I hate this one a lot. She says something about "feelin' so Gatsby," and then the chorus sounds like someone put a basic hip-hop beat under a children's song. There's more angsty speak-singing, which is definitely my least favorite thing about this album.
"Call It What You Want"
I'll call it a lame, misguided attempt at a career reinvention, thanks! Taylor says she brought a knife to a gun fight, which is funny considering I'm positive Taylor has been invited to 0 (zero!) gun fights ever. This is not one of the worst songs on the album, but I'm still bored.

"New Year's Day"
Last song!!! This one is actually kind of nice, just a piano and some convoluted story about some promise she made some dude about holding onto memories. All this shit about memories sounds annoying, but at least there aren't like, airhorns during the chorus. Remember when Taylor, like, played instruments? Man, those were the days.
So what's the verdict? The album has a few high points and a lot of low points. Like her shaggy hair, it could use a trim and some additional styling, but there will always be the next album. Or, maybe she'll quit music and just be an annoying cat lady full-time. We wouldn't complain. And if you see me singing this shit at the club, don't @ me.