The Cutest Workout Outfits To Motivate You To Get Off The Couch
Admit it. Working from home sounded fun, at first. We were going to have so much time for self-improvement. There was no doubt we were going to work out daily, get that killer summer body, focus on skincare, get dressed, the whole nine yards. 
But, here we are on what feels like day 500 of social distancing. Hair has not been brushed, pajamas have been on for three weeks straight, and working out has been replaced with "how many cookies can I eat before I pass out".
Given that here in NY, the stay-at-home orders have been extended for another month, I decided it was extremely important I find new motivations to work out and give a sh*t about my health and wellness. How does one get motivated to workout aside from the obvious end goal and results? 
Two words: cute clothes.
If you're feeling uninspired, take a peek below at my current favorite workout brands and the pieces that motivate me the most. If these don't get you off the couch, godspeed. 
Gigi C Sport
I've always had a thing for pastel colors, because they compliment everyone. I mean it when I say there isn't a single person that looks bad in a pale pink or soft blue. Gigi C Sport just launched their Spring 20 Active Collection, and I'm obsessed. If I was rich and fabulous, I would honestly purchase the entire collection, because that is how much I like it. I DO own the Eden top + Katrina legging set in Sky Blue (pastels, FTW), and I am proud to say I actively searched for online workout classes to put this look to use. I must also mention the Maxine Romper, which is like an 80s workout dream done right in 2020. I'll stop rambling on, but yeah, this is currently my favorite activewear brand. 

Gigi C Eden Top & Katrina Legging
BrownDyedGirl
If you're like me, the thought of wearing a sports bra and leggings to a public gym is more terrifying than going on a date with Joe Exotic. That being said, I've always turned to sweatshirts and sweatpants for a workout. They need to be cute, obv, and although we are now working out in the comfort of our homes, I'm still rocking my sets from BrownDyedGirl. My absolute favorite is the Pastel Crew Set (pastels, FTW, again!), but they're honestly all cute AF if you're into tie-dye. Some noteworthy names can often be found rocking the sets, including Hannah B + Hannah G of Bachelor Nation, Danielle Bernstein of @weworewhat, and model Camille Kostek, just to name a few. If you prefer hoodies over crewnecks, my favorite is this grey set. A little birdie (aka Jordan Baker, the founder of BrownDyedGirl) also told me that a T-shirt and biker short sets are coming soon, SO I'll definitely be snagging those to work out in.

Yummie
Aside from looking cute, I want to be the MOST comfortable when WOFH (not sure if this is a thing, but I'm making it a thing). Yummie leggings are great, because I can lounge in them for an hour while avoiding the workout, but also feel cozy once the workout commences. The Seamless Shaping Legging comes in five colors, and are my personal favorites (Grape Leaf is my color of choice), but browsing the site there are a ton of cute options, including a 4-Piece Legging Kit which covers all the bases and is a major bang for your buck. 

Yummie Seamless Shaping Legging
Terez
Calling all the girls who take the front and center spot at every workout class: Terez is the brand for you. All of their matching sets are really cute, fit well, and come in the most fun colors and prints that are going to make you stand out, no matter where you position yourself. But during these times, since we obviously don't have the people around us to motivate us in a class, putting on a brightly colored sports bra and legging set will give you the kick you need to get off the couch. I'm obsessed with literally all the active sets, but especially love Rainbow Haze Balayage Reversible Sports Bra and matching Tall Band Leggings because they make me feel like I'm at a rave, so like, perfect motivation to do that at-home dance cardio class.

Terez Rainbow Haze Balayage Reversible Sports Bra & Rainbow Haze Balayage Tall Band Leggings
Alo
If you're channeling your inner zen during this time, I give you all the credit. I have been trying to do yoga daily, in hopes of feeling calm for at least 30 minutes of the day (yes, dramatic, I know). I turn to my Vapor Snakeskin Set for yoga because it still makes me feel like *that bitch* while shuffling between a mental breakdown and mountain pose. It's all about balance, amiright? Alo also has THE coziest half zip hoodies, which I've been wearing during walks around the block (please practice safe social distancing when exiting the home!). 

Alo Vapor Snakeskin Bra & High-Waist Short Set
All Access
I like All Access for a few reasons. One, the brand was founded in NYC, so it's fun to support a local brand. Two, they allow me to channel my inner 80s workout video (I'm sensing a theme here). The Front Row Bra + Center Stage Leggings in Hot Coral are so funky and are sure to catch your neighbors' attention (whether you want it or not). When I open my drawers, I'm instantly drawn to this set and it reminds me to put down the Kinder Bar (these have been my weird weakness throughout quarantine and I honestly can't be stopped) and start the cardio. 

All Access Front Row Bra & Center Stage Leggings
Year of Ours
I'm hot and cold with paisley print, but I am o b s e s s e d with this set from Year of Ours. The Bandana Bra + Leggings are so dang cute. I ordered the blue set, which is exclusive to Bandier, but they also have a red/white and black/white set on their own site here. I choose this set when I want to do cardio or something more active (not because it's specifically designed for that, just because this print excites me). 

Year of Ours Banana Bra & Leggings
Girlfriend Collective
Girlfriend Collective is a f*cking awesome brand who focuses on ethical manufacturing, celebrating diversity and beauty in all its forms, and sustainability—their clothing is made out of recycled materials. Don't ask me how, but it works. And the result is simple, comfortable activewear you can feel good about buying. I'm looking to their high-rise bike shorts and accompanying sports bras, hoping that when the weather is warm enough to wear them, we will finally be allowed outside.

Girlfriend Collective Saguaro High-Rise Bike Shorts & Saguaro Paloma Bra
Outdoor Voices
If you, like me, do a 40-minute workout and sweat so much that you are convinced you have some sort of disorder, Outdoor Voice's TechSweat leggings are for you. The fabric is light and breathable and the waistband won't slide down. Also the color blocking is so chic. Pair them with the Doing Things Bra, also made with TeachSweat™ fabric, and get ready to get gross.

Outdoor Voices Techsweat 7/8 Zoom Leggings & Doing Things Bra
Koral
Once I discovered Bandier, it was over for my wallet. They are not a designer, but a retailer that has tons of activewear brands, among them, Koral. From leggings to sweatshirts, tanks to sports bras, they have fashionable pieces that you can wear during the day on your Zoom calls to make your coworkers think you got dressed, and then during your workout.

Proud
This ethically-sourced activewear newcomer donates 10% of proceeds from every sale to charity—and you get to choose the charity (St. Jude Children's Research Hospital, Pink Ribbon Girls, Baby2Baby, Homes for Our Troops, Off The Street Club, or the Rezvan Foundation) when you check out. With a completely neutral color palette, those of you who wear all black will want to buy everything. Their hoodies and zip-ups look bad-ass, and I love the ballerina leggings, which have a chic tie detail at the bottom, are super comfortable, and won't slide down during your HIIT live stream.

Proud Be Passionate Asymmetrical Tank
And with that being said, I wish us all luck. Let us have strength to say yes to Instagram live workout classes. We can get through this!
Betches may receive a portion of revenue if you click a link and purchase a product or service. The links are independently placed and do not influence editorial content.
Image: Form / Unsplash
Summer Athleisure Pieces You Can Wear To The Gym And The Bar
What better way to motivate yourself to work off those sugar-infused Long Island Iced Teas you'll be drinking all summer than spending more money on overpriced leggings and sports bras? I'm talking about athleisure that absorbs your sweat, keeps you cool, but still makes you look as hot as Gigi Hadid. If you don't know what athleisure is, ask Siri or think of those leggings you shamelessly wear weekly and don't wash, because this is the 21st fucking century. Like, get with the times, because I don't feel like explaining. This has been officially a thing since last year aka when it was actually added to the dictionary, so chances are if you have any fashion sense, you already own Lululemon leggings and a sports push-up bra from like, Victoria's Secret. Whether it's to get Starbucks, leave your fuck buddy's house, or (god forbid) go to the gym for once, no one has ever questioned your whereabouts because your athleisure outfit can get away with any occasion.
If you're planning on fooling everyone that you give a shit enough about your body to get off the couch and stop binge-watching Riverdale, you're going to have to expand your hot athleisure wardrobe for summer-proof pieces you might—key word: "might"—also be able to pull off at the bar. Usually being comfortable and looking DTF don't go together, but if you're smart about your choices, you can get away with it. Dreams do come true if you just drink enough believe.
1. Sheer Bralette
When you have yoga at 11am and brunch at 12:30pm, the Nina Bralette is your go-to. The super lightweight and stretchy fabric will ease you into all your downward facing dog poses, while also cooling you off with its sheer straps. You'll feel refreshed and look cute enough to simply change into a skirt before drinking as many bellinis as it takes to defeat the purpose of working out. Or, you can totally just say "fuck it" and buy this regardless because it's cute as hell. Namast'ay at the bar, bitches.

2. Strappy Tank
What happens at the gym, stays at the gym. If you're going to actually exercise and break a sweat (ugh), no one outside of that facility should have to see all that back sweat. It's bad enough you won't be rocking a full contour when you leave. You'll need something with an open back and as many air holes as possible. Wear a lightweight tank you can adjust and layer over a sports bra, such as the Gypset Goddess x Alo Clarity Tank. If you're feeling extra scandalous and haven't done laundry (again) for a night out, wear this with a backless bra, high waisted jeans, and your fave pumps. You'll be comfortable and look hot.

3. Mesh Leggings
Unless you live under a fucking rock, you've probably seen every person you follow on Instagram sporting this mesh trend in one form of clothing or another. Full-length leggings with mesh panels on both the back and the front, like the Varley Windsor Black Legging, allow you to take those long runs on the beach without worries of looking like you peed yourself. They're composed of permeable and quick dry fabric so you look just as good after the run as you did before. Even if it's only because you gave up after 10 30 seconds. I won't tell if you don't.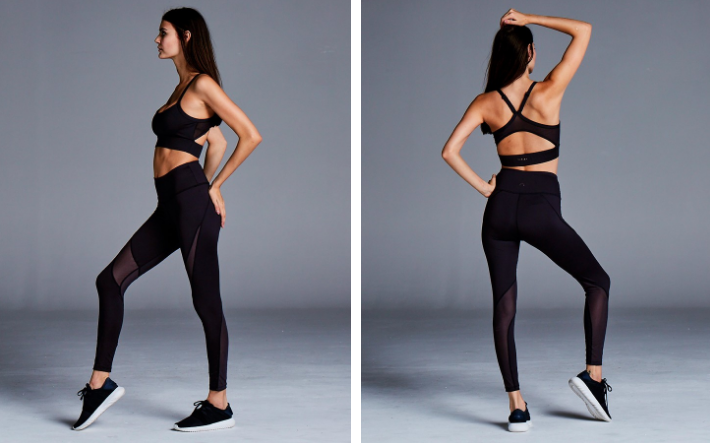 4. Sleek Jacket
Whether you're leaving a torture cycling class or running errands, the CHICHI Serena Bomber is essential for adding street flair to any look. Throw over a strappy bra after an intense workout or a v chic bodycon if you want to look as relaxed as your outfit does. Little do they know you stressed out about it for an hour and changed 15 times before leaving the house.

5. Baseball Cap
I don't usually advocate for hat hair, but this is only for emergency cases such as like, being too hungover to wash your hair or trying to impress that hot guy who always has his arm days on Thursdays. You can totally convince him you're into like, sports and stuff (whatever that entails) and yes, you've had this lucky hat forever, and no, you didn't just buy it online from Shop Betches.

Stay Woke: Kellyanne Conway Just Declared War On Leggings
Send Head Pro your questions about life, love and yoga pants at [email protected].
Friends, lovers, betches: One of our nation's great institutions is under attack. No, not inconsequential shit like women's rights, healthcare, our reputation in the world, the environment, the economy, our nuclear defenses, voting rights, or the safety and security of minorities.
I'm talking about the real shit—fucking yoga pants.
Kellyanne Conway is the straw-haired, dead-eyed succubus weirdly (and irresponsibly) humanized by SNL who wormed her way into the president's ear and brain, not unlike the way an amoeba would when swimming in dirty water. And because subtlety and class are the provenance of faggy libtards, she wore this to Donald Trump's inauguration:
She caught a lot of flack on social media, which she should have, because she looked goddamn ridiculous, like if Paddington Bear was auditioning to be an extra in Hamilton. Michael Wolff (inexplicably) brought this up in his interview with Conway for The Hollywood Reporter, and instead of her usual "lie-lie-lie-PIVOT" tactic she uses when confronted with facts she doesn't like, she said this:
"sorry to offend the black-stretch-pants women of America with a little color." Conway is referring, of course, to the $3,600 red, white and blue Gucci military-style coat — meant to signify the Donald Trump revolution — that she wore, accompanied by her husband and four children, to the Jan. 20 inaugural ceremonies.
For one thing, charging someone $3,600 for that monstrosity sounds like a crime until you consider the kind of flag-humping sucker that would buy it. Secondly, what the fuck, Kellyanne?
There are two ways to see this very mild burn. One is that it's directed at the kind of latte-sipping, yoga-practicing young woman scattered as far as the eye can see in and around our nation's capital. We all know that DC just isn't as stylish as New York , and Kellyanne (who's spent her whole career here hiding under staircases and licking people's boots) would know this as well as anyone.
But the other, much more salacious and biased-in-a-way-that-fits-my-worldview takeaway is that she's throwing shade at fat people, i.e. her boss's supporters. I mean, what if these yoga pants are all that fits them right now? It's a distinct possibility when butter's not a carb, but a food group.
Of course, none of this matters. Soon Congress will make having an empty uterus illegal, or Trump will tweet a picture of his dick to the Queen of England, and we'll all forget that it ever happened.
But stay woke, Betches. Need we remind you, your right to wear yoga pants has long been under attack:
Christian Blogger Declares Yoga Pants Too Lustful
Don't Wear Yoga Pants Unless You're Young And Skinny, Says Irrelevant Man
Montana Lawmaker Wants To Make Yoga Pants Illegal
Washington Post Writer Calls Yoga Pants 'An Assault On Manners & A Nihilistic Threat'
Send Head Pro your questions about life, love and yoga pants at [email protected]. Stay up-to-date on yoga pants and other news by signing up for The 'Sup.