Does Anyone Actually Miss Award Shows? VMAs Red Carpet Recap
Amidst all the canceled events of 2020, somehow the VMAs managed to survive, and they were broadcast "live" last night on MTV. (I say "live" because many parts were actually filmed in advance.) But really, the VMAs of all things was the show that went on? Not even, like, the Met Gala? Don't get me wrong, the VMAs are a fun time, but I can barely be bothered to muster up enthusiasm for my job in these times, let alone an award that comes in the form of an astronaut and is determined by people who spend their free time learning TikTok dances. This year's ceremony was, by many accounts, a snooze-fest, but the socially distanced red carpet brought about some meme-able looks to discuss. Typically, it's hard to end up on our VMAs "worst dressed" list, because the vibe of the red carpet is really more about who can look more out-there than who can look traditionally "good". That being said, some celebrities still failed to impress—which is actually kind of an accomplishment considering they've had nothing to do for months than figure out an outfit for this event. (Things my friends will say to me at their 2022 wedding.) Some celebs looked amazing though, and we have to give credit where it's due.
As far as the actual show, while it was no "Britney and Madonna making out", there were still some noteworthy moments. Keke Palmer, the host, dedicated the show to Chadwick Boseman, whose death was confirmed on Friday night. MTV also put together a touching tribute to the late Black Panther actor that will make you cry. The Weeknd opened the show with a performance from over 1,000 feet in the air, and used his speech for Best R&B Video to call for justice for Jacob Blake and Breonna Taylor. Similarly, DaBaby's medley alluded to police brutality and the COVID-19 pandemic.
Miley recreated her iconic "Wrecking Ball" video during her performance of "Midnight Sky" when she swung from a disco ball (not naked this time, though). Lady Gaga came through with iconic outfits, as is to be expected, and wore a face mask all throughout her performance, effectively squashing any of the popular Karen excuses for not wearing a mask. Overall, while there were some interesting performances, if you didn't watch, you really didn't miss anything.
So without further ado, here's our rundown of the very limited socially distanced red carpet.
Madison Beer

This one falls under the category of "looks amazing but didn't go all-out". Madison looks great (even if this look feels like Kylie Jenner cosplay), but I'm just a little bored. This is exactly what I imagine every Gen-Z girl would be wearing to a frat party right now, or like, what NYU students would wear to 13th Step/Penny Farthing. Do I now want to buy this dress off Nasty Gal (where I presume it came from)? Kind of, but that's not the point.
Sofia Carson

Granted, I may not know a whole lot about fashion, but I do know that peplum tops and bubble skirts went out of style at around the same time I stopped flat-ironing my side bangs. So why this dress has both elements in one, and saw the light of day in 2020, is perplexing. All I can really say is that this prom gown just looks like a period. I don't know why, but I just know that it's true.
The Black Eyed Peas

They don't even go here!! I love that the Black Eyed Peas were at the VMAs, and I love that they dressed like three bros getting ready for any old Saturday night out at the bar. You'd think they would have gone a little harder, considering they have had like, no public appearances since 2013. This was your moment to make a splash, and ya blew it.
Joey King

Again, file this one under: I love this dress, but not for the VMAs. The dress is cute but feels like something I could have picked up from an Urban Outfitters, and the accessories are giving me "grandma's costume jewelry" vibes. I've also got to take this time to discuss how seemingly random the guest list is. Like, on the one hand you have Lady Gaga and Miley Cyrus. And then on the other hand, we have… the Black Eyed Peas minus the one member of the band who made them relevant in the first place, and Gypsy Rose Blanchard? It's like instead of using seat fillers, they just used random celebrities.
Bella Hadid

I'm actually dying at Bella stealing Jenna Rink's updo. Now, I don't hate this outfit—I actually like it and would probably wear it. However, see-through and black seems to be Bella Hadid's red carpet M.O. Her 2017 Met Gala look? See-through and black. Her 2019 Met Gala look? not see-through per se, but lots of cut-outs and black. I guess there is something to be said for consistency, even though this whole look is what you'd get if you typed "Goth Dollz" into one of those glittery gif generators from the early 2000s.
And now for the looks we didn't hate…
Nicole Richie

Nothing but respect for my Statue of Liberty. That's it, that's the description.
Miley Cyrus

Miley looks incredible, even though I'm pretty sure I own this bathing suit cover-up. This is kind of giving me knock-off Rihanna at the Met Gala vibes, but I feel like that's what we deserve in 2020.
Lady Gaga

Unsurprisingly, Lady Gaga had the best looks of the night, starting with her red carpet ensemble, which felt like "the moon man, but make it avant-garde". It worked out for her, considering she took home four awards, the most wins for the night. This outfit is basically proof that manifesting works.
Don't miss out on any pop culture or entertainment news. Subscribe to our weekly newsletter here. 
Images: Rich Fury/MTV VMAs 2020/Getty Images for MTV (5); Vijat Mohindra/MTV VMAs 2020/Vijat Mohindra/MTV VMAs 2020 via Getty Images; Kevin Winter/MTV VMAs 2020/Getty Images for MTV; Jeff Kravitz/MTV VMAs 2020/Getty Images for MTV
The Best And Worst Dressed Celebrities At The 2018 VMAs
Sooo last night's 2018 VMAs were pretty anti-climatic. Like, they gave me an excuse to drink wine on a school night, so I'm not complaining cause that part was cool. And that wine definitely proved necessary to help aid my bleeding eyes from some of the fashion monstrosities that came across the VMAs 2018 red carpet. Of course, I enjoyed JLo's unbelievable performance, Ariana's sultry "God is a Woman," and Nicki's boss rendition of "Barbie Dreams." Still, I can't deny how I miss the days of Miley's inappropriate twerking and Kanye not really letting Taylor finish. Anyway, there were so many people at the VMAs this year that I didn't even f*cking know, so naturally I left them off this list, so don't @ me. The trends of the night were metallics and sheer, which as always some celebs did correctly while others…eh, not so much. Sidenote: why the f*ck did Madonna look like one of those fortune tellers on the street harassing me to get a shitty $10 palm reading? I just don't get the connection there between her wacky flea market look and her Aretha Franklin tribute. Well, the worst only gets worse from here, so let's get it going. In no particular order, here are the best and worst dressed from last night's kinda boring VMAs. And shouts out to Glam Squad for making the Betches look amazing on the red carpet so nobody thought we belonged on a worst dressed list.
Best Dressed
Kylie Jenner
Kylie is doing everything right. Well, almost. Like whyyy Travis Scott??? I'm sorry, but he's just not cute. Actually, I take that back, she's actually doing something right because she dumped Tyga's loser ass and upgraded to at least a more successful, but still unattractive, rapper. So, between the two, I applaud her choice. Anyway, the VMAs aren't known for being the classiest of the award shows, and I love that Kylie went opposite of what's expected in a chic Tom Ford blazer dress. Like, clearly that Forbes cover is getting to her head, but who can blame her? This outfit is the epitome of, "Yes, I am a mom who just turned 21 and also happens to be on the cover of Forbes. And you're not." Touché, Kylie.

Cardi B
Speaking of the Kardashian-Jenners, cause like, when are we not, Cardi B was clearly channeling her inner Kris Jenner with the short black hair, giving us some major momager vibes. It's almost like she gave birth to Kulture and then was like, "f*ck, what would a mom wear to the VMAs?" Then Googled "famous moms" and saw a picture of Kris and just brought that to her stylist. Regardless of how she came about this look, Cardi looked classy and glam, and I'm going to give her an enthusiastic proud dad-level thumbs up.

Nicki Minaj
Sooo this one may go against popular opinion, but I was totally on board with Nicki's VMAs look. It's weird not seeing Nicki in some obnoxious shade of pink and, I gotta say, seeing her in this white number was a real treat. Sure, the Rapunzel ponytails were a little much, but this is Nicki Minaj we're talking about, and the fact that she wasn't wearing a tacky pink wig was a total win. Sure, we saw her whole ass, but that's nothing new and, honestly, from an artist with a song like "Anaconda", it was done in a relatively tasteful way.

Millie Bobby Brown
I'm confused, is anyone else concerned that Millie Bobby Brown is out past her bedtime? Isn't she like, 10? Or is it 11? Sh*t, now I'm confused. Shoutout to her for either successfully sneaking out or convincing her parents to let her go out on a school night. Not only did she succeed in getting herself to the VMAs, she also looked on point while there. Her look was sweet, simple, and I'd really like to get my hands on that stylish crop top. It's kinda crazy how good someone looks when their head isn't shaved and they're not clutching a box of Ego waffles.

Madison Beer
Madison Beer's look was easily one of my favs. Her chic and classy white suit looked fire. Like, if she wasn't already hot enough, this outfit burned it down. That was cheesy, I'm sorry. Her look was tasteful and mature, although I could have gone without her grandmother's brooch smack dab in the middle. Like, if she had done this look with the blazer slightly open with nothing underneath, then there's no way she wouldn't have been my hands down best dressed of the night.

Olivia Munn
Like, real talk, what is Olivia Munn up to these days? I feel like she hasn't been in a movie in a minute—or if she has, I haven't seen it. I liked it when she and Aaron Rodgers were feuding with Jojo and Jordan Rodgers. That was fun. Well, idk wtf she's doing now, but she did look amazing last night in the ideal VMAs dress. The purple color of the dress was amazing on her, and the dress was the perfect amount of VMAs-appropriate sparkle.

Worst Dressed
Ariana Grande
Ariana Grande really disappointed me with this slutty Tin Man number. It's like edgy Tinkerbell meets a sorostitute dressed as an alien. Although, I have to forgive her for her serious fashion crime here, because her new album is amazing. Plus, she had my favorite line of the night when, during her acceptance speech, she said, "Pete Davidson, thanks for existing." It was so cute and genuine that it slightly redeemed her terrible outfit choice. 

JLo
Ugh, JLo, you're SO MUCH better than this slinky metallic dress. Yes, she looked amazing as JLo always does, but I'm putting Jenny from the Block on the worst dressed list because this look was way too predictable. And like, seriously, I'm so over the one leg thing. I don't want to see your slim right leg, JLo, I want to see those drool-worthy abs. I need more sexy and less basic b*tch headed to senior prom. Either way, I can't deny that killer performance. Not to mention, the dress she wore when she accepted the award for "Dinero" slayed. Not sure why she wasn't wearing that dress on the carpet instead, but I guess that's why I don't get paid thousands of dollars to dress celebs. But like, clearly I should be.

Tiffany Haddish
Tiffany Haddish is hilarious, but she's one of those celebs who clearly can't dress herself for sh*t. And I don't know who these stylists are that are getting paid to make these celebs look like straight clowns, but it's really starting to annoy me that I don't have that job. This dress was a big thumbs down and we could have definitely done without the headband and the giant hoops. It's a lot. 

Grace Vanderwaal
I don't know who this girl is, but yikes. She looks like the drag queen version of Lord Farquaad, or at best, disco Mary Poppins. Sorry, Grace. Best of luck to you and whatever it is you do.

Rita Ora
Rita Ora, no. No, to the dog collar. No, to the sheer spaghetti dress—I'm actually pretty sure I own this bathing suit cover-up. And the eye squiggles are a little too literal—that's fine for a sorority theme party, or like, Lil Xan, but not the red carpet.

Blake Lively
I'm so f*cking over everyone raving over Blake Lively's style. Like, don't you get it, people? Serena van der Woodsen had amazing style, but Blake Lively does not. Instead, she just has a perfect husband and a perfect life—I can see how it's easy to conflate them. She looks like a haunted Willy Wonka meets circus ring leader who also has to get to her catering shift at seven. Or, maybe more simply, she just looks like the ghost of Christmas past? Idk wtf she looks like, but it's not good, and Serena van der Woodsen would definitely not approve.

Camila Cabello
There's nothing, like, inherently terrible about this outfit, it's just altogether pretty blah. Like, I'm pretty sure I saw this ensemble at my prom. In 2009. 

Amber Rose
I want to trust a guy as much as Amber Rose trusts this outfit not to expose her labia. She looks like a slutty version of the Red Devil from Scream Queens. Like what is this, some discounted cosplay outfit from Adam and Eve? This outfit is legit the reason stores start putting out Halloween stuff in August.


Images: Getty Images; Giphy
The Best & Worst Dressed Celebs At Coachella So You Can Feel Better About Missing It
The most important Instagram event of the year is finally here. I'm obviously talking about Coachella, the music festival that has practically just become a contest to see who can walk around the desert in 100 degree weather with the most shit glued to their head before they pass out. Coachella fashion is a tricky thing, because you're pretty much required to wear as little clothing as possible, but also be really trendy, but also wear something that nobody else has ever worn before. Like buying an unlimited pass to a 6am spin class, dressing for Coachella is almost always just setting yourself up for failure. Of course there are always a few geniuses who actually get it right, so let's take a moment to celebrate them and then shit on the people who clearly shopped for their outfits while blindfolded in the clearance section of Forever 21.
Best
Rihanna
RiRi Is the best dressed wherever she goes, so this is literally the most unsurprising news of all time. This betch took the basic ripped shorts and tank top Coachella look but made it iconic. It's funny that we all ripped on Justin Bobby for wearing combat boots to the beach on The Hills, but now that homegirl wore a full crystal Gucci bodysuit to the damn desert, everyone's so down. Times change, I guess.
Hailey Baldwin
I saw Hailey Baldwin wearing army pants and a beaded bra thing, so I wore army pants and a beaded bra thing.
Hailee Steinfeld
I'll let the picstitch slide because this outfit is so good. Last year, matching shorts and crop top sets were a huge Coachella trend. This year, Hailee gave zero Fs, skipped the pants, and redefined matching set to mean a giant T-shirt and coordinating thigh-high boots.
​Justine Skye
You know when you're getting dressed to go out, and sweatpants are all that fit you right now, so you actually genuinely consider it for a second? Well, Justine Skye literally did that at Coachella. Except, they're holographic sweats with a body chain and a crop top, which I wouldn't generally advise for anyone on an all carb diet—but for Justine, it's working.
Worst
Katy Perry
I never thought I'd miss the days when Katy Perry glued cupcakes to her tits, but here we are. She looks like she got locked out of a Macy's dressing room while trying on a maid of honor dress after a Zumba class.
Selena Gomez
Selena usually slays, but apparently, she's caught a bad case of "I just got a new boyfriend so now I'm going to dress like shit because I'm happy." So boring. Just because Coachella happened during Easter doesn't mean she can wear an outfit from the Sears Easter sale.
Paris Hilton
Paris Hilton wore a flower crown to Coachella. That's social suicide. But I mean, I guess that's what happens when you're 36 and fucking clueless but trying to stay relevant. It's kind of like those girls who were a few years older than you in high school and now post selfies from weird angles with the InstaSize watermark in the corner. It's so sad to see someone who was once popular with great hair have such a tragic downfall. Oh well.
Kendall Jenner
Kendall looks like she should be complaining about menopause over a pitcher of sangria with Samantha Jones in the first Sex and the City movie. This outfit just doesn't look like it belongs at a festival where everyone else is like, dropping acid and wearing ripped fishnets and glitter.
Need to recover from Coachella? Read our tips here!
The 5 Best And Worst Looks We've Seen On 'The Bachelor' This Season
"The most dramatic season yet" of The Bachelor is wrapping up aka the season I had a decent nap every Monday night. Like, if I wanted to watch an adult male cry for two straight hours I'd resurrect Abe Lincoln and bring him to our current White House. Ball is in your court, ABC.
Expectations were high, and Corrine delivered. Raquel's cheese pasta aside, this season took a fat L, and there's not enough vodka in the world to bounce back from the possibility of a lifetime of family spaghetti Sundays in Canada or experimenting with meth in Hoxie. To celebrate the best franchise's worst bachelor yet, let's take a look at this season's best and worst looks.
The Best
5. Danielle L. – First Rose Ceremony

Watching Danielle L. come in hot at the first rose ceremony, I thought she would def be a main contender. Between the big curls and the deep V, homegirl knew the game and how to play it. Her black maxi had hints of sheer, showing leg but looking classy at the same time. Genius. What couldn't this girl do? Oh yeah, speak. And be interesting. And keep a man for five seconds after she declares that she loves him. It turns out, Danielle L. spends most of her time giggling, and while that was prob a major confidence boost for Nick, he eventually had to accept he's not nearly funny enough to make a normal human laugh that much. RIP to those long locks—may we all achieve such volume one day.
4. Danielle M. – Women Tell All

Ah, yes, the slightly less annoying Danielle, who somehow managed to speak even less than her name counterpart. Danielle M spent the entire season being so boring that you probably already forgot she found her fiancé dead from a drug overdose in their apartment,  but then decided to go for a second chance at stardom by making the absolute most with her wave at WTA. Looks like someone's career didn't take off like she was planning. Guess it's time to pull out all the stops! And as far as makeovers go, Danielle M. killed it. She pulled a JLaw and hit us with a platinum bob—love.  And the plunging all white jumpsuit looked great on her tall and narrow frame. I guess when you're that hot, you don't need a personality.
3. Whitney – Women Tell All

Speaking of hot with no personality, remember Whitney? Prob not, considering she never had any airtime, or a one-on-one, or spoke. Actually, can anyone confirm if she and Nick actually met? But her good looks come at a cost. Whit was the type that opted for water instead of wine, and that's a cost I just can't afford. Didn't Jesus tell us to go with the latter? Like Danielle M, betch slayed in a jumpsuit at WTA. From the cheetah heels to her open back, the whole outfit is a yes from me, dawg. Makeup-wise, her dark eyes and shimmer highlight made me question my sexuality for a quick sec. I just truly hope The Bachelor helped this Pilates instructor from Minnesota escape the Midwest and find an Instagram career in LA. No one this attractive deserves to be in sweaters year round.  
2. Raven – Hometown Dates

I'm assuming when the producers realized Nick was en route to Arkansas/Alabama (still not sure tbh), they decided everyone was better off watching Raven enter a wet T-shirt contest than trying to collect B-roll of Main Street. And they were right. Raven looked amazing. Her bod is the reason I just canceled my Seamless order, and I hate to say it, but a shirtless Nick isn't bad either. His abs just slightly distracted me from his earlier excitement in Raven calling her dad "daddy," something only a 25-year-old who's never had satisfying sex would do. Their steamy swamp m/o looked like something I've seen on the cover of a Nicholas Sparks book, and I'm glad we're all ignoring the fact they most def contracted some type of infection after dry humping each other amidst flies and mud.
1. Corinne – Always. Most Notably In Her Bubble Bath

I love to see Queen Corn taking care at herself. Remember, just because your job/life/relationships with family and friends went on hold for filming doesn't mean your skincare regime can. Corinne knows that in order to look younger/fresher/hotter than Taylor the rest of the girls in the house, you need relax, treat yourself to a facemask, and get plenty of sleep. #TeamNaps
Honorable Mention: Alexis in a shark/dolphin costume. Way to dress to Paradise theme. 

Truly cannot wait to see Alexis' crazy ass on BIP. Best thing to come out of this season so far. 
And The Worst
5. Josephine – Women Tell All

We've all seen this meme right?? Ok good, just checking. Moving on.
4. Taylor – Group Date in Bumblefuck, Wisconsin

EVE.RY.THING.NO. We see Mental Health Counselor Tay sporting hoops bigger than my dreams in this frame. I'm getting v extreme "hold my earrings and let me at her" vibes just looking at them. Moving onto her hair, Taylor needs some counseling herself on the importance of conditioner and Moroccan Oil like, yesterday. I see her strategy of choice in dealing with the frizz was a half-up pony. I'm giving that a hard no. As I'm also giving a hard no to her fleece, which I'm assuming was purchased at the Gap. And none for Taylor bye.
3. Nick – The Infamous Beach Volleyball Group Date

I'm picturing Nick ordering a Piña Colada in this outfit and then sending it back because it's "a little too strong". Like, what is going on here? Even Nick's p. dece body can't save him. And what is that necklace? How long is it? We've got Vanessa out here shoving her annoying ass into some black strappy thing, and Nick's got on shorts that look like he bought them at the hotel store. And is that a livestrong bracelet on his wrist? No. No. All the no. 
2. Christen – First Rose Ceremony

I feel like I'm about to watch a bad cabaret with this little number. Either that or Belle was fired from Disney World, got wasted and then tried to seduce me. I can't tell which is more terrifying, but I would've shoved Christen back in the limo and sent her ass back to Tulsa. Safe travels!
1. Nick – Fantasy Suite with Raven

I'm sorry. I had to put Nick on here twice. YOU HAD TO SEE THIS COMING. Remember when Raven admitted she never had an orgasm, and the camera cuts to Nick in his turtleneck and he's like "haha, wow we have something in common, I've never given one either!" Like Rav, you think you're gonna feel the big O tonight after you try and rip this giant-ass sweater over Nick's beard? Turned off just thinking about it. At least it looks like it's ribbed for her pleasure. 
Catch up on the latest Bachelor recap here!
The Best & Worst Dressed At The Oscars, AKA Who Needs To Try Sears Next Year
By now, we all know that the Oscars ended with a trainwreck of a Best Picture announcement. This gave no less than three people the chance to make awkward acceptance speeches in which they thanked people who perhaps should've done a better job so that the movie they were being mistakenly thanked for actually won. But approximately 4-5 hours earlier, all eyes were on the red carpet, where there were some amazing moments and some major fails. Hey, at least Anne Hathaway wasn't there this year. Let's see who can sit with us and who needs to try Sears next year.
What in the Steve Harvey happened? Read our Oscars recap to find out!
Dakota Johnson

Okay so I get that this is supposed to be super high fashion but what the fuck is this? If the Real Housewives existed in the 1980s, this is what they would've worn to dinner parties. Seriously, she needs to burn this dress ASAP, and also use some volumizing spray or something on her hair.
Isabelle Huppert

Isabelle is like the grandma version of that hot girl from college who went to Swiss boarding school and was way too cool for you to ever talk to. She's probably one of the only people over 60 who could rock an ear cuff and black nails, and they weirdly work perfectly with her white Armani dress. We're obsessed.
Janelle Monae

Janelle has always loved a quirky outfit, so she wasn't letting her Oscars moment go to waste. Her dress was supposedly Elie Saab, but we're pretty sure we've seen it in every painting from England in the 1500s. Henry the 8th loved a sheer bodice, didn't you know?
Felicity Jones

Felicity must have known no one would care about what she was wearing this year, so she showed up in Dior's version of a third-grade ballet recital costume. Simple can be a good thing, but this outfit kind of screams "virgin on prom night."
Mahershala Ali

Mahershala is our tall, dark, and handsome dream man, and he didn't disappoint in all black. I mean, Betches love all black. Oh, and he won an Oscar. Seriously, is it just us or is it hot in here?
Emma Stone

Emma Stone is obvi gorgeous, but isn't this a little safe? Like, this is basically what Mia from La La Land would wear if she got dragged to a cocktail party by her boring boyfriend from the beginning of the movie. Emma, you're a big Oscar winner now, step it the fuck up.
Michelle Williams

First of all, Michelle brings Busy Phillips as her date to every award show. Y'all fucking? But real talk, her plunging neckline and raggedy looking skirt is a little played out. It also looks like she's wearing a sarong underneath a long skirt. We're a little confused as to why her hair keeps getting shorter, like won't you be bald soon?
Kirsten Dunst

Okay we're very confused by this. Her waist looks tiny (good job girl), but the top gets so wide that her boobs look ginormous. Did she get a boob job since the Golden Globes? Also, why does she look so worn-out and tired? I get that nationals are in just a few weeks but don't let Sparky Polastri get you down. Get an assistant to follow you around with spirit fingers or some shit and perk the fuck up.  
Taraji P. Henson

Stunning. Flawless. Yas. Taraji literally doesn't age, and her blue velvet off-the-shoulder look is like so good it hurts. Ugh, does this mean we finally need to start watching Empire?
Charlize Theron

Her dress was meh, but our issue was really with her hair. Did she accidentally go to a men's hairstylist? There was something seriously weird about the wavy side bangs, and that ponytail is pathetically short. Charlize is probably like the 7th prettiest person in the world, so this is really a missed opportunity.
Meryl Streep

Even though Karl Lagerfeld said Meryl was too cheap to wear a Chanel gown, she looked like the classy legend she is. Tbh she could literally wear Snuggie and we would say nice things, because she's obviously NOT overrated.
Ryan Gosling

Oh Ryan, sweet Ryan. Why why WHY does your tuxedo shirt have those fugly black ruffles? Did you just get back from a salsa class? Is this a trend in Canada rn?? Did Eva Mendes' grandparents bring it back from their last trip to Cuba? Soooo many questions.
Halle Berry

Halle's always had some unconventional hairstyles, and this year she decided to go with a weird curly mop that basically makes her look like a black little orphan Annie. Versace claims to have made the dress, but it really has to be the same person who designed all those modern dance costumes we wore in middle school.
The Best & Worst Beauty Looks From The Oscars
Nicole Kidman

Nicole wore a flesh-colored gown for approximately the millionth time, but it's way better than her Golden Globes dress, which was basically a beaded corset with pool floaties on the sleeves. Nicole gives zero fucks about the fact that this color makes her looking washed out, and I kind of respect that. Still, the dress kind of looks like she hot glued some doilies on the front at the last minute. Her jewelry was nice, but she always has this tragic accessory named Keith Urban hanging on her arm.
Viola Davis

Viola finally won her Oscar, and she looked fucking amazing. Someone tell us how to get away with murder, because we would literally kill for this dress.
Scarlett Johansson

ScarJo was only there to present an award this year, so she clearly gave zero fucks about her outfit which must be why she purchased her belt from Hot Topic. Along with her edgy lesbian haircut, she basically just threw on an oversized floral scarf, added a belt, and called it a night. And by the way, it's an Alaia.
The Best & Worst Dressed At The Golden Globes

Natalie Portman is pregnant AF, so she chose a sensible yellow Prada dress that was probably a leftover from the Jackie set. Literally how is she so pretty?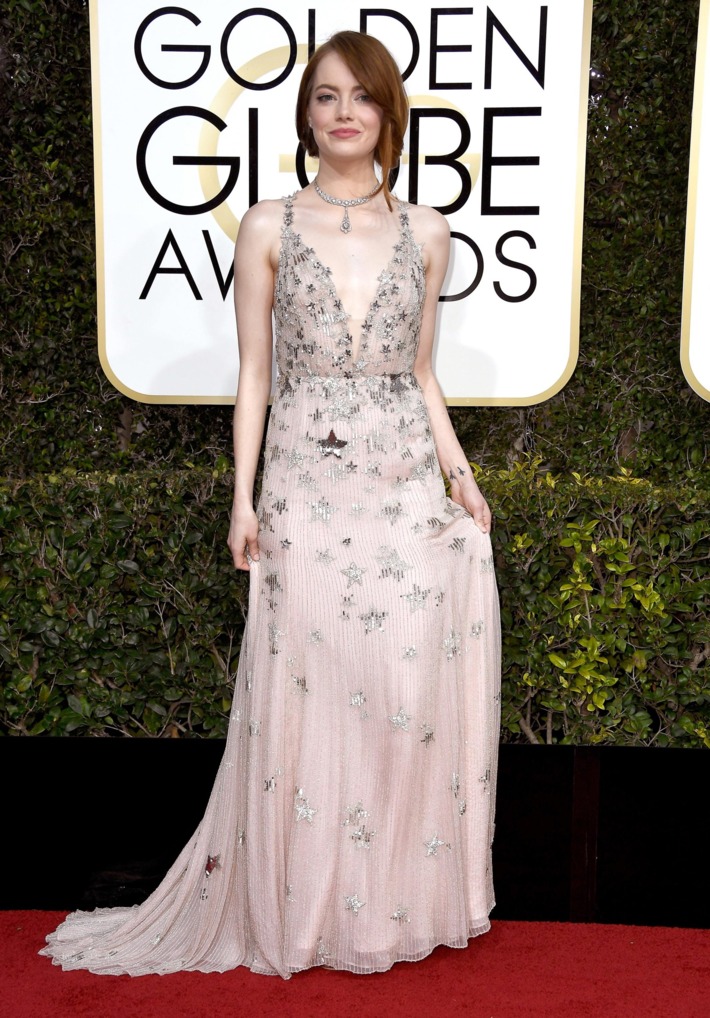 Emma Stone played it safe in a nude Valentino dress with a plunging neckline. She's super pale so it kind of blended in with her skin, but she made sure to remind us that she's the biggest fucking star in Hollywood with the silver stars all over the dress. Honestly, the whole thing was a little bat mitzvah.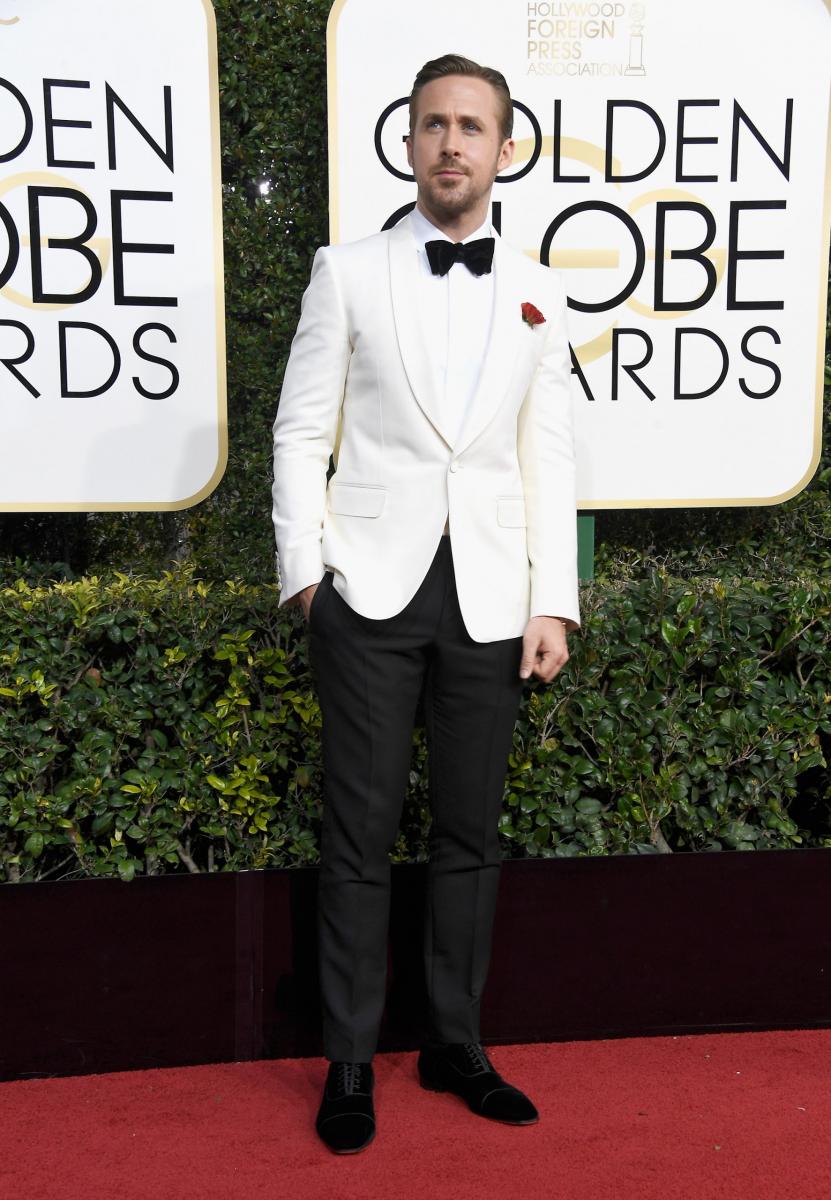 Ryan Gosling chose to wear a white tux, which is usually just what nerdy guys wear to their high school prom, but he's Ryan Gosling so he pulled it off.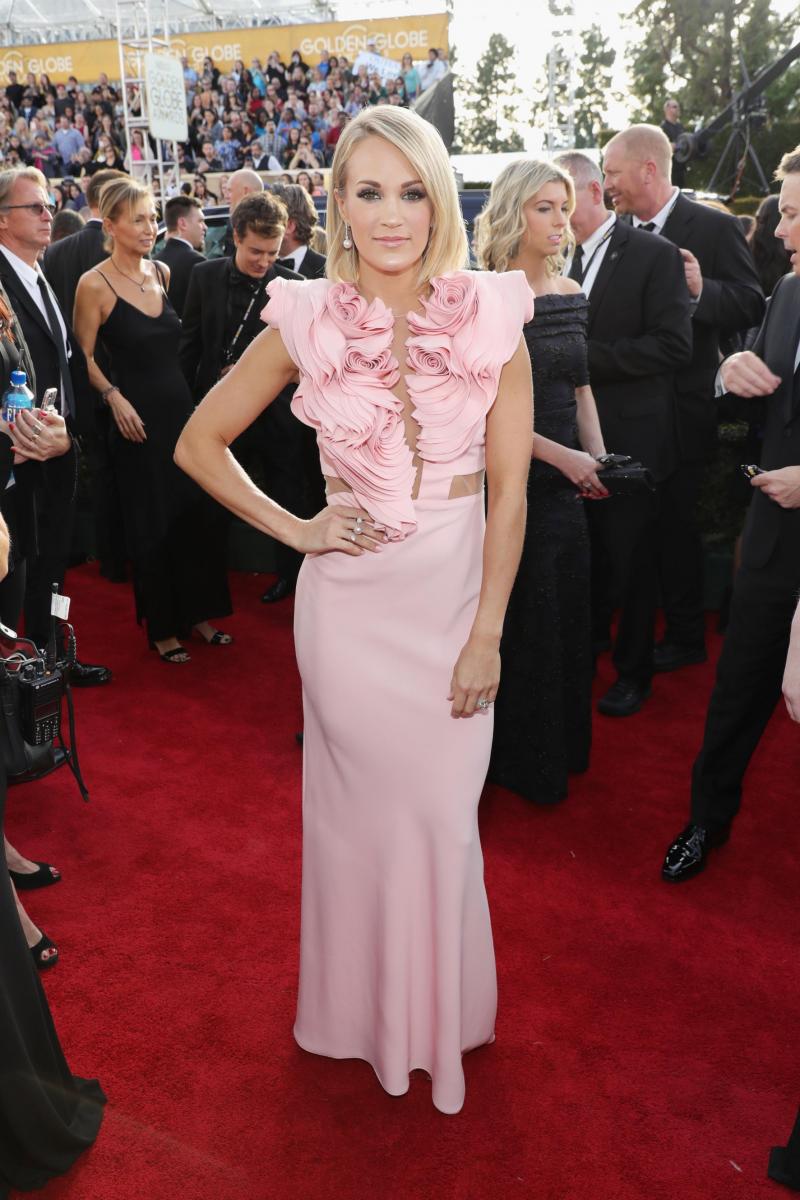 It's unclear why Carrie Underwood was invited, but someone put approximately a million pink ruffles on her chest so you really couldn't miss her.

Blake Lively looked stunning as per usual, while somewhere in Paris, Leighton Meester was probably sitting at a cafe alone. And none for Blair Waldorf, bye.

Kerry Washington's makeup was flawless, but her calf-length yellow lace dress would look better on an 80-year-old woman. Olivia Pope couldn't fix this situation.

Viola Davis finally won something, and she looked incredible doing it in her yellow Michael Kors gown. Slay.

Nicole Kidman's Alexander McQueen dress could have been stunning, but she got caught somewhere between dance recital and artistic sparkly picture of a wave. She has a rocking body, but the life-preserver sleeves really killed this look.

We're not sure who approved Sarah Paulson's hair or dress, but she looks like a soap opera businesswoman from the 1980s. Get it together, Sarah.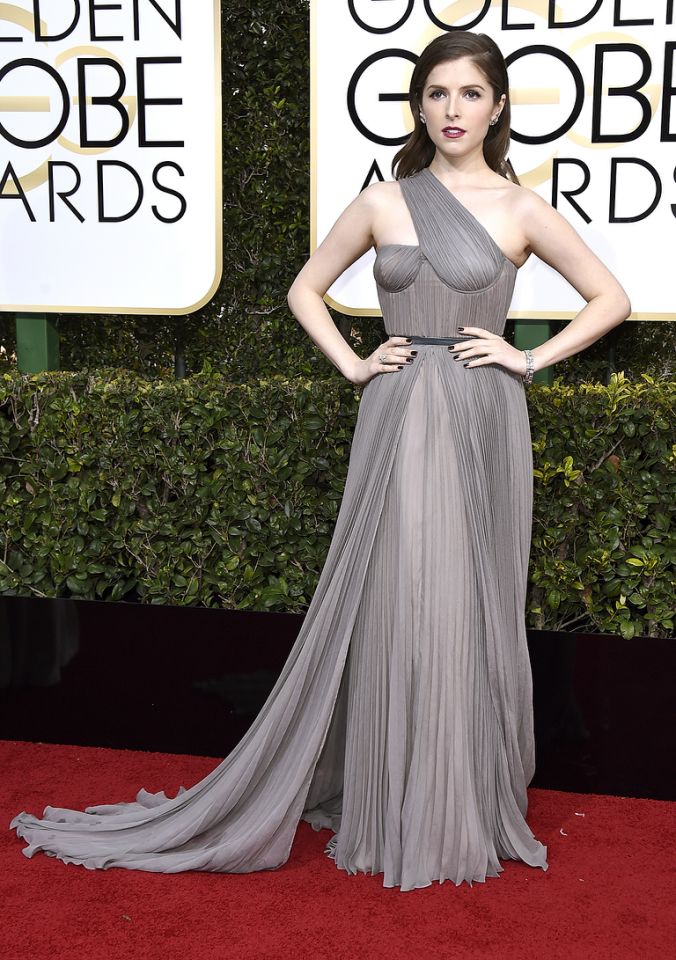 We could literally swear that Anna Kendrick has worn this boring AF dress before, but whatever. Pretty-ish but boring, just like her.

Amy Adams went for reliable sequins, which worked, but the neckline basically looks like a shelf across her chest. Tom Ford, how could you do this to her?

Reese Witherspoon took us straight back to a 2006 red carpet with her basic bitch yellow strapless dress. She looked great, but it's time to step it up.

Chrissy Teigen and John Legend are basically the best thing happening in the world right now, and Chrissy usually kills it on every red carpet. Unfortunately, her gold Marchesa gown really just looked like an outfit from the opening ceremony of the Hunger Games.

Sofia Vergara's New Year's resolution is apparently to not wear fabric anymore, because her dress was basically some foil gum wrappers artfully arranged on sheer mesh. Tasteful!

Connie Britton basically wore an old person's version of a prom dress, but her hair looked perfect like always so she still wins.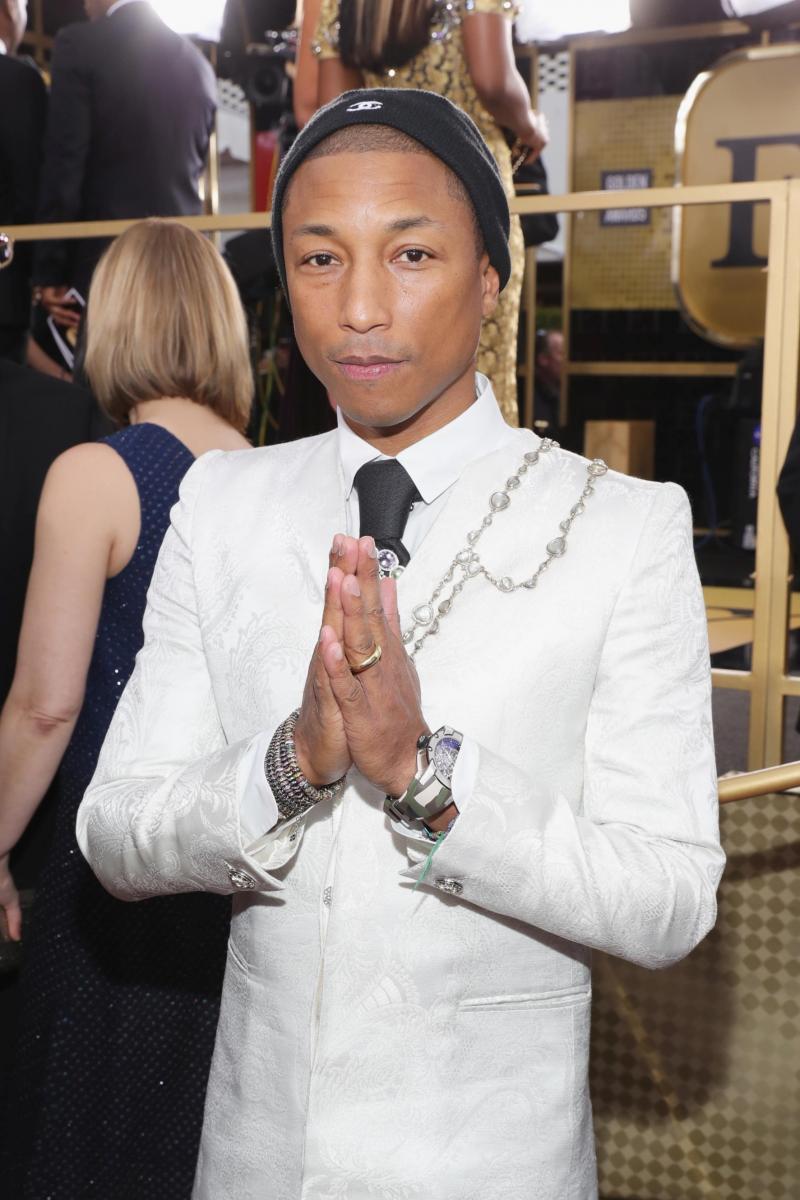 Pharrell wore a dumb white Chanel suit with a crossbody necklace, which is not a thing, but he's still on our shortlist for that giant hat.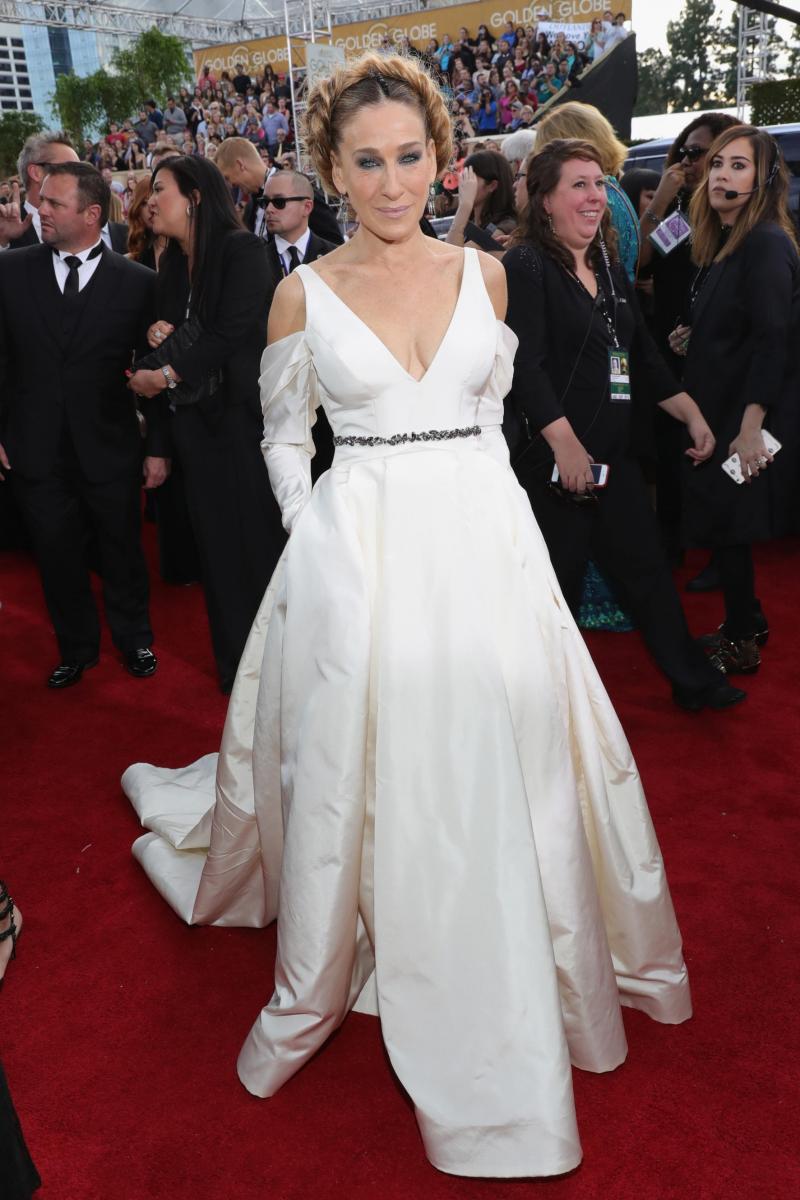 Sarah Jessica Parker literally still thinks it's 1999, which explains why she wore a taffeta ballgown and a curly updo, ugh.

We'd normally hate Michelle Williams' lace Louis Vuitton dress, but she's so fucking chic it hurts. Bonus points for wearing a relatable choker.