Tracy Anderson Is Suing Megan Roup
It's a battle of the fitness personalities—a legal battle, that is. As reported by The Fashion Law, celebrity trainer Tracy Anderson, founder of her eponymous workout method, is suing Megan Roup, founder of Sculpt Society, for copyright infringement.
Tracy Anderson, her website bio states, moved to New York City on a dance scholarship when she was 18. After years of developing, studying, and refining her workout method, she released the first Tracy Anderson Dance Cardio DVD in 2003. She opened her first studio in LA in 2005, and in 2006, she met and started training Gwyneth Paltrow. Two years later, she appeared on Oprah and has since trained celebrities such as Madonna and Cameron Diaz, to name a few. (Her bio also claims she "started the printed leggings craze" in 2003.)
Megan Roup studied dance at NYU's Tisch Dance Program and told Verywell that she became a fitness instructor "to make ends meet" while trying to land dancing gigs. She launched The Sculpt Society in 2017 and its app in 2019, and has trained the likes of Shay Mitchell, Elsa Hosk, and Hunter McGrady.
In the court filing, Anderson claims that Roup worked as a trainer for Tracy Anderson Method between 2011-2017. Roup's LinkedIn is absent of any mention of having worked at Tracy Anderson Method, and her biography on her website references her past as a fitness instructor, but does not specify her employer." I spent years teaching fitness and developing The Sculpt Society method before launching in 2017," it reads. (Betches has reached out to a representative for Roup and will update this article if we receive comment.)
In the filing, Anderson alleges Roup "capitalized on the years of research, money, and sweat equity" she put into developing the method and her business, and that shortly after becoming employed at Anderson's company, Roup began to "plan or create the choreography routines, business plan and structure, and promotional materials that would form the foundation of and help launch TSS." The Sculpt Society launched one month after Roup left Tracy Anderson.
"In short," the filing reads, "Roup had access to all material necessary to replicate the TA Method and related business, and she wasted no time in doing so." Both routines consist of a "choreography-based fitness and mat movement program," incorporate hand or ankle weights (or other materials), and have a dance cardio component.
Anderson is also claiming that Roup violated an agreement she signed as a trainer which prohibits her from "using or disclosing 'Confidential Information'" including training materials, manuals, and methods.
Another one of Anderson's issue with The Sculpt Society is that she alleges it is branded similarly to her program. Both programs emphasize the respective founders' dance backgrounds, and the abbreviations for both programs contain the letter T and the word "method" — TA Method and TSS Method. (Yes, really.) The filing also alleges the programs are structured similarly — Roup offers 28- or 30-day programs compared to Anderson's 30-day method. (A Google search for "28 day workout" and "30 day workout" yields numerous results; neither TA nor TSS show up on the front page.)
Nonetheless, Anderson is claiming these similarities create "a likelihood of consumer confusion as to the origin, nature, source, and development of the TSS Method." The complaint points to The Sculpt Society's app reviews as evidence of this alleged confusion, citing reviews including " is brilliant – don't know how she does it – her reps and routines are genius," " movements are unique and better than I could have ever thought of," and "I am a fellow instructor and her movements/choreography blow me away. How does she come up with such fun and creative workouts?" In other words, Anderson takes issue with the fact that people believe Roup created the workouts used in The Sculpt Society classes.
The Fashion Law notes that copyright applies to choreography "if it contains a sufficient amount of choreographic authorship."  The U.S. Copyright Office specifies that movements such as "a series of aerobic exercises," "a yoga sequence" (a court ruled in 2015 that a sequence of 26 yoga poses did not meet the bar for copyright protection), or a "complicated routine consisting of classical ballet positions or other types of dance movements intended for use in a fitness class" are "not copyrightable as choreography."
Anderson is seeking damages and injunctive relief.
How Much Can You Actually Work Out While Pregnant?
As someone who gets 75% of her sanity from regular exercise, when I found out I was pregnant last February, I suddenly started thinking twice about lacing up my running sneakers. Would my regular four-mile runs hurt the baby or me? What about the yoga classes I went to three or four times a week? 
While I was lucky enough to have an easy first trimester without any nausea or energy dips, I did have a little bit of spotting. That only made my anxiety about exercise worse, which made me want to exercise more… and so the cycle continued. 
What I wish I'd had back then was an expert-approved guide to how much I could actually exercise while pregnant. And while you should always consult your doctor with any specific questions, here's a roadmap to help you get started. 
Is It Safe To Exercise While You're Pregnant?
The answer to this, according to OB/GYN and sexual health advisor Angela Jones, is a resounding yes. "Exercise during pregnancy does a body good and a pregnancy even better," she explains. "Exercise helps expectant moms feel better and it gives them more energy. Exercise also helps stave off certain medical conditions such as gestational diabetes or hypertensive disorders that may occur during pregnancy."
Another major perk of exercising during pregnancy? An easier labor and delivery. "Exercise helps moms get 'fit' for labor," Jones says. "Labor means work. A more fit body is able to perform better during the labor and delivery aspect of the pregnancy."
But how much exercise should you be getting, exactly? "The American College of Obstetricians and Gynecologists recommends at least 150 minutes of moderate-intensity aerobic activity weekly," Jones notes. "If you are active enough to raise your heart rate, break a sweat, and still speak in complete sentences, you're probably hitting the mark." 
That said, some people do need to be more careful than others when it comes to exercising while pregnant. When my doctor investigated my particular spotting issue (which unfortunately continued until the 20-week mark), she said that while the baby was fine, the intensity of my exercise was probably causing irritation, which was what was leading to the spotting. She recommended shifting from running to walking and light yoga.
While my situation was mild, there are other more serious cases when exercise should be put on hold for a while. "In the case of certain types of heart or lung disease, cervical insufficiency (or if you have a cervical cerclage in place) or placenta previa, you should back off the exercise," says Jones. "Other reasons could include hypertensive disorders such as preeclampsia, risks of preterm labor, or if your water has broken, or you're anemic. These are all situations where exercise would not be recommended during pregnancy."
Everyone's situation is different, though, so the most important thing you can do is chat with your doctor to get exercise recommendations based on your specific pregnancy. 
Pregnancy-Friendly Workouts
In most cases, working out while pregnant is totally fine. But not all workouts are created equal, especially because as your belly grows, some forms of exercise will just get uncomfortable. "Many women enjoy dancing, swimming, water aerobics, yoga, Pilates, biking, or walking," says Jamie Hickey, a personal trainer and nutritionist. "Swimming is especially appealing, as it gives you the welcome buoyancy of floatability or the feeling of weightlessness. Try for a combination of cardio, strength, and flexibility exercises."
And then there's the "workout" that was recommended to me: walking. "Many experts recommend walking because it's easy to vary the pace, add hills, and add distance," says Hickey. "If you're just starting, begin with a moderately brisk pace for a mile, three days a week. Add a couple of minutes every week, pick up the pace a bit, and eventually add hills to your route. Whether you're a pro or a novice, go slowly for the first five minutes to warm up and use the last five minutes to cool down."
There are also some moves that you should flat-out avoid while you're pregnant, according to Hickey. These include bouncing, anything that requires you to lie flat on your back (after the first trimester), leaping, or sudden changes of direction. And if you're a yogi like I am, avoid doing closed twists as they put a lot of pressure on the abdomen. 
Long story short: For most people, exercise is a very good idea when you're pregnant and comes with endless benefits. If you're concerned, chat with your doctor so you can find the right pregnancy workout regimen for you. 
Images: 4 PM production / Shutterstock.com
8 Paid Virtual Workouts That Are Worth The Money
I guess it took a global pandemic for me to finally realize that working out does indeed help your mood, energy level and overall mental well-being like those fitness influencers are always preaching. My stress and anxiety levels of late can only be compared to that of Harry Jowsey on Too Hot To Handle when he discovered he couldn't bone Francesca on his own timeline, and really the only thing that's helped me calm down (aside from vegging out to Netflix) has been working out. And no, I was not paid to say that. And yes, I'm aware of how insufferable I must seem now.
Fitness coaches and influencers can smell that we as a society have finally cracked and are ready to cash out on premium workouts from our own home. As a result, there's more fitness content out there than ever before—which is making it hard to sniff out the workouts that are actually worth my time when I could otherwise be drinking, or cooking, or drinking. So, we've rounded out the top paid virtual workouts that are actually worth your money so we can all come out of this perhaps not with a newer, tighter ass; but definitely having tried our damndest to boost our serotonin levels and not get depressed. 
$15/class
View this post on Instagram
Solidcore "at home" is a live 20-person group class taken with an instructor via Zoom. Using sliders and weights (or whatever at-home substitution you prefer), the workout is intense but low impact, like Pilates or Barre. They offer 50-minute full-body classes or shorter, 30-minute "muscle-specific" classes.
$13/class
HOUSEWORK was developed by Syd Miller as a full-body sculpting and conditioning class that combines Pilates and cardio circuits, and is set to upbeat music—so it's basically just, like, a healthier alternative to LIV Miami, right? She's teaching daily HOUSEWORK classes on Zoom.
$6 – $10/class
Per my Instagram feed, it's clear JABS by Gina has a cult following that has expanded far beyond NYC since quarantine began. With many different formats, JABS combines HIIT training, kickboxing, and muscle isolation workouts. She's teaching daily Zoom classes that run from 45-minutes to 1 hour each with some classes reaching a 250 and 1,000-person capacity.
$15/class
Is it even a millennial-focused workout article if I don't mention Rumble? Rumble is a boxing/cardio workout, though their live workouts are only "Rumble-inspired", so you won't be experiencing the same exact setup, naturally. They are offering a mix of virtual classes that range from strength-training to cardio and boxing, as well as offer you the option for a weighted workout or to use your "bodyweight." 
$27/month
Obé Fitness offers a wide range of online fitness videos under the four categories of Define (strength based classes), Sweat (cardio based classes), Flow (yoga and stretch classes), as well as pre- and postnatal classes, with each class being only 28 minutes. You can stream the workouts on your phone, computer, TV, or tablet. I also simply cannot help but be influenced by the extremely cute and bubbly-looking people on the Obé website, to whom I relate in no way at all. Maybe one day!
$20/class
Barry's Bootcamp is (normally) a guided workout spent partly on the treadmill running intervals, and partly on the center floor doing strength training workouts. Now, Barry's is offering virtual, 35-minute classes in the following four categories: Bodyweight, Bands, Weights, and a few traditional Barry's Treadmill & Weights classes. Knowing Barry's, if the classes are only 35 minutes, then the workout is likely very intense. Stay safe out there, folks! 
$1,495/Mirror (or $42/month)
Yes, $1,495 is a sharp increase from the $10 classes I've been listing, but rich people like to work out too. 'The Mirror', as they call it, is literally just that; but once you turn it on, up pops your own personal trainer! (I feel like that's the beginning scene of a twisted Disney movie?). There are tens of thousands of workouts to choose from, plus The Mirror is extremely chic looking and I've heard rich people like that, too. 
$2,245/bike (or $58/month)
The Peloton bike is another investment piece. It comes with a touchscreen tablet that offers guided workouts from an instructor, with workout options for on and off the bike. People who own Peloton bikes seem to post about them FREQUENTLY, so unless they're only trying to justify spending so much money on a bike that doesn't move, Peloton seems to be worth the hype. You can also virtually compete with other participants who own bikes (it's almost like this company knew something before we did???). 
Images: mr lee / Unsplash; solidcore, doyourumble, obe_fitness, getthemirror / Instagram
16 Free Home Workout Options You Can Do While Social Distancing
It's safe to say this is a pretty stressful time for… literally everyone. Whether you were just forced out of your dorm to go back to living with your parents, or you're now working from home all day with your roommate who breathes way too f*cking loud, we're all feeling the same thing: antsy and overwhelmed as f*ck. Not only because you're now learning which of your friends are complete idiots who thought it was still okay to go out on St. Patrick's Day (hope they're prepared to be roasted about this for years to come), but also because you've eaten through your entire two-week hoard of quarantine snacks in one day. And, you know, the general anxiety about everyone getting sick and the economy crashing and the healthcare system collapsing and all that fun sh*t. It's like, kind of a lot to handle.
With all the stress and nervous energy about this Black Mirror episode of a world we now find ourselves in, it's more important than ever to find a way to get that energy out. And since all the gyms and fitness studios are closing their doors for the time being (low-key kind of nice to not have to deal with dudes hitting on you while you're just trying to listen to a podcast on the treadmill), many fitness apps and studios are offering their home workout services online for free. Here's a roundup of all the ways you can break a sweat while at home for free:
obé fitness is an immersive online workout experience with energetic instructors that guarantee you'll get a good workout and have a great time doing it. They're offering a free 30-day trial, with hundreds of live classes per week. They offer classes for whatever you're into, from HIIT to pilates to yoga to barre to a whole lot more. Most of their classes are only 28 minutes long, which is about the amount of time I can step away from my computer without anyone getting suspicious. You can access their classes here.
The Sculpt Society, created by Megan Roup, is doing a 14-day free trial of their dance-cardio and strengthening routines, which honestly kind of sounds like a party. There are a bunch of videos of all different time increments, so if you have 15 minutes or 50 minutes, there's a workout for you. Check out Megan's classes here and also keep an eye out for your inbox because she's doing live workouts throughout the day.
CorePower is offering free online classes for everyone, which you can stream here. They offer yoga classes for people at every level, which is perfect for those of us who haven't been able to touch our toes since we were like, five.
Despite how much sh*t we all gave their commercial during the holidays, I bet we're all wishing we'd gotten a Peloton bike for Christmas right about now. Even if you don't have an exercise bike at home, Peloton is offering a 90-day free trial, which can be used for not only spin classes, but also body weight, yoga, strength training, and meditation classes. You can find their free trial here.
The Miami, Coral Gables, and Manhattan-based HIIT class is creating at-home bodyweight workouts (that require no equipment) that will be emailed daily. Each workout is 40 minutes long and only requires downloading an interval timer app. Visit their Instagram for more details.
All of Downdog's apps (Yoga, HIIT, Barre, and 7 Minute Workout), which specialize in home workout routines that can be done anywhere, are free until April 1st for everyone, and until July 1st for all students and teachers. All of their apps can be downloaded from the App Store or Google Play.
Not only do you get a 7-day free trial with Fit Body App, which offers workout challenges, custom workout programs, and meal plans, you can also get four weeks free when you use the code DAJEITALIA if you sign up through their website.
Tone It Up is offering a free month for new users who download the app from the App Store or Google Play. They have yoga, weight training, HIIT, barre, and a variety of other classes, which is great if you have the attention span of a goldfish and get bored after doing the same workout more than once.
P.volve is a low-impact workout that focuses on activating hard-to-reach muscles with precise movements. You can get 30 days of P.volve free, which gives you access to hundreds of videos that vary in length and area of focus, through their website.
Dance like no one's watching (except maybe your dog) during one of 305's famous dance cardio classes, live at noon every day on their YouTube page. We promise you will get a serious sweat in.
Neoufitness lets you stream live and on-demand fitness classes from wherever you are. They offer a ton of different options, like dance, cardio, kickboxing, and a variety of other classes. Neoufitness is now offering 30 days free for new members. Our fav is Sydney Miller's Housework. You can access it here.
Get a 21-day free trial of Openfit, which has live and on-demand classes of all kinds. All classes are under 30 minutes long, with some fitness classes as short as 10 minutes, and they offer classes for all levels of experience. Get your free trial here. 
While Blogilates is always free on YouTube and Blogilates.com, there's a 14-day quarantine home workout plan available, along with lots of apartment-friendly workouts so you don't have to be that annoying upstairs neighbor who's loud as f*ck during someone's conference call.
Barre3 is offering a free 15-day trial to stream their hundreds of online workouts, with new ones added every week. This is a low-impact workout that is all about building better posture and finding balance in your body. Access the free trial here.
Get a free 7-day trial of Dancebody, which offers live and on-demand dance-based cardio classes that will work muscles you didn't know existed in a fun but challenging way. You can access their classes here.
Melissa Wood Health has a free 7-day trial of her yoga and pilates-inspired workouts, which I'm pretty excited about cause I swear this is the routine every influencer does. These are low-impact, flow-style classes that focus on slow and controlled movements. You can find her classes through her website.
This situation may be the absolute worst, but at least you'll get to try out some new home workout apps for free that can keep you busy and hopefully get your mind off things. (Just set like, a billion reminders on your phone to cancel everything before you get charged.) And at the end of the day, just be glad you're not in quarantine with your ex. And if you are, best of luck to you.
Images: Form / Unsplash
8 Pieces Of Fitness Equipment That Make Working Out At Home Suck Less
One of the hardest things for me is trying to fit in a workout when I'm super busy. Or I just like, don't feel like it. It's easy to cut out a workout because you simply don't feel like you have enough time. HOWEVER. An easy way to streamline this process is by working out at home. That way, you can do it even if you only have 30 minutes, when you get home from work, first thing in the morning, whatever you want without wasting any more time. So if you're trying to find what you can do that won't take up a ton of space in your teensy, closet-sized apartment, here are some things you should have on hand.

Resistance bands are so easy to use, super versatile, easy to store, and the best part, really cheap. This band is only $10! You can do tons of workouts with it that are just as good as strength training with weights, as well as increase your flexibility. Just wrap it around anything or step on it for resistance and boom, instant gym! And when you're done using it, you can just fold it up and toss it literally anywhere because it's so compact. I think most at-home workout equipment is such a scam (like, why buy a $400 squat machine when you just can just squat with your body? I don't understand?) and usually way overpriced, but a resistance band is a have-t0-have. If you're unsure of ways to use your resistance band, you can even buy a poster full of workout ideas, not to mention the one million Youtube videos available for free to give you ideas.

I used to be so obsessed with yoga, but because of my recent health issues, I'm not allowed to go to a public gym right now. Yoga studios in general are very expensive (at least in LA!) and you often pay per class instead of just a monthly membership. Enter: yoga cards. You just shuffle them up, pick a card, and there's your new yoga teacher. It's especially awesome for people who already know the basics but just are not sure what to do when working out at home without an instructor. Plus, you'll be doing a new "class" every time since the cards will be in a different order, and you can do as much or as little as you want.

There are so many workouts you can do with just a tiny weights set. The cool thing about having a set of dumbbells is that you get strength training and cardio at the same time if you do a circuit system. If you don't know where to start, check out YouTube, or there are posters and cards for these also. Plus, this particular set is cute enough to sit out in the open without taking up half your apartment or being a total eyesore.

My friends all swear by Les Mills classes, and while tons of gyms do their classes, they also have really good at-home instructional videos. They have all kinds of strength building, cardio, barre, and even yoga classes, and it's only $14.99 a month. In addition, their classes are between 15-55 minutes so if you're really short on time, you can still fit a workout in. You can stream them on any device too, including your phone. This is perfect for the unmotivated, or the idiot who doesn't really know what they're doing (hi). *Disclaimer: I don't know if they're doing Les Mills in the GIF, I just like the dog.

Okay, a Fitbit isn't exactly cheap, but it's cheaper than paying for a gym for the rest of your life that you never set foot in. We take for granted one of the easiest ways to incorporate exercise without going to the gym, and that, my friend, is walking. It is free. But if you don't walk or move enough, it may be time to invest in a Fitbit (or Apple Watch, or whatever wearable tech you want). Having a Fitbit can motivate you to just move more in general, and anything can be exercise as long as it puts you closer to getting those 10,000 steps. Putting away laundry, cleaning your apartment, taking the stairs—all of it counts toward your steps for the day and will help to get you off your ass. Of course, you could just do this without the Fitbit, but it's nice to actually see exactly how much progress you make.

You definitely need a yoga mat to exercise at home, and not just for yoga. A yoga mat provides extra cushion for your weird, textured vinyl apartment floor for you to do tons of different exercises, like abs, pilates, and your pre- and post-workout stretching. It also makes you feel more in the zone for working out, as opposed to lying on your rug while your dog tries to make out with you. Like, I am ~*exercising*~ now, dog kisses need to wait.

This one can be kind of annoying to store, but exercise balls are SO cheap, and you can always deflate it and stick it in a closet before The Queen (your mom) visits. You can do a ton of exercises with just the ball, particularly abs and core stuff. And, as an added bonus, it's way better for you and your body to use an exercise ball in lieu of a chair for studying or working out at home.

This is great in addition to or even instead of a dumbbells purchase. Kettlebells are awesome because they're pretty compact and you can do a lot with them. Hold one (or even two) to squat and get a Kim K ass without the surgery, use them to up your leg workouts, and to tone your arms. Plus, you can just up your reps when it starts to be too easy and replace it with a heavier weight when you're strong enough, instead of storing an entire set. And they're really inexpensive! See how you can use them here.
Images: Amazon (5); Giphy (2)
Betches may receive a portion of revenue if you click a link and purchase a product or service. The links are independently placed and do not influence editorial content.
For more, subscribe to our wellness newsletter, All You Can Read Buffet.
WTF Is The Sculpt Society, The Workout That's All Over Instagram?
'Twas a dreary hungover Sunday when I decided I needed a new workout to help drag my ass out of bed. I had seen The Sculpt Society tagged in a bunch of Victoria's Secret models' Instagrams (yes, I'm a masochist for following them), which led me to try it myself. 
The workout started with a dance cardio routine (have I humble-bragged that I was a dancer yet? I was totally in my element), went into some arm exercises with light hand weights, transitioned into some leg and ab sculpting using sliders, and then finished with a leg/butt routine that absolutely killed me (in the best way possible). Despite my nausea from the 3+ margaritas I'd had the night before, I left the class feeling super accomplished—without that icky sense of "I hate that I just paid to have a psycho in leggings and a bra yell at me." 
Megan Roup, the founder of The Sculpt Society, is fortunately NOT a psycho in leggings and a bra. Working as a professional dancer and fitness instructor for six and a half years, Megan saw a gap in the dance fitness space. "There was so much intimidation around it. I thought, it doesn't have to be like that!", explains Roup. "I wanted to create a safe place that feels warm and welcoming and like you're part of a community." After a ton of hard work, certification training, and practicing rounds of sequencing on her boyfriend (he must have a great ass at this point), The Sculpt Society was developed. Models, influencers, and celebs like Arielle Charnas (who Megan credits as her "big break"), Elsa Hosk, Devon Windsor, Shanina Shaik, and Morgan Stewart became fans, and the class took off from there. 
But don't let the fact that legit models are taking this class scare you—Roup is constantly reminding everyone that "there are always ways to modify to feel successful." Any exercise can be made easier, and you can always use lighter hand weights or no weights at all—so it's completely customizable for whatever level you're at. 
Me: I mean, I've never had to modify since I'm a hard-o but I'm sure it's a great option for other people.
Also me: Can't remember the last time I used the ankle or hand weights. 
Since all the people, models, and influencers I just mentioned are cooler than you kind of intimidating, I had to question if The Sculpt Society was really staying true to its roots of being an approachable workout class for women at all different fitness levels. Roup totally gets this, though, which is why she likes to highlight people of all shapes and sizes on her social media accounts. "I don't want to perpetuate one way to look," she explains. 
Love that, thank you! Like, do I want to look like the Victoria's Secret models you train? Yes. Is it going to happen for me? Hahahhah, no. (I like bread too much.) So, I love that Roup features people like Hunter McGrady both on social media and on her new app where you can take The Sculpt Society workouts ANYWHERE. I personally started with the 7-day free trial and am now paying the $19.99/month to continue. It's the best workout that I can do right in my living room with zero equipment necessary. Lord knows no matter how many New Year's resolutions I've made to go to the gym in the winter, it's not happening and it's really time for me to face the music and find a better solution. 
You can experience The Sculpt Society for yourself at Energi in NYC, Studio B in LA, and of course on the app. (Sidenote: Megan told me that she filmed all the routines for the app in two days only. Those are 10 hour days. Can you imagine being strong enough to literally workout for 10 hours and not being able to cheat a workout because you're being filmed? The horror). 
No matter how many times I take the class, I still feel my muscles working so hard throughout it and am usually sore the next day. I know what you're thinking, "this betch (me) is just weak AF," but calm down, Roup actually relates. She said she is "dying" every class too, and for that, I applaud her because I truly cannot imagine how many times she's taken/taught her own class since its inception three years ago. I've also gotten comments that my butt looks bigger since I've started, so there's no turning back now! Appreciate you, The Sculpt Society. 
Images: thesculptsociety (2), meganroup / Instagram
I Took A Pole Dancing Class To Learn About Stripping, And Wow
I would just like to say that I learned more about stripping from Hustlers than I did about America in AP U.S. History class. Seriously, this movie deserves an Academy Award in every category and I will fight anyone respectfully debate the opinions of those who disagree. Because this article isn't actually about Hustlers, I'm not going to waste my word count listing out all of the lessons imparted on me during the best two hours of my life. Look, strippers, both real and fictional (like J.Lo and the rest of the amazingly talented cast), make pole dancing look easy. Well, guys, it's actually really f*cking hard.
If you're wondering how I know this, allow me to explain: last weekend, a friend and I signed up for a pole dancing class and, I'll just to cut to the chase, it did not go well. Holding your body up while balancing on a pole requires a level of strength and determination that I do not possess, so this class was exceptionally hard. Like, yes, I could climb up the pole and chill for a few seconds before awkwardly sliding down, but that is neither sexy nor impressive, so I tried the more advanced moves and it was an absolute sh*tfest. However, my hour on the pole wasn't a raging dumpster fire because I'm just a hopeless mess, it was because pole dancing is beyond hard and no one, not even Cardi, is good on her first day. Pole dancing is no easy feat, and this needs to be recognized. So if you want to find out exactly what your local strippers do every day and night, read up!
You Need More Than Rhythm

As I mentioned before, you essentially need to be the Hulk to be able to do literally anything on a pole. Even just the basic moves, like a wide squat and then slowly straightening your knees while arching your back on your way up to a standing position (or as Christina Milian would say, "dipping it low and picking it up slow") requires a level of strength I didn't think human beings were capable of. As for the more challenging moves, yeah, that didn't go well, either. 
Just for sh*ts and gigs, I wanted to try something really hard, so I climbed to the top of the pole as ungracefully as humanly possible, hooked my right knee and my right wrist around it and attempted to swirl down slowly, à la J.Lo in the Hustlers trailer. The swirl lasted approximately half a second because the inside of my knee felt like it was being lit on fire by the sun itself and my wrist wouldn't budge since the pole was sticky with sweat. Ouch. So in addition to being able to dance with an inanimate object, exist in six-inch heels and look hot while attempting the impossible, you need to be very, very strong to be a decent pole dancer. 
It's A Workout

I know that pole dancing has become the new hot workout for young suburban moms in recent years, but don't knock it 'til you try it, because it really is a workout. For context, this is what it feels like: you know when your SoulCycle instructor says you have one song left of class and you're so relieved because three minutes of effort is really all you have left? Okay, that's how I was feeling eight minutes into pole dancing and the class was an hour long. Yikes. So, while on my hands and knees with the pole against my ass, I started to think about all of the hard working dancers out there who do this for hours on end, and I became absolutely mesmerized by their strength, willpower and endurance. 
Also, one important thing to note: it hurts a lot,  and not in a good way. At one point, I was in a handstand position with one of my feet against the pole and was told to walk my hands away from it. Because I have zero balance and next to no core strength, I came crashing down and have a giant bruise on my shoulder to prove it. I'm sure this happens less with practice, but frankly I've given up on my short-lived dreams of ever attempting this again.
It Doesn't Feel Sexy At First

Full disclosure, I walked into the studio thinking I'd at least be decent at this since I did ballet for over a decade. What a fat LOL I had after exactly two minutes, when I realized that ballet and pole dancing have absolutely nothing in common! I thought my dance background would be helpful, but going on pointe for a few seconds at a time is nothing compared to hanging upside down from a metal pole. Also, pole dancing is really graceful, and grace was something I learned in ballet, but I still managed to look like a cross between a clumsy, blind toddler and Greg from Succession on the pole.
Again, it takes practice, but I'd just like to remind you that it took J.Lo, the most fit and coordinated person on planet Earth, weeks to master this, so it would take me about three years to even kind of figure it out. That math seems accurate, I think. The thing is, I could have definitely tried to be sexy doing the moves, but I was too focused on not dying to prioritize looking good. So I truly don't know how strippers both defy gravity and look incredibly hot doing it. 
At the end of the day, strippers are athletes in every sense of the word and deserve the same, if not more, respect that we show a bunch of critically concussed men for running around a field in shoulder pads. I don't really know how or why people assume strippers are these broken and sad women who strip as a last resort, but that grossly incorrect presumption needs to be updated because they work incredibly hard. They are hardworking queens who possess a lot of skills that are hard to come by, and if you don't agree, take a pole dancing class and you'll change your mind. 
Images: Shutterstock; Giphy (3)
Is The Elliptical Worth It? An Investigation
If you go to the gym with any regularity (ok, stop bragging), you likely have a love-hate relationship with the elliptical. On the one hand, it's literally the easiest machine there. On the other hand, you kind of feel like a fake piece of sh*t because pop culture consistently references the elliptical as a non-workout. But as we've learned in 2019, the workout you're seeing all over Instagram is not necessarily the right one for you—and types of cardio you'd written off as a waste of time could actually be valuable (hello, walking on the treadmill!). So, is the elliptical actually worth it? Here are the results of my investigation.
Sidenote: Women of Twitter, please stop bragging about using the squat rack over the elliptical. You are giving the worst men in the world so much ammunition. Just use whatever machines make you happy.
I'm literally the only girl who uses the squat rack at snap… And the only one who isn't always on a freaking elliptical.

— Bailey Bowlin (@baileybowlin) April 30, 2013
If you're a girl and go to the squat rack instead of the elliptical you become 100x more attractive

— Nick Marquart (@NickMarquart) June 22, 2014
The Elliptical Feels Easier, But It's Not
The short answer is yes, the elliptical is worth it! Don't believe me? Good, I'm not a licensed professional! Y'all are learning. ISSA-certified fitness nutrition specialist and trainer Adam Rosante weighed in on this for Cosmo, and his ~professional~ opinion is that "all movement is good movement." The myth that elliptical machines are somehow worse for you than other cardio, he says, comes from the fact that it puts less pressure on your joints than running outside or using a treadmill. So the workout may feel less intense, but it's not—provided, of course, that you're putting in a good amount of effort.
Science Says It's As Good As A Treadmill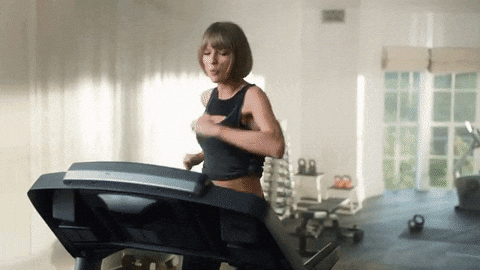 A 2010 study in The Journal of Strength & Conditioning Research (sounds like a great read) tested a group of people's oxygen consumption, energy expenditure, and heart rate while performing 15-minute exercise tests on a treadmill and elliptical. The study found that there was no difference in oxygen consumption or energy expenditure for treadmill vs. elliptical, and that heart rates were slightly higher across the board on the elliptical. The study concluded that for "cross training or noncompetition-specific exercise an elliptical device is an acceptable alternative to a treadmill." I'd pretty confidently describe all my exercising as noncompetition-specific, so I personally find this to be great news.
This Doctor Says It's Better Than A Treadmill
Next up, board-certified sports medicine specialist Dr. Edward Laskowski weighs in. He confirms that you can get an "effective aerobic workout" from either a treadmill or an elliptical machine, and suggests you let your personal fitness goals dictate which one you choose. For example, if you're training for a race, you will probably want to stick to running-based cardio. If you're not a masochist, though, the elliptical offers several distinct advantages. As Adam Rosante pointed out, it puts less pressure on your joints—which means it's a good choice if you suffer from pain in your knees, hips, or back. Your elliptical workout can also be customized to work different parts of your body, Dr. Laskowski points out: pedaling in reverse will activate your calves and hamstrings, while using the handles will activate your upper body.
Basically: on both machines you're getting out what you put in, but if you're not a professional runner and actually looking for a full-body workout (hello), the elliptical could be a good choice. Or, y'know, this:
Like just about any other exercise known to man, how you complete the exercise is the important thing. And when it comes to the elliptical, that means making sure your form is correct, adding an appropriate amount of resistance, and working in some interval training. The treadmill can also be totally useless if you don't push yourself on it—so can the rower, the squat rack, and even that $40 SoulCycle class. TBH, I think the elliptical has largely gotten such a bad rap due to the self-fulfilling prophecy: you don't think it's a hard workout, so you don't try hard on it. So tomorrow, I invite you to stride into the gym and go absolutely apesh*t on the nearest elliptical. If you still don't think it's an effective cardio workout, then I give you permission to sound off below.
Images: Giphy (1); @dylanhafer / Instagram; @NickMarquart, @baileybowlin / Twitter