I'm A Stripper, And I'm Tired Of Hearing These Misconceptions About My Job
The first time I ever set foot in a strip club, I was in awe. I mean, the club was sh*t and the drinks were overpriced, but the strippers were A-MAZ-ING. I pulled a T-pain and fell in love with all of them. Of course, being a fan of strippers isn't groundbreaking. Most people are pretty pumped about a topless woman showing off her athletic abilities. However, most people have a lot of inaccurate ideas about strippers. The way strippers are portrayed in media and the ways in which we talk about them in casual conversation are usually based on false stereotypes. Wow, humans wildly misrepresenting an entire group of people based on assumptions and a desire to belittle that which they don't understand?!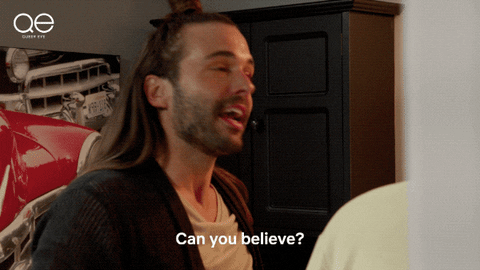 Anyway, what do I know? A bit, actually. For the past five months I have been working nights at both a "gentleman's club" and a traditional strip club. I'm certainly no pro, but one of the first things I noticed while stripping was how infuriatingly off-base people's beliefs about it are. So, I'm here today to share what I've learned and hopefully make you realize that talking sh*t about strippers is dumb as hell. Sex work is work, babe.
False: Strippers Are All Catty B*tches
Pretty much any Law & Order episode that has a scene in a strip club (a lot of them) involves strippers fighting. I've seen this in a lot of other TV shows and movies too. It's portrayed as a cutthroat industry where women see each other as the enemy. While every work space is bound to have some drama, I've noticed that my coworkers at my stripping jobs are the most supportive, friendly, welcoming women I've ever worked with it. It's a lot less, "Get away from my customer, you whore," and a lot more, "Omg babe, you look so hot! Where did you get that corset?!?!" Of course, there is etiquette to abide by, and you should never steal another woman's customer. If you do, you might find her mad at you, but most of what I've seen is someone doing this on accident, realizing it, apologizing profusely to the other woman, and then both of them laughing about it. Often the best part of a stripping shift is going to take a breather in the locker room and talking sh*t about men/trading skin routine regimens with all of the other strippers. People love to paint women as catty bitches who can't work together, but the reality is women tend to love being around other women, and this is often the case at a strip club.
False: Stripping Is A Last Resort Job
Sure, some people may turn to stripping when they can't find other work, but this could be said about so many jobs, such as bartending or working as a receptionist. People seem to think that anyone who becomes a stripper is down on their luck and is only doing this because they have to. That's not always the case. For me, I could easily be working at a restaurant or babysitting or temping as a way to pay my bills, but I've chosen stripping. Why? Because I like it. I like the flexible schedule, the environment, the fact that I get to work with women, and tbh dancing naked beat answering the phone for a startup company run by 21-year-old finance bros in midtown. Also, this assumption implies that just anybody could be a stripper. Like any job, it's not for everyone. It requires an incredible amount of energy, personable skills, and talent. Especially for the women who are expert pole dancers. That sh*t is unbelievable, and most people could never do what they do. So the idea stripping is only meant for those who have run out of options is, to be frank, bullsh*t.
False: Strippers Are Gold Diggers

This one makes me lol. A lot of times, people talk about strippers as if they're these malicious people just trying to get your money…as if that isn't what every business transaction is about. Imagine this scenario:
Plumber: *asks for payment for his services*
Customer: Wow, all you care about is my money. Here I was thinking you liked me, when really you just want to be paid! Slut.
Sex work is work, plain and simple. And yet, I've seen men get all worked up when it comes time to pay for their lap dance. They feel hustled, scammed, bamboozled by the fact that they agreed to a payment plan and then were asked to follow through with it. They feel this woman who is simply asking to be paid for her literal job is somehow taking advantage of them and rolling in dough by means of gold digging and scamming. But really, she's just asking for what every worker asks for: compensation. It's almost as if the fact that she's a woman using her own body as a means for money delegitimizes her as a professional in the eyes of society?
False: Calling Someone A Stripper Is A Sick Burn
"You look like a stripper," is supposed to be an insult, but all that's really saying is, "You look like someone would pay a lot of money to see you naked." Mission accomplished, b*tch. It's the same when people say sh*t like, "She should quit politics and go back to stripping." Stripping isn't any less a respectable job than working in politics. Assigning value to these jobs is classist and sexist. Truth be told, people are just uncomfortable with the idea that a woman is comfortable and confident enough to use her body and sexuality to her advantage, so they react by putting her down, because god forbid she realize her power. So when someone uses "stripper" as an insult, it's actually a compliment commenting on your power. *Drops mic*
False: Strippers Can't Find Love

The question I encounter most often when working is, "How does your boyfriend feel about this job?" Men are always surprised to hear that I'm in a relationship, my partner is aware of the work I do, and he's okay with it. The concept that a man could allow a woman the freedom to do her job, even if it includes using her sexuality, is truly absurd to most. But a lot of the women I work with are in happy and healthy relationships. And why wouldn't we be? We're fun, sexy women, so much so that many are willing to pay for a few minutes alone with us. Imagine how lucky the ones who get it for free are.
Images: Eric Nopanen / Unsplash; Giphy (2)
Fight Back Against Sexism With NOW Foundation & Our Rules Of Feminism Tee
It's a pretty bad week/month/year for women. Trump and Republicans in Congress want to hike up the price of our birth control and outlaw abortions. One of the most powerful men in Hollywood has been assaulting and harassing women for YEARS and nobody did anything about it. Your favorite Hollywood hottie, Ben Affleck, gropes women on the regular (allegedly…). Oh, and women are still earning less than men even when performing the same jobs *screams into the void*.
When women's rights are under attack, you gotta step up and help. That's just like, the rules of feminism. We're partnering with the National Organization For Women on a new "Rules Of Feminism" T-shirt. 20% of the proceeds from this shirt will be donated to the NOW Foundation, and 100% of you will look both amazing and very woke wearing it.

What is the NOW Foundation? They're a nonprofit "devoted to achieving full equality for women through education and litigation," according to their website. Basically, they do a little bit of everything, from the Love Your Body campaign aimed at promoting better body image among young women to voter mobilization efforts to preparing and submitting reports to the UN about global feminist issues, and much more. They are also affiliated with the National Organization for Women, the biggest feminist grassroots campaign in the United States. Buy this tee for yourself, for your friends, for your woke bae—whoever. It's for a great cause.
A Strongly Worded Letter To Women Against Feminism
Dear Women Against Feminism,
"I don't need feminism I don't need something that tells me the actions of a slut are okay and then that the possible evidence of those actions can be thrown away like they were like nothing but a clump of tissue."
That is a quote from your anti-feminist Tumblr "WomenAgainst Feminism." The first thing we have to say to you is to learn English. What are you even trying to say here? We're fairly certain you're attempting a form of slut-shaming, which is awful by itself, but you're also saying feminists throw away the "evidence" of slutty actions. What evidence? Promiscuity is not a crime, and feminists aren't out to prove their sexual expression. Are you trying to say like, you don't think women should be allowed to sleep around and still be able to legally obtain an abortion? Because having your birth control fail is not "the actions of a slut." Getting sexually assaulted is not "the actions of a slut." Having inadequate or no access to birth control and poor sex education is not "the actions of a slut." What I'm saying is, there are about a million reasons to terminate a pregnancy and I'd bet none of them are "I thought it would be way easier and less invasive than talking a Plan B."
"Patriarchy doesn't exist. If it did, then we would have no rights. What kind of patriarchy gives women the exact same rights as men? Not a very effective one."
Where do we even start with this one?
1. The Patriarchy has existed, and still does exist. It existed when women didn't have suffrage. It exists now, when women compose half of the United States, but less than 20% of Congress. It exists across the world where a woman is killed to preserve a family's honor after being raped (side note: feminism isn't just about America).
2. The Patriarchy is not one man. It is not your loving boyfriend. It is not your dad. It is not that guy you're seeing. The Patriarchy is society's collective prejudice, intentional or not, against women that is a result of centuries of male oppression.
3. Women don't have the exact same rights as men. Ever heard of countries outside the first world? Yeah. Not so great for women.
4. Did you just applaud the "ineffective patriarchy" for giving you rights?
"I don't need feminism" because:
I am an adult who is capable of taking responsibility for myself and my actions.
I define myself and derive my value by my own standards. I don't need to be "empowered."
I am not a target for violence and there is no war against me.
I respect men. I refuse to demonize them and blame them for my actions.
That's fantastic. You sound like a strong independent woman. It sounds like you're… empowered. Furthermore, you are a target for violence. We're not saying men don't experience violence or sexual assault. They do; it's not to be overlooked. But an overwhelming majority of sexual assault is on women. Why? Because these offenders were raised in a patriarchal society that taught them a woman's body is not her own, that the way she dresses and acts is consent, and that women are nothing more than sex objects. And we repeat, feminists are not out to demonize men. They place partial faults on the Patriarchy, which does not equal "men." Fucking, duh.
"I don't need feminism."
Comments on this post include:
"now once more with your top off kthx"
"and cover these boobs, you slut! (god, why?)"
"will this woman please make me a sandwich?"
Clearly. Clearly you don't need feminism. Clearly these commenters are looking at you as a person, not a sandwich-making boob robot.
Here's the thing. Feminists aren't hairy women hating all men and calling rape on everyone who looks at them. Certainly, there are those people who hate men who call themselves feminists. But feminism is an attempt to help women stand on equal grounds socially and politically with men.
Like, we're not going to tell you what to believe, we're just telling you what you believe is completely wrong and probably doing women everywhere a disservice.
Very truly yours,
Feminist Betches
The Betches' Guide to Feminism
Thanks to Beyoncé and that African lady on "Flawless," we are now all familiar with the definition of feminism (something about waking up like this I think?) Now that Bey has taken it upon herself to show us that feminism has less to do with burning your bra and man-hating and more to do with loving yourself and getting the respect you deserve, it's time for betches to embrace the term and not puss out when somebody asks them point blank if they're a feminist. (Note—the term "puss out" probs not super pro-feminist but, whatever. We all take on what we can handle.)
So that being said, here are some betchy feminist buzzwords you can use the next time some bro tries to take you down a notch just because you won't touch his nasty-ass d.
#1 "The Patriarchy"
A long long time ago a bunch of cave bros got together and decided that they couldn't have women leaving their caves and doing things because they might start doing those things better than men can do them. This idea persisted throughout history as bros convinced themselves that if women were allowed to have jobs and drive cars then men would never get hard again or some other bullshit, and thus the patriarchy was born. The patriarchy is all around us and is constantly trying to hold betches down. Luckily all the betchy ladies in politics and a bunch of just regular citizen betches are not having that shit anymore and are fighting on the daily for a betch's right to decide not to carry a fuckboy's illegitimate child to term and to get paid the same amount as bros for the work they don't do. TG.
#2 "Gaslighting"
So, there are a lot of super long articles about the psychological impacts of gaslighting and how shitty it is, but for the sake of not boring the shit out of you, here's a crash course. Remember when your so-called bf blew you off for like a full week and then told everyone you were a "psycho bitch" when you finally went off on him via text? That's gaslighting. Remember that dude you met on Tinder who said his ex was "crazy" but then after a little investigation you found out he just cheated on her a bunch? Again, that's gaslighting. Remember that time you were in the car with your hot stepbrother and some chick in a beret laughed at your understanding of Hamlet even though you know you remember Mel Gibson accurately? You guessed it—gaslighting.
Gaslighting is a term that comes from some old-ass movie that means when a bro (or anyone—betches can gaslight other betches) tries to deflect their own shittiness by trying to make you feel insecure and stupid, usually by telling everyone you're crazy and making you feel crazy. This is the ultimate in shady bro behavior, but unlike other shady things bros do, it's not attractive. Gaslighting is bullshit and is used by people who want to take away your agency and make you feel small so next time somebody tries to do it to you tell them to fuck off and be like "you can go gaslight your back now byeeeeeeee."
#3 Slut Shaming
Every betch observes the code of not fucking bros (sometimes) differently. For some betches, "sometimes" literally means "some of the time" and for others it means "basically every weekend now that I'm on Tinder." Whatever. Do you. A betch is a gift to society and if she chooses to bestow that gift upon an entire basketball team, that's her prerogative. No judgement. Slut shaming is when people fail to mind their own fucking business and act like what you do or don't put into your front pocket has anything to do with them. Luckily, betches have been long times champions of the anti-slut shaming movement by embracing the joys of dressing like a slut and always keeping in mind that we've "got to stop calling each other sluts and whores because it just makes it okay for guys to call you sluts and whores." Thanks Tina.
#4 "The Bechdel Test"
The Bechdel Test is a test for movies that asks one simple question: Does the movie portray at least two named female characters who talk about something other than a man. Sounds easy, but a legit large percentage of movies do not pass this very simple test and it's like come on, if I could pass Organic Chem you can pass the Bechdel test. It's not fucking hard. Luckily, the Bechdel test might as well be renamed the Betchdel test because all our fav movies like Clueless, Mean Girls, Bring it On, and Spring Breakers all pass the shit out of it proving once and for all that feminism and betchism go hand in hand.