5 Free Fitness Apps You Can Do From Home
Sometimes there's not enough time, or motivation, in the day to get to the gym. And sometimes, we simply don't have the funds for a membership (or you'd rather spend what little money you have on food or alcohol…no judgment). But, thanks to the invention of the smartphone, you don't have to actually step foot in a gym to get your workout in. There are a lot of good fitness apps that require a paid subscription, but I'm going to go ahead and jump to the conclusion that if you don't want to spend $10 a month to go to Planet Fitness or wherever, you probably also don't want to spend money for an app, either. That's why I picked out my top five favorite free fitness apps to download and get sweating to. (I don't feel bad anymore about seeing 5 + hours at the end of the day on my screen time…I'm working out!) Grab your weights and your cutest pair of leggings, and let's get started.

This app offers categories of workouts for every muscle in your body, including abs, butt, back, shoulders, arms, and more. The exercises are mostly for your at-home gym sesh, but they do offer a few workout routines for during the day, like "deskercise", "chair exercises", and "office stretch"… but please, be low-key if you're doing them at work. What I love about this app is that they offer plenty of workouts that you can do in only seven minutes. These include 7M Butt, 7M Sweat, and 7M Beginner. I love these guides because I know I can get through seven minutes of work without the thought of "when is this overrrrr??" repeating in my head the entire workout. You can see your progress on a calendar based on your workout history and calories burned. Def recommend.


When setting up the app, it will ask you a few questions to help personalize your workouts. It asks for what you think your level is (beginner, intermediate, or pro) and how many sessions a week you want to work out (2, 3, or 4). It then asks you for your goal, whether that be to lose weight, stay fit, or gain muscle. This way, the experience will be tailored to you and your body. Fitness Challenge gives you an outline of your workout before starting, so you know what you're getting into before you begin. It tells you how much time the workout will last, what exactly you'll be doing, and how many times you're doing it. It comes with five categories to choose from: full body, sexy legs and butt, abs and flat tummy, bikini body, and skinny toned arms. Count me in.


If you're a yogi, this is the app for you, but in addition to yoga, Daily Yoga also incorporates other mainstream workouts. Once signed in, you choose your goal. This app's options are: start as beginner, stay healthy, lose weight, skill improvement, muscle tone, and stress relief. I LOVE how they named these goals. But Daily Yoga doesn't only provide workouts—it goes one step further, offering audio and music to guide you through your practices. They have guided meditations, mantras, mindfulness training, and more—all of which you can download straight to your phone. I recommend listening to the music before bed at night for a spa-like relaxation that'll put you into a deep sleep.


You can sign up for FitOn through FACEBOOK, which is great, because then you don't have to waste time plugging in personal info and can get moving instead. It does ask a few questions to personalize your experience, though, which I do appreciate. It first asks you about your goal. Are you using the app to lose weight? Reduce stress? For post-natal fitness? I like this app because it doesn't just give you three basic goal choices; it has a bunch more to offer. After that, it asks for your favorite types of workouts ranging from yoga, to HIIT, and dance. Then, you're in! If you aren't ready to work out right away, you can set reminders to do so later on, which I use way too frequently. It gives you a ton of choices, like which trainer you want to take, the target area you want to work on, and trending activities to start. FitOn even gives you a custom-made schedule. You can see all your upcoming workouts and the intensity of each. You can even invite your friends to share your progress, if you're competitive like that. There is also a section on advice from trainers, ranging from articles to videos that are informational and worth a watch.


If you aren't into high-intensity workouts or sweating too much, this app is perfect for you. It's all about walking, and only walking. Walking is the perfect way to burn off calories and reduce stress. I think walking is one of the most important workouts—especially walking outside. Obvs if it's crazy weather, just hop on the treadmill, NBD. The app goes by days, so they have a list of workouts designed for you each day to complete. You can walk for meditation, renewal, midlife women, stress, or for burning off the cheese pizza you had for dinner last night, which I like to do. (Okay, so that last option I made up.) All totally great. It also tracks your steps and calories burned, if you're over your iPhone health app after the latest update, which most of us are.
There are so many other free fitness apps you can check out, but these ones offer a good range of services that everyone can enjoy and are easy to use. These are the perfect start to get motivated and move throughout your week. You can use them in your living room, at your office, outside walking your pup, or even in class (def be cautious though…). Hope these apps help you and guide you to achieve your goals.
Images: Dane Wetton / Unsplash; Workout For Women; Fitness Challenge; Daily Yoga; FitOn; BetterMe: Walking
The Oxford Dictionary's Synonyms For 'Woman' Are Sexist AF
Bad news: the dictionary is being sexist.  The Oxford Dictionary of English has received some backlash after people made complaints about some super offensive synonyms listed for the word "woman," such as "baggage, wench, piece, bird and bitch." Hm, don't love that! Also…bird?! Is that an Always Sunny in Philadelphia reference?

A petition on Change.org with more than 30,000 signatures has made its way across the internet, demanding that the Oxford Dictionary make changes to its definition. The petition was started by London-based communication strategist Maria Beatrice Giovanardi and states, "This is completely unacceptable by a reputable source like the Oxford University Press, but it's even more worrying when you consider how much influence they have in setting norms around our language."
(As of the publishing of this article, about 31,000 people had signed the petition.)
Language matters. The way we are taught to speak and think about words matter. An official definition of the word woman including synonyms like "bitch" and "wench" will have a serious and lasting impact on how people perceive women. The word "bitch" shouldn't be correlated with women in a dictionary. Like, that's only okay when we say it about ourselves and our friends as a term of endearment and solidarity.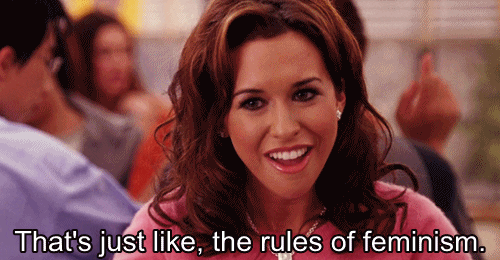 Plus, search engines such as Google and Bing use the Oxford Dictionary to source their definitions. And IDK if you heard, but the internet is pretty popular and people use it a lot. So, clearly people will be influenced by this definition and these synonyms. The way we talk about women affects how we treat women. Period.
Katherine Martin, the head of lexical content strategy at Oxford University Press, wrote a blog post addressing the issue and said that there is a nuance to how words are defined. "If there is evidence of an offensive or derogatory word or meaning being widely used in English, it will not be excluded from the dictionary solely on the grounds that it is offensive or derogatory," she wrote.
The Oxford Dictionary notes that these words are offensive or derogatory, so big round of applause for them on that.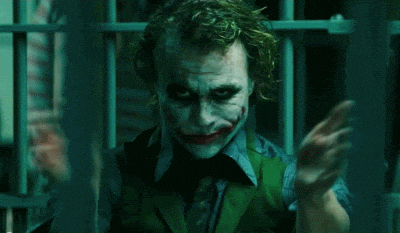 Turns out the definition for man in the Oxford Dictionary doesn't have equally as offensive or derogatory terms, if you can believe. And while the "woman" entry notes that "bitch" is an "offensive" synonym, it lists no offensive synonyms for "man." We'd be happy to help them out there.
Call me a crazy bird, but I think it's high time we start talking about women with more respect.
Here Are The Women We're Honoring This Women's Equality Day
On August 26, 1920, the Nineteenth Amendment guaranteeing women the right to vote was adopted to the United States Constitution. The date is now known as Women's Equality Day, when we do trite things like "look back on how far we have come" and "look forward to the future" while our government works quietly — and sometimes, shamelessly — to return us to a time when we couldn't choose our own outfits, let alone who would represent us in government. 
In any case, "women's equality" is often framed simply as equality between men and women. Cool, we're down with that. But there's always been plenty to do to improve equality among the large and diverse group of women and femme-identified people itself. What's more, intersectional feminism demands we promote equality for people of all genders, races, socioeconomic or immigration status. And with an administration that has little regard for anyone who wasn't born white and male, this crucial aspect of feminism is as vital as ever. 
That's why this Women's Equality Day, we're sharing a group of women who are fighting for justice and dignity for people of all races and all genders across all areas of society: in the workplace, on the airwaves, in the doctor's office, in our news coverage, at the ballot box, and more. In Audre Lorde's words: "I am not free while any woman is unfree, even when her shackles are very different from my own."
Stacey Abrams

Stacey Abrams served in the Georgia House of Representatives for 10 years before she was nominated by Democrats to run for the state's governor in 2018. Her inspiring and widely publicized race against Republican Brian Kemp ended in defeat, which many attributed to voter suppression measures targeting voters of color — measures that were facilitated by Abrams' opponent. To this day, Abrams has never formally conceded the race. Now, she's fighting for more equality at the ballot box. 
Admirers have shipped Abrams as a potential 2020 presidential contender, especially given how her personal story of going into debt to support her family resonated with people across the country. But for now, Abrams is focusing on bringing more equality to the electoral process. This month, she announced the  launch of Fair Fight 2020, a political action committee devoted to advocating voter rights and fair elections in Georiga. 
Fair Fight has launched voter protection initiatives in 20 battleground states ahead of the 2020 elections. The group will work to ensure every valid voter in the country may cast their vote without arbitrary barriers designed to suppress the minority voice. They'll also set up a voter protection hotline. Abrams has also said recently she'd accept any 2020 nominee's request to serve as their VP. 
Lilly Singh 

Next month, 30-year-old Lilly Singh will become the first woman to host a late-night program on a big-four broadcast network since Joan Rivers when her show "A Little Late With Lilly Singh" premieres on NBC. Her YouTube channel with more than 15 million subscribers features skits about her Indian upbringing and what's like to move through the world — at work, on dates, and with family — as a woman of color from an Indian background. 
The author, actress, and activist served as UNICEF's first-ever Goodwill Ambassador from the YouTube world, traveling to India to advocate against gender and class discrimination and share her experiences abroad with her massive online following. 
Before we get anywhere near equality, there always has to be a first. For the first WOC to join an all-white male late-night line up to be bisexual Indian-Canadian woman with a proven commitment to equality and activism? That's kind of the leap towards equality we can get behind. 
The United States Women's National Team 

Months before their historic Women's World Cup showing, all 23 members of the United States Women's National Team filed a lawsuit against their employer alleging large-scale gender discrimination in investment and compensation. They returned from France with an expanded, enthusiastic fan base whose support extends far beyond the soccer pitch. 
Though equality is a simple concept, it's one the team's employer, U.S. Soccer, has struggled to accept. Still, players have stood firm in their mission even as their employer hired lobbyists to contest the player's claims in the public and refused to even consider "equal pay" a starting point in negotiations. 
Players have refused to qualify or dilute their demands — which are simply equality across the board. "We're trying to do this on behalf of women everywhere, to be treated respectfully and paid lawfully," USWNT forward Christen Press said. 
Shaleen Title 

As states across the country legalize and decriminalize recreational cannabis, industry leaders are asking how a legal market can restore justice to the millions of black and brown Americans disproportionately impacted by the war on drugs. Shaleen Title is one of those leaders demanding equality. As one of Massachusetts' first Cannabis Control Commissioners, she's focused on making the state's legal cannabis industry fair, equitable and inclusive of communities that racist enforcement of weed laws have hurt the most.  
Though black and white Americans are likely to use cannabis at equal rates, black people are far more likely to be arrested for it. Now that Massachusetts has a legal market, Title works to make sure it's not just white, male, Silicon Valley types who are cashing in on the economic opporutnies of legal weed. She helped write a model bill to guide states towards cannabis policy that invests in communities negatively impacted by criminalization. She's a champion of equality in an area where it's desperately needed and yes, she is very dope. 
Ashlee Marie Preston 

There is one person largely responsible for more media coverage of murdered trans women of color, and that's Ashlee Marie Preston. Her activism on behalf of communities often erased from mainstream coverage is nothing short of tireless, and she uses her platform to demand justice for — and even acknowledgment of — the dozens of trans women of color who are killed each year. 
The average life expectancy of a black trans woman in the U.S. is under the age of 35, an unacceptable statistic Preston highlighted on her own 34th birthday, when she placed 77 candles on her cake to honor 77 people killed. There is no equality for women until all women's lives are honored and respected, and Preston's dogged determination to place trans women of colors' experiences firmly in the mainstream feminist narrative is brave, vital, and far lonelier than it should be. 
Alicia Garza

Alicia Garza has mobilized thousands of activists demanding equality after helping found the Black Lives Matter movement in 2013, when George Zimmerman was acquitted in the murder of 17-year-old Trayvon Martin. Garza led the movement in its freedom ride to Ferguson in 2015 to protest the shooting death of another black teenager, Michael Brown and set up  Black Lives Matter chapters all over the country. 
Garza has used her platform to demand an intersectional approach to racialized violence, one that acknowledges that systems of oppression overlap, but impact people of all genders and all races in different ways that demand different strategies to confront. She is currently a principal at Black Futures Lab, which works to evolve and harness black political power in communities across the country. Their Black Census Project, launched in 2018, was a first-of-its-kind survey of tens of thousands of black people across the country to gather information to inform and identify paths towards economic and political equality. They'll use the results to create national and local policy platforms to help politicians better serve black voters. 
Rep. Deb Haaland 

When it comes to mainstream news coverage, not all women are represented equally. Even though Native women are murdered at 10 times the national average and an estimated 5,700 Native American women were reported missing in a 2016 report, the shocking scourge of missing and murdered indigenous women has only recently entered public view. 
Rep. Deb Haaland has worked to bring issues impacting indigenous women straight to the Congressional floor. Haaland, representing New Mexico, became one of the two first Native American women elected to U.S. Congress in 2018, joined by Sharice Davids of California. In May, Haaland introduced legislation to facilitate more effective investigation of missing and murdered indigenous women in the U.S. The bill addresses inconsistent law enforcement protocols for acting on disappearances, improves tribes' ability to investigate cases and access federal resources, and requires better data collection on violence against Native women. 
Elizabeth Warren, Kamala Harris, Kirsten Gillibrand, Tulsi Gabbard, and Marianne Williamson
We've had 45 male presidents, so we're hundreds of years away from reaching anything close to equity in the Oval Office. But this year's field of Democratic candidates for president features five female candidates, and there's no question that they have already normalized the once novel concept of a woman daring to think she could not only be commander in chief but outdo any guy gunning for the gig.
These women demand equality by their mere presence in this drawn-out, densely covered Democratic primary race, but also in the policy platforms they choose to promote. We're pretty sure the issue of black maternal mortality has never come up in a presidential race. But this year, Elizabeth Warren released a plan to address it. Kamala Harris has vowed to stop anti-abortion laws in their tracks. 
Whether or not a woman wins the nomination, these five candidates are pushing the needle towards broader equality between men and women in public office and in the issues they choose to center. 
TV Shows From Your Childhood You Didn't Realize Were Empowering
From one betch to all the betches out there, happy International Women's Day! May we take no sh*t from men neither today nor any day! According to the UN, "International Women's Day is celebrated in many countries around the world. It is a day when women are recognized for their achievements without regard to divisions, whether national, ethnic, linguistic, cultural, economic, or political." So basically, it is a day that women are actually acknowledged for being badass bosses, regardless of extenuating traits like race or politics. Recognition of women's existence and achievements seems like it should be an everyday thing, but whatever, I'm not here to complain. On the contrary, I'm about to make y'all really happy with some flashback Friday feminist empowerment from our favorite television shows circa the '90s and early 2000s.
That's right, some of our favorite childhood shows made a legit and impactful effort to instill feminism in our young and impressionable minds so that we would be prepared to enter young adulthood with the betchy confidence of Angelica Pickles circa the early years. Let's get to it.
 'Rugrats'
I'm going to start with Rugrats because it is the freshest in my memory. A few weeks ago, my roommate and I were watching that Friends episode guest starring Elizabeth Daily, AKA the voice of Tommy Pickles. (For those of you who are wondering, her actual real life voice is the literal same as that of Tommy Pickles.) So, like any sober 25-year-olds, we got nostalgic and wanted to relive the joy of a Rugrats episode, but because cartoon quality has gotten significantly more legit since the '90s, Rugrats no longer graces our television screens via cable. It is, however, on available for purchase. So without hesitation, we threw our hard-earned dolla dolla bills at the entire first season of this show, and literally watched the entire thing within a week. I am not impressed with us, but I am impressed with the astute level of feminism in this gift to humanity.
For those of you who may have forgotten, Angelica is low-key the star of the show because she was bossy as hell, and I am here for it! How could she not be when her boss bitch mom actually uttered the words, "Angelica will make it in a male-dominated power structure." Um, YES. Let's not forget about DiDi Pickles, who was the glue that held her weird little fam together. Let's face it, her hubs was a toy inventor with the mental capacity of a stale cracker, and Tommy is a textbook case of ADHD's early symptoms. She was progressive af and we aren't mad about it. Betty Deville is another top contender for most feminist queen of Rugrats. She was always donning her athleisure because she gotta #werk, raise a family, and crush souls of judgmental trolls all day everyday. Last but not least, Charlotte Pickles, who was gloriously terrifying and got whatever the f*ck she wanted. This human form of a power stance knew how to command a room and didn't have time to deal with your sh*t. Claps for you, Charlotte.
'The Amanda Show'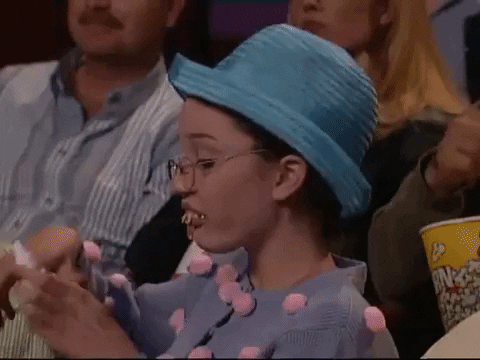 The Amanda Show was SNL for '90s babies. She was Kristen Wiig, Kate McKinnon, Maya Rudolph, Leslie Jones and Tina Fey all rolled into one sassy betch. Because Amanda played upwards of 800 different characters in countless sketches on this blessing of a television show (#MoodysPoint), I just don't have the time to go into all of them, and I refuse to focus on only a few because they all deserve recognition. So instead, I'm going to focus on the show in general. The Amanda Show made humor accessible. I know what you're thinking, "What?" But think about it, The Amanda Show was just an endless sea of hilarious jokes from a group of really attractive kids who were not afraid to don heinously ugly wigs, outfits, or fake teeth for a laugh. I feel pretty confident in myself, but idk if I could have thrown on a pair of fugly overalls, a bucket hat and dentures in front of a 1) live studio audience and 2) millions of viewers at home. Kudos to you, Amanda. We love you!
'The Powerpuff Girls'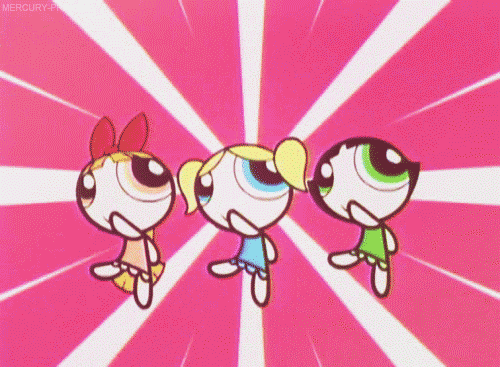 I watched this show a looong time ago, so I'm going to keep this brief. If there is another definition of girl power that isn't "Sugar, spice, and everything nice," I don't want to hear it. These were the ingredients chosen to create the perfect little girls, but Professor Utonium accidentally added an extra ingredient to the concoction: chemical X. Thus, the Powerpuff Girls were born using their ultra-superpowers. Blossom, Bubbles, and Buttercup have dedicated their lives to fighting crime and the forces of evil, and I'm impressed. These sister were like, what, seven years old and fighting crime? I can't even find a dude who washes his hair, and these girls were out here making the world a safer place. Good for them.
'The Fresh Prince Of Bel Air'
Each of the three main women in this amazing show were absolute queens in their own right, but I am just going to focus on one, the matriarch and feminist icon, the OG Vivian Banks. (Not her replacement who looked literally nothing like her in any way, and I need an explanation from the producers for this abomination). Anyway, Vivian 1.0 showed all of us plebeians how to rock a mint green power suit and raise a family, both of which are impressive. So in like, basically every episode, Aunt Viv stood up to sexism, ageism, racism and a slew of other -isms, because she's a hero who's too stylish to wear a cape. Her education about cultural references was truly unparalleled. Let's not forget her absolutely schooling Will when he acted like he was an expert in black history because he read Malcolm X's autobiography. The exact quote was: "You can read that book, you can wear the t-shirt, you can put the posters up and shout the slogans, but unless you know all of the history behind it, you're trivializing the entire struggle." YAS, AUNT VIV, YAS. The bottom line is Vivian was a woman who was unabashed to speak her mind, especially when dealing with her moronic male counterparts. Sorry, Carlton, we love your mom and her dance moves more.
'Sex and the City'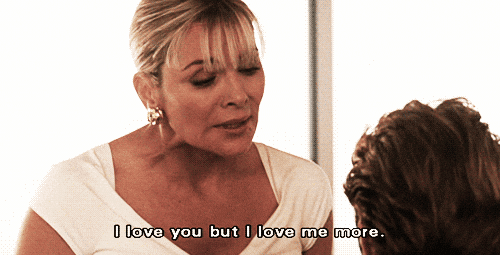 Ok, before everyone judges my mom for letting me watch this show, she didn't know I binged harder on SATC than I did on Halloween candy. Skip your eye rolls and scoffs for calling this show feminist, but what would you call a squad of women who subconsciously discussed the bs behind the coveted fairytale ending and openly shut down slut-shaming? This group of revolutionary women (I'm a total Carrie) made it okay to engage in sex with guys you aren't Facebook official with, to have fun without worrying about the haters and, of course, to prioritize Manolos over all else. Idk if this was intentional or not, but these four women make up one perfect betch: Charlotte is romantic, Miranda is brilliant, Carrie is funny, and Samantha is Samantha. Of course, no one woman is actually perfect, which is why all of these traits are separated into four individual women, but they are all great and I love them. On a side note: it truly breaks my heart that SJP and Kim Cattrall aren't actually friends IRL, because their characters were the most likable on the show. Truly, no one could pull off jewel tones and feathered accessories like they could. I'm hoping that somewhere in lower Manhattan, Carrie and Samantha are getting afternoon cocktails rn.
'Lizzie McGuire'
This show was my life, and I have no shame in my game. Lizzie was a cultural icon who struggled between staying true to herself and wanting to fit in, but then she realized how much the popular kids sucked and got over it. Snaps. Lizzie's main feminist feat is that she was not afraid to go through all of the same struggles all teenage girls go through: heartbreak, annoying siblings, eating issues, and, most iconically, bra shopping with your mom. Lizzie facing all of these preteen issues made all of us realize that these are just normal parts of life, and we shouldn't feel embarrassed to be experiencing them. Lizzie came into her true feminist self in the final scene of the movie, though, when she chose herself and her hair extensions over a guy. Nevermind that he lied, cheated, and tried to pass Lizzie off as Brunette Lizzie Isabella, but he tried to play her for a fool, which just isn't how you save your career, sweetie. Lizzie's too smart for that sh*t, you Italian meatball!
Images: Nickelodeon; @stephdelucaaa, @freshprince.ig; @wearemitu / Instagram; Giphy (3)
20 Ways To Celebrate Women That Could Actually Help Us
Alright ladies, today is International Women's Day! Great, so they'll give us a day, but won't give us the salary of a man in the exact same position as us. Love that. The gals have 24 hours where we can all post vague memes about equality, so I think it's safe to say that we solved sexism! Everyone pack up your things, our job here is done. Don't let the door grab you by the pussy on the way out LOL.
In all seriousness, International Women's Day is rad, but there is still so much work to be done. Well guess what, my good betch, you can get started on that work today! 'Tis the season day, after all. In case you need some guidance when it comes to figuring out how to help women, we've gone ahead and put together a comprehensive list for you. We really do have to do like, everything, don't we? Anyway, try celebrating women by checking off some of the things on this list, or die a sexist monster. Your call!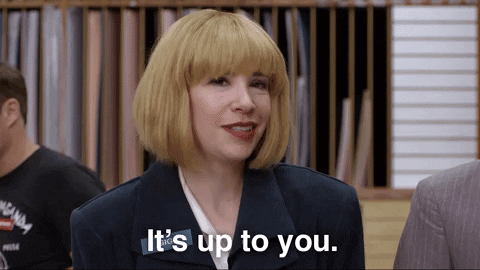 1.Push For Equal Pay
Seriously, how are we still talking about this? As of 2018, female full-time workers made only 80.5 cents for every dollar earned by men. It's important to note that the numbers get even worse when factoring in race, because everything is trash. What are these men getting paid more for? Sexually harassing us? Help put this bullshit to rest, and demand that your female colleagues get paid the same as their male peers. And if you're a person in charge of deciding women's salaries, make sure you give them the same amount you give the men. Simply put: pay us, bitch!!!
2. Teach Men (And Everyone) Not To Rape
It's 2019 and rape culture has got to go! Stop perpetuating the idea that women are responsible for making sure they don't get raped. Stop telling women to shove their keys between their fingers Wolverine-style, and start teaching men the definition, nuances, and importance of consent from a young age. When someone makes a joke that condones rape/date rape, go off on their ass! That sh*t isn't funny, dude. 
3. End The War On Pockets In Femme Clothing
All of my dresses need pockets and that's just all there is to it. Somebody please go talk to management about this, thank you.
4. Make Oprah President
I firmly believe that if Oprah was president everything would be FINE. Make it happen, people.
5. But Seriously, Elect Women
A society run by men is a society made for men. We need women making decisions in our governments, and that means electing women who run for public office. Representation matters, and so does voting. Women have the power to make change, so go out there and put women in positions of power. 
6. Stand Up For Women, And Stand Up To Your Friends Who Don't
If you see your buddy being a class-A creep, call him on that sh*t! Don't let misogynistic behavior fly. If you're a man, doing this bare minimum thing will make everyone around you think you're a f*cking hero, so if doing the right thing isn't inspiration enough, there is always that.
7. Compliment Our Minds, Bitch
Women are told from a young age that our looks are what we should value most. I remember family friends telling me how pretty I was at the age of like, ten. It's weird and gross and it needs to stop. Try telling young girls and grown women how intelligent, creative, original, etc. they are. And then you can feel free to compliment our perfect cheekbones, hair, makeup, clothes, etc. Thanks!
8. Idk, Believe Us?!
Believing us when we recount the specific realities we have experienced as women is an option, just saying.
9. Pass A Law That Laura Dern Must Be In Every Film And TV Show
Representation matters.
10. Say "Bye Bitch" To White Feminism
Pushing a non-inclusive feminism is bad for feminism. Feminism that adopts exclusion is not about equality and that's hypocritical af. Check your feminism as you check your privilege, and make sure everything is in line with intersectional feminism standards. 
11. Stop Telling Us To Smile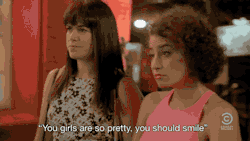 Literally we will kill you.
12. Listen To Our Ideas. No But Like, R
eally
 Listen
People have a way of dismissing women, sometimes explicitly and sometimes more subtly. Simply shutting the f*ck up when women talk is a start, but the work doesn't end there. Make sure you're actually hearing what they are saying, as opposed to just coming up with a response/refute to what they just said. Take time to process what women are saying. Take the time to reevaluate values and ideals that you have learned from a patriarchal society. Women have insight that you might not have considered, so take the time to understand it. Okay, thanks!
13. Stop Referring To Grown-Ass Women As Girls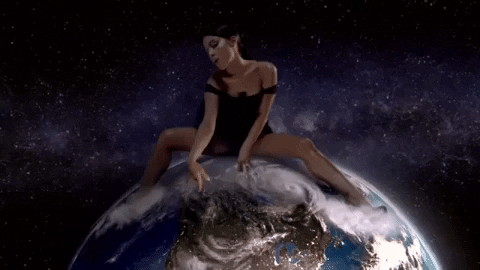 Calling a full-grown woman is belittling, and yet so common. If she can't order off of the children's menu she is a woman. Also God is a woman, final answer!!!
14. Ban Khakis
Please, for the love of God, put us out of our misery and burn all the khakis. Save our eyes, save men's humility, save the world.
15. Prioritize Women's Safety
The world likes to put on a front of believing it's protocol to "save the women and children first," but the reality is that women's safety is often disregarded. Did you know that car crash dummies are usually male, meaning cars can pass safety regulations without really being safe for women? This makes it so they don't have to go the "extra mile" of making cars that are safer for female body types. Cool! And that's only the tip of the iceberg. Shit is f*cked up, and time's up (as the kids say). Women's safety needs to be prioritized like, yesterday.
16. Buy Us All A Fenty Beauty Kit

I cannot stress this enough. Legally every single woman should be gifted a Fenty Beauty Kit.
17. Stop Slut-Shaming
Seriously, slut-shaming is so 2009. And it shouldn't have even been a thing back then. Sluts are amazing. Sluts make the world go round cum hard. Fuck the double standard. Viva la slüt.
18. Don't Leave Sex Workers Out Of Your Feminism
If you think you are a feminist, but go around talking shit about women who sell sex for a living, think again bitch!!! Sex workers are people too, and just because they've found a way to monetize their own bodies doesn't mean you get to talk down to them. They receive no protection from the law and government, and their rights are constantly under fire. Stop calling people "hookers" or "prostitutes," or anything of that nature as an insult. Making money off of what your mama gave you shouldn't be a crime, and certainly shouldn't exclude you from human and equal rights. And even if you don't think sex work should be legalized…just try not to be a bitch about it, k?
19. Men: Consider Getting A Vasectomy As A Form Of Birth Control
Listen, it's not an invasive surgery, whereas getting your tubes tied very much is. Also, pregnancies only happen when y'all jizz all up in our sh*t, so technically they are your "fault." Take some responsibility, and snip that shit if you don't want kids. It can even be reversed! I'm going to receive so much hate mail for this lololol!
20. Vote Donald Trump Out Of Office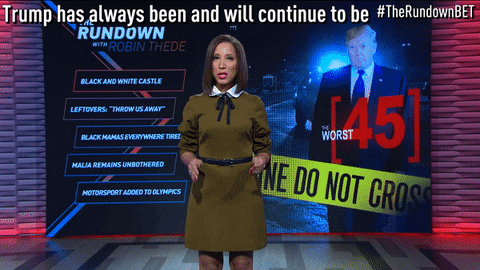 I don't need to explain myself here. See you at the polls in November 2020 or see you in hell.
Heads up, you need to keep up with the news. It's not cute anymore. That's why we've created a 5x weekly newsletter called The 'Sup that will explain all the news of the week in a hilarious af way. Because if we weren't laughing, we'd be crying. Sign up for The 'Sup now!
Images: Giphy (7)
What Is Labiaplasty, And Why Are Women Getting It?
I've got a fine relationship with my vagina. To be honest, before this article I had not given it much thought. It's there, it does what it needs to do, and I carry on with my life. But for some women, how their vulva looks and feels causes them major stress. That's where labiaplasty comes in. For some people, when they hear about a labiaplasty, they think (logically) "okay, yeah, plastic surgery for your labia." For others, when they hear it, their first reaction is "WTF." But whether you've heard about a labiaplasty before or not, I'm sure you have some questions and probably some misconceptions that I plan to debunk. But let's get one thing straight: labiaplasty is NOT a millennial-geared surgery to promote altering your body for purely aesthetic reasons to look like a Victoria's Secret Model or porn star. It can be done for aesthetic purposes, but there are also legit medical reasons for this.
I Spoke To An Expert
For this taboo and rarely-spoken-about topic, I called in the big guns, Dr. Lara Devgan. She is ranked as the #1 female cosmetic surgeon in New York on Rate MDs, and tbh, that's good enough for me. But, according to her website, she is also a "board-certified, Yale-educated, Johns Hopkins Medical School-instructed, and Columbia/ New York Presbyterian Hospital-trained plastic & reconstructive surgeon." Dr. Devgan is everything my Jewish parents wished I'd grown up to be, but here I am, writing about vaginas on the internet. Sorry, mom and dad. Did I mention she's Kim K's plastic surgeon?
WTF Is Labiaplasty?
Dr. Devgan explains labiaplasty as "cosmetic rejuvenation of the female genitalia." Put simply (thanks Google), a labiaplasty is "plastic surgery performed to alter the appearance of the labia, typically the labia minora, or to construct labia." So at this point in your life, if you don't know the difference between your labia minora and labia majora, we've got an issue. Go back to health class, then come back to this article. Just kidding! I'll tell you. The labia minora are the inner lips, and the majora are the outer lips.
Why Would Someone Do This?
Dr. Devgan explains that this surgery is performed for functional and/or cosmetic reasons. Many women who opt for this surgery are either unhappy and self-conscious about how their genitals look or they experience friction or discomfort from exercise, clothing, or sex. Furthermore, the excess tissue that may hang below the rest of the vulva can mess with the vagina's normal flora and cause frequent yeast infections. Dr. Devgan says that this is one of the fastest growing plastic surgery procedures in the US and one of the more common surgeries she performs.
How Does The Surgery Work?
Because every woman is different, it really depends on the individual needs of the patient. Dr. Devgan explains that "the exact maneuvers we do in surgery depends on a woman and her unique anatomic characteristics and concerns." However, most surgery is performed under local anesthetic (you are awake and your vajayjay is just numbed) and takes about 30 to 45 minutes. For some in-depth diagrams to explain the surgery, check out Dr. Devgan's website.

The Recovery Time
Labiaplasty tends to be minimally painful—think less than painful than watching Colton confess his love for Cassie and her leave. But don't worry, the doc still gives her patients pain meds just in case. Dr. Devgan says that most of her patients take 4 to 7 days off work, although she has had women go back to work the next day. She recommends taking the first 3 days to ice the area with pelvic elevation. Dr. Devgan recommends no sex, tampons, or strenuous activities for at least 6 weeks. The scars are v minimal and usually disappear to be almost invisible, to the point where your gyno or SO won't notice them.
How Will It Impact Your Life
For women who have lived their lives feeling self-conscious of how they look, it can be a life-changing surgery. Dr. Devgan says, "patient satisfaction for this procedure is extremely high." For Dr. Devgan, it is "one of the most gratifying procedures" and she commonly hears, "wow, I should have done this sooner" from her patients. Patients can wear jeans and won't be uncomfortable or feel that they constantly need to re-adjust themselves. They can wear bathing suits without feeling embarrassed that someone can see their labia. Dr. Devgan explains that it will not interfere with giving birth vaginally in the future, with orgasms, arousal, or using the restroom. But it can make sex more comfortable and enjoyable.

The Bottom Line
As Dr. Devgan said, a labiaplasty is not a "sexy surgery" nor is it a "porn surgery." In fact, a small study published in 2016 found that women who had undergone labiaplasty were just as likely to have done so for improved appearance and sexual performance as they were for "practical" reasons, like physical discomfort. (But honestly, who's to say that wanting to feel more secure about your appearance isn't practical?) This surgery might seem weird to talk about, but it shouldn't be. Let's be real, if men had a similar issue, it would not be such a taboo topic. Dr. Devgan says, "if some meaningful percentage of the male population had an issue where skin on their testicles was impeding on their abilities to conduct their normal lives, it would be a front and center topic that was totally acceptable and totally covered." The bottom line is, if you're considering getting labiaplasty, you shouldn't be ashamed to talk about it with a trusted surgeon. And if you're perfectly happy with your lady parts and don't want to change it, that's great too.
For any further questions, Dr. Devgan's website provides a ton of information and before and after pictures (which are honestly so impressive). And you can follow her on Instagram at @laradevganmd.
Images: Andre Maliik / Unsplash; laradevganmd / Instagram; Giphy (2)
All The Gross Allegations Against CBS CEO Les Moonves, Explained
And another sh*tty abuser bites the dust. CBS Chief Executive Les Moonves is leaving CBS after multiple women accused him of sexual misconduct. Bye bitch!
Moonves (a.k.a. Harvey Weinstein Jr.) ran CBS for two decades, and was so powerful that it was a whole plot point in 30 Rock. (If you don't remember the plot point, that's as good an excuse as any to go rewatch all of 30 Rock immediately.) But back in August, Ronan Farrow (a.k.a. Journalist BAE) first published an exposé on Moonves in The New Yorker, in which multiple women accused the executive of unwanted touching and kissing. Since that apparently wasn't enough to get people to do all that much about it, Farrow went ahead and dropped another bombshell exposé over the weekend, in which six new women came forward with even more serious allegations.
6 women raise new, more serious claims of sexual assault or harassment against Les Moonves and say the CBS board failed to hold him to account. Some board members were aware of an LAPD investigation into one claim of violent, forced oral sex since January: https://t.co/4JgM7OV6cw

— Ronan Farrow (@RonanFarrow) September 9, 2018
In the new New Yorker story, multiple women allege that Moonves harassed them, exposed himself, and tried to ruin their careers if they turned down his advances. And one woman alleges that Moonves violently forced her to give him oral sex.
Moonves gave a statement to Variety, saying, "Untrue allegations from decades ago are now being made against me that are not consistent with who I am. Effective immediately I will no longer be Chairman and Chief Executive Officer of CBS. I am deeply saddened to be leaving the company."
As if all this wasn't enough, another new report alleges that Moonves actively tried to ruin Janet Jackson's career after her Super Bowl performance, so he can go to hell twice.
CBS announced that Moonves would not receive exit compensation, pending investigation, and said that it would give $20 million from any severance payments due to Moonves to organizations supporting the Me Too movement instead.
Naturally, everyone's wondering what powerful man Ronan Farrow will take down next. *cough*THE PRESIDENT*cough*
Heads up, you need to keep up with the news. It's not cute anymore. That's why we've created a 5x weekly newsletter called The 'Sup that will explain all the news of the week in a hilarious af way. Because if we weren't laughing, we'd be crying. Sign up for The 'Sup now!
The Betches Feminist Fall 2018 Reading List
The summer is almost over (boo), meaning you're almost out of time to finish that summer reading list. But hear me out – reading is an activity that can continue into the fall or even (gasp!) winter.  With the 2018 midterms coming up (are you registered?), it's time to dig up your old p*ssy hat and re-up on your feminism. Fall is the most feminist season, after all. (Okay, okay, all seasons are feminist don't @ me.) With that in mind, here are ten books that will help you get into the "nevertheless she persisted" mind frame before the weather gets too cold.
Vogue called this book "ultra-readable," which is like, a pretty clutch compliment for a book. This novel by Meg Wolitzer follows a shy college freshman as she meets whose life is forever changed after she hears a 63-year-old feminist activist speak on campus. If you ever thought about leaving your boyfriend to organize the next Women's March, this one's for you.
If something about this title gave you early 2000s Meryl Streep nostalgia, there's good reason. This book is Lauren Weisberger's long anticipated follow-up to The Devil Wears Prada, and it follows Emily (aka Emily Blunt's character) and her post-Miranda Priestly career as a high-end image consultant in Greenwich, CT. Will Miranda make an appearance? Is Emily off the cube-of-cheese diet? You gotta read it to find out.
If the #MeToo era taught us anything, it's that rape culture is real (duh) and we're going to need a lot of brave women telling their stories to finally overcome it. Self-proclaimed "bad feminist" Roxane Gay organized and edited this collection of original and previously published pieces that address living in a world where rape culture is a daily part of women's lives. With essays from stars like Gabrielle Union, this collection will laughing, crying, and mad as hell.
Remember how the Women's March was like, the best day ever after the worst day ever? Published on the one year anniversary of the largest global protest in history, Together We Rise is a collection of essays that provide an inside look on how the march was organized. With essays from the likes of America Ferrerra, Yara Shahidi, Ilana Glazer and the one-and-only Maxine Waters, this book will have you feeling nostalgic for 2017, which should be literally impossible.
If you've ever described yourself as a "hot mess" or a "garbage person", this memoir is for you. Dana Schwartz's stories about all her terrible life decisions will make you feel a lot better about yours, or at least let you know you're not alone.
You might recognize Krystyna Hutchinson and Corinne Fisher from their hit anti slut-shaming podcast Guys We F*cked, and now they're taking on the female sexual revolution in book form. F*cked tackles a mix of "raw, ridiculous, and serious sexual conversations" to help drive the point home that ain't nobody got time to be ashamed of their sex life.
4.'Vox' by Christine Dalcher
If you're a fan of The Handmaid's Tale (or just a fan our our recaps) strap the f*ck in because Vox is for you. Set in a too-close-for-comfort dystopian America, Vox explores a world in which women are only allowed to speak 100 words a day, and the brave scientist who takes it down. Once you start reading this one you'll only put it down to check Twitter to make sure it's not actually real.
We dare you to find a more relatable book title. Comedian and Throwing Shade podcast host Erin Gibson gave us the gift of this collection of omg-I'm-literally-dying level hilarious essays that tackle the "hidden rules that make life as a woman harder." Not only will you learn sh*t, but you'll also laugh a lot. What could be better than that?
2. 'Becoming' by Michelle Obama
Here's another book that's not out yet but you're going to want to pre-order ASAP. Becoming by Michelle Obama is a "deeply personal" book about Michelle, her roots, and hopefully a few style tips/arm exercise guides (though I doubt it.) I mean, we don't need to tell you why a book by Michelle deserves to be on your shelf (or in your Kindle), but maybe it'll help you actually go high when your ex goes low.
Did we just make ourselves number one on our own fall reading list above Michelle Obama? F*ck yes we did. Wanna know why? Because betches lean in, and you can too with the career advice book you've literally always been waiting for. Wanna take charge and be the boss of your career while still maintaining a social life? This is the book for you. Also our last two books were New York Times bestsellers soooo you're probs gonna wanna pre order that now.
When's Happy Hour? drops from publisher Simon & Shuster October 23rd, 2018.

Heads up, you need to keep up with the news. It's not cute anymore. That's why we've created a 5x weekly newsletter called The 'Sup that will explain all the news of the week in a hilarious af way. Because if we weren't laughing, we'd be crying. Sign up for The 'Sup now!