3 Black Female CEOs On Why We Need More Black Women In The Beauty Space
Before the social justice uprising that has taken place this year, could you name three Black-owned beauty brands off the top of your head? With little accessibility to brands that represent a range of darker skin tones and different hair textures, Black people are often left with limited options to achieve their desired looks. If we have learned anything this year, it is that representation matters. It should go without saying that Black consumers deserve to be acknowledged in the beauty industry. In honor of National Black Business month, we're turning our attention to three Black women CEOs who have taken the step to catering to Black women's needs and are making space for more melanin in the beauty industry.
"DRK Beauty is a digital community that supports and empowers women of color in all their diversity. Through curated content, programming, and community initiatives, DRK Beauty aims to truly empower those who identify as women of color and fix the flawed relationships between brands and women of color.
DRK Beauty Healing is one of our first community initiatives in response to COVID-19 and the BLM movement. When we first launched DRK Beauty Healing on May 15th of this year—before George Floyd's murder—we had only conceived the idea two weeks earlier as a response to the impending mental health fallout from COVID-19. Having never worked in the therapeutic space, our first step was to speak to therapists. We had back-to-back Zoom calls five days a week for the first month. We also spoke to mental health associations such as Mental Health America to learn more about the space and researched other initiatives in our community. We effectively educated ourselves as quickly as we could.
What we discovered is that there are precious few clinicians of color in the U.S. (Black/African psychologists make up only 5% of the total in the U.S.) and the free initiatives that are out there required prospective clients to fill out online forms and share their data and then wait to be approved to receive the free therapy. This added yet another barrier to entry, not to speak of the cultural stigma of therapy in the Black community. In addition, when you are depressed, traumatized, and/or paralyzed with anxiety, you don't have the mental bandwidth to fill out forms and wait for an answer. You need the help now! We felt that the need was urgent and we wanted to make the process as seamless as possible. Also, we wanted to make sure that we didn't breach any privacy rules. So my developers built an online directory and within two weeks we launched with a few hundred hours of therapy donated by clinicians we had spoken to. We asked them to share with their clinicians as well. So they continued to donate hours and within a month of launch, we had 1,000 hours of free therapy to give away. We've now raised over 2,000 hours of free therapy and we are now one of the leading platforms for free therapy for women of color in America, covering 27 states with approximately 100 clinicians."
"BEAUTYBEEZ was created to fill a gap in the retail industry. What many people outside of the African-American community do not realize is that ethnic hair care and beauty products are traditionally sold in small local retailers called beauty supply stores. Every Black woman has memories—both fond and unpleasant—of going to the local beauty supply store with our mothers and shopping for those nostalgic "Black girl hair" products. It was a space specifically for us! The larger retailers didn't (and still don't) carry these items. Due to various laws and regulations over the past several decades, ownership in ethnic beauty largely transferred to the Korean-American community. Traditionally, they own the stores, the products, the hair manufacturing, and the distribution. And, unfortunately, people of color are oftentimes discriminated against in all areas—most notably in the beauty supply stores. We are followed, harassed, and left to fend for ourselves.
BEAUTYBEEZ is a modern beauty retailer prioritizing beauty for women of color. I founded the brand after my own dissatisfaction shopping for beauty. As an entrepreneur creating success in a field where I'm the minority, I've had to be resilient, resourceful, and stand out. There were several challenges that came my way, and I faced them head on. I took the time to equip myself with the knowledge and skills necessary to thrive in an industry that capitalizes off of me. I used my experience as a consumer and infused it in all aspects of BEAUTYBEEZ—from the products and services we offer to the customer experience. My identity and experiences as a Black consumer have single-handedly been the most effective attribute I've brought to the business and enabled me to thrive in an industry that is dominated by people who do not look like me. 
BEAUTYBEEZ provides an inclusive beauty experience where women of color can shop, explore, and play in a world full of beauty. The brand was created because nothing like it exists and we wanted to be a complete departure from the typical beauty supply. Our mission is to celebrate Black beauty in every way possible—a curated collection of hair care, skin care, and beauty products; selling inclusive beauty brands; promoting minority owned brands; hiring diversity in our team members; tailored services for our unique needs; and most importantly, the creation of a community reflective of our brand's values and ideals. We've been able to successfully create this space because we possess a passion for and knowledge of our consumers and their needs—an approach many of our predecessors have neglected."
View this post on Instagram
"When I first entered the beauty industry, I didn't really have a clear understanding of all of the nuances and disparity that existed. I am a salon owner and do not do hair. I was primarily interested in the salon being a second stream of income. I started the salon geared towards extension work, and then transitioned into curly textured hair. As the business grew, so did my desire to become more known in the industry and be recognized as a salon of curl experts. That is when I discovered that salons and stylists of color are put in a box and not given the opportunity to shine on an international platform. Even more surprising, most salons that are recognized for specializing in curls are not Black-owned.
I initially tried to reach out to many of the well-known industry publications, but the feedback was pretty much non-existent. Typically, a handful of stylists of color are chosen to be representatives in the hair world, but new talent is not sought-after. I decided with the access we have to the internet and social media, I would create a lane for myself. I have created a global following for Maggie Rose, along with an educational platform called Texture University, and am in the process of launching a hair system for curls called Naturally Drenched. It has been a journey, but I have realized it is better to create your own platform versus depending on others."
Images: Cottonbro / Pexels; thisisdrkbeauty, beautybeezstore, maggierosesalon / Instagram
Will 'Growing' Change Your Mind About Amy Schumer?
If you're on this website, you likely have a well-formed opinion on Amy Schumer. Over the past five years, Schumer has swung wildly in the court of public opinion. We loved Trainwreck—then we remembered some of her early jokes about Hispanics. We love how real she is on Instagram—but find her Twitter presence problematic. We love Amy Schumer the feminist, but as a white feminist, we're still eager to see her overcome past blind spots.
Schumer's new comedy special, Growing, doesn't quite feature a woman reborn, or cleansed of past imperfections. But it does, aptly, feature a Schumer who's well on her way to growing up. The Schumer in this special—now both married and heavily pregnant—retains a lot of her classic irreverent attitude toward sex, drinking, and bodily functions. But whether it's due to past criticisms or personal growth, that attitude is underpinned with a genuine desire to do these topics justice. (Well, maybe not the drinking so much.) Obviously, the best way to decide how you feel about Schumer is to go watch the damn thing (or at least, like, turn it on and scroll through Instagram while it plays in the background). But short of that, here's a highlight reel of sensitive subjects Schumer covers in Growing—and notably, what she chooses not to touch.
On Race
If the lesson we wanted Amy Schumer to learn was to stop making jokes based on racist stereotypes, and also to make her brand of feminism a hair more inclusive, I'd say she succeeded. The first mention of race in this special is an off-hand comment about women asking for tampons "leaning in as though they're about to say something racist." She follows with the punchline: "and whatever race you thought I meant, that's your problem." To me, this seems like a perfect level of engagement with race for Schumer: it acknowledges that racism is alive and well (likely, within her audience), mocks the specific physicality that accompanies racist remarks made in social settings, and stops just short of actually sharing the content of a racist comment or stereotype on stage. I will happily call that progress.
The second comment on race comes in citing sexual assault statistics for women. She notes that one in three women will be sexually assaulted in their lifetime, then adds that for women of color and trans women, that statistic looks even worse. Yes, it's a footnote on a joke, not a full-throated roar on the importance of intersectional feminism. But the fact that it's included tells me Schumer is listening, and learning—and even if she's not, I'm just glad it was included.
Also, loving the continued activism on her page:
On Politics
Among the criticisms I listed earlier, Schumer also got in slight trouble back in 2016 for making jokes about Trump. Apparently, a group of fans left her show in Tampa after she dared to call POTUS a "monster." (I mean…where is the lie?) Obviously, this is not an aspect to Schumer that I take issue with—and in fact, I was curious to see if she'd go in even harder. While she mostly leaves politics out of it, the comments she did make affirmed that she is still, to use the technical term, hella liberal. Here were a few of my favorite comments.
On Colin Kaepernick: "I think there are only two reasons you should get down on one knee, if you're a guy. If you're a player in the NFL, and to eat my pussy."
On Brett Kavanaugh:* "People criticized me . They were like, 'that was irresponsible, you're pregnant.' And I was like, 'well that's why I went down there', you know? I want to be able to tell this kid I did everything I could, you know? And D.C., I heard, has the best cocaine." 
*ICYMI, Amy Schumer and Emily Ratajkowski went to D.C. to oppose Brett Kavanaugh's appointment to the Supreme Court and both were arrested.
On #MeToo: "I don't know what I'm having. I hope it's a girl. But really just because it's such a scary time for men."
Also, this:
On Her Husband
This may seem odd to include on a list of "touchy" topics, given that, unlike race or politics, Schumer's never been in hot water for her choice of husband. But my favorite moment of the special—and the one that, for me, marked the most personal growth for Schumer—comes about 20 minutes in, on the subject of her husband, Chris Fischer. "I knew from the beginning that my husband's brain was a little different from mine," she begins. "And about—" she stops, and shakes her head. "I have to start this over," she continues, "because I really want to get this right. Because I love him very much."
Her husband, she reveals, has been diagnosed with autism spectrum disorder (ASD). Schumer talks about their courtship, sharing early moments when she recognized his mind worked differently, before he'd received the diagnosis. These were not, in any way, moments that created doubt for her, or somehow lessened his ability to be a good partner. In fact, she says the same characteristics that "make it clear that he's on the spectrum" were the ones that made her fall "madly in love" with him.
Personally, I love the fact that she explicitly discusses his diagnosis, and love even more that she doesn't shy away from describing that he is, in fact, different. And that that difference is precisely why she loves him. The moment where she pauses, and starts over, felt to me like seeing personal growth happen in real time. She had a moment where she recognized she was entering a sensitive topic, that this topic concerned a group of people she was not herself a part of but very much wanted to show the appropriate respect to, and that, in order to discuss it at all, she would have to do it exactly right. If Schumer applies this same care to all of her comedy going forward, I think she'll fare better with her critics, and frankly, make more inspiring comedy.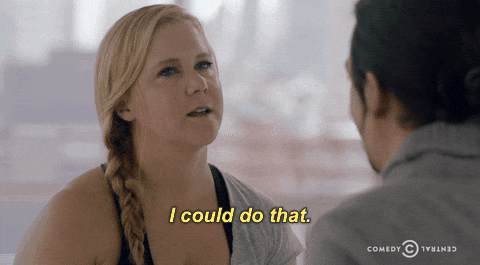 As an hour-long comedy experience, I loved Growing: I laughed a lot, gagged only a little (pregnancy is real sh*t, people!), and came out feeling a personal connection to Schumer that I hadn't before. As a referendum on Schumer's character, I'll say this. If you've been disappointed by Schumer's missteps, and wanted to see evidence that she's becoming more self-aware in her comedy, you'll find it in Growing. If you wanted an apology tour and a public renunciation of her entire comedy career, not so much. Beyond the content I highlight above, she talks about her difficult pregnancy, the joys of new period technology, and why she's glad she waited to get married. It's honest, a little gross, and felt like the comedy of someone halfway between where I am now and where I'd like to be in 10 years. In other words, someone growing, if not quite grown up.
Images: Instagram (2); Giphy
A Victoria's Secret Model Is Being Dragged For Comparing Diversity To Highlights
Just when you thought fashion week couldn't get any more ridiculous, Victoria's Secret model Devon Windsor thought she could spice things up on behalf of all white women with fake blonde hair. On last Thursday's episode of E!'s New York Fashion Week docu-series, Model Squad, Windsor grew flustered when a conversation between models turned to diversity in the industry. In classic "ignored white girl at the party" style, Windsor was desperate to share her own struggles, adding that it isn't easy being blonde, because she has to "get a highlight every month." Damn, Devon.
The conversation, which was primarily between Windsor and Chinese-American model, Ping Hue, got heated when Hue told Windsor that it was "super hard to relate to" them in regards to discrimination. Windsor defended her own experience as a tortured natural brunette, adding "I literally went through hell," because she lived in "different countries every other month" for two years. Windsor clearly missed the memo that traveling Europe is supposed to be fun, explaining that this was a difficult time for her because she couldn't speak Italian or "Paris," and I guess had no interest in trying?
Then, as all blondes do when we're feeling attacked, she reminded everyone that she was blonde. "You know how hard it is to be blonde?" she asked, "I have to get a highlight every month!" Clearly she felt like her problems weren't being validated, but even if we break down this theory, highlighting hair every month to make it blonde means she isn't blonde, which means her blondness is a choice and discrimination based on race in one's field is not a choice. So…?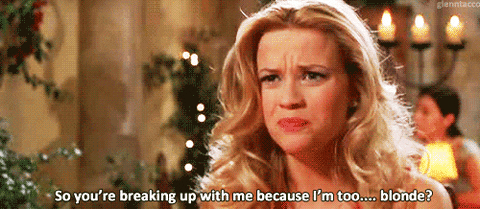 Windsor has since issued an apology via twitter, hopefully after she calmed down with a dose of Chardonnay and some basic human empathy. She tried to pass off her highlight trauma as a joke, writing, "If a peer of mine wanted to discuss such a serious subject about the struggles we face, I would never follow it with a joke." 
— devon windsor (@devwindsor) September 9, 2018
She also expressed that she has great respect for "all of those breaking barriers and working to forge a new and more inclusive community both in and outside of the modeling industry" whether they are women overcoming racism in the workplace or women sitting in a chair for an hour once a month while someone applies bleach to their hair.
You can check out the clip for yourself here:
Heads up, you need to keep up with the news. It's not cute anymore. That's why we've created a 5x weekly newsletter called The 'Sup that will explain all the news of the week in a hilarious af way. Because if we weren't laughing, we'd be crying. Sign up for The 'Sup now!