5 Snow Boots That Won't Ruin Your Outfits This Winter
Winter isn't officially here yet, but given the fact that I'm typing this right now from the comfort of my heated blanket, I'd say it's not too far off. Soon, not only will you need to get out your parka, scarf, gloves, etc. but you'll also need your winter boots. Fortunately, unlike your childhood snow gear would suggest, your winter boots really don't need to be tragic. Here are some super cute snow boot options to get you through this cold, sh*tty weather season. Fair warning, they're not exactly cheap, but that's because they're an investment into looking cute and keeping your feet warm, so you actually don't want to cheap out. Even if you're not feeling a major purchase right now, consider adding one of these pairs of boots if your grandparents still ask you for a Christmas list every year.

If you live in the city and don't have Sorels, then well, you're doing it wrong. I actually don't know how I survived the winters before I got my first pair, but needless to say I'm glad I did. They are a necessity for commuting to and from work, and if you're that bitch trying to still walk home in her kitten heels when it's snowing out, then you're only hurting yourself. Wear the boots to work, and bring the heels in your bag to change. 

These shoes are not only stylish, they're actually weather-proof as well. Oh, and they're also on sale right now. Animal print is very in, and so is having winter boots that don't look clunky and obnoxious. Especially once you're out of college, you want a more mature snow boot. So elevate your snow gear this winter with these stylish boots.

I have a soft spot for UGGs, and even though I'm no longer wearing them with my Juicy tracksuit, they still have a place in my wardrobe nowadays. But obviously your beloved brown sheepskin UGGs aren't really meant to brave the elements, and these boots are the perfect alternative. The shade of grey is perfect for winter, and the fur trim couldn't look (or feel) cozier.

These boots are the epitome of stylish and chic snow boots. I mean, they're Moschino, so like, can you get more glam than that? The specific style won't be for everyone, but if you don't really like the classic boot look, these are a fun twist. And surprisingly, they're actually under $200. So for weather-proof boots that are stylish and cool (and a brand that the Hadid sisters wear), I'd definitely ask Grandma for these ones.

These winter boots are like cabin-cozy-chic. Whether you're spending the majority of the winter hitting the slopes in Aspen, or just trying not to freeze to death walking around the city, these are the perfect option that's still cute, but just the right amount of rugged. Hopefully by now you've thrown away your old Sperry boat shoes, but they're really killing the game with these boots.
Whether you buy one of these options, or just use these as some inspiration to find a less expensive (buy still stylish) option, remember that winter doesn't mean your fashion has to be cold and dark. You'll be wearing your boots a lot, so take the time to find something that won't make you depressed when you get dressed in the morning.
Images: Nordstrom (2); UGG; ShopBop; Zappos
7 Winter Coats You Can Buy On Amazon
I think I'm alone here, but does anyone else actually not hate winter? There's something about bundling up and not leaving my apartment because it's too damn cold throwing on a pair of over-the-knee boots that just fills my icy heart with joy. Don't get me wrong, one of my favorite fashion-related pastimes is pushing my company's dress code with aggressively short sundresses in the summertime, but cold-weather clothes, specifically coats, are my favorite thing to wear. Ever since that episode of Gossip Girl when Blair whisper-yelled that she's not pregnant on the steps of the Met while making a serious case for patent leather trenches, I decided it's time to toss the tragic North Face I got for my effing bat mitzvah and up my coat game STAT. 
If you, too, have a coat fetish (not judging) then you better believe I'm about to change your life in a minute. Now, before we go any further down this cozy and well-insulated rabbit hole, I would just like to say that having a gorgeous coat does not have to cost what you would spend on a new laptop. Another fun fact about me, aside from my addiction to outerwear, is that I have zero patience and refuse to wait five to seven business days for something I ordered online to make its way to my closet. Enter, Amazon. If you didn't know, Amazon is a fashion hub. Shopbop even has its own storefront! So, if you're in dire need of a new jacket, these are the best winter coats you can shop on Amazon for way less than you'd spend anywhere else.

Obviously, I have to start with the coat that put Amazon on fashion girls' radar last winter. This coat was hands-down the midi-length leopard skirt of 2018, and after trying it on, I understand why. It's really well-insulated and it's obviously pretty chic, which is saying a lot since it's a puffer. I am all for "beauty is pain," and shivering my tits off in a coat that is cuter than it is functional, but after experiencing New York City winter, I am pro-puffer. Until I ordered this bad boy (in black), I used to associate thigh-length puffer coats with my middle-aged figure skating coach who, bless her Ukrainian heart, was not chic. Not anymore! There are two elements about the Orolay coat that make it stylish: the giant military-inspired pockets and the blunt shape that is longer in the back. Bottom line, this coat is really warm and will look cute with everything, whether you're wearing skinny jeans and Red Wings or a shift dress and over-the-knee boots. 

I love a good menswear-inspired piece, and this shapeless peacoat is giving me all of that. It reminds me of something Don Draper would pair with one of those weird cashmere turtlenecks he used to wear towards the end of the show, but honestly, I'm into it. The only downside is that it's probably not the warmest coat you'll own, but good thing climate change is eliminating that issue, right? This may just be a me thing, but I never buy coats in weird colors because they obviously don't really go with anything. This coat is great because the base color is a neutral, but it's layered with a bunch of other colors, so you can really pair it with almost everything. Toss this over jeans and a T-shirt, and you're good to go. If you want to feel a little Parisian, throw on a pair of oversized sunglasses and a pair of ballet flats, et voilà! Can you tell I'm 110% American? Cool, cool, cool.

Apparis has quickly become my go-to for coats, because even though they neither look nor feel like real fur, they're still really luxurious. I have a cropped forest green version of this coat and sometimes I just lay it across my lap at work when my space heater blows its fuse and pet it. Do my coworkers think I'm a little nuts? Maybe, but I don't care because this coat is that soft.
Now, if you have working eyesight, you've probably noticed that camo is everywhere these days. Apparis took the trend to the next level, though, and added the bright orange accents, which I am absolutely loving. The orange adds a unique element that regular camo is obviously lacking. It's also neutral enough that you can wear it with pretty much anything. 

If you are a decent human being, you are anti-fur. Because I'm such a good person, I only wear faux fur that looks super duper fake because I don't want my fake fur to look even a little bit real. Enter, this very fake-looking, Easter egg pink, oversize jacket. Obviously, this is not an everyday piece, but I'd wear it to a dinner with skinny white jeans, a gray oversized tee with a French tuck á la Tan France, and black booties. Basically, you can wear this with anything as long as the rest of the outfit is on the quieter side. 

For those of you who think I just contradicted myself re: fur, this coat specifically is made using both faux shearling and faux leather, so two claps for J.O.A. for going vegan on this beautiful piece of clothing that is currently in my shopping cart and will soon be on my person. What makes this coat look of-the-moment, as opposed to something you'd find in a bargain bin at Forever21, is that the exterior leather looks a bit worn and weathered. In my opinion, this would look amazing over a crisp white button down tucked into a pair of straight leg jeans and white sneakers. I know I'll definitely be wearing it with my favorite red blanket that Zara calls a scarf. You say tomato…you know how it goes. 

We already know that I can't resist a patent leather coat, so it's no surprise that this S13 number really spoke to me. This coat is long enough that it covers your toosh, but short enough that you can still show off your legs in your Madewell High Risers, or whatever your skinny jean of choice may be. Because it's black, the limit does not exist with regard to the things you can wear under this coat, but I love a shiny black coat with a cherry red scarf. There's something very '90s about that color combo that I'm really feeling these days. If you want to drift away from the safety that is black, she also comes in silver and a very cool metallic navy. You really can't lose with these options. Lastly, we need to address that if you buy a beautiful down-filled puffer for under $200, you're basically stealing it.

This recommendation is geared towards the Florida and California folks who don't have to deal with the literal sh*t storm that are East Coast winters. It is my personal belief that the only acceptable denim jackets are oversize ones. The only thing you probably shouldn't wear it with is, like, jeans, but everything else is fair game. Because it's a little distressed, I'd wear something slightly more modern underneath so your outfit doesn't look like a costume, ja feel?
Images: Amazon; Kelly Sikkema / Unsplash
Betches may receive a portion of revenue if you click a link and purchase a product or service. The links are independently placed and do not influence editorial content.
How To Stop Your Favorite Sweaters From Pilling Once And For All
One of the very few perks about dressing in the winter is the never-ending assortment of sweaters to choose from. They're your go-to for just about any outfit, whether you're going with leggings, jeans, or a skirt. Praise be. If they didn't exist, I honestly don't know what else I would nurse my hangovers in every Sunday morning. Like, I shamelessly live in oversize sweaters during this time year so I can put little to no effort in my outfits, but still get called boho chic or whatever. However, I'm constantly faced with the challenge of how to stay looking cute while my overly worn sweaters, on the other hand, look like Raggedy Ann—aka not so cute. And like, I strongly feel as though this is one of those problems we all think about, but rarely talk about. We should be texting each other more questions like, "hey, how do u fix the ugly fuzz balls on ur sweaters?" On that note, I realized I should do everyone a favor and share how to rescue and prevent your favorite sweaters from pilling so you don't have to keep buying more or find yourself picking at them on the train. You're welcome.
1. Turn Your Sweaters Inside Out And Place Them In A Bag
Since clothes are tumbled around and constantly rubbing against each other in the washer, make sure you're turning all your favorite pieces inside out first. The friction causes fuzz and pilling on materials like wool, cotton, and polyester, so this reduces any damage from happening to the outside of a shirt. Additionally, consider buying a super cheap washable mesh bag that's large enough for all of your sweaters. This helps separate delicate pieces from others in the wash.

2. Dry Cleaning Is Not The Solution To All Your Problems
Despite contrary belief, dry cleaning will not remove pilling. In fact, the service doesn't repair already damaged clothing at all. Unless the inner tag recommends dry cleaning only, leave your sweaters out of the dryer completely and consider drying them at home, preferably on a flat surface, so fabric doesn't stretch out or pull.

3. Invest In A Fabric Shaver
These are super easy to find and many of them are like, ridiculously inexpensive.  These seriously underrated little things will remove pilling and restore worn knits to look brand new again.

Soda Says x Steamery Pilo Fabric Shaver
4. Use A Stone
Okay, obviously, not your ordinary stone like picking up the next f*cking rock you find outside. There are literal stones you can buy that are made just for repairing your favorite sweaters from pilling and snags. It's 2019, you guys, I wouldn't be too shocked.

5. Turns Out, Velcro Rollers Are Total Life-Savers
A solution without breaking the bank—using some velcro hair rollers you can find at your nearest drugstore—will do just the trick. It takes a bit longer than the previous methods, but like, when it comes to saving money and also preserving some of your clothes, it's worth it, tbh.

Drybar High Tops Self-Grip Rollers
So best of luck restoring the life to your favorite knits, because we still have a lot of winter left. Try these solutions, and see if they work for you!
Photo: Shutterstock; Bed, Bath, & Beyond; Giphy; Nordstrom; Ulta 
6 Winter Shoes That Are Actually Cute Enough For Going Out
I love winter. I live in LA, so by winter, I mean 65-degree weather where you don't actually wear a coat. However, I'm definitely guilty of getting into a style rut where I wear the same leggings from Amazon, sweaters that says something stupid like "I Love My Dog," and boring boots every day. But like, when it's cold af out, we have to prioritize maximum coziness. That being said, you don't actually have to sacrifice style just so you don't, like, freeze to death. Or in my case, be slightly uncomfortable. If you live somewhere with actual seasons and you're wearing a huge-ass coat everywhere anyway, the least you can do is throw on cute shoes to appear more put together. I'm aware there is, like, slush and ice, and snow, and other variations of frozenish water that you have to navigate through lest you fall on your ass. But if you're going out, skip the ratty Uggs your mom bought you in high school, and throw on these cute shoes that are also functional for the cold.
The true MVP of our fall fashion has carried over well into winter. You have to have a pair of over the knee boots, it's just not really negotiable at this point. Not only are they chic af and slimming, as the boots are kind of Spanx for your leg fat, they are warm. It's like wearing double pants and you can layer thick socks underneath too. The only downside is that these boots are def not waterproof, so this is more of a calling-a-Lyft kind of shoe instead of trekking through the snow.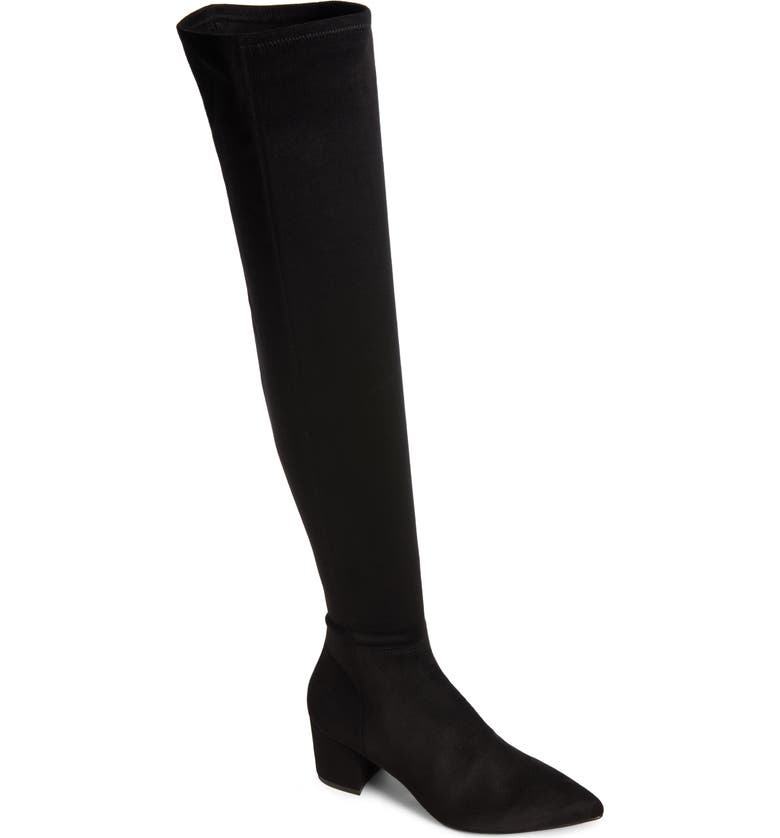 If you walk often in bad weather–which, how do you keep your hair from looking like shit?–it may be worth it to invest in super high end waterproof boots that don't look at all like actual snow boots. There are a ton of brands that have waterproof faux suede or leather styles that are actually totally okay to wear in rain and snow but also you don't look like f*cking Paddington Bear. These Ross & Snow boots are weatherproofed and are shearling lined to keep you super warm.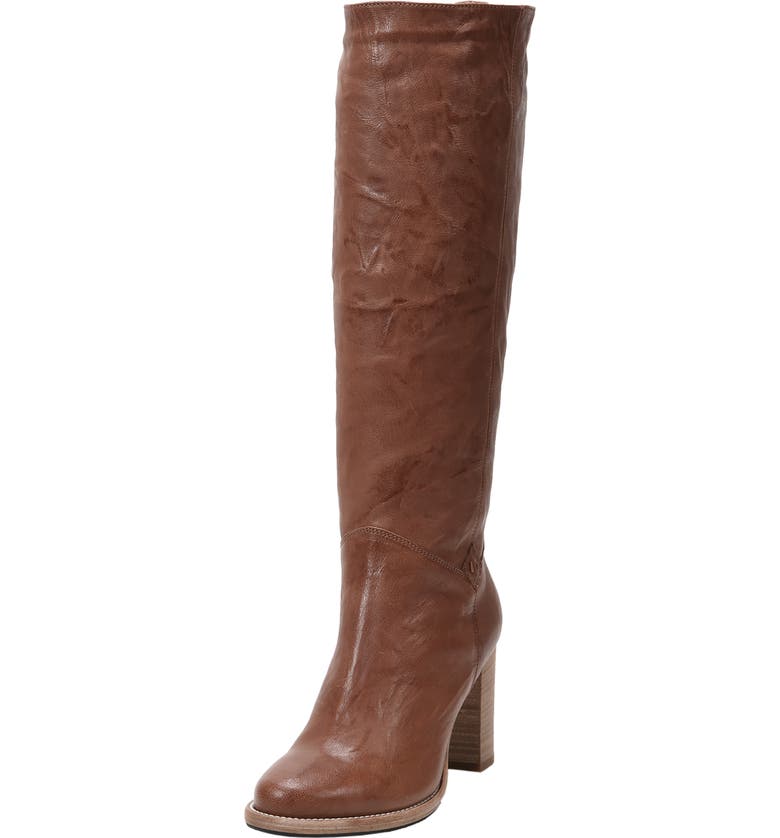 A heeled bootie with thick tread on the bottom is the secret to looking super fashionable in the snow without slipping and eating sh*t on the ice. Plus, the lace-up style is totally edgy and they're cute enough to look like you chose them on purpose and not just because you're cold. They're like an upgraded Doc Marten for adults doing adult things.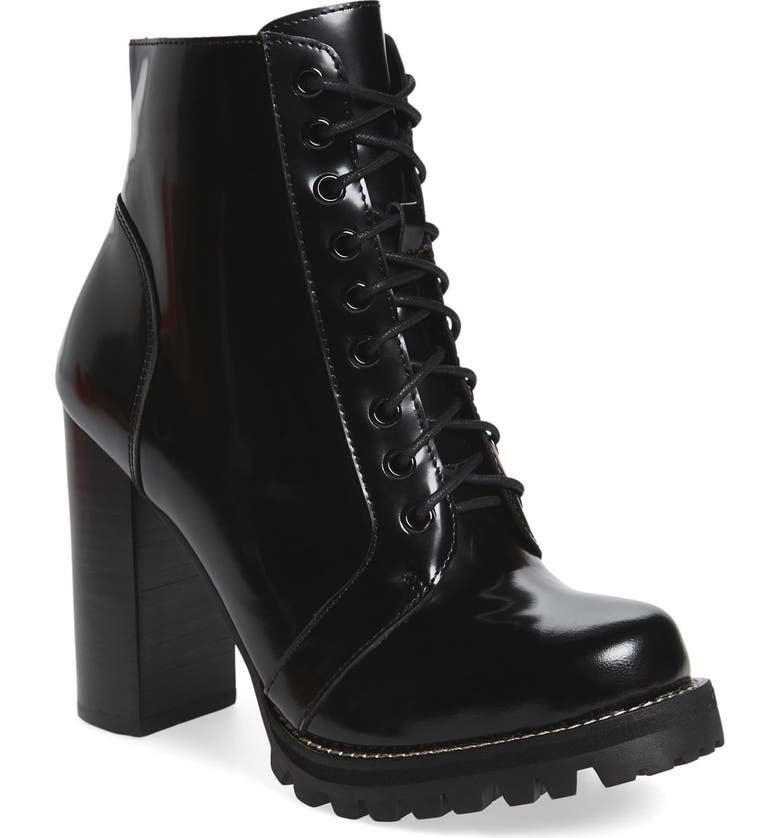 These little velvet booties are sooooooooo cute and not super functional in weather, sorry not sorry. But they are definitely winter chic with the blue tones, and will totally keep you warm on your way to your destination. I just definitely don't recommend sloshing through the rain in them. These shoes are the perfect transitional piece into spring and while they will keep you warm, the short style will also keep you from dying of heatstroke once you're at the party and the host has decided to blast the heat despite the 50 sweating bodies there. Seriously, why do people do this? It's freezing outside so we all have to swelter inside? Can I just never be happy then?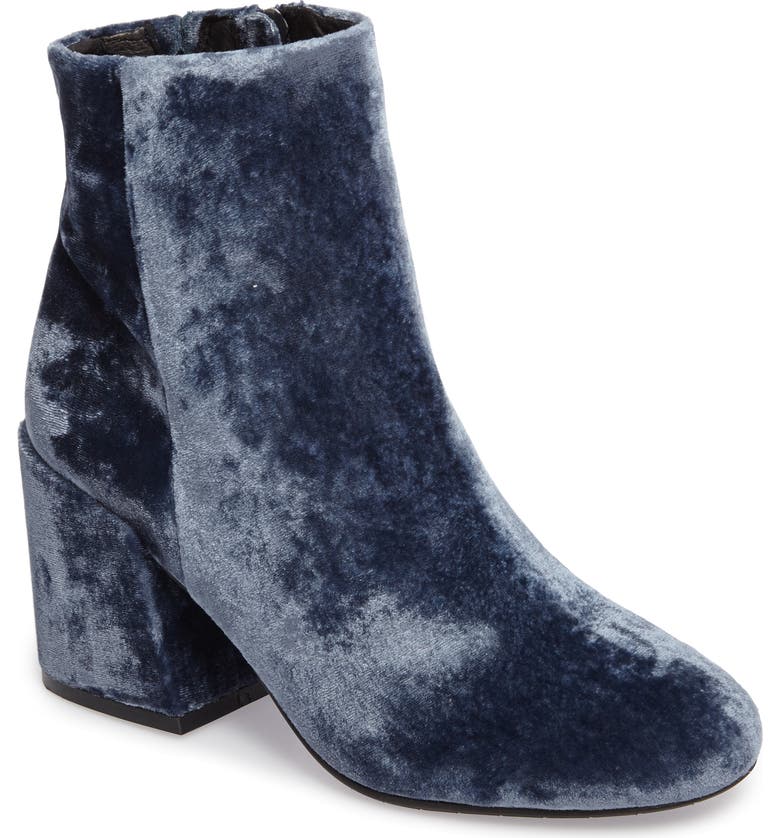 The biggest downside to the clear heels that we saw everywhere all last year is that should you sweat at all, your feet will die in these plastic-clad ovens. It's like the effect of those plastic raincoats you get at sporting events, but just for your feet. Ew. Good news is that in the winter, this will also keep your feet warm and being patent leather/plastic material means these babies are totally waterproof. If you're really worried about being too cold, you can even wear thick printed socks underneath and show them off. You'll look like an Urban Outfitters ad.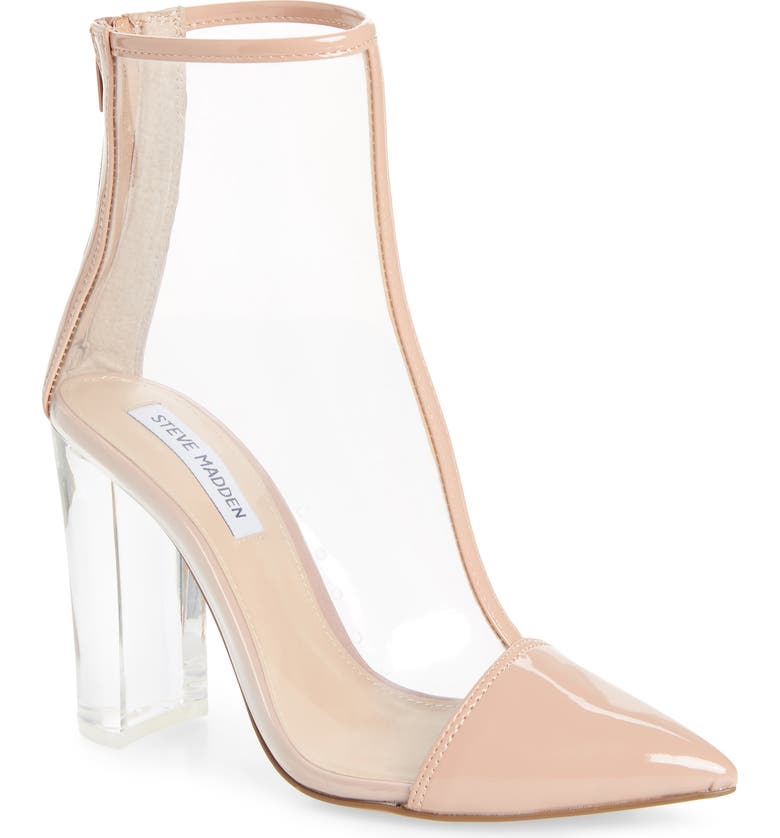 If it's really pouring and you must wear a rain boot out, I suggest getting one that is heeled, short, and really, really obnoxious. The key is to make it seem like you're wearing the booties on purpose, not like you threw them on as an afterthought because it's-duh-f*cking raining. These bright orange Jeffrey Campbell's are a total statement piece that you can build the rest of your outfit around. Plus, they're super comfortable and your feet will be dry.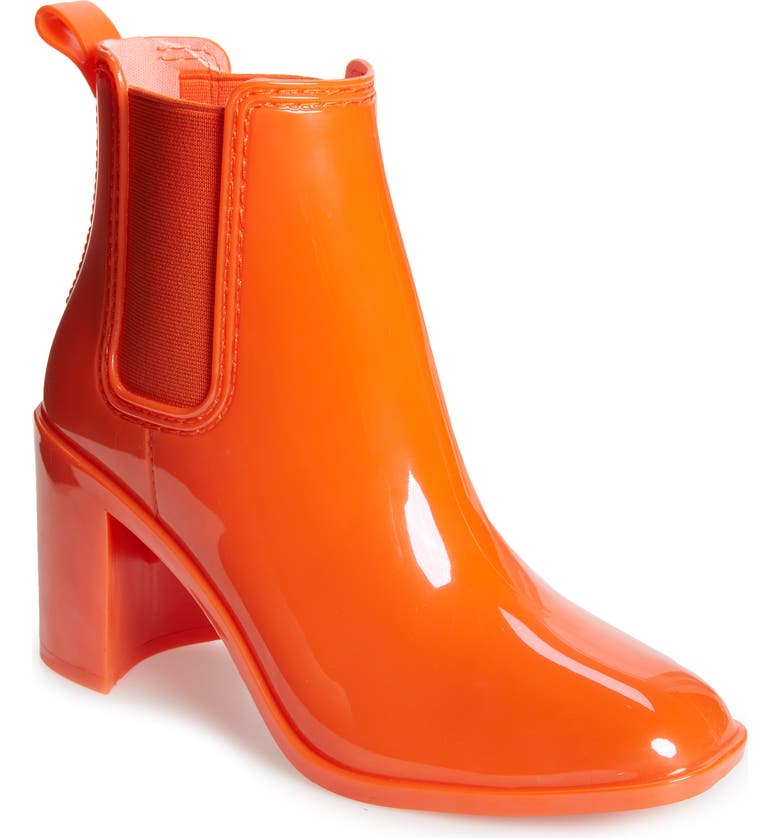 Images: Shutterstock; Nordstrom (6)
The Best Cute Winter Accessories That Are On Sale Right Now
It's officially 2019, which means it's time for the cliche "new year, new you!" (*Insert energetic fist pump*). In alignment with the new and improved you, one of your goals is probably to be more proactive and less reactive. (Okay, maybe it isn't, but you should def add it to your list.) For example, you should make the decision to start working on your summer bod NOW rather than wait until the first time you put on a swimsuit come summer. But I'm not gonna be a hypocrite and lecture you about going to the gym. I can, however, use my shopping expertise to help you be proactive rather than reactive when it comes to looking good while staying warm during this season's inevitable winter storms.
Consider this: in 2018, you would have pushed off buying winter necessities until it was officially -30 degrees and your fingers were at risk of frostbite. You'd then probs try to just pop into your local CVS to quickly grab a pair of gloves, and end up buying some fugly overpriced and poorly-made generic ones. But 2019-you is better than that, and would never have such an experience. The new you is smart and prepared, and is going to take 20 mins out of your day to go order some super cute sale winter accessories right now. Don't wait until you're desperate and have to buy those knockoff Burberry ones from a homeless guy with a black trash bag filled with other sh*tty counterfeit goods. Don't leave yourself desperate; 2019-you is definitely not desperate. You're confident, prepared, and definitely not using Snapchat maps to casually show up to the same bar as your ex.  'Cause, like, you're not desperate, remember???? REMEMBER. 
1. Scarves
Scarves are my favorite winter accessory, because they require minimal additional effort while providing a maximum additional layer of warmth. You can legit throw them on as you're running out the door, or easily toss them in your bag if your overly selfish, and frankly terrible at his job, Uber driver won't turn down the heat. To guarantee extra warmth, go Lenny Kravitz style and get a super-sized one that's so big you could legit mummify your whole body with it. Seems dramatic, but I'm dramatic, so touché.

Free People Dream Maker Stripe Scarf – $39.95

Urban Outfitters Extra Large Knit Oblong Scarf – $29.99

Free People Dreamland Chunky Knit Cowl Scarf – $39.95

2. Hats
Winter hats not only add warmth to your outfit, but they also add style. You can even select your winter head accessory based on the vibe you're going for that day. Like, go with faux fur earmuffs when you want to look chic as hell, or a cool beanie when you want a more edgy, cool girl look. Stock up on a few different styles of winter head accessories to ensure you have the perfect match for every mood! Just be aware of hat hair. If you're going on a first date, maybe don't wear a beanie. There's simply no sexy way to wrangle and tame your hat hair post-beanie. Go with the earmuffs instead.

Ted Baker Ear Muffs With Bee Embellishment – $43

Tommy Jeans Color Logo Beanie – $20

FP One Big Slouchy Beanie – $19.95

Stitch & Pieces Blush Knitted Headband – $6.50
3. Gloves
Gloves are a winter accessory that I always put off getting until I'm legit in my car trying to drive and can't feel my fingers. Um, yeah, not safe. Not to mention, not wearing gloves in the blustery cold contributes to dry, cracked hands, which is NEVER cute. In fact, idk if there's anything more cringeworthy than the mental image of those sad, thirsty hands. Just get several pairs of these sale gloves right now so you can put a pair in every coat pocket. Ya see, gloves help keep your hands moisturized. Moisturized hands are pretty hands. Pretty hands are feminine. Femininity attracts men. Gloves = Husband. See how easy that was???

Faux Leather Cheetah Print Glove – $19.99

ASOS DESIGN Leather Gloves In Check – $12.50

Alice Hannah Knitted Gloves With Faux Fur Cuff – $29

Zara Gloves With Faux Fur Lining – $12.99
Okay, so there you have it—a complete list of cute winter accessories that are all on sale right now, and that you need to buy now. Don't be a martyr and wait until there's legit snow falling from the sky to be crying about how cold your hands are. Don't be that girl. Nobody likes that girl.
Images: @Free People (3); Urban Outfitters (2); ASOS (5); Zara (2)
Cute Snow Boots That Actually Keep Your Feet Warm
New York City may have only had one real snowfall so far, but it's enough to get me to break out snow boots and dust them off for the freezing winter to come. The problem is though, they're fugly. Like, Google cute snow boots and you'd think it's an oxymoron. I legit always wait until they're my last resort to wear them out in public. Honestly, a majority of snow boots are horrendous and not fashionable by any means. For the ones that are, it seems as though they don't keep out the snow.
I know I'm not alone in feeling this way, so trust me when I say there's no better time to start investing in a new pair of snow boots than right now. The holiday season just kicked off and there are still unbelievable extended Black Friday sales, not to mention the fact that it's literally Cyber Monday today. So, yeah, I'd say now is a good time to spend your paycheck. Here are six pairs of cute snow boots that are actually good for the snow.
Maybe this is just a New York thing, but I've seen pretty much everyone wearing Chelsea boots. Once September came around, they were everywhere. So I guess these are the next best thing to have after Adidas sneakers. These double as both snow and rain boots with a super soft fleece interior that will keep your socks up and toes warm, two v important things, obvi.

Millennial pink snow boots? Count me in twice. These are cuter than Timberlands and since they are head-turners for sure, they're perfect for all your ~candid~ snow day Instas.

The rule that wearing white after Labor Dale is forbidden, isn't even real. If anyone told you that, it's probably because your vest was disgusting or something. White should be your go-to color in the winter because it makes you look bougie, chic, and v stylish. These v cute snow boots also come in black (bless), but the white pair truly is the winner if you ask me. And you did, since you're reading my article rn.

If you're one of those people who values looking good over staying warm, then you'll def be in love with these heeled snow boots. Although not easy to walk in, they're super warm, thick, and durable for harsh inclement weather. You'll be able to stomp through a foot of snow and still strut the streets like they're your personal runway.

We already know that Clueless plaid is making a comeback. With the detailing on these, you know they're seriously fab. These come with faux plush fur and a comfy stacked heel.

Okay, shearling, a hint of pink, and durable gripped soles? I am psyched. These cute snow boots are like, a serious upgrade from your over-worn Timbs. They also go with just about anything from skinny jeans to dresses.

Images: Ionut Necula /Unsplash; Nordstrom (2); The Outnet (1); Barneys (1); Last Call (1); Net-A-Porter (1)
Betches may receive a portion of revenue if you click a link and purchase a product or service. The links are independently placed and do not influence editorial content.
Shopbop's Surprise Sale Ends Today, So Shop These Looks Now
We are officially in the last month of fall today (seriously, where the hell does the time go?). Those of us on the East Coast will soon be bracing ourselves for tundra-like weather. With that, we have important things to worry about, such as how to stay warm and how to hide our winter bloat with sweaters and leggings—If you don't agree that leggings can be worn as pants, you can kindly GTFO. Obviously, these cold weather essentials don't always come with a pretty price tag, but that's where Shopbop comes in. #Blessed. Ending TODAY Shopbop is hosting a surprise sale that has thousands of items for up to 40% off. You should know that they like, don't do this very often. We all have one last chance to partake in these festivities and start loading up our carts, guilt-free. No one has the time to sort through dozens of pages, so I've selected some of the best splurge-worthy pieces from the surprise Shopbop sale, from bougie faux fur coats to Alexander Wang booties. 'Tis the season, Y'all.
Sweaters may very well be the only things that fit me after Thanksgiving, so I obviously plan on stocking up this season. The softer, the better. So don't mind me as I practically live in cashmere until next spring.

Faux fur coats are still happening, so if you didn't give in to the trend last year, you'll probs want to cop one for winter. A bold hue makes you look fashionable and bougie AF. You'll be feeling like a total Kris Jenner meme every time you throw it over your shoulders. And that's a straight-up #mood. Trust me.

I don't lack common sense—I know there will be days when you can't wear a skirt to prevent yourself from getting like, hypothermia. However, black tights are back and they help big time. Don't look past getting a cute skirt on sale (!!) just because it's not in season. Remember, it may be hoe, but then we make it fashion.

I admit they're a pricey version of a similar style you probs already own, but these are absolutely gorgeous with their rose gold detailing. And let's be real, who can resist their inner basicness when it comes to anything in rose gold?

I think this one is pretty self-explanatory, so I'm not going to bullsh*t a blurb about it. Everyone in the world needs a denim jacket to get through life. That is all.

As much as we hate jeans with a burning passion, we, unfortunately, cannot wear leggings to every single social occasion. To survive the colder temperatures while still looking like a semi-functional and responsible adult, opt for denim in dark shades. These even come with a raw hem, which is also v trendy right now.

This is probs the cutest effing dress I've ever seen, for the sole reason that you can wear it literally anywhere. A fall wedding? The office? A night of bar hopping? You'll make it work.

Every year, I find myself needing a new winter coat. Not really sure what happens. All of mine end up getting worn out and ratchet-looking. For a major lewk, you'll feel calm, cool, and collected (for once) in this cozy wraparound.

Photo: Lauren Fleischmann / Unsplash; Shopbop (8)
Betches may receive a portion of revenue if you click a link and purchase a product or service. The links are independently placed and do not influence editorial content.
Winter Clothes On Sale Now That You Should Buy Before It Snows
We live in a society that's always rushing towards the next big thing, and retailers are the biggest, most obvious example of this. We live in a future mindset and, no, matter how many meditations apps we download on our phones, we're terrible at living in the moment. Hence, Christmas decorations are currently available at your local CVS, and have already been there since October 1st. As much as this may annoy you, this "next-big-thing" mindset of retailers actually benefits you as consumer. Just like you can start buying sale swim at the end of June, you can start buying fall and winter clothes on sale now (even though it's barely just gotten cold enough to get out your winter parka). Let's take advantage of our f*cked up society, and even more f*cked up economy, by being smart with our money and buying these pieces now. Here are the best fall/winter pieces you can buy now and wear now, that are already on sale.
1. Jackets
The first round of fall outerwear is currently being marked down, and you can get some amazing trendy jackets at a fraction of their original price. Like, for example, this suede jacket from Free People, which was originally $398, but you can now get for $149.95! I'm no math whiz, but that's like… a lot less.


Free People In The Street Suede Jacket ($398 $149.95)


Father's Daughter Kathleen Denim Jacket ($268 $188)


Levi's Oversize Faux Shearling Lined Denim Trucker Jacket With Removable Faux Fur Collar ($168 $117.60)


Levi's Oversize Denim Jacket With Faux Shearling Trim ($138 $89.90)
2. Sweaters
Just like jackets, the first round of fall sweaters are also currently being marked down.  Which means, you can get some supes stylish high-quality sweaters for the same price as a round of house vodka shots. Tbh, you probs don't need that fifth shot anyway, so instead, use that money for good and get one of these v cute sweaters.


Kerisma Puff Sleeve Pullover ($94 $48.99)


Lovers + Friends Union Sweater ($158 $95)


Jack By BB Dakota Déjà Vu Raglan Bell Sleeve Ribbed Pullover ($78 $38.49)


by the way. Mira Distressed V Neck Sweater ($62, $38)
3. Tops
A lot of the fall/winter style tops, particularly ones made with season-specific fabrics and prints, are already being marked down. This is because retailers know that once the holidays are over, they'll have no shot of selling these pieces because everyone switches to a spring wardrobe mindset. The selection of fall and winter clothes on sale is pretty effing good right now, especially for tops, and you should probs stop what you're doing and go buy some. (But like, finish reading this article first.)


Free People Willow Smocked Top ($78 $49.95)


UO Silky Tie-Front Blouse ($59 $29.99)


Free People Campus Long Sleeve Top ($78, $49.95)


Madewell Whisper Cotton Turtleneck Top ($32 $22.40)
4. Pants
Pants that are very seasonally on-trend are already on sale for the same reason season-specific tops are already on sale. Once the holidays hit, retailers know people are ready to start thinking spring, even though there's probably still snow on the ground. This works in your favor because you can get pants like these chic Kardashian-esque suede skinny pants, for a mere $50. Imagine how good you'll look rolling up to the bar in these, paired with a nude bodysuit and oversized denim jacket. Your ex will be sad he dumped you, while his new bitch will be wishing she was you. All because of these adorbs suede skinnies that you got on sale.


About Us Nala Faux Suede Skinny Pants ($72 $52)


Topshop Dolly Stripe Tapered Trousers ($80 $39.99)


Free People Plaid Buttondown Pants ($128 $69.95)


BCBGMAXAZRIA Houndstooth Paperbag Waist Pant ($228 $137)
5. Jumpsuits & Dresses
Pretty much anything with a turtleneck is already marked down or will be in the next few weeks. No matter how you try to play it, turtlenecks really only work during the colder seasons and, because of this, you can get some really cute pieces already on sale. Take this rust-brown turtleneck sweater dress, for example: pair it with over-the-knee boots and maybe a fur vest, or with a flannel tied around your waist, and you instantly have a top fall lewk. Andddd one that you can feel good about cause like, it was on sale. Life's all about the little wins, people.


UO Gigi Turtleneck Mini Dress ($59 $39)


Free People Sofiya Plaid Babydoll Tunic ($148 $69.95)


Cotton Citizen The Tokyo Mini Dress ($155 $101)


Take Me Out Flare Jumpsuit ($148 $69.95)
For those who have ever been personally victimized by insane retail markups (aka everyone) take a tip from a pro shopper and retail expert: wait a few weeks into the season before buying your must-have pieces and you can save a lotttt of money. Realistically, the time frame in which those same pieces are full price, you probs can't even wear them yet anyway. So practice just an ounce of patience and you can save tons of money, and who doesn't want that? Uh, hulllooo more clothes. Or more Seamless. Or more vodka sodas. Whatever your vice of choice, get more of it by waiting to buy winter clothes on sale.
Images: Free People (6); Revolve (6); Urban Outfitters (2); Nordstrom (4); South Moon Under (2)
Betches may receive a portion of revenue if you click a link and purchase a product or service. The links are independently placed and do not influence editorial content.