5 Snow Boots That Won't Ruin Your Outfits This Winter
Winter isn't officially here yet, but given the fact that I'm typing this right now from the comfort of my heated blanket, I'd say it's not too far off. Soon, not only will you need to get out your parka, scarf, gloves, etc. but you'll also need your winter boots. Fortunately, unlike your childhood snow gear would suggest, your winter boots really don't need to be tragic. Here are some super cute snow boot options to get you through this cold, sh*tty weather season. Fair warning, they're not exactly cheap, but that's because they're an investment into looking cute and keeping your feet warm, so you actually don't want to cheap out. Even if you're not feeling a major purchase right now, consider adding one of these pairs of boots if your grandparents still ask you for a Christmas list every year.

If you live in the city and don't have Sorels, then well, you're doing it wrong. I actually don't know how I survived the winters before I got my first pair, but needless to say I'm glad I did. They are a necessity for commuting to and from work, and if you're that bitch trying to still walk home in her kitten heels when it's snowing out, then you're only hurting yourself. Wear the boots to work, and bring the heels in your bag to change. 

These shoes are not only stylish, they're actually weather-proof as well. Oh, and they're also on sale right now. Animal print is very in, and so is having winter boots that don't look clunky and obnoxious. Especially once you're out of college, you want a more mature snow boot. So elevate your snow gear this winter with these stylish boots.

I have a soft spot for UGGs, and even though I'm no longer wearing them with my Juicy tracksuit, they still have a place in my wardrobe nowadays. But obviously your beloved brown sheepskin UGGs aren't really meant to brave the elements, and these boots are the perfect alternative. The shade of grey is perfect for winter, and the fur trim couldn't look (or feel) cozier.

These boots are the epitome of stylish and chic snow boots. I mean, they're Moschino, so like, can you get more glam than that? The specific style won't be for everyone, but if you don't really like the classic boot look, these are a fun twist. And surprisingly, they're actually under $200. So for weather-proof boots that are stylish and cool (and a brand that the Hadid sisters wear), I'd definitely ask Grandma for these ones.

These winter boots are like cabin-cozy-chic. Whether you're spending the majority of the winter hitting the slopes in Aspen, or just trying not to freeze to death walking around the city, these are the perfect option that's still cute, but just the right amount of rugged. Hopefully by now you've thrown away your old Sperry boat shoes, but they're really killing the game with these boots.
Whether you buy one of these options, or just use these as some inspiration to find a less expensive (buy still stylish) option, remember that winter doesn't mean your fashion has to be cold and dark. You'll be wearing your boots a lot, so take the time to find something that won't make you depressed when you get dressed in the morning.
Images: Nordstrom (2); UGG; ShopBop; Zappos
6 Winter Shoes That Are Actually Cute Enough For Going Out
I love winter. I live in LA, so by winter, I mean 65-degree weather where you don't actually wear a coat. However, I'm definitely guilty of getting into a style rut where I wear the same leggings from Amazon, sweaters that says something stupid like "I Love My Dog," and boring boots every day. But like, when it's cold af out, we have to prioritize maximum coziness. That being said, you don't actually have to sacrifice style just so you don't, like, freeze to death. Or in my case, be slightly uncomfortable. If you live somewhere with actual seasons and you're wearing a huge-ass coat everywhere anyway, the least you can do is throw on cute shoes to appear more put together. I'm aware there is, like, slush and ice, and snow, and other variations of frozenish water that you have to navigate through lest you fall on your ass. But if you're going out, skip the ratty Uggs your mom bought you in high school, and throw on these cute shoes that are also functional for the cold.
The true MVP of our fall fashion has carried over well into winter. You have to have a pair of over the knee boots, it's just not really negotiable at this point. Not only are they chic af and slimming, as the boots are kind of Spanx for your leg fat, they are warm. It's like wearing double pants and you can layer thick socks underneath too. The only downside is that these boots are def not waterproof, so this is more of a calling-a-Lyft kind of shoe instead of trekking through the snow.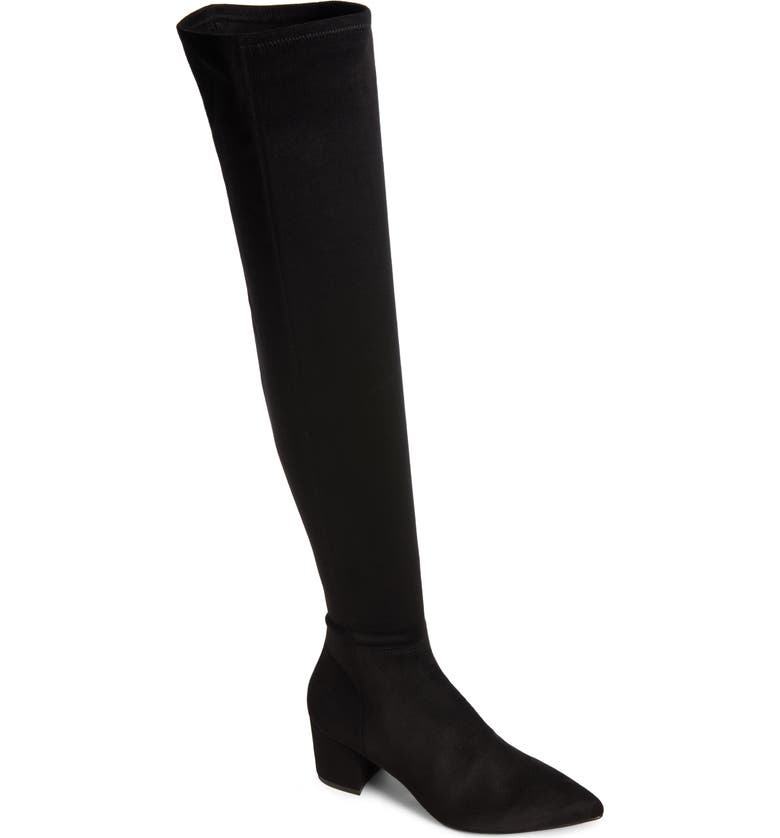 If you walk often in bad weather–which, how do you keep your hair from looking like shit?–it may be worth it to invest in super high end waterproof boots that don't look at all like actual snow boots. There are a ton of brands that have waterproof faux suede or leather styles that are actually totally okay to wear in rain and snow but also you don't look like f*cking Paddington Bear. These Ross & Snow boots are weatherproofed and are shearling lined to keep you super warm.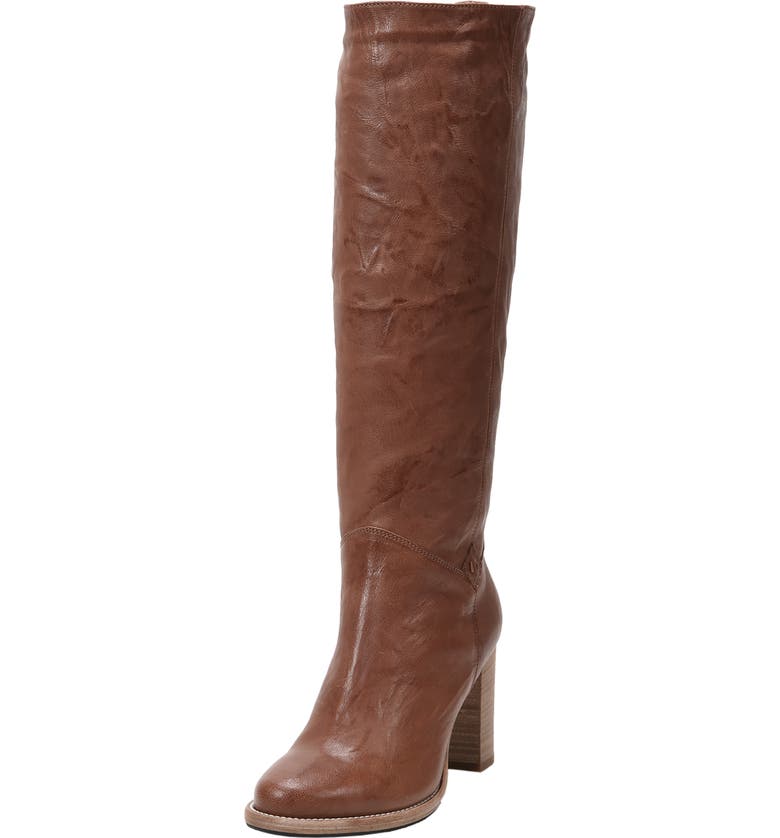 A heeled bootie with thick tread on the bottom is the secret to looking super fashionable in the snow without slipping and eating sh*t on the ice. Plus, the lace-up style is totally edgy and they're cute enough to look like you chose them on purpose and not just because you're cold. They're like an upgraded Doc Marten for adults doing adult things.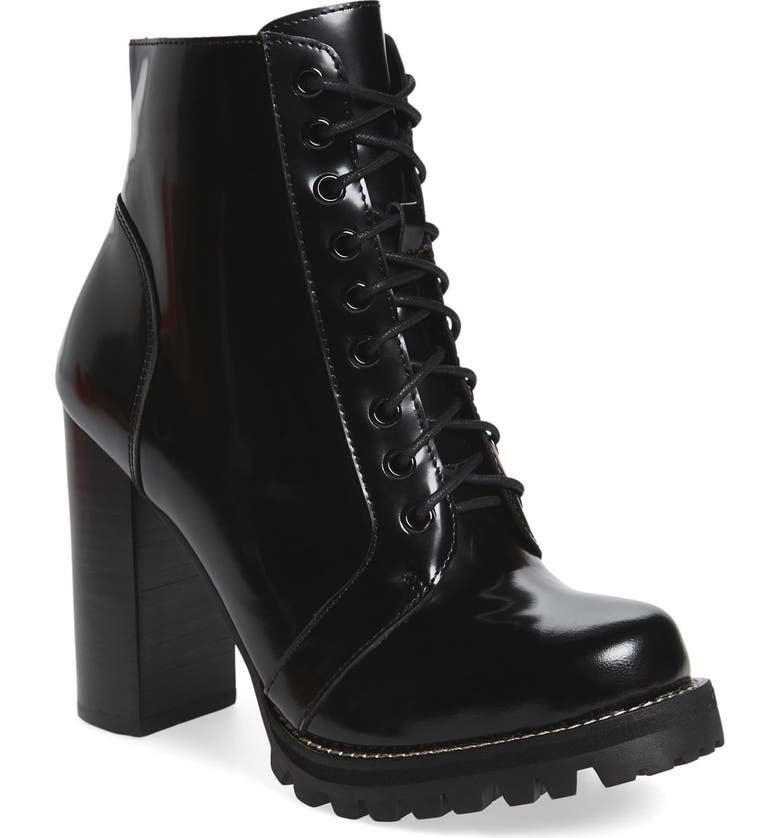 These little velvet booties are sooooooooo cute and not super functional in weather, sorry not sorry. But they are definitely winter chic with the blue tones, and will totally keep you warm on your way to your destination. I just definitely don't recommend sloshing through the rain in them. These shoes are the perfect transitional piece into spring and while they will keep you warm, the short style will also keep you from dying of heatstroke once you're at the party and the host has decided to blast the heat despite the 50 sweating bodies there. Seriously, why do people do this? It's freezing outside so we all have to swelter inside? Can I just never be happy then?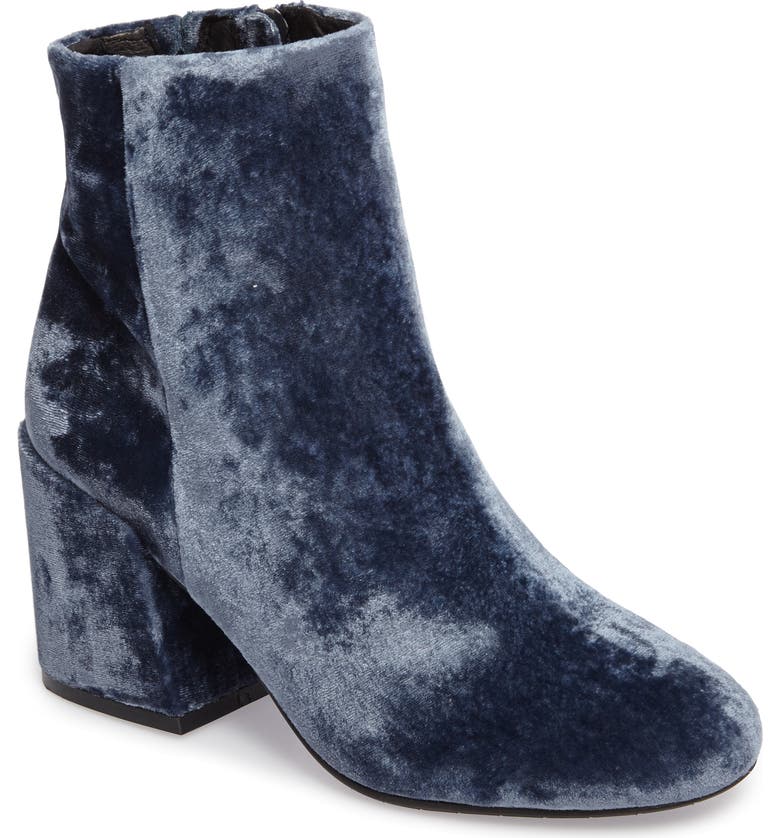 The biggest downside to the clear heels that we saw everywhere all last year is that should you sweat at all, your feet will die in these plastic-clad ovens. It's like the effect of those plastic raincoats you get at sporting events, but just for your feet. Ew. Good news is that in the winter, this will also keep your feet warm and being patent leather/plastic material means these babies are totally waterproof. If you're really worried about being too cold, you can even wear thick printed socks underneath and show them off. You'll look like an Urban Outfitters ad.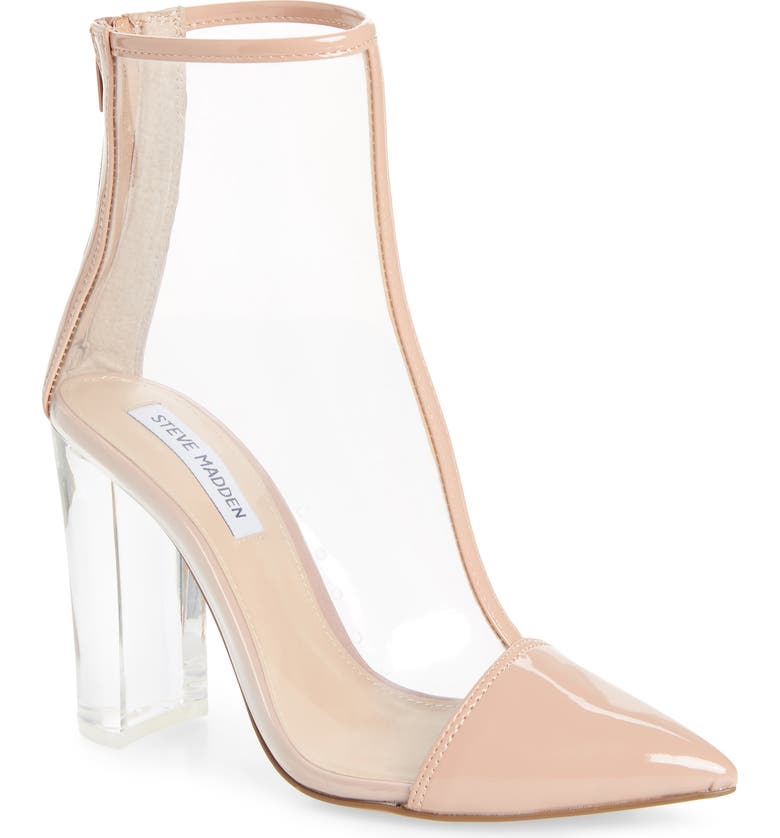 If it's really pouring and you must wear a rain boot out, I suggest getting one that is heeled, short, and really, really obnoxious. The key is to make it seem like you're wearing the booties on purpose, not like you threw them on as an afterthought because it's-duh-f*cking raining. These bright orange Jeffrey Campbell's are a total statement piece that you can build the rest of your outfit around. Plus, they're super comfortable and your feet will be dry.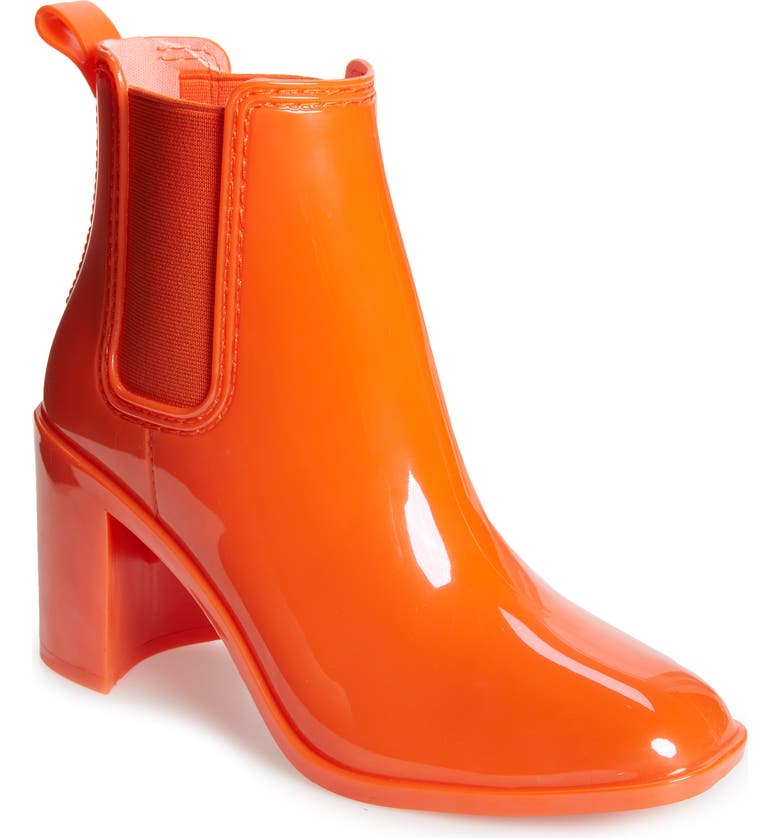 Images: Shutterstock; Nordstrom (6)
Cute Snow Boots That Actually Keep Your Feet Warm
New York City may have only had one real snowfall so far, but it's enough to get me to break out snow boots and dust them off for the freezing winter to come. The problem is though, they're fugly. Like, Google cute snow boots and you'd think it's an oxymoron. I legit always wait until they're my last resort to wear them out in public. Honestly, a majority of snow boots are horrendous and not fashionable by any means. For the ones that are, it seems as though they don't keep out the snow.
I know I'm not alone in feeling this way, so trust me when I say there's no better time to start investing in a new pair of snow boots than right now. The holiday season just kicked off and there are still unbelievable extended Black Friday sales, not to mention the fact that it's literally Cyber Monday today. So, yeah, I'd say now is a good time to spend your paycheck. Here are six pairs of cute snow boots that are actually good for the snow.
Maybe this is just a New York thing, but I've seen pretty much everyone wearing Chelsea boots. Once September came around, they were everywhere. So I guess these are the next best thing to have after Adidas sneakers. These double as both snow and rain boots with a super soft fleece interior that will keep your socks up and toes warm, two v important things, obvi.

Millennial pink snow boots? Count me in twice. These are cuter than Timberlands and since they are head-turners for sure, they're perfect for all your ~candid~ snow day Instas.

The rule that wearing white after Labor Dale is forbidden, isn't even real. If anyone told you that, it's probably because your vest was disgusting or something. White should be your go-to color in the winter because it makes you look bougie, chic, and v stylish. These v cute snow boots also come in black (bless), but the white pair truly is the winner if you ask me. And you did, since you're reading my article rn.

If you're one of those people who values looking good over staying warm, then you'll def be in love with these heeled snow boots. Although not easy to walk in, they're super warm, thick, and durable for harsh inclement weather. You'll be able to stomp through a foot of snow and still strut the streets like they're your personal runway.

We already know that Clueless plaid is making a comeback. With the detailing on these, you know they're seriously fab. These come with faux plush fur and a comfy stacked heel.

Okay, shearling, a hint of pink, and durable gripped soles? I am psyched. These cute snow boots are like, a serious upgrade from your over-worn Timbs. They also go with just about anything from skinny jeans to dresses.

Images: Ionut Necula /Unsplash; Nordstrom (2); The Outnet (1); Barneys (1); Last Call (1); Net-A-Porter (1)
Betches may receive a portion of revenue if you click a link and purchase a product or service. The links are independently placed and do not influence editorial content.
5 Cute And Affordable Winter Boots
The weather is getting colder and those super cute Zara cutout booties just aren't going to do you any favors once the temp hits below zero. Your feet need boots that will actually keep them warm, but without sacrificing style, of course. Obvi, you don't want to wear gross clunky snow boots with your new puffer coat and matching scarf and hat set. It's going to be a lot harder to get that cliche candid Insta of you playing in the snow if you have to crop your feet out of every picture.
You need some legit boots with actual weather-proof defense. But like, without them making you look like a first grader on a snow day. So I've rounded up five pairs of affordable and cute winter boots that are weather-appropriate. These boots will withstand this season's weather but also won't break the bank or make you look like an Arctic explorer. You really can have it all!
Before full-blown snowstorm weather, you'll need boots that can protect you from the elements. But without all that fur nonsense that will cause your feet to profusely sweat. These beautiful pale pinky-nude boots by Sperry are the answer to your prayers. Not only are they the cutest things I've ever seen since Kimye's kids, but they're also perfect for those in-between days. Like when your weather app can't decide if it's going to be light showers or f*cking ping pong balls falling from the sky.

These are the perfect winter boots with their season-appropriate red cabin plaid print and weather-proof materials. They'll look amaze with jeans and leggings, while also protecting you from the harsh weather. Like, how cute would these be with your Slutty Mrs. Clause attire for SantaCon? They'll be able to withstand both the snow AND the beer slush on the ratchet bar floors. They're like, the boots you never even knew you needed.

Love 'em or hate 'em, you can't deny how unbelievably comfortable UGGs are. Not to mention, they're like, totally a thing again. I mean, Kendall Jenner is like, still technically a "UGG influencer", so that's all the validation I need. You can get this classic pair at Nordstrom Rack for a much better price than you would find anywhere else.

Okay, now we're getting into the legit Eskimo-style boots for when there is actually snow on the ground. You're going to need a pair of boots like these for when you inevitably have to leave your cave bed and latest Netflix binge to go out into the cold stormy world for your life essentials. You know, like another bottle of rosé or more tampons.

These boots are amazing and I'm legit ordering them right now. They're way cuter than traditional snow boots which also usually cost double the price. They have a Step Up 2 backup dancer vibe that I'm here for and need in my life ASAP.

There you have it, five affordable winter boots that aren't ugly AF. So now you can keep your shopping list of all the unreasonable sh*t you need money for like overpriced holiday candles that smell like Christmas trees. F*ck, those are irresistible.
Images: Shutterstock; Nordstrom Rack (3); Zappos (2)
Betches may receive a portion of revenue if you click a link and purchase a product or service. The links are independently placed and do not influence editorial content.
5 Snow Boots You Won't Be Embarrassed To Wear Out
Winter is a hard time for all of us. Some of us just accept that we will gain an extra five pounds, others accept Netflix as their only interaction for the next three months, and all of us prepare to take fashion risks just so we can stay warm, but also look cute. What? Like, it's hard. With puffy bombers, tacky hats, and fugly snow boots, what won't ruin a day's worth of trying to look good for the rest of society? Snow boots, for one, are kind of a fashion risk we can't avoid, simply because we just need them in our lives at one point or another. Most are seriously atrocious, I get it, but since we eventually need to own a pair, here are five pairs of cute snow boots someone will actually compliment you for. Just when you thought the impossible couldn't be done.
Honestly, you probably already have a pair and if you don't, well, you're about to. Hunter is the basic bitch of all winter boots, coming in a close second after Uggs. However, unlike Uggs, there's actually a good reason for why we love them so much. They're honestly not bad looking, they're pretty comfortable, and they actually do what they're intended to do: block out the slush without soaking our socks.

Okay, so, we can't have it all. These may not be the cutest effing boots you have ever seen, but they aren't too harsh on the eyes either. Despite looking like they're ready to climb Mount Everest, they're a pretty decent addition to a cute outfit if you've been hit with a shit ton of snow. They're 100 percent waterproof leather and designed to tough out the coldest of temps.

Everything looks better in black. It's like, a fucking fact at this point. Made for harsh winters and probably life-threatening snowstorms, these black mid-calf boots make it possible to trudge through snow without ruining a v chic outfit.

Finally, a suede knee-high boot you can wear in shitty weather without fucking them up. My prayers have literally been answered. These super chic boots can be worn in any weather and will withstand mud, rain, snow, and slush without ever receiving the slightest scuff. They keep your toes dry, comfy, and sweat-free (it happens to the best of us) since these come with an interior "antibacterial treatment." I'll take two, thanks.

If you're going to wear white this season, let it be your boots. Both fashionable and highly functional, these are waterproof rubber boots with gold accents that just look like a trendy pair of white Timberlands, but like, better.

5 Cute Winter Boots That Won't Ruin Your Outfit
Winter is my least favorite season for like, a million and one reasons. It's always dark and freezing, I have no motivation to do anything besides eat on the couch (even though that's kind of year-round), and there just aren't as many opportunities to get a good Instagram. But the number one reason that I hate winter is that it's basically an entire season dedicated to ruining all my favorite shoes. Between salt stains and gross, wet snow, every step outside is putting your beautiful shoe collection in jeopardy. Plus, most winter boots are really fugly. Here are a few styles that don't totally suck, though.
Normally, I have a personal vendetta against waterproof boots that are a leather bootie/functional winter boot hybrid, but I weirdly fuck with these. They're not trying to scam anyone, you know? It's kind of like when you randomly find a cheap rosé that comes in a cute bottle and actually gets you pretty drunk.

Sorel boots are basically the shoe version of the pineapple on pizza debate. You're either really into them or totally hate them. However, they've recently launched a new Lux collection that might make you change your mind, because it's significantly less fugly than the original design.

I know the rules were real that time Karen wore a vest, but I feel like it's time to reassess. Maybe it's okay to wear white sneakers in the winter. IDK. Vans are def the shoe that goes with totally everything, and these winter-proof sneakers have made it so you can still wear them when the weather gets shitty.

When you think of wearing over-the-knee platform boots in the winter, you probably typically visualize absolutely ruining a suede pair you promised yourself you'd be careful with. These Jeffrey Campbell boots totally prevent that tragedy from happening, because they're water-resistant.

NGL, I lost my shit when the Kardashian-Jenner clan started frolicking around Calabasas in Timberland boots, because it meant that by some stretch of the imagination, I could kind of pull them off, too. This updated style has velvet accents, but they're still waterproof.

Images: Drew Coffman / Unsplash; Nordstrom (2); Sorel; Vans; Timberland