7 Steps To Transition Your Beauty Routine To Winter
The day after Thanksgiving only means one thing: The official countdown to the holiday season is on. Not only am I referring to shopping like a mad person and drinking peppermint mochas on an hourly basis, but also the fact that winter is f*cking coming. Like, real Game of Thrones type sh*t. The first thing we think of is the transition our wardrobe has to go through, and just like how people tend to forget about Karen because she's such a slut, you also tend to forget to transition your beauty routine for winter, too. This time of year is really crucial to get your sh*t together and start treating your precious skin like the diamond it is. You can say goodbye to stocking up on bronzers and cooling products, and instead look forward to hydrating moisturizers, vampy lipstick shades, and dozens of lip balms. Here's how to transition your beauty routine for winter and the perfect swaps to do it with.
1. Creamy Facial Cleanser
To start with the perfect clean slate, you'll want to begin by changing your face wash. I know this can be super hard for a lot of people, especially those with sensitive skin types, because a change in routine can cause major breakouts. However, opting for one with a creamy texture can go a long way. It will bring all of the hydration you need to start fighting harsh winds on day one.

CeraVe Hydrating Face Cleanser Face Wash for Normal to Dry Skin
2. Overnight Facial Oil
Regardless of your skin type, you can always benefit from a facial oil. I know, it sounds bizarre, especially if you already feel like a grease ball. Trust me, though. Adding one more step in your routine will work wonders. I prefer to stick to an overnight facial oil (versus one you can add in the morning or throughout the day) because I like to wake up and see the results first thing. This relaxing cleanser works as both a stellar makeup remover and the nourishing hydration you need for the entire next day.

Kiehl's Midnight Recovery Botanical Cleansing Oil
3. Hydrating Moisturizer
The more natural ingredients, the better a product is for your face. This one is apparently 98.6% natural, so I'd say it's close enough. Using a moisturizing cream prior to setting your makeup is the key to keeping your skin's natural glow and hydration. This anti-aging, non-greasy lotion feels super lightweight and fast-absorbing as it diminishes wrinkles, cleans, and retains natural moisture for intense hydration that lasts.

Burt's Bees Intense Hydration Day Lotion
4. Illuminating Foundation
A few months ago, you were probs looking all over for a cooling foundation with a matte finish. Well, come winter, you'll want to toss that aside for a dewy liquid foundation that brightens up and radiates your skin, since the cold tends to dull skin tones.

5. Brightening Highlighter & Blush
Skip the bronzer this upcoming season and instead, emphasize your cheekbones with blinding highlighters and rosy blushes. You'll want to enhance your natural beauty with flushed cheeks and metallic hues for the perfect wintry glow.

Huda Beauty Highlighter Palette – Winter Solstice Palette
6. Vampy Lipsticks & Tinted Lip Balms
Ditching bright shades such as bubblegum pinks is obvious af. To get a lip tool that hydrates and colors, you'll want a tinted lip balm. The darker, the better. F*cking duh.

Clinique Chubby Stick Moisturizing Lip Colour Balm in Richer Raisin
7. Dewy Finishing Spray
I love a setting spray this time of year *I say in Pauly D's voice*. Don't worry, I hate myself also. Anyway, I seriously love setting sprays, but I really love setting sprays when temperatures drop and New York winds wreak havoc on my face. To top off your look and really ensure your skin has the most necessary hydration this winter, get yourself a dewy, hydrating setting spray to keep your glowing look locked in and looking fresh all day long.

COVER FX Dewy Finish Setting Spray
Photo: Freestocks.org / Unsplash; Sephora (5); Ulta (2)
Betches may receive a portion of revenue if you click a link and purchase a product or service. The links are independently placed and do not influence editorial content.
Ulta's Love Your Skin Sale Starts Today & Here's What To Buy
In a time when it feels like New York may truly freeze over, taking care of our prizeworthy skin is crucial. Frigid temperatures literally destroy everything we care about by punishing us with dry af skin, ashy hands, and pasty-looking faces. With this comes the real struggle of figuring out wtf to buy, and deciding whether or not the expensive shit really works—because if it doesn't, well, FML and fuck my bank account. Fortunately for us, Ulta is a godsend and is rewarding us with their Love Your Skin sale. I know, it sounds fucking amazing already. From now until the 27th, must-have skincare products from some of our favorite brands will be up to 50% off. Each day brings something different to the table, so start setting alarms on your phone now. Here's all of the worthy shit to buy for this week.
Monday, January 8th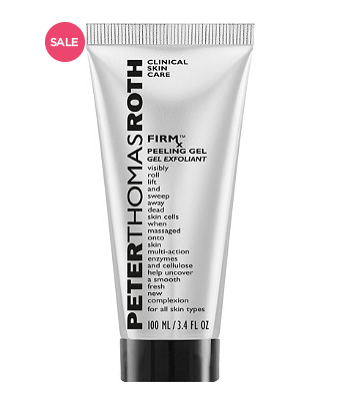 Please raise your hand if your skin was personally victimized by this weekend's insane Bomb Cyclone. *Raises both hands* To help get rid of flaky dull skin, this gel literally rolls off dead skin (ew) to reveal brighter, hydrated, smoother-looking skin. It's full of a bunch of fruity goodness so def it's non-drying and non-irritating.
Tuesday, January 9th

This makeup remover is honestly so good, it wipes away even the most stubborn waterproof mascaras. The bi-phase formula (see: lipid and water) not only removes all makeup, but conditions and refreshes the eye area as well—all without leaving your face feeling greasy and gross.
Wednesday, January 10th

In case you don't know, there isn't much coconut oil *can't* do. Honestly, I'm upset I waited so long to try it, but it has seriously like, improved my quality of life. It helps heal hair, skin, and anything else worth stressing over. This moisturizing coconut oil is just one of many from Organic to Green that you can find at 50% off this week. The refreshing formula is non-greasy, v gentle, and non-comedogenic, so it will help dry winter skin without making you break out. Bless.
Thursday, January 11th

Uh, when aren't we stressing over corpse-looking eye bags, rude wrinkles, and any visible signs of aging? Never. This super intensive hydrating cream is designed to infuse your skin with a shit ton of necessary moisture while getting rid of any lines or wrinkles while you sleep. You'll wake up to soft, glowing, wrinkle-free skin first thing in the morning. Better than coffee? No, but it comes close.
Friday, January 12th

Let's just say there's a reason why everyone and their mother owns one of these. This small compact cleansing system can be used both at home, or on-to-go if your face really just can't wait. The electronic facial cleanser does a hell of a lot better job than your hands do at washing your face. It removes all makeup, exfoliates dry patches, absorbs oiliness, and reduces breakouts. You'll honestly wonder what the hell you were doing with your life after buying one of these. You're so welcome.
---
Betches may receive a portion of revenue if you click a link in this article and buy a product or service. The links are independently placed and do not influence editorial content.
The 5 Lip Colors You Need For Your Winter Instagrams
Winter is upon us, and I've been ready and waiting for this shit since that time during Labor Day Weekend when I blacked out in a star spangled bikini and woke up wanting to banish myself to Canada for my actions. So, yeah, I'm pretty fucking ready for winter. Not just because it gives me an excuse to do nothing and see no one live my best life with my Netflix account, but also because I can finally break out my winter lip color, which is v similar to my spring, summer, and fall lip color, but I get less shit for wearing it. And, trust me, if I'm choosing to leave my house in the dead of winter it's because my bff forced me off the couch at gunpoint I have a damn good reason, and you best believe I will be armed with the appropriate lip wear. So, anyways, let's talk winter lip colors, k?
1. It's All About The Nudes

Nude lips are always in, but for this winter, try a more sophisticated pinkish-brown off-nude to elevate your winter look. These nudes look moodier than your basic nude lip, which is perfect because I am always striving to be the moodiest bitch in NYC. We suggest buying Josie Maran Argan Love Your Lips Hydrating Lipstick. Not only is the shade to die for, but the people at Josie Maran should be using their talents at NASA because this shit is fucking groundbreaking. The outer shell of the lipstick is made with moisturizing argan oil, while the inner shell is made with highly pigmented color so your color will stay locked into place without peeling off halfway through happy hour. It's a Christmas miracle.
2. Bold Red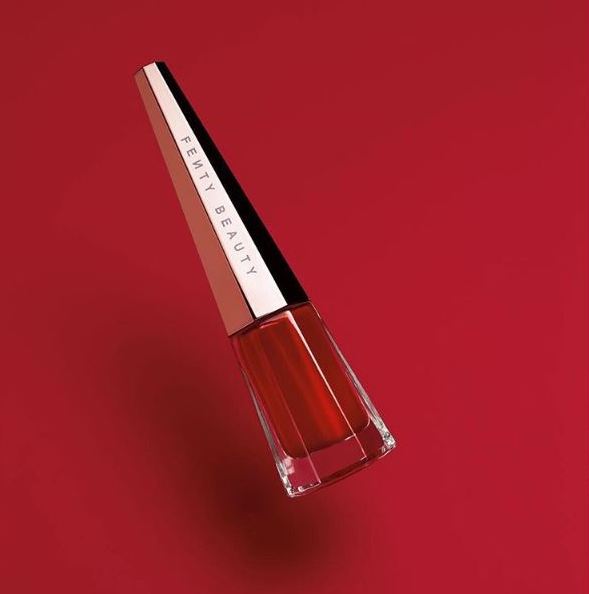 Bold red lips for Christmas? Groundbreaking. So, FINE, it's not original, but it's timeless and classy and don't pretend like you won't be puckering up the second December 1 hits. And prepare to lose your fucking mind because this just in: Rihanna is releasing a liquid lip paint in the shade, you guessed it, bold red Stunna, like, really fucking soon. Like, cancel-your-Thanksgiving-plans-because-it-drops-on-November-23rd soon. We already told you how obsessed we are with her Fenty lip gloss, which I was fully prepared to hate because I retired all lip glosses with my Juicy Couture track suit years ago, but now use religiously. Similar to how her lip gloss works for all skin tones (which I am still convinced is witchcraft tbh) so too will her red lip shade. Regardless of if it complements my skin tone or not I will be buying it to feel closer to Rihanna, and you should too.
3. Forbidden Fruits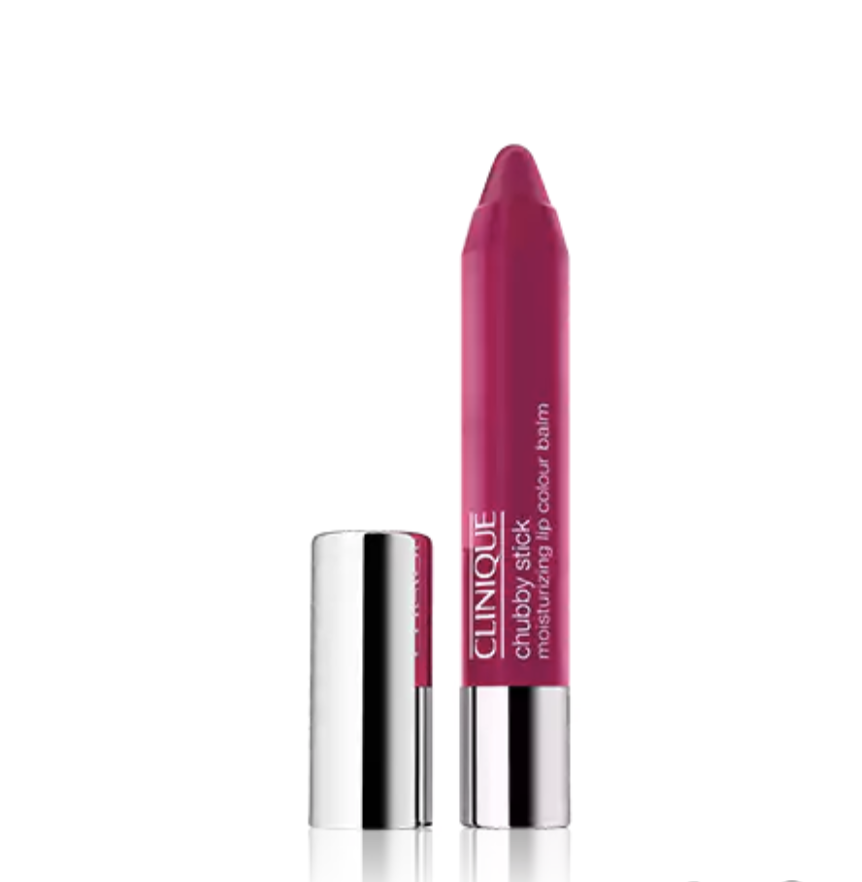 Berry lips were literally everywhere during fashion week, and we're actually not mad about it. These hues are flattering on everyone AND they scream winter-chic. We suggest trying the Clinique Chubby Stick in Pudgy Peony, which if you can excuse the name (seriously v sorry I used the word "chubby" and "stick" before noon on a Monday), it's actually amazing to use. The berry balm is v moisturizing and it gives your lips more of a berry tint instead of full-on color so you'll look more chic and less extra.
4. Crimson Hues

If you're trying to be sort of different and original but not too different and original (think Ariel Winter channeling Kylie Jenner in a thirst trap Insta) then crimson hues are about to be your go-to lip color this winter. Brick-red hues, like Nars Semi Matte Lipstick in VIP Red, are about to be all over the brunch scene soon—I'm calling it right now. Nars' semi-matte formula is made with Vitamin E to make it long-lasting AF and keep the color locked into place no matter how many mimosas you chug. Plus your lips are left looking velvety and full-bodied with a sheer finish that will look great on your after-brunch Snapchat story.
5. Vampy AF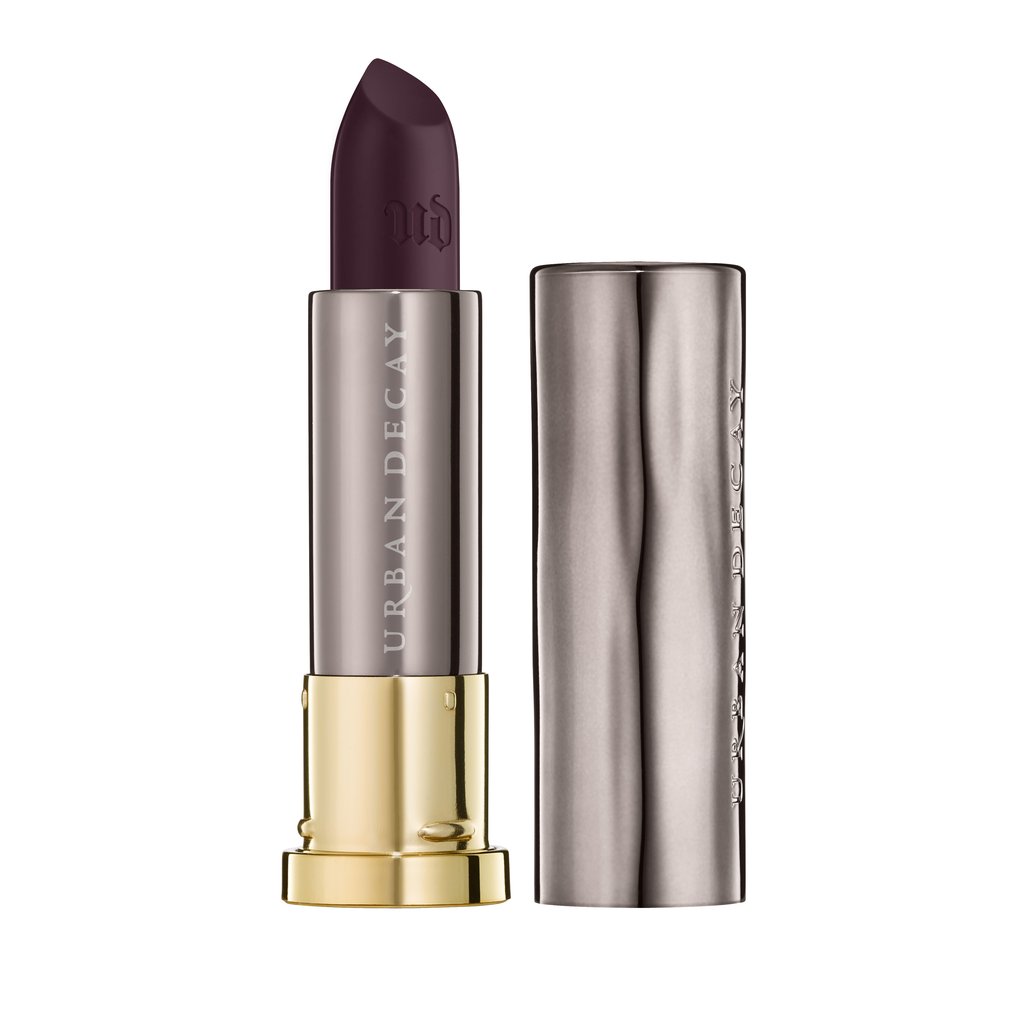 Let me be clear: I don't need any one season to tell me when and where it's appropriate to don dark, vampy lip colors, because in my opinion the time and place for that is literally always. Even if that time and place is my couch at 5pm on a Sunday. Just saying. One of our favs vampy lip colors is Urban Decay in Blackmail, and that's not just because I feel personally connected to the name. Well, at least not the only reason. This highly pigmented lip color goes on as a matte and stays on for hours. And by hours, I mean it can outlast you between the hours of 11pm-4am. You're welcome.