The Types Of Cheese You Need To Pair With Your Rosé This Summer
Oh, cheese, you're your own food group to us. You stand apart from all other foods, and we have shrines to you in our deli drawer. As any classy indivudual such as ourselves would know, when cheese meets wine, beautiful things happen. Birds sing. We assume flowers bloom. Somewhere in the distance, a wolf puppy learns to howl. It's magical.
To top even all that inspirational shit, when a good cheese meets a good rosé, shit gets even realer. It takes you from "girl drinking pink wine out of a bag" to "self-actualized independent woman who enjoys the finer things in life." However, you have to first fucking KNOW what cheese to eat with your rosé.
We're here, per usual, to help.
General Rules
Generally speaking, you want a semi-soft cheese to pair with a rosé. That means you should reach for things like Gruyère, Havarti, and even Monterey Jack, the povo fancy cheese of America. Rosé is crisp and light, so you need a cheese that can both hold its own AND not take away from the mild wine. I mean, this is our fave summer draaanking wine AND it makes us feel classy, so treat it with some respect.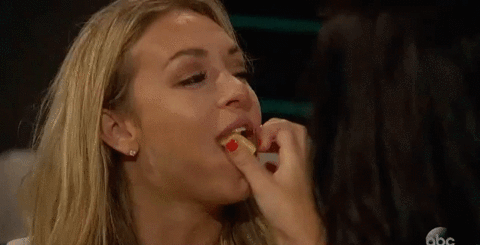 Dry Rosé
Grab a mild- or medium-firm cheddar, Gouda, or even Provolone for this version. They can be a stronger flavor but tend to caaaaalm themselves with a nice dry rosé. HOWEVER, stay away from flavored cheeses in this category, such as sharp cheddar and aged Provolone. Ain't nobody got time for all that flavor—save it for a full-bodied red.

Sparkling Rosé
Fresh cheeses LOVE sparkling wines, so head out to the store and grab a Farmers Cheese or local, fresh concoction to complement the bubbles. Sparkling rosé is your party drink, so keep that in mind as you're scarfing down cheese.

Medium-Bodied Rosé
Think Spanish rosés from Rioja and Navarra or Southern French rosés—you'll want super rustic cheese for this—best grab something made with sheep's milk for a bit of a bite but not toooooo much. This version also goes super well with herbed-cheeses.

Bonjour, wine and cheese celebration!
The Best Wine & Cheese Pairings For 'Bachelor' Night
The age-old question of what cheese to pair with our wine rears its head just about every Monday, Tuesday, and Wednesday evening. With The Bachelor finale coming up—THANK GOD—we need to prepare ourselves for the cheese and wine fest about to ensue. But like, let's be classy.
Here are our fav ten cheese and wine pairings that you need to know or else risk looking like a plebian. 
1. Zinfandel And Jalapeño Cheddar
Find a spicy cheddar in the poor cheese aisle and grab a Zinfandel. The dry red wine works super well with spicy shit since the wine itself is fruity and kinda spicy thanks to hints of black pepper. Shit, go crazy and grab some of the pre-sliced habanero cheese if you're feeling wild. 

2. Port And Blue Cheese
If you're an 80-year-old man, you love Port! So, grab one of those old bottles you have lying around the house and pair it with the cheese that smells most like old people—in this case, blue cheese. The rich, sweet Port balances nicely with the bold (to say the least) flavor of blue cheeses like stilton and gorgonzola. 

3. Pinot Noir And Goat Cheese
Yeah, you could be basic and throw some triple crème brie out with your Pinot Noir, but better yet, pair it with a goat cheese like chèvre. The creamy factor works to bring out the flavor of the wine, and you'll feel fancy nomming on this combo.

4. Pinot Grigio And Feta 
Did you make a Greek salad and buy too much feta? Never fear—pair that shit with some Pinot Grigio and treat yo'self. The fruit background in the wine works with the salty yet mild taste of the feta. Look at you, bein' culinary.

5. Merlot And Monterey Jack
Are you too poor to buy cheese from the nice section of the store? That's okay. Grab a box of the finest Merlot and pair it with your favorite poor people cheese, monterey jack. Because the cheese is on the less-intense-flavor side (see: bland), it pairs well with an easy drinking Merlot. Now you too, can enjoy a fine wine and cheese night, regardless of how in debt you are!

6. Malbec And Aged Cheddar
So, as opposed to the shitty cheddar you can buy in block form near the tubs of cream cheese and sugar-yogurt, head to the fancy cheese section and pick up an aged English or farmhouse cheddar to nom with your Malbec. The smooooooooth jazz sounds flavor of the wine cuts through that super hostile aggressive attitude put forth by the cheddar. We can relate.

7. Prosecco And Parmesan
If you're craving bubbles but are too poor for Champagne, grab some Prosecco and pair it with a rind (or a bowl of shredded) parmesan. The bubbly happiness cuts some of the supernsalty taste of the parmesan, so you'll be able to eat and drink without feeling like your mouth is a salty desert. Unlike your DM's.

8. Chardonnay And Mild Cheddar
If you're a middle-aged soccer mom, you have at least six bottles of Chardonnay in the house at any given time. Pair it with the mild cheddar you use in your kids' sandwiches, because you didn't get a chance to go to the store for fancy shit this week. It's okay, you can still have "me time" with these meager (but delicious) rations.

9. Cabernet Sauvignon And Aged Gouda
According to VinePair, this pair works because the gouda is super, extra nutty and the Cab Sav is a pretty bold, full-bodied wine. Now, given, you could also use this salty, nutty cheese with a sweet wine—but since we aren't in fucking high school, let's try to drink like adults.

10. Reisling And Mozzarella
If you dig on sweet wines like Reisling, Gewürztraminer, Moscato, and Chenin Blanc, grab a fresh, soft cheese like ricotta, mozzarella, or burrata. According to Serious Eats, the sweet and soft combo works because, like, why wouldn't it? You don't have some big bold wine showing up your delicate mozzarella—and you wouldn't make that fucking rookie mistake anyway. Plus, tannins will fuck your flavors up, so stay away if you're looking to sit, alone, with a tub of ricotta and a bottle of Moscato. Cute. 

These Cheese Shot Glasses For Wine Just Ruined Wine & Cheese For All Of Us
There's not much on the whole fucking planet that goes better together than wine and cheese. Peanut butter and jelly? No. Salt and pepper? Nah. Me and Bravo? Maybe. But like, give me a bottle of pinot and a cheese plate and I'm fucking there. Not to mention both cheese and red wine are good for you now, so like, it's healthy too. But instead of just leaving this perfect pair tf alone, someone had to go and ruin it. How? Fucking cheese and wine shots. That's how.

At first when I saw this, I was like fuck yeah, cheese and wine shots for the win, but then I really thought about it and realized this is stupid af. For one, never in my whole life of eating cheese and wine have I been like, "This is cool and all, but being able to consume both at the exact same time would really take my snacking game to a whole new level." Like, nope. Not even once. Secondly, a shot of wine? What is this? Sophomore year of high school? I've gotten to the point where a whole bottle just gets me a little buzzy, let alone one little-ass shot. And last, do you like, bite the cheese shot when there's wine in it? Because that sounds like a fucking Tide To Go pen commercial just waiting to happen and I'm not trying to clean at a party. Fucking duh.

So yeah, just keep old school when it comes to wine and cheese. It's fucking fine the way it is.