UPDATED: WTF Is Going On With Will & Jada Pinkett Smith?
UPDATE: A week ago, everyone was side-eyeing Jada Pinkett Smith for her use of the word "entanglement" to describe her relationship with August Alsina, but it turns out August kind of likes it. In an interview with Vulture published on Friday, he said the definition of an entanglement "is a complex and difficult relationship," and his relationship with Jada was "exactly that." While Jada and August's accounts differ on some specific points (mainly whether Will gave August his blessing), it seems like they're mostly in agreement about the relationship itself. 
Over the weekend, August further milked addressed the situation by dropping a new song called, you guessed it, "Entanglements." Thirsty? Perhaps, but I respect the hustle. The song, which features Rick Ross, is obviously about Jada, but it's really not a diss track at all. In the chorus, August sings "The definition of entanglement, it's when you're tangled in the sheets. Girl I know that we don't call it a relationship, but you're still f*cking with me." So, uh, if there was any question about the physical nature of their ~entanglement~, consider it answered.
August does, however, give Jada a little bit of sh*t later in the song, singing "You left your man to f*ck with me, just to pay him back. Don't you know that's cold-hearted? Once you gone, no coming back." This is especially interesting because August is implying that Jada left Will to get with him. In the Red Table episode, they said they were separated, and then made it sound like the August ~entanglement~ started at some later date. Really, I would love for Jada to map this all out on a calendar so we can all be on the same page. Maybe that will be on a follow-up Red Table Talk.
Overall, it seems like August Alsina still has love for Jada Pinkett Smith, but perhaps the particulars of their situation aren't as clear-cut as Jada and Will want us to think. Like I said before, I'm just waiting for the day that August Alsina comes to the Red Table, because I still feel like that's a real possibility. Maybe August can even do a live performance of his new song, and then Jada can give her feedback. Please, it's what we deserve in 2020.
Original Article: As we move into month four (five?) of quaran-times, the celebrity breakups and divorces have kept rolling in. Over the weekend, both Armie Hammer and Darius Rucker joined the 2020 divorce club, and Rachel Bilson and Bill Hader split six months after taking their relationship public. But while all of these couples are breaking up in real time, Will and Jada Pinkett Smith are just now clearing up their relationship drama from years ago. Somehow, in our darkest times, the Red Table always shows up to rescue us from despair.
Will and Jada are one of Hollywood's most iconic power couples, but in recent years, there have been frequent rumors about separation and divorce, and whether they have an open marriage. Will has appeared multiple times on Jada's Red Table Talk show, and while they've openly discussed certain issues in their relationship, they always avoided responding to any specific rumors. But at the end of last month, the rumors exploded when singer August Alsina spoke publicly about his relationship with Jada Pinkett Smith.
In an interview with The Breakfast Club's Angela Yee, Alsina detailed their "relationship," saying that he became close with Jada and the whole family after Jaden introduced them in 2015. He and Jada grew closer, and eventually, he claims he "actually sat down with Will and had a conversation due to the transformation from their marriage to life partnership… he gave me his blessing."
According to August, the relationship was quite serious. He said, "I totally gave myself to that relationship for years of my life, and I truly and really, really deeply love and have a ton of love for her. I devoted myself to it, I gave my full self to it—so much so to the point that I can die right now and be okay with knowing that I truly gave myself to somebody." He acknowledged that the arrangement might be "hard for people to understand," but felt that he needed to "speak up about my truth" after rumors began to affect his career.
August Alsina's revelation about his relationship with the Smith family was pretty much in line with what many people had suspected for a long time, but Jada quickly denied his story. A representative for Pinkett Smith called Alsina's claims "absolutely not true," but it quickly became clear that Jada had more to say on the matter. A few days after Alsina's interview, Jada tweeted that she was bringing herself to the Red Table, saying "there's some healing that needs to happen." As a proud messy bitch who lives for drama, this tweet did more for my serotonin levels than anything else that's happened in 2020.
There's some healing that needs to happen…so I'm bringing myself to The Red Table.

— Jada Pinkett Smith (@jadapsmith) July 2, 2020
Jada kept her promise, and on Friday afternoon, released a Red Table Talk episode addressing the rumors. In the brief episode, which broke the Facebook Watch record for views in the first 24 hours, she and Will finally cleared the air. To begin with, they admitted what so many had guessed: they were separated at one point. Jada said that, around four-and-a-half years ago, she became close with August, at a time when he was very sick and needed help (Alsina suffers from an autoimmune disease). Will and Jada clarified that around this time, they "broke up," and Will added that he was "done with yo' ass."
View this post on Instagram
Jada says that it was during this "indefinite" separation that she "got into a different kind of entanglement with August." Jada repeatedly used this word "entanglement," which in turn provided prime material for approximately one million memes over the weekend. This just isn't a word that real people actually use, and Will eventually called her on this, telling her, "you need to say clearly what happened." After she doubled down on "entanglement," Will corrected her, saying "a relationship." LOL, this isn't awkward at all.
Jada also clarified August's claim that he received Will's permission to enter into the ~entanglement~, saying that the she is the only person who can give permission for herself. However, she said that she understood August's perception of this, noting that she and Will were "separated amicably," and that August is not a "homewrecker."
View this post on Instagram
Eventually, Jada and Will began to come back together and work through their issues, and Jada said that August decided to "break all communication" with her at this time. She said this was "totally understandable," and that she and August haven't spoken since. So according to her, the relationship only began after she and Will were separated, and ended before they were officially back together. We don't have any exact dates to work with here, but the Smiths are sticking to their story that they've never had an open marriage of any kind.
Whether you believe that Jada is telling the whole truth or not, at least she's not just calling August Alsina a liar anymore. It's clear that there's a lot of history here, but it seems like in general, everyone in this situation still has love for each other. Maybe Jada isn't thrilled that all of this became public the way it did, but it's hard to believe this wasn't going to make it to the Red Table at some point. Now the only thing left to figure out is when August Alsina will make his inevitable Red Table debut. You know it's coming.
Images: DFree / Shutterstock.com; August Alsina / YouTube; jadapsmith / Twitter; betches, uuppod / Instagram
The 8 Most Dramatic Moments In Grammys History
The 60th Annual Grammy Awards are being presented this Sunday, and 60 years is like, a very long time. As much as we're excited to celebrate Ed Sheeran's engagement and listen to "Despacito" for the millionth time this year, we're more interested in the show's dramatic moments. Like, if there isn't at least one tragic stair fall and one mistaken award, we'll be disappointed. In honor of 60 years of sick music, we've decided to take a look back at the most dramatic moments in the history of the Grammys. I mean, we looked ALL the way back. Here's the lineup.
Adele lit the entire internet on fire by winning literally all of the awards last year, when a lot of people thought that Beyoncé deserved every award ever at least some of them. Whether she genuinely felt this way, already had too many Grammys at home, or like, feared Jay-Z pulling a less comical Kanye impression, she basically went full Cady Heron at Spring Fling and dedicated her whole career to Queen Bey. She didn't mention Emma Gerber's hairdo at all, which is either really nice or really mean depending on how you think about it.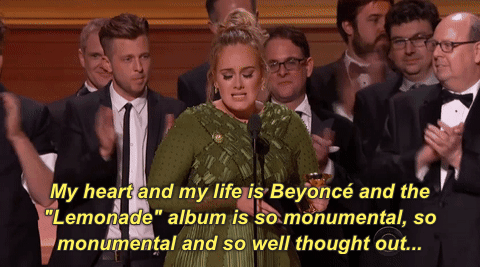 7. When Lady Gaga Showed Up In An Egg
Lady Gaga was literally carried down the red carpet in an egg in 2011, and we're still confused about it. She got out of the egg during her performance of "Born This Way" and it became *kinda* clear that it was a statement about her individuality, or something. When she was asked about it on Jay Leno, she said she spent three days before the show inside the egg. I mean, are you kidding me? Sounds like something your pledge master made you do during rush and never spoke about again. Hard pass.

6. When Jennifer Hudson Made A Surprise Appearance
It was a major dramatic moment when Jennifer Hudson showed up to the Grammys in 2009. She had just gone through a tough time in her family when she lost her mother and brother in the same year, so nobody expected her to show. She ended up doing a v emotional performance of "You Pulled Me Through" and got a major standing ovation at the end of the song. She also won the award for R&B album of the year, so it was a pretty dramatic night overall.

5. When Justin Timberlake Apologized for Nipplegate
In case you're unaware of what went down at the 2004 Super Bowl, we'll give you a little history lesson. JT was performing with Janet Jackson, and she had a major nip slip at the end of the performance. Everyone in the world saw her (covered) nipple, and although she said it was a wardrobe malfunction, both of the singers got a ton of hate from the media because they thought they planned it (which they totally did). When Justin was at the Grammy's a week later, he apologized for offending anyone by showing Janet Jackson's nipple. Fast forward to today and he's performing at the Super Bowl again, so I guess everyone's forgiven him? Still no ETA on Janet's forgiveness though.

4. When ODB Kanye-d Shawn Colvin's Acceptance Speech
Way before the Kanye/Taylor fiasco at the MTV Video Music Awards, something similar happened at the Grammys in 1998. Shawn Colvin had just won the Song of the Year award, and while she was giving her speech, Ol' Dirty Bastard from the Wu-Tang Clan literally jumped on the stage and rudely interrupted. They weren't even nominated in the same category, so no one really knew his motives. Can we assume he was high af? Yes, that's probably always a safe bet when the Wu-Tang Clan is involved.
3. When Bob Dylan's Backup Dancer Ruined Everything
Bob Dylan was mid-performance at the 1998 Grammys when one of his backup dancers ruined his live version of "Love Sick" by ripping off his shirt, displaying the words "Soy Bomb" written across his chest. He literally stood next to Bob Dylan, which is basically a cardinal sin, and danced around until security escorted him off the stage. Bob Dylan was pretty unfazed (which is super chill of him), but everyone else literally hated this guy.

2. When Milli Vanilli Got Caught For Lip- Synching
Does anyone know who Milli Vanilli are? Apparently they were a huge duo back in the day and they performed during the 1990 Grammys before winning Best New Artist. Eight months later it came out that their performance was lip-synched and they didn't even sing on their album that won the award. Their Grammy got taken away and no one cared about them ever again. Why don't teachers include this story in the cheating section of the syllabus?

1. When Will Smith Boycotted On TV
So apparently in 1989 the award for Best Rap Performance wasn't televised because it wasn't considered television material (i.e., they were racist af). Will Smith was nominated and was obv upset about it, so he skipped the Grammys and instead went on Entertainment Tonight to boycott the show. The best part is that he won the award anyway. Looks like staying at home was a good call. Just something to think about the next time you feel bad about bailing on plans.
The 'Fresh Prince' Cast Had A Reunion, So Let's Remember All The Times Hilary Banks Was Queen
If you're looking for an excuse to drunkenly rap the entire Fresh Prince of Bel Air theme song, then you're in luck because the Fresh Prince cast had a reunion. First things first, Rest In Peace Uncle Phil. As far as rich uncles with a hard exterior and a soft heart goes, you were one of the greats. Other than spending way to much time mentally comparing Jeffrey and Dorota or trying to figure out what the fuck Jaden Smith is talking about, we haven't really thought about the Fresh Prince cast since the last time somebody brought up the "who was the better Aunt Viv?" debate. The answer will forever and always be the old Aunt Viv, btw. But this throwback brought back the ultimate west coast betch: Hilary Banks. TBH Cher Horowitz and Marissa Cooper can sit the fuck down because Hilary "hell is like the Valley" Banks is the reigning queen.
Hilary's personality was based on the three tenants: don't be easy, don't be poor, don't be ugly. Hmm, sounds vaguely familiar. So here's a drinking game for the rest of this Hilary tribute: take a sip for every time you mentally say "same" and do a shot for every time you say "goals." Make sure you have enough alcohol before reading the rest.

In her early years, Hilary was really good at not doing work. She quit the violin because it made her break out and she didn't want her life to be a Noxzema commercial. She quit ballet because it fucked up her pedicure. She quit cheerleading because they made her ride a school bus to the away games, and even in a world before Uber, Hilary did not fuck with anything resembling public transportation.
Random people continuously mistook her for Whitney Houston, which in the late 1980s was a BFD. This was pre-crack Whitney, so being compared to her was like being compared to Beyoncé.
Whether she was complaining about the weather (even when she was a TV meteorologist), calling her dad for literally anything, going to a psychic, or spending a shit ton of money on her hair, Hilary's life was a performance art version of The Betch List.

Much like nice girl Rory Gilmore, Hilary dropped out of UCLA (bc who gives a shit about college after tailgate season ends?) and moved into her parents' pool house. But instead of planning parties for her grandmother's friends, Hilary became a talk show host. She was the Oprah we need—imagine her doing an episode about Instagram pics. I would bet money this plot line inspired Tyra Banks' show.

To announce her engagement to another TV host, Trevor—who she lied about hooking up with to her parents for almost a full season—she had him bungee jump to his death. And we're out here dodging 2am "wyd?" texts. If Hilary were a 20-something living in 2017, she'd be deeply committed to read receipts and obsessed with Bumble.
But Hilary is truly the second coming of Jesus because she asked the iconic question: "Since coffee is made from beans, does that make it a vegetable?"
So pour out some Dom Perignon for one of the 90s' flyest women, Hilary Banks. And props to Karyn Parsons for both bringing this iconic character to life, and for looking fantastic a full 20 years later: