8 Times You Should Take Your Engagement Ring Off
So you got engaged, the proposal was perfect, and the ring is everything you asked for (because you helped pick it out). Now you're going to be spending the next few weeks/months staring at your hand constantly and angling your hand just so in photos so you can not-so-subtly show off your ring. And you're probably never going to want to take it off, which makes sense, but in order to keep it in mint condition, you're going to have to remove it from your finger on certain occasions. They say diamonds are forever, but they won't be if you're not taking proper care of your ring. We've asked wedding and jewelry experts Kelly Villarreal from Ada Diamonds and Mary Claire Newcomb from Here Comes the Guide about when you should be taking off your ring and how to keep those diamonds shining bright. 
 1. 

Working Out

Kelly Villarreal suggests that when breaking a sweat and handling machinery in the gym, it's best to have your precious ring removed… even if that means its presence can't be used to deter creepy gym bros from hitting on you. She explains, "Lifting heavy objects or pushing into your hands can put pressure on the base of your ring, causing it to compress or bend out of shape. In extreme circumstances this can lead to fractures and breaks in the metal." Yes, this even applies to those of us who don't identify as Crossfit queens or bodybuilders. No amount of calories burned is worth a dent in a band that is supposed to last you forever. Not to mention the fact that your fingers tend to swell after an intense sweat sesh. Just put it in a safe place before you leave the house, and be thankful your attempt at a Kayla Itsines workout didn't cost you thousands.
2. When Your Hands Will Be Wet Or Submerged
My wedding ring fell off in the shower. Instantly broke down. I'm just a skeleton with skin now. Take care of your health folks.

— Special Agent Smith (@ItsMrSmith) June 2, 2019
Villarreal emphasizes that it is very important to be mindful of your ring when, "doing the dishes, doing laundry, cooking, waitressing/bartending, house cleaning, or swimming." She explains, "cleaning products and harsh chemicals (such as chlorine) can cause build up on diamonds and dull the polish/rhodium from the metal of your ring more quickly." Ideally, you should try to milk the fact that you're donning a precious gem 24/7 and use it as an excuse to avoid the housework that might endanger it…but when that excuse stops working (and the stack of dishes in the sink start driving you crazy), store it in a safe place. 
3. Sleeping
The diamond needs its beauty sleep just as much as you do. Villarreal warns that when sleeping, "the prongs of your ring can catch on your sheets, or rings can be knocked against things in your sleep, damaging prongs or causing diamonds to become loose or fall out." There's really no point in risking damage to your ring for the sake of leaving it on while you get your eight hours—one of the only times you won't be able to show it off. Plus, we all read that story about the woman who swallowed her engagement ring in her sleep, right? Let that be a cautionary tale for you. 
4. When Applying Lotions Or Cosmetics
View this post on Instagram
Just like other chemicals, cosmetics and other products can cause your ring to lose its shine. Villarreal explains that when applying products with your ring on, "it can wear away the polish and rhodium more quickly." She adds, "Lotions and cosmetics also result in build up over time that dulls the look of your diamonds, or in cases of small melee diamonds, can completely cover over stones." And finally, she advises, "Keeping your ring away from these products, along with regular cleaning, can keep rings sparkling brilliantly for much longer." Truthfully, I'm probably never going to remember to take my ring off before applying hand lotion, because I do that approximately 50 times a day. But knowledge is power. The more you know, and all that.
5. When Wearing Gloves
If you're going to listen to any of this advice, listen to this. You wear gloves more often than you'd think, especially if you live in a place like New York, where winter lasts for more than half the year (or so it seems). Mary Claire Newcomb declares, "Ski gloves and rings are archenemies, since your ring size naturally decreases when it's cold outside—leading to a loose ring that can easily slide off." I'm going to go ahead and equate "ski gloves" to regular-ass winter gloves because I'm not bougie enough to go skiing often enough to have special gloves just for that. And it's not just when wearing cold-weather gloves that you should take your ring off; in addition to winter gloves, Newcomb says, "Gardening gloves can accidentally pull an engagement ring off upon removal." She adds, "And for those in the medical profession who wear latex gloves, oftentimes the prongs of the ring get bent over time as they get caught on the latex material." I guess this means that I'm never wearing gloves again. The idea of keeping my engagement ring in a jacket pocket for the sake of wearing gloves seems far more dangerous than subjecting my hands to the winter cold. 
6. When It's Not Insured
Your diamond ring is probably expensive, and just as you would treat anything valuable, get insurance! Newcomb recommends, "Look into homeowner's insurance, renter's insurance, or straight-up jewelry insurance for that baby. It's super inexpensive and a lifesaver when needed!" Like, don't be an idiot. Just think about all of the things you have insurance for that you care much less about! I don't know about you, but I would happily forego dental visits for the foreseeable future if it meant protecting my new diamond. If Taylor Swift can insure her legs, you can surely insure your engagement ring. 
7. When It Doesn't Fit Properly And/Or Is Damaged
I know you want to wear your ring, but if it doesn't fit properly, it's an easy fix and you'll get back to wearing it ASAP, promise. Newcomb explains, "Whether it's too big or too small, you can damage an ill-fitting ring (or even worse, lose it) quite easily." She points out, "if something is already amiss with your ring, don't take chances—just take it to a jeweler as soon as you notice it. Wearing it could make a simple fix a more difficult one in the end." If you are anticipating a proposal from your hopeful forever-plus-one, take this as a cue to make sure he knows your ring size (or, in the case of my boyfriend, realizes that rings have sizes). If you're too traditional to help him pick out the ring, you shouldn't be fine, but at the very least help the guy out by leaving some of your rings around the house so he has something to reference. 
8. When You're Traveling
It takes a lot to take off your engagement ring but safety and security should always take priority. There are two main reasons to take your ring off while traveling: potential damage and unwanted attention. If you're traveling on a bachelorette party, chances are you're going to be getting a lil' too drunk, making your ring a liability. Keep in mind, most insurance companies will only let you take out one major claim so don't waste it on something as preventable as this. Traveling foreign countries is another time you'll want to leave your ring at home. You're inadvertently drawing attention as a tourist, don't give someone a reason to make you their target. 
Images: Jad Limcaco /Unsplash; @ItsMrSmith/Twitter; betchesbrides / Instagram (2)
What Type Of Basic B*tch You Are Based On Your Engagement Manicure
In case you missed it, there hasn't been a snowstorm in New York in at least two weeks which means spring is finally fucking here. Ah, springtime. A time of year that signifies rebirth, hope, and thirsty bitches subtly emailing their boyfriends their ring size and Pinterest password. Which means it's almost time for me to engage in my favorite pastime: judging the fuck out of people's engagement photos. I would rank my tolerance for engagement photos somewhere around where I rank my standards for fuckboys on dating apps. So, pretty fucking low. And because I have ESPN or something I can almost immediately tell you the theme of your wedding based off of the manicure you choose to flaunt in your engagement announcement on Instagram. 
It's true that the most important moment of your life is not when your BF proposes to you (sorry, bro), but rather the moment you debut your ring on Instagram. That moment is huge and, whether you realize it or not, the type of manicure you have while showing off your ring speaks VOLUMES about you and your wedding. So because I want to put you in your place I care about you and your wedding, here are 6 manicures that say a fuck ton about your wedding theme, and therefore, basic level:
1. Millennial Pink: Hipster Barn Wedding
I'm not sure when we started referring to pastel pink as "millennial" but I'm almost certain it's around the same time that hipsters started referring to rustic as "chic." You already know how we feel about the hipster barn wedding theme, and your nail color is about as original as the mason jars that are sure to be included in your wedding decoration budget. Choosing this color is a safe bet and while your friends won't be shitting on you in their group chat, they will most certainly be rolling their eyes as they scroll through your feed.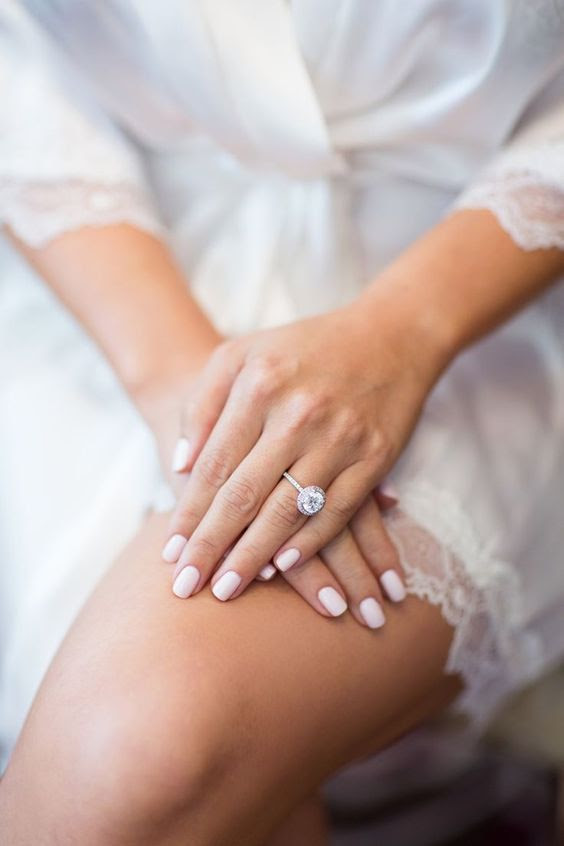 2. Red: Destination Wedding
This person probably thinks they're fun and spontaneous and the bikini selfies saturating their Instagram feed certainly are proof of that theory. They probably chose this color because Taylor Swift, a personal hero of theirs, is constantly sending subliminal messages singing about this color. It makes them feel bold and empowered and soooo fun. Which is why they are life ruiners and choose a destination wedding to celebrate their union to the poor guy that's about to spend the rest of his life as his wife's Instagram photographer.

3. Not Your French Manicure: Vintage Themed Wedding
This is the person in your friend group who is extra AF. They're always trying to be new and different and edgy when really they're just grown women wearing body glitter aka Unicorn Snot and calling it fashion. I usually object to 90% of their life choices and sporting a manicure like this ranks right up there with that one time they bought a shirt that said "Bushwick" on it for $40 from Urban Outfitters despite the fact that they live on the north shore of Long Island. They will try and reinvent the wheel aka hipster barn weddings. Instead of rustic chic they'll use the term "vintage" and refer to themselves as "old souls" in their vows. Lol, K. Like, you forget I've seen strange men take shots off your body to a Miley Cyrus song on spring break. You're fooling no one, Karen.  

4. Black Manicure: Black Tie Wedding
A true betch knows that black is the color of her soul and coincidentally every item of clothing in her wardrobe. While some people might doubt black as a bridal color, you know that these people understand nothing about taste and are about to get sat at the shitty reception table with your least liked sorority sister and your fiancé's weird friend from grade school. Like, of fucking course you're going to be wearing your favorite color during the most important photo moment of your life. Black is timeless and so will be your wedding. While everyone else is Googling "unique wedding themes" yours will be chic, tasteful, and most importantly, fancy enough to make all of your other married friends jealous. Mazel Tov.

5. Accent Nail—Ridiculous Themed Wedding
TBH I'm not even sure what to say about this. Like, is this you announcing your engagement or a cry for help? I'm assuming that the only reason you would get this extra with your manicure is because you're trying to hide that fact that you're about to marry the one night stand that turned into your boyfriend of six years. I'm also assuming that your fiancé is the type of guy that "lets" you carry all of the groceries to the car and still Snaps his ex girlfriend on the side. You've really found yourself a winner, Vanessa.

Anyway, the type of person who's doing this much with her manicure is also the type of person that's going to piss me off and do some sort of themed wedding. I'm picturing something Disney related—anything to distract their guests from noticing that the groom isn't captivated by the enchanting room decor but rather is checking out the maid of honor's cleavage.

6. Rose Gold: Romantic Basic Wedding
This one's for all my basic bitches out there—you know who you are. I don't need a crystal ball to determine that your ring is a princess cut and you'll be rocking a mermaid dress on your big day. Your bridesmaids will all be wearing some form of blush and/or sequined gowns that you swore to them they'd be able to wear again but instead will just taunt them, hanging in their closets as a constant reminder of the day they served you stood by your side. While on the one hand, I've seen your wedding done 1,000 times before, I can also appreciate you owning your basicness.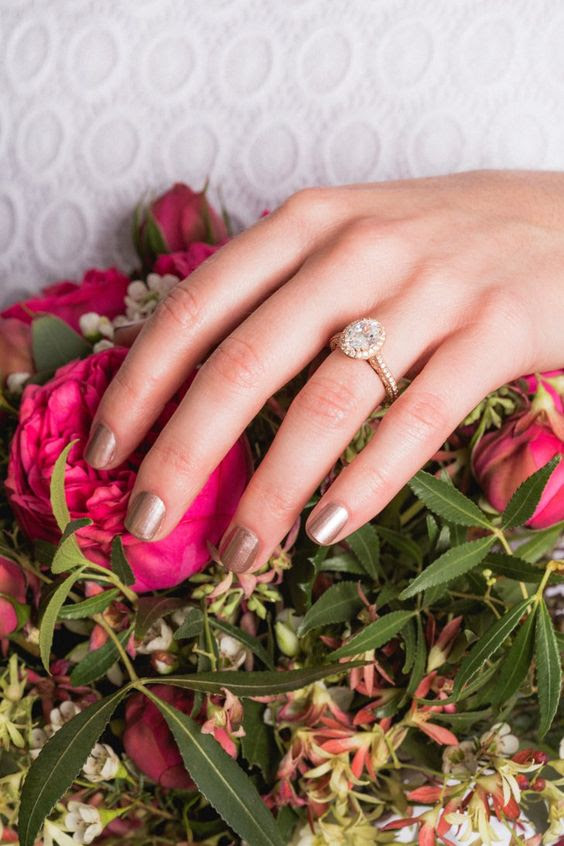 Domino's Made A Wedding Registry For Everyone Whose Real Bae Is Pizza
If you know anyone who's gotten married (so like, everyone reading this rn) you've probably bought some stupid shit the couple registered for as a gift. I mean, I love a gorgeous china pattern and some Baccarat crystal as much as the next betch, but like, I eat takeout five nights a week and when I don't I'm eating cereal out of a Solo cup. It's not like the day you get married you turn into Martha Stewart and start baking muffins and hosting dinner parties for the governor and shit. No one needs this stuff. And per usual, the gods at Domino's just get it, so they've created a registry that gives married people something they'll actually enjoy: a pizza registry.
The registry is filled with a handful of different pizza-filled occasions like the "Thank-You-Card-a-thon" so writing hundreds of thank you notes to your parents' friends isn't as miserable, or a "Post-Honeymoon Adjustment to Real Life" because the only thing that can make coming home from a trip to Bora Bora or Europe not so terrible is cheesy, delicious pizza.

The only thing that's kinda lame is that it's really not a registry at all, just a glorified gift card that can be used on the Domino's website. Fuck you, Domino's and your marketing team. You just created a separate landing page for a concept that has existed for YEARS. Like, I would disown someone who got me a Domino's giftcard for my birthday, but I'm expected to ask for that for my fucking wedding, the only occasion where I can ask my closest family and friends to buy me expensive shit I can't afford without it being considered panhandling? Hard pass.
However, if some entrepreneur decided to take it upon himor herself to come up with a registry for any of the following items, let's just say I wouldn't be mad.
1. Vodka Of The Month
This very well might exist, but honestly, I'm lazy and don't want to type it into Google. Regardless, any relative who gave me a monthly vodka subscription would be at the top of my thank you note list. Marriage is apparently work, so I'm going to need a lot of fermented potatoes to make it through.

2. A Drug Dealer Concierge
See previous note about marriage being work. Why do "work" when I can register for enough Xanax to kill a large mammal to be delivered to me at some later, unspecified date?

3. A One-Way Ticket To Canada And A Valid Visa
Just saying, I might need this later on with the way things have been going lately.

4. A Lifetime Netflix Subscription
Anybody who puts a $50 Domino's giftcard on my fucking wedding registry is a cheap asshole. But someone who charges my lifetime supply of Netflix to their tab? That shit's going to add up real quick. Though, given my current alcohol consumption and exercise regimen, my doctor would disagree. But fuck you, Dr. Bernstein. I don't need your negativity.

5. HBO Go
NO IT IS NOT THE SAME AS A NETFLIX SUBSCRIPTION. Do you actually know anybody with HBO? I mean somebody who's actually your age—their parents don't count. No? That's what I thought. That's because HBO is expensive af/for real adults who can afford cable packages, which is something I will never be if my current spending habits are any indication.

But I mean if someone wanted to do all these things and buy me a ton of pizza, I wouldn't exactly complain either.