UPDATED: The Most Cringeworthy Celebrity Coronavirus Posts
Look, it's a weird time for everyone right now. With the coronavirus pandemic in full force, we're all practicing social distancing as much as possible, and it can take a mental toll, making it hard to remember who's really suffering the most here: celebrities and influencers. Guys, I'm worried for them. The average famous person's content is approximately 85% pictures of them looking hot in various locations, and right now just isn't the time. So while the last few days have been a stressful time in the world, it's been kind of incredible to watch everyone from Real Housewives to A-list celebs scramble to figure out wtf they're supposed to be saying right now.
Many celebs have done a great job encouraging their fans to make smart choices (Ariana Grande) or kept the mood light (Courteney Cox's TikTok is lit), but some have stumbled in the past few days, for various reasons. As we enter a self-isolation period for the next couple weeks (at least), I have a feeling the content will only get more deranged. Here are a selection of the most cringeworthy celebrity coronavirus posts I've come across.
Evangeline Lilly
As this week has gone on, it really seemed like pretty much everyone had gotten the memo about social distancing. But while most of us have been limiting our outside-the-apartment time to quick walks and grocery runs, apparently some celebs aren't so into it. On Tuesday, Evangeline Lilly (star of Lost and The Hobbit) posted on Instagram that she had just dropped her kids off at gymnastics camp, pointing out that they washed their hands first. She hashtagged "business as usual", which is honestly just an asshole move at this point. Like, no, this isn't business as usual. Millions of people have lost their jobs, the economy is crashing, and people are DYING. Not cute.
Jameela Jamil

Jameela Jamil never met an issue she didn't have a take on, and coronavirus is obviously no different. In this tweet, which has since been deleted, she pondered whether this GLOBAL PANDEMIC is just a "clap back from Mother Nature" for like, ruining the planet. Okay, woof. Is climate change a global crisis that we all need to be worried about? Absolutely. But coronavirus is a totally separate issue, and I'm pretty sure Jameela knows that. But yeah, Mother Nature is gonna f*ck us all up—you heard it here first!
Whitney Port
Feeling stressed about corona? Same girl! Luckily, you can check out pics of Whitney Port's bathroom! Thank god for this, I'm totally not stressed anymore. Like I said before, this is going to be a weird time for influencers to know what to do with their normal, self-centered content, and this is maybe not the way to do it. This whole post has big "Kim, there's people that are dying" energy.
Katy Perry

Italy has seriously been hurting lately, and some heartwarming videos of Italians singing together from their windows went viral. It's a beautiful show of strength in a desperate time—but they weren't singing Katy Perry. The singing video quickly became a meme, with Twitter users dubbing it with everything from Nicki Minaj to Real Housewives fights. Katy Perry didn't get the meme memo, and shared a fan-made video of "Roar", thinking it was real. To make matters worse, she used the Hungarian flag instead of the Italian one. A swing and a miss. Needless to say, this tweet was deleted.
Joe Giudice
Speaking of Italy, we have boots on the ground thanks to one Joe Giudice. He's been living there since ICE deported him last year, but as the country went on lockdown last week, he didn't really seem to get what was going on. In a truly wild Instagram caption, he claimed that "More people die from Viagra (heart attacks and drug overdose)" than coronavirus, and that he won't be put on lockdown ever again. From his subsequent posts, it seems like he might be taking things a bit more seriously, but I don't love how much time he's spending outside. Joe—go inside!!!
Scheana Shay
Yes, meaning I'm not going to isolate myself inside alone for weeks. I'm sorry. It's not going to happen and anyone who follows me will see that. I pray this virus passes soon and we can all go back to living our best lives. On that note, goodbye for now twitter 🌍 https://t.co/HTs3LMtkM5

— 🏳️‍🌈Scheana (@scheana) March 14, 2020
We're all learning through this crisis, and at least some people have owned their mistakes. On Saturday, Vanderpump Rules star Scheana Shay posted a series of tweets in which she mocked people staying at home. She got dragged in her replies, and luckily she figured out that she had f*cked up. In later tweets, she said that she had just gotten home from a work trip, and hadn't been following the progression of the crisis. She made it clear that she "now understands the severity of our current predicament," which like, good. Scheana is carrying Pump Rules on her back right now, so we can't have anything happening to her.
Kelly Bensimon
Wrapping up our Bravo portion, we must talk about Kelly Bensimon. The former RHONY star has been on a real journey over the past few days, and it might be the best thing that's happened this week. A few days ago, Kelly posted that she would be taking a break from social media "in light of the present state." That's all well and good, but then she ended the post with the hashtag #socialdistancing. Wait, does Kelly think that social distancing is about Instagram?
But it looks like someone clued her in, because she's back on the 'gram already! The very next day, Kelly posted the world's blurriest selfie, wearing a mask on an airplane (double yikes), saying that she "made a mistake and have made a decision to be in this with you." Lmao, a queen. To be honest, I can't get over this photo—the deadness in her eyes is something I feel on a deep level right now. Let's keep checking on Kelly to make sure she doesn't lose her sh*t.
Laura Osnes
Broadway's Laura Osnes is offering what she describes as a "CoronaClearance" and lowering her Cameo fee from $75 to $50.

🥴🥴🥴 pic.twitter.com/dzGXvxfZ1X

— Ξvan Ross Katz (@evanrosskatz) March 15, 2020
Broadway stars can be messy too! Yesterday, Tony-nominated actress Laura Osnes announced that she would temporarily be lowering the price on her Cameo account, as a special "corona clearance" for her fans. I am… speechless. KIM, THERE'S PEOPLE THAT ARE DYING. I totally get that she needs to pay her bills, but so do the thousands of theatre workers that are going to be out of work for weeks, if not months. These people don't need to be spending their money on a discounted Cameo right now, sorry Laura.
Clearly, the celebrities are not doing amazing right now, and things are only going to get weirder. Stay sane out there, and remember that we're all staying inside for a reason.
Images: jameelajamil, katyperry, scheana, evanrosskatz / Twitter;  whitneyeveport, Joe.giudice, kellybensimon / Instagram
Whitney Port Gave Birth To A Son And His Name Is Concerning
Over the weekend, Whitney Port became the newest member of The Hills mommy club, giving birth to a baby boy. Whitney always loved keeping up with the trends, so it makes perfect sense that she has a baby just like everyone else.
The baby's name is Sonny Sanford Rosenman, and he probably already manages a hedge fund. We're definitely a bit skeptical about the name Sonny, but we're going to assume there's some kind of significance there, otherwise why are you literally naming your son a longer version of the word son? Sonny is what your alcoholic uncle calls you when he pats you on the shoulder and is about to give you a very graphic sex talk. Who knows, but Whitney's husband's name is Timmy, so maybe they're used to names that sound like nicknames. Seriously, no one over the age of 16 should be going by Timmy.
Along with a heartfelt Instagram post about how excited she is to be a mommy, Whitney also posted a picture of her with Sonny on her website. We can't really see enough of the baby to know whether he's cute or ugly, but Whitney of course looks perfect in some flowy floral kimono or something and the clearest skin we've ever seen. Whitney, what's your secret? Asking for a friend.
He's SO cute!!!!! https://t.co/Gpm6QOHKP8

— JWOWW (@JENNIWOWW) July 31, 2017
Congrats to Whitney on her little bundle of joy, now let's hope that he figures out a good nickname for himself so he doesn't get beat up at school!
Whitney Port Is Pregnant: A Look Back At Her Most Profound Quotes On 'The Hills'
Think all the way back to January 1st. We were all hungover, we thought things couldn't get worse after 2016, and Lauren Conrad announced to the world that she's pregnant for the first time. Now fast forward to last week, when Whitney Port announced she's also pregnant. If you're a fan of The Hills, you know that Whitney was the nicest, most drama-free character on the show.  We realize that makes her sound like a boring nicegirl, but for some reason we all still wanted to be her (and Lauren, but that goes without saying). If her behavior on the "reality" show is any indication of how she'll be as a mother, we have high hopes for her.  In honor of her pregnancy, we've compiled a list of her most profound quotes from the show.
"We're all just trying to find out who our true friends are. It sucks sometimes, but what can you do about it?"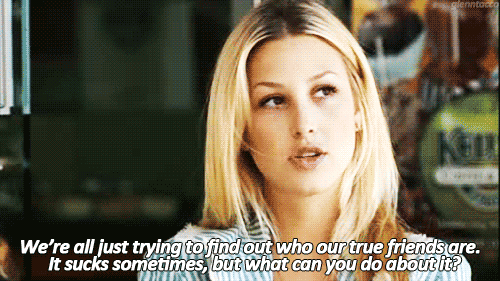 True, but in this case does it really suck that they're not friends with Heidi anymore?
"First dates are exciting but first dates can also be really uncomfortable."

This straddles the line between incredibly profound and incredibly obvious. It could also be Bumble's new tagline. Nice job, Whit.
"Jeans can be really addicting. There's, like, always new ones."

Yeah… I hope her baby is a girl so she can use her mother's own quote against her when they're shopping at the mall together.
"People just waste so much time being angry at people."

Is this a nicegirl's way of saying people should just not give a fuck about anything?
"Honestly, I have no expectations whatsoever in guys"

Really not bad advice for finding a guy these days. Is that how you met your baby daddy?  
"I don't wanna be attached to anyone. I just wanna like, enjoy myself."

If only she could see herself now…
Anyway, congratulations to Whitney. She really was a refreshing character on the show and we hope she passes that down to her child. Luckily when the kid is old enough to watch The Hills, Whitney won't have too much to be embarrassed about besides the fact that she was on the show in the first place.  Now that Lauren, Audrina, and Whitney are all going to be moms, we're fully expecting Heidi to announce her own pregnancy any day now—though we seriously pray she and Spencer never reproduce. They should just stick with their adopted actor neighbor/son, Enzo.