8 Health Benefits Of Drinking Wine To Justify Your Life Choices
So, like, we've been here before, but we all need a lil refresher. Drinking wine (in something called "moderation") does more good than bad for your bod, and honestly, we need all the help we can get. Upon some investigation, we found that wine can help us with everything from being skinny to not dying of a heart attack to LITERALLY keeping us from getting sunburned. This is big news—maybe even bigger than Arie's proposal fiasco, but we digress. When we're dealing with everything from Russian collusion to asteroids zipping past Earth, what better time is there to sit back and literally chug two to three glasses of the good shit in the name of health? These are the best health benefits of wine that will send you running to the nearest liquor store.
1.
It Will Lower Your Risk Of A Stroke
According to Food & Wine, my go-to for all things food AND wine, a Columbia University study of 3,176 people over an eight-year period showed a 50% drop in the possibility of suffering a blood clot-related stroke for those who consumed a moderate amount of wine. Since I can never actually remember the warning signs of a stroke, I'm going to start drinking more heavily to ensure I don't ever have to deal with one.
2.
It Will Slow Down Brain Decline
Food & Wine again assures me that according to another Columbia University study (ugh so many studies), brain function declined faster in people who DIDN'T drink wine (or like, anything else) than those who did. Sooooo, wine will make me smarter? Got it.
3.
      

It Boosts Good Cholesterol

Internet doctors also told me that another one of the health benefits of wine is that it helps boost HDL, known to science nerds as the good cholesterol. Scientists doing some kind of study found that people who drank a glass or two of wine each day had a higher level of GOOD cholesterol and less bad cholesterol. But are those benefits doubled for people who drink three or four glasses of wine per day? Asking for a friend.
4.
It Will Reduce Your Risk Of Heart Attack
Web MD, the source of nearly all my Internet anxiety, claims that in 2000 there were lots of reports that wine drinkers in general had a significantly lower chance of dying from both heart attacks AND cancer. So if you aren't looking to drop dead, turns out your casual alcoholism can help.
5.
You're Less Likely To Get Diabetes
CNN, our number one source of fake news, found that alcohol consumption (namely wine) has been associated with a 30-40% reduction in the risk of Type 2 Diabetes—aka the one you get when you get chubby.
6.
It Can Help You Avoid A Beer Belly
In keeping with our good news about Type 2 Diabetes and health benefits of wine, wine is a great choice if you want to stay skinny and be an alcoholic. Wine has fewer carbs than liquor or beer, and we all know carbs are totally what gives you a gut.
7.
It Can Raise Your Omega-3 Levels
Omega-3s are those good fats that are present in shit like avocados and salmon, but APPARENTLY they're also present in wine! According to a European study (probs France honestly), regular moderate wine drinkers had higher levels of Omega-3s in their blood than non-drinkers. If this means I can chug two to three glasses of wine and skip the heavy meal, count me in.
8.
It Will Literally Protect You From Sunburn
Although drinking wine on a hot summer day (unless it's frosé) doesn't sound, like, amazing to me, it can actually benefit your skin. Some Spanish scientists found that drinking wine can actually lessen the effect of UV rays and protect you from sunburn. Praise da lort.
Images: Giphy (4)
The Right Way To Order Wine At A Restaurant
Recently I've been reading a lot of articles on how to order from a restaurant wine list like a pro, because I clearly will do anything to avoid doing any actual work at my place of work. But if there's anything I've learned from reading these blatant and offensive lies articles, it's that they literally know shit about ordering wine. Now, I'm no sommelier, but I do drink wine like it's water frequently, so I know a thing or two about ordering a glass of it at a restaurant. I mean, is there a healthy dose of shame involved with my ordering process? Yes. But will you enjoy the best damn glass of wine you've ever had in your life? Honestly, it's unclear. See, I think I have ESPN or something, because I can basically read minds when it comes to people's wine orders. So, just for fun, here's a look at what actually goes through your mind when you try to order wine at a restaurant like a pro someone who's only there for the happy hour drink prices.
*finds spot right at bar* So blessed, so moved, so grateful. Can't believe this is my life.
Okay, now what am I in the mood to drink? I don't necessarily want to spend 2-3 hours in the fetal position, backwards, stalking my ex on Insta, and crying into my Easy Mac, so maybe I'll just stick with white tonight? Or at least start with it. Yeah, that sounds v responsible.
Hmm is there a happy hour price listed anywhere or…?
Wait… is that the happy price? Are you fucking kidding me? TWELVE dollars for a glass of Pinot Grigio?

Were the grapes dipped in gold or something? Was it infused with the elixir of life? 'Cause that's the only way I'm paying for 12 fucking dollars of this shit.
This is the cheapest thing on the menu, isn't it? This is what I get for moving the happy hour to Williamsburg. Fuck this hipster nonsense. I'm out of here. I don't need this kind of negativity in my life rn.

Sighs. Bartender? Yes, I'll have one glass you can just fuck me up rn.
That's cute that the bartender wants to tell me about each wine on the menu. It's like he doesn't think I'm a human trash chute broke and will drink anything.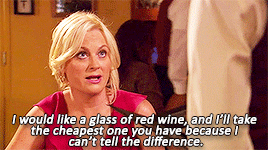 Anddd he's still going. Okay, Kevin, I get the picture. There's a lot of wine here. I was tipped off by the "wine bar" sign out front. You can stop with the monologue now.
Why is he asking me so many questions? What do I look for in a wine? High alcohol content. Obviously.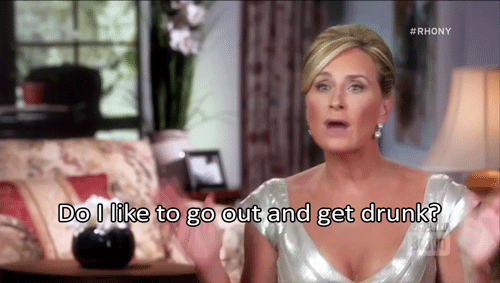 Whatever. At least he's pretty.
Wait. Maybe all of these questions means he's flirting with me??
Nope. This is purely about the wine list. Should not have made that pun about how I like my wine dark and full-bodied…
Ugh, I hate when they ask me to "sample" the wine. What am I supposed to say here? "Mmm, yes, this definitely tastes like 12 dollars I will never see again"? Don't embarrass me like this, Kevin. I thought we had something here!
Fuck, I just dribbled this shit down my chin while I was sampling. See, THIS is why I don't sample shit.

Lol, did he just ask me if he could interest me in a bottle? What, does he think I just came here to drink one glass and leave? I'm not a monster.
Wait this wine actually isn't half bad. Is this what life on the other side of $8 looks life? I'm a changed woman. I'm never going back to my old ways, until I see the check.
Do I want another? On the one hand it's expensive AF, but on the other hand I hate my job, apartment, and romantic prospects so… it's a tough call.
Whatever. It's Wednesday, I've made it through three consecutive days of work without wanting to jump into oncoming traffic. I deserve this. I've earned this. It's time to drink so much wine that I'm filled with shame and regret when I look at myself in the mirror tomorrow treat myself.

Learn Your Wine: Chenin Blanc Is The New Rosé
With summer upon us, it's time for alcohol. I mean, like, it's always time for alcohol, but there are ways to beat the heat while still being hella classy and better than everyone else. Because we're kind of over rose at the moment after a not-to-be-discussed incident involving too much frosé (no yay), we're all about Chenin Blanc now.
You may not have heard of Chenin Blanc, which instantly makes this wine more interesting. Pull up a chair, children, and let us tell you a tale of a crisp white wine made in France where summer is full of yachts and gourmet food and calories and hangovers don't exist.
What Is It?
Chenin Blanc is a white wine which began in mostly the Loire Valley of France. This shit can be traced back to the ninth century and the grape responsible for this wine was used at one time to make dessert and sparkling wines. In 1655, the grape made its way to South Africa where it totally spread like cray. Wine makers, seeing the grape grow so rapidly, were all like OMFG LET'S MAKE BRANDY, but they got tired of that shit and wanted a grape all their own for like, classier shit (wine). SO people started experimenting with it and bing, bang, boom – South Africa became a major producer of Chenin Blanc. If you see a Chenin Blanc from South Africa or France, it's probs legit.

WTF Does It Taste Like?
Think of Chenin Blanc as the ultimate sweet and sour wine. It has bright acidity BUT that shit is tempered by sweetness. So, you'll get fruit like apple, pear and lime along with jasmine, saffron, and lemon. Shit, you may even get some buttered popcorn flavor in there. Are you picking up what we're putting down? It's like, all the flavors in a great way.

What Types Can I Get?
Chenin Blanc can be all of the spectrum – as evidenced by its flavor profile. When looking for types, you'll see dry, off-dry, sweet, and sparkling. Obviously, sparkling is fucking sparkling and can be anywhere in taste from Brut to Demi-Sec. Sweet Chenin Blanc (for those of you who are new to drinking) will taste like tropical fruit and citrus … beware, this shit can be REALLY sweet and give you a HORRIBLE hangover. Off-dry happens when some of the grapes natural sugars are left in the wine, so the Chenin Blanc will be rich without being overpowering. Lastly, dry Chenin Blanc is minerally and tart. Drink this if you're a goddamn adult.

WTF Do I Drink It With?
Because Chenin Blanc is so fucking versatile in flavor, it goes with goddamn everything! If you've got a drier Chenin Blanc, pair with typical diet summer fare like fish and salad. Sweeter varieties go well with the Thai food you ordered as well as the tacos you're about to inhale. Somewhere in between can go with rich people shit like pate and cream sauces.

A Guide To Buying Booze As A Gift So You Don't Look Cheap
Shopping for Father's Day is stupidly difficult. If you're wanting to skip the "fun" mugs, ties, and yard tools, wtf else is it that a dad wants?! Like us, most dads love booze. Whether they like to get weird with tequila or are happy cracking open a craft beer, most dads just want to be left the fuck alone to drink and grill with some goddamn peace and quiet. I can respect that.
So, this Father's Day, don't fuck up by getting a chocolate hammer and "No. 1 Dad" mug for the fourth year in a row. We've rounded up top contenders in all the booze categories to make this a bitchin' (and drunk) Father's Day.
1. Red Wine

If dear old dad is into a nice glass of red wine for sippin' at dinner, look for something that goes with literally everything. We like 2014 Cultivate Pinot Noir—a blend of grapes from several California regions that goes really well with red meat AND chocolate. It has tasting notes of everything from ripe red fruits to a touch of black tea. Sounds manly. Plus, it's about $27, so it counts as a legit gift.
2. White Wine

If for some reason dad is into white wine (maybe red wine gives him heartburn or makes him angry), reach for something that blends well with shit like grilled chicken, spice, and seafood. Grab a Sauvignon Blanc since it isn't especially sweet AND it keeps dad away from basic bitch territory like Chardonnay (shudder). We like 2015 Hawkes Bay Sauvignon Blanc cause it's got a bitchin' blend of acid and sweet with hints of citrus. Make sure dad knows to chill his wine and serve it with something Asian-inspired—like food from that Japanese place he loves so fucking much.
3. Bourbon

If dad is into bourbon, there are a few decent ones you need to be looking to buy. One is Bulleit Bourbon which, at 90 proof, is likely to give dad a hangover Father's Day he'll never forget. The good thing about this shit is that it's smoother than most bourbons since it's 2/3 corn and 1/3 rye. It has mild spice and a littttle sweetness, perfect for drinking straight or mixing into whatever dad needs.
4. Scotch

.


If daddy has an American Express Black Card and you get your pretentious betchiness from him, chances are he drinks Scotch. Bonus points if he does the flicky water thing and sips it in a Hannibal Lecter sort of way. Anyway, if you're looking for a good but affordable Scotch for dear dad, try Chivas Regal 12 Year Old (Blended) or Bowmore Small Batch (Single Malt). Both are under $40 so you won't break the bank, but they're also recognized and awarded as super smooth with interesting flavor profiles. If you're dad's into Irish whiskey (I know it's not the same as Scotch, fight me), get him a bottle of Bushmills Red Bush. It's distilled in bourbon casks for a well-rounded yet versatile flavor profile.
5. Vodka

So if you're Russian or something, dad probably likes his vodka. Is that profiling? Whatever. Anyway, if you're ready to drop about $40 on good, organic vodka, try Purity Vodka. It's made in Sweden or something and has a really clean taste with notes of vanilla and pepper not usually in vodka. Definitely a step up from Dubra and Smirnoff.
6. Gin


Is dad a psychopath who enjoys gin? Is this where you got your psycho tendencies from? Great! Picking a good gin is NOT as simple as grabbing a bottle of Bombay (stop). Look for something decent like The Botanist. It doesn't taste quite as much like a cleaning solution and focuses on a niiiiice peppery kick. Plus it's only like $40 so you can't afford NOT to get it. Or if you want to trick Dad into thinking you spent a lot of money on his gift as penance for maxing out his credit card again or something (speaking for a friend), pick up some Sipsmith London Dry Gin. It's made in London (and therefore automatically classy) and it has a dry finish with spicy notes of juniper and a hint of lemon tart. Dry, spicy, then tart—kind of like dad. Too corny? Sry.
7. Tequila

Are you looking to splurge? Tequila makes us crazy, so if you want to blow dad away for Father's Day and try to make him forget that time you totaled his car, opt for the Avion Reserva 44, which clocks in about $150. It's super rich, aged, and has a really unique taste. If all you've been drinking is Jose, you won't know what planet this shit is from.
8. Craft Beer
If dad is a simple man who just wants to be left alone with a beer, give him the gift his heart desires (and then leave him tf alone). There are literally millions of craft beers out there, so head to Trader Joe's, grab an empty six pack, and start putting together a tasting you think dad would like. Like, any asshole can grab a case of Sam Adams—it'll just mean SO MUCH that you took the time to put that shit together. You're such a great daughter.
Drinking White Wine Is F*cking Up Your Skin
Is it just me or are weeks where you have to go to work be a functioning human really fucking hard? Just me? K. We all have our vices for coping with work week stresses. Some people have over-priced exercise classes and the cat they bought to mask their loneliness. Other people take tequila shots and Snapchat their ex at 10pm on a Tuesday night. Nobody's perfect. I, for one, lean on wine to get me through the good and the bad times. Specifically, white wine, because apparently when I unwind watch Pretty Little Liars and judge the downfall of Alison Dilaurentis I need to feel like a real housewife of Orange County. Know yourself. But now I can't even have six glasses a glass of wine anymore because this just in: white wine is allegedly the culprit behind your newly formed skin disease, rosacea.
Once again, dermatologists are trying to sabotage our happiness. First they came for our margaritas by spouting some bullshit about our favorite darty beverage giving us skin rashes and now they're trying to take away my will to live white wine by spreading vicious rumors which I AM SURE are fake news. And if these rumors prove true then all I have to say is welcome to your tape, Journal of the American Academy of Dermatology.

If the panic hasn't set in yet it's probs because you have no clue what rosacea is, so buckle the fuck up because you're in for a rude awakening. Rosacea is not, in fact, an STI (don't lie, one of you was thinking it); but rather, a skin disease that "causes redness and flushing on the face and neck." Which didn't sound that bad until I typed rosacea into Google and discovered that it can also cause face swelling, "acne-like breakouts", bumpy skin, and swollen eyelids. And the hits just keep on coming.
The study that's trying to ruin my life proved a direct link between white wine consumption and rosacea. The data was collected from more than 82,000 female nurses and found that women who consumed one to three glasses of white wine a month had a 14% increase in the risk of developing the skin condition. And just in case you weren't already feeling personally victimized, they went on to say that those who drank five or more glasses a week upped this chance by 49%. *Internally screaming*
I'm sorry, what?? Let's think about this for a moment. Five glasses of wine A WEEK can up your chances of getting a skin disease by practically 50%?? That's like one relatively tame Saturday night or, conversely, my Tuesday night writing this article. And that's all it takes for me to ruin my skin?

Also what do we really know about these "nurses", hmmm? We all know that nurses are just a bunch of nicegirls who want us to "drink more water" and "exercise" and "take care of ourselves." I don't trust it.

So, let me get this straight, if I want to avoid developing a lifelong skin disease I either need to listen to facts given by medical professionals or the feeling in my heart? Now I know what Sophie must have felt when she made her choice.
And if you're thinking, "fuck, it's already too late because I drink enough white wine to rival a middle-aged carpool mom" then doctors recommend that you invest in some Rhofade, a new prescription cream that will make you look less like Bridget Jones during a life crisis and more like a CW star in her prime. The other alternative is to, like, give up Pinot Grigio but unless you want me to pull a "sick passenger" in all my daily obligations then that's a hard pass from me. Sorry.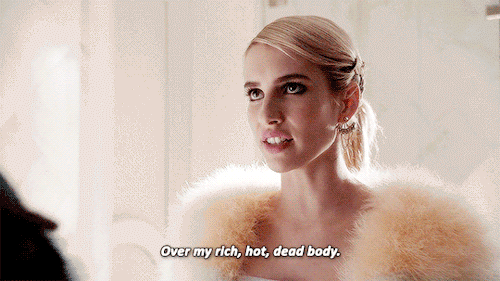 Can we all just blame the Journal of the American Academy of Dermatology for this one? Like enough is enough, people. You already took my margs and I really don't want to know how I'll cope without my Chardonnay. I for one would really like to be excluded from this narrative, please. Thx.
Read: Drinking Margaritas Could Give You This Type Of Rash
What Your Favorite Wine Says About You
If there's anything betches love more than wine, science has yet to invent or discover it. Not that I've ever been known to refuse alcohol of any kind, but vino will always hold a special place in my heart/liver. If I were to have a superpower I'm pretty sure it would be the ability to sense a bottle of Chardonnay being opened from miles away. Not only is wine fucking delicious, but it has a higher alcohol content than beer and lets you get drunk while kinda-sorta maintaining an air of sophistication. You might be passed out on the couch, but as long as you're unconsciously clutching a wine glass, you're passed out in, like, a classy way.
Basically, it's a law of the universe that at any given moment, some betch somewhere is downing some variety of wine—you're probably doing it right now. You can tell a lot about a person based on how they consume their alcohol, so here's what your fave wine says about you.
Bubbly
If your favorite wine is a sparkling one, you probably don't really like wine all that much and would rather be drinking a vodka soda (wouldn't we all?). Irregardless, you're a laid back person who doesn't care that much about semantics and refers to all sparkling wines as Champagne—or at least, you better be for the purpose of this list, or else you're just fucking obnoxious. Someone who only drinks wine with carbonation is the type who pretends they're classy even when their life is an obvious train wreck—like when you throw up in the back of your Uber but it's totally fine because you only got it on you and not any of the passengers or the driver's back seat. You may post "poppin' bottles" Insta stories, but we all know you were popping André. "Sophisticated with a hint of slutty" is your favorite Leslie Knope quote, as well as how most people would describe you.

Riesling
Summer is your favorite season, and you're either a novice drinker or have the kind of sweet tooth that's led to way too many drunken Oreo binges. Either way, you have yet to figure out your limits, so you're always the one to get way too drunk too fast and get carried out of the bar by your friends who can actually handle their alcohol. But whatever— you're the life of the party before then, so people don't hate you all that much for now. Just don't expect the goodwill to last forever.

You always talk about getting out and seeing the world, but you never actually do because you're a bit of a homebody. Maybe when you graduate you'll get around to it.
Pinot Grigio
You don't like to make waves, and while you're not shy, you can usually be found getting drunk with your BFF in the corner at parties. You love fitness almost as much as you love wine and judging people, which is partly why you've stuck with pinot g. for so long—it's a totally acceptable day drink, so you can sleep before your half-marathon in the AM. (Ugh.) Honestly, you can be a little insufferable, but your six-pack is super impressive.

Chardonnay
Subtlety isn't a Chardonnay drinker's strong point. You know what you like, and you stick to it. Among your friends, you're known for having a dry sense of humor. Sometimes, people say it's a little too dry, but whatever, you're confident enough to know anyone who can't take teasing isn't worth your time. Besides, you'd think people would want to know when they're having a bad hair day. You work in, like, finance or something, and you fully expect to own a house in the Hamptons one day.

Rosé
If your favorite wine is pink, you walk the line between nicegirl and betch with care. Every Saturday night, you can be found making regrettable decisions in a series of shitty bars, and every Sunday morning, you're arranging brunch, rain or shine, because you believe day drinking is the best cure for a hangover. (Duh.) You watch The Bachelor religiously and pretend not to be as invested as you are. You like to think you're unpredictable, but really, you just hate making decisions—even between red and white wine. Good thing we're entering rosé season, when it's socially acceptable to be tipsy at all times. Just try not to let the cumulative hangover kill you in September.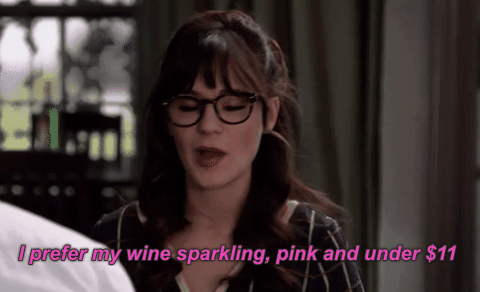 Pinot Noir
You started drinking red wine because whether you like to admit it or not, you judge the shit out of white wine drinkers. The only problem is you can't bring yourself to buy the dry, bitter stuff, so when you discovered you like pinot noir, you stuck to it. You're a secret romantic with an account on every dating app, and you're always complaining about the dating scene in whatever city you live in. A word of advice: Stop doing that.
You like to tell people you're low-key, but you're less responsible than you let on. (TG, because responsibility is boring.) After you've drunk an entire bottle of the pinot you brought to the pregame, you're the one doing shots and rallying the troops. Then you decide you're never drinking again and spend the next weekend going on disappointing Tinder dates and watching Netflix until you stop feeling sorry for yourself.

Tempranillo
You're one of those people others describe as headstrong. You kept a bottle of hot sauce in your bag before Beyoncé made it cool, and you're down to try pretty much whatever. Admit it: You've thought "YOLO" unironically before doing something stupid like drinking the vodka some dude offered you in a parking lot.
You list "world traveler" on your Instagram bio, and you love meeting new people you can force to listen to your many stories. People tend to like you at first, but you've also been told to STFU about your exotic vacation because it's all you talk about. You'll settle down when you feel like it and not a moment before.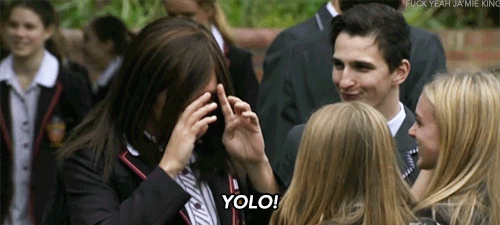 Cabernet Sauvignon
You come from money—you've been knocking back wine since your mom started turning a blind eye at fancy family parties, so a cab's dry bitterness doesn't bother you. You like to take charge and go for what you want; if life were a reality show, you'd be the one who isn't there to make friends. (You also tend to speak in clichés.) TBH you're pretty judgmental, but you're not terrible to be around once you decide to like someone. Even when blackout, you're more likely to carry a Riesling drinker out of the bar than be carried out yourself. After all, you have appearances to maintain.

Is it too meta to propose a toast to wine using a glass of wine? Whatever, I'll drink to it anyway.
The Best Wine & Cheese Pairings For 'Bachelor' Night
The age-old question of what cheese to pair with our wine rears its head just about every Monday, Tuesday, and Wednesday evening. With The Bachelor finale coming up—THANK GOD—we need to prepare ourselves for the cheese and wine fest about to ensue. But like, let's be classy.
Here are our fav ten cheese and wine pairings that you need to know or else risk looking like a plebian. 
1. Zinfandel And Jalapeño Cheddar
Find a spicy cheddar in the poor cheese aisle and grab a Zinfandel. The dry red wine works super well with spicy shit since the wine itself is fruity and kinda spicy thanks to hints of black pepper. Shit, go crazy and grab some of the pre-sliced habanero cheese if you're feeling wild. 

2. Port And Blue Cheese
If you're an 80-year-old man, you love Port! So, grab one of those old bottles you have lying around the house and pair it with the cheese that smells most like old people—in this case, blue cheese. The rich, sweet Port balances nicely with the bold (to say the least) flavor of blue cheeses like stilton and gorgonzola. 

3. Pinot Noir And Goat Cheese
Yeah, you could be basic and throw some triple crème brie out with your Pinot Noir, but better yet, pair it with a goat cheese like chèvre. The creamy factor works to bring out the flavor of the wine, and you'll feel fancy nomming on this combo.

4. Pinot Grigio And Feta 
Did you make a Greek salad and buy too much feta? Never fear—pair that shit with some Pinot Grigio and treat yo'self. The fruit background in the wine works with the salty yet mild taste of the feta. Look at you, bein' culinary.

5. Merlot And Monterey Jack
Are you too poor to buy cheese from the nice section of the store? That's okay. Grab a box of the finest Merlot and pair it with your favorite poor people cheese, monterey jack. Because the cheese is on the less-intense-flavor side (see: bland), it pairs well with an easy drinking Merlot. Now you too, can enjoy a fine wine and cheese night, regardless of how in debt you are!

6. Malbec And Aged Cheddar
So, as opposed to the shitty cheddar you can buy in block form near the tubs of cream cheese and sugar-yogurt, head to the fancy cheese section and pick up an aged English or farmhouse cheddar to nom with your Malbec. The smooooooooth jazz sounds flavor of the wine cuts through that super hostile aggressive attitude put forth by the cheddar. We can relate.

7. Prosecco And Parmesan
If you're craving bubbles but are too poor for Champagne, grab some Prosecco and pair it with a rind (or a bowl of shredded) parmesan. The bubbly happiness cuts some of the supernsalty taste of the parmesan, so you'll be able to eat and drink without feeling like your mouth is a salty desert. Unlike your DM's.

8. Chardonnay And Mild Cheddar
If you're a middle-aged soccer mom, you have at least six bottles of Chardonnay in the house at any given time. Pair it with the mild cheddar you use in your kids' sandwiches, because you didn't get a chance to go to the store for fancy shit this week. It's okay, you can still have "me time" with these meager (but delicious) rations.

9. Cabernet Sauvignon And Aged Gouda
According to VinePair, this pair works because the gouda is super, extra nutty and the Cab Sav is a pretty bold, full-bodied wine. Now, given, you could also use this salty, nutty cheese with a sweet wine—but since we aren't in fucking high school, let's try to drink like adults.

10. Reisling And Mozzarella
If you dig on sweet wines like Reisling, Gewürztraminer, Moscato, and Chenin Blanc, grab a fresh, soft cheese like ricotta, mozzarella, or burrata. According to Serious Eats, the sweet and soft combo works because, like, why wouldn't it? You don't have some big bold wine showing up your delicate mozzarella—and you wouldn't make that fucking rookie mistake anyway. Plus, tannins will fuck your flavors up, so stay away if you're looking to sit, alone, with a tub of ricotta and a bottle of Moscato. Cute. 

Every Official Wine Drinking Holiday To Add To Your Calendar Right Now
There are holidays that every betch regularly celebrates: New Year's Eve, Skanksgiving, any religious holiday we can use to get out of work, etc. These holidays ensure a chance to drink to the point of near liver failure, or serve merely as an excuse to Day Drink. TBH these days, a new episode of The Bachelor is one hundo p a reason to celebrate with a large glass of Sauvignon Blanc. But if you want don't want to be labeled as an alcoholic by your friends/family/therapist there are actually days to drink with less shame. They may be completely arbitrary and fake holidays, however, that you need to add to your calendar like, yesterday, because they all involve wine. And anything that involves wine is a great fucking reason to celebrate. Jot down the dates of these official wine holidays, and stock up on your wine in preparation. 
We would also just like to point out that just because many of these holidays celebrate a specific wine doesn't mean that you necessarily have to follow it to a T. Like, if you don't want to drink red wine on National Red Wine Day because it falls on August 28th and what kind of monster drinks red wine in the summer, we're not going to judge you. So long as you celebrate with some type of fermented grape, you're doing the right thing.
February 18: National Drink Wine Day
We just missed this one (sad!), but mark it for next year. Any holiday that's dedicated to drinking wine specifically—as opposed to swirling it around in your glass and pretending to know shit about it, I guess—is an automatic yes in our books. Is "National Drink Wine Day" basically just every Monday night for me? Maybe, but who asked you, mom?
April 24: Sauvignon Blanc Day

Good for all of you Kim Crawford lovers out there. Sauvignon Blanc Day was created in 2010 specifically to encourage consumption of this delicious white wine. So, drink up.
May 9: World Moscato Day
This holiday is even newer, with its humble beginnings originating in 2012. This holiday was actually founded by a winery (Gallo Family Vineyards) and its moscato production has risen 2 percent since. So yeah, another great holiday (and marketing ploy). But we're not mad. Maybe call out of work the next day so you can tend to your inevitable sugar hangover.
May 25: National Wine Day

If you don't know what a holiday called "National Wine Day" entails, you definitely can't fucking sit with us.
May 26: National Chardonnay Day

A personal favorite, this floating holiday is designed for you to celebrate it in tandem with Memorial Day. So break out the Kendall Jackson and get ready to spend a weekend drowning in wine. For the troops—or whatever Memorial Day celebrates. 
June 11 (and/or/and August 14th): National Rosé Wine Day

Rosé all fucking day. A wine so special, it deserves two dates for optimal celebration.
Will You Accept This Rosé? Buy our rosé tank here!
July 25: National Wine and Cheese Day

Wine and cheese: the greatest food pairing in the history of time (it's a scientific fact). Naturally, this is a great excuse to eat all of the cheese and chase it with all of the wine. Just don't do it in that fucking gross cheese-y wine shooter. Buy some brie like a goddamn adult.
August 4: National White Wine Day
Moscato, Pinot Grigio, Chardonnay, Sauvignon Blanc. The more, the merrier to celebrate.
August 28: National Red Wine Day

We really don't discriminate against any varietal of wine, even if it's not exactly seasonally appropriate.
November 4: National Wine Tasting Day

How does this differ from National Drink Wine Day? I really have no clue, but then again, why am I complaining? Carry on, nothing to see here.
November 7: International Merlot Day
This one is going global. Around the world, raise your glass to all of our alcoholic soul sisters. Then, pour one out for them because apparently America is the only country that gets not one, but 13 ways to celebrate our favorite drink. 
December 31: Champagne Day

Definitely not a coincidence this falls on New Years Eve. Now we just have to get national boozy brunch day to become a thing…