How To Run Safely Outside Without Being A Jerk About It
Apparently, I had no idea what being "stir-crazy" actually meant until we entered this indefinite solitary confinement they call quarantine. Even as a proud introvert, it feels like the universe is shoving all the plans I've ever canceled in my face and screaming, "IS THIS WHAT YOU WANTED?" This is absolutely not what any of us wanted—as any introvert will tell you, part of the thrill is canceling plans. With no plans to cancel, this endless abyss of plans that could have been (canceled) feels like a discount version of Groundhog Day. Not only are we mourning the closures of our favorite restaurants, stores, and bars, but many of the activities that kept us sane are no longer an option. One of the most difficult aspects of my quarantine has been the closure of my gym, and not only because of the sense of community it provided. Physical activity has been one of the only things I've found in over a decade of pretty severe anxiety that actually helped keep it in check. According to the CDC, reduced anxiety isn't the only noticeable benefit of regular physical activity. Just 150 minutes of moderate-intensity exercise each week (that's like 7 episodes of Schitt's Creek which, realistically, you've done in one day) can improve both your blood pressure and cholesterol levels. Regular exercise can also reduce your risk of certain cancers and cardiovascular disease. So yeah, TL;DR, exercise is good for you and I'm sorry for all the times I pretended I had cramps to get out of gym in high school. 
During this time of incredible stress and uncertainty, the anxiety-reducing aspects of physical activity are more important than ever. Being trapped inside a small space with no end in sight is stressful, to say the least. Exercise is definitely helpful, and nothing makes me feel quite as calm as the aftermath of a heart-pounding sweat session. There are plenty of workouts that can be done from the comfort of your own home, but when running is your go-to, working out while quarantined can be a little more complicated (unless you have your own treadmill, you lucky b*tch).
At the beginning of quarantine I was running four miles a day ….. Now I'm proud because I did a single squat

— Donese (@donese22) July 9, 2020
It's SO tempting—outside is literally right there. You can see it and hear it screaming at you to lace up and get out there. So what's stopping you? If your neighborhood is anything like mine, you've seen countless people jog by, headphones in, totally oblivious to the fact that we're in the middle of a freaking pandemic. If they can do it, why not the rest of us? Well, because we both know we're smarter than that. Yes, it's tempting to squeeze in a quick 3-miler and be back inside before the coronavirus even has a chance to notice we left our bubble. Unfortunately, this isn't some high-risk game of tag and we really can't afford to take any chances. Here's the great news, though—experts say that it is fairly safe to run outside, as long as we take the proper precautions. Family Medicine Physician Doctor Mike Varshavski—or as he's known on Instagram, Dr. Mike—tells Betches that running "is considered a low to moderate-low risk activity based on the new chart put out by the Texas Medical Association" and notes that "throughout this pandemic, almost all shelter at home orders have continued to allow and encourage solo exercise like hiking, walking, and running."
So that's the good news! And as long as you follow these pretty easy guidelines, you can rest easy knowing that you put your safety and the safety of others first.
1. Jog Alone Or In Small Groups, But Make Sure You Maintain A Safe Distance
I get it, running with your best friend or your running group like you've done for years is a blast. However, just because you have been extremely cautious about protecting yourself from the coronavirus doesn't necessarily mean your running partners have done the same. Make sure whoever you're running with is also taking the proper precautions, and continue to practice social distancing even when running outside.  Dr. Mike tells Betches, "any time you are exposing yourself to other individuals, it raises the risk of catching the virus," reminding us, "those who look healthy can still be spreading COVID-19. If you have to go with a group (for safety reasons, perhaps), try and be with the smallest group possible."
Brian Labus, Ph.D., MPH, assistant professor in the School of Public Health at the University of Nevada Las Vegas told Runners World, "If you deem running with a small group is something you're comfortable with, you'll want to ensure that these few people have been properly careful over the past few months, same as if you're running with one other person. Additionally, your small group should run somewhere you know you won't come in close contact with others." 
Labus also emphasizes that if you live with someone in the at-risk age group (over 65) or someone who is immunocompromised, extra precautions are necessary, and running with a partner may not be the best idea. He explains, "There have been over 182,000 cases (as of June 10) and over 77,000 COVID-19 deaths (as of June 6) in those age 65 and over since February 1, according to provisional data from the CDC. It is safer to run solo until disease transmission is low in your community."
2. Bring A Mask With You When You Run
It's probably not necessary to wear a mask while you run outdoors (and realistically, it would be really tough to wear a mask during any exercise that leaves you gasping for air) as long as you maintain the proper distance between you and anyone you encounter outside. Indeed, Dr. Mike tells Betches that "a mask should not be worn while running as sweat will make the mask wet and create other problems." He advises, "The best protection is to wear the mask until you're ready to exercise, take it off, and stay at least six feet away from others as best as possible."
View this post on Instagram
That said, it's probably not a bad idea to bring a mask with you when you run just in case. You may end up lost and needing to grab an Uber back, you could desperately need to run into Walgreens for a drink of water, or you might end up running into your ex and needing a disguise. Point is, there are a lot of reasons you may need a mask when leaving your house, so make sure you have one with you at all times. 
Donald Milton, a professor of environmental health at the University of Maryland School of Public Health explained to the New York Times, "Outdoors is relatively safe, and masks would only be important if you are exercising in crowded areas or indoors in space shared with other people." According to Milton, as long as you're keeping your distance, you should be pretty fine running outside with your mask at the ready in case of an emergency.
3. Scope Out Your Street During Different Times Throughout The Day, Or Find A Different Street Altogether
Please withhold all "duh"s, because from what I've seen firsthand it apparently needs to be said—the easiest way to keep your distance when running outside is to run in a less crowded area. Now, this doesn't mean driving 38 miles to the middle of the forest to knock out your run. This honestly may be as simple as spending a few days looking out your window every hour or two to see how many people are out and about. Peak hours in your neighborhood may also vary between weekdays and weekends, so also take that into account when planning your run. Ideally, you want to find both a time when not too many people are out, and a place where you have plenty of "escape routes." This means not running next to a busy street that you can't cross if you see a group of people on the sidewalk. If you're running on a forest path, it means being able to step way off to the side if someone else is approaching (and, see #2, don't forget your mask in case this isn't an option). 
Dr. Benjamin D. Levine, a professor of internal medicine at UT Southwestern Medical Center and Texas Health Presbyterian Dallas, explained to NPR the importance of keeping an even greater distance when exercising outside. He advises, "The greater volume and rate of breathing that occurs during exercise has the risk of spreading droplets farther. I think it's reasonable based on the known changes in breathing during exercise."
I don't know how many times I've been out walking and out of absolutely nowhere, a jogger runs by me so close that I feel a small gust of potential plague-wind as they pass. This isn't okay, guys. First and foremost, if we can't be considerate to other people who have just as much of a right to use the sidewalk as we do, we shouldn't be out running in the first place.
That said, if you've been keeping an eye on your street and it really doesn't seem like there's much of a break in the constant stream of people passing by, check out some other side streets nearby. Chances are, within a mile or so of where you live, there are some quieter residential streets that will be far less congested. 
4. Make Sure That It's Actually Okay To Run Outside In Your Area
As we've discussed, it is more than tempting to grab your shoes and just GTFO. But even if you've thoroughly read through these important tips and feel confident in your ability to run outside safely, please hit pause for just a hot second. Because of the constantly evolving nature of how we're handling this pandemic, running outside without a mask may not even be allowed in your area. Make sure you're constantly checking mandates from your state health departments to ensure you're adhering to your area's current requirements. These mandates are changing fairly regularly in some areas, so it's a good idea to check them daily before your planned run. Your state will most likely have a dedicated coronavirus page with all of the latest information, from things like the number of confirmed cases to reopening guidelines.
Dr. Mike emphasizes, "Know that there is no such thing as absolute safety when outdoors. The guidelines of wearing a mask, physical distancing, and washing hands will certainly reduce risk but not eliminate it. Know what is an acceptable risk for you."
If you're still hyped up to go for an outdoor run, more power to you. Just remember the four M's, and you should be good to go. Maintain your distance, Mask (in your pocket/bra/around your neck/whatever), find tiMes of the day that are less crowded (ok that was a stretch, who cares), and Mandates (check your local mandates to see what rules are in place in your area). Happy running!
Images: Andrea Piacquadio / Pexels; donese22 / Twitter; notskinnybutnotfat, dietstartstomorrow / Instagram
Does It Matter What Time Of Day You Eat?
Is it just me, or do people literally never crave salad when they're really hungry? Like, if I haven't eaten since lunch and it's rolling on 9pm (I eat dinner late, sue me), I am never hunting around for a big-ass bowl of mixed greens. If "you are what you eat" is true, then I'm a Domino's thin-crust cheese pizza, and I'm honestly fine with that. Here's the thing, though: in the decades that have passed since that ridiculous phrase was coined, we've come a long way. And by "we," I mean the nutritionists and doctors of the world. That's because what you eat is not the only important factor in your diet. Sounds fake, but it's true, at least according to Dr. Michael Crupain.
Dr. Michael Crupain, medical director at The Dr. Oz Show and author of What to Eat When, believes that it's not only about what you eat; it's also about when you eat. Thank the f*cking lord. I spoke to Dr. Crupain about why timing is so important in your diet. So if you tend to feel hungry before bed and always reach for the bag of pretzels, read on!
Does When You Eat Matter As Much As What You Eat?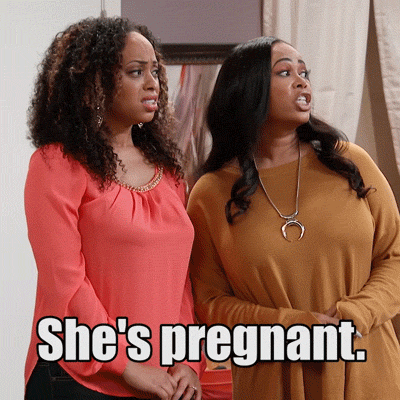 Simply put, yes. They both matter a lot because, according to Dr. Crupain, "it has to do with something called our circadian rhythm. That is our body's internal clock, which is set by the sun. We often think about it as important for sleep, and it is, but it also helps regulate all the systems in our body including our metabolism." And our metabolisms actually change throughout the day. Did anyone else know that? I sure as f*ck didn't!
In layman's terms, our bodies generally expect a lot of high-quality food earlier in the day and less food in the evenings. "When you eat a big meal at night," explains Dr. Crupain, "you throw a wrench into the whole system, and instead of burning fat you are more likely to store it." Ah, so that explains the bloat I wake up with, that part of me worries is an actual baby bump at this point. So if you don't want to massively confuse your body, don't have your pesto pasta right before you plan on passing out. However, this does not mean that you can't eat before bed. Like, sometimes, I am so hungry that my body won't let me sleep until I feed it something edible. More on this in a moment.
What Foods Should We Eat/Avoid?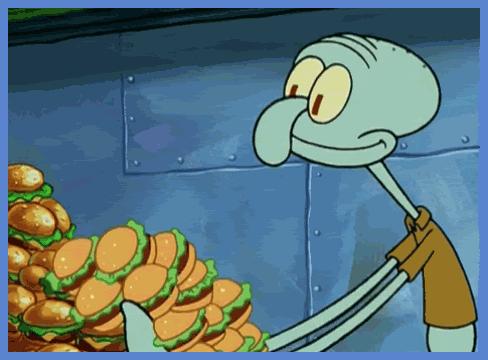 If you're aiming to live a healthy and clean lifestyle, which, like, same, eat the good stuff like whole grains, healthy fats, lean fish (salmon), seeds, and veggies. This applies at any time of day. So if you're mad hungry right before bed, spread some mashed avocado on a seeded cracker and, boom, you've got yourself a healthy snack that will actually help you fall asleep without f*cking up your metabolism. Eating a low-energy food before bed helps regulate blood sugar levels that usually drop while you sleep.
Dr. Crupain also notes one thing we all already know but refuse to accept: "The most important foods to avoid are ultra-processed ones that are loaded with sugar. Also skip fried foods and a lot of red meat." Look, cheeseburgers are my best friends and I will never fully give them up, but after talking to Dr. Crupain, I will def limit my Shake Shack intake because it is slowly killing me. *Cries quietly* Baby steps, though, right?
When Should You Have Your Largest Meal And Why?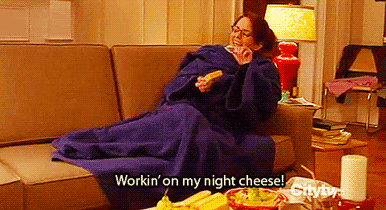 Has anyone ever heard "breakfast is the most important meal of the day?" Lol, I joke. We are all too familiar with that phrase. Dr. Crupain says that the jury is actually out on this but, "what we do know is that breakfast and lunch combined are the most important meals of the day because that is when your metabolism is expecting you to eat and is best able to process that food. We recommend that you make breakfast and lunch your largest meals of the day and dinner the smallest. Ideally, you should eat when the sun is shining and get 75% of your calories in before 3pm."
*Pauses to perform elementary-level math* I mean, this makes sense given that your metabolism is hard at work during the day and not as much while you sleep. I, however, have been doing the literal opposite of this since graduating college. I have coffee for breakfast, then the chicken and cheese from my salad for lunch, and an enormous dinner every damn day. Where has Dr. Crupain been all my life?! Since speaking with him, I've started waking up earlier to have a legit breakfast that ranges from avo toast to Purely Elizabeth granola with bananas and a lunch that consists of actually eating the greens in my salad. Adjusting to dinners that aren't Michael Phelps-sized has been hard, but I have found that I'm sleeping a lot better and haven't looked super bloated in the mornings! Speaking of sleep…
What's The Best Type Of Food To Eat For A Good Night's Sleep?

"For specific foods that can help you sleep, studies show that eating a lot of saturated fat and sugar can interfere with the ability to fall asleep, while foods like whole grains and fish can make falling asleep easier. In a pinch, some research suggests that kiwis and tart cherry juice can help people fall asleep," I'm not a huge fan of kiwis, but I'd be down to try tart cherry juice because that just sounds delicious and like it'd be a great mixer.
So there you have it, everyone. What you eat is important, but so is when you eat. This doesn't necessarily mean that you should start eating Chipotle for breakfast, it just means maybe don't have Chipotle for dinner if you eat dinner at 9pm. Of course, everyone's bodies are different, but it's safe to assume that having a heavy and enormous meal before bed will not work for you if you want quality sleep and a healthy gut.
Images: Giphy (4); Unsplash