3 Signs You Need A New Workout Routine
When you're already going to the trouble of working out, it can feel like unfathomable betrayal to hear that you should, in fact, be doing a completely different workout. Or at least, that's the logic I once used to justify doing nothing but yoga for six months, while slowly ceasing to fit into my pants. As someone who really wants to be fit but is decidedly not an athlete, I've spent a of time and energy on different gyms, classes, and even trainers and physical therapists over the years, trying to find the perfect workout that would turn me into a *fit person* once and for all. As all those professionals have explained to me repeatedly, not all workouts are created equal. What's more, switching up your workout routine has consistently proven to show better results. So, while I reluctantly follow this advice myself, here are my past trainers', physical therapists, and preferred internet authority's tips for knowing when it's time for a new workout routine.
1. You're Not Getting Sore Anymore
Sorry! But also, not really because you should know this. If a workout stops making you sore, it's not a sign that you have ascended to a new level of athleticism in which your muscles are no longer capable of strain. It does probably mean that you have strengthened the specific muscles involved in this particular workout (congrats!). But if you don't up the difficulty of the workout, or switch out the muscles you're working on, you won't keep seeing results. At best, you'll maintain the very specific strength you've gained. But even that isn't a guarantee, since you're continuing to do a workout that was appropriate (and difficult!) for you in a less fit state. Trainer Faheem Mujahid explains it as your body realizing "it doesn't need to expend as much energy anymore:" meaning you burn fewer calories, get less tired, and are less likely to feel sore. Time to level up, b*tch!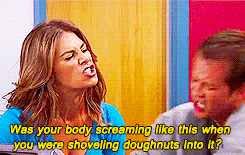 2. You're Getting *Too* Sore
The flip side of the whole soreness thing is that you have to be careful not to overdo it. There's a difference between it hurting when you laugh the day after an ab routine and needing to strap on a knee brace every time you leave the gym. Fitness instructor Trish DaCosta puts it plainly: "A reoccurring injury or too many injuries is often a sign we're doing too much of an exercise program." Pulled muscles, joint pain, or persistent aches are clear signs that your body needs a break. Injuries aside, extreme soreness—or persistent soreness in only a few, select places—also mean you should switch out your routine, or at least add some variety. Trainer Jessica Thiefels stresses the importance of making sure your body feels "balanced in strength," and adds that "working the same muscles, time and time again" is a bad idea. Muscles need rest periods in order to get stronger; so you're really just robbing yourself of #gainz if every day is focused on the same body part.
Obvs, if you're repeating the same workout over and over it's because you like it, and I get that it's tough to motivate yourself to make the switch. I once spent two weeks obsessed with barre and loving my life. Then I promptly re-pulled an old thigh injury, and my physical therapist at the time told me that barre was "the worst thing" I could do for my body.  The fact that I had just purchased both a "barre so hard" tank and a month-long barre studio membership apparently meant nothing to her. As much as I was dying to be a fancy barre girl, I had to accept that my body just wasn't built to benefit most from that particular workout.
Me to my useless barre studio membership: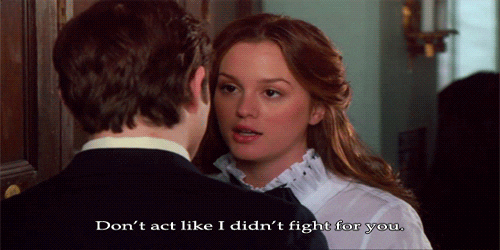 3. You're Not Getting The Results You Want
So, this goes back to my whole "only doing yoga" period in time—despite feeling like I was gaining weight, or at least sort of…spreading out. Before my yoga phase, I'd been getting most of my workouts in at the gym, where I lifted weights and ran intervals on the treadmill. Then, I moved to NYC and decided a gym was a luxury I could no longer afford. Even though I'd read countless times that yoga is not the most effective calorie-torching workout out there (particularly not when done for 15 minutes at a time in one's living room), I hated the idea that completing any workout wasn't enough for my stupid body. I felt more flexible and balanced for sure—but I felt like I was losing muscle, and my clothes weren't fitting as well.
The point here? Don't be like me! Yes, some exercise is better than no exercise at all. But that doesn't mean you can go on a jog and expect your triceps to be more defined after. DaCosta notes the importance of seeing "continued progress" from your workouts, which could come in any of the following forms: "more muscle definition, decreased body fat, more energy, stronger lifts, faster recovery times, weight loss, faster pace, etc." While yoga was pushing me on some of those fronts, it wasn't satisfying others. For a fully varied workout routine that pushes you on all these fronts, Mujahid recommends trying for a mix of "cardiovascular, strength, agility and flexibility sessions," making sure you're "hitting every muscle group" in a week's worth of workouts.
If that sounds totally unattainable to you (same girl), take some comfort in knowing a lot of these categories overlap. For example, a HIIT workout could be your lower body workout, and combines a cardiovascular and strength workout. Then you could work your upper body with yoga on alternate days, which would count as your agility and flexibility sessions. Throw in an ab day and you're done for the week. (And if that sounds like a month's worth of workouts to you, once again I say SAME GIRL. I'm just the messenger for what the pros are recommending.)
Me during my yoga phase:*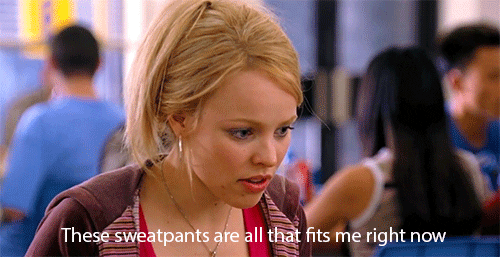 *To be clear, yoga absolutely can and does help people with all kinds of body goals. But my refusal to do any other workout meant I really hit a wall.
This article is not meant to shame anyone out of the workout routine that they're doing. Everyone who has broken a sweat (on purpose) in the past week: I am proud of you. But I also know firsthand how frustrating it can be to feel like you're making a huge effort and not getting anything for it. If anything, this article will hopefully inspire you to make a change and find the workout that leaves you sore, satisfied, and not feeling like you need a wheelchair. Everyone's body is different, and once you find the (healthily varied & not at all overwhelming) routine that works for you, working out will feel 1000% more worth it. I promise.
Images: Giphy (3); Pexels / bruce mars
4 Exercises That Are Wasting Your Time, And 4 Better Ones
As a gym-goer (you cannot visit this site without being a member of a gym that costs almost as much as your monthly rent), you're surely aware of the CrossFit-ization of our once-great nation's fitness fanatics. This is largely bad, because it's caused many a dork to delude himself into thinking that exercise is a sport in and of itself, despite their newfound quadriceps making them no better at hitting a baseball or sinking a free throw than they were back when they were getting picked last for grade school kickball. There is, however, one silver lining: the rise of "functional fitness," i.e., exercises that actually get you in better shape.
Now, everyone's living that #squatlife, even novices. Which is great! But for people just starting out, it's sometimes wise to work up to an exercise before loading up a couple hundo' on the olympic platform and deadlifting until you shit out your own colon. Those people can gently introduce themselves through modified exercises, colloquially called "modifiers." This is also great , but the problem is that not all modifiers are created equal. I've put together a list of popular "functional" exercises, the most common modifiers, and better alternatives for people who want to get Khloé Kardashian's bod without the ass injections.
The Exercises
Push-Ups
Before there was such a thing as "plank," everyone else knew it as "the top of a fucking push-up." With your body taut, feet together, and your hands underneath (and roughly as wide as) your shoulders, lower yourself until your chest jussssst touches the ground, and push back up (hence the name!). It's a great way to build strength and endurance in your chest, shoulders, and triceps, and it involves core and stabilizing muscles in ways that machines and even free weight exercises don't. Unfortunately, because God knew damn well that men would be insecure as hell, he blessed us with naturally superior upper-body strength that makes these a breeze—but lots of women might find them difficult.

The Modifiers
Bad: Partial/Kneeling Push-Ups
I don't mind knee push-ups, which I'll get to in a second. The bigger problem is that I've noticed some trainers/online fitness idiots recommending women instead do push-ups on their feet, only going "as far as they can," i.e., about halfway. This is bullshit. You wouldn't do half a squat, half a bicep curl, or give half of a hand job and declare it "the same as the real thing," would you? I sincerely hope not, otherwise you are WEAK and/or bad company in uncrowded movie theaters.
Better: Elevated Push-Ups
The key with push-ups is that they get harder the smaller the angle between your body and the ground gets. Ergo, instead of doing 15 half push-ups and fucking off to the juice bar or whatever, find a way to elevate your hands. Every gym has some of those aerobics platforms for old ladies that you can stack about 18 inches high. If that's still too hard, grab a weight bench or even a low wall and perform the motion with good form. As you get stronger, lower the platform. Kneeling push-ups should actually be your last step on this journey. Basically, if you can perform 15 or so push-ups at your current level of assistance, it's time to lower your angle. There's still a decent jump from kneeling to actual push-ups, in which case it's totally fine to start out on your toes and drop to your knees as needed to finish the set.

The Exercises
Squats
Ah, squats. They're the foundational exercises for every THOT who gets fired from Panera and decides they're going to start a #fitspo Instagram—and tbh, they should be foundational for everyone. Resting a weighted bar across your shoulders as high up as your trapezius muscles will allow, stand with your feet shoulder-width apart and toes pointed slightly out. Drop your butt back and down, feeling as though there's a string pulling your head upward as you drop your ass as low to the ground as possible. Get the crease in your hips at or below your knees before extending from your heels back to full height. It's a MONSTER exercise for your entire lower body, but not everyone is ready to step into a squat cage with all those meatheads flexing and milling about. Plus, even just the 45-pound bar can be a lot for newbies, and a lack of trapezius muscles can make it uncomfortable.

The Modifiers
Bad: The Sled/Leg Press
This is that big contraption where you lay down in a recumbent position near the ground, using your legs to push the weight out and away from you. You feel like an absolute GOD on this machine, because even fairweather gym-goers can put up solid weight. The problem? It fucking sucks. For starters, it's the opposite of "functional"—of course you can push a lot of weight when you're braced against something solid, but do you envision a situation where you'll ever be lying on your back and have to leg-press a Toyota? I sure hope not. What's worse, it can genuinely and sincerely fuck up your back six ways from Sunday. Do you want to spend the rest of your life walking around like that? Hell no.
Better: The Hack Squat
I'm tempted to include dumbbell squats here too, because there's nothing wrong with those as exercises on their own. But if you really want to prepare for the squat cage, the hack squat machine is your friend. It's that machine usually located somewhere near the leg press that looks like a medieval torture device, except it's anything but. Load on an experimental amount of weight, settle your shoulders into the cradle, and use the levers to unlock it. Making sure you place your feet so that your knees don't extend too far out over your toes, lower yourself as low as possible, just like a real squat. The beauty is that it does a much better job of simulating the movement, and if you get stuck it's easy to lock the machine and bail out (plus, everyone's too busy herniating their spines on the sled so it's always open). It's kinda tough to determine how much weight you're pushing because of the angle, but I'd say that if you get to a point where you can do 8-10 good hack squats with 100 pounds on the rack, you're ready to move to the cage.

The Exercises
Pull-Ups
I probably don't need to explain pull-ups too much: grab onto a bar/rings/the skid of the helicopter with which terrorists are trying to abduct the president, and pull yourself up until your chin reaches or passes the bar. There are any number of hand positions you can use to make the exercise easier or harder, but that's not the point. The problem is that I would wager most men can't do more than one or two pull-ups, to say nothing for how hard it is for most women. Honestly, you may never be able to do more than one, if any. But that's ok! It's still a goal to work towards.

The Modifiers
Bad: Lat Pull-Downs
This is the rig usually found on the end of a larger cable machine: a seat with pads to hold your knees in place, with a pulley above with a bar that you pull down to your collarbone (or behind your head, if you're feeling spicy). Like a lot of modifiers, there's nothing inherently bad about it—it is, in fact, a great way to strengthen your lats, and your lats are a big part of a pull-up. But it does fuck-all to simulate a pull-up, and that's what we're after here. We can do better.
Better: Assisted Pull-Ups
There are two mechanisms for this, and they're kind of a progression. The first (and easiest) is a machine specifically designated for assisted pull-ups: select an amount of assistance to counteract your own body weight, either step or kneel onto the assist bar/platform (depending on the design), and get to pull-uppin'. Even in machine form it's better than a lat pull, because you're moving your body through space. It's also closer to how your body actually moves on a bar, i.e., no excessive leaning back like you see people do on the lat pulls. The second option is to use a pull-up assist band (or collection of bands) on a by-God pull-up bar: attach the band according to the instructions, rest your knee or foot in the loop, and do pull-ups as the elastic gives you a little boost. This is just like doing real pull-ups, because your body can swing freely just as it would with no assistance at all. Real talk, if 6-8 band-assisted pull-ups are as far as you ever get, you're still doing better than 90% of the population. No shame in that game.

The Exercises
Deadlifts
If squats are the NY style pizza of exercises (iconic, foundational, and unimpeachable), then deadlifts are Chicago deep dish—similar yet a little different, but no less important. With an olympic bar at your feet, stick your butt out and squat down as far as you need to grab it with extended arms. Then, keeping your chest high and your back straight, again feel that string pulling your head up as you push through your heels back to upright. The bar should ride jusssttt in front of your shins, and finish on your thighs. It's not entirely un squat-like, but a) you aren't squatting as deep, and b) because the weight is in front of you, it works the back of your body more—specifically the glutes, hamstrings, and lower back. It does, however, present similar challenges to squats: big scary weights and the people who use them, and discomfort (this time, in the form of potentially skinning your shins with the bar).

The Modifiers
Bad: The Hex Bar
If you've ever worked with a trainer, you may have used this device. A closed hexagon with extensions for barbells on either side, you step into it, reach down and grab the handles, and then do your deadlifts that way, avoiding unpleasantness like the olympic platforms and skinned shins. Easy, right? Wrong. While the hex bar is great for big dudes who want to do shrugs, it's no good for deadlifts because you're not doing a deadlift at all—because the bar moves the weight from in front of you to in-line with your center of gravity, what you end up doing is a glorified dumbbell squat. A fine exercise, but not what we're after here.
Better: Stiff-Legged Dumbbell Deadlifts
I'm breaking the theme here because this doesn't exactly mimic an olympic deadlift, but remember what a deadlift is supposed to work: the hamstrings, glutes, and lower back. The only reason a regular deadlift involves the quads is because you have to squat down to pick it up without fucking up your back, but there's no need to do that to hit the core areas. Grab a couple of reasonably heavy dumbbells (IDK, in the 20-pound range to start?), and stand with them in front of your thighs, palms facing in. Let the air out of your knees (i.e., don't lock them out, but don't bend them either), and bend from the waist, moving your butt out and back and keeping your back straight, feeling like your chest is high. The dumbbells should track pretty close to your legs the whole time, as they would if you were doing these with a bar. To start, you might want to do these sideways in front of a mirror—watch yourself, and as soon as you see your lower back start to round, that's as far as you can go. You'll be able to go deeper as your hamstrings stretch and get stronger, but for now take it slow. You should feel your quads brace as you go down, but on the way back up you should feel a deliberate pull from your glutes and hamstrings. I think if you get to a point where you can do a few sets of 10 reps with 35- to 40-lb dumbbells in your hands, you're more than ready for the bar.

This girl actually goes a little too far, note how her back starts to round.
Stop Doing The Same Old Sh*t: 6 Changes To Make To Your Fitness Routine
With Groundhog Day coming up, we're slowly being reminded that winter is almost over and it might be time to switch up our fitness routines. I mean, don't get me wrong. Betches are all about routine. Like, we literally have a written list of all the shit we like doing. But as much as we love sticking to our favorite workouts and eating the same Sweetgreen salad four times a week, it can also be good to switch it up sometimes to keep shit from getting repetitive. Why do you think Bieber dyes his hair every three months? He gets bored, like the rest of us. Here are some swaps you should be making in your routine this month:
If You Always Go For The Elliptical Or Treadmill…

Try lifting weights. I mean, we're not judging you for blasting Spotify's Rap Caviar playlist while lightly jogging for thirty minutes, but if you're bored of your light cardio routine and you're wondering why you're not toned AF yet, consider strength training. Most girls don't realize that by weight-lifting, your body continues to burn calories even after the gym, and putting some muscle on will actually allow you to burn more calories at rest, like even on days where you're lying on the couch watching This is Us.
If You Always Order The Salad…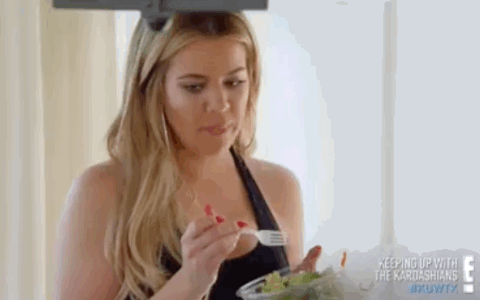 Try a complex carb, or dare I suggest some healthy fats. You can only pretend you enjoy that spinach/tomato/low-fat Balsamic combo for so long before you start gagging at the thought of mixed greens. Salad is obviously healthy AF, but there are usually other healthy options on the menu too, and it's okay to eat carbs and fat sources. Try ordering a whole wheat wrap or avocado toast on Ezekiel bread. It has a shit ton of fiber and lots of antioxidants, which will keep you full without making you fat. Is butter a carb?
If You Always Tap It Back….

Try doing bodyweight HIIT cardio instead. We love SoulCycle more than the blonde botoxed Long Island mom on the bike next to us, but sometimes you don't need a 45-minute cycling class to get in your cardio fix. HIIT is all about getting your heart rate up and burning a ton of calories in a short amount of time, so you don't even need to leave your house to get in a sick workout. Try spending fifteen minutes alternating cardio moves, like jump squats, burpees, and plyo lunges. You'll surprised how sweaty you'll get when you're working in shorter intervals, and you don't even need to pay an extra three dollars for water. Win-win.
If You Always Work Out At Night…

Try waking up early. No betch is naturally an early riser, but sometimes you need to push yourself to get shit done. Wake up, take an espresso shot, and haul your ass to the gym. Morning workouts will give you extra energy throughout the day and will give you more time to do your own thing after work instead of worrying about getting to the gym. Happy hour will feel so much more rewarding knowing you already worked out like, ten hours earlier. Who knew life existed before 10am?
If You Always Go To Yoga Or Barre…

Try a Pilates class on The Reformer. Yoga is great for flexibility and barre movements will elongate your muscles, but pilates will take your bodyweight planks to the next level and tone almost every muscle in your body. The Reformer machine will strengthen the muscles you don't usually hit with yoga poses or barre moves, and it's easy enough on your joints to prevent injuries. You'll end up shaking and sweating more in the first few minutes than you do in your 90 minute heated Vinyasa. Get on the machine.
If You Always Hit Up The Sauna Afterwards…

Try Cryotherapy. Sweating it out in the sauna after a workout feels amazing, but that's yesterday's news. The Cryotherapy method is the newest fitness recovery trend and it basically entails standing in a deep-freezing tank for less than five minutes. The shock of the freezing air on your body is supposed to help you lose weight, reduce muscle soreness, and even help you sleep better. Celebs like Yolanda Hadid and Derek Hough swear by their Cryotherapy sessions, and it's literally taking over Hollywood faster than the La La Land soundtrack. Book a session.