10 Questions You Wouldn't Think To Ask When Touring Wedding Venues But Are A *Must*
"Plan a wedding," they said. "It will be fun," they said. Like many others, I do not have a single clue what I am doing when it comes to wedding planning. I've relied heavily on friends who know the ins and outs, and what I thought would be the most enjoyable part of the process has turned out to be the least. I'm talking venue hunting.
Seeing venues is fun, so I don't mean to hint otherwise. The problems lie less in what you see, and more in what you don't. While the limit does not exist for questions you should be asking when touring venues, here are some must-ask queries with answers that may surprise you.
1. Do You Have A Designated Ceremony Area?

If you plan on hosting your ceremony at a different location than your reception, you can skip this question. If you plan on hosting onsite, do a little digging about the venue offerings for a ceremony. For starters, can they host the ceremony? If they can, is there a designated area for the ceremony? I recently toured a venue, and when asking if I could host a ceremony on site the host replied "yes". I asked to see the ceremonial site and they then pointed to a small patch of makeshift grass between two parking lots. While it took physical restraint to not gasp and/or laugh, it was seriously eye-opening that even the most beautiful venues aren't always what they seem. The other kicker is the ceremonial fee, which is a self-explanatory fee for hosting your ceremony on site. According to WeddingWire, the average cost in the US is $600, but for big cities like NY and LA, expect something closer to $2,000.
2. Do You Have A Bridal And Groom Suite On Site?

I'll be the first to say the bride is the *most* important on the wedding day (bridezilla in the making here), but I want my groom to be treated like a king as well. I was shocked to see how many venues only had one wedding suite, which meant only one of us could get ready on site. My fiancé is irrationally laid-back and would get ready in the parking lot if he had to, but not all couples are comfortable with a single-suite venue. While it may seem minor right now, it's important to think about what getting ready offsite day-of means for the person who chooses to do so (renting a hotel suite, renting a large car or limo for wedding party, etc.).
3. Can I Bring A Hair And Makeup Team To The Bridal Suite?

THIS is a question I can't believe I had to ask at venues. To me, a bridal suite was an obvious getting ready location for myself and my bridesmaids. However, I quickly learned this is not always the case. Some venues do NOT allow you to physically get ready in the suite. They must arrive with hair and makeup done, with no outside vendors allowed in to help prepare the wedding party. Personally, I am really looking forward to getting ready with my bridesmaids all together in the bridal suite, and then waltzing out the door and into the ceremony, so this was an important ask in my book.
4. What Are The Different Rates?

I semi knew this was a "thing" going into venue touring, but I was honestly shook at how drastic the price differences were between "on" and "off-peak" months, Friday/Saturday/Sunday, and time of day. Most venues break down their pricing first by month, with May, June, August, September, and October being the most popular (and therefore, the most expensive) months. From there, choosing your day of the week also dictates the price, with Saturday being the most expensive. AND FROM THERE, the time of day further influences the pricing. A daylight wedding (typically 12pm to 5pm) is often discounted, whereas an evening wedding tends to be more expensive (typically 6 or 7pm to 12 or 1am). So, be warned that Saturday night wedding at sunset in summer WILL impact your budget more than you want it to (I'm talking double the price of a Sunday daytime wedding in April).
5. Where Do The Extra Fees Go?

Venues with in-house catering will charge a per plate fee which covers the guests' attendance and dinner/open bar. Venues who allow you to bring outside vendors will often charge a flat venue rate. But one thing common across the board is the added 20-25% "service charge". What is this, you may ask? No, it's not to compensate the waitstaff, the bartenders, or the cleanup crew. It actually typically goes towards any collateral damage (broken plates, carpet stains, etc.), and the rest goes into the owners' pockets. If, on a venue tour, you ask what the fee goes to and you hear "it goes back into venue upkeep", be aware of what this *really* means. It may bother you, or you may be fine with it. If you ask about the service fee going toward service and you're told that the waitstaff makes "regular minimum wage" instead of "servers minimum wage", just note that you will be tipping another 20% on top of your 20% service fee and 8.875% tax fee (and a potential cleaning fee). Just to put this in perspective, if your wedding is $50,000, with the fees, cleaning, and gratuity, you'll actually be spending about $75,000. I know, I was just as shocked as you are rn!!
6. Do You Require Chair Rentals?

Add this to the list of questions I didn't know I had to ask. For reasons unknown, I assumed with a wedding venue came chairs and tables and normal seating arrangements. For many venues (especially those with in-house catering) this is true, but not for all. Some venues require chair rentals for the space, and this is what I call annoying. Add it to the category of "fees I never thought I'd have to pay."
 7. Do You Require Preferred Vendor Use?

If you have specific vendors in mind ahead of time, this question is an important one for you. Most, if not all, venues have a list of preferred vendors—vendors they work with often, trust to work in their space, and recommend to their clients. Choosing these vendors often come with perks such as no plate fee for the vendors working the wedding, no insurance cost, and the obvious (and best) perk, discounts. That being said, some venues require you choose a vendor from their lists (this is especially true for flowers and DJs) and is something to confirm before falling in love with a venue or outside vendor.
8. How Many Hours Are Included In Rental Space?

This question is semi self-explanatory, but an important ask. How many hours are "included" is a polite way of asking can I come in early? Can I stay late? Will there be more fees for those extended hours outside of my actual party? How long is my actual party? Get those answers and avoid those fees!
9. Is Parking Available And Included?

Oh hey there, another fee. Parking on premises isn't always included, but when it is, you can guarantee it comes with a fee. There are often different "levels" to this parking fee. Typically, couples can choose to play a lot flat fee which allows their guests to park for free, but park themselves. There's also the option to have the guests pay for parking, which feels really reasonable to some and really jarring to others. But, if you're feeling fancy, there's also the option to have a valet service for all guests driving in, and this is where it gets pricy. Worth it? Only you reading this can be the judge of that.
10. Do You Offer A Planner?

While some people choose to go the route of planning their own wedding in full (me), others (people smarter than me) go the route of hiring a planner. Planners have pros and cons—pros being the fact that they know what they are doing, cons being that they often work with specific vendors and venues and may be biased with their recommendations. But, the most ideal situation (in my eyes) is finding a venue you love that assigns you a planner to help handle the rest of the arrangements. This person works specifically for your venue, so they know every single issue you may run into, and therefore are perhaps the most powerful point of contact throughout the entire process. It's good to know if your venue offers a person to help, how far out they begin helping you, and if they are included in your package.
While there are an infinite amount of obvious questions to be asked, these are the questions you don't want to forget about. Happy planning!
Images: Abby Savage / Unsplash; GIPHY (10)
7 Questions To Stop Asking Newly Engaged Couples
'Tis the season to get engaged, amiright? Just about two weeks ago, my fiancé (still feels weird typing that) proposed to me and I've been over the moon ever since. I've had more people reach out to me in this short time period than I have in my entire life combined, and while most of the interactions are super fun and positive, there are some repeated questions popping up that are simply getting on my nerves. While most of these questions are asked innocently, they've gotten old quickly, so here's the 101 on questions to *please* stop asking newly engaged couples.
1. When And Where Is The Wedding?

Don't get me wrong, I am excited about the wedding too. I've been dreaming about this sh*t since I was a little girl. That being said, it's almost mind-boggling how many people have asked me WHEN the wedding is. Ma'am, I got engaged one week ago. If you think in seven days' time I toured multiple venues, picked the venue and booked it, you're buggin. What's even more fun is when I say "I'm not sure yet" and it's followed up with a, "well you should really get on that because weddings are likeeee booking into 2022". Thank you, I know. Your added stress is not necessary, especially when you're just stating the painfully obvious. Sorry if this sounds cold, but on behalf of all the newly engaged people out there, it had to be said.
2. Are You Stressed About COVID-19 Impacting Your Wedding?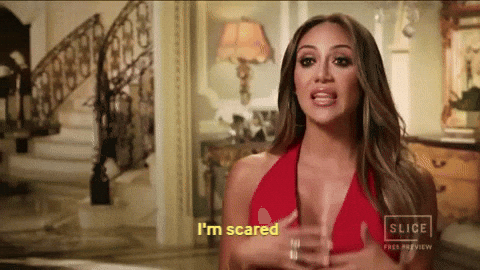 Short answer, DUH. Given the uncertainty of the virus, I'm absolutely nervous about COVID-19 impacting my wedding. That being said, I find this question oddly irritating. As someone who had the virus myself, there are so many more important things to worry about being impacted by COVID-19 than a giant party. I'm nervous for my family, my friends, my loved ones, our world as a whole. While I'm less worried about the virus impacting my wedding day and more overwhelmed that it will result in me getting married two to three years from now, it feels like a slightly obnoxious inquiry. If COVID-19 doesn't make you stressed, you scare me.
3. Who Is in Your Bridal Party?


There are two parts to this question. It typically starts with, "So, who's going to be your Maid of Honor???" followed by, "Actually, who is in your bridal party in general?" When my family asks me this question, I'm cool with it. They've watched me grow up, they know my friends well, and they are genuinely curious. The problem is when *others* ask. If I haven't asked my bridesmaids yet, why would I tell YOU who they're going to be? Half the people asking are subtly hoping to be in the bridal party and the other half are asking just to be nosy and get the scoop. This question makes me super uncomfortable because I'd never want someone to feel left out, but at the end of the day, it's my business and my business only.
4. Are You Going on a Diet? Are You Getting a Personal Trainer?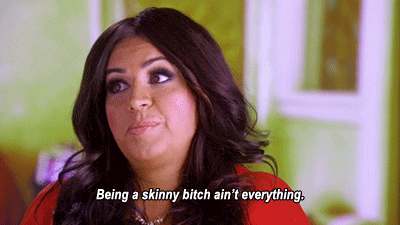 This is perhaps my LEAST favorite question of all because it's just genuinely rude. I've been a bit taken aback by the amount of people who have asked me this, because I just can't wrap my head around thinking it's appropriate. To be honest, I don't know the answer. If I decide that I want to tone my arms for my dream dress, maybe I will. If I decide I want to change the way I eat for health and wellness purposes, maybe I will. That being said, it will most certainly not be influenced by anyone else trying to pressure me to do so. This question is tacky and unnecessary and I know my fellow fiancé(e)s out there will agree.
5. So Like, How Much Was Your Ring?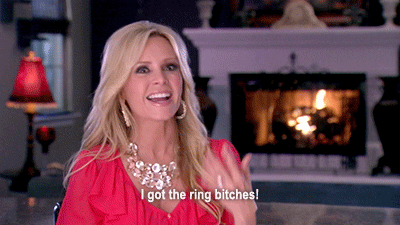 On the theme of tacky… this question is just beyond me. There is a zero percent chance someone has good intent when asking this question. You're either asking because you think it looks expensive and you want the tea, or because you think it looks cheap and… you want the tea. If you hit me with the "DiD hE sPeNd ThReE mOnThS sAlArY" please go away. I'm in love with my ring and that is the only thing that matters to me. That being said, if you've complimented my ring without asking about the cost, I appreciate you. I'd be lying if I said I wasn't basking in glory from any/all positive feedback so… KEEP IT COMING!!!!! (Put that under the category under things you should say to a newly engaged person. Accolades are always allowed.)
6. Am I Invited?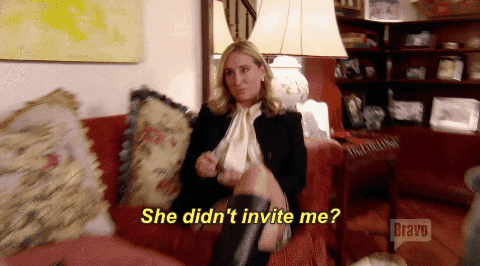 If you have to ask, it's probably a no. Weddings are expensive. Like… really expensive. Would you treat me to a $200 dinner? No? Then I probably won't do the same for you. Half kidding, but I personally am not trying to recreate My Big Fat Greek Wedding, so chances are my list will be narrowed down to the real ones. This question falls under the category of super uncomfortable because I hate leaving anyone out and, despite my evil sarcastic tone throughout this article, I actually love to make people feel warm and welcome, so by default I'll feel guilty about those who don't make the cut. Long story long, please don't ask me this question, because it WILL keep me up at night.
7. Can I Give You Some Advice?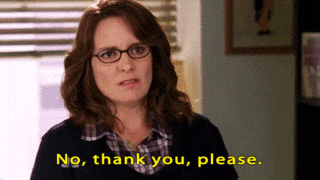 This question is super circumstantial, because some people offer fantastic advice and it's extremely appreciated. Advice about how to conquer visiting multiple venues and what to look out for? Yes please. Advice about how to budget and what is and isn't worth splurging on? I'm all ears. The problem is, people typically offer advice that is opinion-based rather than fact-based, and that's where it gets hairy. I don't want your advice on things personal to me, because it's my wedding. When it's your special day, you call the shots. When it's mine, let me enjoy. (LMK if this is giving bridezilla vibes so I can stop before I start.)
Bonus: Questions I Enjoy

In order to redeem myself for all the spiciness above, I want to include some questions that I enjoy getting. Those exist too, I swear. I'm happy to answer questions about the engagement because quite honestly, I still get butterflies. How did he ask? Easy, I have a response saved in my notes that I can send along to anyone and everyone who wants to know. Were you surprised? Excited? Nervous? Yes, all of the above. What kind of style is your ring? More than happy to answer this (mine is emerald) and I'm also happy to answer personal questions about the ring if they are productive and helpful for my fellow future brides (or friends looking to get engaged soon). What is your dream dress? Oh, I'm glad you asked… let me show you my Pinterest board. You get the point.
If you take away one thing from this piece, it's to be respectful of others privacy and to know what questions are appropriate vs. uncomfortable. Pre-engagement I likely asked half of the above questions myself, so we're all learning here. The more you know!
Images: Scott Broome / Unsplash; Giphy (9)
9 Ways To Cut Wedding Costs
We've said it before, and we'll say it again: Weddings are expensive. They're also one of the most important days of your life, and you don't want to skimp on the details! So how do you strike that balance between not cashing out your
401(k)
and still having the wedding of your dreams? While every element of your wedding is no doubt important, there are a few areas where you can be a little thrifty in order to cut costs—that won't make you come off cheap or tacky or sacrifice your ~aesthetic~. We reached out to some of our industry faves, the venue experts at 
Here Comes the Guide
 and Portland-based wedding planner 
Luxe Event Productions
, for their best tips on how to have your dream wedding without breaking the bank. Read on and get ready to save some serious cash (you're welcome).
1. Rent Your Tux

With renting, your groom and groomsmen can get the expensive look you they want with a much more manageable price tag. The key is to look for quality. For example, most quality suits that are 100% wool can run $400+. That's for the jacket and pants only, BTW. But online suit rental companies like Generation Tux rent everything à la carte, so you have full control over your budget. Plus, their 100% wool suits start at just $109. Think of all the extra drinks you can buy on your honeymoon with that extra money.
2. Buy Secondhand

In the past, retail stores were the only option for buying a wedding dress, but these days you have options. Buying new isn't the only way to go anymore, and secondhand online stores like Stillwhite.com are popping up all over the place. Now, you can go online and find the exact same dress you'd buy from your local retail store, this time from another bride around the world, and end up paying much less. Another bonus? You can re-sell that dress after your wedding and make a lot of your money back! Because, come on, you are never going to be able to wear that dress ever again.
3. DIY Your Flowers

It sounds hard, we know! DIY florals can be hard to navigate, but kits from online sources like Bloominous provide design, instructions, materials, and recipes to easily put together wedding flowers to make it yours. It's also a fun way to enlist your family and friends to help in the days leading up to your wedding.
4. Think "Off Season" For Your Venue

Who says "Saturday in June" wedding couples have more fun? The wedding off-season typically spans from November to March—and couples on a budget will get the most bang for their buck by booking their venues during this timeframe. Consider having your celebration on a Thursday in November (not Thanksgiving, please) and see how much your venue will shave off the regular rental fee. Or how about a winter morning mimosa brunch wedding? Just be sure to have an inclement weather contingency plan in place!
5. Make Your Guest List The A-List

It goes without saying that a shorter guest list is easier on not only your budget but your sanity, too. Even if it's unrealistic to whittle your list down to 20 of your closest friends and family, chopping it from 300 to 150 will still help take things from overwhelming to manageable. More often than not, an intimate affair really does require less money and less work—and it comes with an invaluable bonus: more quality face time with that cozier group of guests you invited.
6. Hire A Wedding Planner

You might be thinking of foregoing a coordinator in order to save some cash, but trust us…if you're looking to have your champagne-dreams-on-a-beer-budget wedding, then a hiring a planner is your best bet. Time is money, and an experienced coordinator will handle all the little details so you don't have to stress. Plus, they can also pass along savings to you by hooking you up with their extensive vendor network. This is one area where spending the money is totally worth it.
7. Choose One Standout Feature

For all aspects of your big day, identify one standout feature instead of making each and every detail high-end. For instance, on invites, choose one remarkable element, like a silk ribbon or a foil pressed folio/pocket, and pair that piece with simpler enclosures. Control your budget by shopping online with sites like LoveonPaper.com and choosing these standout elements on your own. The bottom line is, you can't go over-the-top in every single area of your wedding and still expect it to be budget-friendly.
8. Track Every Purchase

It's easy to break the bank by not tracking the little things, like your earrings, groom's socks, new perfume, or those shoes you just *had* to buy. It's these items people often forget to track and they wonder why they are running out of money. It might be hard to face the truth of how much money you're spending, but you'll be so thankful in the long run when you don't have to wonder where all your money went.
9. Keep Your Wedding Party Tight

Large wedding parties can definitely increase the budget. When you think about it, each bridesmaid bouquet can run $85-$150 each, and groomsmen boutonnieres are about $15-$20. Multiply those by 6, 8, or more and your floral costs are skyrocketing without you even noticing. So keep your wedding party small to cut unexpected costs like these (and probably cut unexpected drama).
Images: Carrie King; Stillwhite; Sanaz Photography; Meg Sorel; Shutterstock (5); Kendra Allen / Unsplash
8 Wedding Websites That Will Make Planning So Much Less Stressful
Soo, he liked it and finally decided to put a ring on it (Congrats!). Now you have to keep the same energy you put into getting engaged into actually planning the wedding. How much should you be budgeting for a dress? Can you register for literally ANYTHING else besides a knife set?! Is it safe for your parents and your in-laws to stay in one place? Luckily for us, the ladies at Be Inspired PR have shared their secrets on the 8 wedding websites every bride needs to have bookmarked (or left open on one of the 7,000 tabs we all have running on our desktop).
If we knew what was good for us, we wouldn't leave it up to our S.O. to find their perfect wedding band. That's where this godsend of a website comes in. Jordan Jack is an online tool that your future groom can use to browse wedding band styles. He can choose five of his favorites and they'll be shipped right to his doorstep, which literally can't get any easier. After taking a few days to decide on the look and feel of each ring, he can send the sample box back and have the wedding band of his choice arrive within just a few days. Save you and your fiancé the trouble of finding a time to hit the jewelry store, since you shop for everything online anyway. 
Imagine finding your dream dress on Pinterest, only to find out that it doesn't align with your dream budget, or isn't available in your area. Lovely Bride is located in over 15 cities across the country, and makes the process of finding your wedding dress online super smooth by letting you know what dresses at their store are available according to your city and price range. That'll surely spare you the tears before entering a bridal shop, looking for a dress that doesn't exist, and the potential devastation of having to give up a dress you've fallen in love with, but is out of your price range.

Say "Trello" to our lifesaving friend! (K, sry.) This site will keep you from turning into a bridezilla and keep you in check throughout your planning process. From big-day tasks to the fine, minute details like "Remember to not be a b*tch to your mother-in-law," Trello is perfect for listing out all of your wedding planning tasks, appointments, and payments so you can check them off one by one and not get overwhelmed.
A wedding registry that fuels your drinking habits?! Dreams do come true. Instead of making everyone buy plates that you will never look at a day in your life, make everyone buy you fine wines and liquors that you can stock up on for your newlywed home. Of course… you'll need a home bar to store all your new spirits, which you can register for with ThirstyNest too.

Hands up for all of you DIY brides: This online service partners with top designers to create the perfect kits for you to arrange and style yourself. Their perfect blooms are 100% fresh and cut-to-order, and the customized kits are prepped to include everything you need to make the ideal arrangements. 
This wedding website is the resource of all resources to help newly engaged couples find the venue of their dreams. For those wanting to veer off on a slightly non-traditional route, Here Comes the Guide is the place to find unique places to get hitched and score amazing deals and discounts. To make every bride's life easier, the leading ladies of this company have also come up with thorough guides from "questions to ask your wedding venue" to "basic wedding planning checklist" so your planning process is smooth sailing throughout.

Let's be real, staying at home is always the better option…at least that's what our Postmates receipts say. This tux and suit rental company has truly the mastered the art of online shopping by guaranteeing the rental arrives at least 10 to 14 days before the big day, with an easy, breezy 3-day post-event return policy. TG for small miracles. A great part about Generation Tux is that your future groom you can design his look beforehand, and customize it according to color, style, and body type. Even better, if he's unsure of his exact measurements, he can utilize the free home try-on feature, allowing two days to see if your chosen look is the right fit from the comfort of home. 
For the bride who has spent countless days bridal shop hopping with no luck finding her dream dress, and the former bride whose once-worn (hopefully!) dress is now collecting dust at the back of her closet, Stillwhite has created a marketplace where brides-to-be can link up with former brides who are selling their dresses for less than the retail price. Turning your Pinterest board dreams into a reality, Stillwhite has made it possible for the budget and tech-savvy bride to purchase a wedding dress straight from their mobile device. We're all about an eco-friendly bride too, and by recycling pre-loved dresses, you not only save money, but you also help the environment and create less waste.

Images: socialcut / Unsplash; Giphy (3); Stillwhite
10 Ways To Cut Costs On Your Wedding Without Looking Cheap
We honestly hate helping in any form, but the wedding industry has gotten so out of control that it demands our expertise. Between shows telling us that you have to spend upwards of $100k on one goddamn day and brides pitching actual crying fits because mommy won't buy them the $30k dress of their dreams, we needed to bring everyone back down to Earth.
You can have a super amazing day, dress, and overall wedding without blowing your savings and parents' retirement fund. Here are our top 10 tips for cutting costs at your wedding without making you seem tacky and cheap.
1. Get Married December-March
Winter weddings are daring in general (here's hoping it doesn't blizzard), but if you take the risk, you may be rewarded with more money for drinks on the honeymoon. Choosing "off" months between December and March can mean as much as a 40% less cost at some venues, depending where you are.
2. Get Married On A Friday Night Or Sunday Morning
I make a lot of fun of brunch weddings (cause I don't want to get drunk in front of family members before noon), but if you wanna save a buck or two, picking an off time is the way to go. Saturday nights are in high demand, so choose a Friday evening for your super special day or a Sunday morning brunch. Bonus points if you choose a Sunday night before a Monday holiday like Memorial Day when everyone is off anyway.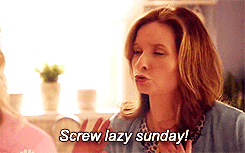 3. Chill On The Invitations
I know you want Minted's handmade, laser-cut, imprinted, glitter, foil, rare edition, unicorn tear invitations, but unless you want to spend more than $800 on 200 invites, you need to chill. People aren't going to spend more than five minutes examining your invite, so the idea of spending a ton of money is preposterous. Go pretty, go classic, and pick one—MAYBE two—special touches like a foil or letter press.
4. Be Besties With Your Florist
If you've been dyyyyying for hydrangeas but they're out of season and are going to cost you $24 per stem (real talk), let your florist lead the way. These are goddamned flower experts, and if you tell them to substitute with cheaper but similar looking colors and flowers, they will. I told my florist to use my color scheme and go nuts—keeping it around a specific price. She delivered, and the flowers looked amazing.

5. Do Choose An Actual Venue
You may think having a backyard barbecue at your friend's parents' Hamptons house is going to be cheaper than an actual venue, but you could be wrong. Once you start factoring in catering, tents, utensils, linens, the band, the restrooms, etc., your bill is likely to be just as much as a venue (if not more). PLUS, it's a lot more fucking work.
6. You Don't Need A Giant Fucking Cake
I've said it time and again—no one gives a shit about your 12 layer platform vanilla-on-vanilla wedding cake. Save some goddamn green, and get a small cute tea cake to cut with your S.O. that you won't even have to share with anyone. Everyone else can fuck themselves eat cookies.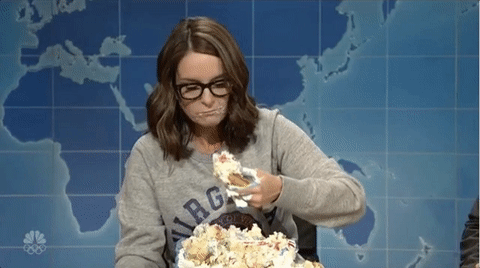 7. Buy, Don't Rent
If you're at a venue that's charging you for every fork, napkin, and plate, see if you can use or buy your own items. Seriously, it's often cheaper to use your own linens and utensils, if the venue will allow it. So start stealing knives, forks, and napkins, fam.
8. Stick To Your Goddamn Dress Budget
This is a big one. Nothing pisses me off more than the bitches on Say Yes to the Dress who have a budget of $3k and end up spending nearly double. STICK TO YOUR DRESS BUDGET. DON'T EVEN LOOK AT DRESSES OUTSIDE THAT BUDGET. Remember that even if you pick a dress at your $2k budget, you're still going to shell out for alterations. So going above on that means you're going to lose something else or pay way more than you want in the end. CHILL. IT'S ONE DAY.

9. Make Your Guests Do Work
I mean, you're paying for a five or six hour party—the least your guests can do is help out. Whether you make them set tables for the reception, make your desserts (guilty and it was AMAZING), or bring all the liquor to stock the bar, making your guests pitch in is totally a great way to cut costs.
10. Visit The Tacky Bridal Shows
I KNOW they're literally the worst, but the best thing about those bridal shows and expos is that florists, DJs, bands, planners, and venues hang out there to snag brides with a good deal. Honestly, I know a betch who got like 40% off her DJ because she hired him from the bridal show. So, yes, it kind of sucks to go to a room full of what feels like used car salesmen, but you'll thank yourself when you see the bill later on.