5 Things 'Say Yes To The Dress' Gets Hilariously Wrong
If it's on, you can bet I'm watching Say Yes To The Dress. Not only do we all love Randy's antics (because I only watch the NYC one, since it's the only one that counts), but I love watching a bride break down when she's a) gained too much weight; b) isn't allowed to go over $10k; and c) requires the designer to come out and tell her what a beautiful butterfly she is in order to purchase said $10K dress.
This shit is so unrealistic it's hilarious. As someone who has successfully bought a wedding dress (and like, gotten married but I feel like that's less important here), here are all the things that are totally ridiculous about Say Yes to the Dress.
1. You Probably Won't Have An 'OMG THIS IS THE DRESS' Moment
You're going to try on A LOT of dresses. Some will look hilarious, what with their giant bows or wrist-length lace or see-through corsets. Some will look literally amazing on you. You're going to like (and hate) a lot of them. It's pretty rare to have an OMG THIS IS 100% THE DRESS moment, which you'll notice the show always hypes up. So, take this fucking advice to the bank: If you don't have an OMG moment, it's fine. It's normal. Again, you're going to like lots of dresses. Just pick one you feel comfortable and like yourself in. Don't let these TLC skanks make you believe you need a dress orgasm when "the one" comes along. 2. Not Everything Works Even After Alterations
Say Yes to the Dress makes it seem like eeeevery little thing can be fixed by Vera. To be fair, that betch is a MIRACLE worker (have you seen the brides that gain 15 pounds and don't understand why their dress doesn't fit?). Most stores that aren't Kleinfeld have good and great alterations departments. That doesn't mean that the backless lace dress you picked is going to perfectly hug every curve when they get done with it. Why? Because the dress you pick depends on its structure, and short of creating you a brand new dress, not everything is going to look like it's painted on you. They'll do their best—it's their job. But go in knowing that miracles are unlikely.
3. Most Shops Let You Grab Your Own Dress
Did you ever notice how on Say Yes to the Dress, the brides kinda sit and ponder their lives while the attendant grabs dresses THEY think she'll like? Most shops aren't like that. Some will guide you to the racks where dresses within your budget live. Some will let you run all over the store. Yes, some will grab for you, but many really don't. Don't feel like you have to put your dress future in someone else's hands, especially a stranger you just met. I spent 40 minutes by myself in one boutique because I wanted to try a ton of options on and because I really don't like people in general. It's your time and it's your money.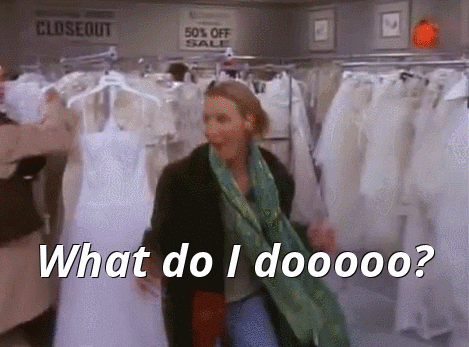 4. Very Few People Are Going To Spend More Than $5K
"Oh, this one is $13,000" is a normal part of conversations at Kleinfeld on Say Yes to the Dress. Outside of TLC—a place where being 600 pounds is commonplace and buying $10K dresses you'll wear for one day is totes fine—this isn't a typical occurrence. One shop may have nothing over $5,000. Another may have more intermediate pricing. The fact of the matter is that very few bridal shops are going to carry one-of-a-kind pieces that clock in at about as much as a shitty used Honda.
On top of that, don't feel like you have to spend a certain amount. On Say Yes to the Dress, if a bride has a budget of less than $2,000, they often get the "WTF YOU'RE POOR" music and an attendant talking about how there are so few options for those who are povo. FAKE NEWS. There are tons of dresses from $100 to $2,500. Maybe not at Kleinfeld, but there are in the real world.
5. It's Better If You Bring One Person
Show me an episode where the whole bridal party gets along, and I'll eat my hand. The more people you bring to a bridal appointment, the more issues and opinions are going to be hurled at you. Mommy wants a ballgown. Sister wants a mermaid. Gramma wants a tea-length. You know whose opinion matters? Yours. Bring one person or no one at all and pick the dress YOU want to get married in.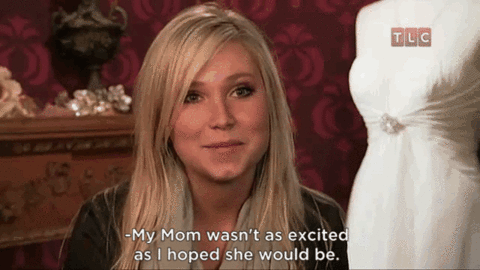 Images: Giphy (5)
5 Ways To Get Away With Looking Low-Key Slutty At A Wedding
As a longtime secret hoe (lol I'm not that secret about it) I'm constantly looking to push the envelope bring shame to my mother via my fashion choices. And the older I get the more I thrive off the challenge. High school dress code? Sorry not sorry you didn't account for betches with small arms when you established that fingertip length rule. College? Okay, that was less of a challenge and more of a free for all, but I remember it fondly just the same. Business casual office attire? CAROL, do not start with me rn, this crop top is clearly not in violation of the dress code and let me tell you all the reasons why. And since all of my friends are suddenly throwing away their youth engaged I just know it's time for me to take my talents to the wedding scene. I, mean, my friends are getting eternal happiness, shouldn't I at least be able to flash some cleavage in the group photos? It really only seems fair. So because I'm thirsty AF I value my journalistic integrity I've decided to outline all the ways in which you can get away with looking low-key slutty at a wedding. You're welcome.
But before we even get started, a word of advice: Do NOT take your inspiration from Forever21's bridal section. Forever21 has been a staple in my wardrobe for the better part of a decade because that brand has a deep understanding of both my appreciation for the freshman college scene and also my desire to never pay more than $30 for an outfit. That being said, the "wedding guest" section of their website is literal garbage. For example:

This is an actual item in their "wedding guest" line and it looks like something out of one of my revenge fantasies where I show up to my ex-boyfriend's wedding and blow up his shit one final time. The bride-to-be won't appreciate this look, and neither will her grandmother. But thankfully, there are other ways to be less blatantly slutty. PRAISE.
1. Go For A Different Silhouette
If you're trying to be slutty on the DL you can't always go for what feels right, i.e. anything that shows your cleavage. The only attention that's going to give you is from the church ladies and the one creepy groomsman who keeps watching you from the open bar. Pass. Instead go for a slightly different silhouette, like a low-cut, backless number. Maxi dresses and jumpsuits in particular are perfect for getting away with showing a little extra skin because technically you're covering most of your body up. Plus no one can say shit about it because your boobs are 100 percent secured. Got 'em.

2. Show Some Leg
Bella Hadid stole the show a few years back in that red dress, high-slit number and I learned a v important fashion lesson in that moment: side vagina is the new side boob. Amazing. And while maybe you don't want to showcase your entire labia like Bella did (I, mean, save that for later when you're three glasses of champagne deep and wondering when you'll meet your husband on Bumble duh), showing a little leg can go a long way. If the wedding vibe is more casual and you're afraid the slit will make you look extra AF, choose a floral print. It makes you look more fun and flirty and little less thirsty. Only a little though.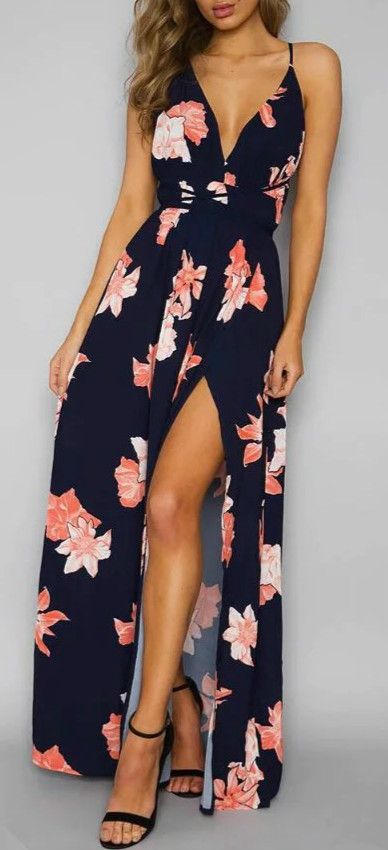 3. Embrace The Two Piece
If there's one thing I understand in this world, it's how to get away with wearing a crop top in "inappropriate" environments. My mother is super proud. There's a lot of different ways to play around with the crop top look. I recommend wearing either a longer or a fuller skirt to balance out the fact that you're showing skin up top.

4. Pick The Right Fabric
The right fabric goes a looong way toward the type of vibe you're going for. I'm all for velvets and silks but I have to be super careful about how they fit on my body, lest someone mistake me for an extra during the precinct scene on Law & Order SVU. If you're going to choose a daring fabric like silk then stick to looser silhouettes, which will still give off plenty of sex appeal without you looking like a cry for help.

5. Wear A Bold Color
Finally, color choice is going to be key here. If I can't make a statement by showing skin, then my backup plan is always to visually assault wow you with the color of my dress. If you want to go for more classic hoe vibes then you should embrace the color red. It's tried and true and what's expected from the girl that hazed the bride in college on her 21st birthday (Hi). Yellow is another color I highly recommend.

It's bold enough that you'll make all your married sorority sisters jealous AF at the wedding, but cute enough that your friend's grandma will actually think that mark on your neck is from a curling iron and not the best man five minutes ago in the bathroom. Or, you know, you could always go with white and be that girl at the wedding.

If all else fails and you're forced to confine to society's social standards (ew) then just let your personality do all the work for you. There's no way they can hide that shit show in layers of chiffon and length appropriate attire.