Why I'm Glad I Postponed My Wedding
When the entire world shut down back in March, I'll be honest, my fiancé and I were not concerned at all about our September wedding being affected. We were exactly six months out from our wedding day when quarantine began. I was much more hopeful back then, convinced that my fiancé and I would really get to spend quality time together, finalize some wedding plans, and then all this would be over just in time for our outdoor wedding in Connecticut. 
Fast forward two months later, and not only does March feel like it was 100 years ago, but my fiancé and I have made the tough decision to postpone our wedding to June 2021. After hours of discussion, it became clear that this was the right thing to do for us, and now that it's done, I actually feel relieved. Here's why postponing my wedding doesn't feel like the end of the world like I thought it would. 
I Don't Wake Up Filled With Anxiety
View this post on Instagram
Well, at least not wedding-related anxiety. When we began our quarantining, I remember saying to my fiancé, "thank God our wedding is in September! It'll be back to normal by then." HA, I was so young and naive back then. As time went on and stay-at-home orders lengthened, we realized that this wasn't something that would go away overnight. When we began to understand how much of a crisis this really was, I began lying awake at night wondering if this would, in fact, impact our wedding. As the weeks went on and we had to cancel our engagement party, my fiancé postponed his bachelor party, and we moved the date of our joint shower, the lead-up to our wedding was becoming more about whether or not it would even happen versus celebrating the fact that it WAS happening. We both hated that what was supposed to be one of the most exciting times in our relationship had been hijacked by anxiety. Since making the decision to postpone, it feels like we've taken back control of our day. Now, we can plan confidently, without question and really soak in this (once again) exciting time. 
We Were Able To Get A 2021 Date
When we started talking with my parents about the possibility of postponing, I was very adamant about waiting until July to make the decision. I was worried making this decision in early May was jumping the gun. I kept wondering, "What if things get better by July?" However, my mom was very adamant that we needed to make a decision soon in order to secure a new date. And, as always, my mom was right. When we started calling our vendors to see what kind of availability they had for summer 2021, it was already slim pickings. In addition to all the March, April, and May couples rescheduling, there were couples who'd gotten engaged before and during the pandemic who'd already booked their vendors. We were luckily able to secure the last available June 2021 date that any of my vendors had. Had we waited until July to make the call, we would've been sh*t out of luck and would've had to wait another two years to get married. And trust me, after two months working, living, eating and breathing in the same one-bedroom apartment, I'm unsure if we would've made it to the altar (JK, love you!). 
Vendors Are Being Super Understanding
Another reason I was hesitant to pull the band-aid off and postpone was the headache I thought it would be to reschedule all of our vendors. Since we're getting married outside, we have a different vendor for everything. From catering to rentals to planners, etc., we had to find a date that worked for 10+ vendors and we were unsure what kind of financial hit it would take on our budget. Would they make us pay another deposit to secure a new date? Would we still have to fork over the money based on our original financial timeline?
Thankfully, right now, vendors are being super accommodating and basically doubling as therapists. From the pep talk I got from our stationery vendor to the reassurance of my hair and makeup artist that this was the right move, everyone has been so kind and considerate. We were able to move everything from one date to the other without extra payment or hassle. They simply updated our contracts and sent them back to us. They've made this process so much easier than I expected, and it makes me even more excited to work with them next year. 
People Have Stopped Asking Us What Our Plan Is
"What are you doing about your wedding?" was the new "So when are you getting engaged?" The wave of anger and frustration that came over me when people would ask me that question was reminiscent of when I would be asked about when we were getting engaged. Since I couldn't necessarily snap back with, "whenever we damn well please" in this instance, I was forced to utter "I don't know" with a fake smile in an effort to mask the anxiety I was constantly feeling. Now that we've set a new date, I don't get antsy phone calls from family members or friends wondering what they should do about their plane tickets or hotel reservations. That in itself is reason enough to just bite the bullet and reschedule, IMO. 
We Wanted To Have The Wedding We've Always Wanted
I know some couples have decided to get married on their original date with a limited number of guests and then plan to have a larger celebration later, and I am all for that. However, for my fiancé and I, we want it all at once. When my parents told us we could keep our original date, but we'd likely have to make some concessions, like getting rid of our raw bar or seating people six feet apart, this picture of what our wedding would look like started to change, and we didn't want that. We want all of our family and friends on a crowded dance floor, mask-free, without worrying that they'll get sick if they attend. We didn't want our older guests having to decide between their health and our day, and that was ultimately what pushed us over the edge. We wanted the day we'd always dreamed of to come to fruition, without any limitations. 
It's Helped Us Put Things In Perspective
Okay, don't roll your eyes just yet. One thing that was hard for me to wrap my mind around was the fact that on September 12, our original date, we weren't going to be getting married. I had this date in my mind for so long that I couldn't move past the idea that it was no longer ours. I said this to my fiancé, to which he replied, "It's not about the date, it's about the day." He talked about how when he pictured our wedding day, it wasn't about it being on September 12. It was about having it exactly the way we pictured it, whether that's four months from now or nine or 100. 
It hasn't been an easy road to get to this place of being happy with our new plan. I never expected this—but since when is life predictable? If you're considering changing your date, I'd encourage you to do it and get some control back in your life. Yes, it sucks, but I promise you'll feel much better after you make the decision—which I highly recommend chasing with a bottle of champagne to ease the pain.
Images: Shutterstock; betchesbrides / Instagram
The Most Memorable Celebrity Weddings Of 2019
It feels like 2019 was the year of celebrity weddings. Every time we scrolled through our Instagram feeds we were inundated with the biggest stars in gorgeous gowns, over-the-top cakes and breathtaking venues. With so many bashes it's too difficult to pick a top 10, or even a top 20, so instead we decided to hand out superlatives, high school style. 
Fastest Engagement:
Chris Lane & Lauren Bushnell
View this post on Instagram
Country singer Chris Lane and The Bachelor alum Lauren Bushnell got engaged in Lane's parents' backyard in Oregon in June and were married in Nashville at the end of October. An engagement this fast might cause the average bride to quite literally die from stress, but when you're a celebrity, a four-month planning cycle somehow results in a stress-free, flawless wedding that would take us average people a solid year and a half to plan. If you, like Chris and Lauren, want a shorter engagement, keep your guest list short, buy a dress at a sample sale, and be prepared to be flexible when it comes to location, since most venues will already be booked. All we can say is GOOD LUCK.
Best Guest List: Justin Bieber & Hailey Baldwin 
View this post on Instagram
The Biebers tied the knot for the second time at a luxury resort in South Carolina on September 30th. They first got married in New York last fall in a civil ceremony, and they really outdid themselves the second time around. Their wedding guest list was basically a who's who of Hollywood's hottest stars, which included Kendall and Kylie Jenner, Usher, Jaden Smith, Joan Smalls, Dan + Shay, Justine Skye, Kris Jenner, and Corey Gamble, among others. If you're hoping a famous celeb shows up to your wedding, there's not much in the way of advice we can give you. You may have to settle for a Cameo shout-out from your favorite reality star instead. 
Best Documented:
Ashley Iaconetti & Jared Haibon
This is pretty much the only celebrity wedding where we don't find ourselves saying, "I wish I was there" because honestly, we basically were. Between the tons of publicity given to them by People (even their effing rehearsal dinner photos were published) and the overload of Instagram stories posted by fellow Bachelor alums, we can confidently say we know everything about Jared and Ashley's wedding weekend in Newport, Rhode Island. We know we're not the only ones who spent their whole Saturday evening watching the live social media streams. Anyone else feel hungover the next day? If you want to relive every second of the magic that is your wedding day, encourage your guests to post on their Instagram stories and use your hashtag. You'll be more than happy to see a replay of the big day on your social media feed the next day. 
Best Dress:
Katherine Schwarzenegger
On the red carpet, all eyes are usually on Chris Pratt, but when Katherine Schwarzenegger posted a dreamy photo of her and her new hubby, it was the jaw-drop heard around the world. The bride looked drop-dead gorg in a custom-made form-fitting gown from Giorgio Armani. The lace column gown featured a full skirt that turned into a long train. The bride brought old and new together when she paired a short veil with her mother Maria Shriver's tulle one. The fit was flawless and left brides-to-be around the country wondering how the f*ck she got that body. If you're looking to replicate this on your wedding day, opt for something lacy and body-hugging to show off your natural curves. And maybe don't look at pictures of Katherine Schwarzenegger on the morning of your wedding, unless you're a masochist. 
Best Venue:
Miles Teller & Keleigh Sperry
The longtime couple got hitched in Maui, Hawaii in September. They exchanged vows in a local church and held their reception outside overlooking the pristine Hawaiian ocean, creating a picture-perfect event. We can't say we're surprised they chose such a spectacular location after the proposal took place during a safari trip in South Africa. All we can wonder is, where TF are these crazy kids going to go next? If you want a destination wedding that's half as glam as theirs, think about a favorite vacation spot or somewhere that's relatively easy to travel to (if you want a larger guest list). Just keep in mind, a destination wedding usually means less guests will be able to make it (but maybe that's a good thing). 
Best Officiant:
Brittany Cartwright & Jax Taylor
View this post on Instagram
Brittany and Jax got married in a lavish ceremony at a majestic castle in Versailles, Kentucky. And then, to top it all off, Lance f*cking Bass married them. Apparently he was their back-up because their first choice, LVP, couldn't make it (which is true blasphemy, in what world is Lance Bass a back-up anything?). To top it off, he graced guests with his presence on the dance floor during "Bye, Bye, Bye" and made everyone's childhood dreams come true. Want a celebrity officiant? Who knows, maybe Jax and Brittany inspired him to launch the next phase of his career as an officiant! One can dream, right?
Most "I Could Never Pull That Off" Wedding:
Zoë Kravitz and Karl Glusman
When it comes to celebrity fashion, we often find ourselves saying, "Wtf are they wearing?" Or, "I could never pull that off." And when it came to Zoe Kravitz and Karl Glusman's Parisian wedding this past July, we once again found ourselves thinking the same thing. I mean, the girl showed up to her rehearsal dinner in bridal biker shorts for God's sake, which she wore under a custom-made see-through net dress, obviously. On the day of the wedding the couple sported matching leather jackets, which had a sketch of one another on the one they wore. And of course, they posted absolutely no photos of any of it. Talk about a wedding that was too cool for us peasants to achieve. If you're feeling the urge to go rogue and rock bike shorts and leather on your wedding day, why the hell not? Rules are made to be broken. 
Most Improved:
Joe Jonas & Sophie Turner
View this post on Instagram
From an impromptu wedding in Vegas the night after the Billboard Music Awards officiated by an Elvis impersonator and captured by Diplo, to an elegant and romantic affair at a French chateau, there's no doubt this couple wins the award for most improved wedding. When they first exchanged vows at The Little White Chapel in May, Sophie wore a silk jumpsuit and the couple posed for photos on the hood of a hot pink car. These spontaneous nuptials felt lightyears away when images of their wedding in France were released and Sophie was outfitted in a traditional lace long-sleeve gown with a delicate veil. We have to admit, we kind of love this idea of having both an impromptu party and a more planned out, traditional one. If you're torn between two styles—why not go for both?
Images: Getty Images; laurenlane, haileybieber, ashleyiaconetti, katherineschwarzenegger, keleigh_sperry, brittany, sophiet / Instagram
This Halloween Wedding Is Straight Out Of Your Nightmares
In our society, more often than not, weddings tend to look pretty similar. While people have different preferences about flowers, colors, dress silhouette, etc., most weddings still consist of your standard white dress and a big, beautiful cake. But not everyone has the same dream for their wedding, and for one bride, her dream wedding was more of a nightmare. To celebrate Halloween, Betches Brides style, we spoke to Dre Fox, a bride who got married last weekend in a true Halloween wedding extravaganza.
"As long as I can remember, I have been called the Queen of Halloween—always taking it WAY too seriously, spending months crafting and handmaking my outfits." When Dre met her now-husband Josh, the two instantly bonded over their Halloween plans the night before, and last year they celebrated together in elaborate Beetlejuice and Lydia costumes.

So when it came time to create a concept for their October 26th wedding, a Halloween wedding was a no-brainer. "When we got engaged, I knew I didn't, no, COULDN'T do the normal thing. I've always been an eccentric person and this needed to be no different." This is not your traditional wedding, so take a deep breath, and let's dive in.
The wedding was designed, planned, and coordinated by Ashley Nicole Affair, who went above and beyond to give Dre and Josh the spooky Hallowedding of their dreams. The ceremony itself was kept mostly traditional, with Dre, Josh, the wedding party, and the bride and groom's parents dressing in conventional wedding attire. Dre walked down the aisle in a stunning Justin Alexander ostrich wedding gown, looking every bit the traditional fairy tale princess, but that's where the "traditional" part ended. The guests attended in costume, so Dre and Josh got married surrounded by loving friends and family dressed as aliens, magicians, pirates and Freddie Mercury. As one does.

Dress designer Justin Warshaw of Justin Alexander was featured on the most recent episode of the Betches Brides podcast, where he talked all about what it was like attending such an unconventional event. Here's the episode, where you can hear about Dre's Halloween wedding, as well as some of the most-asked questions about wedding dresses:
As the day progressed and the celebration moved from the ceremony to the reception, like Michael Jackson in the "Thriller" music video, Dre and Josh transformed into beasts of the night with the help of CGI makeup done by Jen Hearts Art. The result was truly shocking, and not just because the couple looks utterly unrecognizable. Most people getting married spend inordinate amounts of money trying to look like the best possible versions of themselves for their big day. So you can imagine, asking a makeup artist to make you look hairier and uglier on one of the most important days of your life is not just unorthodox, it's downright subversive. Honestly? I'm here for it.

Obviously, looking like this at your wedding is not what most couples would want, but I really admire their commitment to doing exactly what they want. And the commitment to the theme did not end with the reception attire. As a former pastry chef, Dre made all of the desserts for the wedding, including the bloody-looking wedding cake. Was it a red velvet cake? I need to know if it was a red velvet cake.
Josh's bomber jacket was adorned with the phrase "JUST SCARIED" on the back, seating cards were made to look like toe tags, guests' napkins were held together by vampire teeth, and appetizers were black and purple, in keeping with the spooky spirit of the evening. For entertainment, guests were treated to a caricature artist and a tarot card reader. I mean, this is dedication, and I have no choice but to be impressed.

While not every guest was on board with the couple's vision for the wedding, Dre wouldn't have changed a thing: "A wedding should be a representation of you. Not what or who everyone else wants you to be. It takes a leap of faith to follow your heart in the face of criticism, but the people that were there? Well, they understand what love without judgment and true acceptance looks like." I'd say that warms my cold, dead, heart, but then I wouldn't be staying true to the spirit of this truly remarkable wedding.
Images: Dre Fox; John Moody / Moodyography (4)
The 9 Worst Bridesmaid Tasks, Ranked
It's almost always the same. You're just walking around, minding your own business, wearing leggings like they're pants, when suddenly you get the text. The selfie of a distant friend holding up her hand with the dreaded words underneath: "I'm engaged!"
Naturally, two things immediately pop in your head as you zoom in on the rock to try to gauge the size:
"Awww" and/or "f*ck."

"I wonder if I'm going to be in the wedding."
Whether you're a seasoned bridesmaid or you're new to the idea of missing cocktail hour for maybe ONE photo of you and the bride that's good enough to post on Instagram, you'll quickly realize that being in a wedding isn't all sunshine and Spanx. Odds are, if you've been asked to stand by the bride's side, you'll end up doing one of these classic bridesmaid tasks that will quickly make you realize why so many of your friends fear wedding season like it's the next White Claw shortage. 
9. Group Chat Creator/Moderator 
First come the bridesmaid proposal boxes filled with cheap-ass earrings and candles from the Dollar Spot at Target, then comes the group chat. As soon as all of the bride's besties and politically chosen bridesmaids have been informed of their dutiful roles, the hell-inducing group chat begins. Whether it's the bride, the MOH, or the bridesmaid who *thinks* she's the MOH, there comes the day when you look down and see a "Heyyyy ladies," text with 7-12 unrecognizable numbers blowing up your phone.
Being the person to head this painful exchange of half-hearted pleasantries and snarky opinions is one of the lesser evils, but an evil all the same. Whether you chose to ask for the group's opinions on things (which is, obviously, a rookie mistake), or you announce decisions to deafening silence where you know a million side texts are being sent out bashing the bride/you about whatever it was you told them to do ("Really? She wants us to wear f*cking flower crowns? In NASHVILLE?"), there's no telling just how deep the psychological trauma and warfare can go. Pop a Xanny, turn off notifications, and count down the days until you can delete the thread for good. 
8. Emergency Kit Maker/Holder
After the group text is established (and by that, I mean ruining your GD life), the bride will inevitably ask someone to put together and be in charge of the over-the-top emergency day-of kit. You'll shell out a good $200 on sh*t like boob tape, teeth whiteners, and a phone charger that someone will immediately "borrow" and never return, just to potentially forget it all in your hotel room before heading to the venue.
While being the girl who has to lug around a tote full of hair spray and Band-Aids like an overzealous chaperone isn't exactly torture, having bridesmaids running up to you all night asking for gum/bobby pins/lipstick/oil blotting sheets/setting spray isn't really what you had in mind when you booked your $480 round trip flight. 
7. Ceremony Reader
While this prestigious role could go to a bridesmaid, it could also go to a girl who almost made the cut but didn't quite get on the A-team. Whether it goes to a bitch in a matching dusty blue dress or not, the bride always seems to think this honor will make up for the fact that this bridesmaid is either in the worst spot, the ugliest dress, or didn't get to be a bridesmaid at all. While she'll get a few moments of attention with some ever-cliche Corinthians reading, it's not worth staying semi-sober until 6pm just for a few minutes of anxiety-riddled glory.
6. Guest Book Attendant
What's better than begging people whose names you should probably know but can't remember to sign a picture of the couple wearing matching fall sweaters and hugging (despite the fact that they took the photo in July for their fall Save the Dates and are obviously sweating their asses off) while you're wearing an ill-fitting dress that was absolutely chosen out of the bride's own insecurities? Doing this while standing *just* outside a party of all of your friends. Enjoy asking people to scribble their initials on their way to the bathroom like a jackass while your college besties make out with their dates on the dance floor!
5. Beauty Enforcer
The bride said nude heels? Updos? Pale pink nails? Natural eye shadow? No hair ties on the wrists for photos? Being the one who has to tell the girls the beauty rules and make sure they stick to them is not for the faint of heart. Only a true villain can come by with nude polish and sloppily paint over the $60 powder dip burgundy mani the one bridesmaid who didn't read the extensive beauty rules email got the day before, but someone has to do it*. Be prepared for friendships to end before you even get down the aisle.
(*and by "has to do it," I mean, "No one gives a f*ck what color your bridesmaid's nails are," but alas, here we are.)
Optional: Dog Tender
First and foremost, I gotta say: I get it. I love dogs. Lurrrrve them. I love them just as much as the next basic bitch who crouches on the floor of the bar to pet a Corgi. I. Get. It. And I get having your dog at your wedding. Ol' Smooches has been there through it all. You just HAVE to have her there (read: you need her for the pictures). You need her support (read: you need her for the pictures). You can't IMAGINE your day without her (read: you need her for the pictures).
The only problem? Smooches has to be taken care of for the other 23 hours and 45 minutes of the day that a photographer isn't squeaking a toy in her face in the attempt to get ONE good shot of her with the bride. Luckily, the bride has you! YOU get to be the one to walk Smooches in the damp grass while wearing 4-inch heels. And pick up Smooches' sh*t while wearing a formal gown. YOU get to check in on Smooches while she's shoved in a kennel in the hotel room because the manager said she can't be left unattended.
Lol. Who's the bitch now? 
4. Single Bridesmaid Paired With The Sh*thead Groomsman
Being single at a wedding is the best. You don't have to worry about your date who will most likely resent you for having to sit at a table alone while you ball out at the head table or deal with the jealousy that comes from you and your friends recounting all of your drunken college shenanigans, most of which involved guys named either Brad, Chad, or Dan.
The worst part? There's a decent chance (especially if most of the party is already coupled up) that you'll be paired with the perpetually single groomsman. You know, the guy the bride absolutely hates but the groom insists is actually a sweetheart deep down, despite his raging alcoholism, sexism, and body hair. You'll spend the whole night dodging him and his sexual advances while he manages to find any way to put his hand on your ass and not-so-subtly hint that, in his eyes, you're pretty much required to hook up with him. The upside? He'll like your Instagrams until the day he dies, and he'll most likely blackout and be asked to leave before the cake cutting, so at least there's that?
3. The Person Who Has To Make Literally Any Big Decision
At some point in the wedding planning process, things go from fun to f*cked-up reallllllll fast. Most of the time, this happens about .001 seconds after your friend gets the ring. Before that, it's all over-the-top Pinterest boards and casual wedding venue searching. After *actually* getting engaged, sh*t hits the fan when real vendors have to be hired and real dates/destinations have to be decided on.
The wedding aside, finding a date and location for 17 of your closest friends to drunkenly cry together all weekend is easily one of the biggest stress tests of your life. So, naturally, the bride passes the task off to one of her bridesmaids and lets her handle the fallout. That poor friend has to deal with telling the girls that you're going to go to Cancún in September even though half of the group wanted Vegas and the teacher friends EXPLICITLY SAID they can only go in the summer. It's basically a murder-suicide for whoever sends out the Google Poll asking for RSVPs. At least you're not collecting the money though, right? 
2. Reservation Maker/Money Coordinator
Once the bachelorette location is decided on and hated by one-third of the group, the shower venue is chosen, and the beauty salon is selected, the next step is for someone to plop down a credit card. And if daddy's not paying? That's going to land on one of the bridesmaids. Whoever is the most type-A and/or has the most to prove to the bride will have to max out all of her cards and send out the Venmo requests. That means a whole bunch of broke twentysomethings are about to get a $500+ charge for a weekend that has nothing to do with them.
Between ignoring the charge, claiming they "dOn'T hAvE tHe aPp," or continuously "forgetting" to pay then "mysteriously" having a family emergency the week of the bachelorette and flaking, leaving you to pay their share, there's a 0% chance you'll make it out debt-free. If you don't end up resenting at least one girl and getting a call from your bank about exceeding your spending limit within a 36-hour period, you probably did things wrong—just sayin'.
1. Maid Of Honor
There's one reason and one reason only that ANYONE wants to be the Maid of Honor: so everyone else knows that their friendship pales in comparison to yours. Other than the *hopefully* marginally better dress and photo ops, the MOH is the bride's bitch through and through, and odds are you'll have to complete every one of the sh*tty tasks above, and then some, alone. Still, you're the one who gets to stand right by the bride's side, hunching over to adjust her train 43 times turning the ceremony to let everyone know that you're the best, and at the end of the day, isn't that what being in a wedding is all about?
Images: Devin Devine / Unsplash; betchesbrides / Instagram
How To Choose A Band For Your Wedding
It is my personal belief that DJs are a viable choice at bar/bat mitzvahs and absolutely nowhere else. Sorry to The Chainsmokers, but your time is up and y'all need to let the real musicians take the stage back. Regarding wedding receptions, I think opting for a band is 110% better than a DJ, but I understand that some couples prefer that their big day feel more like Marquee on a Saturday at 4am than that scene in Ferris Bueller's Day Off when "Twist & Shout" officially became everyone's favorite song, so the choice is fully yours. For the purpose of this article, I took a survey of the people whose desks are in my immediate vicinity at work and I got a resounding 4/4 pro-band stance on the issue. I mean, numbers don't lie, guys. Don't make your wedding a trip down blackout boulevard by having a sh*tty DJ blast ear-assaulting remixes when you could have an awesome band playing the hits. If you don't believe me, believe Steve Davis, cofounder of Live Music Pros, who will answer all of your wedding band-related questions!
Why Should You Hire A Live Band?

I think I thoroughly answered this question above, but happy to elaborate more here. Davis says, "Live music is essential to rituals and celebrations throughout the world, and for good reason: something magical happens during a live performance that connects the audience to the musicians and takes the experience to a whole new level." You hear that? It's literal magic in the air! Davis continues, "While more affordable in some cases, a DJ standing behind a table just can't match the presence or the energy of a live band who is giving a unique performance just for you. You want your wedding to be the party of a lifetime, and booking a great live band is the most effective way to make that happen." Seriously, I know Davis is a little biased, but so is everyone with working ears. Live music kills at weddings. If you don't believe me, just watch Wedding Crashers. Something about the weddings makes Vince f*cking Vaughn actually appealing to these women, and I for one think it's the music. 
What Should You Be Prepared For?

Like the hunt for the dress, a lot goes into choosing a wedding band. The best place to start is with personal referrals. If you sweat out all of the champagne you downed on the dance floor at your friend's wedding because the band was just that damn good, ask her for their contact info and get them on board at your big day. There's no shame in sharing the same great taste, people. Secondly, sites like The Knot are really good for vendor referrals. The only thing is, if you've never heard the band play, figure out a way to hear them, whether it be with a promotional video or an upcoming performance. Davis says, "Always go see a band live to hear what they really sound like, and be wary of bands who will only show you performance videos in their offices or headquarters. Our flagship band Atomic Funk Project plays live shows and showcases all the time, and our live videos are all over Instagram and YouTube." If that doesn't mean much to you, imagine this: You're going on a first date with someone and he tells you to meet you at his basement apartment before going to the bar. You'd be sketched out, right? Right.
Equally as important as the band's skill level is making sure it will cater to your and your crew's musical tastes. True story: my best friend hired a band because the lead singer had the voice of an angel, but it turned out, they only played showtunes and did not tell her that because she did not ask. So we pounded margaritas and got low to the soundtrack from Hairspray. My point? Know what you want and make sure the band will play what you want. Davis says, "A good band will have an identity, a repertoire that is focused on what they do best, and will be open and willing to learn two to three additional songs for their client." You heard it here first.
What Is The Biggest Challenge When Hiring a Band?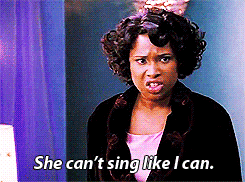 Everyone is used to hand picking every aspect of their wedding, so obviously when it comes to the band, that mindset gets carried over. But in this case, it might actually be best to leave some decisions to the pros. After all, how many times have YOU put a band together? Davis says, "Your wedding is one of the most important days of your life, so you should absolutely have control over your musical preferences, special dances, and how you want things to happen. Beyond that though, I think the biggest challenge for people is trusting that their band knows how to give them the best possible performance within their guidelines. Sometimes people forget that we do this all day every day and that our #1 priority is making them happy."
"Singers are by far the biggest concern of our clients," Davis explains. "Everyone wants the best talent for their money, but a lot of people want performers guaranteed because they think that's the only way to quality control things. The problem is, there's a conflict there: what professional musician moved to NYC to sign an exclusive deal with a wedding band? I think it's important for people to realize that we know how to cater to their personal preferences when it comes to singers, and that guarantees usually come at the expense of quality."
If you think about it, this makes sense. Booking someone a year out is a long-ass time, and there are a ton of other factors that need to be taken into consideration. Davis continues, "A professional, high-level band will take your preferences into account and customize the perfect experience for you. Once you've conveyed your vision, all you need to do is sit back and let them do their job." Letting go of that control may seem overwhelming, but this is why we hire professionals.
At the end of the day, your wedding is the only time in your life that you'll actually be booking a live band, right? So it makes sense that you'll want the best of the best for what you're paying. Unless your wedding theme is "cliche wedding," you don't want the cheesy crap from say, Maroon 5's "Sugar" music video. Davis says, "I think a large part of the reason we run into these concerns is that there is a stigma associated with the music industry, and wedding bands in particular. There is a lot of fear associated with such a major decision, and we completely understand that. We designed Live Music Pros specifically to make this process easy for clients, and to be the antidote to the typical wedding band experience."
How Will The Band Coordinate With The Rest Of The Reception?

Like most things that don't go according to plan, weddings can definitely get off schedule. Hey, it happens, but if you don't want things to get messy, hire a band with a band coordinator who will smooth out the schedule so that you can carry on drinking greeting guests. Davis says, "Typically, if anything needs to be communicated with the band, someone needs to go up to the stage to talk with the band leader. These kinds of interruptions don't look good visually and cause major stress and confusion for everyone involved. A professional, high-quality band will have a team around them to ensure that everything goes smoothly on your big day. For example, our company provides a dedicated coordinator who is available on-site to communicate with the venue and planner throughout the night without interrupting the band's performance. We know that most people haven't hired a live band before, so we try to make everything as easy as possible for our clients." Professionals know how to manage an event and create ebbs and flows throughout the evening that align with what is going on. And that is why we hire professional musicians and not our next door neighbor's kids to play. 
Images: Giphy (2); Forged in the North Photography; Mark W. Spooner; Unsplash 
What To Include In Your Wedding Invitation Bundles
Look, I am all for adjusting my life to protect the environment, which is why I guzzle my iced coffee through a soggy paper straw and yell at my roommate for leaving every single light in our apartment on, but some things are just too damn precious to go green for. One such thing is wedding invitations. As much as you can personalize an evite, and you def can, there's something about tangible wedding invitations—or wedding invitation bundles, as the professionals call them—that make the whole thing feel that much more special. Being able to design a beautiful bundle that your friends and family can stick on their refrigerators and admire until your special day is a nice feeling that you just don't get from digital invites. If you absolutely need to make yourself feel better about having printed invitation bundles, send a digital save the date. Done.
Now, if you're feeling slightly overwhelmed about wedding invitation bundles, worry not! Jessica Terrell, Creative Designer and Marketer at Shine Wedding Invitations, is here to help. So…
What Are Wedding Invitation Bundles?

Glad you asked! So if you're inviting people to, like, a birthday party, chances are there's one piece of paper inside an envelope and people will just text/email/DM that they're coming or, alternatively, are too busy to celebrate you. Wedding invitations are obv different. Terrell says, "Each wedding is different, and therefore requires various amounts of stationery pieces to be included. When all the pieces are stacked together and wrapped in beautiful silk ribbon or a personalized belly band, it's commonly referred to as an invitation suite." She's right in that all weddings are different, so what you include in your bundle may be different than what your bestie included in hers. Don't worry! That is normal and 100% okay! More on this in a bit.
What Should You Include In A Wedding Invitation Bundle?
Like I said just a hot second ago, every wedding is different, so only include what you need in your bundle. For instance, if you are having a small wedding of 75 à la Carrie Bradshaw, don't have a two-inch thick wedding bundle full of random cards and notes that people don't need because that's annoying and also, #savethetrees. Terrell explains, "In addition to the invitation itself, you have the option to also include a large or small enclosure, for the extra details needed to further explain the importance of your wedding day." Large enclosures are usually for out-of-town guests because it includes sh*t like hotel discount codes, Uber codes…etc. Small enclosures aren't super necessary, but they usually explain a little bit more about the reception if it's at a different location than the ceremony. One thing all invitation bundles have, though, are response cards. Hope this is self-explanatory, but if you're not the brightest star in the sky, a response card is the enclosure that guests use to let you know whether or not they're coming.
How Can You Customize Your Bundle?
Ok, "customize your bundle" is my new favorite phrase. "There are absolutely different ways to customize your wedding invitation suite!" Terell says. "From the uniqueness of your wording, to the colors you choose, and the enclosures you bundle together, no one invitation suite will be the same. Some other ways to make it yours, is to add a patterned envelope liner and matching belly band with your names." Again, self-explanatory! Yay, things that are easy to understand! After spending a few hours minutes on Shine's Instagram, I have discovered that my favorite look is the Cecilia Letterpress invitation wrapped in pale gray vellum and closed with a silver florette wax stamp. So if anyone wants to marry me and make my dream wedding invitation bundle a reality, hmu in the comments. My point is that there are so many options and therefore limitless ways that you can make your invitation bundle really special.
What Else Can You Do To Design A Standout Invitation Bundle?
Well, there are lots of things. For starters, you can make things easier on your guests by not asking them to address their own response cards. You can also make the tough choice between single and double envelopes. Terrell says, "Although single is a beautiful choice, we highly recommend our double envelope style for all wedding invitation suites, as they will better protect your stationery throughout the mailing process." Think about all the times your Amazon bag arrived in the mail with holes in it. Do you want your wedding invitation bundles to suffer the same fate? Terrell explains, "Double envelopes are the most traditional of the two styles. The outer envelope would have the name of the household printed on the front, while the inner envelope would have the names of the guests actually invited to the wedding. Once the mail was delivered, the outer envelope would be removed, and then the spotless inner envelope would be presented to the family member it addressed. The double envelope style is the best way to present your wedding invitations, so your guests can fully experience them from start to finish."
Images: Shine Wedding Invitations
Is Planning Your Wedding When You're Not Engaged Insane?
I'll truly never know why women are offended at the assumption that all little girls plan their future wedding. All that proves is that we are and have always been f*cking organized, which everyone already knew, so what's the big issue here? For those of you with no sense of humor who are about to explain it to me in the comments, I'm being facetious, so chill out. Moving on!
There's something to be said about planning for an event to which you haven't technically been invited yet. For example, I started painting my cooler for frat formal before I was technically asked and, you know what, I got to study for finals while all of my friends were slaving over their Yetis. On a scale of one to Lindsay Lohan's fake British accent, how obvious is it that I went to college in the South? So, while prematurely buying and decorating said cooler may have been a little much, pre-planning is actually pretty normal—and expected—when it comes to weddings. Look, I'm a firm believer in the surprise element of proposals, but I don't think the idea of getting married to the person you're dating should be a shock. When I think of that, I think of those painful YouTube videos of guys proposing to their girlfriends at basketball games on the big screen, and the poor girl just, like, does not know what to do, but she def isn't saying yes. The lesson? If you're dating someone for a certain amount of time, it's a good idea to have some kind of discussion about your future, if for no other reason than avoiding public humiliation at a Knicks game in front of thousands of people. But, like also so women can do what we do best and make a tackling a giant project (like planning a wedding) look easy. So, if you want to get ahead on wedding planning before getting engaged, read on for tips from Josh Spiegel, Creative Director at Birch Event Design.
Why Would Someone Start Wedding Planning Before Getting Engaged?
Look, the real question is why does anyone do anything before they have to? That, I'll never know, but what I can tell you is that planning a wedding has a lot of moving parts and getting on top of that sh*t is imperative if you want to spend the big day actually enjoying yourself. Of course, getting a jump start on likely the most stressful year of your life may not seem like something you're truly dying to do, but if you're one of those couples who must ruin wed over a long weekend like Memorial Day or Thanksgiving, you don't really have a choice but to start wedding planning before getting engaged, like, a good six months before you even see the ring. I exaggerate, but you do need to lock down the big vendors early—before you get engaged—if you want to have a wedding that doesn't take place in your living room. Spiegel says, "Planning in advance is smart for those looking to wed during major weekends. If you're looking to get married during a popular time of the year, you should book ahead of time so you can ensure you lock in the venue, band, florist, photographer, and other top vendors that you want." Exactamundo. The two real reasons to book these vendors early is because other eager couples may get there first, but also because these vendors are also people who may have holiday plans. Ideally, they'll blow off their families for a big-ass deposit, but they'll prob want plenty of time to convince their loved ones that money is more important than Christmas. So think of them and ask in advance!
What Elements Can We Tackle Before The Engagement?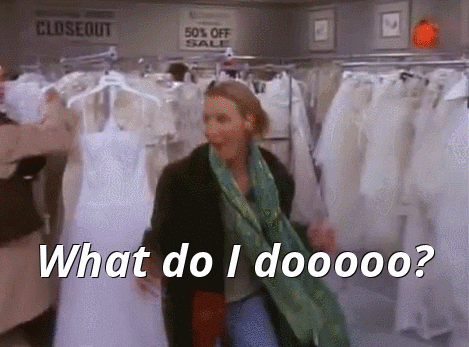 Obviously, you can't like, go dress shopping before you get engaged, because that's just weird and unnecessary. Generally, you go dress shopping with your friends/mom/sister/etc. and I imagine it would be an awkward invite asking them to go to the wedding suite at Nordstrom with no ring yet. So, if you are dying to get started on your lists and your spreadsheets, there are def some things you can plan pre-proposal. Spiegel says, "In general, we believe that people who plan their weddings before they're engaged are making a smart decision. Recently, more than not, we're working with clients who are booking their vendors in advance and locking their dates in." I respect these clients and I would like more people like them in my life, please. I can't tell you how quickly your local florist or cake baker will book up, but from sitting next to my engaged coworker who I'm pretty sure is ripping out one eyelash per venue that is booked for her date, I do know that venues book up eons in advance. The bottom line is that if you know you are getting engaged within the next few months, don't wait until you get the rock to break out your secret wedding Pinterest board. Unless, of course, you don't want to because the thought of planning anything except for dinner this weekend stresses you the f*ck out.
How Many People Start Planning Before The Engagement?
You know when you do something you think is weird, like, I don't know, not leaving your apartment for an entire weekend to binge Queer Eye or weeping harder than you've ever weeped at Queer Eye? Same. But there's nothing more reassuring than other people engaging in the same weird sh*t you do because that makes you feel less weird, right? Same, girl! Ok, so wedding planning before getting engaged is the same way because you are not alone here. I know that if I fully booked my venue before my engagement, I'd feel like both a badass boss and a complete psycho, but after hearing the cold, hard facts from Spiegel, I actually feel pretty ready to plan the entire wedding sans ring. He says, "Percentage wise, about 50 percent of couples are now booking their venues before engagements and about 20 percent of our clients come directly to us before they're engaged." Shut. The. Front. Door. 50 percent?! I know that's a small number if we are talking, like, chances of survival or exam grades, but for re: the amount of couples who plan the wedding before the engagement, that's a pretty astonishing number. But I do have to ask, if both parties of the couple are taking part in the pre-engagement planning, why wouldn't one of them propose already? Just a thought.
Are There Any Downsides To Planning Before The Engagement?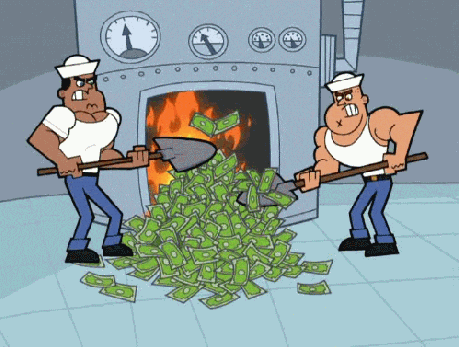 Like most things in life, yes. Spiegel says, "One downside of planning early can be locking into contracts with vendors when you haven't discussed details. This can lead to improper spending since you might not have budgeted correctly or may not have had to chance to do all of your research." As a 25-year-old with a skin care addiction, I am v familiar with the concept of improper spending and, let me just say, it sucks. For example, my sister just booked her $300 an hour makeup artist who uses only Chanel products (lol same) because she felt pressured to just make a decision, but look where that got her. That's $300 she could have spent on more cupcakes. Also, I just have to say, if you are a person who refuses to use non-Chanel products, who the f*ck are you and how do I get into your line of work? Anyway, the only reason we book these vendors so early is because we feel pressured, right? We need to figure out how to use that pressure for good instead of for making terrible decisions that will likely leave us in a sticky spot come the wedding. Not sure why I am including myself in this scenario, as I am lightyears away from an engagement, but hey, that doesn't mean I can't start planning now!! Is it too early to book the Boathouse in Central Park for my wedding in 17 years? LMK, thx!
Images: Giphy (2); Unsplash
This Is How You Word A Wedding Invitation
You've got the ring. You've got the guy. Now you have to spend the next year (or whatever) of your life planning the perfect wedding day. From the dress to the food to the band, each detail counts, and you'll want to ensure they're all perfectly aligned with your vision.
One of the biggest parts (if not THE biggest part) of this vision is making sure your guest show up and know wtf is going on. How does that happen? Your invitations need to be spot-f*cking-on, that's how. It doesn't matter if you're getting married at a courthouse or having a black tie affair at the Met (can you even do that?); your wedding won't count for sh*t if nobody knows how to get there, what to wear, or wtf is happening at any given time.
We reached out to the experts at Shine Wedding Invitations to give their best advice on wedding invitation wording and general etiquette, so there's no excuse for you to have anything but an amazing invitation ramping up your big day.
Choose A Style That Fits You (And Your Wedding)

Omg, your wedding—the biggest day of your life. Literally, everything's been leading up to this. And, even though everyone knows it's all about you, the wedding should reflect both your and your fiancé's style. So, how do you select a luxe and classy wedding invite that can encompass your styles AND provide the super important info that your guests, like, need?
Time to ask yourself the tough stuff: are you adventurous? Just hungry? Mean-spirited? Bold? Modern?
"Understanding who you are and what style you would like to encapsulate is essential in choosing the perfect invitation design for your big day," says Jessica Terrell at Shine. There are tons of fonts, scripts, serifs (those are fonts with the little line thingies underneath the letters) and sans serifs (fonts without those lines). Terrell advises, "When looking at invitation designs, focus on the structure—the body copy is the foundation of your stationery. For those of you who are clean and simple with a modern twist, a thin sans serif will work the best. If you're more traditional, we highly recommend a serif for its timeless look and feel."
From there, choose the color, background, and feel of your invites based on your wedding itself. If you're going for a more Art Deco look and feel, opt for geometric designs. Having your reception at an art gallery? Go for sleek and modern. Wanna get married in a barn? Just skip the whole thing and send invitations in Mason jars, you animal. (Just kidding, not really.) You get the idea.
Get The Wording Right
Once you've got your font and overall designed picked out, it's time to put all those Hooked On Phonics lessons to good use and communicate the actual purpose of said invitation. Most wedding invitation design sites will have the correct "guide" in place to go along with traditional wedding etiquette, so you won't be shooting in the dark as far as setting up the wording. And thank God, honestly, cause watching some of you try to spell is truly painful.
The Host Line

No, a host line isn't a creepy phone sex app (brb, I have an idea for a new invention that's going to make me a millionaire). It's actually the first line listed on the wedding invitation. Traditionally, it's meant to announce the parents or family of the bride, since they're usually the ones paying for the whole thing (thanks Mommy and Daddy—love you). However, the host line can vary based on the couple's situation, i.e., if the bride's parents are all, "hey, we're not paying for jack sh*t" or the groom's parents are all "here's $100k and a house, enjoy". Other host lines may include the groom's parents, both sets of parents on the bride and groom's side, neither sets of parents, or other loved ones hosting the event. Here are a few common examples etiquette-approps provided by Shine:
Bride's Parents Hosting:
Mr. and Mrs. William Arthur Jones
request the honor of your presence
at the marriage of their daughter
Bride and Groom Hosting:
The honor of your presence is requested
at the marriage celebration of
Both Sets of Parents Hosting:
Mr. and Mrs. William Arthur Jones
along with Mr. and Mrs. John Quincy Adams
request the honor of your presence
at the marriage of their children
Bride's Divorced Parents Hosting:
Ms. Jennifer (Maiden Name) (Married Name)
Mr. William Arthur Jones
request the honor of your presence
at the marriage of their daughter
Obviously, there are tons of different situations since all family dynamics are super special and unique (yay). From divorced parents with remarriages to special parental titles, such as military, medical, or religious, digging around online or dealing with an easy-to-navigate wedding invitation design site will make your life easier. You can find more details and specific wording examples here, at Shine Wording Guide.
The Request Line
Again, this sounds more complicated than it actually is. The request line directly follows the host line with wording that invites your guest to your big, super special party. A few examples include:
Request Line—Option 1:
Mr. and Mrs. William Arthur Jones
request the pleasure of your company
at the marriage of their daughter
Request Line—Option 2:
Mr. and Mrs. William Arthur Jones
cordially invite you to attend
the wedding of their daughter
The Bride

Time to move on to you and your almost-hubs. Traditionally, the bride's name is always presented first, because we're better and cooler. Really, though, it's because the father is giving his daughter away to a v nice boy, i.e., she doesn't have to ask dad for money anymore (extrapolating from my own experience here). It's proper wedding etiquette to include the first, middle, and last name of the bride unless her parents (of the same last name) are also listed on the invitation. In that case, the bride doesn't need to include her last name, because space issues.
Bride's Parents Not Listed:
Together with their families/parents
Poppy Jane Jones
and
Landon Parker Adams
request the honor of your presence
at their marriage celebration
Bride's Parents Listed:
Mr. and Mrs. William Arthur Jones
request the honor of your presence
at the marriage of their daughter
Poppy Jane
to
Landon Parker Adams
However, in the case that the groom's parents are hosting the wedding (which can happen if the bride's parents are deceased, live in a foreign country, or are just being lame and not part of the wedding), their relation to the groom can be mentioned on the joining line, between the bride and groom's name:
Groom's Parents Hosting:
Mr. and Mrs. John Quincy Adams
request the honor of your presence
at the marriage of
Poppy Jane Jones
to their son
Landon Parker
The Groom
Because he totally f*cking gets it already, the groom is usually listed under the bride's name. And, just like the bride's name, the groom doesn't need to include his last name if his parents (of the same last name) are also mentioned on the invite.
Date And Time
The day and time are probably the most important parts of your entire invitation. Like, how else will people know when to show up with gifts? The phrasing of the day and time is based on the desired style of the wedding invitation. According to traditional wedding etiquette, spelling out the month, day, year and time is required, so don't try to get fancy with weirdo number situations, you guys.
Option 1:
Saturday, the second of August
two thousand twenty-one
at three o'clock in the afternoon
Option 2:
Saturday, August second
two thousand twenty-one
half after/past three in the afternoon
Ceremony Location
Obv, you'll need to solidify where tf guests are going for like, the actual wedding. The invite should include the venue name and location for where the wedding ceremony will take place. Don't assume people know where literally anything is cause, newsflash, they won't.
Reception
Time for the party line. The info about your reception should be last on your invite and shouldn't be more than a single line with a few words telling your guests that yes, there will be booze if they sit through your f*cking wedding ceremony. By the way, if the reception is located at the same venue and immediately follows the ceremony, you'd go with Option 1. However, if your reception takes place at a different time and either at the same venue or at another location, you'd go with Option 2.
Option 1:
Reception immediately following
Option 2:
Reception to follow
If you need to give more details about your reception, whether it be the time or the place, a separate small enclosure or stationery piece should be included in your wedding invitation suite. That card can provide all the extra info that your guests would otherwise be tempted to text you about during your actual wedding. Although not traditionally proper, if you want to opt out of the small enclosure, you can list the time and address directly beneath the reception line on the invitation. As each invitation will consist of different wording, the additional reception information will need to remain brief. Does that sparkle with everyone? Good.
Drown Them In Information

OK so not, like literally, but when your guests get their invitations in the mail, you'll want to ensure they have every bit of information they could possibly need. They know which hotels to stay in. They have directions to the venue in hand. They know that the reception will not include children and will include a 6-hour open bar (maybe not that last bit, but whatever).
There are a lot of details that go into planning a wedding. Whether it be a tricky location for the venue or accommodation block, your guests need to be informed of f*cking everything so they can plan their lives accordingly. Enclosures are a great way to allow your invitation to remain simple and clean. Depending on the type of information and how much of it you have, different sized enclosures are available nine times out of ten (and if you're using a good wedding invite design site).
The Large Enclosure
Jessica says, "there are two enclosures we typically recommend for brides to include in their wedding invitation suites. For the larger of the two, there are a few different ways it can be utilized. Typically, this enclosure is used for accommodations. However, it can be used for travel details, directions, transportation information, special activities, rehearsal dinner invitations, and much more." For example, Shine's large enclosure can hold about 18-20 lines of text:
Accommodations:
A block of rooms has been reserved for your convenience at
Big Tree Inn
46 Main Street—Geneseo, New York—(585) 243-5220
Please mention the Grimes-Fox wedding when making reservations
Shuttle transportation to the reception will be available
For additional information, visit our website at
www.poppyandparker.com
The Small Enclosure
Shine has a small option, too, so don't worry if you're not into the idea of sending a small FedEx package to your guests. "In addition to the reception details, if it's hosted at a different location than the ceremony, this enclosure size is perfect for your wedding website, registry information, a new address, or a small morning-after brunch announcement." The small enclosure would hold about 8-10 lines of text. For example:
Reception:
Please join us for
a reception amongst the trees at
The Wadsworth Homestead
4 South Street
Geneseo, New York
Half after/past seven in the evening
Response Cards With Meal Options Vs. Without Meal Options
Hey, get ready for everyone to bitch about your food regardless of how many options you give them! But if you're planning on a seated meal, the response card helps you and your wedding planner confirm the attendees and figure out exactly how many steaks you'll need. If you're having a buffet dinner, you obviously don't need a meal inquiry card, since your guests, like animals, can let loose on piles of food. Meal inquiry cards are also a great way to figure out exactly how many gluten haters and vegans you need to un-invite.
Response:
Kindly reply on or before
the twenty-fourth of November
M______________________________
_____ Accepts
_____ Regrets
Please initial your choice of entree
_____ Chicken
_____ Beef
_____ Vegetarian
List any dietary restrictions below:
________________________________
And just like that, your guests will know exactly who, what, when, and where, without (hopefully) having to ask you too many questions. You won't get every RSVP card back (so know that going in), but you will have a super spectacular day with limited confusion if you follow these steps to a communicatory powerhouse of an invite.
Images: Shine Wedding Invitations