How To Tell Your Wedding Guests You're Changing The Date Due To COVID-19
As it becomes clearer that summer wedding plans are off the table, and fall weddings are next on the chopping block, couples are figuring out new ways to make their special day special. We're seeing Zoom weddings, drive-by parades, and elopements. For anyone who can't (or doesn't want to) get on board with the microwedding vibe, plans of a postponement need to be communicated to guests—even if the details are still TBD. So, we chatted with experts on both coasts to see how changing the date can be done, and as much as it sucks, it's not impossible. There are multiple ways to convey the 411 of your new day, and rockstar wedding vendors are making the postponing protocol as smooth as possible.
For Krystel Stacey, Founder, Creative Director, and Lead Stylist at So Cal's Couture Events and wedding planner to Bachelor in Paradise's Hannah Godwin and Dylan Barbour, it's about being supportive and honoring her clients' wishes.
"We're hopeful that later-2020 weddings will go on as planned, but just in case our brides and grooms are worried, we're working around the clock on contingency plans," Stacey says. At the end of the day, she wants her clients to stay true to themselves, adding "What is best for your mom, best friend, cousin, or sweet Aunt Sally should be considered secondary to what is best for you both as a couple."
Timing Wise, Most Pre-Fall Weddings Should Postpone
We've been polling our 2020 brides on Insta @betchesbrides for weeks now, asking whether they'll be keeping or postponing their wedding dates plans—and truthfully, no one has a definitive answer or a magical cut-off date. While it'd be amazing to see into the future and find out more about this virus's end date, unfortunately we can't exactly speak to the manager of coronavirus. That's why New Jersey-based stationer, Becca Goldberg of Suite Paperie, feels that clients who have chosen to postpone their weddings before October 2020 are making the best calls (and tbh, that's what it seems like most of you are doing, based on all the recent Insta feedback on @betchesbrides).
"We've had a few couples who were supposed to get married in late March/early April postpone to later in 2020, but a couple who is planning a summer wedding isn't going to be thrilled about swapping to a winter date," she offers. "Their entire vision from invitations to dress to food to flowers will have to shift to an entirely new season—and that's a whole other dimension of change that a bride dealing with COVID-19 rescheduling shouldn't have to face."
She explains, "Most of my October-December brides are hanging tight right now and moving forward as planned. Since we're NY/NJ based and in the epicenter of the crisis, there's a chance that, by law, the weddings will not be able to take place. However, we do have plenty of couples around the country who are having their weddings in lesser COVID-affected areas and proceeding with considerably less caution—for example, we have gorgeous acrylic invitations going out this week for an August wedding in Colorado Springs."
Once You Have A Date Secured, Get Moving With Regards To Your Guests
Both Stacey and Goldberg have seen the majority of their couples postponing to 2021, and they're behind it, too, especially if couples can either get their original wedding date just a year later (something that a lot of venues are advocating with their clients so that their event calendars are balanced). After all, a wedding planned for June 12th this year will probably look similar, if not identical, to a June 12th wedding next year. If the exact date isn't available, then another date in the month should work just fine. Stacey let us know that even though she's had some couples push till later this year, most are looking into 2021 for their new dates.
Of course, once you've gotten your date penciled in at your venue, with your vendors on book as well, you'll want to notify your nearest and dearest so that arrangements can be made. Fortunately, since the social event scene at large has been totally eclipsed by the pandemic, most guests can expect that you'll be making course changes, but you'll still need to tell everyone sooner rather than later. A few ways you can notify guests are:
Your wedding website: You can seriously make one for FREE like anywhere, so if you don't have one, make one (if only just to keep people from nightmaring you about your wedding status). As soon as you have your date, update your homepage with something along the lines of "Due to current COVID-19 circumstances, we're going to celebrate on another date!" And then share said date, timing, and change of venue, if you have one.
Your inner circle:  If you're going crazy dealing with this postponement and can't send out a personalized email yourself, then this is the perfect time to enlist your wedding planner, your bridesmaids, your MOH, and all your ride-or-dies. Have them text, call, or email all of your wedding guests and share your new date, along with a link to your website for real-time updates.
Your social channels: Not every couple will feel comfortable sharing all the I Do deets on their social feeds, but Stacey notes that with any "official" correspondence (i.e. change-the-date announcements), an identical social version should go up as well. "For ALL posts we suggest sending out the same change-the-date," she says, adding, "if you are sending a physical save the date card, just send the digital version of that via email and then also post that digital version on your social media (the order in which you do so is totally up to you)."
Stationery Going Out Should Follow A Cadence, Somewhat…
Most vendors will tell you that code of conduct is nowhere near normal now, because WTAF is happening these days? Stacey and her team at Couture Events say, "You cannot please everyone and they will have to understand that COVID was not your choice and is out of your control. What you can control is what you want to do next." We're 100p aligned with their outlook, especially since changing the date costs money—creativity, on the other hand, doesn't have to cost a thing…
Stacey even suggests that couples take advantage of the time spent at home during quarantine to experiment with sending a cute video in lieu of a traditional change-the-date card. Just try to avoid making something that might land you on our cringiest TikToks list.
PSA for brides: there's no such thing as wedding etiquette anymore you officially get to do whatever the f*ck you want.

— betchesbrides (@betchesbrides) May 8, 2020
If all of the above sounds a little too informal, or if you want something tangible, e-commerce stationer sites like Minted and Basic Invite are offering a completely curated selection of change-the-date cards. Basic Invite will even handle your mail so that you can avoid going to the post office #socialdistancewin. Just upload your guest list and they'll print, stuff, and mail your cards directly to your guests. It's legit so fast and easy, and the looks are luxe and stunning.

If you've been working with a custom stationer one-on-one, though, you probably have even more possibilities to put out the good word about your wedding. Plus, you'll have someone helping you through the pain-in-the-ass process of when to send things, what to send, who to send to, etc.
Here are some general guidelines that Becca Goldberg, girl boss at Suite Paperie, has been following with her clients:
For couples who've postponed before invitations were sent: "We're sending snail-mail change-the-date announcements at the time that the guests would be receiving the invitations (approximately 8-10 weeks out)," Goldberg says. "These can still read 'formal invitation to follow' on the bottom, since the guests haven't received the actual invites yet."
For couples who sent out invitations, but now need to postpone: "Since time is of the essence, we're typically sending out an email with 'formal re-invitation to follow' to let guests know that they'll be receiving something else in the mail when it gets closer to the date in 2021."
Just writing out "re-invitation" makes me cringe, because I know how much invitations can cost. But Goldberg totally gets it, and she hates to imagine making her clients re-up their already-pricy investment. "Some things that we're doing are digitally printing their invitation on duplex or even triplex paper and giving it the same finish as their original suite (beveled, foiled or painted edges), but at a fraction of the cost of letterpress or foil stamping."
She adds, "The other thing we're doing is keeping the additional information online. So, instead of a suite that has a RSVP card and envelope, details card, brunch card, etc, we're just sending a main invitation and a single insert that sends guests to the couple's website to RSVP, find new hotel dates, and more."

For couples whose invitations were printed, but not yet mailed: "These are the trickiest scenarios, where we need to get clever," she says. "Some couples are opting to reprint their main invitation with the new date, while others are OK with an insert stating the new date." Goldberg relays that one of her favorite executions of this route involves using an annotated overlay. "We essentially "mark up" the invitation, cross out the old date, and print the new one on a 100% clear transparency that lays over the entire front of the invitation. This is a bit more on the fun side, but we've had a few couples go this route, and it's been very well-received."
And then when it comes to invitees, here's who Goldberg says should get the stationery:
For couples with a postponed date (and a wedding of roughly the same size): "Everyone who received the save-the-dates the first go-round should be getting the change-the-date as well," Goldberg advises.
For couples who want to scale back the celebration altogether: "In some instances, couples are opting to keep their original date, but instead going more intimate, with immediate family only," she explains. "In this case, of course the change-the-date goes out to only those in the intimate group, but additionally, a follow up wedding or 'elopement' announcement should be sent to the rest of the guests. Share a photo and have fun with it, because at the end of the day, this alert really helps to make your friends and family feel connected to an event they were originally invited to in-person!"
And if you still want to save money, stay formal, and get things out f*ckin' fast, you can always consider a postponement announcement from a place like Paperless Post or Greenvelope.

Paperless Post is rallying hard with the "love is patient" point of view during this COVID crisis, and not only are we obsessed with their dynamic designs, we're also loving on their well-rounded wedding extras for after the postponement.
"With digital wedding postponement cards, you are able to upload a copy of your email list and send it to your recipient's inbox in minutes," reassures Paperless Post. Then, "Once you've ironed out a new date, let friends and family know it is time to get together again. You'll have the option to send out a new design from our online wedding collection or update your postponement announcement with the new event details. If the latter, you can use our follow up tools to send a message to your guests letting them know it's officially time to RSVP."
We get it, it's a lot to postpone your wedding, but if you're making it through quarantine with your S.O., you're doing amazing, sweeties… You'll get through this too!
Images: Unsplash; Basic Invite; Suite Paperie; Greenvelope
5 People You Don't Need To Invite To Your Wedding
#Nonewfriends is the mantra you should live by when you're creating your guest list for your wedding. Too often, couples let their guilt get the best of them and end up inviting people they don't really want there. Let's face it, there are going to be people on your proposed list that make you and your fiancé ask each other, "Do we really need to invite them?" Think of it this way: would you want a framed picture of you with them in your wedding dress hanging in your house in 10 years? If the answer is no, they shouldn't make the cut. Here are five people you can definitely "forget to invite". 
1. The Sorority Sister Whose Wedding You Attended Five Years Ago
View this post on Instagram
You were thick as thieves in college, pregamed semi-formal together, and you even visited her hometown during summer break one year. She got married right after graduation and you attended her wedding. Here's the catch: you haven't seen each other since then and the only reason she knows you're engaged is because she follows you on Instagram. You may feel like a huge bitch by leaving her off the guest list, but if you haven't spoken to her in the last year (happy birthday texts don't count), axe her. Weddings are priced on a per-head basis, so not inviting her will save you a few hundred dollars. Since you don't see each other on the reg, you won't have to face her and explain that her invite must have gotten lost in the mail. Let go of the guilt and move on. 
2. Your Co-Worker
Just because you talk about your wedding with the people you work with doesn't mean you're obligated to invite them. Sure, they threw you a surprise party for your engagement and listened to you bitch about your fiancé's lack of involvement in planning, but unless you regularly hang out with them outside of work, remove them from the list. They'll probably be relieved not to receive an invite, especially if you're getting married in a different state than the one you work in. If you're struggling to figure out what to do about a specific co-worker, think of it this way: if you left the company tomorrow, would you still keep in touch with this person? If not, then they shouldn't be at your wedding! It's not in your job description to include everyone on the guest list, so invite who you want to invite. 
3. Your Mom's Cousin Twice-Removed Who You've Never Met
It's possible you or your fiancé will see names of people on the proposed guest list that you had no clue you were even related to. In some cultures, it's tradition to invite every single relative to the wedding, regardless if you've met them or not. If that's not the case and your mom is pushing to add Great Aunt Sylvia to the guest list, approach mom calmly and explain that you and your fiancé want to keep the wedding to close friends and family. If that doesn't work, bring up the money factor. Again, weddings are priced on a per-head basis, so if you show your mom how much she'll save, she'll probably want Great Aunt Sylvia to stay home. Plus, her hip is bad anyway, so you're kinda doing her a favor.
4. Kids
No, you don't have to invite your cousin's 2-year-old daughter who cries whenever her mom isn't near her for 10 seconds. Asking guests to leave their kids at home isn't an unreasonable request, especially if you give them plenty of notice. Who wants seven attention-hungry kids taking over the dance floor at your reception or hogging the late-night snacks? TBH, your guests who have children will probably be relieved that they can't bring them along. It's a nice excuse for them to enjoy some kid-free time for a few hours. It's important you don't put this explicitly on your invitation, though. Put only the parents' names on the envelope and make a note on your website that it's an adults-only affair. You can even offer childcare if you know that a guest has no other option than to bring them. Bottom line: if you don't want kids, don't invite them.
5. Anyone Just Because They Invited You to Their Wedding
This is not a reason to invite someone. It might feel awkward not to include them, but think about the situation in reverse: if you knew you were being invited to a wedding solely because you invited them to yours, wouldn't you feel a little less welcome? Guests at your wedding should be people you want to celebrate your love with, not people who are there because you feel like they should be. If you strongly believe it will be more awkward later on to not invite them, that's your prerogative, but you're not breaking any wedding etiquette rules by leaving them off the list.
Overall, push your feelings of guilt aside and be selfish with your guest list. There's no reason you should feel like you have to invite anyone (unless mom insists and she's writing the checks), so take that red pen and start crossing off names. Your wedding only lasts a day, so why spend it with people you don't want there?
Images: Annie Gray / Unsplash; betchesbrides / Instagram (3)
What To Include In Your Wedding Invitation Bundles
Look, I am all for adjusting my life to protect the environment, which is why I guzzle my iced coffee through a soggy paper straw and yell at my roommate for leaving every single light in our apartment on, but some things are just too damn precious to go green for. One such thing is wedding invitations. As much as you can personalize an evite, and you def can, there's something about tangible wedding invitations—or wedding invitation bundles, as the professionals call them—that make the whole thing feel that much more special. Being able to design a beautiful bundle that your friends and family can stick on their refrigerators and admire until your special day is a nice feeling that you just don't get from digital invites. If you absolutely need to make yourself feel better about having printed invitation bundles, send a digital save the date. Done.
Now, if you're feeling slightly overwhelmed about wedding invitation bundles, worry not! Jessica Terrell, Creative Designer and Marketer at Shine Wedding Invitations, is here to help. So…
What Are Wedding Invitation Bundles?

Glad you asked! So if you're inviting people to, like, a birthday party, chances are there's one piece of paper inside an envelope and people will just text/email/DM that they're coming or, alternatively, are too busy to celebrate you. Wedding invitations are obv different. Terrell says, "Each wedding is different, and therefore requires various amounts of stationery pieces to be included. When all the pieces are stacked together and wrapped in beautiful silk ribbon or a personalized belly band, it's commonly referred to as an invitation suite." She's right in that all weddings are different, so what you include in your bundle may be different than what your bestie included in hers. Don't worry! That is normal and 100% okay! More on this in a bit.
What Should You Include In A Wedding Invitation Bundle?
Like I said just a hot second ago, every wedding is different, so only include what you need in your bundle. For instance, if you are having a small wedding of 75 à la Carrie Bradshaw, don't have a two-inch thick wedding bundle full of random cards and notes that people don't need because that's annoying and also, #savethetrees. Terrell explains, "In addition to the invitation itself, you have the option to also include a large or small enclosure, for the extra details needed to further explain the importance of your wedding day." Large enclosures are usually for out-of-town guests because it includes sh*t like hotel discount codes, Uber codes…etc. Small enclosures aren't super necessary, but they usually explain a little bit more about the reception if it's at a different location than the ceremony. One thing all invitation bundles have, though, are response cards. Hope this is self-explanatory, but if you're not the brightest star in the sky, a response card is the enclosure that guests use to let you know whether or not they're coming.
How Can You Customize Your Bundle?
Ok, "customize your bundle" is my new favorite phrase. "There are absolutely different ways to customize your wedding invitation suite!" Terell says. "From the uniqueness of your wording, to the colors you choose, and the enclosures you bundle together, no one invitation suite will be the same. Some other ways to make it yours, is to add a patterned envelope liner and matching belly band with your names." Again, self-explanatory! Yay, things that are easy to understand! After spending a few hours minutes on Shine's Instagram, I have discovered that my favorite look is the Cecilia Letterpress invitation wrapped in pale gray vellum and closed with a silver florette wax stamp. So if anyone wants to marry me and make my dream wedding invitation bundle a reality, hmu in the comments. My point is that there are so many options and therefore limitless ways that you can make your invitation bundle really special.
What Else Can You Do To Design A Standout Invitation Bundle?
Well, there are lots of things. For starters, you can make things easier on your guests by not asking them to address their own response cards. You can also make the tough choice between single and double envelopes. Terrell says, "Although single is a beautiful choice, we highly recommend our double envelope style for all wedding invitation suites, as they will better protect your stationery throughout the mailing process." Think about all the times your Amazon bag arrived in the mail with holes in it. Do you want your wedding invitation bundles to suffer the same fate? Terrell explains, "Double envelopes are the most traditional of the two styles. The outer envelope would have the name of the household printed on the front, while the inner envelope would have the names of the guests actually invited to the wedding. Once the mail was delivered, the outer envelope would be removed, and then the spotless inner envelope would be presented to the family member it addressed. The double envelope style is the best way to present your wedding invitations, so your guests can fully experience them from start to finish."
Images: Shine Wedding Invitations
9 Ways To Cut Wedding Costs
We've said it before, and we'll say it again: Weddings are expensive. They're also one of the most important days of your life, and you don't want to skimp on the details! So how do you strike that balance between not cashing out your
401(k)
and still having the wedding of your dreams? While every element of your wedding is no doubt important, there are a few areas where you can be a little thrifty in order to cut costs—that won't make you come off cheap or tacky or sacrifice your ~aesthetic~. We reached out to some of our industry faves, the venue experts at 
Here Comes the Guide
 and Portland-based wedding planner 
Luxe Event Productions
, for their best tips on how to have your dream wedding without breaking the bank. Read on and get ready to save some serious cash (you're welcome).
1. Rent Your Tux

With renting, your groom and groomsmen can get the expensive look you they want with a much more manageable price tag. The key is to look for quality. For example, most quality suits that are 100% wool can run $400+. That's for the jacket and pants only, BTW. But online suit rental companies like Generation Tux rent everything à la carte, so you have full control over your budget. Plus, their 100% wool suits start at just $109. Think of all the extra drinks you can buy on your honeymoon with that extra money.
2. Buy Secondhand

In the past, retail stores were the only option for buying a wedding dress, but these days you have options. Buying new isn't the only way to go anymore, and secondhand online stores like Stillwhite.com are popping up all over the place. Now, you can go online and find the exact same dress you'd buy from your local retail store, this time from another bride around the world, and end up paying much less. Another bonus? You can re-sell that dress after your wedding and make a lot of your money back! Because, come on, you are never going to be able to wear that dress ever again.
3. DIY Your Flowers

It sounds hard, we know! DIY florals can be hard to navigate, but kits from online sources like Bloominous provide design, instructions, materials, and recipes to easily put together wedding flowers to make it yours. It's also a fun way to enlist your family and friends to help in the days leading up to your wedding.
4. Think "Off Season" For Your Venue

Who says "Saturday in June" wedding couples have more fun? The wedding off-season typically spans from November to March—and couples on a budget will get the most bang for their buck by booking their venues during this timeframe. Consider having your celebration on a Thursday in November (not Thanksgiving, please) and see how much your venue will shave off the regular rental fee. Or how about a winter morning mimosa brunch wedding? Just be sure to have an inclement weather contingency plan in place!
5. Make Your Guest List The A-List

It goes without saying that a shorter guest list is easier on not only your budget but your sanity, too. Even if it's unrealistic to whittle your list down to 20 of your closest friends and family, chopping it from 300 to 150 will still help take things from overwhelming to manageable. More often than not, an intimate affair really does require less money and less work—and it comes with an invaluable bonus: more quality face time with that cozier group of guests you invited.
6. Hire A Wedding Planner

You might be thinking of foregoing a coordinator in order to save some cash, but trust us…if you're looking to have your champagne-dreams-on-a-beer-budget wedding, then a hiring a planner is your best bet. Time is money, and an experienced coordinator will handle all the little details so you don't have to stress. Plus, they can also pass along savings to you by hooking you up with their extensive vendor network. This is one area where spending the money is totally worth it.
7. Choose One Standout Feature

For all aspects of your big day, identify one standout feature instead of making each and every detail high-end. For instance, on invites, choose one remarkable element, like a silk ribbon or a foil pressed folio/pocket, and pair that piece with simpler enclosures. Control your budget by shopping online with sites like LoveonPaper.com and choosing these standout elements on your own. The bottom line is, you can't go over-the-top in every single area of your wedding and still expect it to be budget-friendly.
8. Track Every Purchase

It's easy to break the bank by not tracking the little things, like your earrings, groom's socks, new perfume, or those shoes you just *had* to buy. It's these items people often forget to track and they wonder why they are running out of money. It might be hard to face the truth of how much money you're spending, but you'll be so thankful in the long run when you don't have to wonder where all your money went.
9. Keep Your Wedding Party Tight

Large wedding parties can definitely increase the budget. When you think about it, each bridesmaid bouquet can run $85-$150 each, and groomsmen boutonnieres are about $15-$20. Multiply those by 6, 8, or more and your floral costs are skyrocketing without you even noticing. So keep your wedding party small to cut unexpected costs like these (and probably cut unexpected drama).
Images: Carrie King; Stillwhite; Sanaz Photography; Meg Sorel; Shutterstock (5); Kendra Allen / Unsplash
This Is How You Word A Wedding Invitation
You've got the ring. You've got the guy. Now you have to spend the next year (or whatever) of your life planning the perfect wedding day. From the dress to the food to the band, each detail counts, and you'll want to ensure they're all perfectly aligned with your vision.
One of the biggest parts (if not THE biggest part) of this vision is making sure your guest show up and know wtf is going on. How does that happen? Your invitations need to be spot-f*cking-on, that's how. It doesn't matter if you're getting married at a courthouse or having a black tie affair at the Met (can you even do that?); your wedding won't count for sh*t if nobody knows how to get there, what to wear, or wtf is happening at any given time.
We reached out to the experts at Shine Wedding Invitations to give their best advice on wedding invitation wording and general etiquette, so there's no excuse for you to have anything but an amazing invitation ramping up your big day.
Choose A Style That Fits You (And Your Wedding)

Omg, your wedding—the biggest day of your life. Literally, everything's been leading up to this. And, even though everyone knows it's all about you, the wedding should reflect both your and your fiancé's style. So, how do you select a luxe and classy wedding invite that can encompass your styles AND provide the super important info that your guests, like, need?
Time to ask yourself the tough stuff: are you adventurous? Just hungry? Mean-spirited? Bold? Modern?
"Understanding who you are and what style you would like to encapsulate is essential in choosing the perfect invitation design for your big day," says Jessica Terrell at Shine. There are tons of fonts, scripts, serifs (those are fonts with the little line thingies underneath the letters) and sans serifs (fonts without those lines). Terrell advises, "When looking at invitation designs, focus on the structure—the body copy is the foundation of your stationery. For those of you who are clean and simple with a modern twist, a thin sans serif will work the best. If you're more traditional, we highly recommend a serif for its timeless look and feel."
From there, choose the color, background, and feel of your invites based on your wedding itself. If you're going for a more Art Deco look and feel, opt for geometric designs. Having your reception at an art gallery? Go for sleek and modern. Wanna get married in a barn? Just skip the whole thing and send invitations in Mason jars, you animal. (Just kidding, not really.) You get the idea.
Get The Wording Right
Once you've got your font and overall designed picked out, it's time to put all those Hooked On Phonics lessons to good use and communicate the actual purpose of said invitation. Most wedding invitation design sites will have the correct "guide" in place to go along with traditional wedding etiquette, so you won't be shooting in the dark as far as setting up the wording. And thank God, honestly, cause watching some of you try to spell is truly painful.
The Host Line

No, a host line isn't a creepy phone sex app (brb, I have an idea for a new invention that's going to make me a millionaire). It's actually the first line listed on the wedding invitation. Traditionally, it's meant to announce the parents or family of the bride, since they're usually the ones paying for the whole thing (thanks Mommy and Daddy—love you). However, the host line can vary based on the couple's situation, i.e., if the bride's parents are all, "hey, we're not paying for jack sh*t" or the groom's parents are all "here's $100k and a house, enjoy". Other host lines may include the groom's parents, both sets of parents on the bride and groom's side, neither sets of parents, or other loved ones hosting the event. Here are a few common examples etiquette-approps provided by Shine:
Bride's Parents Hosting:
Mr. and Mrs. William Arthur Jones
request the honor of your presence
at the marriage of their daughter
Bride and Groom Hosting:
The honor of your presence is requested
at the marriage celebration of
Both Sets of Parents Hosting:
Mr. and Mrs. William Arthur Jones
along with Mr. and Mrs. John Quincy Adams
request the honor of your presence
at the marriage of their children
Bride's Divorced Parents Hosting:
Ms. Jennifer (Maiden Name) (Married Name)
Mr. William Arthur Jones
request the honor of your presence
at the marriage of their daughter
Obviously, there are tons of different situations since all family dynamics are super special and unique (yay). From divorced parents with remarriages to special parental titles, such as military, medical, or religious, digging around online or dealing with an easy-to-navigate wedding invitation design site will make your life easier. You can find more details and specific wording examples here, at Shine Wording Guide.
The Request Line
Again, this sounds more complicated than it actually is. The request line directly follows the host line with wording that invites your guest to your big, super special party. A few examples include:
Request Line—Option 1:
Mr. and Mrs. William Arthur Jones
request the pleasure of your company
at the marriage of their daughter
Request Line—Option 2:
Mr. and Mrs. William Arthur Jones
cordially invite you to attend
the wedding of their daughter
The Bride

Time to move on to you and your almost-hubs. Traditionally, the bride's name is always presented first, because we're better and cooler. Really, though, it's because the father is giving his daughter away to a v nice boy, i.e., she doesn't have to ask dad for money anymore (extrapolating from my own experience here). It's proper wedding etiquette to include the first, middle, and last name of the bride unless her parents (of the same last name) are also listed on the invitation. In that case, the bride doesn't need to include her last name, because space issues.
Bride's Parents Not Listed:
Together with their families/parents
Poppy Jane Jones
and
Landon Parker Adams
request the honor of your presence
at their marriage celebration
Bride's Parents Listed:
Mr. and Mrs. William Arthur Jones
request the honor of your presence
at the marriage of their daughter
Poppy Jane
to
Landon Parker Adams
However, in the case that the groom's parents are hosting the wedding (which can happen if the bride's parents are deceased, live in a foreign country, or are just being lame and not part of the wedding), their relation to the groom can be mentioned on the joining line, between the bride and groom's name:
Groom's Parents Hosting:
Mr. and Mrs. John Quincy Adams
request the honor of your presence
at the marriage of
Poppy Jane Jones
to their son
Landon Parker
The Groom
Because he totally f*cking gets it already, the groom is usually listed under the bride's name. And, just like the bride's name, the groom doesn't need to include his last name if his parents (of the same last name) are also mentioned on the invite.
Date And Time
The day and time are probably the most important parts of your entire invitation. Like, how else will people know when to show up with gifts? The phrasing of the day and time is based on the desired style of the wedding invitation. According to traditional wedding etiquette, spelling out the month, day, year and time is required, so don't try to get fancy with weirdo number situations, you guys.
Option 1:
Saturday, the second of August
two thousand twenty-one
at three o'clock in the afternoon
Option 2:
Saturday, August second
two thousand twenty-one
half after/past three in the afternoon
Ceremony Location
Obv, you'll need to solidify where tf guests are going for like, the actual wedding. The invite should include the venue name and location for where the wedding ceremony will take place. Don't assume people know where literally anything is cause, newsflash, they won't.
Reception
Time for the party line. The info about your reception should be last on your invite and shouldn't be more than a single line with a few words telling your guests that yes, there will be booze if they sit through your f*cking wedding ceremony. By the way, if the reception is located at the same venue and immediately follows the ceremony, you'd go with Option 1. However, if your reception takes place at a different time and either at the same venue or at another location, you'd go with Option 2.
Option 1:
Reception immediately following
Option 2:
Reception to follow
If you need to give more details about your reception, whether it be the time or the place, a separate small enclosure or stationery piece should be included in your wedding invitation suite. That card can provide all the extra info that your guests would otherwise be tempted to text you about during your actual wedding. Although not traditionally proper, if you want to opt out of the small enclosure, you can list the time and address directly beneath the reception line on the invitation. As each invitation will consist of different wording, the additional reception information will need to remain brief. Does that sparkle with everyone? Good.
Drown Them In Information

OK so not, like literally, but when your guests get their invitations in the mail, you'll want to ensure they have every bit of information they could possibly need. They know which hotels to stay in. They have directions to the venue in hand. They know that the reception will not include children and will include a 6-hour open bar (maybe not that last bit, but whatever).
There are a lot of details that go into planning a wedding. Whether it be a tricky location for the venue or accommodation block, your guests need to be informed of f*cking everything so they can plan their lives accordingly. Enclosures are a great way to allow your invitation to remain simple and clean. Depending on the type of information and how much of it you have, different sized enclosures are available nine times out of ten (and if you're using a good wedding invite design site).
The Large Enclosure
Jessica says, "there are two enclosures we typically recommend for brides to include in their wedding invitation suites. For the larger of the two, there are a few different ways it can be utilized. Typically, this enclosure is used for accommodations. However, it can be used for travel details, directions, transportation information, special activities, rehearsal dinner invitations, and much more." For example, Shine's large enclosure can hold about 18-20 lines of text:
Accommodations:
A block of rooms has been reserved for your convenience at
Big Tree Inn
46 Main Street—Geneseo, New York—(585) 243-5220
Please mention the Grimes-Fox wedding when making reservations
Shuttle transportation to the reception will be available
For additional information, visit our website at
www.poppyandparker.com
The Small Enclosure
Shine has a small option, too, so don't worry if you're not into the idea of sending a small FedEx package to your guests. "In addition to the reception details, if it's hosted at a different location than the ceremony, this enclosure size is perfect for your wedding website, registry information, a new address, or a small morning-after brunch announcement." The small enclosure would hold about 8-10 lines of text. For example:
Reception:
Please join us for
a reception amongst the trees at
The Wadsworth Homestead
4 South Street
Geneseo, New York
Half after/past seven in the evening
Response Cards With Meal Options Vs. Without Meal Options
Hey, get ready for everyone to bitch about your food regardless of how many options you give them! But if you're planning on a seated meal, the response card helps you and your wedding planner confirm the attendees and figure out exactly how many steaks you'll need. If you're having a buffet dinner, you obviously don't need a meal inquiry card, since your guests, like animals, can let loose on piles of food. Meal inquiry cards are also a great way to figure out exactly how many gluten haters and vegans you need to un-invite.
Response:
Kindly reply on or before
the twenty-fourth of November
M______________________________
_____ Accepts
_____ Regrets
Please initial your choice of entree
_____ Chicken
_____ Beef
_____ Vegetarian
List any dietary restrictions below:
________________________________
And just like that, your guests will know exactly who, what, when, and where, without (hopefully) having to ask you too many questions. You won't get every RSVP card back (so know that going in), but you will have a super spectacular day with limited confusion if you follow these steps to a communicatory powerhouse of an invite.
Images: Shine Wedding Invitations 
4 Questions You've Had About Wedding Invitations, Answered
If, like most people, you're not an incredibly talented artist, then being tasked with designing wedding invitations is kind of like taking the mic at a karaoke bar: the skills are not there, but you accept the challenge with grace. Doing something at which you don't consider yourself a savant can be daunting, but luckily, there are people out there who are actually quite skilled at the very thing you don't know how to do, and you can hire these people to help you! Great Scott! The wedding industry wouldn't have raked $72 billion in revenue last year if these experts weren't available to us, and invitations are no exception. So don't be afraid to turn to people who know a lot more than you for help.
Look, unlike table runners or water glasses, wedding invitations are a big deal when it comes to details that actually matter. It's an introduction to you and your lobster as an official, legally bound couple. It's both an expression of your love and a preview of the wedding, whatever that that vibe or theme may be. No pressure! For real, designing a wedding invite is f*cking hard because it needs to make the right statement: fun, charming and aesthetically pleasing. (And if you're going to light me up re: these descriptors in the comments, don't, because every invitation to any party should be those three things.) If you're feeling a bit lost on where to start on your wedding invitations (and where to go after starting), read on for helpful tips and tricks from Jessica Terrell, Creative Designer and Marketer at Shine Wedding Invitations.
How Do You Choose The Look?
The convenient thing about companies like Shine is that you don't have to sit at your desk staring at a blank piece of paper, trying to remember everything you learned in 8th grade art class, in order to decide how you want your wedding invitations to look. Shine offers five main styles, including Classic, Ribbon, Letterpress, Floral and Vellum, and after you pick one that represents the vibe of your wedding, you can get started on hard-core personalization. Again, if you're not a self-proclaimed artist, getting excited about the idea of designing your wedding invite seems as unlikely as giving designing the dress a go. But Shine makes it so f*cking easy! All you have to do is be decisive and your creative consultant will do literally everything else for you. Terrell says, "When looking at invitation designs, we recommend focusing on the structure—the body copy is the foundation of your stationery." So focus on not necessarily what it says, but how it looks. We'll get to the actual text in a sec. The bottom line is you want the physical appearance of the invitation to be representative of what guests can expect at the actual wedding. So if you're going for an ethereal beach-y feel, maybe don't choose a graphic black-and-white invite with block text. Instead, opt for organic, handwritten calligraphy on Shine's Ophelia or Natalie wedding invites, for example.
What Do You Write On It?

Ok, this part can seem like a true catch-22 because you want to include as much info as possible so that your great aunt doesn't have to call you 72 times to ask what time the ceremony starts, but you also don't want to squeeze so much text on there that it looks like the window from A Beautiful Mind. So what do you do? Terrell says, "There are seven important lines on an invitation: the hosting line, the request line, the bride's name, the groom's name, the date and time, the ceremony location, and the reception information." That's it. That's all you need! Maybe throw in a line for attire so that your step-brother who's rebelling against his parents by dropping out of grad school doesn't show up in, like, sweat pants, but most people know what to wear to a wedding if you name the venue. And for those of you who don't know what a request line is (same), it's the one that actually invites your guests to your special day. So like, "Carrie Bradshaw and Big request the pleasure of your company…" or "Donald Trump and Vladamir Putin cordially invite you to attend…" You get the idea.
To Go Paper Or To Go Digital?
Terrell says, "Paper is always the best way to go, even if you are eco-friendly. Your printed invitation is for sure to be remembered and valued in years to come. If you print your wedding invitations, you'll be able to look back and reminisce on the experience and bask in the timelessness of it all." Unlike the White House's current stance, I am pro-Earth, but I totally agree with Terrell on this one. Whether or not you're making a wedding scrapbook, just remember that the invitation to one of the most special days of your life is something that shouldn't accidentally get deleted from someone's inbox or buried beneath a million spam emails. Just like your college diploma, your wedding invitation should be something you look at years later and smile at how hard you blacked out all the memories. The invitation is one of the few tangible things you'll actually get to take away from the wedding—in addition to a diamond and a spouse, of course—so make sure you print those bad boys! If you want to look out for the environment, just send digital save the date cards and maybe just become vegetarian while you're at it.
How Far In Advance Should You Order?

Unlike your high school graduation party where you sent one invite two weeks in advance and hoped your guests would show up it, your wedding has a totally different invitation system with a full-on schedule in place. Assuming you are planning one year out (and it is A-okay if you aren't), order your save the dates 10 to 12 months in advance, mail them (or email them!) eight to 10 months out, order invitations and thank you cards four to six months out and mail the invites (duh) two to three months out. Ok, fair enough. So when do you embark on this process? "Choose between modern, classic, and simplistic designs to find what fits your and your fiancé's personal taste. Once you receive your sample and are sold on a design, place your invitation order four to six months before your wedding date, which will give you plenty of time to work one-on-one with your designer to come up with the perfect look before it's sent to print," Terrell says. And with Shine, you'll receive your personalized proofs within two business days via email for your review and any rounds of revisions. Ideal. Lastly, if you're unorganized (hi, neighbor) you'll receive a PDF checklist to look over before sending those babies out! Can you tell I'm excited?
At the end of the day, your wedding day should be one of the most exciting days of your life, so don't take the invitation-designing process so seriously that you're raising your cortisol levels to dangerous heights. Have fun with it, people, and make sure to make it clear whether or not there will be an open bar. As a wedding guest (never a bride), that's all I ask.
Images: Shine Wedding Invitations (2); shinewedding / Instagram
7 Tacky Things Not To Put On Your Wedding Invitation
Ah, the wedding invitation—so much more formal than the save the date, the true harbinger of the nuptial party to come. If you do it right, your invite will not only inspire jealousy in other betches, but it'll also be a perfect paper package of what the wedding itself will look like. Is it classy? Trashy? Super glam and formal? Reminiscent of a child's birthday party? All of this can be gleaned from your invitation.
Because we is kind, we're going to give you some tips on getting the invitation right. Who knows—it may even inspire anticipation instead of dread among those of us who have to sit through your stupid wedding.
1. Registry Info
I realize, like, everyone and their mom does this shit now, but it's hella tacky. You CAN include your Knot website if you have one ON THE SAVE THE DATE, but do not put that long-ass URL on the invitation. This is supposed to be an old fashioned and classy bringer of wedding news, not a fucking blog entry promoting your wedding. If someone wants to know where you're registered, they can ask you or your mom. Or refer to the fucking save the date, which should be tastefully displayed on their refrigerator for the rest of time.
2. Cash Requests
Yeah, no. I looked for a way around this so as to avoid things like the gold encrusted bible, massive fire pit, and monogrammed towels I just KNEW someone would decide I needed. Alas, people are going to give you gifts from your registry, and some MAY give you fat checks. But some will take it upon themselves to gift you with something they like. Deal with it. Do not put "give us money lol" on your invitation.

3. Address Labels
Yikes. I'm hoping you got a cute stamp with your and your intended's names on it with your address. If not, don't even think of using those tacky-ass sticker address labels. You're better than that. The envelope itself likely cost $3. Get it together.
4. Handwritten Invitations/Envelopes
I know it may seem like a waste of money now, but when you're knee-deep in save the dates and invites and picking flowers and photographers and all that shit, the last thing you need to do is perfectly address 250 envelopes or hand-write ANY part of your invite. I promise by the 10th one it'll look like shit. So, if you're not supposed to use address labels AND you're not supposed to write them out yourself, how the hell are you supposed to do them? Easy: hire a fucking calligrapher and be done with it.

5. "And Guest"
I realize that your bff has broken up with and gotten back together with her ex six times or your cousin is dating someone new whose name you can't remember, but please don't write "and guest." It's informal and super tacky. You already texted them to get their addresses, so clarifying the spelling of their boyfriend Jackson Jakksen Jaccsynn's name won't hurt.
6. Notes About Kids
If I had had my way, there would have been a total of zero children at my wedding. The child SCREECHING in the middle of my wedding mass was really the cherry on top of my day. But, whether you want to invite kids or not, do not make any mention of it on your invites. Make sure family and friends know privately that it's an adults only event ahead of time. Putting it on the invite will just piss people off.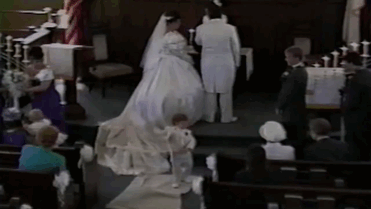 7. Obnoxious Designs
I realize you may be having a bohemian rustic woodland wedding, but having your invites printed on a six-layer lace and wood invite that sings fairy songs when it opens is not necessary. Keep that shit clean and classy—you can still express yourself—but keep the kitschy shit to a minimum. Keep in mind you need to include shit like the RSVP card, directions, and another envelope ALL within the ONE envelope. So, going nutso on designs just makes that shit more cumbersome.
Donald Trump Might Ruin The Royal Wedding For Everyone
By now, it should be old news to you that Prince Harry is engaged to Meghan Markle. We've been over it, and it's time to move on to more pressing logistical issues, like who is getting invited to the wedding of the year. Doing the guest list for a wedding would be stressful even if you literally only knew ten people, so you can imagine that Harry and Meghan have some tough choices. Word is that there's been some drama with the invites, and shockingly, Donald Trump is the one causing problems.
Let's explain. Basically, Prince Harry loves the Obamas. Join the fucking club, right? But while we just cry into our pints of Halo Top about how much we love them, Harry actually hangs out with them all the time. They've attended each other's charity events, and the Obamas also posted a cute message congratulating the couple on their engagement. They're like, real friends, and this is a problem.

The issue is that Harry obvi wants to invite Barack and Michelle to the wedding, but Donald and Melania are 100% not going to make the cut. Government officials in the UK are reportedly concerned that a snub for The Donald could lead to a negative reaction, and they don't want to like, fuck up world peace because of a wedding invitation.
The dumbest part of this whole thing is that there's actually not a precedent for U.S. presidents getting invited to royal weddings. When Will and Kate got married in 2011, the Obamas weren't invited, meaning they had to wake up and watch that shit on TV at 3AM just like the rest of us. So Trump would have no legitimate reason to be angry, but oh yeah right he's insane hahaha!!

Tbh before this whole Obama business happened, Trump had already screwed himself out of an invite for basically ignoring England in his first year as President. He was supposed to have a full state visit this fall, but that got pushed to 2018 before getting downgraded to a "working trip," where he won't even meet the Queen. Okay, a "working trip" sounds like the equivalent of spending a six-hour layover in Madrid and later telling people you "spent time in Spain." Like, you were physically there, but you didn't accomplish anything besides getting a photo for your Instagram.
So it sounds like there's no way Trump is copping an invite to the hottest event of the season, but the question is whether the Obamas will make the cut. We're conflicted, because we want the Obamas to literally rule the world and go to whatever the fuck wedding they want, but we also don't want Trump to be all petty and like nuke London. It's a fun world we live in!
Heads up, you need to keep up with the news. It's not cute anymore. That's why we've created a 5x weekly newsletter called The 'Sup that will explain all the news of the week in a hilarious af way. Because if we weren't laughing, we'd be crying. Sign up for The 'Sup now!