The 5 Types Of Wedding Guests That Won't Give A Gift & How To Deal With Them
The topic of wedding gifts, specifically whether or not a wedding guest must give one, is touchy. While it's by no means mandatory to gift the happy couple, most consider it the right thing to do. It's a gesture of goodwill and a lovely way to express your support of the newlyweds. That said, it's highly likely that not every guest at a wedding will oblige. In fact, it's been estimated that between 7 and 10% of guests at a wedding fail to give a gift. If, like me, you're: a) petty AF and/or b) someone whose love language is receiving gifts, you may be wondering WTF is wrong with these people how to handle this situation. Fortunately for you, I've been through this and have some advice on the matter. To be clear, you should not accost every person on your invite list who failed to get you something off the registry, or make a passive-aggressive Facebook status derailing "how selfish people can be these days". What you should do is take into account the particular circumstances, your relationship to the person, and act (or don't act) accordingly.
1. The No-Show
Let me be clear. By "no-show," I don't mean someone that RSVPed "yes" and then failed to show up to the wedding at the eleventh hour. Barring a true emergency, that person should be ashamed and should absolutely send a gift to make up for the added stress and expense their last-minute ghosting caused. Instead, I'm talking about the person that RSVPed "no" from the get-go. While it's certainly the classy move for such a guest to send a gift, it's definitely not required.

How To Handle: This one is understandable, especially if the guest in question isn't a close friend or family member. You may feel disappointed if the guest is someone near and dear to your heart, but there's not much you can do or say without looking tacky. Make peace with the fact that this is perfectly acceptable and move on.
2. The Flaky Friend
We all have that one friend who is all over the place. They flit from event to event, and can barely remember to brush their hair, let alone put together a wedding gift. It's inevitable that this friend is going to neglect to send a gift, even after a reasonable amount of time has passed.

How To Handle: What is a "reasonable amount of time," you ask? Tradition has it that guests have up to one year to send a gift. But seeing as how we live in the age of next-day delivery and most of us can barely remember what we ate for lunch yesterday, this seems a bit antiquated. A couple of months appears to be the new norm. If at least that much time has passed, you consider this person a good friend, and are fairly sure it was an oversight, it might be worth having an honest conversation. But it's important to make it about your feelings and emphasize that the nature of the gift is of no importance. For example: "I consider you a good friend and it hurt me that you didn't even acknowledge the wedding with a card." A true friend will immediately own the gaffe and make things right.
3. The Reciprocator
This should go without saying, but if you attended someone's wedding and did not get them a gift, then you have no right to complain if they return the favor and arrive at your wedding empty-handed. While technically, two wrongs don't make a right, your petty self should respect the game and do better next time.

How To Handle: Zip it, acknowledge your hypocrisy, and fix your life start practicing the Golden Rule.
4. The One Who's Gone The Extra Mile (Literally or Figuratively)
It's no secret that weddings aren't cheap, especially when you consider all the other related events such as an engagement party, bachelor/bachelorette, or a bridal shower. For those guests who aren't flush with cash, these costs can build up quickly, and adding a wedding gift on top of everything else might understandably be more than some guests can handle financially. It's also important to consider the guests who have expended considerable time and money traveling to the wedding and other events, especially when these events are more than a brief car or train ride away. This is especially true for the members of your bridal party.   

How To Handle: The best approach here is to be grateful for everything this guest has contributed up until the wedding. Whether it's the bridesmaid who has spent hundreds, if not thousands, of dollars on celebrating you multiple times leading up to the wedding (and buying a bridesmaid dress she can never totally wear again), or the friend who flew in from a different continent to be there for your big day, try to channel your inner Elsa and let it go. If you really can't help yourself, you can try sending a subtle hint in the thank you note by thanking this guest for their presence and see if they pick up on the signal. If they don't, move on.
5. The Borderline Invite
This is by far the most frustrating one of the bunch. There's always going to be at least one guest you're hesitant about, who you ultimately decide to invite, whether it's a colleague you're lukewarm on, a distant high school friend you lost touch with, or some other rando. In my experience, these are often the people that treat the open bar like it's their last night on Earth and/or end up half-dressed on the dance floor busting moves that even a dad would find uncool. This would be fine, except for the fact that these same people are the ones that conveniently forget to bring or send a gift, leaving you wondering why you invited them at all.

How To Handle: If you can't avoid inviting this person and they do end up disappointing you, cut your losses and try to distance yourself where possible. When you do see them, be polite, but there's no need to dredge up the subject with someone you didn't care much about to begin with.
If you're the type of person who doesn't care at all about wedding gifts, you're a unicorn and I commend you for your magnanimous spirit. For those not so blessed, it's perfectly normal to feel slighted and a little offended, but it's important to consider the specific circumstances and remember that it's the gesture that matters (not how much money your guest dropped on the gift). And for those who want to drag me in the comments for having a strong opinion about this, to you I say:

Images: @oceanswide / Unsplash; Tenor (1); Giphy (5)
5 People You Don't Need To Invite To Your Wedding
#Nonewfriends is the mantra you should live by when you're creating your guest list for your wedding. Too often, couples let their guilt get the best of them and end up inviting people they don't really want there. Let's face it, there are going to be people on your proposed list that make you and your fiancé ask each other, "Do we really need to invite them?" Think of it this way: would you want a framed picture of you with them in your wedding dress hanging in your house in 10 years? If the answer is no, they shouldn't make the cut. Here are five people you can definitely "forget to invite". 
1. The Sorority Sister Whose Wedding You Attended Five Years Ago
View this post on Instagram
You were thick as thieves in college, pregamed semi-formal together, and you even visited her hometown during summer break one year. She got married right after graduation and you attended her wedding. Here's the catch: you haven't seen each other since then and the only reason she knows you're engaged is because she follows you on Instagram. You may feel like a huge bitch by leaving her off the guest list, but if you haven't spoken to her in the last year (happy birthday texts don't count), axe her. Weddings are priced on a per-head basis, so not inviting her will save you a few hundred dollars. Since you don't see each other on the reg, you won't have to face her and explain that her invite must have gotten lost in the mail. Let go of the guilt and move on. 
2. Your Co-Worker
Just because you talk about your wedding with the people you work with doesn't mean you're obligated to invite them. Sure, they threw you a surprise party for your engagement and listened to you bitch about your fiancé's lack of involvement in planning, but unless you regularly hang out with them outside of work, remove them from the list. They'll probably be relieved not to receive an invite, especially if you're getting married in a different state than the one you work in. If you're struggling to figure out what to do about a specific co-worker, think of it this way: if you left the company tomorrow, would you still keep in touch with this person? If not, then they shouldn't be at your wedding! It's not in your job description to include everyone on the guest list, so invite who you want to invite. 
3. Your Mom's Cousin Twice-Removed Who You've Never Met
It's possible you or your fiancé will see names of people on the proposed guest list that you had no clue you were even related to. In some cultures, it's tradition to invite every single relative to the wedding, regardless if you've met them or not. If that's not the case and your mom is pushing to add Great Aunt Sylvia to the guest list, approach mom calmly and explain that you and your fiancé want to keep the wedding to close friends and family. If that doesn't work, bring up the money factor. Again, weddings are priced on a per-head basis, so if you show your mom how much she'll save, she'll probably want Great Aunt Sylvia to stay home. Plus, her hip is bad anyway, so you're kinda doing her a favor.
4. Kids
No, you don't have to invite your cousin's 2-year-old daughter who cries whenever her mom isn't near her for 10 seconds. Asking guests to leave their kids at home isn't an unreasonable request, especially if you give them plenty of notice. Who wants seven attention-hungry kids taking over the dance floor at your reception or hogging the late-night snacks? TBH, your guests who have children will probably be relieved that they can't bring them along. It's a nice excuse for them to enjoy some kid-free time for a few hours. It's important you don't put this explicitly on your invitation, though. Put only the parents' names on the envelope and make a note on your website that it's an adults-only affair. You can even offer childcare if you know that a guest has no other option than to bring them. Bottom line: if you don't want kids, don't invite them.
5. Anyone Just Because They Invited You to Their Wedding
This is not a reason to invite someone. It might feel awkward not to include them, but think about the situation in reverse: if you knew you were being invited to a wedding solely because you invited them to yours, wouldn't you feel a little less welcome? Guests at your wedding should be people you want to celebrate your love with, not people who are there because you feel like they should be. If you strongly believe it will be more awkward later on to not invite them, that's your prerogative, but you're not breaking any wedding etiquette rules by leaving them off the list.
Overall, push your feelings of guilt aside and be selfish with your guest list. There's no reason you should feel like you have to invite anyone (unless mom insists and she's writing the checks), so take that red pen and start crossing off names. Your wedding only lasts a day, so why spend it with people you don't want there?
Images: Annie Gray / Unsplash; betchesbrides / Instagram (3)
How To Answer The 7 Most Obnoxious Questions Wedding Guests Ask
There's something about weddings that just brings out the crazy in people. Given enough decisions, questions, opinions, and Google spreadsheets, even a fairly reasonable person is liable to transform into a total psycho. We hear the most stories about brides gone bananas, but there is another, arguably more sinister culprit that's less talked about: the inconsiderate wedding guest. No more. Below are some of the more annoying questions a bride may receive from her guests, and how to respond without threatening bodily harm calmly.
1. Can You Request An Early Check-In For Us?
What You Want To Say: Sure, Aunt Helen. I'd love nothing more than to call the hotel on your behalf to do what you could easily do yourself, especially since I'm not at all busy wrangling RSVPs, trying to put together a seating chart, and explaining to my florist that I don't know a gardenia from a hydrangea. While we're at it, do you want me to put in your room service order too? Coddled eggs, I assume?
What You Should Say: Sure, Aunt Helen. I'll see what the hotel can do.
2. Do You Know A Good Hairstylist Or Makeup Artist In The Area?

What You Want To Say: Despite the internal cries of pain this question is inducing, I am not, in fact, a living, breathing Yelp1 come to life. It just so happens that the good hairstylist and makeup artist I know happen to be busy that day attending to me because, you know, it's my WEDDING. Google it like you do every other inane question you have, Martha.
What You Should Say: I'm sorry, I don't. Here are a few I found doing a quick Google search that have good reviews.
3. Can You Tell Me What Time The Ceremony Starts/Where You're Registered/The Venue Address/Other Previously Given Information?
What You Want To Say: It's funny you should ask, Uncle Bob. You know that silly little set of cards I sent you a few weeks back asking you to RSVP to my wedding? It contains ALL of the details you are bothering me about now. What's more, I even spent several hours designing a website with an address I also gave you precisely so I could avoid this very scenario!
What You Should Say: Here is . It has all of the info you need!
4. Can I Bring A Plus-One?

What You Want To Say: Uh, did you misread the invitation, Cousin Laura? I thought the omission of "& Guest" was pretty clear, but let me spell it out for you. I've seen you three times in the past 10 years—you're lucky I invited you at all. Plus, I'm already wildly over-budget and would prefer not to spend another $100+ on a plate for the rando you met four months ago at a festival that you "just totally connect with." 
What You Should Say: Unfortunately, the venue is really tight on seating, so we could only give plus-ones to people who .
5. Is It Possible For The Kitchen To Prepare My Meal Without ?
What You Want To Say: It's cute that you're not eating carbs this month, Kevin, but I'm already working overtime with the caterer to accommodate vegetarians, people with gluten allergies, and guests who keep kosher, not to mention a friend who will literally drop dead if her dish contains tree nuts. Your fad diet does not qualify as an allergy!
What You Should Say: I'll check with the caterer and let you know.
6. Could You Make Sure I'm Sitting With _________?

What You Want To Say: I know it's been hard to tell, what with the invitations, wedding website with our photo, countless events and other fanfare surrounding me and my fiancé, but this wedding is not about you. Putting together a harmonious seating chart is about as simple as solving The Collatz Conjecture. I'm dealing with relatives who want to murder each other; you getting to sit next to your fave bro is NOT a priority.
What You Should Say: We'll do our best, but we can't make any promises. Seating charts are tricky!
7. Can You Change The Wedding Date To Accommodate My ?
What You Want To Say: No. Are you f*cking kidding me?
What You Should Say: No. Are you kidding me?
It's inevitable that a guest is going to annoy you throughout the wedding process and probably even on the day itself. The key is to remain calm, know that you can't please everyone, and do it your way, even if it means forever alienating Aunt Beth temporarily displeasing a guest. What other annoying wedding guest questions have you received and how did you respond? Let me know in the comments!
Images: Alasdair Elmes / Unsplash; Giphy (7)
How To Tell Your Guests You Just Want Money For Your Wedding
For some reason, the biggest wedding faux pas of all time is to straight-up ask for a cash gift. This isn't the 1950s, so it isn't everyone's dream to get a Crock Pot or a new set of knives as a wedding gift (but both of those things are awesome IMO, #adulting). Chances are you and your soon-to-be spouse have been shacking up for a while now (forgive me Father for I have sinned), and your place is probably furnished. So like, you don't really need another KitchenAid mixer or a bunch of plates because you bought that stuff years ago. Thankfully it's 2019 and we've finally figured out how couples can get what they really want from their guests: money. Here's how to do it tactfully. 
Cash Registry
Websites like Zola and Honeyfund have ushered the concept of wedding gifts into the 21st century by giving couples an option to register for items unrelated to houseware. You can ask for money towards your honeymoon, home renovations, an activity, or another large purchase. Guests will feel better about gifting money when you tell them how you're planning on spending their money. Without enough context, older guests might be convinced they're funding your next kegger, so be as explicit as possible by asking for things like a couple's massage on your honeymoon, or a new couch for your living room, so they don't shy away from giving you that sweet cash. 
Don't Put It On Your Invitation
Guests probably won't react well if your wedding invitation has your Venmo handle on the bottom of it. You might be tempted to stamp "bring me cash!!!" on the envelope, but try your best to resist. On your wedding website you can provide a link to your cash registry, which will heavily imply what you'd like (which in this case, is cash). We're moving into the 21st century by being able to give money, but let's keep things classy when it comes to invitation language. 
Spread The Word
me to my family: can you just write me a check and leave me the F alone?

— betchesbrides (@betchesbrides) April 16, 2019
We all have that bridesmaid who doesn't STFU. Normally she's the only one you can't tell anything to, but we've actually got the perfect job for her. Let her know that you and your fiancé would prefer a cash gift, and (mouthing) off she'll go. If people ask you what you'd like for your wedding, don't be afraid to be honest. Let them know you have a lot of home goods already and you'd love them to contribute to your honeymoon or a big furniture purchase. Again, telling them explicitly where their check will go will make them feel better about not giving a physical gift. 
Set Out A Card Box At The Wedding
Let's be real, when you see "cards" written on a wooden box at a wedding, what the couple really means is, "Help me, I'm poor". Setting one of these by the guest book or the escort card table will let guests know you're open to receiving checks. Don't go as far as having the ushers walk up to guests during cocktail hour asking for donations (this isn't church), but setting it out as an option for guests is a subtle way to ask for dolla dolla bills.
Give People Options
once you accept you're going to be bleeding money, the entire wedding process will start to get a litttttle bit easier

— betchesbrides (@betchesbrides) July 25, 2019
No matter how badly you don't want a traditional registry, you'll probably have guests that are sticklers when it comes to tradition (for example, my mother), so it's a good idea to create one in case people are committed to giving you a physical gift. There are still dozens of options for non-traditional registry gifts, like sports equipment or bar accessories, so you don't have to get stuck asking for baking trays or a mixing stand if you'd never use those. At the end of the day, people are going to give you whatever gift they feel most comfortable with, so you might as well be prepared with a traditional registry in case. 
Images: betchesbrides / Twitter; betchesbrides / Instagram
How To Decide Once And For All Who Gets A Plus-One To Your Wedding
It's undoubtedly the world's most unanswerable question. Who should get a plus-one to your wedding? I'll be honest, I never got what everyone was bitching about until I started planning my own wedding. On one hand, you don't want complete strangers there, but you also don't want your coworker sitting in a corner by herself moping because she doesn't know anybody. It's a hard code to crack, but I'm going to take one for the team and confront the plus-one dilemma head on. Here's how to decide who gets a plus-one to your wedding.
The first thing you'll want to do is come up with a rule that you apply to all guests across the board. Whether you decide that your guests and their plus-ones need to be dating for at least six months or you have to meet them before they attend your wedding, make a rule with your fiancé and don't budge when random people start questioning you. You can't really print this on your invitation without seeming like a bridezilla, so try to casually spread the word amongst your wedding party and beyond. If you have an aunt or friend with loose lips, make sure they know damn well what the plus-one rule is. For once you'll be thankful for their inability to keep information to themselves. ping
When To Break Your Own Rule
So you've decided on the six-month rule and then realize that means every one of your college friends has a date except one friend who is single AF. Be firm, but don't be heartless about your rule. Your sorority sister Julie shouldn't be stuck fifth-wheeling all night; it's not her fault guys are assholes. I hate to refer to this as a pity plus-one, but, it's a pity plus-one. Remember, just because you offer someone a plus-one doesn't mean they'll bring one. Your wedding might be the perfect place for Julie to find a rebound. But if you're inviting a coworker who doesn't know many (or any) of the other guests, it'll make them feel more comfortable to bring someone they know. 
When To Stick To The Rule
At my wedding, you'll be able to come alone, bring a Plus One, or choose a Minus One, where you can uninvite one person of your choosing, no questions asked

— Sean Holloway (@CoolSeanDotCom) November 12, 2017
If a big group of your friends are coming and more than two of them are single, they don't need a plus-one. That's when the single guys or gals can band together and flirt be there for each other. You don't need to give your fiancé's frat brothers free reign to bring whatever girl they want to your wedding, trust me. There's power in numbers, so when there's a group of single friends, you can pass on extending an extra invitation to each of them.
Who ALWAYS Gets A Plus-One
Everyone in the wedding party. This is non-negotiable, basic etiquette. Even if you know the best man will never in a million years find a girl to date by the time you tie the knot, he still gets a plus-one. Even if your bridesmaid has made a goal for herself to find a date to your wedding, no matter who it is, you have to give her a plus-one. Hopefully your wedding party has more common sense than that and won't bring a total rando for the hell of it, but you never know.
Help Me, I'm Poor

If at some point a guest confronts you about why they didn't get a plus-one or if they're asking for one, just blame it on the budget or capacity limit. Explain that your budget didn't allow wiggle room for extra guests or that the venue manager made you cut your list because you were over capacity. Anything you can say to take the burden off you is a solid approach. 
I wish for our sanity as brides-to-be that there was one simple answer to this daunting question. All I can say is good luck, and godspeed to you as you embark on your personal plus-one journey.
Images: Kendra Allen / Unsplash; Giphy; coolseandotcom / Twitter
9 Ways To Cut Wedding Costs
We've said it before, and we'll say it again: Weddings are expensive. They're also one of the most important days of your life, and you don't want to skimp on the details! So how do you strike that balance between not cashing out your
401(k)
and still having the wedding of your dreams? While every element of your wedding is no doubt important, there are a few areas where you can be a little thrifty in order to cut costs—that won't make you come off cheap or tacky or sacrifice your ~aesthetic~. We reached out to some of our industry faves, the venue experts at 
Here Comes the Guide
 and Portland-based wedding planner 
Luxe Event Productions
, for their best tips on how to have your dream wedding without breaking the bank. Read on and get ready to save some serious cash (you're welcome).
1. Rent Your Tux

With renting, your groom and groomsmen can get the expensive look you they want with a much more manageable price tag. The key is to look for quality. For example, most quality suits that are 100% wool can run $400+. That's for the jacket and pants only, BTW. But online suit rental companies like Generation Tux rent everything à la carte, so you have full control over your budget. Plus, their 100% wool suits start at just $109. Think of all the extra drinks you can buy on your honeymoon with that extra money.
2. Buy Secondhand

In the past, retail stores were the only option for buying a wedding dress, but these days you have options. Buying new isn't the only way to go anymore, and secondhand online stores like Stillwhite.com are popping up all over the place. Now, you can go online and find the exact same dress you'd buy from your local retail store, this time from another bride around the world, and end up paying much less. Another bonus? You can re-sell that dress after your wedding and make a lot of your money back! Because, come on, you are never going to be able to wear that dress ever again.
3. DIY Your Flowers

It sounds hard, we know! DIY florals can be hard to navigate, but kits from online sources like Bloominous provide design, instructions, materials, and recipes to easily put together wedding flowers to make it yours. It's also a fun way to enlist your family and friends to help in the days leading up to your wedding.
4. Think "Off Season" For Your Venue

Who says "Saturday in June" wedding couples have more fun? The wedding off-season typically spans from November to March—and couples on a budget will get the most bang for their buck by booking their venues during this timeframe. Consider having your celebration on a Thursday in November (not Thanksgiving, please) and see how much your venue will shave off the regular rental fee. Or how about a winter morning mimosa brunch wedding? Just be sure to have an inclement weather contingency plan in place!
5. Make Your Guest List The A-List

It goes without saying that a shorter guest list is easier on not only your budget but your sanity, too. Even if it's unrealistic to whittle your list down to 20 of your closest friends and family, chopping it from 300 to 150 will still help take things from overwhelming to manageable. More often than not, an intimate affair really does require less money and less work—and it comes with an invaluable bonus: more quality face time with that cozier group of guests you invited.
6. Hire A Wedding Planner

You might be thinking of foregoing a coordinator in order to save some cash, but trust us…if you're looking to have your champagne-dreams-on-a-beer-budget wedding, then a hiring a planner is your best bet. Time is money, and an experienced coordinator will handle all the little details so you don't have to stress. Plus, they can also pass along savings to you by hooking you up with their extensive vendor network. This is one area where spending the money is totally worth it.
7. Choose One Standout Feature

For all aspects of your big day, identify one standout feature instead of making each and every detail high-end. For instance, on invites, choose one remarkable element, like a silk ribbon or a foil pressed folio/pocket, and pair that piece with simpler enclosures. Control your budget by shopping online with sites like LoveonPaper.com and choosing these standout elements on your own. The bottom line is, you can't go over-the-top in every single area of your wedding and still expect it to be budget-friendly.
8. Track Every Purchase

It's easy to break the bank by not tracking the little things, like your earrings, groom's socks, new perfume, or those shoes you just *had* to buy. It's these items people often forget to track and they wonder why they are running out of money. It might be hard to face the truth of how much money you're spending, but you'll be so thankful in the long run when you don't have to wonder where all your money went.
9. Keep Your Wedding Party Tight

Large wedding parties can definitely increase the budget. When you think about it, each bridesmaid bouquet can run $85-$150 each, and groomsmen boutonnieres are about $15-$20. Multiply those by 6, 8, or more and your floral costs are skyrocketing without you even noticing. So keep your wedding party small to cut unexpected costs like these (and probably cut unexpected drama).
Images: Carrie King; Stillwhite; Sanaz Photography; Meg Sorel; Shutterstock (5); Kendra Allen / Unsplash
Unspoken Rules Of Wedding Etiquette You May Not Know
Wedding season tends to bring out the worst in us. Not only do we have to give up attention for like, the whole day (and possibly a weekend *shudders*), but we also have to endure a lot of strangers in a short period of time. It shouldn't be a surprise to any of you, but being a guest at a wedding comes with certain rules; some better known and adhered to than others. So, to not make yourself out to be the biggest asshole at the upcoming nuptials, here are some do's and don't's of wedding etiquette for those of you about to sit through a super spectacular wedding.
1. RSVP On Time
This is kind of a no-brainer, but it bears fucking repeating. Is it really that hard to mark YES I'M COMING on the card, put it back in the prepaid envelope, and send it back to the soon-to-be-hitched couple? You don't even have to find a stamp. What is difficult about this?? Don't be a dick. Send back your RSVP on time and save the bride the headache of having to fucking text you a few weeks before the wedding.

2. Don't Assume You Can Bring Someone–Including Kids
Unless your invite specifically said "and guest" do not fucking show up with a rando. Likewise, do not text the bride or groom a week before the wedding explaining how super deep and meaningful your one-month relationship is and go on a monologue about why you should be allowed to bring so-and-so. This rule also goes for children (shocking, I know). Unless the invite said "The Whole Fam-damnily" then don't assume that all 10 of your kids are welcome to come and ruin what should be an adults-only event. Kids are terrible.

3. Do Tell Them About Your Weird Food Allergy
If, for some reason, you break out into dance hives when you smell gluten, or your eyelids turn inside out when you see peanut butter, go ahead and scribble that fascinating info down on an RSVP card—even if there isn't a place for it. Trying to navigate vegans, vegetarians, Celiacs, breathatarians, raw-fooders, and general weirdos gets easier when you have specifics. The more you know.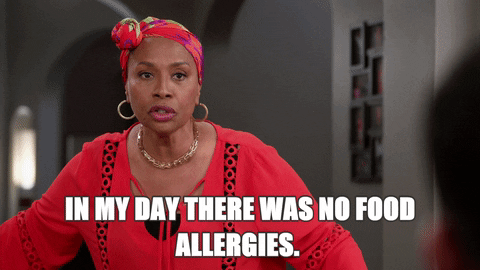 4. Be Early Or, At Least, On Time
The bride is trying to make a fucking entrance, both during the ceremony and at the reception. Having you wander in 30 seconds before start time (or, God forbid, after the start time) takes the focus off of her—which is prime reason you're now cruisin' for a bruisin' from her new hubby. Lol but seriously, don't be a dick. If the wedding says 3pm, be there 15 minutes before. A lesson that should be applied to life, if I'm being honest, because I'm fucking tired of waiting at my brunch reservation for 15-30 minutes because SOME people think reservation start times are merely a suggestion.

5. Do Not Text The Bride
May seem like a nice thing to do, but, you could be wrong. I know a bitch who texted my friend, the bride, as she was getting ready. "Hey how are you??? Are you nervous??? It's raining but will probably stop. Can I bring you anything????!!" I appreciate the care and need for companionship, but chill tf out. This bitch is getting married today. She's got mimosas at her fingertips (which are being painted). Her stomach feels like it's going to fall through her asshole. She hasn't had a carb in three months. The last thing she needs is a bunch of people texting her asking how her day is going. Leave that bitch alone.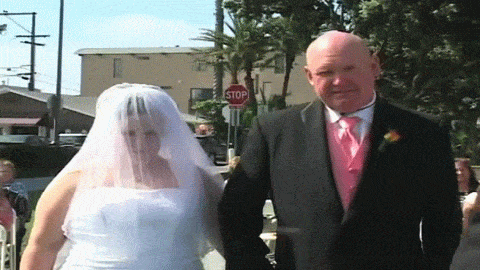 6. Do Not Wear White
This is like, a pretty well-known thing, but due to recent questions from people I know, this clearly isn't well known enough. Do not, if you value your life, wear white or cream or ivory or ivory blush or eggshell or whatever the fuck stupid synonym fashion marketers are using now to denote white. Really, avoid anything that could be potentially light or white enough to piss off the bride. It is an unspoken rule that you never, ever wear white to a wedding that isn't yours (unless the bride weirdly requests it). That means you, Kelly.

7. You Owe A Gift Even If You Can't Go
MMMHMMM. You know who you are. Nothing is ruder than heading to a wedding and not bringing a gift (or mailing one later … or sending one before the wedding). The bride and groom have stressed over the decor, the food, the ceremony, and how to entertain you fucks. You get an invite, you buy a gift. End of fucking story. Furthermore, and maybe if you DIDN'T know, etiquette says that even if you CAN'T attend the wedding, you still owe a gift. So, by my count, that's about 10-15 gifts I'm still missing. Some from family members. On his side. MMMHMMMMM.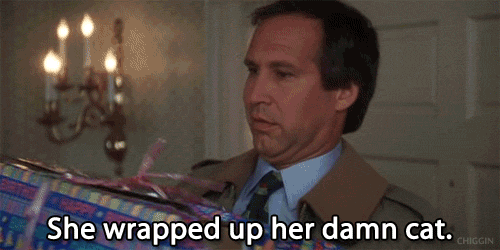 8. Be Nice To The Weirdos At Your Table
I know getting stuck at a table full of people you don't know isn't the most awesome thing ever. But have a drink, put on your big girl panties, and make the most of it. Nothing is worse, as a bride, than stressing about how people at certain tables are going to get along. The couple did their best to put you with people you may like. So, like, make some convo. If you hate them, you never have to see them again, so just suck it up for a few hours.
Images: Shardayyy Photography, Unsplash; Giphy (8)
9 Wedding Favors That Are Never Acceptable To Give Your Guests
Being invited to a wedding is like, usually super fun. There's free food, dancing, awkward family interactions, and a chance to dress up and try to steal attention from the bride celebrate the new couple. As a bride, wedding favors—if you're doing them—are important. It's the last little bit of the wedding someone will see/hold/eat, and getting the formula right will totally make or break your wedding (probably but not really). Don't think that giving out just anything is going to be appreciated and super okay and your guests will love it. In reality, your guests will be receiving these gifts after several hours at an open bar (if you don't have an open bar at your wedding, did you even get married?) and drunk people are the world's harshest critics. They are known to yell "Fuck this!" at nothing in particular and start crying because someone in their vicinity is "too ugly." Don't skimp on trying to impress them. They are quick to anger and will tweet their feelings. In our extensive binge drinking research this wedding season, we've discovered there are some very bad, awful, and shitty excuses for gifts that many people still consider acceptable. Don't make the same mistakes.
1. Monogrammed Anything
Nobody wants anything with your name, the groom's name, and the day of your wedding on it. Sorry, but no one is going to display that shit proudly in their home for years to come except maybe your grandmother and slightly offbeat friend. Also like, your initials are not my initials. A napkin with someone else's initials on it is quite literally useless to me.

2. Coasters
Does anyone even use coasters anymore? Except for your mother, who practically faints anytime a glass even threatens to sweat on her recently treated mahogany antique farm table, there's really no point to these. Take off extra points if the coaster is monogrammed, or displays the bride and groom's engagement photo. Do you really want me to put my can of rosé on your face, Karen!?!? I appreciate you trying to drag me into adulthood with your party favors, but no. Just no.

3. Paperweights
Well, if your guests work in wind tunnels, outdoors, and on top of mountains, I guess I'm wrong in saying these are useless. As it stands though, most of us sit in small, airless, and less-than-5mph wind zones while we work, so the idea of a paperweight is pretty fucking dumb. Next.

4. Pens
Omg I'll always remember your wedding with this pen reminding me of the date of your unending love! Every time I fill out a check for a couple pledging their undying eternal commitment I'll remember how much FUN I had at your super awesome wedding! Seriously though, way to give the one gift people are literally guaranteed to lose in the next week. The only way you could have done worse was if you'd given out tiny Bic lighters. You have failed.

5. Photos Of The Bride/Groom In Any Capacity
I love you. I love you so much I just spent a shitload of money on wedding attire and travel for your nuptials, but I don't love you enough to keep a small photo of you in my wallet, on my fridge, in my purse, on my keys, or on/near my person in any capacity ever. I have social media for when I miss your face, and I don't need a reminder that you took some engagement pics.

6. Wine Stoppers
Do you know how many open bottles of wine are in my home at any given time? Either six or zero (the limit does not exist) so giving me another wine stopper is really not necessary. I know you spent all of $0.30 and a tiny child in Vietnam crafted this heart-topped wine accessory with the utmost detail and love, but it really wasn't necessary. I'll use tin foil to cover my alcohol, which will be open and available for only 1-2 days before I drink it.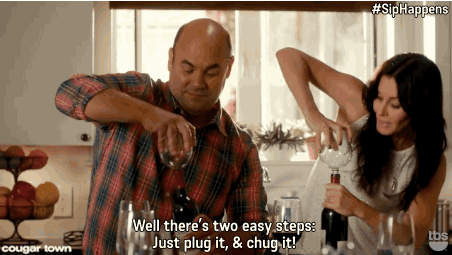 7. Keychains
Does anyone have keychains anymore? I saw an article on the dangers of heavy key chains on car keys and am now super fucking scared the weight of that last Paw Patrol accessory will be what it takes to rip off my key ring and leave me unable to stop my vehicle. Also, anyone can go to the dollar store and get a keychain. Don't offer these at your fucking wedding in any capacity.

8. Homemade CDs
I wouldn't have believed people did this if I didn't see it listed as a horrible favor on The Knot, Huffpost, and Reddit multiple times. WHAT'S WRONG WITH YOU? Why would anyone want a CD of the songs you played at your wedding or, even better, a mix of songs celebrating your love? I literally don't even have a CD player. You basically just handed me circular trash. Get this shit gone, immediately.

9. Jordon Almonds
Jordon almonds were cool back in the 1960s. There are people who still like them, and those people are your mom and her friends. That's fine, but please don't give these out as a favor. Sure, have a lil bowl full of them and some pouches for people to take. But if you're offering a real favor, this better not be it.