WTF to Wear To A Wedding Based On The Dress Code
Betches may earn a portion of revenue if you click a link and purchase a product or service. The links are independently placed and do not influence editorial content.
Welcome to wedding season: where the hangovers are real, the dress codes are confusing, and we're all listening to Mr. Brightside on repeat. As if the uptick in vaguely specific dress code attire hasn't made finding a wedding guest outfit hard enough, you also have to think about the fact that you'll probably be in the background of a wedding photo on the couples mantle for an entire lifetime. That's, like, a lot of pressure. The idea of being underdressed (or overdressed for that matter) literally makes me cringe. There's so much "vibe interpreting" required for all these confusing wedding dress codes that, frankly, most of us just aren't cut out for. So to help guide you on your seemingly treacherous wedding guest outfit search, here are some options based on the different dress codes.
White-Tie
Clearly I need to reevaluate my entire circle of friends because I've never attended, nor have I even been invited to, a white-tie wedding. White-tie dress code is the most formal of them all, requiring floor-length gowns—no exceptions. Your gown should be paired with your most elegant clutch and accessories. And, if I were you, I'd take advantage of the occasion and pull a full-on Mia Thermopolis and add some elbow-length satin evening gloves. You can make your gown more seasonally-appropriate by choosing a color of fabric fit for the season you're in.
One-Shoulder Scuba Crepe Gown

Shop it: Betsy & Adam One-Shoulder Scuba Crepe Gown, $249, Macy's
Sweetheart Off The Shoulder Stretch Satin Dress

Shop it: Jules And Cleo Sweetheart Off The Shoulder Stretch Satin Dress, $109.92, David's Bridal
Strapless Glitter Tulle Gown

Shop it: Mac Duggal Strapless Glitter Tulle Gown, $498, Saks Fifth Avenue
Black-Tie
TBH, this is a favorite dress code of mine because I honestly don't have many reasons to get out of sweatpants these days. Black-tie dress code means you can wear a formal gown or elevated jumpsuit, either of which should be paired with chic-AF and elevated accessories. Basically, think prom-adjacent attire minus the over-the-top tackiness and vodka-filled water bottles. Similarly to with white-tie, you can make your black-tie ensemble match the season by choosing colors and fabrics that could either scream, "Mango Sherbet" or "Pumpkin Spice" simply with shift in hue.
Yaura Plus drape column maxi dress

Shop it: Yaura Plus drape column maxi dress, $124.30, ASOS
Floral Tiered Gown

Shop it: Mac Duggal Floral Tiered Gown, $458, Saks Fifth Avenue
Mary Kate Gown

Shop it: Katie May Mary Kate Gown, $295, Revolve
Formal or Black-Tie Optional
Okay, I wish we could honestly just take this option off the table because it's confusing as hell. That being said, black-tie optional is pretty much equivalent to formal and just means slightly less formal than black-tie. The biggest difference for women's attire is that a full-length gown isn't required, but something of the same dressiness "vibe" is still recommended. Basically, if you want to get wild and show your ankles then you have permission to do so, but I'd avoid going above the knee for your hemline. If you truly can't make up your mind, you can't go wrong with a midi-dress.
Volume Sleeve Satin Midi Dress

Shop it: ASOS Edition Volume Sleeve Satin Midi Dress, $220, ASO
Cayla Side Drape Gown

Shop it: Norma Kamali Cayla Side Drape Gown, $150, Revolve
Black Halo Corrine Jumpsuit

Shop it: Black Halo Corrine Jumpsuit, $415, Shopbop
Cocktail
Cocktail attire means that women can wear shorter hemlines but still need to look dressy. Long story short, it would be inappropriate to wear a gown, but also inappropriate to wear a sundress. I realize that leaves quite a lot in between, but basically just think a specialty mini dress, elevated midi dress, or eloquent jumpsuit. Overall, this dress code does imply a bit more of a flirty and playful vibe, so have fun with it—but, as always, keep it classy.
Gala Midi Dress

Shop it: L'idee Gala Midi Dress, $395, Revolve
Blaine Taffeta Square-Neck Bow Train Mini Dress

Shop it: Sachin & Babi Blaine Taffeta Square-Neck Bow Train Mini Dress, $298, Anthropologie
Curve Off Shoulder Corset Midi Wrap Skirt Dress

Shop it: ASOS Design Curve Off Shoulder Corset Midi Wrap Skirt Dress, $79, ASOS
Semi-Formal or Dressy Casual
Semi-formal or dressy casual might be the most vague of all the dress codes because there are no "hard lines" beyond "no sweatpants." Rather, you really have to feel into the vibe of the wedding, so maybe just grab a crystal and the invitation and mediate on it? On second thought, maybe just text a fellow wedding attendee to see what they're wearing and go from there. At the end of the day, err on the side of being over-dressed rather than under-dressed.  Remember, it's about special event elegance without crossing the line of "fancy." Vague, I know, so best of luck.
Women's Gaia Dress

Shop it: ASTR the label Women's Gaia Dress, $98, Amazon
Let Me Be Strapless Asymmetrical Dress

Shop it: Let Me Be Strapless Asymmetrical Dress, $220, Anthropologie
Remarkable Entrance Navy Blue Floral Print Satin Midi Dress

Shop it: Remarkable Entrance Navy Blue Floral Print Satin Midi Dress, $75, Lulus
Festive
IDK about you but this one has truly left me scratching my head. The first thing that comes to mind when I hear "festive" are ugly Christmas sweaters—and I highly doubt that's actually what the couple actually wants you to wear to their wedding. The best way to think about festive is to have fun with your outfit. Choose something in the cocktail/semi-formal arena with a little sass, if you will. Add a fun print, feathers, or even some sparkle and you'll have yourself a festive look. Bonus points if your shoes are more fun than the entire wedding party.
Ruffled A-Line Flutter-Sleeve Mini Dress

Shop it: Mac Duggal Ruffled A-Line Flutter-Sleeve Mini Dress, $598, Anthropologie
Aurora Dress

Shop it: LPA Aurora Dress, $158, Revolve
Curve Floral Sequin And Bead Mini Dress with Faux Feather Hem

Shop it: Curve Floral Sequin And Bead Mini Dress with Faux Feather Hem, $200, ASOS
Daytime or Casual
The pandemic has made the backyard wedding quite a trend, and given how expensive weddings can get, I definitely see the appeal. Backyard or daytime weddings are usually more casual which means they're perfect for a breezy sundress, pretty mini dress, or sophisticated set. The only "don't" here is going too casual or too dressy. Just avoid dressier fabrics, overly casual fabrics, stiletto heels, sneakers…and you should be good to go from there.
Fresh Florals Navy Blue Floral Print Puff Sleeve Mini Dress

Shop it: Fresh Florals Navy Blue Floral Print Puff Sleeve Mini Dress, $75, Lulus
Farley Dress 

Shop it: Reformation Farley Dress, $248, Reformation
Sundrenched Maxi

Shop it: Free People Sundrenched Maxi, $148, Revolve
Editor's Note: This post has been updated with new information in April 2023. It was originally written by Shannon McCormick
Images: Omar Lopez / Unsplash 
9 Things I Didn't Believe About Wedding Planning Until I Started Planning My Wedding
As someone who's written about weddings for the last several years, and attended/been in more than a handful, I thought when it came time for my own I would have this planning thing down. I used to say that when I got married I wouldn't get stressed out about dumb sh*t (lol) and I would do what I want without other people's opinions influencing me (ha!). So when I got engaged this past June and started planning my wedding for next September, I was just as surprised as anybody that I totally did not have this planning thing down. After going through the first six months of planning, my new M.O. on weddings has become, "Don't judge a bride until you walk a mile in her wedding shoes," and damn, those shoes are hard AF to walk in. 
Below are nine things I thought about weddings that flew out the window when I started planning my own. 
1. I Won't Worry About The Little Things
Boy, was I wrong on this one. In fact, the little things are ALL I worry about. I constantly run through all the wedding signage we'll need in my mind and whether it matters if the fonts on the table numbers match the font on the bar sign. I worry about trying every appetizer during cocktail hour or that I'll be in the bathroom when the band plays "Sweet Caroline." I never worry that our caterer won't show up or that the band will suck. Why would I worry about major issues like that when I can stress about how the welcome table will be laid out?
2. My Wedding Won't Cost That Much
Them: What's the craziest thing you've done while planning your wedding? Me: I agreed to pay the band $200 extra to have someone play a 2 minute sax solo during the ceremony

— Ashley Fern (@disco_infern0) July 26, 2019
I'd like to think I'm pretty well-versed in how much different vendors cost, so I have no idea what the hell I was thinking when I said this. Especially since we're having a tented reception in my grandma's backyard, and that sh*t ain't cheap. Every time I see a new bill come in, my heart stops beating for a split second and I honestly wonder how big of a problem it would be if I served McDonald's instead of beef tenderloin and just made a Spotify playlist for the reception. 
3. I'll Never Compare My Wedding To Someone Else's
I have so much respect for the brides that sign up for Four Weddings. I truly can't imagine willingly subjecting myself to having my wedding scrutinized by three strangers—I'm critical enough on my own. It's hard not to compare yourself to other people in general, especially when so many friends are getting married around the same time. I find myself thinking about what I'd do differently or the same whenever I attend another wedding, which is actually kind of annoying because I'd like to be able to get drunk and enjoy myself. Plus, I sure as hell don't want people to be doing that at mine. 
4. There's No Point In Stressing About The Weather Since You Can't Control It
not to be dramatic but if it rains on my wedding day I might kill someone

— Betches (@betchesluvthis) December 13, 2019
HA! This is actually laughable and I'm not even sure I ever really believed it. This is, without a doubt, the number-one thing I spend the majority of my time thinking about. There is honestly nothing in the world more terrifying than the idea that it might actually rain on my wedding day. The closest I ever get to a serious mental breakdown is when I spend more than 30 seconds thinking about a monsoon beginning as soon as I walk down the aisle. 
5. This Whole Planning Thing Is Going To Bring My Mom And I So Much Closer
I will admit, my mom and I haven't really fought about wedding planning, which I know is rare/weird (I'm sorry if that makes you want to punch me in the face). But it's definitely not bringing us closer. At the very beginning when we were trying to sort out all the vendors, my mom and I would text and talk on the phone multiple times a day, which was a lot, and it felt like I was engaged to my mom instead of my fiancé. She definitely triggers me with some of  her ridiculous suggestions (like having guests move their own ceremony chairs to the reception tent), but overall the ride hasn't been too bumpy so far (knock on wood—we've still got nine, months to go). 
6. I'll Get My Way On Everything
I know this sounds like a ridiculous thing to think, but when I was wedding planning in my mind, nobody was there telling me I couldn't have our family labradoodle walk down the aisle (I'm still not 100% convinced that won't be happening), so I never foresaw any issues. I didn't think my photo booth idea would get shut down by my fiancé or that my idea for a limo bus instead of going to our cocktail hour would be considered a waste of money. I've only recently come to the conclusion that I don't NEED everything on my wish list. I know, I'm so mature. 
7. It'll Be Easy To Make Our Guest List
Pretty sure my wedding vows said "in sickness and in health" but nothing about dealing with in-laws over Thanksgiving, yet here I am

— betchesbrides (@betchesbrides) November 26, 2019
It would be so cool if there was an etiquette rule that said, "If you haven't spoken to your great aunt in two years, she doesn't need to be invited", so I could just point to it and that would be that. Unfortunately, no such thing exists and people are left to their own judgment when deciding who to invite. Making the guest list was like a balancing act. From trying to keep it under a certain number, to accommodating my future in-laws' list, while also keeping my mom from inviting everyone she's ever met, it was one of the hardest parts so far and I'm very thankful it's over. If you're going through it now, my best advice is to pick your battles. If you don't win this one, you'll win the next. Why does planning a wedding sound like being at war?
8. I Don't Understand Why Someone Would Want To Elope
Because of all the reasons I just listed and 10,000 more, I truly believe that people who elope are geniuses and we should all be more like them. 
9. Are Post-Wedding Blues A Real Thing?
Me: I'm just going to have a simple wedding.
Also me: pic.twitter.com/bubmgscPmk

— Amber Pera (@AmberPera) December 4, 2019
Absolutely, yes. My mom told me she sobbed on her wedding night because it was over. I've heard from all my married friends that they miss being engaged and wedding planning, so I'm trying my best to soak it all in, despite the challenges that come with it. I'm not looking forward to the day after my wedding when I realize it's all over. Who knows, maybe I'll end up crying in the back of a limo like a contestant on The Bachelor who's just been kicked off. Sorry in advance to my soon-to-be husband, but hey, we said in sickness and in health right?
To all the brides I've judged before, I'm sorry. there's a lot I thought I knew about weddings, but just like anything else, you don't really know until you experience it for yourself. I'm walking a mile in all of your wedding shoes and wondering how the heck you did it. Cheers to you! 
Images: Andre Hunter / Unsplash; betchesluvthis, betchesbrides, disco_infern0, amberpera / Twitter
5 People You Don't Need To Invite To Your Wedding
#Nonewfriends is the mantra you should live by when you're creating your guest list for your wedding. Too often, couples let their guilt get the best of them and end up inviting people they don't really want there. Let's face it, there are going to be people on your proposed list that make you and your fiancé ask each other, "Do we really need to invite them?" Think of it this way: would you want a framed picture of you with them in your wedding dress hanging in your house in 10 years? If the answer is no, they shouldn't make the cut. Here are five people you can definitely "forget to invite". 
1. The Sorority Sister Whose Wedding You Attended Five Years Ago
View this post on Instagram
You were thick as thieves in college, pregamed semi-formal together, and you even visited her hometown during summer break one year. She got married right after graduation and you attended her wedding. Here's the catch: you haven't seen each other since then and the only reason she knows you're engaged is because she follows you on Instagram. You may feel like a huge bitch by leaving her off the guest list, but if you haven't spoken to her in the last year (happy birthday texts don't count), axe her. Weddings are priced on a per-head basis, so not inviting her will save you a few hundred dollars. Since you don't see each other on the reg, you won't have to face her and explain that her invite must have gotten lost in the mail. Let go of the guilt and move on. 
2. Your Co-Worker
Just because you talk about your wedding with the people you work with doesn't mean you're obligated to invite them. Sure, they threw you a surprise party for your engagement and listened to you bitch about your fiancé's lack of involvement in planning, but unless you regularly hang out with them outside of work, remove them from the list. They'll probably be relieved not to receive an invite, especially if you're getting married in a different state than the one you work in. If you're struggling to figure out what to do about a specific co-worker, think of it this way: if you left the company tomorrow, would you still keep in touch with this person? If not, then they shouldn't be at your wedding! It's not in your job description to include everyone on the guest list, so invite who you want to invite. 
3. Your Mom's Cousin Twice-Removed Who You've Never Met
It's possible you or your fiancé will see names of people on the proposed guest list that you had no clue you were even related to. In some cultures, it's tradition to invite every single relative to the wedding, regardless if you've met them or not. If that's not the case and your mom is pushing to add Great Aunt Sylvia to the guest list, approach mom calmly and explain that you and your fiancé want to keep the wedding to close friends and family. If that doesn't work, bring up the money factor. Again, weddings are priced on a per-head basis, so if you show your mom how much she'll save, she'll probably want Great Aunt Sylvia to stay home. Plus, her hip is bad anyway, so you're kinda doing her a favor.
4. Kids
No, you don't have to invite your cousin's 2-year-old daughter who cries whenever her mom isn't near her for 10 seconds. Asking guests to leave their kids at home isn't an unreasonable request, especially if you give them plenty of notice. Who wants seven attention-hungry kids taking over the dance floor at your reception or hogging the late-night snacks? TBH, your guests who have children will probably be relieved that they can't bring them along. It's a nice excuse for them to enjoy some kid-free time for a few hours. It's important you don't put this explicitly on your invitation, though. Put only the parents' names on the envelope and make a note on your website that it's an adults-only affair. You can even offer childcare if you know that a guest has no other option than to bring them. Bottom line: if you don't want kids, don't invite them.
5. Anyone Just Because They Invited You to Their Wedding
This is not a reason to invite someone. It might feel awkward not to include them, but think about the situation in reverse: if you knew you were being invited to a wedding solely because you invited them to yours, wouldn't you feel a little less welcome? Guests at your wedding should be people you want to celebrate your love with, not people who are there because you feel like they should be. If you strongly believe it will be more awkward later on to not invite them, that's your prerogative, but you're not breaking any wedding etiquette rules by leaving them off the list.
Overall, push your feelings of guilt aside and be selfish with your guest list. There's no reason you should feel like you have to invite anyone (unless mom insists and she's writing the checks), so take that red pen and start crossing off names. Your wedding only lasts a day, so why spend it with people you don't want there?
Images: Annie Gray / Unsplash; betchesbrides / Instagram (3)
How To Answer The 7 Most Obnoxious Questions Wedding Guests Ask
There's something about weddings that just brings out the crazy in people. Given enough decisions, questions, opinions, and Google spreadsheets, even a fairly reasonable person is liable to transform into a total psycho. We hear the most stories about brides gone bananas, but there is another, arguably more sinister culprit that's less talked about: the inconsiderate wedding guest. No more. Below are some of the more annoying questions a bride may receive from her guests, and how to respond without threatening bodily harm calmly.
1. Can You Request An Early Check-In For Us?
What You Want To Say: Sure, Aunt Helen. I'd love nothing more than to call the hotel on your behalf to do what you could easily do yourself, especially since I'm not at all busy wrangling RSVPs, trying to put together a seating chart, and explaining to my florist that I don't know a gardenia from a hydrangea. While we're at it, do you want me to put in your room service order too? Coddled eggs, I assume?
What You Should Say: Sure, Aunt Helen. I'll see what the hotel can do.
2. Do You Know A Good Hairstylist Or Makeup Artist In The Area?

What You Want To Say: Despite the internal cries of pain this question is inducing, I am not, in fact, a living, breathing Yelp1 come to life. It just so happens that the good hairstylist and makeup artist I know happen to be busy that day attending to me because, you know, it's my WEDDING. Google it like you do every other inane question you have, Martha.
What You Should Say: I'm sorry, I don't. Here are a few I found doing a quick Google search that have good reviews.
3. Can You Tell Me What Time The Ceremony Starts/Where You're Registered/The Venue Address/Other Previously Given Information?
What You Want To Say: It's funny you should ask, Uncle Bob. You know that silly little set of cards I sent you a few weeks back asking you to RSVP to my wedding? It contains ALL of the details you are bothering me about now. What's more, I even spent several hours designing a website with an address I also gave you precisely so I could avoid this very scenario!
What You Should Say: Here is . It has all of the info you need!
4. Can I Bring A Plus-One?

What You Want To Say: Uh, did you misread the invitation, Cousin Laura? I thought the omission of "& Guest" was pretty clear, but let me spell it out for you. I've seen you three times in the past 10 years—you're lucky I invited you at all. Plus, I'm already wildly over-budget and would prefer not to spend another $100+ on a plate for the rando you met four months ago at a festival that you "just totally connect with." 
What You Should Say: Unfortunately, the venue is really tight on seating, so we could only give plus-ones to people who .
5. Is It Possible For The Kitchen To Prepare My Meal Without ?
What You Want To Say: It's cute that you're not eating carbs this month, Kevin, but I'm already working overtime with the caterer to accommodate vegetarians, people with gluten allergies, and guests who keep kosher, not to mention a friend who will literally drop dead if her dish contains tree nuts. Your fad diet does not qualify as an allergy!
What You Should Say: I'll check with the caterer and let you know.
6. Could You Make Sure I'm Sitting With _________?

What You Want To Say: I know it's been hard to tell, what with the invitations, wedding website with our photo, countless events and other fanfare surrounding me and my fiancé, but this wedding is not about you. Putting together a harmonious seating chart is about as simple as solving The Collatz Conjecture. I'm dealing with relatives who want to murder each other; you getting to sit next to your fave bro is NOT a priority.
What You Should Say: We'll do our best, but we can't make any promises. Seating charts are tricky!
7. Can You Change The Wedding Date To Accommodate My ?
What You Want To Say: No. Are you f*cking kidding me?
What You Should Say: No. Are you kidding me?
It's inevitable that a guest is going to annoy you throughout the wedding process and probably even on the day itself. The key is to remain calm, know that you can't please everyone, and do it your way, even if it means forever alienating Aunt Beth temporarily displeasing a guest. What other annoying wedding guest questions have you received and how did you respond? Let me know in the comments!
Images: Alasdair Elmes / Unsplash; Giphy (7)
How To Tactfully Say No To Your Friend's Destination Wedding
Your BFF is getting married, which, like, mazel. However, she's decided that hosting her wedding out of the country/on an island/seven states away is the best option for some f*cking reason. It's everyone's worst nightmare: she's having a destination wedding.
Destination weddings may seem like an amazing choice for her and her S.O., but for you, a betch on a budget, the whole notion of buying plane tickets (or driving 10+ hours to get somewhere), paying for a hotel, potentially buying a bridesmaid's (or expensive guest) dress, and just generally throwing money into a flaming garbage can for a weekend doesn't seem like the wisest investment.
If you're trying to get out of the whole thing, here are a few ways to tactfully do so:
1. Be Honest

Maybe you're saving up for a house, or an adoption (dog or child, doesn't matter), or already went to seven weddings this year. Don't feel obligated to over-explain your reasons, but tell your friend that while you love her and will, of course, send a gift, it just isn't in your budget to attend a destination wedding. Anyone getting married in a destination that requires travel will (and should) understand that it's a huge expense for people, so being upfront and honest about budgeting isn't really something they should argue with you about. And, if they do, f*ck em.
2. Tell Them Right Away
Don't wait until two weeks before to tell the bride you're not coming. If you receive an invitation to a destination wedding and you know in your heart that there's only a 20 percent chance you'll attend, then tell the bride that. Waiting until the last minute will get her hopes up that she'll see you AND she'll need to add you to seating arrangements, head counts for booze, etc. Be polite and send your regards.
3. Send A Gift

This kind of goes without saying, but if you aren't planning on going to the destination wedding of the century, send a really nice gift, either from the happy couple's registry OR for their stay at the said destination. A couples' massage, candlelit dinner, or scuba diving adventure could be amazing for the newlyweds. It won't necessarily make up for you not being there, but it will communicate that you aren't being a total jerk.
4. Don't Make Excuses
If the reason you aren't coming is money, then say it's money. Don't be all, "Oh, we aren't going to your wedding because we're saving for an in-ground pool and also we don't consider Costa Rica safe because Overlord Trump said so." Stick to your main (and honest) answer. The second you start throwing out other issues, you make it seem like you wouldn't come regardless of the situation.
5. Offer To Help With Other Festivities

If the bride (or groom) is a close friend and was expecting you to be in the wedding, offer to help with other pieces of the whole affair. For example, if the bride was counting on you being a bridesmaid and your crippling student debt simply won't allow for a trip to the Amalfi Coast for the wedding, offer to help with the bridal shower or bachelorette party. Sure, it isn't the big day, but it's a kind gesture that says "I still care about and love you as my friend even though you're a dope for getting married overseas."
Images: Unsplash (1); Giphy (3)
Summer Wedding Faux Pas That Will Make The Bride Hate You
Wedding season has descended upon us. At any given time from June through September you may have to sit through an outdoor carnival themed hipster wedding, a classy vineyard wedding, or even a fucking non-airconditioned reception in a barn. So rude. But being a good wedding guest takes some learnin', and if you're not willing to not be a dick and follow our rules, then maybe you don't get to go partake in the six-hour open bar, potential for one-night stands, or shithole DJ yelling "GET YOUR HANDS UP" or "WOOO" every three minutes. It's gonna be a great time, guys. Here are some rules of wedding guest etiquette you need to follow if you want to sit with us (or more accurately, your friends at the next wedding—you get it). These summer wedding faux pas are social suicide.
1. Show Up In Minimal Clothing
Oh no, no, no. You aren't going to the CLERRRBBB. You're going to a fucking wedding. I get that the cute matching crop top and miniskirt set and 5-inch wedges will look totally fetch and def get you laid (which is like, so important cause it's been a while and you're starting to see sounds), but try to fucking chill. If you're approaching 30, you shouldn't be wearing a dress that's six inches or more above the knee. And NO CROP TOPS (Scheana). Catholic school rules apply. No offense, but it's true.

2. Wear White
This goes for any season, but it's easiest to make the mistake when it's fucking 95 degrees outside and the eighth circle of hell seems a lot closer temperature-wise than usual. Do not wear fucking white or anything remotely close to it. Only the bride should be in white/cream/champagne/blush (whatever) so don't wear anything even CLOSE. You're tacky if you do, and the bride's mom will def tackle you because HOW DARE YOU UPSTAGE MY BABY. If you have to even ask if the color you're thinking of wearing is too close to white, it is, and you need to put it back in the closet and save it for brunch or whatever.
3. Get Too Turnt
Again, this kinda goes for all seasons, but it's easiest to fuck up during the summer. It's hot, there's an open bar, and wine spritzers go down reaaaaaal easy this time of the year. Try drinking a glass of water after each boozy drink so that you a) stay hydrated and b) don't end up blacking out by the time the reception rolls around. No hoodrat shit.

4. Skip Deodorant 
Yikes. I shouldn't have to explain this one, but it's hot. You may end up in a church without an AC, or you may end up wearing something that shows how much of a disgusting person you really are. Wear some fucking deodorant and bring a travel size one with you to reapply if needed. No one wants to smell your funk.
5. Bitch About How Hot It Is
WE GET IT. There's nothing the bride can do about the heat wave, and I PROMISE she's hotter in that 40 layer tulle ballgown than you are with your bare legs and updo. Get that bitch a mister and be nice.

6. Think You're Too Good For Sunscreen
If this wedding is going to be outdoors at literally any point during the day, lather up. You don't want some weird tan lines from your strappy cocktail dress, do you? Also, if you're looking to hook up and you were outside without sunscreen, how long until your pink nose and lobster-like redness deter every eligible bachelor in the vicinity? I give it a few hours.
Images: Anna Utochkina, Unsplash; Giphy (7)
Unspoken Rules Of Wedding Etiquette You May Not Know
Wedding season tends to bring out the worst in us. Not only do we have to give up attention for like, the whole day (and possibly a weekend *shudders*), but we also have to endure a lot of strangers in a short period of time. It shouldn't be a surprise to any of you, but being a guest at a wedding comes with certain rules; some better known and adhered to than others. So, to not make yourself out to be the biggest asshole at the upcoming nuptials, here are some do's and don't's of wedding etiquette for those of you about to sit through a super spectacular wedding.
1. RSVP On Time
This is kind of a no-brainer, but it bears fucking repeating. Is it really that hard to mark YES I'M COMING on the card, put it back in the prepaid envelope, and send it back to the soon-to-be-hitched couple? You don't even have to find a stamp. What is difficult about this?? Don't be a dick. Send back your RSVP on time and save the bride the headache of having to fucking text you a few weeks before the wedding.

2. Don't Assume You Can Bring Someone–Including Kids
Unless your invite specifically said "and guest" do not fucking show up with a rando. Likewise, do not text the bride or groom a week before the wedding explaining how super deep and meaningful your one-month relationship is and go on a monologue about why you should be allowed to bring so-and-so. This rule also goes for children (shocking, I know). Unless the invite said "The Whole Fam-damnily" then don't assume that all 10 of your kids are welcome to come and ruin what should be an adults-only event. Kids are terrible.

3. Do Tell Them About Your Weird Food Allergy
If, for some reason, you break out into dance hives when you smell gluten, or your eyelids turn inside out when you see peanut butter, go ahead and scribble that fascinating info down on an RSVP card—even if there isn't a place for it. Trying to navigate vegans, vegetarians, Celiacs, breathatarians, raw-fooders, and general weirdos gets easier when you have specifics. The more you know.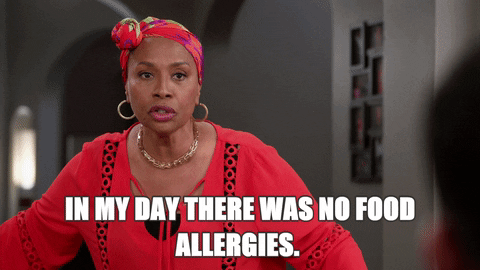 4. Be Early Or, At Least, On Time
The bride is trying to make a fucking entrance, both during the ceremony and at the reception. Having you wander in 30 seconds before start time (or, God forbid, after the start time) takes the focus off of her—which is prime reason you're now cruisin' for a bruisin' from her new hubby. Lol but seriously, don't be a dick. If the wedding says 3pm, be there 15 minutes before. A lesson that should be applied to life, if I'm being honest, because I'm fucking tired of waiting at my brunch reservation for 15-30 minutes because SOME people think reservation start times are merely a suggestion.

5. Do Not Text The Bride
May seem like a nice thing to do, but, you could be wrong. I know a bitch who texted my friend, the bride, as she was getting ready. "Hey how are you??? Are you nervous??? It's raining but will probably stop. Can I bring you anything????!!" I appreciate the care and need for companionship, but chill tf out. This bitch is getting married today. She's got mimosas at her fingertips (which are being painted). Her stomach feels like it's going to fall through her asshole. She hasn't had a carb in three months. The last thing she needs is a bunch of people texting her asking how her day is going. Leave that bitch alone.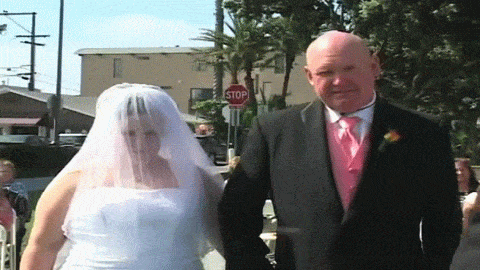 6. Do Not Wear White
This is like, a pretty well-known thing, but due to recent questions from people I know, this clearly isn't well known enough. Do not, if you value your life, wear white or cream or ivory or ivory blush or eggshell or whatever the fuck stupid synonym fashion marketers are using now to denote white. Really, avoid anything that could be potentially light or white enough to piss off the bride. It is an unspoken rule that you never, ever wear white to a wedding that isn't yours (unless the bride weirdly requests it). That means you, Kelly.

7. You Owe A Gift Even If You Can't Go
MMMHMMM. You know who you are. Nothing is ruder than heading to a wedding and not bringing a gift (or mailing one later … or sending one before the wedding). The bride and groom have stressed over the decor, the food, the ceremony, and how to entertain you fucks. You get an invite, you buy a gift. End of fucking story. Furthermore, and maybe if you DIDN'T know, etiquette says that even if you CAN'T attend the wedding, you still owe a gift. So, by my count, that's about 10-15 gifts I'm still missing. Some from family members. On his side. MMMHMMMMM.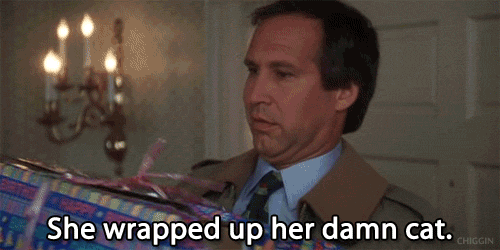 8. Be Nice To The Weirdos At Your Table
I know getting stuck at a table full of people you don't know isn't the most awesome thing ever. But have a drink, put on your big girl panties, and make the most of it. Nothing is worse, as a bride, than stressing about how people at certain tables are going to get along. The couple did their best to put you with people you may like. So, like, make some convo. If you hate them, you never have to see them again, so just suck it up for a few hours.
Images: Shardayyy Photography, Unsplash; Giphy (8)
What To Wear To An Engagement Party
Spring is all fun and games until you get that pretty little invitation in the mail or a random "GUESS WHAT" text from a girl in your sorority that you rarely talk to anymore. "Shit" is right. Before you know it, you're invited to engagement parties left and right, and you can't just like, say no, because they're your friend. Besides, there will be bottomless mimosas. Doesn't sound so dreadful after considering the prospect of free Prosecco. There only leaves one fucking problem: What the fuck do you wear when you want to dress to impress 40 girls from college, but still look classy? I've done the work for you and included whatever it is that floats your boat. Here's WTF to wear to an engagement party.
You, reading this article:

IDK what it is, but brides-to-be fucking love flowers. You just can't go wrong with anything that has a bright-colored floral print. Instead of an entire dress, make it separate with a really cute high-waisted floral skirt and pair with a neutral (or if you're feeling risky, white) top.

Obviously, white, cream, ivory, off-white, anything at all close to white, is just a hard no. That's like, the rules of feminism, honestly. However, you can do a basic millennial pink cocktail dress, because bitches just love that color when it comes to weddings. A fit-and-flare is also perfect if you want to keep things short (conversations, relationships, etc.), but still have fun and keep it playful.

Maxi dresses and skirts are always a good idea. They somehow make you look skinny, taller, classy, and elegant—everything that we all aspire to be and look like on a daily basis. If bright colors make you want to vom, but your mother would frown if you came down the stairs in black, stick to navy blue. It's basically the same thing, tbh.

Lace is another fave for anyone going to a wedding-related event. It's v formal without being over-the-top, but you can also totally get more than one wear out of it. Opt for a style that fits closer to a bodycon, because otherwise things will start to look weird and before you know it, you're wearing something that resembles a full-blown tutu. Pastels look better with lace, IMO, so I'd stick with lilac, blush, or baby blue.

If anyone tells you that you can't wear a jumpsuit to an engagement party—or a wedding for that matter—unfollow them on Instagram because you seriously don't need that type of negativity in your life. Jumpsuits are just as good and cute as dresses if you pick the right one, of course. A timeless black looks best with an open back, wide leg, sleeveless style. Add a pop of color in both your shoes and crossbody, throw your hair up, put on some lipstick, and call it a fucking day.

Images: Nastya Gepp / Pixabay; Gifer.com; ASOS (1); Lord & Taylor (1); Lulus (1); Bloomingdale's (1); Revolve (1)