What To Wear To A Summer Wedding Based On The Dress Code
Betches may earn a portion of revenue if you click a link and purchase a product or service. The links are independently placed and do not influence editorial content.
Welcome to wedding season: where the hangovers are real, the dress codes are confusing, and we're all sweating. As if the uptick in vaguely specific dress code attire hasn't made finding a wedding guest outfit hard enough, summer weddings also require finding something that's dress code appropriate while also seasonally appropriate. There's a lot of "vibe interpreting" required for all these confusing wedding dress codes that, frankly, most of us just aren't cut out for. So to help guide you on your seemingly treacherous wedding guest outfit search, here are some options based on the different dress codes.
White-Tie
Clearly I need to reevaluate my entire circle of friends because I've never attended nor have I even been invited to a white-tie wedding. White-tie dress code is the most formal of them all, requiring floor-length gowns, no exceptions. Your gown should be paired with your most elegant clutch and accessories and, if I were you, I'd take full advantage of the occasion and even add some trendy elbow-length gloves. You can make your gown more seasonally appropriate by choosing summery colors and fabrics.

Off Shoulder Drape Neck Pleated Dress

ASOS Design

V-Neck Crepe Ballgown

MAC DUGGAL
Black-Tie
Personally, this is my favorite wedding dress code out of the ones I've attended because I love an excuse to dress up. Black-tie dress code means you can wear a formal gown or elevated jumpsuit, either of which paired back to elegant accessories. Basically, think prom-adjacent attire minus the over-the-top tackiness and vodka-filled water bottles. Similarly as with white-tie, you can make your black-tie ensemble more summer- appropriate with light and bright colors, airy fabrics, and more breathable silhouettes.

Unstoppable Cross Over Halter Neck Maxi Dress

Club L London

Milena Jersey Corset Maxi Dress

House of CB
Formal or Black-Tie Optional
This dress code can be confusing and definitely requires some of that "vibe interpreting" that I mentioned earlier. Black-tie optional is pretty much equivalent to formal and  just means slightly less formal than black-tie. The biggest difference for women's attire is that a full-length gown isn't required, but something of the same dressiness "vibe" is still recommended. Basically, if you want to get wild and show your ankles then you have permission to do so but I'd avoid going above the knee for your hemline. Add a summer-feel to your formal look with vibrant summer colors or a lightweight mesh fabric.

Colette Satin Cutout Midi Dress

ASTR

Cecilia Bodycon Midi Dress

Beginning Boutique

All That Strapless Ruched Midi Dress

Mistress Rocks
Cocktail
Cocktail attire means that women can wear shorter hemlines but still need to look dressy. Long story short, it would be inappropriate to wear a gown but also inappropriate to wear a sundress. I realize that leaves quite a large gamut, but basically just think a specialty mini dress, elevated midi dress, or eloquent jumpsuit. Overall, this dress code does imply a bit more of a flirty and playful vibe, so have fun with it but still look classy. Keep it summer appropriate with shorter hemlines, seasonal colors, or even an elevated floral print.

Uma Sheer Mesh Sleeve Crepe Corset Dress

Miss Circle

Corset Satin Slip Midi Dress

Heiress

Mesh Ruched Puff Sleeve Mini Dress

Missguided
Semi-Formal or Dressy Casual
Semi-formal or dressy casual might be the most vague of all the dress codes because there are no "hard lines" beyond no sweatpants. Rather, you really have to feel into the vibe of the wedding, so maybe just grab a crystal and the invitation and mediate on it? On second thought, maybe just text a fellow wedding attendee to see what they're wearing and go from there. At the end of the day, err on the side of being over-dressed rather than under-dressed.  Remember, it's about special event elegance without crossing the line of "fancy." Vague, I know, so best of luck.

Santorini Floral One Shoulder Midi Dress

ASTR

Jackie Wide Ruffle Hem Pinafore Dress

Selfie Leslie
Beach Formal
As someone who recently attended a beach formal wedding, my biggest piece of advice is DO NOT underestimate the heat. As someone who also attended said wedding in a long sleeve bridesmaid dress, I'm going to suggest you steer clear of sleeves and any material that could potentially show sweat. Instead, opt for lightweight summery fabrics like linen or gauze. And, if you're really someone who sweats easily, go for an airy printed maxi to help disguise any possible sweat stains. Oh, and bring a handheld fan, you'll thank me later.
Daytime or Casual
Covid has made the backyard wedding quite a trend, and given how expensive weddings can get, I definitely see the appeal. Backyard or daytime weddings are usually more casual which means they're perfect for a breezy sundress, pretty mini dress, or sophisticated set. The only "don't" here is going too casual or too dressy. Just avoid dressier fabrics, overly casual fabrics, stiletto heels, sneakers…and you should be good to go from there.

Ruffled Tiered Mini Dress

Nocturne

One Shoulder Smocked Waist Tiered Mini Dress

WAYF
Images: Omar Lopez / Unsplash 
5 Ways To Get Away With Looking Low-Key Slutty At A Wedding
As a longtime secret hoe (lol I'm not that secret about it) I'm constantly looking to push the envelope bring shame to my mother via my fashion choices. And the older I get the more I thrive off the challenge. High school dress code? Sorry not sorry you didn't account for betches with small arms when you established that fingertip length rule. College? Okay, that was less of a challenge and more of a free for all, but I remember it fondly just the same. Business casual office attire? CAROL, do not start with me rn, this crop top is clearly not in violation of the dress code and let me tell you all the reasons why. And since all of my friends are suddenly throwing away their youth engaged I just know it's time for me to take my talents to the wedding scene. I, mean, my friends are getting eternal happiness, shouldn't I at least be able to flash some cleavage in the group photos? It really only seems fair. So because I'm thirsty AF I value my journalistic integrity I've decided to outline all the ways in which you can get away with looking low-key slutty at a wedding. You're welcome.
But before we even get started, a word of advice: Do NOT take your inspiration from Forever21's bridal section. Forever21 has been a staple in my wardrobe for the better part of a decade because that brand has a deep understanding of both my appreciation for the freshman college scene and also my desire to never pay more than $30 for an outfit. That being said, the "wedding guest" section of their website is literal garbage. For example:

This is an actual item in their "wedding guest" line and it looks like something out of one of my revenge fantasies where I show up to my ex-boyfriend's wedding and blow up his shit one final time. The bride-to-be won't appreciate this look, and neither will her grandmother. But thankfully, there are other ways to be less blatantly slutty. PRAISE.
1. Go For A Different Silhouette
If you're trying to be slutty on the DL you can't always go for what feels right, i.e. anything that shows your cleavage. The only attention that's going to give you is from the church ladies and the one creepy groomsman who keeps watching you from the open bar. Pass. Instead go for a slightly different silhouette, like a low-cut, backless number. Maxi dresses and jumpsuits in particular are perfect for getting away with showing a little extra skin because technically you're covering most of your body up. Plus no one can say shit about it because your boobs are 100 percent secured. Got 'em.

2. Show Some Leg
Bella Hadid stole the show a few years back in that red dress, high-slit number and I learned a v important fashion lesson in that moment: side vagina is the new side boob. Amazing. And while maybe you don't want to showcase your entire labia like Bella did (I, mean, save that for later when you're three glasses of champagne deep and wondering when you'll meet your husband on Bumble duh), showing a little leg can go a long way. If the wedding vibe is more casual and you're afraid the slit will make you look extra AF, choose a floral print. It makes you look more fun and flirty and little less thirsty. Only a little though.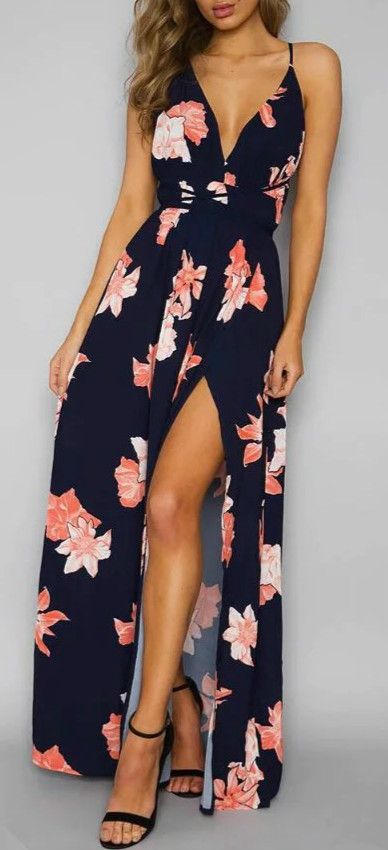 3. Embrace The Two Piece
If there's one thing I understand in this world, it's how to get away with wearing a crop top in "inappropriate" environments. My mother is super proud. There's a lot of different ways to play around with the crop top look. I recommend wearing either a longer or a fuller skirt to balance out the fact that you're showing skin up top.

4. Pick The Right Fabric
The right fabric goes a looong way toward the type of vibe you're going for. I'm all for velvets and silks but I have to be super careful about how they fit on my body, lest someone mistake me for an extra during the precinct scene on Law & Order SVU. If you're going to choose a daring fabric like silk then stick to looser silhouettes, which will still give off plenty of sex appeal without you looking like a cry for help.

5. Wear A Bold Color
Finally, color choice is going to be key here. If I can't make a statement by showing skin, then my backup plan is always to visually assault wow you with the color of my dress. If you want to go for more classic hoe vibes then you should embrace the color red. It's tried and true and what's expected from the girl that hazed the bride in college on her 21st birthday (Hi). Yellow is another color I highly recommend.

It's bold enough that you'll make all your married sorority sisters jealous AF at the wedding, but cute enough that your friend's grandma will actually think that mark on your neck is from a curling iron and not the best man five minutes ago in the bathroom. Or, you know, you could always go with white and be that girl at the wedding.

If all else fails and you're forced to confine to society's social standards (ew) then just let your personality do all the work for you. There's no way they can hide that shit show in layers of chiffon and length appropriate attire.