The Time To Cancel "Shedding For The Wedding" Is Now
"Shedding for those wedding bells, I see!" said an oblivious male trainer friend of mine the last time I was at a gym (which feels like 200 years ago), distracting me from a personal best I was about to make. Because we have a personal relationship, I said straight to his face, "excuse me, that was incredibly rude," and we moved on. But, truthfully, rude doesn't even begin to scratch the surface of how problematic this assumption is. 
Shedding for the wedding has somehow become a cultural phenomenon that not only requires a bride to put on the most expensive party of her life, but also forces her to spend the months leading up to the wedding (that should be spent drinking champagne and shoving her hand in people's faces) hangry and stressed. Disclosure: I am talking about female-identifying brides, as I rarely hear about grooms training specifically for the big day, but for the record, body shaming harms everyone.
First, let's break down how little sense the idea of losing weight for your wedding makes. You're marrying the love of your life, who loves you for you. Now you want to go and crash diet and/or binge exercise to drastically change your appearance for one day? There's no reason to make yourself miserable in preparation for what's supposed to be the happiest day of your life.
One could argue that the ritual ceremony of a wedding itself symbolizes entering adulthood. For me, it definitely does in a much more real way than graduating college or doing my taxes for the first time ever did, and for some, that can be a call to consider their health seriously for the first time. That is not inherently a bad thing, but the problem with the wellness industry as it stands is that it conflates health and well-being with beauty. That notion of "beauty" is further limited to Eurocentric features, so it's problematic in multiple ways. True health and well-being aren't as sexy to promote on Instagram, though, because it's tougher to market what we can't see from the outside, but diet culture has officially infiltrated the spaces we look to for health information. 
Diet culture is the belief that thinness = "health" and status. This is dangerous to us all, but especially to women, BIPOC, people who are differently-abled, anyone over size 6, the trans community—basically anyone society "others". It sends the implicit message that if you don't look like the imaginary health ideal—which, according to stock photos, is exclusively thin white women (who can usually be found laughing at salad)—you're not only unwell, but a whole slew of other unconscious judgments that come along with it (lazy, unmotivated, etc.). Wellness becomes inherently political in this regard. It is impossible to talk about health without addressing the fact that we all have varying levels of access to wellness resources and that we continue to glorify some bodies as beautiful and others as not—which lurks somewhere deep in our brain when we think about what would make us look *perfect* on our wedding day. 
I so, so, so get wanting to look your best for the big day. These are photos you'll have forever, after all. And yes, you better believe my skin care regimen is 234209243 steps long, and I've obsessed about the hair and makeup and the dress, but the idea that we need to lose weight to be and feel beautiful is sexist, and while we're being honest, it's racist. At the same time, I fully support your right to be autonomous with your body, in every sense of the word. If you want to lose weight to feel special on your special day, that is entirely your right and you shouldn't feel shame for that—but you should know where that desire comes from, because I'm willing to bet my dream honeymoon that the desire to lose weight comes from a hope that we will be more worthy, better versions of ourselves once that finally happens. The thing is, though, losing weight doesn't usually accomplish that. If you aren't armed with this information going in, you'll probably be disappointed when you get to that final dress fitting and you don't feel as changed as you thought you would. 
To be clear, I am not against having fitness goals! But by fitness goals, I mean actual fitness—not physique goals. A fitness goal is "I want to run a marathon" or "I want to carry this overpacked suitcase without breaking a sweat." A fitness goal is not, "I want to lose x pounds or fit in this dress". Personally, my biggest "wellness" goal is staying sane in 2020 and making it to my wedding alive amidst a GLOBAL PANDEMIC, PEOPLE. 
As a bride and pilates instructor (with no wedding date in sight), what I am doing is continuing to do the exercise I enjoy because it feels good and helps me deal with COVID-19/wedding/2020/self-employed stress. Listen, movement is objectively good; I've literally made it my career and can personally vouch for the life-changing magic of moving your body every day. The problem is, shedding for the wedding puts the focus on changing your body for aesthetic purposes only, instead of enjoying it or even focusing on health itself. Not only can that get punish-y and dangerous, but it's also just not fun. 
I move my body regularly, whether it's a full workout or a sanity walk around the block, because it feels good and also so I don't lose my sh*t when my dress is indefinitely delayed or trips get canceled. Choosing to exercise in appreciation of your body and as self-care increases body satisfaction and helps you be nicer to your reflection, which, wedding or not, is always welcome. 
Unfortunately, you're not likely to get through your engagement without hearing the phrase "shedding for the wedding". So what do you do when someone puts their nose where it doesn't belong? It's actually quite simple: Call them out and remind them (politely or not, up to you) that it's not only not their business, but it's also harmful and promotes an outdated beauty ideal. Let them know that your wedding does not revolve around an arbitrary number of pounds lost or gained, but the fact that you found yourself a life partner. What a concept. 
It's time to cancel "shedding for the wedding" and start celebrating body diversity with the same fervor that we do one particular type of beauty. 2020 brides have had to sacrifice dancing, hugging, and uh, human interaction in general with the rise of stoop and Zoom weddings. But, we've also started to see an edit of superfluous traditions in favor of celebrating what's actually meaningful about a wedding: the love! Maybe, *JUST MAYBE* we can make engagements about being engaged instead of dieting, and "shedding for the wedding" will go the way of the garter toss.
Images: Jacob Lund / Shutterstock
7 B.S. Wedding Traditions You Can Totally Skip
When it comes to 2020 weddings, there are no rules. As a fellow bride-to-be, I've realized there are a lot of wedding traditions I'm not into. While you may feel guilty about not doing everything your mom did at her wedding, just think, there were probably some traditions her mother did that she boycotted (it's a vicious cycle, you see?). For example, my grandma told me it used to be tradition that the bride changed out of her dress at the end of the night and put on a suit to go off on her honeymoon. Sounds miz, right? I'm assuming all I'll want to do is change into sweats and PTFO. My mom sure as hell didn't do that, and I bet yours didn't either, so don't feel guilty about skipping one of these seven wedding traditions that should prob be retired any way. 
Gender-Specific Wedding Parties
Look, it's 2020. Gender fluid, gender neutral, whatever you want to call it, we can all agree that the gender lines are blurring, and therefore, there's no reason to be a stickler about your best friend from college standing on the groom's "side" because of the gender he was assigned at birth. Mix it up and go half boys and half girls, have your brother stand on your side, etc. Nobody's going to be sitting at the ceremony whispering, "oh my God I can't believe she has a GUY standing on HER side," and if they do, they're a f*cking idiot and shouldn't be invited in the first place. Plus, women's pantsuits are so in right now, so if you're a woman in the groom's wedding party, just channel your inner Ariana Madix circa Tom and Katie's wedding and own that sh*t. 
Your Parents Giving You Away
This may have been a thing back in the 1800s when literal 14-year-olds got married because they were going to die by age 30, but now that you're a grown-ass adult, there's no need for mommy or daddy to "give you away". The whole idea of them handing off ownership to your spouse is pretty objectifying, IMO. Not to mention, not every person has a great relationship with their parents, and this wedding tradition can just put extra pressure on an already tense dynamic. If you want to skip this one but still compromise, you can have them walk in front of you, or at the beginning of the procession with the groom's family if they're salty about you walking solo. 
Gift Exchange
Advice for wedding dress style: wear whatever the fuck you want

— betchesbrides (@betchesbrides) November 10, 2019
IDK who invented the idea that couples need to give each other gifts before the wedding ceremony, but isn't like, your marriage enough of a gift? Yes, I know that sounds cheesy, but when it comes to saving money, I will use all the cliches I can to get me out of buying a really expensive watch for my fiancé (sorry, babe!). Writing a personal note should be gift enough, since you prob just spent your life savings on this massive party. I am officially launching my campaign to end pre-wedding gift exchanges between couples. WHO'S WITH ME?! I'll take this all the way to Congress if I have to. 
Wearing a Veil
I know this is one I'll catch a lot of heat for, and I'm ready for it. When I discovered the historical meaning behind why brides wear veils, I was appalled. Basically, wearing a veil was intended to keep the groom from seeing the bride until she got up to the altar so he wouldn't see her and run for the hills. Wow, that is so thoughtful of the inventors of the veil to hide the bride's face until it's too late in case the groom didn't like her looks. A more modern-day reason to pass on a veil is the cost. Do you really want to spend $800 on a piece of tulle? I'm sure most of you reading this think I'm a veil-hater and are probably still going to wear one, but I'm just here to tell you that if you're on the fence and the notion of "tradition" is preventing you from doing you, I'm here to tell you that it's perfectly okay if you don't wear one.
Evening Weddings
Picture this.

Late night wedding ceremony and reception, brunch menu, open bar.

GIRL. Lemme write this down for future purposes.

— jaya. (@jayacancook) December 30, 2018
I'd venture to guess that the majority of weddings take place at night (mine will be), but if you're not into the idea of a nighttime party, why not start it earlier in the day? My cousin is having a brunch reception that goes all day and I'm not going to lie, I am STOKED. The idea of eating brunch food, getting wasted, and being in bed by 7pm sounds like heaven on earth. Is that an over exaggeration? Probably, but let's face it, I can't stay up all night anymore and so the idea of getting the party started early, and ending it early, sounds lovely. Plus, all-you-can-eat brunch food? Hmm, maybe I should change my start time to 11am.
Bouquet/Garter Toss
The only thing worse than being seated at the singles' table is the dreaded bouquet and garter toss. As if a guy literally crawling up his wife's dress in front of his entire family isn't mortifying enough, think of all the single guests at your wedding you'll humiliate when you toss a bunch of flowers at their faces. Also, someone could get SERIOUSLY injured. At my friend's wedding last year she hiked the football bouquet like an NFL Pro-Bowler and almost took out half of her single guests. I mean, respect, but drunk people don't have the best reflexes, so that could have been a massacre. 
Wedding Cake
I'm not getting married but I might schedule some wedding cake tastings just for fun

— Betches (@betchesluvthis) February 3, 2020
My fiancé doesn't like frosting (I know, he's literally a serial killer) and I don't want an icing-free cake at our wedding, so we're not having one at all. We're doing a donut wall instead because I'm #basicandproud, and that way people can bring their dessert on the dance floor. We also realized that at the last four weddings we've gone to, we didn't eat the cake. It's my personal goal to make sure every guest feels sickly full at the end of the night and they can't get there with a small slice of cake, so bring on the dessert bar! If you want a cake just for the photo opp, your caterer might be able to whip up something small so you can at least have the picture. 
The new wedding rules are that there are no rules, so don't be afraid to do you. As long as you have good booze and awesome music, everyone will have a good time. 
Images: IVASH Studio / Shutterstock; betchesluvthis, betchesbrides, jayacancook / Twitter
For more, subscribe to our new Betches Brides newsletter
JoJo Fletcher's Tips For Planning A Wedding After 'The Bachelorette'
Bachelorette couple JoJo Fletcher and Jordan Rodgers are FINALLY getting married (smh it's been 3 years…). The couple are getting ready for their spring/summer 2020 wedding, and we couldn't be more excited. On our newest episode of the Betches Brides podcast, JoJo sat down and told us the ins and outs of what she has in mind for her upcoming ceremony. Here are 5 tips she gave us on how to plan a wedding after the madness that is The Bachelorette.
1. Wait To Get Married
It's not rocket science, but apparently people forget this: The Bachelor/Bachelorette isn't the real world. IRL, you aren't traveling to Latvia with three of your potential fiancés, all expenses paid, and having a date card reveal your next destination. This can pose challenges to an engaged couple once the cameras stop rolling, because as JoJo explains, you may think you're getting to know someone on the show, but the truth is, you aren't. She emphasized that while on the show, "It's this whirlwind romance, you're on a high and you come off and you're thinking that you totally know this person but, in all honesty, you really don't." As annoying as it is for us fans that she and now-fiancé Jordan have been engaged for three years with no wedding, JoJo explains that that time was what they needed to create a healthy and happy relationship together. She doesn't even think their relationship would have lasted otherwise. "If Jordan and I were to have gotten off the show engaged and started planning a wedding right after," she says, "we probably would not have made it."
2. Decide What Kind Of Role You Want The Show To Have
On the Betches Brides podcast, JoJo makes it clear that she does NOT want her wedding to have anything to do with the show. She says, "it definitely won't be some sort of Bachelor/Bachelorette wedding—I know that for sure." She wants to be able to share some of her wedding with her fans but emphasizes, "Jordan and I are firm on that we don't want our wedding to be a produced event." Sad that means we can't watch it, but happy for them overall.
 3. Come Up With A Vision
 Before you can do anything to start preparing for your wedding, you need to figure out what you want it to look like. For JoJo, she wants her ceremony to be, as she puts it, "whimsical and beautiful and outdoorsy". Though she doesn't know the style she wants for her dress, she knows she wants "to feel like it is my wedding day—I don't want a dress that I feel like I can wear to some white party gala. I want to feel truly bridal." I mean, don't we all want that?
4. Decide On Your Wedding Party
When it comes to the guest list, Jojo is trying to keep it small. She wants the guest list to be around 150 people whereas Jordan thinks it will be much larger than that (yikes). What JoJo is certain about is that she is not into the whole "Vegas thing" for a Bachelorette party. She mentions, "I just want to be on a beach, I want spa, I want sun, I want girlfriends. I'm not a big clubber." As for Jordan, his idea of a great Bachelor party would be, "going to play golf and then going to a little hole in the wall sports bar and having a beer with his buddies." And finally…
5. Get Your Finances In Order
JoJo is on top of her sh*t when it comes to $$$. She and Jordan have sat down with a financial planner from Northwestern Mutual to discuss finances and future plans for their marriage. She says, "Meeting with that advisor from Northwestern Mutual totally made me so much more confident in what finances will look like as a couple and I would recommend it to anybody." She said the advisor guided a much-needed financial conversation to prepare them for the future together. JoJo recommends all newly weds or anybody engaged to do it. "Have that conversation," she urges, "it puts you in a way better place, and honestly, it was the best thing for Jordan and I."
I don't know about you, but I'm pretty impressed with JoJo and how shes handling her plans. She's super chill (honesty maybe a little too chill) and made it clear that all she wants is a ceremony to get married to the love of her life and that's all— no bullsh*t. I'm happy for her and Jordan and I am SO excited to see the pics. Listen to the rest of the Betches Brides podcast for more insider sneak peeks of her upcoming wedding.
Images: @joelle_fletcher/Instagram; Shutterstock
8 Simple Ways To Cut Costs On Your Wedding
Oh god. Here we are again with tips and tricks on how to cut costs on your wedding and have it not be a precursor to your poverty. If you want things in life like the down payment on a house or a honeymoon that isn't at a cheap resort in Mexico that serves tainted alcohol, you're going to need to chill on some wedding day stuff. Everything from food to flowers to photographers costs a lot of money, and you need to prioritize where it's cool to pay a couple thousand and where it's like, uncool. Maybe none of this applies because Mommy and Daddy are footing the bill, but, like, maybe they aren't. Or maybe you'll piss them off so much that you'll be paying for it yourself.
In any case, here are a few ways to cut costs on your wedding.
1. Chill On Your Dress
Do you honestly need the custom designer Oscar De La Renta dress for your wedding day? Yes, it'd be nice to have, and yes, everyone would be super jealous (especially your cousin who literally always tries to one-up you). However, at the end of it all, is it necessary to spend more than $5k on a dress you're going to wear once? There are millions of beautiful dresses below the $5k point, many in the $1,000 to $3,000 range. If you NEED the designer dress, check the sale racks or shop sample sizes if you're #blessed enough to be a size zero or two.
2. Don't Use A Florist
Flowers are going to kill your budget. All of your flowers are going to die three days or less after your reception. I've heard of people quoted $30k on flowers (she wanted an entire altar made of roses, but that's neither here nor there). Knowing these cold hard facts, go ahead and get your bridal bouquet and potentially bridesmaids bouquets from a florist. But when it comes to decorating cocktail hour serving areas or adorning tables in the reception hall, go for dried arrangements of lavender, baby's breath, and eucalyptus from your local Michael's (I know you have a coupon) or mixed floral bouquets from spots like Trader Joe's or Whole Foods. Grocers have fresh flowers delivered on the reg and will prevent you spending a metric f*ck ton of money on the same effect you're getting from the florist. If you put gas station roses on a table, chances are your guests will be too drunk to realize you spent $12 instead of $100.
3. Stock Your Own Booze
Although some of us (me) think it's tacky, soon-to-be-wedded couples sometimes do a "stock the bar" party instead of a bridal or wedding shower. The object is to guilt guests into buying all the booze for your event so that you aren't forced to pay a couple thousand dollars for an all-night open bar. You could also slowly buy nice bottles of top shelf liquor and use that, depending on the size of the wedding. The moral of the story is that having an open bar with a bartender with top shelf liquor at a venue is often extremely expensive. So, if you're able to at least stock the bar with your own beer, wine, and liquor to offset some costs, go for it.

4. Limit The Guests
I know your mom is dying to invite your third cousin twice removed, but if you want to count pennies for this shindig, limit the guest list. Every person you invite is going to cost you between $50-100 depending on the size of the wedding. Once you think of everyone as a dollar sign—dollars that could be spent on wine during your honeymoon—you'll stop feeling so obliged to have them sit through your special day.
5. Buy Used
Check out Etsy, Craigslist, weird garage sales, flea markets, etc. for wedding decor like lanterns, tea lights, vases, etc. Chances are, you're going to find little corner-filling items for a lot cheaper (and in probs fine condition) by perusing used items versus going to a planner and having them source stuff for you.

6. Nix The Programs
You know what costs money? Printing programs. I printed 160 programs for my wedding which hosted a guest list of 150. I still have about 100 said programs laying in a v sad, handwritten book basket in my office. If you want everyone to know the correct Psalm number with which your reading coincides, get a giant, adorable chalkboard, frame it nicely, and have someone with lovely handwriting get to work.
7. Don't Bother With Favors
Save your money. You just gave these ungrateful plebs an all-you-can-eat buffet and free booze. They don't need a personalized tea light or Mason jar of local honey that they'll forget about and leave in their car. It may add up to just a couple hundred bucks, but every little bit counts when you're trying to buy house wares like that margarita machine, amirite?
8. Go Buffet
When it comes to food, obviously, a plated dinner is nicer, fancier, and classier. However, if you really want two weeks in Corsica after the wedding, opt for a family style meal or buffet which is almost always cheaper (don't @ me). People can eat as much or as little as they want (less food waste which is like, v planet-friendly), go up as much as they want, and you can have an assortment of mains and sides.

All these tips AND MORE can help you save thousands of dollars on your big, giant, one day party. Remember that when you're drowning in invites and custom napkin colors and your bridesmaids refusing to wear pink: it's a big party. What matters is the person waiting for you at the end of the night; the person you can pass out and throw up on this night and every night for the rest of your life.
Images: Anne Edgar / Unsplash; Giphy (3)
10 Summer Wedding Mistakes To Avoid So Your Guests Aren't Miserable
Summer weddings are a dime a dozen; good summer weddings are rarer than me not getting a hangover after drinking anything other than vodka soda. It's a cross I have to bear. If you're planning a wedding in June, July, or August, you need to take into account the hot fucking weather, that no one likes being out in the hot fucking weather longer than necessary, and that comfort takes precedence over a lot of other shit. Putting people in hot, sweaty suits or long, sweat-inducing dresses is as cruel and unusual as not having shade for Auntie May, who is prone to overheating. Don't be a dope and don't make these summer wedding mistakes during your big, special, summer day.
1. Long, Heavy Dresses
Summer is time for tea-length or short dresses and breezy fabrics. If you value your life and don't want your bridesmaids to shank you in your sleep, try not to dress them in long sleeved, long skirted dresses (or fucking velvet) when it's July. If you must go long skirt, opt for chiffon or another light fabric. For yourself, think strapless or spaghetti strap and NOT multi-skirted organza with sleeves. Idiot.
2. A Lack Of AC
Please, for the love of Lord Jesus, have AC at some point during your day. It's fucking hot in July and August, and no one wants to be stuck outside for six hours in the humidity. If you're having your reception and/or cocktail hour in some sort of tent or old barn, have a lot of fans, misting stations, and possibly even an indoor area. Do you want Great Gramma Elle to die of heat exhaustion and totally upstage your big day?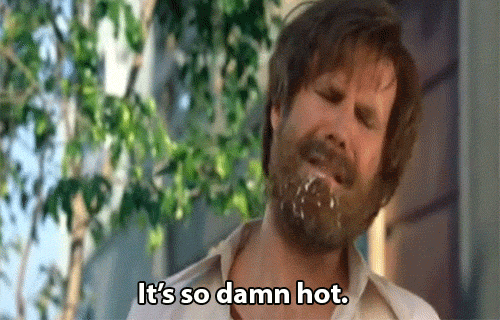 3. Shitty Weather
Summer is a fickle bitch, and afternoon storms are the norm for most spots. Plan on one happening even if the weather people say it'll be clear all day. They're liars. Have umbrellas on hand and definitely have a Plan B for your outdoor reception/nuptials/cocktail hour in the form of tents or a v nice barn in case of a downpour, tornado, or derecho. They're real.
4. Not Using Sweat-Proof Makeup
Fun fact: if it's 100 degrees outside and you get your wedding done at 6am for a 2pm wedding, your makeup is going to be literally melting off your face by the time you're taking pictures. If you need your hair and makeup done early, make sure you have oil sheets to blot, a ton of hairspray and extra bobby pins, and back up lipstick and mascara for yourself and your maids.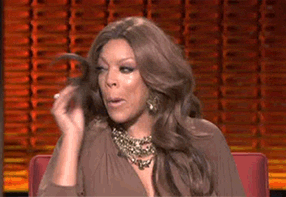 5. Lack Of Shade
HALP. This kind of goes without saying, but make sure your guests have shade in the form of umbrellas, tents, or an indoor area. Not only will everyone turn bright pink from sunburn (which won't be cute in photos), but having a spot to run to and take a break from the beating heat and noise is like, a nice thing to offer.
6. Overly-Iced Cakes
Summer is the perf time for your naked cake with minimal icing, lots of fruit, flowers, and not much else. Why? If you try to get the multi-tiered fondant and buttercream tower of cake, it's going to melt in any outdoor heat. Just picture it: those little wedding figurines slowly sliding down the side of the cake, grandma screaming, and then the cake collapsing. Sounds magical.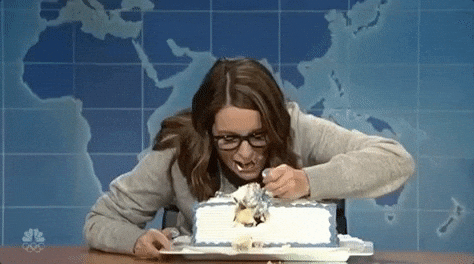 7. Not Enough Water
I love getting drunk on margaritas poolside as much as the next betch. However, when you subtract the pool and add long dresses and very light hors d'oeuvres, it's a recipe for someone barfing on your wedding dress. Make sure you have tons of water stations—including infused waters to make people feel fancy—and a few heavier hors d'oeuvres during your cocktail hour. Open bars and hours of the beating hot summer sun do not mix.
8. Formal Expectations
I get that having a black tie affair is like, très chic. But doing one in the heat of August is a little much. If you're getting married in the summer months, understand that there's an expectation of a more casual wedding. Ain't nobody got time for dressing like they're going to a gala when it's 98 degrees outside. No one enjoys being sweaty.

9. Making It Bug City
An outdoor summer wedding complete with string lights and candles and fake lanterns sounds SO cute, right? WRONG. Those fake lights attract bugs, and your guests will become an actual buffet for the mosquitos at your outdoor reception. Opt for citronella candles and torches if you want a moody outdoor feel, but ditch the string lights.
10. Picking Overly Basic Colors
Yah, summer is a great time for neutrals, blush tones, and the color palette from Anthropologie, but don't go overboard. Make sure to pick one or two eye-popping colors, either in your flowers (maybe a super dark blue iris or bright pink peonies), your bridesmaids' dresses, or centerpieces.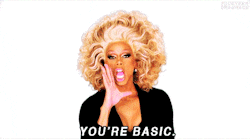 Images: Shutterstock; Giphy (5)
7 Reasons Destination Weddings Are Selfish & Your Guests Will Secretly Hate You
The idea that destination weddings are not the most convenient for your guests isn't new, but people keep having them, so I guess it's time I say my piece. It's not that I've never wanted to go to Bermuda. It isn't that I find The Maldives anything but quaint. It totally isn't that I'm not looking forward to a 10 hour flight with two layovers on the way for a two-day total trip. It definitely isn't that I don't want to spend $1,000 just to get to the wedding of a couple I am v lukewarm about anyway.
Destination weddings are parties meant to alienate your friends and family. No offense, but it's true. If your wedding involves a location that a) is hard to get a direct flight to; b) is impossible or extremely difficult to drive to; or c) involves really expensive hotels or resorts REGARDLESS of season, you're planning a fucking destination wedding.
If you demand everyone travel for your special day, let's get a few things straight about what's going through your guests' heads.
1. You Were Clearly Trying To Weed Out
The Unwanted Guests
I FEEL YOU. Really, I do. Destination weddings are the best way to weed out my least favorite thing: KIDS! If you think about it, though, don't you think it's, like, kinda sad to ensure Great Aunt Gertrude can't come because she shits herself at the sight of a plane? Or like, aren't you kinda telling all the people who can't afford a $600 flight and $300/night hotel to go fuck themselves? I get it—I love being mean. But stay woke about what you're doing.

2. I Love You, But Bot THAT Much
Girl, we've been friends for years, but fuck you for making me hop three planes, pay $6 in the airport for a Cinnabon so I didn't pass out, live in a hotel for a few days, and then watch you get drunk and say some things to another person. I love you, but, also, fuck you.
3. I Don't Want To Get You A Gift, Too
I feel SUPER rude for not getting you a gift, but you aren't worth a $2,000 trip AND $200 worth of towels for your guest bathroom. Sister is trying to save up for that new pair of Louboutins.

4. It's Not Even A Real Vacation
Like, don't get me wrong—if you invite me to your destination wedding on St. Jamaica-Tropez-Bartholomew in the Indian Ocean, it should count as a vacay. But the thing is, it won't be. If I'm IN the wedding, my day(s) will be taken up with wedding shit. If I'm not, now I'm trapped on an island waiting for wedding stuff to commence. My typical vacays consist of laying around, sunning my pale, round body, and drinking heavily. This will only check one of those boxes.

5. I Don't have Unlimited Days Off
I wish I did. But, I don't. And what I REALLY don't have is two days to spare for travel, two days to spare for your big day, and one day to fucking readjust my body after drinking somewhere with a huge time difference. Life is hard.
6. I Will Literally Be Trapped On An Island For God Knows How Long
I totally love your fam, but not trapped-on-an-island love them. What if my plus one can't come? What if my flight gets delayed? What if there's a hurricane? (Why did I just describe the atmosphere of Fyre Festival?) It's not like I can spend any of my time with you since you, like, had the nerve to get married this weekend. You're literally so rude.

7. I'll Get To Spend Five Minutes With You
Yah, I'm going to see you for all of 30 seconds when you and your now-hubby make the rounds to thank everyone for coming. Then I'm going to sit and drink my probs rum-based drink and eat my expensive hamburger alone, sadly.

Bottom line: Go get married somewhere cool, but don't expect your guests to like it or attend. Shit, we may not even send gifts if we're, like, mad.
Images: Anne Edgar / Unsplash; Giphy (5)
10 Disappointing Things No One Tells You About Your Wedding Day
It's the most MAGICAL DAY EVER, or so everyone wants you to believe. This is fucking it—the months (possibly years) of planning, fighting with your mom about tables, crying because your fiancé doesn't care about napkin colors, arguing about whether or not the dog should carry the rings down the aisle, and settling on the perfectly perfect sparkler sendoff are about to be things of the past. In other words, it's your wedding day, betch.
You may think you have this shit on lockdown, that everything will go perfectly and according to plan. IT WON'T, SO GET OVER IT. You're still going to probs get married (as long as like, the groom shows up lol) and have an amazing time. But like, just keep this shit in the back of your brain, too. Nobody prepares you for the following less-than-great aspects about your wedding day, but they should. That's why I'm like, such a good friend.
1. You Won't Remember A Lot
I remember bits and pieces of my wedding day—it's like when you brown out but don't fully go blackout. I remember when people bring shit up to me, but a lot of it's a blur, and I wasn't even THAT drunk until about an hour into the reception (see #10). It's fine, accept it. You're still going to have a good fucking time.
2. You Probably Won't Have Time To Eat
Ugh, this is like, the worst part. You'll try to eat some breakfast, but you'll probs be so nervous you won't want it. When dinner finally fucking rolls around, you'll eat a few bites then be off shaking hands and taking checks. Plan to order a pizza once you and hubs get back to the hotel room.
3. It Won't Go As Planned
No matter how many times you tell the limo to go to the WEST gardens and not the EAST Arboreatum, he may still fuck up and you'll have to scream at him as you're merging on to the wrong fucking highway and on a tight fucking timeline. You'll look back on that shit and laugh. You may rent an antique car and the heat of summer causes that shit to break down. Yah, it'll be devastating for a few minutes, but literally everyone will be bending over backwards to keep you from having a mental breakdown, so it'll be k.
4. Someone Will Be Late…
…or wear the wrong shoes with her bridesmaid's dress, or forget her shawl, or sneeze in the middle of your vows. If you have good bridesmaids, they'll make you forget that shit is happening. Plus, you literally won't give a fuck since your focus will be on not barfing from fear.
5. Your Dress Will Get Fucking Filthy/Destroyed
But like, you're likely not wearing it again, so it's fine. Just don't expect to hang up a clean, nice bridal gown. The train of mine had mud and whiskey on it; my mom set hers on fire (sorta) when she leaned over a candle. Expect that shit.
6. You'll Be Sad When The Day Is Over
If you're sad for WEEKS after, there's something wrong. But you will def be a lil bummed when everyone leaves and your days and DAAAAYYYSS of planning and picturing your perf day are over. It'll be ok; now you can eat carbs again.

7. You Probably Won't Cry, But Everyone Else Will
You may get teary when you're walking down the aisle, but you probs won't all-out cry. The adrenaline will keep you in a He-Man / Power Ranger state of mind where you only have one purpose—to fucking marry the shit out of this other person. Your bridesmaids will totally cry, depending on how many mimosas they have before the ceremony.
8. You Will Probably Pass Out After
Literally like 75% of people I know did not have sex on their wedding night. Why? Cause you're fucking exhausted. Like, at the end of the night, nothing will be better than getting out of that dress, taking out the millions of bobby pins in your hair, and passing the fuck out. You'll probs have sex in the morning, so it'll be fine.
9. You Will Gain Weight
That crash wedding diet literally set you up for failure, so unless you plan on sticking to never eating sugar, carbs, or dairy for the rest of your life, prepare to put on some poundage starting the minute you shove that wedding cake into your face hole. And like, you're married now so you can totally stop trying.
10. You May Not Get Drunk
Again the adrenaline, which is likely going to majorly fuck up your shit. Embrace it. Try to get drunker. It'll probs end well.
Images: Giphy (3); Shutterstock