10 Questions You Wouldn't Think To Ask When Touring Wedding Venues But Are A *Must*
"Plan a wedding," they said. "It will be fun," they said. Like many others, I do not have a single clue what I am doing when it comes to wedding planning. I've relied heavily on friends who know the ins and outs, and what I thought would be the most enjoyable part of the process has turned out to be the least. I'm talking venue hunting.
Seeing venues is fun, so I don't mean to hint otherwise. The problems lie less in what you see, and more in what you don't. While the limit does not exist for questions you should be asking when touring venues, here are some must-ask queries with answers that may surprise you.
1. Do You Have A Designated Ceremony Area?

If you plan on hosting your ceremony at a different location than your reception, you can skip this question. If you plan on hosting onsite, do a little digging about the venue offerings for a ceremony. For starters, can they host the ceremony? If they can, is there a designated area for the ceremony? I recently toured a venue, and when asking if I could host a ceremony on site the host replied "yes". I asked to see the ceremonial site and they then pointed to a small patch of makeshift grass between two parking lots. While it took physical restraint to not gasp and/or laugh, it was seriously eye-opening that even the most beautiful venues aren't always what they seem. The other kicker is the ceremonial fee, which is a self-explanatory fee for hosting your ceremony on site. According to WeddingWire, the average cost in the US is $600, but for big cities like NY and LA, expect something closer to $2,000.
2. Do You Have A Bridal And Groom Suite On Site?

I'll be the first to say the bride is the *most* important on the wedding day (bridezilla in the making here), but I want my groom to be treated like a king as well. I was shocked to see how many venues only had one wedding suite, which meant only one of us could get ready on site. My fiancé is irrationally laid-back and would get ready in the parking lot if he had to, but not all couples are comfortable with a single-suite venue. While it may seem minor right now, it's important to think about what getting ready offsite day-of means for the person who chooses to do so (renting a hotel suite, renting a large car or limo for wedding party, etc.).
3. Can I Bring A Hair And Makeup Team To The Bridal Suite?

THIS is a question I can't believe I had to ask at venues. To me, a bridal suite was an obvious getting ready location for myself and my bridesmaids. However, I quickly learned this is not always the case. Some venues do NOT allow you to physically get ready in the suite. They must arrive with hair and makeup done, with no outside vendors allowed in to help prepare the wedding party. Personally, I am really looking forward to getting ready with my bridesmaids all together in the bridal suite, and then waltzing out the door and into the ceremony, so this was an important ask in my book.
4. What Are The Different Rates?

I semi knew this was a "thing" going into venue touring, but I was honestly shook at how drastic the price differences were between "on" and "off-peak" months, Friday/Saturday/Sunday, and time of day. Most venues break down their pricing first by month, with May, June, August, September, and October being the most popular (and therefore, the most expensive) months. From there, choosing your day of the week also dictates the price, with Saturday being the most expensive. AND FROM THERE, the time of day further influences the pricing. A daylight wedding (typically 12pm to 5pm) is often discounted, whereas an evening wedding tends to be more expensive (typically 6 or 7pm to 12 or 1am). So, be warned that Saturday night wedding at sunset in summer WILL impact your budget more than you want it to (I'm talking double the price of a Sunday daytime wedding in April).
5. Where Do The Extra Fees Go?

Venues with in-house catering will charge a per plate fee which covers the guests' attendance and dinner/open bar. Venues who allow you to bring outside vendors will often charge a flat venue rate. But one thing common across the board is the added 20-25% "service charge". What is this, you may ask? No, it's not to compensate the waitstaff, the bartenders, or the cleanup crew. It actually typically goes towards any collateral damage (broken plates, carpet stains, etc.), and the rest goes into the owners' pockets. If, on a venue tour, you ask what the fee goes to and you hear "it goes back into venue upkeep", be aware of what this *really* means. It may bother you, or you may be fine with it. If you ask about the service fee going toward service and you're told that the waitstaff makes "regular minimum wage" instead of "servers minimum wage", just note that you will be tipping another 20% on top of your 20% service fee and 8.875% tax fee (and a potential cleaning fee). Just to put this in perspective, if your wedding is $50,000, with the fees, cleaning, and gratuity, you'll actually be spending about $75,000. I know, I was just as shocked as you are rn!!
6. Do You Require Chair Rentals?

Add this to the list of questions I didn't know I had to ask. For reasons unknown, I assumed with a wedding venue came chairs and tables and normal seating arrangements. For many venues (especially those with in-house catering) this is true, but not for all. Some venues require chair rentals for the space, and this is what I call annoying. Add it to the category of "fees I never thought I'd have to pay."
 7. Do You Require Preferred Vendor Use?

If you have specific vendors in mind ahead of time, this question is an important one for you. Most, if not all, venues have a list of preferred vendors—vendors they work with often, trust to work in their space, and recommend to their clients. Choosing these vendors often come with perks such as no plate fee for the vendors working the wedding, no insurance cost, and the obvious (and best) perk, discounts. That being said, some venues require you choose a vendor from their lists (this is especially true for flowers and DJs) and is something to confirm before falling in love with a venue or outside vendor.
8. How Many Hours Are Included In Rental Space?

This question is semi self-explanatory, but an important ask. How many hours are "included" is a polite way of asking can I come in early? Can I stay late? Will there be more fees for those extended hours outside of my actual party? How long is my actual party? Get those answers and avoid those fees!
9. Is Parking Available And Included?

Oh hey there, another fee. Parking on premises isn't always included, but when it is, you can guarantee it comes with a fee. There are often different "levels" to this parking fee. Typically, couples can choose to play a lot flat fee which allows their guests to park for free, but park themselves. There's also the option to have the guests pay for parking, which feels really reasonable to some and really jarring to others. But, if you're feeling fancy, there's also the option to have a valet service for all guests driving in, and this is where it gets pricy. Worth it? Only you reading this can be the judge of that.
10. Do You Offer A Planner?

While some people choose to go the route of planning their own wedding in full (me), others (people smarter than me) go the route of hiring a planner. Planners have pros and cons—pros being the fact that they know what they are doing, cons being that they often work with specific vendors and venues and may be biased with their recommendations. But, the most ideal situation (in my eyes) is finding a venue you love that assigns you a planner to help handle the rest of the arrangements. This person works specifically for your venue, so they know every single issue you may run into, and therefore are perhaps the most powerful point of contact throughout the entire process. It's good to know if your venue offers a person to help, how far out they begin helping you, and if they are included in your package.
While there are an infinite amount of obvious questions to be asked, these are the questions you don't want to forget about. Happy planning!
Images: Abby Savage / Unsplash; GIPHY (10)
7 B.S. Wedding Traditions You Can Totally Skip
When it comes to 2020 weddings, there are no rules. As a fellow bride-to-be, I've realized there are a lot of wedding traditions I'm not into. While you may feel guilty about not doing everything your mom did at her wedding, just think, there were probably some traditions her mother did that she boycotted (it's a vicious cycle, you see?). For example, my grandma told me it used to be tradition that the bride changed out of her dress at the end of the night and put on a suit to go off on her honeymoon. Sounds miz, right? I'm assuming all I'll want to do is change into sweats and PTFO. My mom sure as hell didn't do that, and I bet yours didn't either, so don't feel guilty about skipping one of these seven wedding traditions that should prob be retired any way. 
Gender-Specific Wedding Parties
Look, it's 2020. Gender fluid, gender neutral, whatever you want to call it, we can all agree that the gender lines are blurring, and therefore, there's no reason to be a stickler about your best friend from college standing on the groom's "side" because of the gender he was assigned at birth. Mix it up and go half boys and half girls, have your brother stand on your side, etc. Nobody's going to be sitting at the ceremony whispering, "oh my God I can't believe she has a GUY standing on HER side," and if they do, they're a f*cking idiot and shouldn't be invited in the first place. Plus, women's pantsuits are so in right now, so if you're a woman in the groom's wedding party, just channel your inner Ariana Madix circa Tom and Katie's wedding and own that sh*t. 
Your Parents Giving You Away
This may have been a thing back in the 1800s when literal 14-year-olds got married because they were going to die by age 30, but now that you're a grown-ass adult, there's no need for mommy or daddy to "give you away". The whole idea of them handing off ownership to your spouse is pretty objectifying, IMO. Not to mention, not every person has a great relationship with their parents, and this wedding tradition can just put extra pressure on an already tense dynamic. If you want to skip this one but still compromise, you can have them walk in front of you, or at the beginning of the procession with the groom's family if they're salty about you walking solo. 
Gift Exchange
Advice for wedding dress style: wear whatever the fuck you want

— betchesbrides (@betchesbrides) November 10, 2019
IDK who invented the idea that couples need to give each other gifts before the wedding ceremony, but isn't like, your marriage enough of a gift? Yes, I know that sounds cheesy, but when it comes to saving money, I will use all the cliches I can to get me out of buying a really expensive watch for my fiancé (sorry, babe!). Writing a personal note should be gift enough, since you prob just spent your life savings on this massive party. I am officially launching my campaign to end pre-wedding gift exchanges between couples. WHO'S WITH ME?! I'll take this all the way to Congress if I have to. 
Wearing a Veil
I know this is one I'll catch a lot of heat for, and I'm ready for it. When I discovered the historical meaning behind why brides wear veils, I was appalled. Basically, wearing a veil was intended to keep the groom from seeing the bride until she got up to the altar so he wouldn't see her and run for the hills. Wow, that is so thoughtful of the inventors of the veil to hide the bride's face until it's too late in case the groom didn't like her looks. A more modern-day reason to pass on a veil is the cost. Do you really want to spend $800 on a piece of tulle? I'm sure most of you reading this think I'm a veil-hater and are probably still going to wear one, but I'm just here to tell you that if you're on the fence and the notion of "tradition" is preventing you from doing you, I'm here to tell you that it's perfectly okay if you don't wear one.
Evening Weddings
Picture this.

Late night wedding ceremony and reception, brunch menu, open bar.

GIRL. Lemme write this down for future purposes.

— jaya. (@jayacancook) December 30, 2018
I'd venture to guess that the majority of weddings take place at night (mine will be), but if you're not into the idea of a nighttime party, why not start it earlier in the day? My cousin is having a brunch reception that goes all day and I'm not going to lie, I am STOKED. The idea of eating brunch food, getting wasted, and being in bed by 7pm sounds like heaven on earth. Is that an over exaggeration? Probably, but let's face it, I can't stay up all night anymore and so the idea of getting the party started early, and ending it early, sounds lovely. Plus, all-you-can-eat brunch food? Hmm, maybe I should change my start time to 11am.
Bouquet/Garter Toss
The only thing worse than being seated at the singles' table is the dreaded bouquet and garter toss. As if a guy literally crawling up his wife's dress in front of his entire family isn't mortifying enough, think of all the single guests at your wedding you'll humiliate when you toss a bunch of flowers at their faces. Also, someone could get SERIOUSLY injured. At my friend's wedding last year she hiked the football bouquet like an NFL Pro-Bowler and almost took out half of her single guests. I mean, respect, but drunk people don't have the best reflexes, so that could have been a massacre. 
Wedding Cake
I'm not getting married but I might schedule some wedding cake tastings just for fun

— Betches (@betchesluvthis) February 3, 2020
My fiancé doesn't like frosting (I know, he's literally a serial killer) and I don't want an icing-free cake at our wedding, so we're not having one at all. We're doing a donut wall instead because I'm #basicandproud, and that way people can bring their dessert on the dance floor. We also realized that at the last four weddings we've gone to, we didn't eat the cake. It's my personal goal to make sure every guest feels sickly full at the end of the night and they can't get there with a small slice of cake, so bring on the dessert bar! If you want a cake just for the photo opp, your caterer might be able to whip up something small so you can at least have the picture. 
The new wedding rules are that there are no rules, so don't be afraid to do you. As long as you have good booze and awesome music, everyone will have a good time. 
Images: IVASH Studio / Shutterstock; betchesluvthis, betchesbrides, jayacancook / Twitter
For more, subscribe to our new Betches Brides newsletter
7 Wedding Trends From The Last Decade That We Never Want to See Again
While a typical engagement doesn't last 10 years (although it might feel like it), there are some popular wedding trends that have been around that long. Look, I love a good wedding detail that's a little off the beaten path—it keeps things fresh—but like your d*ck of an ex, some things are meant to be forgotten. Here are seven overused wedding trends we should leave behind in the 2010s and never look back. 
Flower Crowns

To be honest with you, I was never a big fan of this nature-inspired hair accessory, even when it first came on the bridal scene. I never quite understood why someone would voluntarily opt for a headpiece that was once covered in dirt when there are so many more stylish options out there that will last longer than your bridesmaid's latest f*ck buddy. I get that it might have a whimsical, free-spirit vibe that you're trying to give off, but take a yoga class or try out aromatherapy instead. Nobody came to your wedding to see you try out your newfound inner Janis Joplin. Please spare us and opt for a rose gold headpiece if you still want to be basic trendy. 
Photo Booths

The idea of a photo booth is extremely repetitive. First of all, you're paying thousands of dollars for a professional to basically be your paparazzi for the night. If you want pictures of all your guests making silly faces, place your photog in the middle of the dance floor when "I've Gotta Feeling" by the Black Eyed Peas comes on and everyone's 4+ drinks deep. There's also a very high probability that your guests have their cell phones with them and will take more than enough impromptu selfies. Set up a shared folder, ask all your guests to drop in their images from the night before, and there you have it. You've created your own digital photo booth without spending a dime. You're welcome. 
Over-the-Top Rustic Details

It's time for a rustic intervention. Everyone stop what you're doing and put down the re-purposed window panes, the entire tree's worth of wood slices, the old dresser drawers full of mason jars, and the football field's worth of burlap. It's too. much. At this point people are digging through their grandma's attic to find anything from before 1980 and made of wood to use as wedding decor. You don't need to do this! I promise there are plenty of other decorative elements out there that will help you evoke the rustic vibe you're looking for. Ask your wedding planner for help and don't resort to random crap from a yard sale. Lauren Conrad might be able to pull off a wedding adorned with charming flea market items, but I assure you, you cannot. 
Matching Bridesmaids
A lot of people have already done away with dressing their bridesmaids to make them look exactly the same, but I'm officially declaring it dead. You heard it here first. With literally millions of options for bridesmaids out there, there's no reason to dress all of them the exact same. They're your friends, not your Barbie dolls. Mix-and-match bridesmaid dresses doesn't have to mean letting them pick whatever the hell they want. Whether you pick a specific dress for them to wear and let them select their neckline, or you offer them a range of color options in a specific style, we believe in giving direction but not making them look unidentifiable. 
Bouquet/Garter Toss

Please don't @ me for this one. I know it's a long-held tradition that didn't just become a thing this decade, but it was alive and well at many celebrations over the last 10 years and it shouldn't be. Not only does it call major attention to the single people (doesn't playing "Single Ladies" by Beyoncé do enough damage ?), but I for one cringe from secondhand embarrassment when I see the groom crawl up the bride's dress to retrieve the garter. But hey, if you feel confident enough to do that with your grandma in the front row, more power to you. 
Social Media Wedding Planners

For some strange reason a surplus of wedding social media services became trendy this decade. If you're not sure what I'm referring to, there were literally companies you could hire to do the social media for your wedding. Like your wedding is its own f*cking brand. From helping you come up with a hashtag and helping your guests use it, to gathering all the images your guests took the night before (isn't that the purpose of a hashtag?), this pretty much just seems like a fake job you'd see on The Bachelor. None of these tasks require hiring and paying someone, so I beg of you, don't fall into this money trap. 
Etsy-Themed weddings

I admit, I've fallen victim to the power of Etsy many times. I go wild adding everything to my cart, like creative signage, guest book options, etc. before I realize I'm about to check out with $2K worth of crafts in my cart. My advice? Slow down. Do you really  need 15 signs that point guests towards the bathroom? Is it really necessary to paint every guest's name on their napkin? When you find yourself obsessively clicking "add to cart", step away from the computer and remember you're not Oprah and you don't have an endless supply of cash.
I'm just a girl standing in front all you brides-to-be asking you to help me in my pilgrimage to leave the trends of the last decade behind us. I promise, there are many more new trends coming this decade for you to abuse! 
Images: Shutterstock; CL-Medien, MakeStory Studio, / Shutterstock.com; Micheile Henderson/ Unsplash
What Type Of Basic B*tch You Are Based On Your Engagement Manicure
In case you missed it, there hasn't been a snowstorm in New York in at least two weeks which means spring is finally fucking here. Ah, springtime. A time of year that signifies rebirth, hope, and thirsty bitches subtly emailing their boyfriends their ring size and Pinterest password. Which means it's almost time for me to engage in my favorite pastime: judging the fuck out of people's engagement photos. I would rank my tolerance for engagement photos somewhere around where I rank my standards for fuckboys on dating apps. So, pretty fucking low. And because I have ESPN or something I can almost immediately tell you the theme of your wedding based off of the manicure you choose to flaunt in your engagement announcement on Instagram. 
It's true that the most important moment of your life is not when your BF proposes to you (sorry, bro), but rather the moment you debut your ring on Instagram. That moment is huge and, whether you realize it or not, the type of manicure you have while showing off your ring speaks VOLUMES about you and your wedding. So because I want to put you in your place I care about you and your wedding, here are 6 manicures that say a fuck ton about your wedding theme, and therefore, basic level:
1. Millennial Pink: Hipster Barn Wedding
I'm not sure when we started referring to pastel pink as "millennial" but I'm almost certain it's around the same time that hipsters started referring to rustic as "chic." You already know how we feel about the hipster barn wedding theme, and your nail color is about as original as the mason jars that are sure to be included in your wedding decoration budget. Choosing this color is a safe bet and while your friends won't be shitting on you in their group chat, they will most certainly be rolling their eyes as they scroll through your feed.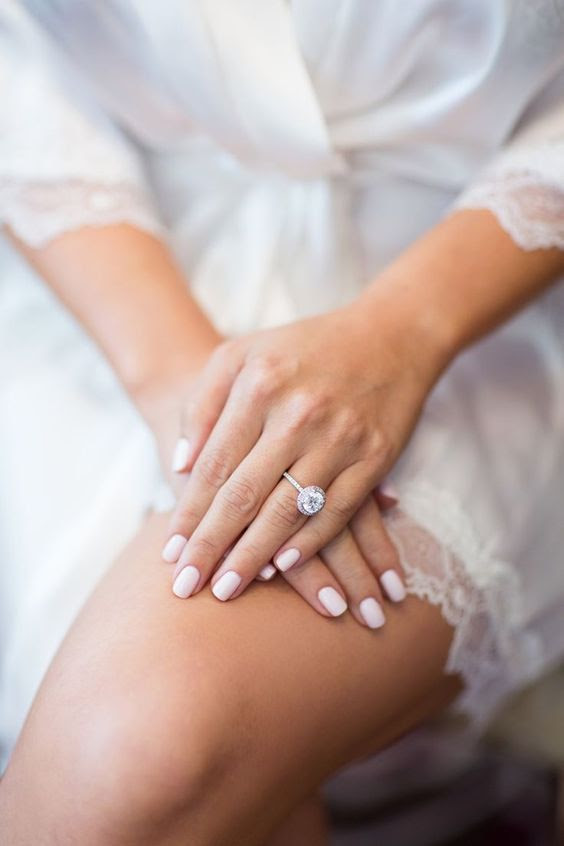 2. Red: Destination Wedding
This person probably thinks they're fun and spontaneous and the bikini selfies saturating their Instagram feed certainly are proof of that theory. They probably chose this color because Taylor Swift, a personal hero of theirs, is constantly sending subliminal messages singing about this color. It makes them feel bold and empowered and soooo fun. Which is why they are life ruiners and choose a destination wedding to celebrate their union to the poor guy that's about to spend the rest of his life as his wife's Instagram photographer.

3. Not Your French Manicure: Vintage Themed Wedding
This is the person in your friend group who is extra AF. They're always trying to be new and different and edgy when really they're just grown women wearing body glitter aka Unicorn Snot and calling it fashion. I usually object to 90% of their life choices and sporting a manicure like this ranks right up there with that one time they bought a shirt that said "Bushwick" on it for $40 from Urban Outfitters despite the fact that they live on the north shore of Long Island. They will try and reinvent the wheel aka hipster barn weddings. Instead of rustic chic they'll use the term "vintage" and refer to themselves as "old souls" in their vows. Lol, K. Like, you forget I've seen strange men take shots off your body to a Miley Cyrus song on spring break. You're fooling no one, Karen.  

4. Black Manicure: Black Tie Wedding
A true betch knows that black is the color of her soul and coincidentally every item of clothing in her wardrobe. While some people might doubt black as a bridal color, you know that these people understand nothing about taste and are about to get sat at the shitty reception table with your least liked sorority sister and your fiancé's weird friend from grade school. Like, of fucking course you're going to be wearing your favorite color during the most important photo moment of your life. Black is timeless and so will be your wedding. While everyone else is Googling "unique wedding themes" yours will be chic, tasteful, and most importantly, fancy enough to make all of your other married friends jealous. Mazel Tov.

5. Accent Nail—Ridiculous Themed Wedding
TBH I'm not even sure what to say about this. Like, is this you announcing your engagement or a cry for help? I'm assuming that the only reason you would get this extra with your manicure is because you're trying to hide that fact that you're about to marry the one night stand that turned into your boyfriend of six years. I'm also assuming that your fiancé is the type of guy that "lets" you carry all of the groceries to the car and still Snaps his ex girlfriend on the side. You've really found yourself a winner, Vanessa.

Anyway, the type of person who's doing this much with her manicure is also the type of person that's going to piss me off and do some sort of themed wedding. I'm picturing something Disney related—anything to distract their guests from noticing that the groom isn't captivated by the enchanting room decor but rather is checking out the maid of honor's cleavage.

6. Rose Gold: Romantic Basic Wedding
This one's for all my basic bitches out there—you know who you are. I don't need a crystal ball to determine that your ring is a princess cut and you'll be rocking a mermaid dress on your big day. Your bridesmaids will all be wearing some form of blush and/or sequined gowns that you swore to them they'd be able to wear again but instead will just taunt them, hanging in their closets as a constant reminder of the day they served you stood by your side. While on the one hand, I've seen your wedding done 1,000 times before, I can also appreciate you owning your basicness.