7 B.S. Wedding Traditions You Can Totally Skip
When it comes to 2020 weddings, there are no rules. As a fellow bride-to-be, I've realized there are a lot of wedding traditions I'm not into. While you may feel guilty about not doing everything your mom did at her wedding, just think, there were probably some traditions her mother did that she boycotted (it's a vicious cycle, you see?). For example, my grandma told me it used to be tradition that the bride changed out of her dress at the end of the night and put on a suit to go off on her honeymoon. Sounds miz, right? I'm assuming all I'll want to do is change into sweats and PTFO. My mom sure as hell didn't do that, and I bet yours didn't either, so don't feel guilty about skipping one of these seven wedding traditions that should prob be retired any way. 
Gender-Specific Wedding Parties
Look, it's 2020. Gender fluid, gender neutral, whatever you want to call it, we can all agree that the gender lines are blurring, and therefore, there's no reason to be a stickler about your best friend from college standing on the groom's "side" because of the gender he was assigned at birth. Mix it up and go half boys and half girls, have your brother stand on your side, etc. Nobody's going to be sitting at the ceremony whispering, "oh my God I can't believe she has a GUY standing on HER side," and if they do, they're a f*cking idiot and shouldn't be invited in the first place. Plus, women's pantsuits are so in right now, so if you're a woman in the groom's wedding party, just channel your inner Ariana Madix circa Tom and Katie's wedding and own that sh*t. 
Your Parents Giving You Away
This may have been a thing back in the 1800s when literal 14-year-olds got married because they were going to die by age 30, but now that you're a grown-ass adult, there's no need for mommy or daddy to "give you away". The whole idea of them handing off ownership to your spouse is pretty objectifying, IMO. Not to mention, not every person has a great relationship with their parents, and this wedding tradition can just put extra pressure on an already tense dynamic. If you want to skip this one but still compromise, you can have them walk in front of you, or at the beginning of the procession with the groom's family if they're salty about you walking solo. 
Gift Exchange
Advice for wedding dress style: wear whatever the fuck you want

— betchesbrides (@betchesbrides) November 10, 2019
IDK who invented the idea that couples need to give each other gifts before the wedding ceremony, but isn't like, your marriage enough of a gift? Yes, I know that sounds cheesy, but when it comes to saving money, I will use all the cliches I can to get me out of buying a really expensive watch for my fiancé (sorry, babe!). Writing a personal note should be gift enough, since you prob just spent your life savings on this massive party. I am officially launching my campaign to end pre-wedding gift exchanges between couples. WHO'S WITH ME?! I'll take this all the way to Congress if I have to. 
Wearing a Veil
I know this is one I'll catch a lot of heat for, and I'm ready for it. When I discovered the historical meaning behind why brides wear veils, I was appalled. Basically, wearing a veil was intended to keep the groom from seeing the bride until she got up to the altar so he wouldn't see her and run for the hills. Wow, that is so thoughtful of the inventors of the veil to hide the bride's face until it's too late in case the groom didn't like her looks. A more modern-day reason to pass on a veil is the cost. Do you really want to spend $800 on a piece of tulle? I'm sure most of you reading this think I'm a veil-hater and are probably still going to wear one, but I'm just here to tell you that if you're on the fence and the notion of "tradition" is preventing you from doing you, I'm here to tell you that it's perfectly okay if you don't wear one.
Evening Weddings
Picture this.

Late night wedding ceremony and reception, brunch menu, open bar.

GIRL. Lemme write this down for future purposes.

— jaya. (@jayacancook) December 30, 2018
I'd venture to guess that the majority of weddings take place at night (mine will be), but if you're not into the idea of a nighttime party, why not start it earlier in the day? My cousin is having a brunch reception that goes all day and I'm not going to lie, I am STOKED. The idea of eating brunch food, getting wasted, and being in bed by 7pm sounds like heaven on earth. Is that an over exaggeration? Probably, but let's face it, I can't stay up all night anymore and so the idea of getting the party started early, and ending it early, sounds lovely. Plus, all-you-can-eat brunch food? Hmm, maybe I should change my start time to 11am.
Bouquet/Garter Toss
The only thing worse than being seated at the singles' table is the dreaded bouquet and garter toss. As if a guy literally crawling up his wife's dress in front of his entire family isn't mortifying enough, think of all the single guests at your wedding you'll humiliate when you toss a bunch of flowers at their faces. Also, someone could get SERIOUSLY injured. At my friend's wedding last year she hiked the football bouquet like an NFL Pro-Bowler and almost took out half of her single guests. I mean, respect, but drunk people don't have the best reflexes, so that could have been a massacre. 
Wedding Cake
I'm not getting married but I might schedule some wedding cake tastings just for fun

— Betches (@betchesluvthis) February 3, 2020
My fiancé doesn't like frosting (I know, he's literally a serial killer) and I don't want an icing-free cake at our wedding, so we're not having one at all. We're doing a donut wall instead because I'm #basicandproud, and that way people can bring their dessert on the dance floor. We also realized that at the last four weddings we've gone to, we didn't eat the cake. It's my personal goal to make sure every guest feels sickly full at the end of the night and they can't get there with a small slice of cake, so bring on the dessert bar! If you want a cake just for the photo opp, your caterer might be able to whip up something small so you can at least have the picture. 
The new wedding rules are that there are no rules, so don't be afraid to do you. As long as you have good booze and awesome music, everyone will have a good time. 
Images: IVASH Studio / Shutterstock; betchesluvthis, betchesbrides, jayacancook / Twitter
For more, subscribe to our new Betches Brides newsletter
8 Common Wedding Elements No One Actually Cares About
Weddings are expensive AF no matter how you cut it. In addition to cutting costs for things so you can spend your money on important things like a house and a baller honeymoon, nixing things that your guests don't care about is a smart move. Whether it's programs or a certain type of dessert, don't waste your Dad's hard-earned money on things that literally no one will remember. Free booze, good food, and a dress that doesn't look like it belongs to a cat weirdo are what matters.
1. Programs
Pass. We mentioned it here, but programs get forgotten, thrown out, or just generally ignored. If you're really v concerned that people won't know which version of "All Creatures of our God and King" to sing as the Offertory hymn during your 10-hour Catholic Mass, go ahead and write it on a chalkboard in the front. It'll be a lot cheaper and grandma will be able to see the font.
2. Favors
By the time guests are on their way out of a wedding, they're more concerned with either a) finding the next bar, or b) finding a suitable bush to throw up in. They're not looking for a table with favors. Face it—most wedding favors are pretty forgettable and/or tacky. If you want to really give your guests a gift, offer a midnight snack like a pretzel, hot dog, or schedule a food truck to show up as the party winds down.
3. Types Of Flowers
Ask any former bridesmaid what kind of flowers she carried at any given wedding and she literally will not remember. Ask any wedding guest what kinds of flowers were used as centerpieces at any given wedding they've attended. No one will know. Flowers are def important for "fluffing" a space and adding color, but don't feel the need to go balls to the wall and order perfectly pink hydrangeas out of season because the color is the only thing that will work. Set a budget and stick to it. Guests don't care and won't remember. Sh*t, go to the grocery store and get your own.

4. Cake
No one goes to a wedding for the cake. Oftentimes, wedding cake gets a bad rep anyway for being dry, bland, vanilla, and generally not that amazing compared to the free booze that the bartender is dishing out. Grabbing an Oreo ice cream cake is going to be just as sufficient for those cute shoving-cake-in-each-other's-faces pics as a $1,000 four-layer French whipped meringue and sponge cake. At my wedding, we had a guest (who happened to be a baker) make our tiny perfect-for-smashing cake and it was just big enough for the two of us (which we loved cause we're both v bad at sharing). Then we fed everyone else cookies, brownies, pies, and mousse. Win, win.
5. Cocktail Hour Music
This is the part of the program where your guests will pound shots, beer, and wine before heading into what they believe will be a v boring dinner. The soundtrack you provide during this power hour is not something your guests will notice. Sure, your parents may insist you play four to seven Bruce Springsteen songs because, "Sarah, you're from New Jersey and you're required by law." Go ahead—your guests are going to be too busy guzzling appetizer-sized crab cakes and free prosecco to notice that "Glory Days" gets really old after the 50th time.

6. A Choreographed First Dance
Nine out of 10 couples in a survey I made up for this article don't give a sh*t if the bride and groom can't dance versus having a 4-minute choreographed dance routine. During the first dance, the guests are urging their bodies to quickly digest the multi-course feast of seafood and antipasti from cocktail hour while counting the minutes until the buffet opens and they can comment on the types of meat offered. No one cares if you spent four consecutive weeks verbally abusing kindly encouraging hubby to perfect his ability to dip you so that you can have the perfect picture. Just get out there and dance. Stop being a snot.
7. A Slideshow Of The Couple
Yawn. No matter how many "ooohs" and "awwws" you think you'll garner from showing pics from the one-night stand respectable first date or the engagement you knew about and, therefore, had heavily photographed, no one cares. Sure, a photo here and there of the happy couple on tables at cocktail hour or tastefully worked into the reception hall is fine. But having a literal home movie of you two drooling on each other isn't really necessary.
8. The Bouquet And Garter Toss
Oftentimes, the bouquet and garter toss only serve to up the ante at a boring wedding. You, chances are, are not going to have a boring wedding, so why stop the music for an outdated tradition? The only entertaining part of the bouquet toss is watching your single friends fight each other for a pack of flowers, so if that's something you want to see, go for it. Bonus points if your maid of honor pushes a child to the floor in an effort to grab it.

Images: Wu Jianxiong, Unsplash; Giphy (3)
10 Ways To Cut Costs On Your Wedding Without Looking Cheap
We honestly hate helping in any form, but the wedding industry has gotten so out of control that it demands our expertise. Between shows telling us that you have to spend upwards of $100k on one goddamn day and brides pitching actual crying fits because mommy won't buy them the $30k dress of their dreams, we needed to bring everyone back down to Earth.
You can have a super amazing day, dress, and overall wedding without blowing your savings and parents' retirement fund. Here are our top 10 tips for cutting costs at your wedding without making you seem tacky and cheap.
1. Get Married December-March
Winter weddings are daring in general (here's hoping it doesn't blizzard), but if you take the risk, you may be rewarded with more money for drinks on the honeymoon. Choosing "off" months between December and March can mean as much as a 40% less cost at some venues, depending where you are.
2. Get Married On A Friday Night Or Sunday Morning
I make a lot of fun of brunch weddings (cause I don't want to get drunk in front of family members before noon), but if you wanna save a buck or two, picking an off time is the way to go. Saturday nights are in high demand, so choose a Friday evening for your super special day or a Sunday morning brunch. Bonus points if you choose a Sunday night before a Monday holiday like Memorial Day when everyone is off anyway.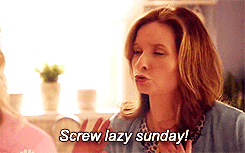 3. Chill On The Invitations
I know you want Minted's handmade, laser-cut, imprinted, glitter, foil, rare edition, unicorn tear invitations, but unless you want to spend more than $800 on 200 invites, you need to chill. People aren't going to spend more than five minutes examining your invite, so the idea of spending a ton of money is preposterous. Go pretty, go classic, and pick one—MAYBE two—special touches like a foil or letter press.
4. Be Besties With Your Florist
If you've been dyyyyying for hydrangeas but they're out of season and are going to cost you $24 per stem (real talk), let your florist lead the way. These are goddamned flower experts, and if you tell them to substitute with cheaper but similar looking colors and flowers, they will. I told my florist to use my color scheme and go nuts—keeping it around a specific price. She delivered, and the flowers looked amazing.

5. Do Choose An Actual Venue
You may think having a backyard barbecue at your friend's parents' Hamptons house is going to be cheaper than an actual venue, but you could be wrong. Once you start factoring in catering, tents, utensils, linens, the band, the restrooms, etc., your bill is likely to be just as much as a venue (if not more). PLUS, it's a lot more fucking work.
6. You Don't Need A Giant Fucking Cake
I've said it time and again—no one gives a shit about your 12 layer platform vanilla-on-vanilla wedding cake. Save some goddamn green, and get a small cute tea cake to cut with your S.O. that you won't even have to share with anyone. Everyone else can fuck themselves eat cookies.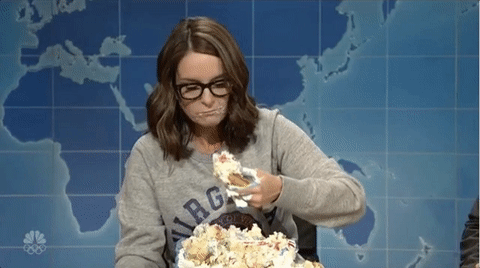 7. Buy, Don't Rent
If you're at a venue that's charging you for every fork, napkin, and plate, see if you can use or buy your own items. Seriously, it's often cheaper to use your own linens and utensils, if the venue will allow it. So start stealing knives, forks, and napkins, fam.
8. Stick To Your Goddamn Dress Budget
This is a big one. Nothing pisses me off more than the bitches on Say Yes to the Dress who have a budget of $3k and end up spending nearly double. STICK TO YOUR DRESS BUDGET. DON'T EVEN LOOK AT DRESSES OUTSIDE THAT BUDGET. Remember that even if you pick a dress at your $2k budget, you're still going to shell out for alterations. So going above on that means you're going to lose something else or pay way more than you want in the end. CHILL. IT'S ONE DAY.

9. Make Your Guests Do Work
I mean, you're paying for a five or six hour party—the least your guests can do is help out. Whether you make them set tables for the reception, make your desserts (guilty and it was AMAZING), or bring all the liquor to stock the bar, making your guests pitch in is totally a great way to cut costs.
10. Visit The Tacky Bridal Shows
I KNOW they're literally the worst, but the best thing about those bridal shows and expos is that florists, DJs, bands, planners, and venues hang out there to snag brides with a good deal. Honestly, I know a betch who got like 40% off her DJ because she hired him from the bridal show. So, yes, it kind of sucks to go to a room full of what feels like used car salesmen, but you'll thank yourself when you see the bill later on.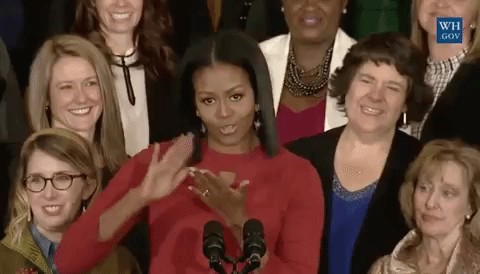 5 Wedding Desserts That Are A Crime Against Humanity
At the end of your super special day with super special people and super special speeches, you should be serving a super special dessert. Newsflash—this is like, your last chance to impress your guests. Which makes it all the more upsetting when we see tiny plates of cake pops or a fucking wall of carnival food. I paid good money to be at this wedding, probably, and I demand a delicious dessert. I don't want your dried out wedding cake and I don't want some unique shit that you think everyone will love. When it comes to wedding desserts, variety is key, and if you're serving only ONE of the below items (or all fucking five), let me know ahead of time so I can RSVP "nope."
1. Doughnuts
Enough already. If you're having a gross brunch wedding, then fine—hire out that super hip doughnut place and have them create you a cake out of doughnuts. But do not, DO NOT, hang doughnuts on a peg board and call it a dessert table. Fuck you. I'm not an animal, even though alcohol makes me act like one. I am above eating off of a peg board. Fuck you, Alyssa, and your trendy fucking wedding. Fuck you and your pink frosted "I Do" doughnuts.

2. Cotton Candy And Other Carnival Fare
Wtf? The fact that people do this is disturbing. I understand that, along with the Chinese-Mexican fusion food truck you have out front, having a cotton candy machine for dessert is totally UNIQUE and a hipster's actual wet dream. However, no one older than age seven is going to appreciate you dishing out this slimy, crusty, sticky, spun sugar. You know what cotton candy and funnel cakes are good for? Being sticky. I don't want to be sticky at this current juncture. I'm hoping to get to a nice, drunk place without wondering tomorrow, "Wtf is in my hair?" Fuck you.
3. Cake Pops
These reached their peak around 2010, so anyone serving this shit now can go shave their back. Be honest—have you ever had a cake pop that was amazingly good? The answer is "no." Nothing on a stick has ever ended well. That includes dessert. It's fucking science.

4. Literally Just Candy
I seen't this shit, and it ain't pretty. I get that you may be trying to cut costs, but for the love of god, please don't let your dessert suffer by providing jars of candy for your guests as "dessert." I'd literally rather you poured me another glass of wine than put some glass jars of candy on a table and thrown me a bag to fill. I didn't like trick or treating when I was eight, and I sure as shit don't like it now. We demand pastries and cake—not dried-out old Reese's and questionable truffles. PASS.
5. Cupcakes
You know by now that I hate cupcakes at weddings. They're tacky. They're usually not that delicious. I hate buttercream for reasons I'm not going to get into here. Your red velvet chocolate or key lime crème can't save you. If you're having a bunch of CHILDREN at your wedding (first of all, ew), then yes, go ahead and serve them. But not everyone likes cupcakes, and you're totally alienating the rest of us.

What do we want, then? We want variety. Choosing one or two desserts (esp. the above) fucking sucks, and we demand a full dessert table with everything to choose from. We came, we got you a gift, and we're sitting through these awful speeches. Give us sugar or give us death.
A Couple Served Pizza "Cake" At Their Wedding And They're Officially The Worst People Alive
Dear Pizza-Loving Lovers,
Weddings are a trade-off. You get to rub your supposed marital joy directly in the faces of your family and friends (and Facebook feed) for an entire day, and we pretend to be happy for you. In return for our cooperation, you owe it to your guests to deliver on certain traditions: an open bar, hot groomsmen to keep us entertained, and the excuse to binge on wedding cake until our Spanx threaten to split open. Unless you're some romantic idiot, free alcohol and cake are literally the only reason to sit through the torture of a wedding ceremony, but you had the nerve—the audacity—to serve a pizza "cake" at your wedding. I ask you: What the fuck?

Obviously, betches love pizza. Fucking everyone loves pizza. That's why there's a pizza place on every corner of every street in America. It's so cheap that you can get a slice for a single dollar, which is like half the reason pizza is the perfect drunk-binge food. Waking up hungover and surrounded by pizza boxes means you're out, like, $30 at most for the food (and $90 for the vodka, but whatever). But pizza at a wedding is an abomination.
Yes, weddings are expensive, but really? You're so broke you had to order a bunch of delivery pizza like it's your 11th birthday party and you couldn't convince your mom to take you to Chuck E. Cheese? I barely understand the meaning of the word "budget," but even I know that if you're that strapped for cash, you can just fire the DJ and make a Spotify playlist for the reception.
Instead, you served pizza. As I already pointed out, drunk pizza binges are practically an American tradition, so I guarantee 95 percent of your single guests had eaten it in their hotel rooms the night before, when they were drinking away their fear of dying alone. You think they were excited when they saw you bring out four fucking pizzas stacked on top of each other instead of a wedding cake?
This couple had pizza cake instead of a wedding cake because not all heroes wear capes: https://t.co/cEP4qbTB7B pic.twitter.com/BmSwD5kqKG

— BRIDES (@brides) March 30, 2017
The answer is clearly no, they were not. I don't care if it was "what pizza dreams are made of"—everyone was expecting cake, and you reneged on that promise. And how did that work, BTW? Did you bring the "cake" out after everyone had already eaten dinner like a couple of monsters? Have some fucking respect for the people who are currently showering you with wedding gifts you clearly don't deserve. 
By the way, despite what you may believe, a gelato option—which they served—doesn't make up for the lack of wedding cake. Sure, it tastes good, but the two foods are in no way equivalent. Bingeing on cake at the reception is an integral part of eating your feelings before you progress to drinking away your feelings and banging the semi-hot bartender in your car when the maid of honor calls dibs on the one hot groomsman. Bingeing on gelato just gives you a brain freeze. Do you see how these two activities are not equivalent?
Honestly, I'm not sure why there wasn't a revolt immediately after the "cake" was brought out. Are your friends that polite? Was everyone so wasted they had already reached the pizza bingeing point of the night? Either way, please spend your honeymoon considering how to word your apology letters, and repeat after me: Pizza will never count as cake.
XOXO,
Dr. Frankenbetch