This New True Crime Podcast Is The Next 'Dirty John'
If you've listened to Dirty John or Dr. Death, then you have an idea of what Wondery's podcasts offer. They're grisly, salacious looks into crimes you never knew existed, and honestly my morning commute has never been better. This week, Wondery dropped their newest podcast: Over My Dead Body. It tells the story of Dan and Wendi, "two good-looking attorneys" with "a bad breakup, a worse divorce, and a murder case involving a menagerie of high-priced lawyers and unexpected co-conspirators." So basically, the details of how a power couple fell apart, plus a murder twist. That's literally all of my favorite things.
So, what's the crime being investigated here? If you're the kind of person who hates having an appropriate amount of context spoilers, then I'd recommend you stop reading here.
Do I google the story @WonderyMedia did for #overmydeadbody podcast or keep guessing who's responsible? I've changed my mind 5 times! #truecrime pic.twitter.com/wS6410j6sX

— Jamie- Uglee Truth Podcast (@theugleetruth) February 14, 2019
Still with me? Good. In 2014, Dan Markel (the husband) was found dead in his Tallahassee home: shot in the head. According to Refinery29, Wendi Adelson's (the wife's) family was "immediately suspected of hiring someone to complete the crime." To be fair, if I had a bad divorce from someone I would want my family to at least OFFER to send a hitman. (JK! My family's not rich enough to pull that off.) The podcast starts with the story of Dan and Wendy's relationship (and subsequent divorce), then goes into the details of Dan's death and the investigation that followed.
Given how the trial in this case concludes, the story becomes less about their relationship, and more about the dynamics of race and privilege involved in the trial. Despite the Adelson family being immediate suspects, and further connections being found between the family and the suspected hitman, no family members were ultimately charged with any crimes. Instead, only people of color were arrested in connection to the crime. Given that the Adelsons are a wealthy, white family, Over My Dead Body explores how the family's privilege may have played a role in who was ultimately charged for this crime. I mean, yeah, if it's between wealthy Floridians staging a hit on their ex-son-in-law and a random break-in, I am 100% going with the former. People from Florida are, as a rule, insane. In-laws are also generally insane. It just adds up.
I listened to the first episode this morning, and what struck me most (other than how f*cking addictive it was) was how easy it was to forget that the story led up to a murder. Episode one starts with Dan's upbringing, then how he met Wendi, and what their wedding was like. They also interview friends who knew them as a couple. It tells you, from Dan's perspective, about the divorce. And as much as I love hearing the gory details of a murder, I have to say I find autopsies of relationships equally interesting—and this one sounds like a real mess. Also, and this may just be because I'm a messy b*tch, I live for seeing any two people who are described as "the perfect couple" be torn down. Especially when they try really hard to convince people they are, in fact, a perfect couple.
If you binge the first few episodes of 'Over My Dead Body' (can't blame you) and are hungry for more true crime content, here's a list of other relationships with famously violent ends. Enjoy.
Debra Newell
I mentioned 'Dirty John' earlier, but if you're not lucky enough to have listened yet, then here's what you're missing. 'Dirty John' is the story of Debra Newell, a wealthy, middle-aged interior designer, and John Meehan, the criminal and con man who seduces her. In classic Wondery fashion, the story starts with the dynamics of the relationship: the intense emotions, the broken trust, what it looked like from the outside. But as tensions build, the focus shifts from how to spot and catch a con man—and more to how you survive him. (If you're more of a visual learner, there's now a Bravo series on this too.)
Lorena Bobbitt
Lorena Bobbitt famously became known as the woman who cut off her husband's penis. While this crime was thrown around as a zany joke for most of the '90s, details of the crime—and the relationship leading up to it—are far from funny. I'll let you discover the rest on your own (preferably by watching Jordan Peele's new Amazon series about it), but suffice it to say that women don't typically go around cutting off genitalia without due cause.
Jodi Arias
On May 8, 2013, Jodi Arias was convicted of first-degree murder for the death of ex-boyfriend Travis Alexander. Alexander and Arias met in 2006, and began a long-distance relationship in 2007. Over their 18-month, off-and-on relationship, Arias moved twice to be closer to Alexander. Meanwhile, Alexander's friends consistently disliked Arias and felt her behavior was "worrying." Naturally, when these same friends found Alexander covered in stab wounds with a gunshot to the head, they pointed the police in Arias' direction. Arias pled "not guilty" to initial charges, but claimed she committed the murder was self-defense two years later, and alleged that she was a victim of domestic violence. While the Jodi Arias story doesn't have a TV show (so sad), there is a Lifetime movie that I am very excited to watch.
Basically, if you like hearing people talk sh*t about other peoples' relationships along with your regular dose of true crime, any one of these stories will be right up your alley. Do yourself a favor and start Over My Dead Body today, then drop your number in the comments so I can text you all my insane theories as I come up with them. Thanks!
Is The Backlash To Kylie Jenner's 'Forbes' Cover Low-Key Sexist?
If you've been anywhere on the internet, you've heard the news of Kylie's Forbes cover—and seen the immediate backlash. Personally, I had mixed feelings about it. I definitely stan for the Kardashians (and Kylie in particular). But I also bristle at the suggestion that they got to where they are through hard work and perseverance. TBH, most of the reason I worship them is because they have the option of doing the exact opposite. If I found people who worked hard to be inspirational, that would imply I wanted to work hard myself. Nope. I'd like to be born into a family of millionaires, doctor my face into submission, and make thousands of dollars off each selfie I Instagram. Isn't that the American dream?
So, given that Kylie did basically exactly that, I both applaud her successes and scoff at the mention of her being "self-made." But when I dug deeper into the story—and the backlash—I was admittedly surprised at what I found. (*Lights cigarette and squints à la Carrie Bradshaw*) I couldn't help but wonder: Would Kylie have gotten all this backlash if she were a man?
What Did Kylie Really Achieve?
In researching this article, I did something I suspect many detractors did not. I actually read the Forbes article, and I learned some surprising things. First of all, Kim (age 37) is worth $350 million—compared to Kylie's (age 20) estimated $900 million. To be worth 2.5 times the OG Kardashian is all kinds of impressive.
Second, Kylie Jenner trademarked the name Kylie Lip Kits at only 17 years old. This brings me to the point I'm really interested in. Apparently, Kylie trademarked the name in August 2014. According to this handy timeline, she first began denying rumors that she got lip injections in March 2014. This means two things. Within months of injecting her lips, she decided that her business would be based on selling women (non-injected) lip products. That's BOLD. Also, she then admitted to getting lip injections in May 2015. Basically, announcing to the world: "I don't think makeup alone can make your lips look good—but here are some of my fave makeup looks for $29 dollars each, available November!" And THEN she proceeds to sell out her first-ever launch in under a minute.
Sure, the accumulated wealth to launch the company (and buy those injections) wasn't self-made at all. But she literally designed and purchased her own lips and then built a cosmetic brand based exclusively on said lips. The only way that could be more self-made was if she handled the syringe herself.

How Does She Compare To Other Self-Made Billionaires?
When compared with other self-made billionaires, the difference in the Kardashian clan is noteworthy. While many others came from privileged backgrounds, Kardashian wealth is extreme. Not to mention the fact that they literally broadcast that wealth, and so have an audience at the ready. So, all these factors play into the swift rebuke of the term "self-made."
And yet. Much of the same criticism launched at Kylie is applicable, in other forms, to her fellow billionaires. Co-founder of Snapchat Evan Spiegel, who grew up in Pacific Palisades—the 4th wealthiest neighborhood in LA, and home to plenty of celebs—got a Cadillac as a 16th birthday present, went to a celeb-studded "ultra-exclusive" school, and took helicopters to family ski trips. His introduction to the tech world was assisted by his father's alumni status at Stanford, his insider access through "family friends," and countless other helping hands. Spiegel himself has acknowledged his privilege as a "young, white, educated male," adding that "life isn't fair." Hurts to hear, but hella true.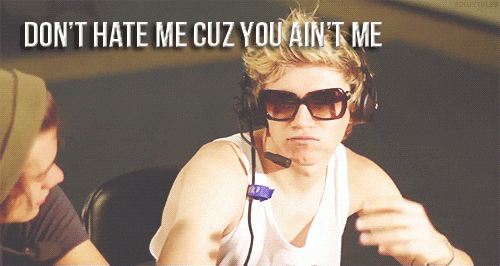 So, What's The Real Difference?
For one, there is the legitimate difference in amount of wealth and available publicity, which I acknowledged above. But, there's also the fact that Spiegel, for all his self-awareness, can make statements like that because no one else is calling his status into question. People might argue about whether or not he's an ass, but so far, no one's balked at the idea that he's self-made. Even the article I link to above, including all the details on his privileged early life, includes no direct suggestion that he didn't earn his success beyond including Spiegel's own quotes. The charmed life, the wealthy parents, and the parade of expensive cars are seen as little more than details about how lucky this self-made billionaire happens to be.
Per the dictionary's shadily announced definition yesterday, self-made means "having succeeded in life unaided." Evan Spiegel was not unaided. Donald Trump was not unaided—remember his father's "small" million-dollar loan? Mark Zuckerberg was not unaided—he, too, has publicly stated that "you don't get to be successful like this just by being hard working or having a good idea." He even explicitly adds that if he'd "had to support family" or "didn't know be fine if Facebook didn't work out," he'd never have made it. Sure, they may have been LESS aided—but privilege is privilege, and most of the self-made billionaires you'll see on any list had a lot of it.

Is It Sexist Tho?
So, is it low-key sexist that the public only riots when Kylie's included on this list? That only Kylie is demanded to actively downplay her own achievements, while male counterparts are lauded as shrewd and self-aware for acknowledging their circumstances? Yeah, kinda. Sadly, Kylie doesn't fit the public image of what a young self-made billionaire should be. We've been bred to expect nerdy white boys in turtlenecks, and we don't question their credentials if they fit the bill. But throw a stunner like Kylie on the cover of Forbes, and people go nuts trying to justify their worldview. While there is some merit to questioning how much "self-made" applies to Kylie Jenner, it's a shame that only Kylie Jenner has provoked that insistent questioning, and not the privileged young men who came before her.
Images: Giphy (3)